Fiberboard Identification

Building Wall & Roof Sheathing, Insulating Board Identification Key
SHEATHING, FIBERBOARD IDENTIFICATION - CONTENTS: How to recognize/identify Celotex®, Homasote®, Masonite® Nu-Wood® and other insulating fiberboard building sheathing products used as exterior wall sheathing and as interior wall & ceiling surfaces.
POST a QUESTION or READ FAQs about fiberboard building sheathing: how to identify fiberboard products, fiberboard uses, fiberboard, Celotex, Homasote, Insulite & other brands, fiberboard ingredients, does fiberboard contain asbestos?
InspectAPedia tolerates no conflicts of interest. We have no relationship with advertisers, products, or services discussed at this website.
Fiberboard insulating sheathing identification guide:
This article describes and provides photographs that aid in identifying various insulating board sheathing materials used on building walls and roofs, such as Homasote, Celotex, Insulite, and Masonite, Upsonboard, Nu-Wood and other insulating board sheathing products.
In this article series we provide fiberboard product names and we describe the components, properties, and applications of various fiberboard, hardboard, and insulating board or sound deadening board products. We also answer questions such as do Celotex or Homasote or other fiberboard and insulating board products contain asbestos? fiberboard water resistance, fiberboard recycling.
Green links show where you are. © Copyright 2017 InspectApedia.com, All Rights Reserved.
Guide to Identify Homasote®, Celotex®, Insulite, Nu-Wood, Upsonboard, & Fiberboard & Insulating Sheathing Board & Plasterboard Products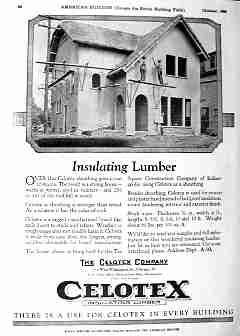 Low-density fiberboard panels and products trace their origin in the U.S. to Azel Storrs Lyman's 1858 patent for separating the fiber of wood and for the manufacture of paper and other purposes. (Jester 2014).
More significant for fiberboard products was W.E. Hale's patent for wallboard that described using fiberboard in construction (Hale 1870) and Cobb's patent for using a soft board made of straw in place of wood lath as a plaster base (Cobb 1871).
Jester explains that Cobb's straw fiber board was treated with cheap oil as a waterproofing agent, an idea that was elaborated by Homasote, Celotex, and the other big boy fiberboard producers of the 20th century.
The Agasote Millboard Co. (Trenton N.J.) was formed in 1909, and as Jester notes, by 1916 that company was producing the widely-known Homasote brand fiberboard that probably has been a century-long thorn in the side of Celotex, Insulite Nu-Wood, and Masonite.
By 1910 in the U.S. the manufacturer of fiberboard made these products available to builders and homeowners for use as a sheathing product that was used on wall exteriors, wall and ceiling interiors, and even as roof sheathing. In my personal experience, low-density fiberboard roof sheathing was a bad idea.
[Click to enlarge any image]
Article Contents
Insulating building sheathing made by Homasote® is produced by the Homasote Company, a manufacturer in the U.S. in New Jersey, and similar fiber sheathing products have been used both as a sound barrier and for exterior sheathing on buildings.
Insulating board sheathing has been widely used on building exterior walls, under roofs, and against masonry foundations in finished basements.
Homasote Co., the oldest manufacturer of building products from recycled materials in the United States, was founded by Eugenius Harvey Outerbridge as Agasote Millboard Company, and has been producing this material since 1909. In 1936 the company changed its name to its best known product, Homasote.
Originally, Homasote® produced sanded "agasote" sheets used in the roofs of passenger railroad cars, moving, in 1915, to automobile roofs, and in 1916 to construction products. Homasote was widely used for military barracks in both WWI and WWII and is still promoted for sound resistant sheathing and other applications.
Celotex®, Homasote®, Thermafiber®, and similar insulating building sheathing board products are still sold as a lower cost alternative to plywood or OSB for building sheathing. The product is used as structural paneling, insulation, concrete pouring forms, and expansion joints.
This fiberboard sheathing product is used as structural paneling, insulation, concrete pouring forms, and expansion joints.
Reader Question: Is it OK to re-side a home with Homasote building sheathing on its walls?
My home was built in the early 1940s and it was re-sided around 1994 (possibly a bit later but that's all the info we have). There are what we thought was sheetrock on the outside, but someone suggested it may be Homasote boards from when the house was originally built.
Two questions, if they are these boards from 50 years ago (at the time the house was re-sided), was that ok to do based on housing codes? Could they contain asbestos? Thanks. - K 12/2/2011
Reply: Yes
I've not found any building code issue constraining the procedure of re-siding a home because of the type of exterior sheathing used on the structure. The asbestos question is addressed in earlier FAQs addressed above. Wood or plant fibers are not asbestos materials.
Watch out: fiberboard sheathing should be protected from water that penetrates some building siding systems (such as aluminum or vinyl siding) by installing a water or moisture barrier - housewrap. See HOUSEWRAP AIR & VAPOR BARRIERS
Beaver Board as a History of How Fiberboard is Manufactured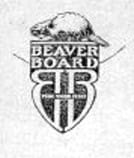 Beaver Board was marked on the back of each sheet with an ink-stamped trademark and brand.
If a single fiberboard sheathing product wanted to go up against Homasote as claiming the most-generic use of its name to describe low-density fiberboard sheathing made from wood fibers, or plant fibers, it'd be Beaver Board.
The Beaver Board Company was founded in Beaver Falls, New York and began producing fiberboard used for sheathing in 1907.
Beaver Board was described by Thomas Jester as the company who was most prolific in generating patents in the early development of fiberboard products. (Jester 2014).
Beaverboard or properly Beaver board and all of the other low-density fiberboard sheathing or wallboard products were similar in being comprised of relatively-homogenous plant-fibers bonded together by the interlacing of the fibers and treated with a waterproofing agent.
While no doubt some ugly logs that wouldn't have made a nice stud or joist were ground into chips for processing, I think that most of these sheathing products were considered to take enormous advantage of sawmill waste in the form of wood chips, sawdust, and wood scrap, or for some manufacturers, in the form of other plant materials such as straw, sugar cane, or bagasse.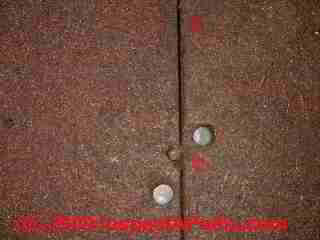 Where wood was the initial material the wood was chopped into chips, sized, ground to finer size, and smashed into individual wood cells using steam and rollers. The combination of steam or water and pressure permitted the fibers to bond together into a sheet that was further pressed by hydraulic rams and rollers called platens (think of a huge typewriter platen or roller if you were born before 1980).
Randomly-crossed wood fibers make a strong product, a realization that appeared again later as MDF and HDF and similar products. To get the plant or wood fibers to adhere to one another beyond their mechanical arm linking, adhesives were used during the fiber consolidation process.
Jester names silicate of soda, flour paste, glues, dextrin, plaster of paris, waterglass and clay, rosin, turpentine, paraffin wax (see Homasote®), asphalt (giving a nice dark black color to the fiberboard panels and making them unattractive to termites and carpenter ants). (Jester 2014 pp 90-90).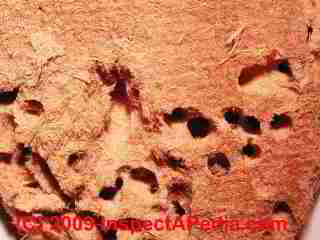 Photo above: low density fiberboard is not, however absolutely insect-proof, as my photo shows. More about this particular insect damage is at FIBERBOARD SHEATHING MOLD CONTAMINATION
Beaverboard, as other low density fiberboard products, was then trimmed, treated with a water repellent, and possibly colored, or for fancier products like Nuwood™ cut to bevels or tooled.
How to Identify Celotex® Insulating Board and Fiberboard Products
Our photographs below show Celotex® insulating board with an older Celotex fiberboard building sheathing board at left and a more recent Celotex insulating board product shown at below-right. Also see this closeup of an older Celotex insulating sheathing board [image file] product.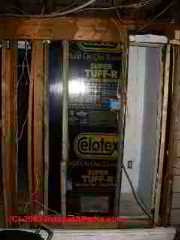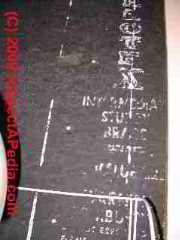 Components & Properties of Celotex Insulating Lumber
Celotex described their Celotex Insulating Lumber as an exterior sheathing product intended for use as a base beneath plaster or beneath a stucco building exterior as well as for roof insulation. Celotex insulating lumber was sold in 7/16" thicknesses (and possibly other thicknesses), in 4 foot width boards at lengths from 8 ft. to 12 ft. and weighing about 60 pounds per square (100 sq.ft.).
Celotex Corporation produced the first fiberboard made from bagasse in 1920. (Jester 2014).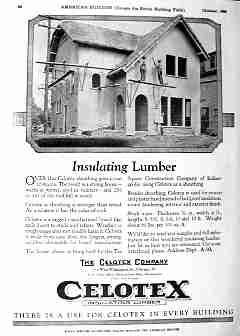 Celotex insulating lumber (today we call it insulating board or insulating sheathing) was sawed "like ordinary lumber" and nailed directly to the building framing to support stucco, brick veneer,m or other finishes.
Celotex Insulating Lumber was a cellulose fiber board made from bagasse or sugar cane fiber using a felting process, and produced in Celotex's New Orleans LA plant.
These fibers "each of which contains thousands of sealed air cells", were fabricated into "building lumber" using a patented press and bonding process.
Several patents listed in the mid 1920's addressed the production of insulating, structural, and sound-absorbing board products for walls, roofs, and ceilings produced by Celotex.
See CANEBOARD PANELS for details.
In wood frame construction Celotex insulating lumber was used as a structural sheathing to replace horizontal or diagonal 3/4" thick board sheathing while adding insulating and sound-deadening properties. The company described the insulating value of this new product as
"... equal, as insulation, to 3 1/3 inches of solid wood, 12 inches of solid plaster, 12 inches of solid brick, or 24 inches of solid concrete".
We estimate, based on the wood comparison, that the R-value of this 7/16" thick board was about R-3. According to Celotex this insulating lumber product was waterproof, could be painted, and could be used itself as an exterior finish as well, though we have not seen any surviving examples of that application.
Celotex's insulating lumber was also advertised for use as an interior finish, left natural, stained, painted, or stenciled.
Celotex recommended its use also as a base for plaster walls or ceilings, for which some installation instructions can be read in the image just below. Thanks to reader [Anon by private email 21/14/15] for this image.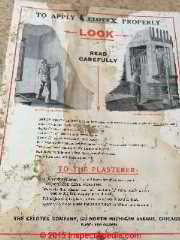 A number of these instructions suggest that over-wetting or prolonged wetting of these boards might lead to swelling, weakening, buckling, bulging, or other issues in the finished plaster job.
See FIBERBOARD PLASTER BASE SYSTEMS - instructions for applying plaster to Celotex boards - for details.
From our own field inspections, we believe that Celotex insulating lumber or similar products were indeed also often left exposed as an interior finish most commonly in summer camps, cottages, and in commercial or farm buildings.
According to one source the material was also used to construct insulated shipping boxes. [8] By 1925 Celotex had published "Celotex insulating Lumber Specifications and Details for Standard Building Board" and also offered "Your Home" a plan book of twenty-five ideal small homes.
A review of the patents and product description for Celotex insulating lumber products shows that asbestos was not among the product's ingredients.
Celotex Regular Insulation Sheathing Continues in Production as Blue Ridge™ Fiberboard & SturdyBrace® Sheathing
In 1955 there were at least fourteen different insulation fiberboards examined by the US FPL. Today Celotex continues as a major producer of the product. [15]
As of 2012 Celotex continued to produce a wide range of insulation products including PIR polyisocyanurate foam boards in various designs and for various applications. The company continues to produce Regular Insulation Sheathing as a 1/2-inch thick insulating board with an R-value of 1.2. Celotex Regular Insulation Sheathing is described in contemporary product literature as:
Produced from cellulosic interlaced fiber bond with natural binders. Manufactured from Sugar cane by-product called bagasse, recovered wood chips and consumer newsprint. Available in 4' width in standard lengths of 8' and 9'.
Designed for use as an insulating sheathing for frame walls under exterior finishes such as lap and panel sidings, stucco, masonry veneer and shake shingle products.[2]
Celotex Blue Ridge™ Fiberboard, also referred to in its product literature as SturdyBrace® is a wood fiber product that is described by the company as:
SturdyBrace® meets national codes for structural integrity. The insulating exterior wall sheathing is competitively priced. You may bid with confidence year round. SturdyBrace® improves the structural integrity of homes and light commercial buildings and eliminates the need for corner bracing.
SturdyBrace® meets codes for wind shear and seismic conditions. Check with code officials in your area.
Trapped moisture in exterior walls is caused by condensation and water leaks. This moisture can lead to mold growth and other water related problems. SturdyBrace® "breathes" permitting the moisture to escape into the outside air.
Mold experts recommend use of wall sheathing with a minimum ASTM permeability rating of 5. SturdyBrace® rates more than 20.0 perms while OSB and plywood have permeability ratings of 2 and less than one respectively.
SturdyBrace® is an earth-friendly fiberboard made of recovered wood fibers interlaced and bonded with asphaltic binders for strength.
It is easy to install and cuts with a knife, saving you time and money. SturdyBrace® is available coated on one or six sides. SturdyBrace® saves energy costs at a low cost per R-value. Our wall sheathing provides R-value of 1.3 per 1/2", more than doubling the R-Values of OSB and gypsum sheathing.
*Building codes may require use of weather resistant barrier. [2]
Watch out:
Blue Ridge Fiberboard products must not be used in close proximity to chimneys, heater units, fireplaces, steam pipes or other surfaces which could provide long term exposure to excessive heat (maximum 212*F) without adequate thermal protection. [2] - guidespec
See also CELOTEX HISTORY & PRODUCTS
How to Identify National Gypsum's Gold Bond® Cellulose-based Insulating Board
Shown here in photos provided by a reader are a portion of the Gold Bond logo used by National Gypsum on "black" or "brown" board insulating board or IB.
The second photo plainly shows brown cellulose-like fibers that would be expected to be a wood or plant product based material.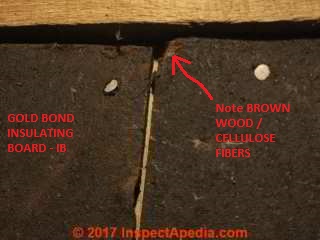 National Gypsum produced a very wide range of building products, a number of which contained asbestos, principally in products based on gypsum board or plaster board, or cement or asbestos cement board and coatings.
At ASBESTOS PRODUCING COMPANIES where you will find National Gypsum in that alphabetic list, we discuss a number of Gold Bond™ products, all produced by National Gypsum, that did indeed contain asbestos.
How to Identify Homasote® Brand Boards & Panels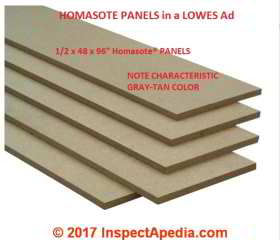 Homasote® wallboard and panels used for building sheathing are a cellulose-based product made from re-cycled paper to produce an internally-homogenious (non-layered) gray or gray-tan panel. .
Homasote® Identification: check color & texture & cross section
Despite widespread use of the word Homasote® to describe brown fibrous and soft board panels, actually Homasote is gray or in my OPINION gray-tan in color, as it's produced from post-consumer paper.
However once installed the product may have been painted or covered-over so an inspector cannot assume that she will always find the gray color without some digging into the structure.
The Homasote picture shown here is from a discontinued product previously sold at Lowes stores.
According to Homasote®,
[Homasote brand fiberboard products in] cross section would not show layers of fiber since our products, unlike other fiberboards, are not layered.
With aging our products normally have a yellowish brown tint otherwise they are gray.
In all cases, unsanded Homasote Products all have very visible patterns on the face and back side surfaces. As far as I can tell, none of the samples shown below [at Unidentified Fiberboard Products] have our mold patterns.
Each fiber is coated with a wax emulsion thus making the panel weather resistant.
Homasote® company history, current product list, product composition & contact information are at HOMASOTE HISTORY & PRODUCTS
How to Identify Insulite, Another Cellulose Fiber Board Product useful for plasterboard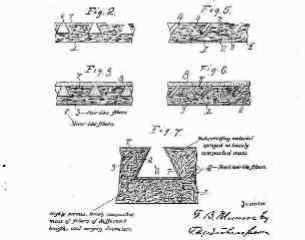 [Click to enlarge any image]
Insulite was a cellulose-based (all wood fiber) insulating board or sheathing material that, unlike Celotex, was made from wood pulp byproduct or tailings fibers. Insulite was patented by Carl G. Muench who founded the Ontario Paper Company, and who started manufacturing Insulite, billed as "the first rigid insulating board", in International Falls, Minnesota in 1915. (Jester 2014)
The Insulite board was treated to "... resist moisture, vermin and rodents" and also was sold as a "sound deadener"[10] and in some applications the product was installed in the air space between gypsum board partitions to improve sound isolation between building areas.
Insulite was described as having stronger structural properties than Celotex, the latter being superior for insulation and sound insulation while Insulite offered greater strength for other applications. Insulite was
... composed of large sliver-like particles often 1/16" to 1/32" in width and say one half an inch long. These sliver like fibers give great porosity to the mass but they render the binding together of the particles more difficult. [10]
Insulite as a plaster board contained rabbeted grooves or "joints" in its surface to which plaster or other material could be applied. Insulite's name for this product was Lok-Joint Lath. (The same engineers later developed "Bildrite Sheathing" that was used to replace horizontal wood bracing in wood frame construction.) The product cost was as low as 5 cents per sq.ft.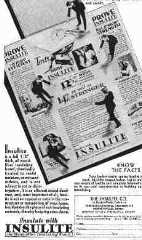 In "Insulite Co. vs. Reserve Supply Co", a 1932 lawsuit, relevant patents and ingredients are described, including a composition of plaster of paris, cement, or other like substance, combined with hair, wood fiber, sawdust, wool, wood shavings, excelsior, straw, or similar substances. (Asbestos was not cited in the product description. )[11]
Treadway B. Munroe, from Forest Glen, Maryland, was a prolific inventor who patented a variety of cellulosic board products assigned to companies including Dahlberg (St. Paul MN and Celotex, Chicago IL).
One of his early patents U.S. No. 1,333,628, described a plaster-board of fibrous material intended to provide a less costly base for plaster walls and ceilings.
This was the earliest citation of "Insulite" that we could find. It improved on the original "insulite" construction by including additional long fibers for strength combined with more short fibers to serve as filler for the mass, developing a board that was light weight, had adequate strength, and included entrained air for improved insulation.
This invention, instead of impregnating the insulating board with a waterproofing compound, simply coated its surface. The result was a product [intended and claimed to be] well suited for use as plasterboard.
Sound absorbing board for walls and ceilings", Patent No. 1,554,180, issued to W.S. Trader, September 15,1925, first disclosed a wallboard constructed from "Celotex", a felted mass of strong bagasse fibers, so compacted as to be capable of use as an artificial lumber in that it can be sawed and nailed, and has sufficient strength in many cases to be substituted for lumber.
That same patent mentions "Insulite", a building board made from wood pulp tailings and which likewise has a porous fibrous body portion and which is possessed of considerable strength so that the same can be nailed, etc.
Celotex was preferred as an insulating material because its internal cells produce a sound-deadening insulating effect.
Graylite interior-use insulating board produced by Insulite™ is described on p. 7 in Peck (1942) as follows:
The insulating board made from wood fibers, produced by a cold-grinding process, felted into a rigid board. The fibers were chemically treated and intimately mixed with finely divided asphalt before felting to increase the strength, water resistance, and resistance to rot and termites.
One surface of the boards had the appearance of closely woven fabric, designated "linen texture." There were two thicknesses, 1 in. and 1 1/3 in. The Insulate Co., "Graylite".
Other Insulite Product Names
We found references to Insulite mastic as early as 1913.
By 1940 we find the additional sheathing product names associated with Insulite, a Minneapolis MN company.
Bildrite Sheathing (exterior building sheathing)
Fiberite (interior finish)
Graylite (interior finish)
Graylite Lok-Joint Lath
Insulite (see below)
Insulite Lok-Joint Lath
Ins-Lite Lok-Joint Lath
Satincote
Smoothcote
Research on the Composition & History of Insulite, Graylite, Fiberlite
Whittemore, Herbert L., and Ambrose H. Stang, BUILDING MATERIALS and STRUCTURES Report BMS31 [PDF] Structural Properties of "Insulite" Wall and "Insulite" Partition Constructions, Sponsored by the Insultie Co. (1939)
Peck, Mahlon F., W. Gail Hoback and Vincent B. Phelan, BUILDING MATERIALS and STRUCTURES Report BMS90, [PDF] Structural Properties of "PHC" Prefabricated Wood-Frame Constructions for Walls, Floors, and Roofs, Sponsored by the PHC Housing Corporation, U.S. Department of Commerce, National Bureau of Standards, (1942) (original price 15 cents)
"INSULITE: STRUCTURAL INSULATION PRODUCTS ; THE ORIGINAL WOOD-FIBER INSULATING BOARD", [PDF] Sweets Catalog, product description and installation instructions.
Also see FIBERBOARD insulating sheathing or board sheathing products and see Masonite® hardboard siding products.
Masonite™ and other hardboard Sheet and Siding Building Materials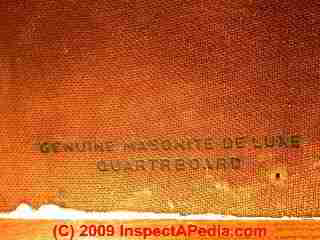 (History, more photos, & dates in process, CONTACT us, contributions invited)
Our photo (left) shows the back side of an early hardboard interior-use product labeled "Genuine4 Masonite Quartrboard". More about hardboard sheet products used on building interiors is found
at DRYWALL, FIBERBOARD, PLASTER INTERIORS
Nu-Wood Fiberboard Wall & Ceiling Covering Product Identification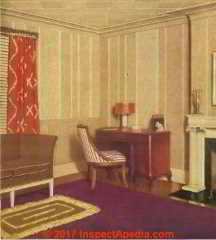 Nu-Wood ® fiberboard panels, also referred to as NuWood or Nu Wood paneling or ceiling tiles were a low-density fiberboard panels used on walls & ceilings & as a plaster lath support. They were produced by the Wood Conversion Company in St. Paul, Minnesota who also produced Balsam Wool.
The parent Wood Conversion Company was incorporated in 1921 in Delaware by eleven stockholding companies, including the Weyerhaeuser firms. The Wood Conversion Company headquarters was located in Cloquet, Minnesota.
According to the company's product literature, some Nu-Wood fiberboard was thus plastered over while other installations were left with the original factory color coating.
Keep in mind that a 1940's home that used Nu-Wood wall or ceiling panels may well have been painted-over, plastered over, or later even laminated-over with a layer of more modern drywall.
[Click to enlarge any image]
Our details about the identifying details for Nu-Wood fiberboard panels are now found at IDENTIFY NU-WOOD PANELS - a separate article.

How to Identify Un-Labeled Fiberboard Products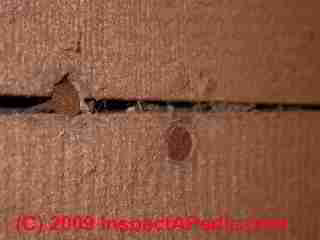 At left is an insulating fiberboard product that is not the Homasote™ brand.
Homasote Chairman and CEO Warren L. Flicker has generously added these comments that assist in distinguishing among fiberboard product brands and manufacturers:
The pictures at left and below show a brown side and a black side [and show layering when broken to expose the material in cross-section]. They are not Homasote®.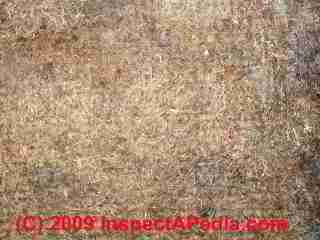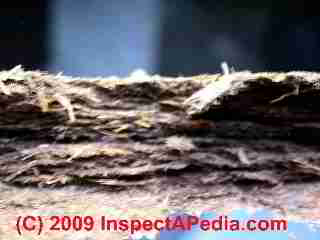 Our photos (above left and right) show close ups of fiberboard insulating building sheathing board products that are not Homasote™ brand, including a torn cross section showing the layered fibrous character and the distinctly-brown surface of this material.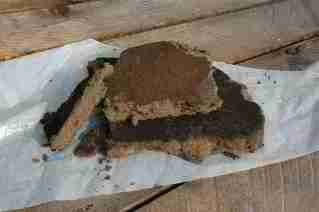 Our photo (left) shows pieces of fiberboard roof insulating fiberboard removed from a building by reader/contributor Doug Leen.
The varying colors of the two sides of the material are visible - the darker side of this insulating board may have been that exposed to light and air during its life in the building. The material looks like a Celotex product.
According to Thermafiber® it is not their product.
According to Homasote® this is not their product.
Reader Question: From a 1944 Minnesota home, can you tell me what this soft brown fiberboard material is?
Hi, I was wondering if you would be able to identify the following pictures. They are receptacles cut outs from an interior wall. House was built in 1944, in the state of Minnesota. It looks like a fiberboard material is the backer. But not really sure what finished side is.
It's almost like a cement board that's glued directly to the fiberboard. It's very strong. Anyway any info you could give me would be greatly appreciated. - M.S.T. 3/26/14
Reply:
Your photos look like a wood product fiberboard sheet that has been coated or painted presumably on the room side. Depending on the age you should be alert for possible lead paint hazards.
This material was used both as an insulating sheathing on building exteriors (under siding) and as a finish interior wall and ceiling board such as in the case you describe.
Take a look through the fiberboard examples above for some close comparisons to make an educated guess about the exact material. To be more precise we'd need to make a lab comparison with known samples in our library.
The gray backer behind the plaster shown in our second photo, if it is a soft fiberboard, is probably Homasote®. If the gray backer is cementious it's probably a plasterboard used as a board-lath.
Reader follow-up:
I was wondering if you could identify the concrete/slash stucco covering that is glued to the fiberboard. It is 1/2" thick and is uniform in thickness. It has many small rocks and sand mixed in it. The top 1/8" of it is different color than the bottom. Once again any info you can give me would be appreciated.
Reply: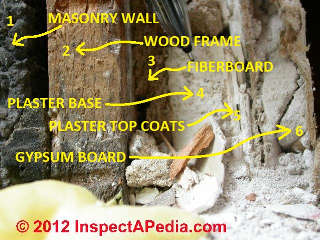 We're looking at fiberboard backer used as a base on which a plaster coating was applied. We see the rough coat - the thicker white layer - also known as a "scratch coat" and then the thinner tan layer is most likely the smooth coat or top coat of plaster, perhaps on which there was also paint finally applied.
I've encountered this construction before in some older homes from the 1920s to late 40's in the U.S. and I imagine it was used elsewhere.
Watch out: some plaster from that era contained asbestos.
At CEILINGS & WALLS, PLASTER TYPES you can see a photo similar to yours but as your image is better I'll want to add it there.
At above left we see my photo from that article. It shows that the very first or original layer of wall was fiberboard over which plaster was applied. My pen point is indicating the plaster. The brown fiberboard backer is to the left of the pen.
Question: can we identify this fiberboard sheathing from a 1975 home in New England?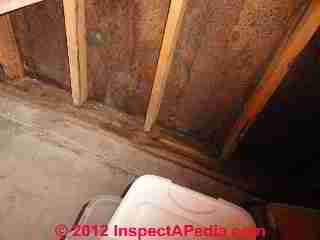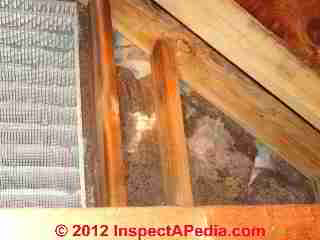 I am trying to identify this wall sheathing material. It appears to be an asphalt impregnated fiberboard sheathing, but does not have a brand name. This photo was in the attic at the gable end behind the chimney. The entire garage also uses this product.
The home is a two story colonial build in 1975 in New England. Thanks for any help. - Mike - home inspector - 11/09/2012
Reply:
Mike, I agree that in your photos the sheathing material looks like fiberboard sheathing, and that branding can be difficult. Take a look at our article [above] on this material for some colors and other properties.
Sorry I can't say more from just photos. But in any case fiberboard sheathing was not impregnated with asphalt but rather typically with a wax for water resistance.
Some brands of fiberboard using a dark surface coating might fool you into thinking it was asphalt, but as you'll read in the common ingredients listed above, that's not so likely.
Because the properties of these various products are similar across brands (varying in density, coatings, water resistance, nail-holding power) I'm not sure we need to know the brand to evaluate the material shown in your photos - it's water damaged, meaning that we ought to be looking for related insect damage or rot or mold on nearby building materials, and we ought to be finding and fixing the leaks.
Thanks for the excellent photos - I'll post them here at InspectApedia to permit other professionals to comment.
Reader Follow-Up:
My client was very concerned about the water damaged materials. It appears that all of the viewable sheathing was in poor condition.
There was evidence of a prior WDI treatment on the front porch where I noticed a series of drilled holes through the concrete slab. The basement is finished limiting the scope of my home inspection. - M.Q.
Reply:
Thanks for the follow-up M. Indeed, to my surprise (as the materials were originally treated and sometimes even smelled waxy or like petroleum products) I've on occasion found insect infestation right in the fiberboard sheathing.

As you are a professional home inspector I imagine that we'd probably agree that the underlying questions are:
Do we need to address an active insect infestation
If there was prior treatment, was it performed properly and safely
Is there accompanying structural damage that needs repair
Is the sheathing serving as a nail base for siding - if so and if it is extensively damaged such that removal and replacement of siding become necessary, significant costs would be involved.
Have the causing leaks been fixed
It is my OPINION that if there is no active infestation and no actionable structural damage, (you'd have pointed out obvious movement and warned about possible hidden damage not discoverable without demolition), no ongoing leaks, and if siding is nailed to studs not sheathing, then if there is no longer ongoing leakage, the impact of leaving the materials in place is minimal.
The tough question is whether there is enough visible damage (or discovered damage by perhaps some gentle invasive investigation) to justify more extensive exploration for significant problems.
Often, such as in some mold or IAQ investigations, we reach agreement with the client to stop cutting into the building by noting the absence of visible evidence of structural movement, damage, or infestation sufficient to justify, in our joint opinion, further invasive inspection.
That does not promise that there are no hidden concerns, but rather that we can't together find reason to justify continued hacking apart of the building.
If the client wants further investigation, I'd pick the "most suspect" areas for hidden damage and start there, reasoning that if the most-suspect areas don't reveal actionable trouble, it would be reasonable to quit exploring.
How to Identify Upson Board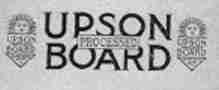 Upson board embossed its marking into the board itself, and a "Blue Center" runs through every piece of the board.
Examine a cross section of the board for this characteristic blue material.
...
Continue reading at FIBERBOARD SHEATHING MOLD CONTAMINATION or select a topic from closely-related articles below, or see our complete INDEX to RELATED ARTICLES below.
Or see DRYWALL, FIBERBOARD, PLASTER INTERIORS - home
Or see INSULATION IDENTIFICATION GUIDE - home for identification of various insulating board products
Or see Definition & Characteristics of MDF Medium-Density Fiberboard
Or see this
Article Series Contents
Suggested citation for this web page
FIBERBOARD SHEATHING IDENTIFICATION at InspectApedia.com - online encyclopedia of building & environmental inspection, testing, diagnosis, repair, & problem prevention advice.
Or use the SEARCH BOX found below to Ask a Question or Search InspectApedia
...
Frequently Asked Questions (FAQs)
Try the search box below or CONTACT US by email if you cannot find the answer you need at InspectApedia.
Recent questions & answers about how to identify the brand or manufacturer of fiberboard sheathing products used inside or outside of buildings
Watch out, Savannah. In addition to possible asbestos in some old wall coverings, some old wallpapers, particularly ones with green in the pattern, contained arsenic.

At ASBESTOS LIST of PRODUCTS we include what's probably the most-extensive list you'll find for asbestos-containing products found in or around homes.
There I haven't listed "asbestos containing wallpaper" but such products might have existed, particularly where an insulating or strengthening fiber was wanted or where fire resistance was a concern.
Keep in mind that asbestos may be present in some plaster and gypsum products found beneath wallpaper too.
Research citing asbestos use in films and papers used on walls:
Breiner, R. "Asbestos-plastic film laminates." U.S. Patent 3,770,569, issued November 6, 1973.
Gerek, Gene, and Rowland S. Hartzell. "Asbestos-foam laminates." U.S. Patent 3,522,140, issued July 28, 1970.
Newman, Arnold H. "Insulated wallpaper." U.S. Patent 4,039,709, issued August 2, 1977.
Prain, Willis A., "Wallpaper steamers." U.S. Patent 3,158,139, issued November 24, 1964. (asbestos used in this device not directly in wallpaper)
SJJ, Langford AL, and Textiles Pearson. "Wallpaper (1827) n. Paper, or paperlike material, usually decorated in colors, which is pasted or otherwise affixed to walls or ceilings of rooms. Wall stress (1) In a filament‐wound pressure." - used atop asbestos cement wallboard
Werhane, Patricia H., Jenny Mead, Regina Swart, and Mollie Painter-Moreland. "South African Mining and Asbestos-Related Diseases (a)."
Asbestos mining tailings were mixed with cow dung or mud used to paper or line walls in houses.
Lewis, Herman. "Cement composition." U.S. Patent 1,595,897, issued August 10, 1926.
Used asbestos in wall lining products

I live in a 1920s home and noticed the wallpaper detaching from the plaster wall. I started pulling it off put realized it may contain asbestos. Anyone have experience, should I be concerned?
Woody, Fiberboard sheathing is a wood fiber product. You're welcome to use our page bottom CONTACT link to send me photos of your sheathing and of any markings on it.
hey.. bought a 1940 house and have found various areas where asbestos has been located and re mediated but thought we had it all out.. found a Celotex board that only has Celeotex Lath.. this is a fiber board and need to find out if this was an asbestos product.. have a pick if that helps
thanks, Woody
Question:
I know per your articles that Celotex interior fiberboard usually does not contain asbestos but the directions on the back of mine talk about spraying it the day before installing it. My question is what might that spray do to the product?
I'm enclosing a picture of my product label. I find no other product marking however and want to be assured that it is not something containing asbestos.
Any thoughts would be appreciated. - Anon. by private email 2015/12/14
Reply:
Thanks for the question and also for the image - it was one I've not seen and it contains helpful details.
In the article above in the Celotex section I've posted your image of the Celotex instruction label discussing wetting the wallboard before use in plastering
OPINION: The spray was intended to boost the adhesion of plaster when this board was used as a substitute for (earlier) wood lath. These products were somewhat water resistant, some including waxes specifically for that purpose.
Wetting wallboard 24 hours before installing it as a plaster base would have increased its moisture content a bit; I doubt it'd have become too soft to apply or the manufacturer wouldn't have advised spraying both sides.
In this context I wouldn't expect other problems (such as mold growth) from this step as the board was to be installed to studs or ceiling joists promptly.

...
Ask a Question or Search InspectApedia
Use the "Click to Show or Hide FAQs" link just above to see recently-posted questions, comments, replies, try the search box just below, or if you prefer, post a question or comment in the Comments box below and we will respond promptly.
Search the InspectApedia website
Technical Reviewers & References
Click to Show or Hide Citations & References
Jester, Thomas C., ed. Twentieth-century building materials: History and conservation. Getty Publications, 2014.
Wood Conversion Company, "NU-WOOD INTERIORS FOR EVERY WALL AND CEILING", [PDF] Wood Conversion Company, St. Paul Minnesota, (u1936), retrieved 2015/12/04, original source: https://archive.org/stream/ Nu-woodInteriorsForEveryWallAndCeiling/ Nu-woodInteriorsForEveryWallAndCeiling_djvu.txt,
Wilson, Richa, Kathleen Snodgrass, "Early 20th-Century Building Materials: Fiberboard and Plywood", [PDF] (2007) United States Department of Agriculture, Forest Service, Technology & Development Program, 073-2308-MTDC, retrieved 2017/07/29, original source: https://www.fs.fed.us/t-d/pubs/htmlpubs/htm07732308/
[1] Homasote® Company, 932 Lower Ferry Road, West Trenton, NJ 08628-0240 Tel: 800-257-9491 Ext 1332, or from outside the U.S. call 609-883-3300. Website: http://www.homasote.com/ , Email: Sales@homasote.com.
Thanks to Homasote CEO Warren Flicker for technical review and comment on this article.
Mark Cramer Inspection Services Mark Cramer, Tampa Florida, Mr. Cramer is a past president of ASHI, the American Society of Home Inspectors and is a Florida home inspector and home inspection educator. Mr. Cramer serves on the ASHI Home Inspection Standards. Contact Mark Cramer at: 727-595-4211 mark@BestTampaInspector.com
John Cranor is an ASHI member and a home inspector (The House Whisperer) is located in Glen Allen, VA 23060. He is also a contributor to InspectApedia.com in several technical areas such as plumbing and appliances (dryer vents). Contact Mr. Cranor at 804-747-7747 or by Email: johncranor@verizon.net
[2] Celotex Corporation, PO Box 31602, Tampa FL 33631, with offices in Atlanta, Chicago, Cincinnati, Dallas, Oakland and Philadelphia, and plants in six U.S. States is headquartered in Tampa, FL. Celotex is a national manufacturer of residential and commercial building materials. Website: www.celotex.com Tel: 800-CELOTEX
"Insulation Selector Guide", Celotex Corporation, web search 6/29/12, original source: http://www.silvercote.com/PDF/ThermaxInsulSelectorGuide.pdf, [copy on file as CelotexThermaxInsulSelectorGuide.pdf ]
"Celotex Blue Ridge Fiberboard", SturdyBrace®, produced by Blue Ridge Fiberboard Inc., 250 Celotex Dr., Danville VA 24541, product literature, web search 6/29/2012, original source: blueridgefiberboard.com/pages/sturdybrace.php, [Copy on file as Celotex_BlueRidge_SturdyBrace.pdf].
MSDS: original source: blueridgefiberboard.com/pages/sturdybrace/pdfs/SturdyBrace-msds-br.pdf
"Guide Specifications: SturdyBrace® Structural Fiberboard Wall Sheathing", 6/29/12, original source: blueridgefiberboard.com/pages/sturdybrace.php [Copy on file as SturdyBrace-guidespecs.pdf]

[3] Douglas Leen, Petersburg AK 99833, contributed the photograph of insulating board scraps from roof insulation removed from a building. Dr. Leen provides such a wide range of services, collectables, and historical information about the Northwest that a succinct description is difficult: flying dentist goes anywhere, antique forestry posters, historic campers, the tugboat Katahdin, in Alaska, Washington, and Wyoming. Mr. Leen can be contacted at mail@dougleen.com or at 907-518-0335
[4] Georgia Pacific: information about DensGlas gypsum board building sheathing can be found at the company's website at gp.com/build/product.aspx?pid=4674
[5] "Roof Shingle Tear-Off Procedure for Homasote Products", PDF document, Homasote Co., 932 Lower Ferry Road, West Trenton, New Jersey 08628-024, U.S.A. 800-257-9491 website: at www.homasote.com
[6] Thermafiber, Inc., (now a division of Owens Corning®) at Thermafiber, Inc., 3711 Mill Street, Wabash, IN 46992, Tel: 888-834-2371 (U.S. & Canada) - 260-563-2111 Website: www.thermafiber.com or Thermafiber technical services at 888-834-2371 (U.S. & Canada) ; Phone: 260-569-0801, Fax: 260-563-8979 or Email: technicalservice@owenscorning.com
[7] Weaver: Beaver Board and Upson Board: Beaver Board and Upson Board: History and Conservation of Early Wallboard, Shelby Weaver, APT Bulletin, Vol. 28, No. 2/3 (1997), pp. 71-78, Association for Preservation Technology International (APT), available online at JSTOR.
[8] Pittsburgh Press, "Yesterday - in costly homes alone, Today even the simplest home can have this hidden comfort", The Pittsburgh Press, 19 April 1925, classified ads section. Web search 6/22/12, [Copy on file as Celotex_Ad_023_PP.jpg and more]
[9] pending research
[10] Patents pertaining to building insulation & insulating board, Celotex & Insulating Board type products

"Sound absorbing board for walls and ceilings", Patent No. 1,554,180, issued to W.S. Trader, September 15,1925, first disclosed a wallboard constructed from "Celotex", a felted mass of strong bagasse fibers, so compacted as to be capable of use as an artificial lumber in that it can be sawed and nailed, and has sufficient strength in many cases to be substituted for lumber. That same patent mentions "Insulite", a building board made from wood pulp tailings and which likewise has a porous fibrous body portion and which is possessed of considerable strength so that the same can be nailed, etc. Celotex was preferred as an insulating material because its internal cells produce a sound-deadening insulating effect.
"Method and apparatus for drying moving material", Treadway B. Munroe et als, assigned to Dahlberg & Co., U.S. Patent No. 1,598,980, 7 September 1926, described a method and apparatus for drying sheets of artificial heat insulating lumber, known on the market as Celotex, improving the original process.
"Reenforced composition board", Treadway B. Munroe et als, U.S. Patent No. 1,578,344, 30 March 1926
"Insulating Structural Board", U.S. Patent 2,159,300, Armen H. Tashjian et als, assigned to William B. Miller, Lakewood OH, 23 May 1939, describes insulating structural boards of laminated construction for use as roof or floor slabs, and refers to "Standard insulating fiber boards, such as "Celotex", "Masonite", "Insulite", etc. that had excellent insulating properties but have relatively slight structural strength in flexure or bending under load, hence are not and cannot be used as structural slabs for load sustaining purposes, as roof or floor slabs, for example. [Adding structural strength ran into the problem of reducing the insulating value of the product.]
"Sound-absorbing chamber", Treadway B. Munroe et als, U.S. Patent No. 1,705,778, 19 March 1929 (using Celotex to construct a sound deadening chamber.
"Method of and apparatus for drying moving material", U.S. Patent 2,376,612, Carl G. Muench, New Orleans, assigned to Celotex Corporation, described a method and apparatus for drying sheets of artificial heat insulating lumber, preferably formed by the felting of bagasse fiber along with other materials necessary to make a satisfactory structural fiber board. 22 May 1945
"Sound-absorbing board for walls and ceilings," U.S. Patent 1,554,180, Sept. 15, 1925, Wilber S. Trader, assignor to Dahlberg & Company, Chicago IL. described an interior-use sound insulating product.

[11] "Insulite Co. v. Reserve Supply Co.," 60F.2d 433 (1932), Circuit Court of Appeals, Eighth Circuit, July 26, 1932. Web Search t/23/12. Quoting:
Rabbeted joints in material to which plaster or other material is applied are found in the Jones patent, No. 886,813. In this patent the composition is made up of plaster of paris, cement, or other like substance, combined with hair, wood fiber, sawdust, wool, wood shavings, excelsior, straw, or similar substances. The length of the lath covers three joists instead of four. The boards are arranged in staggered relation to each other and the joints are shiplapped. The specification states that after the boards or blocks are placed in position they may be covered with wallpaper or other similar material, which, of course, would include plaster.

"Machine for perforating Insulite Boards", U.S. Patent No. 1,306,283, Patented 10 June 1919, John K. Shaw, inventor from Minneapolis MN, describes improvements for machines for perforating Insulite Boards.
"Before you Build write for this mailing piece and a sample of Insulite", [advertisement], The Literary Digest, 13 September 1940.

[12] Museum of Fine Arts, Boston, web search 6/22/12, original source: http://cameo.mfa.org/browse/record.asp?subkey=3644 [Copy on file as MFAB_Fiberboard.pdf]
[13] "Separating the Fiber of Wood", A.S. Lyman, U.S. Patent No. 21,077, 3 August 1858
[14] Standards pertaining to fiberboard insulating sheathing:

ASTM C 208-95 (2001) – Standard Specification for Cellulosic Fiber Insulating Board. Type IV Grade 2 (Structural Wall Sheathing).
ASTM C 846-94 (2003) – Application of Cellulosic Fiber Insulating Board for Wall Sheathing.
ASTM D 1554 - Definitions of terms Relating to Wood Based Fiber and Particle Panel Materials.
ASTM E-72 (1997)- Standard Method for Conducting Strength Tests of Panels for Building Construction.
ANSI /AHA - A194.1, Cellulosic Fiberboard.
U.S. Department of Commerce: PS57-73, Cellulosic Fiber Insulating Board
A.F.A. (2003): Fiberboard Sheathing test results

[15] "Properties of insulating fiberboard sheathing", Forest Products Laboratory (U.S.) Luxford, R. F. (Ronald Floyd), 1889 (1960), original report 1955, citation:hdl.handle.net/1957/2489, web search 6/29/12, original source: http://ir.library.oregonstate.edu/xmlui/handle/1957/2489
Basement Moisture Control, U.S. Department of Energy
Building Failures, Diagnosis & Avoidance, 2d Ed., W.H. Ransom, E.& F. Spon, New York, 1987 ISBN 0-419-14270-3
Building Pathology, Deterioration, Diagnostics, and Intervention, Samuel Y. Harris, P.E., AIA, Esq., ISBN 0-471-33172-4, John Wiley & Sons, 2001 [General building science-DF] ISBN-10: 0471331724 ISBN-13: 978-0471331728
Building Pathology: Principles and Practice, David Watt, Wiley-Blackwell; 2 edition (March 7, 2008) ISBN-10: 1405161035 ISBN-13: 978-1405161039
Design of Wood Structures - ASD, Donald E. Breyer, Kenneth Fridley, Kelly Cobeen, David Pollock, McGraw Hill, 2003, ISBN-10: 0071379320, ISBN-13: 978-0071379328
This book is an update of a long-established text dating from at least 1988 (DJF); Quoting:
This book is gives a good grasp of seismic design for wood structures. Many of the examples especially near the end are good practice for the California PE Special Seismic Exam design questions. It gives a good grasp of how seismic forces move through a building and how to calculate those forces at various locations. THE CLASSIC TEXT ON WOOD DESIGN UPDATED TO INCLUDE THE LATEST CODES AND DATA. Reflects the most recent provisions of the 2003 International Building Code and 2001 National Design Specification for Wood Construction. Continuing the sterling standard set by earlier editions, this indispensable reference clearly explains the best wood design techniques for the safe handling of gravity and lateral loads. Carefully revised and updated to include the new 2003 International Building Code, ASCE 7-02 Minimum Design Loads for Buildings and Other Structures, the 2001 National Design Specification for Wood Construction, and the most recent Allowable Stress Design.
Diagnosing & Repairing House Structure Problems, Edgar O. Seaquist, McGraw Hill, 1980 ISBN 0-07-056013-7 (obsolete, incomplete, missing most diagnosis steps, but very good reading; out of print but used copies are available at Amazon.com, and reprints are available from some inspection tool suppliers). Ed Seaquist was among the first speakers invited to a series of educational conferences organized by D Friedman for ASHI, the American Society of Home Inspectors, where the topic of inspecting the in-service condition of building structures was first addressed.
Domestic Building Surveys, Andrew R. Williams, Kindle book, Amazon.com
Defects and Deterioration in Buildings: A Practical Guide to the Science and Technology of Material Failure, Barry Richardson, Spon Press; 2d Ed (2001), ISBN-10: 041925210X, ISBN-13: 978-0419252108. Quoting:
A professional reference designed to assist surveyors, engineers, architects and contractors in diagnosing existing problems and avoiding them in new buildings. Fully revised and updated, this edition, in new clearer format, covers developments in building defects, and problems such as sick building syndrome. Well liked for its mixture of theory and practice the new edition will complement Hinks and Cook's student textbook on defects at the practitioner level.
Historic Preservation Technology: A Primer, Robert A. Young, Wiley (March 21, 2008) ISBN-10: 0471788368 ISBN-13: 978-0471788362
R-Value of Wood, U.S. Department of Energy
"Vapor Barriers or Vapor Diffusion Retarders", U.S. DOE: how vapor barriers work, types of vapor diffusion barriers, installing vapor barrier
Books & Articles on Building & Environmental Inspection, Testing, Diagnosis, & Repair
Our recommended books about building & mechanical systems design, inspection, problem diagnosis, and repair, and about indoor environment and IAQ testing, diagnosis, and cleanup are at the InspectAPedia Bookstore. Also see our Book Reviews - InspectAPedia.
...