How to Inspect & Repair Mobile Home or Trailer Roofs
MOBILE HOME ROOF LEAKS, DEFECTS - CONTENTS: Mobile home roof inspection guide. Lists & photographs of roofing defects found on the roofs of mobile homes, trailers, double-wides & static caravans
POST a QUESTION or READ FAQs about mobile home and trailer roof leaks, damage, diagnosis, & repair methods
InspectAPedia tolerates no conflicts of interest. We have no relationship with advertisers, products, or services discussed at this website.
How to Inspect the Roofs of Mobile Homes for Defects:
Detailed mobile home, doublewide, trailer roof inspection procedures, roof defect lists, references to mobile home roofing standards.
This article describes common sources of leaks and other problems with roofs used on doublewides, caravans, mobile homes & trailers.
Green links show where you are. © Copyright 2017 InspectApedia.com, All Rights Reserved.
Guide to Trailer & Mobile Home ROOFING DEFECTS - Inspecting for Mobile Home Roofing Defects
[Click to enlarge any image]
Our photos above show leak-prone low-slope roofs on mobile homes. Behind the home at above right you can see that a steeper gabled roof has been added on that home - a roof less likely to be a source of chronic leaks.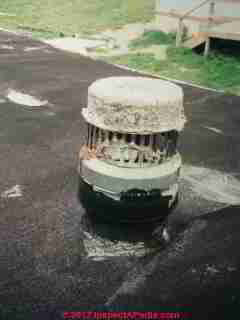 Ver.4.0 - 04/25/07, 08/15/2012 - Steve Vermilye, New Paltz NY and Daniel Friedman, Poughkeepsie NY, Hudson Valley ASHI Chapter Seminar, Newburgh NY, January 4, 2000, NY Metro ASHI Fall 99 Seminar, Holiday Inn Crowne Plaza, White Plains NY, October 2, 1999. Our photo at page top shows inspector Steve Vermilye on a double-wide trailer roof shows areas of ponding and a history of tar patching - Ulster County New York.
Low slope mobile home roofs (above left) are at risk of leaks in part because of their slower drainage rate and due to sagging with age.
Our photo at left illustrates reliance on roofing mastic to seal a water heater vent that is itself partly blocked - a double hazard.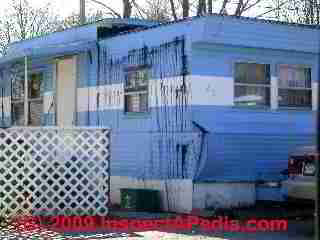 Our photo at left shows tar spills on the side of a mobile home whose roof was coated in attempts to stop leaking.
31% of mobile homes had roof problems; (C. R. survey)
Flat or near-flat roofs, may be covered with conventional shingles (slope too low)
Chimneys or plumbing vents "patched-over" so as to be blocked, and are frequently missing caps, a functional problem for the heater and a potential fire hazard.
Dents and ponding on mobile home roofs, and leaks at seams (patching with roof cement fixes leaks but corrodes metal)
Mobile home roofs with no roof eaves overhang (common design such as our photo at above left) contribute to frequent leaks in walls at windows or wall tops;
Shingled roofs on mobile homes usually have overhang (added?); flat roofs don't. Metal roof seams leak;
Our photo below shows six mobile home or doublewide home roofs that demonstrate a variety of materials and venting approaches. (Sorry for the big (C) mark.)


Watch out: At ROOFING INSPECTION & REPAIR we provide a series of detailed articles about building roof selection, installation, inspection, troubleshooting and repair.
But an additional roof inspection limitation for mobile homes is that some home roofs are not constructed to tolerate foot traffic without damage or bending or sagging - don't walk on fragile roof surfaces.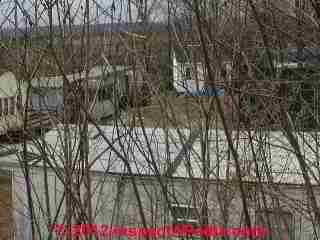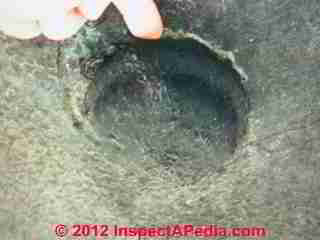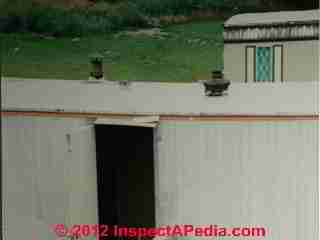 Our photo at above left illustrates mineral granule coated roll roofing overlaid on a mobile home roof.
At above right is a roof detail presenting a high risk of leakage - this hole was found by Steve Vermilye while walking the roof shown at the top of this page. It would not have been evident even from a ladder-at-roof-edge inspection.
Our photo at left shows a low sloped no-eaves roof over a static caravan. In addition to a clue that roof spillage has annoyed people enterin and exiting at the home's doorway, notic that there are three roof penetrations, all with leak and safety and operating concerns: rus, flashing, tar-repairs, and missing chimney cap.

It is always best to inspect a roof from "up close" even if roof conditions mean the roof should not be walked-on. But if the roof is not directly accessible for any reason, every safe reasonable effort should be made to obtain view and inspection.
Structural Properties & Components of Mobile Home or Caravan Roofs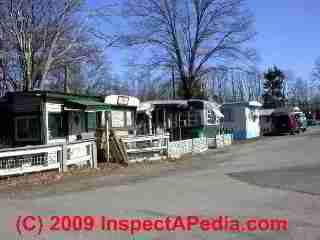 [in process] Contact Us to suggest photos or content
1x lumber frame with aluminum covering, typical of campers and some older trailers or mobile homes
Wood-framed low to medium sloped roofs covered with metal, asphalt shingles, roll roofing
Roof structures with no overhang - extra leak risks at eaves and walls
Roof structures with soffit/eaves overhang
Interior roof / ceiling integral structured roofs
Roof insulation properties:
Solid foam varying in thickness from 1"
Fiberglass batts in wood framed roofs or add-on roofs on older units (watch out for inadequate under roof ventilation & ensuing condensation problems)
Watch out: in deep snow zones, earthquake and high wind zones special tie-downs and other roof structural and home stability connectors and measures are required.
See
Reade Question: roof is crooked and doors won't shut in cold weather
(Feb 13, 2014) Re-Posted with space after periods in the text: (3 hours ago) Joseph Matteini said:
It has been very cold 0 degrees plus or minus for a month. My enclosed front porch has sliding windows. slanting roof. The roof is higher on the left side above the doorway,making the door notshut evenly. The differencene is one inch. This is also starting on the inside door to the home. This has never happened before.This is an open porch of redwood and steps before the porch. It is an 1985 mobie home. HELP!
Reply:
Joseph,
Without seeing the actual home or sharp diagnostic photos I can only guess that you have either
1. a sagging roof in danger of collapse - THIS IS UNSAFE and needs prompt attention; if this is the case you may need someone to rake snow off of the porch roof as well as to inspect for damage to the structure. We don't want the porch roof to fall in on you
2. A second possibility is that the roof structure has not sagged and begun to collapse but instead frost heaves have pushed up one end of the porch foundation. The hazards if this is the case are more subtle: there could be hidden damage to the floor structure - another collapse risk, or there may be just a trip hazard due to a sloped floor.
If the floor to the porch is level and has not changed, but the roof slope has changed then my first guess is more likely correct.
Watch out: doors that don't open or shut can be unsafe - you can be trapped in the event of a fire
Roof Over, Roof Coating Systems, Roof Repair Products for Mobile Homes, Doublewides, Trailers, Manufactured Homes
Danco steel mobile home plumb ing vent cap, designed to seal plumbing vent penetrations in a mobile home roof, (Home Depot), Corporate Office: 2727 Chemsearch Blvd Irving , TX 75062 Distribution Center: 3801 Pinnacle Point Drive Ste. 200 Dallas, TX 75211 Phone: 800.523.5135 Email: support@danco.com Website: http://www.danco.com/
Roof King, Thermal MAX®, Roof King Corp., Eddyville KY 42038, tel: 800-276-0176 & Roof King Corp., Bonne Terre MO 63238, Tel: 800-748-0645, Website: www.roofking.net, metal cap + insulation for mobile homes
Tamco Building Products, Aluminum Roof Coating for Mobile Home Roofs, tamko Corp., Address 220 West 4th Street P.O. Box 1404 Joplin, MO 64802 Tel: 800-641-4691, Website: www.tamko.com,
CONTACT us to add products and approaches to mobile home roof repair or roof-over products. No fees are involved


...
Continue reading at MOBILE HOME EXTERIOR DEFECTS or select a topic from closely-related articles below, or see our complete INDEX to RELATED ARTICLES below.
Or see MOBILE HOMES, DOUBLEWIDES, TRAILERS - home
Suggested citation for this web page
MOBILE HOME ROOF LEAKS, DEFECTS at InspectApedia.com - online encyclopedia of building & environmental inspection, testing, diagnosis, repair, & problem prevention advice.
Or use the SEARCH BOX found below to Ask a Question or Search InspectApedia
...
Frequently Asked Questions (FAQs)
Try the search box below or CONTACT US by email if you cannot find the answer you need at InspectApedia.
Reader comment: reader opinion about AAA mobile home parks
(Aug 21, 2011) Peter W. said:
To all folks who think that AAA mobile home parks here in Ravenna Ohio are all that huh think again, please think seriously about your family and there lives. This AAA park has a history of ongoing drugs problems and no back ground checks,no notifications of sexaffenders within this park, police are here on a daily basis, no street lights that for safety, also a creek that has errosion problems that are getting bigger every time it rains. Also there so called water is always black in color no matter what. Parents are not held accountable for there older teens for there actions no matter the law. We have seen teens who will and have sex on the parks bridge. There are flooding problems, do to not cleaning out the drains and no fixing of there roads or pipes. Winter's they dono't clean up any common area's and if some falls there looking for a law suit, because of this AAA needs to have an out side inspector here, NOT!!! one of there own, who knows the law of the land. In the past there has been personal mail stolen from residents witch thats a very, very secerious crime in of it's self. the president of the mobile parks love. won't go up aginst AAA because there owner's have money , sence when is wrong a right?? I think that even the police are being payed off to keep quiet. People here should not be scaried of AAA nor the on going every day problems with pine gate mobile home parks and AAA or the owner's. I really believe in coummiunty but this isn't it. AAA is well know for it's violations, many are fed up. Ravenna and with the right inspector's needs help and take care of AAA before someone gets hurt or even killed. Kids here do not have anything to do AAA needs to be sighted for many of its violations and actions, someone needs to be held accountable. AAA is clueless and doesn't care about there people or there community or parks. I think that there needs to be a secerious FBI investigation in on or about the AAA love. in question. I question there so called $2.5 million?
Reply:
The comments above are a reader opinion.
Our opinion is that if any tenant believes that there are unsafe conditions at a property s/he should notify the oweners both verbally and in writing. More suggestions are at TENANT LANDLORD MOLD DISPUTE
InspectAPedia is an independent publisher of building, environmental, and forensic inspection, diagnosis, and repair information provided free to the public - we have no business nor financial connection with any manufacturer or service provider discussed at our website.
Reader comment: reader agrees that mobile home park managers may be unresponsive to complaints
(Feb 15, 2014) Lot Lover said:
The comments made by Peter apply to most trailer parks, I have lived in 2 of them here in Chesapeake,Va. in the last 12 years,they have alot of problems inside them,and they cover a wide area of subjects,the one I currently live in ,the Geneva Mobile Home park,charges high fees,for example,I live alone,I am hardly home,but yet I pay the minimum water fee,$43.00 a month,they are always leaving letters for the tenants,such as paint the shed,cut the grass,build a fence,paint a fence and such,and of course they have their very own work crew that goes around and does what the residents fail to do,and of course they get a bill,and they get away with it,that is until someone has had enough and goes into the office with a baseball bat.
Reply:
Thanks for the comment Lot. While we certainly do not recommend trying a baseball bat as a means of persuasion, if you are dissatisfied with the trailer park management and no one responds to a written request you may have no choice but to seek help from your local building department, health department, or similar agency.
Reader comment:
Angela Jones said
It is a great post that it's giving knowledge about inspection, people commonly ignore. It is the most important part of maintenance the second part is to find the leaks and cure them at once with a roof leak repair kit.
Her advertisement was deleted.
Question: leaky mobile home window
Anonymous said:
I have a leak on inside of window. Sealed roof edge with no success.have slanted metal roof .1987 mobile home.
Reply:
Anon
Indeed leaks at mobile home windows are common; You can use our email found at our CONTACT US links at page to or bottom to send me some photos for further comment.
Meanwhile if you are certain the leaks are not at the roof edge itself then inspect carefully for
- leaks around the window frame
- leaks into the siding above the window
Also sere MOBILE HOME ELECTRICAL DEFECTS
...
Ask a Question or Search InspectApedia
Use the "Click to Show or Hide FAQs" link just above to see recently-posted questions, comments, replies, try the search box just below, or if you prefer, post a question or comment in the Comments box below and we will respond promptly.
Search the InspectApedia website
Technical Reviewers & References
Click to Show or Hide Citations & References
[1] Section 184 Indian Home Loan Guarantee Program, U.S. Department of Housing & Urban Development, web search 1/5/2012, original source: portal.hud.gov/hudportal/HUD?src=/program_offices/public_indian_housing/ih/homeownership/184 - Quoting:
The Section 184 Indian Home Loan Guarantee Program is a home mortgage specifically designed for American Indian and Alaska Native families, Alaska Villages, Tribes, or Tribally Designated Housing Entities. Section 184 loans can be used, both on and off native lands, for new construction, rehabilitation, purchase of an existing home, or refinance.
Also see Freddie Mac & Fannie Mae
[2] Native American Housing Loan Guarantee Program HUD Section 184 Loans At A Glance, FannieMae, web search 1/5/12, original source: efanniemae.com/sf/mortgageproducts/pdf/section184aag.pdf
[3] Mobile Home Inspections - Daniel Friedman & Steven T. Vermilye
[4] Trailer vs Mobile Home vs Modular vs Panelized Construction an explanation of terms and how to identify these structures.
[5] "Modular Home Construction, special defects and inspection methods" Dan Friedman, NY Metro ASHI Seminar, Holiday Inn, Crowne Plaza, White Plains NY, October 4, 1996
[7] Trailer vs Mobile Home vs Modular vs Panelized Construction an explanation of terms and how to identify these structures.
[8] "Modular Home Construction, special defects and inspection methods" Dan Friedman, NY Metro ASHI Seminar, Holiday Inn, Crowne Plaza, White Plains NY, October 4, 1996
[9] New York State: "Manufactured Homes: an installation guide for the code enforcement official," undated. [Div. of Code Enforcement & Admin. - 518-474-4073, George E. Clark, Jr., Director] - this is a guide tool, not an enforcement code or standard.
[10] HUD State Administrative Agency (for 36 states) (NY: 518-474-4073) - for complaints
[11] Manufactured Housing Institute, 2101 Wilson Blvd. Ste. 610, Arlington VA 22201 703-558-0400 www.mfghome.org
[12] NYMHA, 35 Commerce Ave., Albany NY 12206-2015 518-435-9859 800-721-HOME (they want the Star Program to provide for separate assessment of manufactured homes)
[13] Consumer Reports: www.consumerreports.org - special report 2/98
[14] Mobile Home Inspection Checklist, Florida, Town of Lady Lake Building Department
[15] Thanks to home inspector Peter Bennett for eagle-eye editing assistance regarding spelling at this web article series. Little Silver, NJ 07739 Office 732-758-9887 Fax 732-758-8993 Cell 732-245-9817 afullhouseinspectionco@gmail.com
[16] Wikipedia provided background information about some topics discussed at this website provided this citation is also found in the same article along with a " retrieved on" date. NOTE: because Wikipedia entries are fluid and can be amended in real time, we cite the retrieval date of Wikipedia citations and we do not assert that the information found there is necessarily authoritative. - Entry on Mobile Homes, original source: http://en.wikipedia.org/wiki/Mobile_home#Regulation, retrieved 8/14/2012
Books & Articles on Building & Environmental Inspection, Testing, Diagnosis, & Repair
Our recommended books about building & mechanical systems design, inspection, problem diagnosis, and repair, and about indoor environment and IAQ testing, diagnosis, and cleanup are at the InspectAPedia Bookstore. Also see our Book Reviews - InspectAPedia.
Crawl Space Moisture Control, U.S. Department of Energy
Domestic Building Surveys, Andrew R. Williams, Kindle book, Amazon.com
Defects and Deterioration in Buildings: A Practical Guide to the Science and Technology of Material Failure, Barry Richardson, Spon Press; 2d Ed (2001), ISBN-10: 041925210X, ISBN-13: 978-0419252108. Quoting:
A professional reference designed to assist surveyors, engineers, architects and contractors in diagnosing existing problems and avoiding them in new buildings. Fully revised and updated, this edition, in new clearer format, covers developments in building defects, and problems such as sick building syndrome. Well liked for its mixture of theory and practice the new edition will complement Hinks and Cook's student textbook on defects at the practitioner level.
Moisture Control in Buildings, U.S. Department of Energy
Moisture Control in Walls, U.S. Department of Energy
...