How to Inspect the Cooling Systems of Mobile Homes, Double wides, Trailers
MOBILE HOME COOLING SYSTEMS - CONTENTS: Mobile home air conditioning system inspection guide - Common mobile home cooling system defects / manufactured home cooling system and ductwork defects. Mobile home insulation defects and remedies to reduce and cooling costs
POST a QUESTION or READ FAQs about how to troubleshoot & fix problems in manufactured home or mobile home cooling or air conditioning systems
InspectAPedia tolerates no conflicts of interest. We have no relationship with advertisers, products, or services discussed at this website.
Mobile home heating & air conditioning systems:
How to Inspect the heating and cooling systems in mobile homes, trailers, double-wides, multi-wides:
How to spot common and dangerous defects in heating equipment incuding furnaces and boilers, inadequate heat distribution, freeze-ups, and safety hazards.
How to save heating or cooling costs for mobile homes and trailers or multi-wides. Page top sketch was provided courtesy of Carson Dunlop Associates, a Toronto engineering, education, and home inspection company.
Green links show where you are. © Copyright 2017 InspectApedia.com, All Rights Reserved.
Mobile & Manufactured Home Cooling System Defects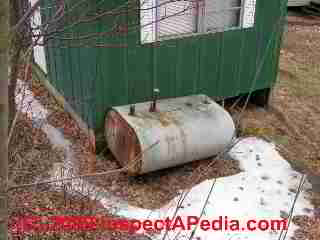 General Characteristics:
Hot air, gas-fired, central return heating units are most common ; oil & electric mobile home furnace-heaters are also used;
20% of mobile homes have problems with HVAC (C. r. survey);
[Click to enlarge any image]
Question: I was startled out of my skin to see a cat jump into the living room from a floor vent
(Aug 29, 2012) Maxine Payne said:
The red tag was apparently covered up when vinyl siding was installed. Now I want to sell the property, but I can't because I do not have the red tag number. How do I get the red tag number?
(Aug 29, 2012) Greg Filian said:
The flashing of the lights mentioned are they in the whole house or just one outlet? If it's just one outlet it may be just the outlet, if it's the whole house the problem may be at the main connection.
(Sept 8, 2012) Gail said:
I am looking at buying a double wide through an estate sale. The "trustee" of the estate is the deceased owners daughter, who know very little to anything about mobile homes (as I).
I am hiring an inspector, how ever he wont be available for 3 weeks and I have an immediate concern...
While standing in the living room I was startled out of my skin to see a cat jump into the living room from a floor vent ( vent cover was pulled off) I looked into the vent and it appears to be completley open - no duct work - just a view of the ground beneath. The daughter said that that was common and is there for ventilation. LOL Tell me this isnt so!
Reply:
Gail,
Thank you SO much for the wonderful cat - HVAC system question.
Yes I can tell you "it isn't so" - that is, it is not good practice to simply leave floor vents in a home open to the outdoors such that anything, including a cat (or worse, a raccoon) can hop in for a visit.
I can imagine a few reasons why you might have found the missing duct work and open floor vent, all adding up to some more trouble and work for you. For example most likely there was a heating or heating and cooling system that used air but that has disintegrated, been damaged, fallen off, or was simply removed and abandoned.
Sometimes too, when warm or cool air delivery into a home is poor in flow rate or quantity, people try to improve system operation by adding more return air to the system by just cutting an opening that lets outdoor air into the system somewhere. The problem is this is the most expensive possible way to heat or cool a home since it's a "one way" design - we take un-conditioned air from outside, heat it or cool it, then try moving it into the living area.
Really the most significant implication of the cat in the hat, I mean cat in the vent discovery in your possible future home's heating sysem is that it's a red flag to watch out for other work done or "problems solved" by the same person on that home - as you may find other amateur workmanship that lengthens the list of repairs and improvements needed to make the home safe and habitable to normal standards.
Keep me posted, and send along photos if you can (use the CONTACT US link at page bottom or top) - especially if ... the cat comes back.
Daniel Friedman
I suppose a less ridiculous explanation that the owner could have invented might have been to explain

"Oh I forgot to tell you, that's just Marion, my mom's cat. Marion comes with the house. The hole in the floor is her pet door."
Air Conditioning Checklist of Common Defects in Mobile Home & Manufactured Home Air Conditioning or Cooling Systems
Air filters are often ignored - change the filter monthly when the heating or cooling system are in use. A clogged air filter will reduce air flow from your heater, increasing heating costs as well as making the home less comfortable.
Air conditioner blower cycles on and off during heating cycle:
see FURNACE FAN CYCLES DURING HEAT for a diagnostic guide & suggested repairs that can assist with both cooling & heating systems.
Warm air return ducting in a mobile home: all return air taken from crawl area beneath living unit amounts to a one-way cooling system - the most expensive to operate imaginable.Also check for : blocked return; blocked supply; ducts through un-conditioned areas, or

NO return air, or none when utility closet door is shut! We see this design too often. If your manufactured home or mobile home or doublewide uses a central air conditioner, the blockage of return air is another too-expensive way you could cool your mobile home since little or none of the interior air is being recycled through the central air condtioner. \

Watch out: Because a manufactured home or mobile home central air conditioner is often shoe-horned into a tight space it is too often the case that the system is not inspected and cleaned on schedule. Generally you will save more on reduced cooling costs by having an expert clean and tune the system than you will pay for the service call.
Below our photographs illustrate several unsafe conditions at a house trailer's heating system inspected by D Friedman & S Vermilye during a mobile home site safety investigation. Notice that when the door to this central air handler is closed return air from the occupied space cannot reach the equipment.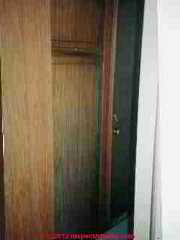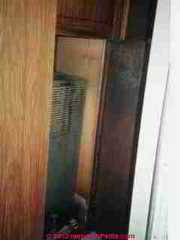 No return air from occupied space to the central (or other) air conditioner: Above we notice that when the door to the "furnace closet" in this mobile home is shut, there is no return air movement from the home's interior to the air handler- creating the most-expensive possible way to operate the equipment. We call this a "one way" heating or cooling system: scrounge some air from an outdoor or crawl space source, cool it, and blow it into the living space.
In addition to the absence of return air to the heating furnace we notice that
Dirt blockage of air flow: the return air inlet grille is partly blocked by dust and debris, further reducing air flow, increasing heating cost
Blocked air filter: if an air filter is installed (remains to be discovered), given how dirty is the exterior of this furnace the air filter may be equally dirty and airflow blocked
Reader Question: Why does my doublewide always feel uncomfortably warm
Why does my doublewide always feel uncomfortably warm especially at night when trying to sleep and even with the temperature at 70 to 71 degrees? - Daniel Phipps 4/16/2012
Reply:
Daniel that question has me stumped. There are so many possible reasons:

- a medical problem
- windows shut
- no ventilation
- bedroom close to a heating appliance that is "on" such as a water heater
- air conditioning system that is not working properly, has a blocked filter, blocked cool air return, dirty blower fan, etc. - see MOBILE HOME COOLING SYSTEMS discussed here

Check your own sensations against actual room temperature - I'm not sure if that's what your comment about "even with the temp .." meant.
General Characteristics of Mobile Home Cooling Ducts
Heating or Cooling Ducts placed at one of these typical locations:

cooling ducts placed in the floor along center line of the mobile home;
cooling ducts placed in the floor along exterior walls (better heating in cold climates);
cooling ducts placed in the in trailer or mobile home ceiling (better cooling in South);
[The duct location may tip off the wind zone rating intended for the mobile home unit being inspected.]
Common Mobile Home / Doublewide HVAC Duct Defects
floor ducts often damaged; registers blocked or covered by carpeting
floor ducts below the home, in an uninsulated space
floor ducts below the home that have

lost their insulation
fallen open
are incomplete
have been invaded by rodents or mol
Question: my homeowners insurance covers "accessible ductwork" from the air conditioning - what does that include?
I have home owners insurance, and it says it covers "accessible ductwork from the air condtioning unit to the point of attachment at register" what does that mean? Is my ductwork under the house covered? - Anonymous 7/17/2012
Reply:
Discussion of "accessible" building components vs inaccessible

Anon: re "accessible ductwork" - indeed that word has been the subject of lots of debate - the final answer lies with your insurance company and perhaps the onsite tech. Generally for building inspectors the term "readily accessible" is used to mean that the component can be approached, seen, touched, without having to cut anything apart or disassemble anything not intended to be opened by a homeowner.

For a service technician, "accessible" means it's reasonably possible to get to it - in my OPINION - without having to cut holes in ceilings, walls, floors. So if "under the house" is an area that can be physically accessed, say by entering a crawl space that is not itself so tight or unsafe as to be not enter-able, then in my OPINION the ducts are accessible.

When we debated this question at a home inspection association it was after an inspector had fallen to his death while crawling up a building-mounted but loose roof access ladder. He felt that he HAD to access the building roof but there was no other means for him to do so. He was killed.

A result of that terrible experience was a decision that ultimately we do not ever want to demand that anyone, inspector, nor service technician, attempt to "access" a building component or area if s/he has a reason for not doing so, such as a personal judgement about safety.

However that doesn't mean that a problem needing attention goes forever ignored. Rather it means that ultmately arranging safe functional access may take more time, trouble, and special arrangements. And cost accordingly.
Readers should also see MOBILE HOME PLUMBING where we further discuss oil tanks, oil piping, and water heaters for mobile homes. Page top sketch courtesy of Carson Dunlop.
Question: fixing or replacing mobile home or doublewide ductwork invaded by rats
23 January 2015 Chuck said:
I have a doublewide mobile home with the air ducts in the cieling. A rat has gotten into the air duct and chewed insulation and now insulation is blowing through the vent. I am going to have a company put a camera up there to find the break so it can be fixed. My question is would it be easier for me once I knew exactly where the break was to just go in from the roof. It seems alot faster and less expensive than tearing out the cieling and replacing sheetrock, tape and bed and repainting, not to mention the mess in the house. What are your thoughts?
Reply:
Chuck,
If your doublewide has a conventional continuous metal roof over an inaccessible space then you won't do well trying to cut into the roof and you risk creating a point of future roof leaks. I'd be inclined to work from the interior. But then I haven't seen your home.
If there is an attic access (which some doublewides have) then of course it'd make sense to get into that space and remove and replace the ductwork and any contaminated insulation.
Further, if there were rats in the ductwork, you want to replace ALL of the ductwork and insulation where rats were nesting lest their pee and poop and other debris become a health concern later on.
Mobile Home & Trailer Home Insulation & Ventilation Defects, Diagnosis, Repair, Improvement
This topic has moved to a separate article at MOBILE HOME INSULATION
Manufactured & Mobile Home Cooling Standards & Codes
Full text of the manufactured and mobile home heating standards can be found in
PART 3280—MANUFACTURED HOME CONSTRUCTION AND SAFETY STANDARDS [PDF] newer copy retrieved 2017/07/13 - faster-loading
See Subpart H, Heating, Cooling and Fuel Burning Systems in that document.
Updated through January 2018 - Steve Vermilye, New Paltz NY and Daniel Friedman, Poughkeepsie NY, Hudson Valley ASHI Chapter Seminar, Newburgh NY, January 4, 2000, NY Metro ASHI Fall 99 Seminar, Holiday Inn Crowne Plaza, White Plains NY, October 2, 1999.
...
Continue reading at MOBILE HOME INSULATION or select a topic from closely-related articles below, or see our complete INDEX to RELATED ARTICLES below.
Or see AIR CONDITIONING & HEAT PUMP SYSTEMS - home
Or see WALL CONVECTORS Heating / Cooling
Or see WINDOW / WALL AIR CONDITIONERS
Suggested citation for this web page
MOBILE HOME COOLING SYSTEMS at InspectApedia.com - online encyclopedia of building & environmental inspection, testing, diagnosis, repair, & problem prevention advice.
Or use the SEARCH BOX found below to Ask a Question or Search InspectApedia
...
Frequently Asked Questions (FAQs)
Try the search box below or CONTACT US by email if you cannot find the answer you need at InspectApedia.
Question: poorly insulated or uninsulated mobile homes have big impact on heating or cooling costs
(Nov 1, 2011) sandra reddick said:
i have a 1996 moble home trailer and was wonder why it is so cold in the winter time a very hot in the summer. just learning that the moble home has no insulation in it,is that a home code violation.
(Jan 14, 2013) Anonymous said:
weird i hv the same problm i hv a 1968 mobl home it is terrible in the cold the summer is unbearable if u hv no ac units.. is it a violation?
Reply:
"Violation" is a tricky term Sandra and Anon as building code enforcement is ultimately up to local building officials. More confusion can arise because mobile homes, often built by manufacturers who assume their products must comply with building regulations across multiple states or provinces, build to model codes, and local building inspectors, knowing this, may not feel compelled or even able to inspect such homes for local code compliance.
Please see MOBILE HOME INSULATION
Question: use a residential heating furnace in a manufactured home?
(Jan 30, 2014) Ray Cole said:
Can a house residential furnace be used in a manufactured home
Reply:
Ray,
if by manufactured home you mean like modular housing, not a MOBILE home (trailer home) then yes.
If you mean in a trailer home like the types shown in this article - it depends - on equipment size, space requirements, btu requirements etc. The heater must meet the required HUD specifications.
If you have a specific brand and model in question let me know and I'll research the specifics.
Certainly because space and combustion air and btu requirements are often different for a mobile home like the ones discussed here, we expect to see heating equipment designed for safe installation there.
I'd be very wary about just hooking something up without knowing the specifics as you could risk burning the place down or dangerous carbon monoxide hazards.
(Nov 4, 2014) Anonymous said:
to Ray Cole: No you can not use a residential furnace or air handler in a mobile home. mobile homes are under HUD guide lines. In the installation instructions of residential systems spells this out. most heating systems for mobile homes are down flow and Coleman, Intertherm, Mortex make mobile home heating systems.
However, If you decide to replace the system with a package unit they are compatible as long as they have a high static blower system. Mobile home duct systems are not design to maintain pressure the further you get from the source.
Question: some rooms in doublewide don't get adequate heat
(Oct 4, 2014) Kathy said:
I have a double-wide built in 2000, my bedroom and bath are in the back of the house and is always so cold from October through the winter/ spring months. The heater is in great condition and I have had an inspector from the gas company check for heat loss, but it hasn't helped. Could there be a problem under the house with the ventilation pipes and how much would something like that cost to get inspected? I have had electric heaters in those rooms since I bought the place newly built for me. I have also had the company that built the house come out, but I think they only checked the inside.
Reply:
Kathy
The least costly first step might be to ask your heating service company to check for a disconnected or blocked heating duct or a closed register or duct damper.
The check needs to include a complete survey of the ducting, including under the unit.
(Nov 4, 2014) Anonymous said:
Kathy, with double wides typically the heater sets on one half of the home and has a crossover duct to the far half. If your cold rooms are on that far half the air flow and temp is greatly reduced by the time it gets to your rooms. the easiest and first step is to regulate the supply grills on the half the heater sets on. Cutting almost off any bathrooms (usually the hottest rooms) if the grills are broke replace them, next regulate to at least half off all rooms closest to the heater.
If this does not get the desired results, I would inspect the cross over duct. It should be dead center of the furnace and at least 12" supply. also you can put a scoop (small piece of metal in those vents in the colder rooms to deflect air up. Lastly I would check the seal around the connection of the floor supply boot to the main trunk line it is where to pieces of metal duct join and reseal with foil tape.

Question: clicking noiser but no heat from my electric air conditioning / heating system
(Dec 13, 2014) Robert said:
I live on a double wide mobile home- have an electric air conditioning/heater system. Couple days ago the heater was working and now it does some click noise like is going to come on but do not come on. What could be the problem? Thanks

Reply:
Robert,
It sounds as if you have a heat pump that's not working. See the diagnostics at
inspectapedia.com/aircond/Air_Conditioner_Wont_Start.php
If outdoor temperatures are too low for your heat pump to provide heat the problem could be failure of your backup heating system to operate. Look for a control board or relay failure.

...
Ask a Question or Search InspectApedia
Use the "Click to Show or Hide FAQs" link just above to see recently-posted questions, comments, replies, try the search box just below, or if you prefer, post a question or comment in the Comments box below and we will respond promptly.
Search the InspectApedia website
Technical Reviewers & References
Click to Show or Hide Citations & References
Mobile Home Inspections - Daniel Friedman & Steven T. Vermilye
Mark Cramer Inspection Services Mark Cramer, Tampa Florida, Mr. Cramer is a past president of ASHI, the American Society of Home Inspectors and is a Florida home inspector and home inspection educator. Mr. Cramer serves on the ASHI Home Inspection Standards. Contact Mark Cramer at: 727-595-4211 mark@BestTampaInspector.com
John Cranor is an ASHI member and a home inspector (The House Whisperer) is located in Glen Allen, VA 23060. He is also a contributor to InspectApedia.com in several technical areas such as plumbing and appliances (dryer vents). Contact Mr. Cranor at 804-747-7747 or by Email: johncranor@verizon.net
[1] Section 184 Indian Home Loan Guarantee Program, U.S. Department of Housing & Urban Development, web search 1/5/2012, original source: portal.hud.gov/hudportal/HUD?src=/program_offices/public_indian_housing/ih/homeownership/184 - Quoting:
The Section 184 Indian Home Loan Guarantee Program is a home mortgage specifically designed for American Indian and Alaska Native families, Alaska Villages, Tribes, or Tribally Designated Housing Entities. Section 184 loans can be used, both on and off native lands, for new construction, rehabilitation, purchase of an existing home, or refinance.
Also see Freddie Mac & Fannie Mae
[2] Native American Housing Loan Guarantee Program HUD Section 184 Loans At A Glance, FannieMae, web search 1/5/12, original source: efanniemae.com/sf/mortgageproducts/pdf/section184aag.pdf
[3] Mobile Home Inspections - Daniel Friedman & Steven T. Vermilye
[4] Trailer vs Mobile Home vs Modular vs Panelized Construction an explanation of terms and how to identify these structures.
[5] "Modular Home Construction, special defects and inspection methods" Dan Friedman, NY Metro ASHI Seminar, Holiday Inn, Crowne Plaza, White Plains NY, October 4, 1996
[7] Trailer vs Mobile Home vs Modular vs Panelized Construction an explanation of terms and how to identify these structures.
[8] "Modular Home Construction, special defects and inspection methods" Dan Friedman, NY Metro ASHI Seminar, Holiday Inn, Crowne Plaza, White Plains NY, October 4, 1996
[9] New York State: "Manufactured Homes: an installation guide for the code enforcement official," undated. [Div. of Code Enforcement & Admin. - 518-474-4073, George E. Clark, Jr., Director] - this is a guide tool, not an enforcement code or standard.
[10] HUD State Administrative Agency (for 36 states) (NY: 518-474-4073) - for complaints
[11] Manufactured Housing Institute, 2101 Wilson Blvd. Ste. 610, Arlington VA 22201 703-558-0400 www.mfghome.org
[12] NYMHA, 35 Commerce Ave., Albany NY 12206-2015 518-435-9859 800-721-HOME (they want the Star Program to provide for separate assessment of manufactured homes)
[13] Consumer Reports: www.consumerreports.org - special report 2/98
[14] Mobile Home Inspection Checklist, Florida, Town of Lady Lake Building Department
[15] Thanks to home inspector Peter Bennett for eagle-eye editing assistance regarding spelling at this web article series. Little Silver, NJ 07739 Office 732-758-9887 Fax 732-758-8993 Cell 732-245-9817 afullhouseinspectionco@gmail.com
[16] Wikipedia provided background information about some topics discussed at this website provided this citation is also found in the same article along with a " retrieved on" date. NOTE: because Wikipedia entries are fluid and can be amended in real time, we cite the retrieval date of Wikipedia citations and we do not assert that the information found there is necessarily authoritative. - Entry on Mobile Homes, original source: http://en.wikipedia.org/wiki/Mobile_home#Regulation, retrieved 8/14/2012
Books & Articles on Building & Environmental Inspection, Testing, Diagnosis, & Repair
Our recommended books about building & mechanical systems design, inspection, problem diagnosis, and repair, and about indoor environment and IAQ testing, diagnosis, and cleanup are at the InspectAPedia Bookstore. Also see our Book Reviews - InspectAPedia.
Crawl Space Moisture Control, U.S. Department of Energy
Domestic Building Surveys, Andrew R. Williams, Kindle book, Amazon.com
Defects and Deterioration in Buildings: A Practical Guide to the Science and Technology of Material Failure, Barry Richardson, Spon Press; 2d Ed (2001), ISBN-10: 041925210X, ISBN-13: 978-0419252108. Quoting:
A professional reference designed to assist surveyors, engineers, architects and contractors in diagnosing existing problems and avoiding them in new buildings. Fully revised and updated, this edition, in new clearer format, covers developments in building defects, and problems such as sick building syndrome. Well liked for its mixture of theory and practice the new edition will complement Hinks and Cook's student textbook on defects at the practitioner level.
Moisture Control in Buildings, U.S. Department of Energy
Moisture Control in Walls, U.S. Department of Energy
...