Earthquake, Hurricane, Flood or Wind Damage Repairs
Introduction: FEMA/ARC booklet, expanded & annotated
InspectAPedia tolerates no conflicts of interest. We have no relationship with advertisers, products, or services discussed at this website.
Earthquake, hurricane, flood or storm & wind damage to buildings - action & repair priorities:
If your building has been flooded, this website provides an easy to understand guide for flood damage assessment, setting priorities of action, guarding personal safety, and taking safe, organized and effective steps to inspect, diagnose, clean-up, and repair a flooded building as well as steps to prevent future damage.
This article series describes how to enter and assess damaged buildings safely, how to set priorities of repair, how to clean up earthquake, flood, storm or wind-damaged buildings, and how to rebuild using methods and materials to reduce future building damage and hazards.
We also discuss earthquake, flood, storm or wind damage insurance including private insurance and the NFIP.
We include extra depth of detail about safe building entry, returning mechanical systems to operation, and special information about avoiding or minimizing mold damage. Adapted and expanded from Repairing your Flooded Home, American Red Cross & FEMA & from additional expert sources.[1]
NOTICE: neither the ARC nor FEMA have yet approved the additions & expansions we have made to the original document.
Green links show where you are. © Copyright 2017 InspectApedia.com, All Rights Reserved.
First Steps: What to Do After a Building Has Been Flooded or Damaged by Earthquake, Hurricane, or other Storm or Fire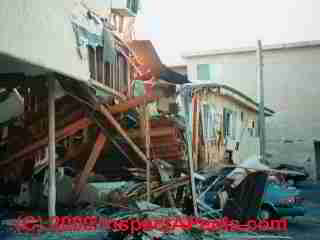 If You Have Been Injured seek medical care at the nearest hospital or emergency facility.

Floodwaters are often contaminated by sewage and there is risk of serious infection if wounds are not cleaned and treated.

If you need emergency assistance, from a safe location and away from any possible gas leak odors, contact your local emergency assistance police, fire department or similar agency.
Emergency Assistance Telephone Numbers - U.S.A. or in CANADA: call 911 for most U.S. or Canadian communities
Other Emergency Aid Numbers
Emergency Assistance from a cell phone or mobile phone: call 112
Austraila Emergency Assistance: call 000
E.U. European Union Emergency Assistance: call 112
India Emergency Services: call 102
Mexico Emergency Assistance: call 066, 060, or 080
New Zealand Emergency Assistance: call 111
Singapore Emergency Assistance: call 995
South Africa Emergency Assistance: call 10177* or for police & fire call 10111 or from a mobile phone call 112
U.K. Emergency Assistance: call 999 or call 112
Check on Neighbors to see if there are elderly or infant neighbors who are trapped, injured, or otherwise need assistance.

Help a neighbor who may require special assistance--infants, elderly people, and people with disabilities.

Elderly people and people with disabilities may require additional assistance.

People who care for them or who have large families may need additional assistance in emergency situations.
Warning: Do Not Enter a Flooded, Storm Damaged, or Earthquake or Hurricane Damaged Building in The Following Conditions
Also see BUILDING ENTRY for DAMAGE ASSESSMENT for additional details.
If the building is still flooded: Flood waters often undermine foundations, causing sinking, floors can crack or break and buildings can collapse.
Collapse hazards: If the building is damaged or has moved off of its foundation: Damage to the building may mean that there is a risk of collapse. buildings which have moved off of their foundation - ruptured gas or electrical lines are extremely dangerous.

See EARTHQUAKE DAMAGED FOUNDATIONS
and
see FLOOD DAMAGE TO FOUNDATIONS

Even the smallest shift of a building on or off of its foundation, possibly less than an inch, can rupture gas piping or electrical wiring, creating a dangerous condition.

See FOUNDATION INSPECTION & DIAGNOSIS
and
also FLOOD DAMAGE TO FOUNDATIONS
Electrocution hazards: If there are live electrical systems or wires: Where electrical wiring is live and wet or under water or even simply standing in water or on a wet surface without special protection can lead to a fatal electrical shock.

See HOW TO TURN OFF THE POWER MAIN FUSE in a building that has been wet or flooded in Step 2,
and
see ELECTRICAL SAFETY for FLOOD DAMAGE INSPECTORS. At Step 2 we also warn about use of electrical generators.
Gas explosion hazards: If there there are damaged, loose, or broken gas piping or other fuel spills that could result in a fire or explosion. Make sure that all of the utilities, electricity, gas, even water, have been safely shut down. Turning off gas to a building is also discussed at Step2.
Buildings that have not been declared safe: Avoid entering ANY building (home, business, or other) before local officials have said it is safe to do so. buildings may have hidden damage that makes them unsafe.
Avoid disaster areas: Your presence might hamper rescue and other emergency operations, and put you at further risk from the residual effects of floods, such as contaminated waters, crumbled roads, landslides, mud flows, and other hazards.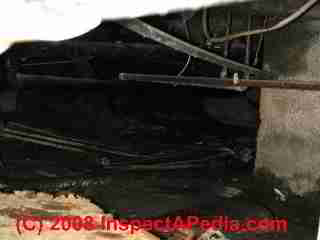 Crawl spaces (or flooded basements) that are unsafe -
See CRAWL SPACE SAFETY ADVICE

Flooded crawl spaces may be contaminated with sewage bacteria, mold, rodents, or chemicals.

Flooded crawl spaces may be in danger from collapse of the structure overhead.

There may be a danger of electrocution in crawl spaces, especially wet ones, if electrical power remains on.

FLOOD CONTAMINATED WELL RESTORE & PROTECT -

water from flooded wells is not safe to drink

- how to clean and restore a flood-polluted water well
This article series gives action & repair priorities if your building has been flooded, or damaged by another disaster in an easy to understand guide.
We describe procedures for for flood damage assessment, setting priorities of action, safe entry procedures for damaged buildings, first steps to protect a building from further damage, how to dry out the building, how to return the utilities to operation, how to clean up a flooded or damaged basement or building, how to rebuild a damaged building, and how to prepare to minimize danger and damage hazards from future disasters.
We also provide special information about avoiding or minimizing mold damage in wet or flooded basements or buildings.
Key Personal Safety Advice For Entering & Repairing a Building After a Disaster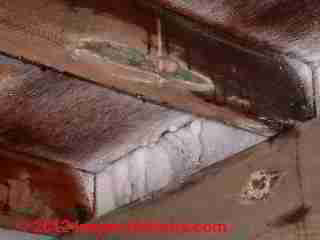 BUILDING ENTRY for DAMAGE ASSESSMENT:

How to safely Enter

& Inspect a Building After Flooding from Hurricane Harvey
Continue to listen to a NOAA Weather Radio: or local radio or television stations and return home only when authorities indicate it is safe to do so.

Flood dangers do not end when the water begins to recede; there may be flood-related hazards within your community, which you could hear about from local broadcasts.
Do not work alone: if you fall or are injured and are alone you may not receive prompt assistance. If you must work alone despite this advice, be sure you have a working radio or cell phone to use to summons assistance
Do not walk through flowing water. Drowning is the number one cause of flood deaths. Most of these drownings occur during flash floods. Six inches of moving water can knock you off your feet.

Use a pole or stick to make sure that the ground is still there before you go through an area where the water is not flowing.

Do not drive through a flooded area. More people drown in their cars than anywhere else. Don't drive around road barriers; the road or bridge may be washed out.

Drinking water may be unavailable or it may be contaminated. Do not assume that municipal water or water from private wells is safe to drink.

See DRINKING WATER - EMERGENCY SOURCES
and
also DRINKING WATER - EMERGENCY PURIFICATION
then
See FLOOD CONTAMINATED WELL RESTORE & PROTECT -

water from flooded wells is not safe to drink

- how to clean and restore a flood-polluted water well
Electrocution hazards: When leaving a building because of impending flooding, leave the electricity turned OFF. Do not turn electricity back on until the building is dry and safe.

Using a portable electricity generator in a waterlogged or damaged home in a disaster area after hurricanes, earthquakes, floods can be very dangerous, risking death by electrocution, gas explosion, or by carbon monoxide poisoning.

Above we also warned about electrocution hazards in buildings where the electricity has not been shut off.

Stay away from power lines and electrical wires. Electrocution is also a major killer in floods.

Electrical current can travel through water. Report downed power lines to your utility company or local emergency manager.
FLOODS IN BUILDINGS - PRIORITIES -

see this checklist of what to do first

for safety and to protect a flooded building from further damage
Gas leak risks: Watch out for gas leaks in flooded buildings - flooding moves buildings & causes gas line leaks.

Do not Smoke Near or Inside buildings that Have not Been Declared Safe - a ruptured gas line or leaking gas from appliances could cause a gas explosion and fire. Do not smoke inside buildings.

Smoking in a confined area can cause a fire or gas explosion. Do not turn electricity back on in a building where gas leaks could be present. Use a sealed flashlight for inspection, not a plug-in light.

Don't smoke or use candles, lanterns, or open flames unless you are sure that the gas has been turned off and the area has been aired out. Carbon monoxide exhaust kills. Use a generator or other gasoline-powered machine outdoors. The same goes for camping stoves. Fumes from charcoal are especially deadly-cook with charcoal only outdoors.
Mold, Muck, Insects, Toxic Sludge & Toxic Dust Hazards exist in flooded or storm damaged buildings - a mixture of household chemicals, paints, stored gasoline, lead, sewer or septic system backup, debris and possibly asbestos. Do not begin cleanup efforts without understanding the hazards that may be present and be sure to use the necessary protective clothing and equipment.
See FLOOD RESPONSE CHECKLIST

See MOLD CLEANUP AFTER A FLOOD:

How to Prevent or Remove Mold After Flooding

from Hurricane Harvey and similar hurricanes, floods, storms. Includes a checklist of key steps to minimize mold damage after a building flood from earthquake, flood, or a hurricane or similar storm or disaster.


Report broken utility lines: such as electrical, gas, water or sewer piping to the appropriate authorities. Reporting potential hazards will get the utilities turned off as quickly as possible, preventing further hazard and injury. Check with your utility company now about where broken lines should be reported.
Septic system hazards: include sewage-contaminated floods in buildings and risk of collapsing septic systems.
See SEPTIC & CESSPOOL SAFETY; rope off and prevent access to areas over or close to the septic tank until its condition has been investigated.

See SEPTIC SYSTEM FLOOD DAMAGE REPAIR for advice on repairing septic systems that have been flooded.

If your septic system has been flooded we link to an article on flooded septic systems outlining what to do about that system as well.
Turn off your electricity when you return home. Follow the instructions in Step 2. Give Your Home First Aid. Some appliances, such as television sets, can shock you even after they have been unplugged. Don't use appliances or motors that have gotten wet unless they have been taken apart, cleaned, and dried.

Watch out: do not touch electrical equipment, not even to open the electrical panel door if you are standing in water or on a wet surface unless you have special training and protective gear as there is a risk of death by electrocution.

Call your emergency services who can turn off power to the building from outside, typically at the power pole or by pulling the electric meter.

See ELECTRICAL SAFETY for FLOOD DAMAGE INSPECTORS for details.
Watch for animals, especially snakes. Small animals that have been flooded out of their homes may shelter in yours. Use a pole or stick to seek poke and turn items over and scare away small animals.
Watch out for broken glass, nails, debris: Look before you step.

After a flood, the ground and floors are covered with debris including broken bottles and nails. Floors and stairs that have been covered with mud can be very slippery.
Clean [or dispose of] everything that got wet. Floodwaters have picked up sewage and chemicals from roads, farms, factories, and storage buildings. Spoiled food and flooded cosmetics and medicines are health hazards.

When in doubt throw them out.
Take good care of yourself. Recovering from a flood is a big job. It is tough on both the body and the spirit. And the effects a disaster has on you and your family may last a long time.

Read Step 1 on how to recognize and care for anxiety, stress, and fatigue.
What to do to Prevent Mold Growth After a Building Flood or Burst Pipe
Hazards in and around flooded buildings include risk of structural collapse, risk of septic system collapse, trip and fall injury hazards, electrical shock hazards, fire and explosion hazards where natural gas or bottled gas are present, toxic sludge and materials containing waterborne bacteria, such as the E. coli and Enterococci bacteria, toxic mold growth indoors.
If your building is already moldy or if you suspect mold related illness in your building, we link to a step by step MOLD ACTION GUIDE dealing with toxic or allergenic indoor mold and other indoor contaminants: when and how to inspect or test for mold, when to hire an expert, how to clean up a moldy area, when and how to perform post-remediation mold testing.

Extensive, technically detailed in-depth articles on other mold detection, testing, and prevention methods are organized at our MOLD INFORMATION CENTER
Before Accessing the Expanded/Annotated FEMA/ARC Book on Rebuilding Your Home After a Flood
The online version of the original FEMA/ARC book gives step-by-step advice you can use to clean up, rebuild, and get help after a flood. Before you start, read the safety precautions at the top of this document and review the nine steps that are summarized on the contents pages.
Your home and its contents may look beyond hope, but many of your belongings can be restored. If you do things right, your flooded home can be cleaned up, dried out, rebuilt, and reoccupied sooner than you think. While you are doing the job ahead, you should remember these three important points:
Play it safe. The dangers are not over when the water goes down. Read the safety precautions at the top of this document. Your home's foundation may have been weakened, the electrical system may have shorted out, and floodwaters may have left behind things that could make you sick.

Many flooded items, such as wallboard and mattresses, will hold mud and contamination forever. When in doubt, throw it out. Don't risk injury or infection.
Ask for help. Many people can do a lot of the clean up and repairs discussed in this book. But if you have technical questions or do not feel comfortable doing something, get professional help.

If there is a federal disaster declaration, a telephone "hotline" will often be publicized to provide information about public, private, and voluntary agency programs to help you recover from the flood.

Government disaster programs are there to help you, the taxpayer. You're paying for them; check them out.
Floodproof. It is very likely that your home will be flooded again someday.

Floodproofing means using materials and practices that will prevent or minimize flood damage in the future. Many floodproofing techniques are inexpensive or can be easily incorporated into your rebuilding program. You can save a lot of money by floodproofing as you repair and rebuild.

See Step 8. You should also prepare for the next flood by buying flood insurance and writing a flood response plan.
...
Continue reading at Step 1. Take Care of Yourself First - separate article - Protect yourself and your family from stress, fatigue, and health hazards that follow a flood.
9 STEPS to REPAIRING YOUR FLOODED HOME
Original FEMA/ARC Article, Herein Annotated, Expanded, and Linked to Additional Details found at InspectApedia.com
The original version of this information is published by the Federal Emergency Management Agency (FEMA) and the American Red Cross to help flooded property owners. It is designed to be easily copied. Permission to reproduce all or any section of this material is hereby granted and encouraged.
Copies of this book are available
Online in expanded, annotated format right here at FLOOD DAMAGE CLEANUP & REPAIR GUIDE
From your local Red Cross chapter
By writing: FEMA at P. O. Box 2012 Jessup, MD 20794-2012 Following A Flood
Acknowledgements
The original form of this book was prepared for the Federal Emergency Management Agency under Contract Number EMW-89-C-3024 and EMW-91K-3738.
InspectApedia has added annotations, comments, and links to online articles giving corrections or greater depth to the original EPA/ARC document.
FEMA and the American Red Cross gratefully acknowledge the thoughtful assistance provided by the many individuals who reviewed this book. Reviewers included repair and reconstruction contractors, mental health professionals, sociologists, researchers, disaster assistance specialists, insurance experts, underwriters, structural engineers, public health agents, floodplain managers, emergency managers, education specialists, editorial experts, and graphic designers.
...
Continue reading at STEP 1. TAKE CARE OF YOURSEL FIRST- separate article - Protect yourself and your family from stress, fatigue, and health hazards that follow a flood.
FEMA Regional Office Contact Information & Telephone Numbers
How to Contact FEMA
FEMA WEBSITE - how to contact FEMA directly for disaster aid - https://faq.fema.gov/ci/documents/submit
FEMA Region
States in the FEMA Region
FEMA Contact Information
FEMA Region I
CT, ME, MA NH, RI, VT
FEMA Region I J.W. McCormack POCH, Rm. 442 Boston, Massachusetts 021094595 (617) 223-9561
FEMA Region II
NJ, NY, PR, VI
FEMA Region II 26 Federal Plaza, Rm. 1337 New York, NY 10278-0002 (212) 225-7202
FEMA Region III
DE, DC, MD, PA, VA, WV
FEMA Region III Liberty Square Bldg., 2nd Floor 105 S. Seventh Street Philadelphia, Pennsylvania 19106-3392 (215) 931-5750
FEMA Region IV
AL, FL, GA, KY, MS, NC, SC, TN
FEMA Region IV 1371 Peachtree St., N.E., Suite 700 Atlanta, Georgia 30309-3108 (404) 853-4400
FEMA Region V
IL, IN, MI, MN, OH, WI
FEMA Region V 175 West Jackson Street, 4th Floor Chicago, Illinois 60604-2698 (312) 408-5533
FEMA Region VI
AR, LA, NM, OK, TX
FEMA Region VI Federal Regional Center., Rm. 206 800 N. Loop 288 Denton, Texas 76201-3698 (817) 898-5127
FEMA Region VII
IA KS, MO, NE
FEMA Region VII 911 Walnut Street, Room 200 Kansas City, Missouri 641062085 (816) 283-7002
FEMA Region VIII
CO, MT, ND, SD, UT, WY
FEMA Region VIII Denver Regional Center Building 710, Box 25267 Denver, Colorado 80225-0267 (303) 235-4830
FEMA Region IX
AZ, CA, HI, NV
FEMA Region IX Building 105 Presidio of San Francisco San Francisco, California 941291250 (415) 923-7176
FEMA Region X
AK, ID, OR, WA
FEMA Region X Federal Regional Center 130 228th St., S.W. Bothell, Washington 98021-9796 (206) 487-4682
FEMA Publications
Federal Emergency
Management Agency
Attn: Publications
P. O. Box 2012
Jessup, MD 20794-2012
FEMA Robert T. Stafford Disaster Relief & Emergency Assistance Act
The Stafford Act, (properly named as below) defines the scope and authority of the assistance to be provided by the U.S. Federal Government to state and local governments in alleviating both human suffering and property damage resulting from various disasters.
For access to the full details of the act use the web link provided below or see the document directly from the link we provide.
Two definitions in the act are helpful in understanding the scope of responsibility of the federal government. The first explains that the U.S. President has the authority to declare a disaster and the second defines "Major Disaster" - Quoting [9]
"Emergency" means any occasion or instance for which, in the determination of the President, Federal assistance is needed to supplement State and local efforts and capabilities to save lives and to protect property and public health and safety, or to lessen or avert the threat of a catastrophe in any part of the United States.
"Major disaster" means any natural catastrophe (including any hurricane, tornado, storm, high water, winddriven water, tidal wave, tsunami, earthquake, volcanic eruption, landslide, mudslide, snowstorm, or drought), or, regardless of cause, any fire, flood, or explosion, in any part of the United States, which in the determination of the President causes damage of sufficient severity and magnitude to warrant major disaster assistance under this Act to supplement the efforts and available resources of States, local governments, and disaster relief organizations in alleviating the damage, loss, hardship, or suffering caused thereby.
Robert T. Stafford Disaster Relief & Emergency Assistance Act, June 2007, full document [large PDF] Retrieved 12 /3/2012, original sourc: https://www.fema.gov/library/viewRecord.do?id=3564, [copy on file as Stafford_Act_FEMA_2007.pdf] Quoting:
The Robert T. Stafford Disaster Relief and Emergency Assistance Act (Public Law 100-707), signed into law on November 23, 1988; amended the Disaster Relief Act of 1974 (Public Law 93-288). The Stafford Act constitutes the statutory authority for most Federal disaster response activities especially as they pertain to the Federal Emergency Management Agency (FEMA) and FEMA programs. [9]
Important Telephone & Insurance Policy Numbers You Should Record for Your Home
Important Telephone Numbers for Your Home or Building
American Red Cross
AMERICAN RED CROSS WEBSITE - how to contact the Red Cross - ARC -
http://www.redcross.org
Ambulance
Disaster Hotline (announced if there is a federal disaster declaration)
Cooperative Extension Service
Electrical & Gas Power Company
Emergency Management Office
Family Members
Fire
Flood Insurance Policy Company Number
Gas Company
Hardware Stores & Building Suppliers
Health Department
Homeowner's Insurance Policy Company Number
Insurance Agent
Lumber Companies
Neighbors
Police
Poison Control Center
Water
Wind and/or Hail Insurance Policy Company Number
Notes:
Continue reading at STEP 1. TAKE CARE of YOURSEL FIRST or select a topic from closely-related articles below, or see our complete INDEX to RELATED ARTICLES.
Or see these
Articles on Flood & Hurricane or Storm Damage Emergency Help & Repairs
Suggested citation for this web page
FLOOD & DISASTER BUILDING DAMAGE REPAIR PROCEDURES at InspectApedia.com - online encyclopedia of building & environmental inspection, testing, diagnosis, repair, & problem prevention advice.
Or use the SEARCH BOX found below to Ask a Question or Search InspectApedia
...
Frequently Asked Questions (FAQs)
Try the search box below or CONTACT US by email if you cannot find the answer you need at InspectApedia.
...
Ask a Question or Search InspectApedia
Use the "Click to Show or Hide FAQs" link just above to see recently-posted questions, comments, replies, try the search box just below, or if you prefer, post a question or comment in the Comments box below and we will respond promptly.
Search the InspectApedia website
Technical Reviewers & References
Click to Show or Hide Citations & References
[1] "Repairing your Flooded Home", American Red Cross & FEMA: Federal Emergency Management Agency, FEMA PO Box 2012, Jessup MD 20794-2012. Printed copies of this book are available from the American Red Cross, from your local Red Cross chapter, or by writing to the address above. Web search 10/4/2010, original source: http://www.redcross.org/www-files/Documents
/pdf/Preparedness/file_cont333_lang0_150.pdf
[2] The following are available free from: Federal Emergency Management Agency Attn: Publications P. O. Box 2012 Jessup, MD 20794-2012

Design Manual for Retrofitting Flood-prone Residential Structures, FEMA-114. This detailed manual explains all the floodproofing options in language a homeowner can understand.
Elevated Residential Structures, FEMA-54.
Floodproofing Non-residential Structures, FEMA-102.
Coastal Construction Manual, FEMA-55.
Manufactured Home Installation in Flood Hazard Areas, FEMA 85.

[3] The following are available for free from: U.S. Army Corps of Engineers Attn: CECW-PF 20 Massachusetts Avenue, NW Washington, D.C. 20314

Introduction to Flood Proofing, John R. Sheaffer, 1967
Flood-Proofing Regulations, U.S. Army Corps of Engineers, Pittsburgh District, 1990, 80 pages (Corps publication EP 1165 3 314).
Flood Proofing Systems & Techniques, L.N. Flanagan, editor, 1984
Flood Proofing Tests, Tests of Materials and Systems for Flood Proofing Structures, Corps of Engineers, National Flood Proofing Committee, August, 1988.
Raising and Moving the Slab- On-Grade House, Corps of Engineers National Flood Proofing Committee, 1990.

[4] The following publications are available from the American Red Cross. Contact your Red Cross chapter for more information:

Your Family Disaster Plan (ARC 4466)
Su plan para el hogar en caso de desastres (ARC 4466S)
Your Family Disaster Supplies Kit (ARC 4463)
Su Equipo de suministros para la familia en caso de desastres (ARC 4463S)
Safe Living in Your Manufactured Home (ARC 4465)
Are You Ready for a Flood or Flash Flood? (ARC 4458)
¿Está preparado para una inundación or inundación súbita? (ARC 4458S)
Are You Ready for a Hurricane? (ARC 4454)
¿Está preparado para un huracán? (ARC 4454S)

[5] Clean up References Many Cooperative Extension Service offices have home economists and food and farm experts. Check your telephone book under the county name. For example, if you live in Pittsburg County, check under "Pittsburg County Cooperative Extension Service".
[6] Questions on cleaning or disinfecting of specific materials can be answered by manufacturers of cleaning products. Check the product labels for toll free telephone numbers.
[7] References on technical aspects of floodproofing can be located through the Floodplain Management Resource Center, a free service provided by the Association of State Floodplain Managers. Call 303/492-6818
[8] CMHC, Canadian Mortgage and Housing Corporation, "After the Flood — A Homeowner's Checklist", retrieved 10/21/2012, original source http://www.cmhc-schl.gc.ca/en/co/maho/em/em_001.cfm [copy on file as After_The_Flood_CMHC.pdf]
[9] Robert T. Stafford Disaster Relief & Emergency Assistance Act, June 2007, full document [large PDF] Retrieved 12 /3/2012, original sourc: https://www.fema.gov/library/viewRecord.do?id=3564, [copy on file as Stafford_Act_FEMA_2007.pdf]
[10] Asbury H. Sallenger Jr., Island in a Storm: A Rising Sea, a Vanishing Coast, and a Nineteenth-Century Disaster that Warns of a Warmer World, PublicAffairs; 2009, ISBN-10: 1586485156, ASIN: B00381B7PU

Steve Bliss's Building Advisor at buildingadvisor.com helps homeowners & contractors plan & complete successful building & remodeling projects: buying land, site work, building design, cost estimating, materials & components, & project management through complete construction. Email: info@buildingadvisor.com
Steven Bliss served as editorial director and co-publisher of The Journal of Light Construction for 16 years and previously as building technology editor for Progressive Builder and Solar Age magazines. He worked in the building trades as a carpenter and design/build contractor for more than ten years and holds a masters degree from the Harvard Graduate School of Education. Excerpts from his recent book, Best Practices Guide to Residential Construction, Wiley (November 18, 2005) ISBN-10: 0471648361, ISBN-13: 978-0471648369, appear throughout this website, with permission and courtesy of Wiley & Sons. Best Practices Guide is available from the publisher, J. Wiley & Sons, and also at Amazon.com
Mark Cramer Inspection Services Mark Cramer, Tampa Florida, Mr. Cramer is a past president of ASHI, the American Society of Home Inspectors and is a Florida home inspector and home inspection educator. Mr. Cramer serves on the ASHI Home Inspection Standards. Contact Mark Cramer at: 727-595-4211 mark@BestTampaInspector.com
Paul Galow - technical consultant on networking, LAN design, applications support. Galow Consulting Services, 914-204-1749, email: paulgalow@galowconsulting.com
Mara and Andy Gieseke, Tucson AZ, are contributors to InspectAPedia.com including photographs used at SIDING EIFS & STUCCO, CONTROL JOINT CRACKS in CONCRETE and ROT, FUNGUS, TERMITES, and are family members of website publisher Daniel Friedman.

David Goldstein - contributor and technical reviewer. Mr. Goldstein is a principal of Ambic Home Inspection in Downingtown, PA  19335 Tel: 610-269-7365. A member of NAHI, and also of ASHI since 1986, Mr. Goldstein has served as a National Officer in ASHI and on the Board of Directors, as well as President of two different chapters, and on professional committees such as ASHI Standards.  He is a New Jersey Licensed Building Inspector and Plumbing Inspector, Construction Official and Sub-Code Official and formerly licensed as a Fire Protection Inspector.  He is also a state certified Pest Control Operator and Radon Measurement Technician. Mt. Goldstein also serves as course director for BICI, Building Inspector's Career Institute.
David Grudzinski, Advantage Home Inspections, ASHI cert # 249089, HUD cert# H-145, is a professional home inspector who contributes on various topics including structural matters. Mr. Grudzinski, Cranston RI serving both Rhode Island and Eastern Connecticut can be reached at 401-935-6547 fax- 401-490-0607 or by email to Davidgrudzinski@aol.com. Mr. Grudzinski is a regular contributor to InspectAPedia.com - see DECK FLASHING LEAKS, ROT Case Study, and BASEMENT WATER MOLD IMPACT and VERMICULITE INSULATION for examples.
Roger Hankey is principal of Hankey and Brown home inspectors, Eden Prairie, MN. Mr. Hankey is a past chairman of the ASHI Standards Committee. Mr. Hankey has served in other ASHI professional and leadership roles. Contact Roger Hankey at: 952 829-0044 - rhankey@hankeyandbrown.com. Mr. Hankey is a frequent contributor to InspectAPedia.com.
Jay Hodgens,P.E., Hodgens Engineering Service, Rapid City, SD 57702. Email: james@hodgens.net, for assistance with links and references to regulations regarding underground storage tanks as well as comments on other topics. Mr. Hodgens has been licensed as a professional engineer in eight states and has developed over 450 SPCC plans in compliance with reguilations in twelve states. Mr. Hodgens can be reached at 845-496-0494 or in South Dakota at 605-350-4367. His proposed amendments to US EPA 40 CFR part 112 can be read at http://www.hodgens.net/hes/10-07comments.pdf. 4/1/2013. Mr. Hodgens is a frequent contributor to InspectAPedia.com.
Anish R. Jantrania, Mark A. Gross. Anish Jantrania, Ph.D., P.E., M.B.A., is a Consulting Engineer, in Mechanicsville VA, 804-550-0389 (2006), Advanced Onsite Wastewater Systems Technologies. Outstanding technical reference especially on alternative septic system design alternatives.
The Journal of Light Construction has generously given reprint permission to InspectAPedia.com for some articles at this website. All rights and contents of those materials are ©Journal of Light Construction and may not be reproduced in any form.
William King, US CPSC Director of Electrical Engineering (Retired).
Bob Maltempo, P.E. was a licensed professional engineer who performed building inspections and flood damage inspections in Hauppage, New York. We regret to inform readers that Mr. Maltempo passed away on 8 September 2008. Mr. Maltempo was with Cashin Associates in Hauppage Long Island in New York.
Scott C. LeMarr is a contributor on HVAC topics and provided his file of keys to decode Furnace and Water Heater Age from the data provided on the manufacturer's equipment labels. Mr. LeMarr is a professional home inspector, Certified Professional Inspector/President, MASTER Indoor Environmental Specialist (MIES). Vice President of Wisconsin NACHI. He and his company, Honest Home Inspections, LLC. can be reached at 262-424-5587 or by email to scott@honesthomeinspections.com
Mary Margaret Minnis, Onsite Wastewater Treatment Systems, Bennette D. Burks, Hogarth House 1994 - one of the best septic system books around, suffering a bit from small fonts and a weak index. While it contains some material more technical than needed by homeowners, Burks/Minnis book on onsite wastewater treatment systems a very useful reference for both property owners and septic system designers.
Mark Morsching, Everflashing, 1715 Howard St. N., Saint Paul, MN 55109, 800-550-1667 , Email: everflashing@gmail.com. The Everflashing product comes in G-185 and Stainless Steel and is intended for use with treated lumber with copper in it. Everflashing produces a variety of specialty flashing products including flashings for use with decks at deck ledgers and deck perimeters. Mr. Morsching advises on deck and porch construction and use of PVC, synthetic, and composite building products. E.g.: Deck Flashing at Building.
Arlene Puentes, an ASHI member and a licensed home inspector in Kingston, NY, and has served on ASHI national committees (Bylaws, Standards), as well as HVASHI Chapter President. Ms. Puentes can be contacted at ap@octoberhome.com
Paul Probett, Clinton Craig, Blake Probett, Incodo Ltd, 4/511 Cameron Rd, Tauranga NZ, Email: Paul Probett, mail2us@incodo.co.nz , Tel: 027 28 000 36 (Mobile) Website: http://incodo.co.nz/ Mr. Probett and his firm Incodo have contributed technical & forensic engineering content & critique to InspectApedia including their research into micro-drilling for in-situ timber & beam rot & damage assessment - WOOD STRUCTURE ASSESSMENT, Paul Probett, Ph: 0064 7 578 7499 - Office, Post: Incodo Ltd, Box 8202, Cherrywood, Tauranga, New Zealand, is a building expert who has also addressed building moisture investigations, UFFI insulation, and urea formaldehyde outgassing in buildings - FORMALDEHYDE HAZARDS. Also see THERMAL IMAGING, THERMOGRAPHY.
Isabel Sanchez Luna is an environmental sciences student at the University of Guanajuato, Guanajuato, Mexico. Ms. Sanchez-Luna has interned at water and wastewater treatment facilities in the state of Guanajuato and has kindly agreed to assist in air and water quality studies & reports conducted under the aegis of InspectApedia.com beginning in 2012. She can be contacted through the website editor using the Contact Us links found on our web pages.
James P. Simmons: 3/4/2006, 2/19/2008. Photographs contributed to this website by Jim P. Simmons, Mr. Electric, Licensed Master Electrician, 1320 Dayton Street SE, Olympia, WA 98501, 360-705-4225, Fax 360-705-0130 or by email to mrelectricoly@msn.com. Mr. Simmons is a technical contributor to InspectAPedia.com.
Eric Van De Ven, Coconut Creek, Fl 33066 - (954) 340 6615, a South Florida home inspector, former ASHI and NACHI member, current IHINA (Independent Home Inspectors of North America). ev@magnuminspections.com
Herman Vogel, aerospace engineer, discusses combustion of fossil fuels and the details as well as the significance (to non-engineers) of Stoichiometric Combustion
Dave Wickersheimer, P.E. R.A. - IL, professor, school of structures division, UIUC - University of Illinois at Urbana-Champaign School of Architecture. Professor Wickersheimer specializes in structural failure investigation and repair for wood and masonry construction. Mr. Wickersheimer's engineering consulting service can be contacted at HDC Wickersheimer Engineering Services.
[25] Como Reparar su Hogar Inundado American Red Cross and FEMA - PDF - espanol
[26] Flood Cleanup - Avoiding Indoor Air Quality Problems US EPA Fact Sheet
[27] Cleaning Up After a Flood Texas Department of State Health Services.
[28] Kansas State University, department of plant pathology, extension plant pathology web page on wheat rust fungus: see http://www.oznet.ksu.edu/path-ext/factSheets/Wheat/Wheat%20Leaf%20Rust.asp
"A Brief Guide to Mold, Moisture, and Your Home", U.S. Environmental Protection Agency US EPA - includes basic advice for building owners, occupants, and mold cleanup operations. See http://www.epa.gov/mold/moldguide.htm
US EPA - Mold Remediation in Schools and Commercial Building [ copy on file as /sickhouse/EPA_Mold_Remediation_in_Schools.pdf ] - US EPA
US EPA - Una Breva Guia a Moho - Hongo [on file as /sickhouse/EPA_Moho_Guia_sp.pdf - - en Espanol
"IgG Food Allergy Testing by ELISA/EIA, What do they really tell us?" Sheryl B. Miller, MT (ASCP), PhD, Clinical Laboratory Director, Bastyr University Natural Health Clinic - ELISA testing accuracy: Here is an example of Miller's critique of ELISA http://www.betterhealthusa.com/public/282.cfm - Townsend Letter for Doctors and Patients
The critique included in that article raises compelling questions about IgG testing assays, which prompts our interest in actually screening for the presence of high levels of particles that could carry allergens - dog dander or cat dander in the case at hand.
http://www.tldp.com/issue/174/IgG%20Food%20Allergy.html contains similar criticism in another venue but interestingly by the same author, Sheryl Miller. Sheryl Miller, MT (ASCP), PhD, is an Immunologist and Associate Professor of Basic and Medical Sciences at Bastyr University in Bothell, Washington. She is also the Laboratory Director of the Bastyr Natural Health Clinic Laboratory.
Allergens: Testing for the level of exposure to animal allergens is discussed at http://www.animalhealthchannel.com/animalallergy/diagnosis.shtml (lab animal exposure study is interesting because it involves a higher exposure level in some cases
Allergens: WebMD discusses allergy tests for humans at webmd.com/allergies/allergy-tests
Atlas of Clinical Fungi, 2nd Ed., GS deHoog, J Guarro, J Gene, & MJ Figueras, Centraalbureau voor Schimmelcultures, Universitat Rovira I Virgili, 2000, ISBN 90-70351-43-9 (you can buy this book at Amazon)
"A Brief Guide to Mold, Moisture, and Your Home", U.S. Environmental Protection Agency US EPA - includes basic advice for building owners, occupants, and mold cleanup operations. See http://www.epa.gov/mold/moldguide.htm
"Disease Prevention Program for Certain Vegetable Crops," David B. Langston, Jr., Extension Plant Pathologist - Vegetables, University of Georgia (PDF document) original source: www.reeis.usda.gov/web/crisprojectpages/209797.html
"Disease Prevention in Home Vegetable Gardens," Patricia Donald, Department of Plant Microbiology and Pathology, Lewis Jett
Department of Horticulture, University of Missouri Extension - extension.missouri.edu/publications/DisplayPub.aspx?P=G6202
"Management of Powdery Mildew, Leveillula taurica, in Greenhouse Peppers," Ministry of Agriculture and Lands, British Columbia - Original source: www.agf.gov.bc.ca/cropprot/peppermildew.htm
Fifth Kingdom, Bryce Kendrick, ISBN13: 9781585100224, is available from the InspectAPedia online bookstore - we recommend the CD-ROM version of this book. This 3rd/edition is a compact but comprehensive encyclopedia of all things mycological. Every aspect of the fungi, from aflatoxin to zppspores, with an accessible blend of verve and wit. The 24 chapters are filled with up-to-date information of classification, yeast, lichens, spore dispersal, allergies, ecology, genetics, plant pathology, predatory fungi, biological control, mutualistic symbioses with animals and plants, fungi as food, food spoilage and mycotoxins.
Fungi, Identifying Filamentous, A Clinical Laboratory Handbook, Guy St-Germain, Richard Summerbell, Star Publishing, 1996, ISBN 0-89863-177-7 (English) (buy at Amazon)
US EPA: Mold Remediation in Schools and Commercial Building [ copy on file as /sickhouse/EPA_Mold_Remediation_in_Schools.pdf ] - US EPA
Mycology, Fundamentals of Diagnostic, Fran Fisher, Norma B. Cook, W.B. Saunders Co. 1998, ISBN 0-7216-5006-6 (buy this book at Amazon)
Books & Articles on Building & Environmental Inspection, Testing, Diagnosis, & Repair
Our recommended books about building & mechanical systems design, inspection, problem diagnosis, and repair, and about indoor environment and IAQ testing, diagnosis, and cleanup are at the InspectAPedia Bookstore. Also see our Book Reviews - InspectAPedia.
...