Septic Tank, Cesspool & Drywell Safety Warnings
Safety procedures for & warnings about inspecting, servicing, or working on septic tanks, drywells, cesspools
SEPTIC & CESSPOOL SAFETY - home: CONTENTS: Septic System, Septic Tank, & Cesspool Safety Warnings & procedures. Septic Tank / Cesspool Dangers for septic inspectors, septic pumpers, & homeowners. Septic fall-in video
POST a QUESTION or READ FAQs about safety hazards around septic tanks & cesspools
InspectAPedia tolerates no conflicts of interest. We have no relationship with advertisers, products, or services discussed at this website.
This document provides important safety warnings for septic systems and cesspools, and provides some safety suggestions for septic system inspectors, septic system inspections, septic pumping contractors, and home owners.
Green links show where you are. © Copyright 2017 InspectApedia.com, All Rights Reserved.
SEPTIC & CESSPOOL SAFETY GUIDE - Septic System, Septic Tank, & Cesspool Safety Warnings
Providing inspection and diagnosis of on-site waste disposal systems is an extremely valuable public service which helps protect people from expensive unanticipated septic system repair costs and helps protect public health by assuring sanitary disposal of sewage and gray water waste from buildings.
More importantly though, septic system inspections may detect and warn about serious safety hazards at some properties.
The strong warnings issued below intend to reduce septic system safety hazards for inspectors and property owners/occupants, but it is not the author's intention to dissuade inspectors from providing this valuable service.
Watch out: Septic tanks, cesspools, and drywells present serious hazards including septic cave-in's or collapses, methane gas explosion hazards, and asphyxiation hazards. Simple precautions which we describe here can help avoid a dangerous or expensive septic problem.
The septic hazard news video at right recounts a child falling into a septic tank and a separate septic fall-in fatality.
Citation of this article by reference to this website and brief quotation for the sole purpose of review are permitted. Use of this information at other websites, in books or pamphlets for sale is reserved to the author.

Examples & Case Reports of Fatal Hazards at Open or Insecure Septic Tank, Cesspool, Drywell Covers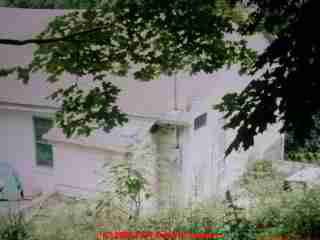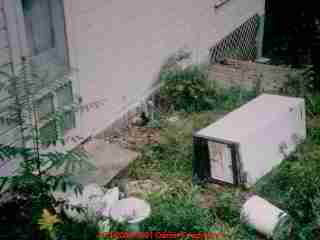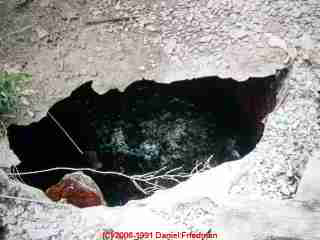 Safety Warning: there is a very high risk of fatal falls into septic tanks, cesspools, or drywells: danger lurks at cesspools, open covers, tanks or tank covers in poor condition, and from high levels of methane gas CH4 or hydrogen sulfide H2S.
These septic system dangers include the risk of collapse, falling, asphyxiation, explosion, and other potentially fatal hazards as well as risks of unsanitary conditions such as bacterial or viral infections. This hazard is more than theoretical. We have personally assisted in investigation of several septic or cesspool fall-in fatalities and are aware of others.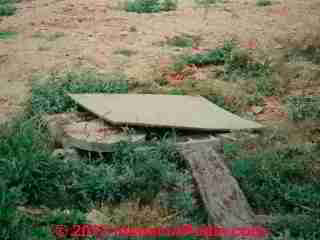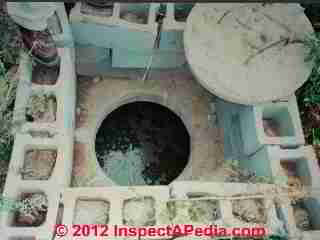 Inspecting a mobile park housing migrant workers at a New York farm, Steven Vemilye and Daniel Friedman documented various immediate and serious safety hazards at two open or semi-open septic tanks and cesspools. Shown above is a home-made dry-laid concrete block well (unstable) surrounding an open septic tank.
The property manager left the concrete septic tank cover off and just tossed a light section of plywood over the system in order to make frequent septic tank pumping easier. This mobile home collection was occupied by many families including families with small children. An adult or child falling into an open septic tank is very likely to die quickly.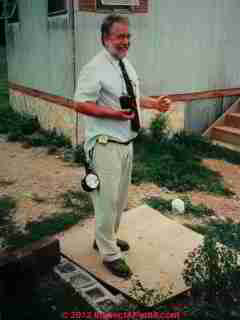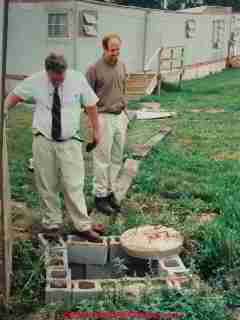 Above Mr. Vermilye, accompanied by the attorney who had asked us to perform a site inspection, was demonstrating the instability of the covers over septic facilities at this location. [As we document
at MOBILE HOMES, DOUBLEWIDES, TRAILERS, we report with regret that Mr. Vermilye passed away on 19 June 2001.]
Watch out: Readers trying to diagnose and deal with sudden soil subsidence or yard collapses should
see CESSPOOL SAFETY WARNINGS as those hazards can also apply to drywells and septic tanks, and
also see SINKHOLES, WARNING SIGNS.
There can be other unexpected hazards when inspecting building sites and septic systems. In the photo series above, the author was inspecting the home shown from outside before looking in the crawl space to locate the main waste line exit point and thus before predicting the probable location of the septic tank.
Walking close to this house should have set off an alarm about possible unsafe conditions: poor maintenance, old home, of an age likely to have used a steel septic tank. In fact the author found the tank very quickly by stepping through its cover, avoiding serious injury or even possible fatality mostly by luck. It was throw myself sideways into the briars and garbage at the site or fall completely into the septic tank.
Reader Question: My parents' septic tank caved in and the basement smells
26 August 2015 Anon said [by private email]
I was checking your site and couldn't seem to come across my particular situation. Basically i'm curious. so my parents have a septic tank system for their house, and a few days ago it caved in. Right now the whole basement is absolutely putrid. There isn't actually sewage in the house, but I'm guessing the vapors or methane from a pipe are making it smell terrible, actually can't be downstairs b/c it smells so bad.
My question is about a sack of potatoes they have down there. They have been right next to the area that smells the worst, and I'm wondering if they are contaminated? I won't eat them regardless, but my folks think they will be fine? I just feel like the fact that potatoes have a tendency to "soak" up things, I wonder if this isn't really bad for them? Could you please elaborate for me? Thanks!
Reply: watch out for methane gas explosion hazards and bacterial hazards and septic tank fall-in hazards
Watch out: septic odors are likely to include methane gas; methane is explosive. If there is sewer gas in the home a spark could blow the place up. Your folks need expert onsite help and need the explosion warning immediately.

Watch out: if someone falls into a septic tank or into a collapsed one, the result can be a quick but ugly death. Rope off the area and keep people away until an excavator or septic contractor has made the necessary repairs.
I'm not sure what the potatoes would absorb nor what's in the basement but I wouldn't eat them either. The possibility of bacterial hazards is there.
See
Reader Followup:
... that's already all been handled professionally. This is after the fact, I just wanted to know if they had or could have been contaminated somehow? If so, how?
Reply: research on the odor, gas & chemical absorption properties of potatoes
Jeff, if there is a smell there is a gas present. If the potatoes smell then they've absorbed VOCs, sewer gases, possibly also they've been affected by airborne pathogens.
If you want only to address the odor and chemical absorption properties of potatoes please see these articles that discuss odor absorption and other properties of potatoes.
Laurila, Eira K., Eero U. Hurme, and Raija T. Ahvenainen. "Shelf life of sliced raw potatoes of various cultivar varieties—substitution of bisulfites." Journal of Food Protection® 61, no. 10 (1998): 1363-1371.
Gerber, Nancy N. "Volatile substances from actinomycetes: their role in the odor pollution of water." CRC critical reviews in microbiology 7, no. 3 (1979): 191-214.
"Process of treating peeled potatoes." U.S. Patent 2,241,436, issued May 13, 1941.
Furuholmen, A. M., JAMES D. Winefordner, FREDERICK W. Knapp, and RAYMOND A. Dennison. "Potato sugars, quantitative analysis of glucose and fructose in potatoes." Journal of Agricultural and Food Chemistry 12, no. 2 (1964): 109-112.
A Safety Guide for Septic System Inspection, Cleaning, Pumping, and Homeowner Care
Don't work alone at a septic tank, cesspool, or drywell: Falling into a septic tank or even leaning over a septic tank can be fatal. Do not work on or at septic tanks alone - workers can become suddenly overcome by methane gas.
Do not ever enter a septic tank or cesspool unless you are specially trained and are wearing the special equipment and gear for that purpose, including self-contained breathing apparatus.
Do not go into a septic tank to retrieve someone who has fallen in and was overcome by toxic gases unless you are equipped with a self-contained breathing apparatus (SCBA). If a SCBA is not available, call for emergency services and put one or more fans at the top of the septic tank to blow in fresh air.
Don't lean over a septic tank opening: Do not lean over or stick your head into the septic tank to examine its interior - you could fall in to the tank or become overcome by gases and fall into the tank, an event which is likely to be fatal.
Don't ignite flames Do not light a flame at or near the tank - methane gas is explosive. At one tank pump out my client described the explosion and burns received by the pumping contractor when he stood by the tank and lit a cigarette. A reader reported a stunning methane gas explosion that damaged nearby buildings when a brush fire was built over a septic tank. [There are safer ways to find the septic tank.]
Site must be ventilated: Decomposing wastes in the septic tank produce toxic or otherwise dangerous gases (such as methane which is both explosive and in a septic tank methane gas is an asphyxiant) which can kill a human in a matter of minutes. When working on a tank be sure the area is well ventilated.
Rope off & Mark Dangerous Sites: If your inspection discover that there are dangerous conditions, such as an unsafe tank cover, tank collapse, or a home-made septic tank or cesspool (which are at increased risk of sudden collapse) such areas should be roped off and clearly marked as dangerous to prevent access until proper evaluation and repairs can be made.
Safe cesspool, drywell, or septic tank covers are required: be sure that the tank and its access ports have sound and secure covers that do not risk collapse and which cannot be removed by children.
Septic & Cesspool Collapse Hazards: Old steel tanks, thin, rusting steel or rotting home-made wood tank covers, site-built tanks and cesspools, and recently-pumped cesspools are at particular risk of collapse. Falling into a septic tank or cesspool is likely to lead to rapid asphyxiation from methane and in cases of collapse, there is risk of becoming buried. The author has consulted in cases involving such fatalities (homeowner fell into a site-built cesspool), and at one site inspection, walking near an overgrown area the author himself stepped through a rusting steel septic tank top, surviving only by throwing himself into a nearby clump of brambles! Beware of the following additional septic system inspection hazards:

Bad septic tank covers: flimsy, rusted, old-steel, home-made, or missing septic tank/drywell/cesspool covers
Abandoned septic tanks: systems which may not have been filled-in
Collapsed, or collapsing septic tanks or cesspools
Additional unexpected septic components: possible presence of multiple components at a property, abandoned or in-use
Un-stable soils: Cesspools and septic systems in areas of unstable soils or areas of commonly-found site-built systems - collapse risk
Cesspool pumping or agitating: pumping, aerating, or agitating cesspools in an attempt to restore function can lead to sudden collapse of these systems, especially if the cesspool or septic tank was "site built" using stacked concrete blocks or stone

Shock & Electrical Hazards: when digging outdoors, watch out that you don't dig into and cut an electrical wire (or other buried mechanical line such as a gas or water line). Buried electrical wires can look a lot like tree roots. Chopping through an electrical wire while digging to find a septic system can be dangerous. [Thanks to Donica Ben for reminding us of this septic safety problem.]
Unsanitary conditions: Be alert for unsanitary conditions such as surface effluent or sewage backups into buildings, events which risk serious viral and bacterial hazards and which indoors, may require professional cleaning. Be alert for personal sanitation hazards when working around septic systems, such as open cuts or failure to wash properly after working on systems.
Damage to Septic Components: Avoid damaging septic system components or the building: Improper septic testing procedures, such as flooding a dosing-system, can damage the system. Also, remember to check for leaks into or under the building being tested when running water into the building fixtures and drains. Don't leave water running unattended - at risk of flooding the building.
Do not drive over the septic tank or septic piping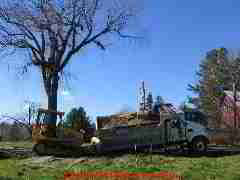 Unless special provisions have been made such as protection of sewer piping and septic tanks from damage, vehicle-rated septic tank covers, or similar steps, do not drive vehicles over the septic system.
Driving over septic tanks, septic piping, or drainfields risks costly damage to the septic system and may also be dangerous.
The bulldozer in our photo (left) was called to help remove a truck which drove over septic system components leading to a surprise collapse.
If a septic line must be run under a driveway, for example to pass from a building to the septic tank, the line must be protected by choice of materials (schedule 40), or placed in a covered and protected trench at adequate depth (such as with concrete covers over the trench) to avoid damage.
If a septic tank is to be located below a drive or parking area, it too must be properly designed and protected from collapse.
A septic drainfield cannot be located below a driveway or parking area. Doing so will prevent proper drainfield operation due to soil compaction and also due to loss of proper evaporation of moisture through the surface, as well as almost certainly leading to crushed broken piping.
Question: safety & Health Procedures for Texas & other septic tank cleaning or pumping operators
2016/09/21 Jerry Herold said:
My son pumps out septic tanks in the Hill Country in Texas, for last 3 months. He has had pneumonia, and sicknesses, with days off. What type of protection is required to wear? Should this be of no cost, given by the employer? should there be available showers, clean clothes, shoes, face shield, waterproof gloves, etc, at no cost to the employee? He comes home in his work shirt and pants, using his private vehicle. is that permissible? must he shower and change before he leaves the work-site? Isn't he contaminating his vehicle, his house, his wife and his son, if does not shower and change at the work-site?
Reply: National & state workplace safety standards for septic tank pumping workers
Jerry,
OSHA publishes workplace safety standards for septic tank pumper / cleaning operators that address most of the questions you raise. You can download a copy of OSHA's septic tank service operator safety procedures and suggestions for workers entering and cleaning vessel (as in ship) sewage tanks as a free PDF here: inspectapedia.com/septic/OSHA_Septic_Pumping_Safety_Standards_FS_3587.pdf
You'll see that although the OSHA document focuses on marine sanitation systems, the suggestions in that document address most of your questions as well.
OSHA, "Guidelines for Safely Entering and Cleaning Vessel Sewage Tanks", [PDF] U.S. OSHA, U.S. Department of Labor, www.osha.gov, retrieved 2016/09/22, original source: https://www.osha.gov/Publications/OSHA_FS_3587.pdf
Abstract:
Sewage systems on vessels are known as Marine Sanitation Devices (MSDs) or Collection, Holding and Transfer Tanks (CHTs). Cleaning these systems is required for operations such as routine surveys and inspections, surface preservation, equipment modification, repairs and maintenance. Entering and cleaning sewage tanks, piping and components present specific hazards to workers that put them at risk for injuries and illnesses if they are not properly protected (29 CFR 1915.13).
Emergency contact information for OSHA: For questions or to get information or advice, to report an emergency, fatality, inpatient hospitalization, amputation, or loss
of an eye, or to file a confidential complaint, contact your nearest OSHA office, visit www.osha.gov or call OSHA at 1-800-321-OSHA (6742), TTY 1-877-889-5627.
SEPTIC TANK ACCIDENT REPORTS we describe septic tank accidents and fatalities, information of interest to your son as a septic tank cleaner as well as of interest to his employer.
Texas septic operator licensing, education, regulation: In Texas septic service company operator licensing and also required training are described and regulated by the Texas Commission on Environmental Quality (TCEQ). I could not find a document at TCEQ that specifically addresses safety and health procedures for septic tank cleaning operators but that agency is where you will find experts on Texas sanitary code and requirements.
Contact the TCEQ at: Website: https://www.tceq.texas.gov/ Email: ac@tceq.texas.gov (general) or tox@tceq.texas.gov (toxicology), or contact the agency at Tel: 512-239-1000, address: Mailing Address: Contact NameTexas TCEQ licensing regulations for septic wastewater treatment facility operators are found in Texas Commission on Environmental Quality, Chapter 30 - Occupational Licenses and Registrations, SUBCHAPTER J: WASTEWATER OPERATORS AND OPERATIONS COMPANIES, [PDF] pp 30.331, 30.337, 30.340, 30.342, 30.346, 30.348, 30.350, 30.355 Effective September 27, 2007 [PDF] - retrieved 2016/09/22, original source https://www.tceq.texas.gov/assets/public/legal/rules/rules/pdflib/30j.pdf
Take a look at this document's description of required education and training for operators as beyond simply qualifying for a license, the knowledge required is in my opinion essential for the safety and protection of both the septic tank cleaning operator employees and for the public. , Mail Code, TCEQ P.O. Box 13087 Austin, TX 78711-3087


Methane Gas Hazards around Septic Systems, Methane Gas Toxicity vs. Methane Explosion & Asphyxiation Risks, How to Measure Methane Gas Levels
Methane Gas Hazards are primarily of explosion or asphyxiation - see METHANE GAS HAZARDS for details.
We commented above at Septic System Safety that methane gas which maybe encountered in septic system is both explosive and an asphyxiant.
A thoughtful reader, George Fielder, previously a salesperson for GfG Instrumentation, pointed out that these are the hazards. (We had inaccurately stated that methane gas was "toxic".)
Readers who need more details about the safety concerns regarding methane gas in and around septic systems should be sure to review the septic system methane gas hazards and measurement and references cited at SEPTIC METHANE GAS (also see Septic Methane Gaslinks listed at the "More Reading" links at the bottom of this article in this article)
Guide to Proper Abandonment of Un-used Septic Tanks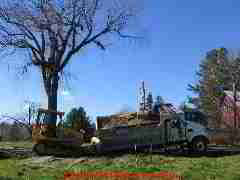 It is important to properly abandon un-used septic tanks, cesspools, or drywells. If an old septic tank, cesspool, or drywell is simply "left alone" there may be very serious cave-in or fall-in safety hazards.
In addition to having been consulted in fatalities involving humans, we have learned that falling into septic tanks and cesspools is a risk for animals as well. In 2008 Mark Cramer shared a report from an owner that that their horse fell into a septic tank and died tragically before it could be rescued.
The collapsing septic tank was not in the location which the owners thought it would be found, and clearly it had an unsafe cover.
Properly abandoning a septic tank, drywell, or cesspool which is no longer in use involves at least the following steps:
Locate all of the un-used septic tanks, cesspools, drywells on the property. At some properties there may be multiple systems and tanks, such as a chain of old cesspools or one or more septic tanks with a separate drywell. See these articles on finding hidden, lost, buried septic system components:

SEPTIC TANK, HOW TO FIND which offers detailed steps and multiple approaches, including our septic tank and drainfield location videos. An experienced plumber or septic contractor can assist in these steps and may have special equipment that speeds the process. T

Pump out the septic tank, cesspool, or drywell - a septic pumping contractor performs this step.
Break open the tank bottom - so that it won't hold surface runoff, forming an un-wanted water or mud reservoir. If the septic tank is steel, often the contractor will dig out the tank, crush it, and then bury it back in the original hole. When we installed a new concrete septic tank the contractor buried the crushed steel one on edge alongside the new concrete tank.
Fill in the septic tank, cesspool, or drywell, or hole where the tank was located (if you crushed an old steel tank) with stone, rubble, and soil so that there is on future collapse hazard.
Document the location of the filled-in items so that future site work or building plans can avoid or at least anticipate these buried obstructions.
If newer septic tanks, cesspools, or drywells remain in use at the property, be sure that their locations are documented (see SEPTIC TANK LOCATION SKETCH ) and that each of these has an intact, secure cover that will not cave in nor be easily opened by a child
(see SEPTIC TANK COVERS )

We've written elsewhere about the importance of keeping livestock off of septic drainfields and septic tanks. There may be an extra risk of livestock-caused septic tank collapse where old septic tank or cesspool covers or even new fiberglass septic tanks and covers are installed.
Septic System Safety Articles
...
Continue reading at CESSPOOL SAFETY WARNINGS or select a topic from closely-related articles below, or see our complete INDEX to RELATED ARTICLES below.
Or see SEPTIC SAFETY FOR HOME OWNERS
Or see SEPTIC TANK ACCIDENT REPORTS
Suggested citation for this web page
SEPTIC & CESSPOOL SAFETY at InspectApedia.com - online encyclopedia of building & environmental inspection, testing, diagnosis, repair, & problem prevention advice.
Or use the SEARCH BOX found below to Ask a Question or Search InspectApedia
...
Frequently Asked Questions (FAQs)
Try the search box below or CONTACT US by email if you cannot find the answer you need at InspectApedia.
Question: digging with backhoe broke the septic tank
i was digging in my back yard and hit the septic tank and broke it open, it spilled into a 8 foot by 12 hole prolly 6 feet deep. i buried it, is that gonna cause any problems? - Steve 9/19/2011
Reply:
Of course. You destroyed the septic tank.

Watch out: when the septic tank has been damaged there is risk of a collapse or someone falling in - risking a highly likley fatality.
Question: why did my septic treatment plant cave in?
I have wlwyestion my treatment plant has cave in - Valeria 11/3/12
Reply:
Valeria,
Watch out: for safety when there are signs of a cave-in you should rope off the area and keep people away until a professional has investigated and repaired the site as necessary.
Question: report of septic tank fatality on Fafa Island in Tonga
Watch out: My brother-in-law just died yesterday from jumping into a septic tank to clean at his workplace on Fafa Island in Tonga. He was obviously unaware of the present dangers and unfortunately OH&S laws dont exist in the country. He was only 27. Please be careful! - Lavinia 2/19/2013
Reply: List of Recent Septic Tank, Cesspool, or Drywell Fatalaties or Catastrophes
Lavinia,
We are saddened and dismayed to read of your brother-in-law's death in a septic tank. Indeed these fatalities occur everywhere, even where there are safety regulations, though perhaps at a less frequent rate where the dangers are better known.
If you can send us added details that might help other readers and I'll add them at SEPTIC TANK ACCIDENT REPORTS in hope that we can make more people aware of the dangers involved in un-covered or inadequately-covered septic tanks, cesspools, and drywells and about the risk of fatality on entering such a tank.
Falling into a septic tank, drywell, or cesspool is quickly fatal, either from being buried by falling soils and debris, or by asphyxiation. Septic gases are highly toxic and can kill in just minutes of exposure. Even leaning over an empty (just pumped) tank has led to collapse and fatality of a septic pumper.
Septic tank, drywell, cesspool and related safety articles are listed at the top of this page.
Question: green cover marked Poison Gas
A relative is looking to buy a house that was built in 1935. On the property there is a green cover maybe 3 feet circumfrance and says on it Do Not Open--Poison Gas--Danger. What could that be? - Stephanie Kascack4/3/2013
Reply:
Stephanie,

"Green cover" alone is not going to tell us what the heck is going on. Possibly it refers to methane and a septic tank. IN any event you want to be sure to have an expert inspection performed to identify that component as well as to inspect the entire home and property.
Meanwhile, because the condition of the septic tank and components are unknown and because you don't even know what the green cover covers, much less its condition, it woudl be safe to mark off the area and keep people away until you know what's there and its condition.
Question: why is my septic tank not draining properly?
(Mar 13, 2014) Joe said:
I recently had my septic tank pumped, everything was fine for about a week or so and now I have sewage backing into my house every few days. I have snaked it and had a video inspection of the line from the house to the septic tank and everything looked fine. Is it possible that the company that pumped the tank may of ran over the distribution box or septic piping? Any other ideas on why it wouldn't be draining correctly?
Thank you.
Reply:
Joe, with apologies that it sounds glib, sure, anything is possible - we don't know where the septic pumping company drove their truck.
Just inspecting the sewer line between house and tank, while useful to determine that that line itself is not blocked, doesn't diagnose the problem. If the septic tank outlet line or D-box were blocked, indeed that would explain constant backups into the house.
I suggest opening the septic tank access cover to inspect the sewage level. Watch what happens when you flush toilets and run water in the house. If the tank exit is blocked for any reason (including a failed drainfield or a blocked outlet) you'll see wastewater level rise over the baffles in the septic tank.
Let me know what you find
Question: how long can we live in a home with a malfunctioning septic system?
(3 days ago) sandie said:
For what period of time can you live in a home with septic system malfunctioning
sandie said:
For what period of time can you safely inhale septic sewer gases
Reply: making emergency use of a septic tank when the drainfield has failed
Sandie
"Can" meaning physically able, and "should" are different data points.
Here's a "zero time" answer:
You should not allow methane (sewer gases) to accumulate in a building as (depending on the concentration of methane present) the building can be blown up by a spark or flame.
Details are at inspectapedia.com/septic/Methane_Gas_Hazards.php
Human exposure limits for methane gas (figure sewer gas)
are discussed separately at
inspectapedia.com/sickhouse/Gas_Exposure_Limits.php#MethaneGas
It is indeed possible to make emergency use of a septic tank when a drainfield is blocked, by pumping out the tank and severely constricting water use. However typically you gain just a week or two of use at most before the septic tank re-fills, and you may gain no time at all if groundwater is leaking back into the septic tank or if the drainfield is bakflowing into the septic tank.
Question: our septic tank is only half full
(Nov 1, 2014) Anonymous said:
A building inspector said that our septic tank is only half full, could this be because it hasn't been used for a few months?
Reply:
Unlikely. Unless the septic tank has a leak it will normally stay close to full - the liquid level will be at the bottom of the outlet pipe.
Question: building a fire pit over or near the septic system?
(Jan 12, 2015) Earl said:
I would like to build a fire pit in my yard. I am not sure if I have a cesspool or septic tank. I believe it is a cesspool as there are multiple concrete tanks in the ground (but again I'm not sure). What is the minimum safe distance to build a fire pit at ground level? The maximum I can go is about 10 feet. I would like to go a little closer if possible. I have read to not build it on the tanks, but on the drain field is ok. I can't find any information on the minimum safe distance from the tanks. Thank you!
Reply: BOOM!
Earl you ask an important question for which I've not seen an authoritative answer. Indeed there is a serious risk of igniting methane gas and causing a horrible explosion. It's more than theory, I've had actual report of this occurring: a reader built a brush fire in the yard without considering the septic tank, ignited methane and blew up the whole shebang. Happily no one was killed, just scared half to death.
In my OPINION 10 feet is not far enough from a septic tank to be sure of no methane leak explosion risk. Keep in mind that there may not be detectable methane at a particular time one checks but that such gas leaks could occur later-on and make for an unpleasant surprise. The risks are greater in still air and where the tank and fire pit are in a low area where gases might accumulate.
Sorry to rain on the fire but I just wouldn't do it.
(Jan 13, 2015) Earl said:
I've determined it is a cesspool with concrete tanks The vent pipe is a little over 20ft from where the edge of the fire pit would be. Do I still need to be concerned with the concrete tanks themselves leaking? Thank so much for the help! …"rain on the fire" :)
Also, the top of the vent pipe is a little over 6ft. tall, if that matters. Thanks, again.
Reply: Earl, yes methane is commonly found at and can cause explosions at septic tanks.
Question: snow hills over the cesspool
(Feb 7, 2015) denise h said:
What causes a hill to form in the snow located over a cesspool? It looks like a mini volcano of snow. I do not detect any problems like back ups in the system.
Reply:
I don't know, Denise. Perhaps moisture from warm sewage in the cesspool is seeping to ground level and then freezing.
Watch out: I'd stay away from the cesspool until the safety of its cover can be established - falling in can be fatal.
Question: can we get sick from our neighbor's camper toilet use?
(June 7, 2015) cathy said:
hi. my neighbors sepic/field bed has been open for almost 3 months they couldnt use the toilets or showers they went in a camper in their driveway. can we get sick and our animal get sick from it. my husband has been sick and my dog throws up every morning. they never cover it. the water in it was green. if you can answer that it would be great.

Reply:
Cathy I can't diagnose illnesses from your e-text, but indeed in most jurisdictions it's not permitted to leave open sewage nor to discharge sewage to the ground surface. The risks include contamination of well water, lakes, streams, and in some cases of drying out and blowing dust there could be airbourne pathogens. This is a question to take first to your doctor.
...
Ask a Question or Search InspectApedia
Use the "Click to Show or Hide FAQs" link just above to see recently-posted questions, comments, replies, try the search box just below, or if you prefer, post a question or comment in the Comments box below and we will respond promptly.
Search the InspectApedia website
Technical Reviewers & References
Click to Show or Hide Citations & References
"Working in a Confined Space",[PDF] Occupational Safety & Health Servivce, Departmentof Labour, [copy on file as Confined_Space_Work_NZ_OSH.pdf] www.osh.dol.govt.nz/order/catalogue/pdf/ confined.pdf retrieved 4/4/13
"Looking after your household sewerage system," New Plymouth District Council, Taranaki NZ, newplymouthnz.com, retrieved 4/4/13, [copy on file as Septic_Maintenance_Taranaki_NZ.pdf]
Mark Cramer Inspection Services Mark Cramer, Tampa Florida, Mr. Cramer is a past president of ASHI, the American Society of Home Inspectors and is a Florida home inspector and home inspection educator. (727) 595-4211 mark@BestTampaInspector.com 11/06 and 04/2008
Hankey and Brown home inspectors, Eden Prairie, MN, technical review by Roger Hankey, prior chairman, Standards Committee, American Society of Home Inspectors - ASHI. 952 829-0044 - hankeyandbrown.com 11/06
Arlene Puentes, a licensed home inspector, educator, and building failures researcher in Kingston, NY. 11/29/06
John Francis, Bioworks, Inc., marketing and technical services - editing/proof reading 4/07. "BioWorks provides environmentally responsible, safe and cost-effective solutions to the agriculture industry"
Thanks to Denise Cermola for permission to use the photo above, showing a dump truck collapsed into a seepage pit. (email 11/16/06 to 12/10/06). The contractor drove over this seepage pit connected to septic tank and caused total destruction of the system.
Thanks to George Fielder who points out that methane gas is not toxic, but rather (we add) the hazards of methane gas produced by septic systems include possible explosions or the asphyxiation of someone who enters or even just leans over a septic tank opening. (email 10/20/2007)
Thanks to Donica Ben who points out the danger of digging into burieF
Pennsylvania State Fact Sheets relating to domestic wastewater treatment systems include

Pennsylvania State Wastewater Treatment Fact Sheet SW-161, Septic System Failure: Diagnosis and Treatment
Pennsylvania State Wastewater Treatment Fact Sheet SW-162, The Soil Media and the Percolation Test
Pennsylvania State Wastewater Treatment Fact Sheet SW-l64, Mound Systems for Wastewater Treatment
Pennsylvania State Wastewater Treatment Fact Sheet SW-165, Septic Tank-Soil Absorption Systems
Document Sources used for this web page include but are not limited to: Agricultural Fact Sheet #SW-161 "Septic Tank Pumping," by Paul D. Robillard and Kelli S. Martin. Penn State College of Agriculture - Cooperative Extension, edited and annotated by Dan Friedman (Thanks: to Bob Mackey for proofreading the original source material.)

...
Books & Articles on Building & Environmental Inspection, Testing, Diagnosis, & Repair
Our recommended books about building & mechanical systems design, inspection, problem diagnosis, and repair, and about indoor environment and IAQ testing, diagnosis, and cleanup are at the InspectAPedia Bookstore. Also see our Book Reviews - InspectAPedia.
Advanced Onsite Wastewater Systems Technologies, Anish R. Jantrania, Mark A. Gross. Anish Jantrania, Ph.D., P.E., M.B.A., is a Consulting Engineer, in Mechanicsville VA, 804-550-0389 (2006). Outstanding technical reference especially on alternative septic system design alternatives. Written for designers and engineers, this book is not at all easy going for homeowners but is a text I recommend for professionals--DF.
Builder's Guide to Wells and Septic Systems, Woodson, R. Dodge: $ 24.95; MCGRAW HILL B; TP; Quoting from Amazon's description: For the homebuilder, one mistake in estimating or installing wells and septic systems can cost thousands of dollars. This comprehensive guide filled with case studies can prevent that. Master plumber R. Dodge Woodson packs this reader-friendly guide with guidance and information, including details on new techniques and materials that can economize and expedite jobs and advice on how to avoid mistakes in both estimating and construction. Chapters cover virtually every aspect of wells and septic systems, including on-site evaluations; site limitations; bidding; soil studies, septic designs, and code-related issues; drilled and dug wells, gravel and pipe, chamber-type, and gravity septic systems; pump stations; common problems with well installation; and remedies for poor septic situations. Woodson also discusses ways to increase profits by avoiding cost overruns.
Country Plumbing: Living with a Septic System, Hartigan, Gerry: $ 9.95; ALAN C HOOD & TP; Quoting an Amazon reviewer's comment, with which we agree--DF:This book is informative as far as it goes and might be most useful for someone with an older system. But it was written in the early 1980s. A lot has changed since then. In particular, the book doesn't cover any of the newer systems that are used more and more nowadays in some parts of the country -- sand mounds, aeration systems, lagoons, etc.
...