Swamp Coolers & Evaporative Coolers for Air Cooling: Design & Usage Guide
EVAPORATIVE COOLING SYSTEMS - CONTENTS: Guide to Swamp coolers or Evaporative Coolers for building cooling. Evaporative cooling systems for homes. Design specifications for cooling systems with under-floor air ducts. Solar Age Magazine Articles on Renewable Energy, Energy Savings, Construction Practices
POST a QUESTION or READ FAQs about using a swamp cooler to cool a building interior - when do swamp coolers work better than an air conditioner?
InspectAPedia tolerates no conflicts of interest. We have no relationship with advertisers, products, or services discussed at this website.
Swamp coolers:
This article explains the use of an evaporative cooling system or "swamp cooler" including cool air delivery design considerations when using under-floor ducts for cool air delivery in buildings. Swamp coolers or evaporative cooling systems work well in dry climates - usually, as we explain here. The discussion of cool air duct location and routing includes general air conditioning duct design concepts that also apply to all air conditioning and cooling designs.
Green links show where you are. © Copyright 2017 InspectApedia.com, All Rights Reserved.
Evaporative Cooling Systems or "Swamp Coolers" - How They Work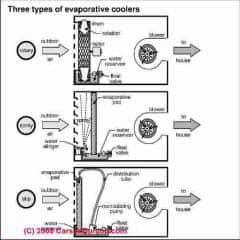 Evaporative coolers, also called "swamp coolers" rely on the evaporation of water to cool building air, rather than the movement of a refrigerant through cooling coils. Cooling towers, swamp coolers, and even a simple window fan blowing air across a pan of water and into a room are types of evaporative cooling systems.
[Click to enlarge any image]

Swamp coolers systems may use less energy than a refrigerant-gas and compressor type air conditioner but they'll only work where the ambient humidity is low enough to make it easy to evaporate water, such as in Arizona and other areas of the Southwest and Mexico.
Our sketch (left), courtesy of Carson Dunlop, shows three types of evaporative cooling systems or "swamp coolers".
All three evaporative cooling system approaches are similar: dry outdoor air is blown across an evaporative cooling device that uses water evaporation to cool the incoming air.
The differences among these swamp cooler designs are principally how the water to be evaporated is delivered to the evaporative cooling device (drum or pad bottom is immersed in a water reservoir pan, or a pump delivers water to the top of the evaporative pad), and the type of evaporative device itself: a rotating drum or an evaporative pad.
Delivery of Cool Air Using an Evaporative Cooling System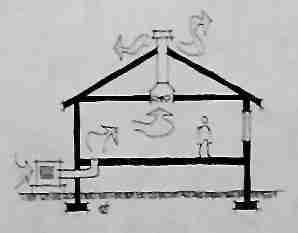 The question-and-answer article below paraphrases, quotes-from, updates, and comments an original article from Solar Age Magazine and written by Steven Bliss.
Topic: Under-floor ducts for cool air delivery with (for example) an evaporative cooling system
Question: We plan to build a pilot energy-efficient home in our city. We have a long and somewhat severe cooling season, with a humidity level that is relatively low (10-15 % RH). An evaporative cooling system or swamp cooler should suffice, but there are several drawbacks: dust, open windows, safety, noise, and the like.
I would like to duct the cool air delivery system under a wood-framed floor, supplying cool air through floor registers, and exhausting it out through a roof cupola. (See sketch above, courtesy of Solar Age Magazine). I am sure that an attic fan will be necessary to drive the warm air exhaust out of the building.
Do you see any obvious problems with the scheme I have described? -- Jimmy Moore, Odessa, TX
Answer:
Single-stage direct evaporative coolers, also called "swamp coolers" do provide a cost-effective means of cooling houses during hot, dry periods. Their main drawback is moister indoor air - the cost for a lower dry-bulb temperature.
Due to low energy use (for a small fan and water pump), swamp coolers are popular in the U.S. in parts of the West and Southwest. For example, our photograph at page top shows a swamp cooler system whose operating components are mounted on a Tucson Arizona rooftop.
Delivering Cool Air Through Floor Ducts?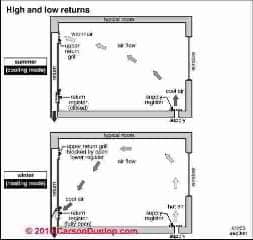 Delivering cooled air through the floor and exhausting it through the roof runs counter to the tendency of warm air to rise and cool air to fall in a building. But an exhaust fan in the roof should pull air upwards through the entire house.
Watch out: Two warnings:
Make sure that the exhaust fan capacity in cubic feet per minute (CFM) is matched to the volume of air that is being supplied from the cooling system upwards from the floor ducts and air registers.
Carson Dunlop's sketch (left) shows a different approach for a closed air duct system that changes its duct operation depending on whether warm air or cool air is being delivered into the building.
You would probably not use this duct design in an evaporative cooling system because the evaporative cooling approach depends on continuous introduction of dry outside air into and through the building during the cooling system, but the sketch makes clear a duct system intended to deliver cool air in a building needs to operate differently than ducts intended to deliver warm air during the heating system if airflow is to be optimized.
Using a Rooftop Cupola to Exhaust Swamp Cooler-Delivered Cool Air?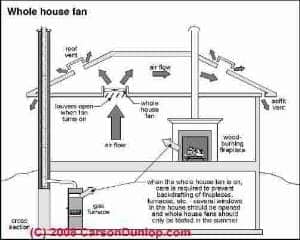 Provide an air duct between the top floor ceiling grille and the roof exhaust cupola. This will keep moist (and possibly cooler) air out of the attic, where it might condense at night and cause moisture problems in the structure and in the attic insulation.
(See Attic Moisture or Mold Sources and see Mold in Fiberglass Insulation.
Readers ducting cool air through a crawl space should also see CRAWLSPACE MOLD ADVICE.)
Carson Dunlop's sketch (left) warns of another safety consideration: a whole house fan or an attic exhaust fan (such as we describe above), can cause back-drafting at fireplaces and atmospheric-vented gas heating appliances - backdrafting can in turn cause dangerous, potentially fatal carbon monoxide hazards in buildings.
Watch out: The hazards are described at COMBUSTION GASES & PARTICLE HAZARDS
and the remedies are described at COMBUSTION AIR for TIGHT BUILDINGS.
Finally, remember to provide a means of closing off the rooftop exhaust during the heating season. Otherwise your warm house air will simply escape by natural convection currents carrying it up and outdoors through your rooftop-mounted exhaust system even if the fan is not running.
See WATER & ICE IN DUCT WORK for a case history where just this problem occurred in a building.
When is Evaporative Cooling Effective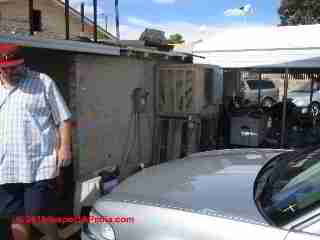 See Solar Age Magazine "Notebook" 2/84, for the conditions where evaporative cooling is effective.
In that issue, author Jerry Germer reviews use of the psychrometric chart that relates moisture, temperature, and indoor relative humidity to discuss the conditions that make people comfortable indoors, and how to relate indoor comfort to the outdoor climate, particularly to temperature and humidity in those two environments.
Our photo (left) shows an evaporative cooler or "swamp cooler" in use blowing cool air into an outdoor mechanic's work area at Canyon Auto Sales in Tucson, AZ. Photo by the author and Andy Gieseke, Canyon Auto.
Swamp coolers or other evaporative cooling systems can cool a building interior using less energy than a conventional air conditioner or heat pump system except during times of very wet or humid weather such as the "monsoon" season in southern Arizona.
During wet and very humid weather evaporative cooling simply cannot evaporate enough water to produce good cooling. Some building owners install both evaporative cooling or swamp coolers and a conventional refrigerant-based air conditioner or heat pump, running the latter only when necessary due to humid conditions.

Watch out: leaky swamp coolers or just about any mechanical equipment that regularly spills or overflows water onto a roof surface is likely to cause stains on the roof surface and might lead to roof wear as well.
Details are at WHITE STAINS on ROOFS.
8 Indoor Air Cooling & Heating Strategies
Mr. Germer mapped eight heating and cooling "design zones" onto areas of the psychrometric chart and then described eight indoor air conditioning approaches and related them to the outdoor climate. For areas or times of the year when temperature and humidity outdoors, and thus also relative humidity, fall within multiple zones on the Germer chart, multiple of the 8 zones and 8 indoor air conditioning strategies below might be usable.
Active solar or mechanical heating: this zone has outdoor temperatures too low for passive building environment conditioning strategies.
Passive solar heating: direct solar gain, indirect solar heat gain, hybrid systems, combined with air infiltration and temperature conduction control - we describe passive solar heating
at PASSIVE SOLAR DESIGN METHOD
and further
at PASSIVE SOLAR HEAT PERFORMANCE.
Dehumidification: high outdoor (or indoor) humidity requires using some method to remove the excess humidity in order for building occupants to be comfortable. In the 1984 article Germer pointed out that passive dehumidification had not been well developed. See HUMIDITY LEVEL TARGET.
Mechanical air conditioning: temperature & humidity combinations in this climate zone cannot be managed by passive means and so mechanical air conditioning
See AIR CONDITIONING & HEAT PUMP SYSTEMS or active solar cooling will be needed.
Ventilation: although temperatures and humidifies may be high, occupants may be made comfortable by direct evaporation of sweat from the skin if enough air velocity is available - in other words, fans can do the trick.
Thermal mass: these air conditioning systems are usually found in hot-dry climates with dry cool nights, such as southwestern United States and parts of Mexico, particularly at higher elevations (see PASSIVE SOLAR DESIGN METHOD and see THERMAL MASS in BUILDINGS
as
well as THERMAL MASS in UPSTAIRS). Radiant cooling and night-flushing of internal mass with cool outside air stores coolness (the ability to later absorb heat) for the next day, and similarly, during the warmer day, the same thermal mass can store warmth to even out cooler nighttime temperatures indoors.
Evaporative cooling: low energy "swamp coolers" (discussed in this article) can be used under conditions of low humidity such as in Arizona and higher elevations of Mexico.
Humidification: moisture needs to be added to very dry air for indoor comfort.
See HUMIDITY LEVEL TARGET. We prefer local or room humidifiers after seeing duct, mold, concerns with some centralized humidifier add-ons to heating and air conditioning systems.
The link to the original Q&A article in PDF form immediately below was preceded above by an expanded/updated online version of this article.
The articles at this website describe the basic components of an air conditioning system and then we discuss how to estimate the rated cooling capacity of an air conditioning system by examining various data tags and components. The limitations of visual inspection of A/C systems are described.
Evaporative Cooling Resources for Products, Manuals, Installation Guides
Breezair Corporation, Seeley International Americas 1202 North 54th Avenue Building 2 Suite 117 Phoenix Arizona 85043 United States of America Phone: 602-353-8066, Website: www.breezair.com
Breezair provides owners manuals, installation guides, and technical support for evaporative cooling systems
Quoting from the Braemar website (see links below),
Seeley International now exports to well over 120 countries. Not bad for a company that started out in 1972 in the garage of its founder and Executive Chairman, Frank Seeley



Breezair Australia, www.climatetechnologies.com.au

New South Wales Unit B2 7 Hepher Road Campbelltown NSW 2560 Australia Phone: +61 2 4602 4242
Victoria 26 Jellico Drive Scoresby VIC 3179 Australia Phone: +61 3 8588 4900 Fax: +61 3 8588 4990
Queensland Unit 5 / 5 Currumbin Court Capalaba QLD 4157 Australia +61 7 3114 0005
Western Australia 6/91 Leach Highway Kewdale WA 6105 Australia Phone: +61 8 9353 5511

Bonaire Evaporative Coolers, distributes heating & cooling products in Australia and New Zealand, including Bonaire whole-house rooftop-mounted evaporative cooling systems and window coolers (Durango)


Australia, Email: support@climtech.com.au , Tel: 1300-152-387

New Zealand, email sales@aber.co.nz, Tel: 0800-488-522 Website: www.bonaire.com.au

Braemar evaporative cooling systems, (Seeley International - see above), Tel: 1300-360-815 in Australia, website: http://www.braemar.com.au



Brivis, evaporative cooling systems,

Brivis Australia 61 Malcolm Road Braeside Victoria 3195 Australia 1300 BRIVIS (1300 274 847) Fax: +61 (03) 9264 9400 www.brivis.com.au email: sales@brivis.com.au Website: www.brivis.com.au
Brivis New Zealand Distributor: Warm Air Ltd 69 Marsden Street Lower Hutt 5010 New Zealand PO Box 38523 Wellington Mail Centre Wellington 5043 New Zealand 0800 WARMAIR (0800 9276 247) Ph: +64 (04) 920 1670 Fax: +64 (04) 920 1681 www.warmair.co.nz email: sales@warmair.co.nz
Brivis South Africa Distributor: Lorenz and Associates Northlands Deco Park Cnr Witkoppen and Newmarket Roads North Riding, Johannesburg South Africa 2194 0861 BRIVIS (0861 274 847) Ph: +27 (011) 704 6112 Fax: +27 (011) 704 0022 www.brivis.co.za email: info@brivis.co.za
...
Continue reading at ROOFTOP A/C / HEAT PUMP - the air conditioning system seems to be "running" but not enough cool air, or no cool air at all is being delivered to the occupied space, or select a topic from closely-related articles below, or see our complete INDEX to RELATED ARTICLES below.
Or see AIR CONDITIONING & HEAT PUMP SYSTEMS - HVAC inspection, installation, diagnosis & repair procedures provided free
Or see HEAT PUMPS - home
Or see WHITE STAINS on ROOFS
Suggested citation for this web page
SWAMP COOLERS at InspectApedia.com or select a topic from closely-related articles below, or see our complete INDEX to RELATED ARTICLES below.
Or use the SEARCH BOX found below to Ask a Question or Search InspectApedia
...
Frequently Asked Questions (FAQs)
Try the search box below or CONTACT US by email if you cannot find the answer you need at InspectApedia.
Question: why is my evaporator freezing up?
(May 30, 2012) ramon said:

all exits are open fully-living room,3 rooms,dining room, yet the evaporator freezes- the evaporator is fully clean. Why it freezes?
Reply:
Improper refrigerant charge, inadequate airflow across the cooling coil, are examples of cause for frosting of the evaporator/cooling coil. - yours is not a swamp cooler.
Search InspectApedia.com for COOLING COIL ICING to read details.
Question: oily substance coming from swamp cooler
(July 21, 2014) Barry said:
oily substance coming from swamp cooler
Reply:
Check for a leak at an electric motor or for a unit suffering from algae or settled dirt and debris.
Question: swamp cooler installation placement, clearance distances, specifications
2017/07/14 Jason said

Where should I install my swamp cooler?
Reply:
Jason,
Evaporative coolers are either roof-mounted (whole house cooling systems) or mounted in a window (smaller units) so are positioned differently than refrigerant-based cooling systems using an indoor air handler and outdoor compressor/condenser unit. An important consideration in mounting the rooftop unit is the proper selection of and strength of the supporting roof jacks.
But a look through the installation and owners manuals for six evaporative coolers (listed in the article above) I did not find any references to side clearances or top clearances for the units, perhaps because of their anticipated location. Certainly it would make sense to avoid installing a rooftop unit where you'd expect trouble such as
- Don't install any fan operated or air cooled device where its air intake or outlet are obstructed by a nearby vertical wall, chimney, or other exhaust system
- Don't install any fan-operated or air-cooled component where its intake air or outlet air compete with another such unit installed close-by - lest hot exhaust from one unit increase the temperature of the incoming air in another unit.
OPINION: if you don't see other specific clearance distances in the installation guide for your particular system, check with the manufacturer for advice. A general safe rule is probably to keep at least 2 meters of separation between nearby air operated devices and at least one meter from a vertical or enclosed overhead surface.
...
Ask a Question or Search InspectApedia
Use the "Click to Show or Hide FAQs" link just above to see recently-posted questions, comments, replies, try the search box just below, or if you prefer, post a question or comment in the Comments box below and we will respond promptly.
Search the InspectApedia website
Technical Reviewers & References
Click to Show or Hide Citations & References
[1] "Air Conditioning & Refrigeration I & II", BOCES Education, Warren Hilliard (instructor), Poughkeepsie, New York, May - July 1982, [classroom notes from air conditioning and refrigeration maintenance and repair course attended by the website author]
[2] Thanks to Mark Cramer, Tampa Florida, for assistance in technical review of the "Critical Defects" section and for the photograph of the deteriorating gray Owens Corning flex duct in a hot attic. Mr. Cramer is a Florida home inspector and home inspection educator.
[3] Thanks to Jon Bolton, an ASHI, FABI, and otherwise certified Florida home inspector who provided photos of failing Goodman gray flex duct in a hot attic.
[4] Thanks to Scott at SJM Inspect for suggesting this EPA document and for technical editing remarks regarding our air conditioning website, SJM Inspection Service LLC, serves the entire state of CT, sjminspect.com 203-543-0447 or 203-877-4774 5/16/07
[5] Thanks to Joe Panimondo for technical editing, April 2011
[6] This website discusses these air conditioning and heat pump terms and problems: Air Conditioners: Central Air Conditioning Troubleshooting & Repair Guide: How to Inspect, Diagnose, & Repair Central Air Conditioning: Defects in A/C compressors, air handlers, duct work, and controls. We explain how to inspect & repair central air conditioning systems and for homeowners we also answer basic HVAC questions such as what are the basic air conditioning components? We provide guidance in determining air conditioning cooling capacity & energy efficiency, Troubleshooting air conditioning compressor problems, Diagnosing air conditioning air handler problems, Air conditioning condensate problems, Duct system inspections, defects, repairs, Cleaning air conditioning equipment & A/C refrigerants.
[7] HVAC brands discussed include but are not limited to: Lennox, American Standard, Amana, Everrest, Goodman, Frigidaire, Coleman and Gibson. Brands of related air handling equipment include Honeywell, Aprilaire, White-Rogers, Broan. Nutone, Fantech, Venmar, Arzel, Hi-Velocity, Vanguard, Wirsbo, Weil McLain, Unico, Heat Link, A.O. Smith, Water Furnace, ClimateMaster, Geo-Excel, Command Aire, Friedrich, LG, Mitsubishi, Sanyo, Hart &
Cooley, Munchkin, Superstor Ultra, Lochinvar and Knight HVAC equipment.
[8] HVAC Employment: U.S. Department of Labor website describes HVAC jobs and the employment outlook for HVAC technicians.
[9] HVAC Education, Training Accreditation agencies: Quoting the U.S. DOL HVAC website above::
After completing the programs below, new technicians generally need between 6 months to 2 years of field experience before they are considered proficient. Three accrediting agencies have set academic standards for HVACR programs:

[10] HVAC Excellence. 1701 Pennsylvania Ave NW, Washington, DC 20006 Tel: (800) 394-5268. Quoting:
HVAC Excellence is a not for profit organization that has been serving the HVACR industry since 1994. It is our goal to improve competency through validation of the technical education process. By setting standards and verifying that they have been met, we inspire the industry to excel. We know that all of the challenges that face our industry are achievable by continuous improvement in the way that we prepare technicians.
[11] National Center for Construction Education and Research, 3600 NW 43rd Street, Bldg. G, Gainesville, FL 32606, Tel: 888.622.3720, Quoting:
NCCER is a not-for-profit education foundation created to develop industry-driven standardized craft training programs with portable credentials and help address the critical workforce shortage facing the construction industry.
[12] The Partnership for Air-Conditioning, Heating, and Refrigeration Accreditation, (PAHRA) 2111 Wilson Blvd., Suite 500 Arlington, VA 22201-3001 (703) 524-8800, Quoting: The Partnership for Air-Conditioning, Heating, Refrigeration Accreditation (PAHRA) is an independent, third party organization that is a partnership between heating, ventilation, air-conditioning and refrigeration (HVACR) educators and the HVACR industry that will award accreditation to programs that have met and/or exceeded industry validated standards. This programmatic accreditation program is the only one that is supported by the major industry associations.

Licensure. Heating, air-conditioning, and refrigeration mechanics and installers are required to be licensed by some States and localities. Requirements for licensure vary greatly, but all States or localities that require a license have a test that must be passed. The contents of these tests vary by State or locality, with some requiring extensive knowledge of electrical codes and others focusing more on HVACR-specific knowledge. Completion of an apprenticeship program or 2 to 5 years of experience are also common requirements.
In addition, all technicians who purchase or work with refrigerants must be certified in their proper handling. To become certified to purchase and handle refrigerants, technicians must pass a written examination specific to the type of work in which they specialize. The three possible areas of certification are: Type I—servicing small appliances; Type II—high-pressure refrigerants; and Type III—low-pressure refrigerants. Exams are administered by organizations approved by the U.S. Environmental Protection Agency, such as trade schools, unions, contractor associations, or building groups.
[13] HVAC Training Courses, Schools: HVAC Technician Training Schools [http://technicianschool.net/hvac-technician-training-schools/], lists the following schools offering technical courses may offer specific training programs for potential careers, including HVAC technicians. Among HVAC schools that website lists are

Everest Colleges [http://www.everest.edu],
Florida Career College 7891 Pines Blvd Hollywood, FL 33024 http:// www.careercollege.edu/,
Lincoln Institute 2299 Vauxhall Road Union, NJ 07083 http:// www.lincolnedu.com/
NOTE: when considering an HVAC training course or school, check the HVAC education accrediting associations listed above.


[14] Ratib Bakera is member of Refrigeration Service Engineers Society (RSES), an International training organization for the HVACR industry provides educational and certification programs to HVACR professionals of all experience levels. www.rses.org provides information on the organization and its training materials. Independent testing and certification of HVAC technicians is provided by North American Technician Excellence - NATE - see www.natex.org. NATE is supported by ASHRAE, the US EPA, and a host of other trade and professional associations.
[15] Singer brand HVAC equipment brand history:

Singer was bought by & became the climate control unit of Dallas-based Snyder General Corp. (founded by a former Singer HVAC manager) in 1982.

The name Singer was dropped in 1984. In 1984 Snyder General operations included Arcoaire, Comfortmaker,

and

McQuay. In 1991 Snyder General sold Arcoaire & Comfortmaker to Inter-City Products. In 1994 Snyder General was acquired by Hong Leong Group Malaysia. Snyder General is at 2001 Ross Avenue Dallas, TX 75201

.
[16] Lennox air conditioning and heat pump owners manuals for air conditioners, air handlers, furnaces, heat pumps, indoor air quality systems, packaged units, water heaters, zone controls and other controls such as thermostats, are provided by Lennox at http://www.lennox.com/support/manuals.asp
[23] Air Diffusion Council, 1901 N. Roselle Road, Suite 800, Schaumburg, Illinois 60195, Tel: (847) 706-6750, Fax: (847) 706-6751 - info@flexibleduct.org - www.flexibleduct.org/ -
"The ADC has produced the 4th Edition of the Flexible Duct Performance & Installation Standards (a 28-page manual) for use and reference by designers, architects, engineers, contractors, installers and users for evaluating, selecting, specifying and properly installing flexible duct in heating and air conditioning systems.
Features covered in depth include: descriptions of typical styles, characteristics and requirements, testing, listing, reporting, certifying, packaging and product marking.
Guidelines for proper installation are treated and illustrated in depth, featuring connections, splices and proper support methods for flexible duct. A single and uniform method of making end connections and splices is graphically presented for both non-metallic and metallic with plain ends."
The printed manual is available in English only. Downloadable PDF is available in English and Spanish. 
[24] Engineering toolbox properties of water - http://www.engineeringtoolbox.com/water-thermal-properties-d_162.html and email: editor.engineeringtoolbox@gmail.com web search 09/16/2010
[25] Owens Corning Duct Solutions - www.owenscorning.com/ductsolutions/ - provides current HVAC ductwork and duct insulating product descriptions and a dealer locator. Owens Corning Insulating Systems, LLC, One Owens Corning Parkway, Toledo, OH 43659 1-800-GET-PINK™
[26] "Flexible Duct Media Fiberglas™ Insulation, Product Data Sheet", Owens Corning - see owenscorning.com/quietzone/pdfs/QZFlexible_DataSheet.pdf
"Owens Corning Flexible Duct Media Insulation is a lightweight, flexible, resilient thermal and acoustical insulation made of inorganic glass fibers bonded with a thermosetting resin."
[27] Modern Refrigeration and Air Conditioning, A. D. Althouse, C.H. Turnquist, A. Bracciano, Goodheart-Willcox Co., 1982
[28] Principles of Refrigeration, R. Warren Marsh, C. Thomas Olivo, Delmar Publishers, 1979
"Air Conditioning & Refrigeration I & II", BOCES Education, Warren Hilliard (instructor), Poughkeepsie, New York, May - July 1982, [classroom notes from air conditioning and refrigeration maintenance and repair course attended by the website author]
[29] Refrigeration and Air Conditioning Technology, 5th Ed., William C. Whitman, William M. Johnson, John Tomczyk, Cengage Learning, 2005, ISBN 1401837654, 9781401837655 1324 pages
[30] Carson Dunlop, Associates, Toronto, have provided us with (and we recommend) Carson Dunlop Weldon & Associates' Technical Reference Guide to manufacturer's model and serial number information for heating and cooling equipment ($69.00 U.S.).
[32] FlowKinetics LLC, 528 Helena Street Bryan, Texas 77801 USA, Tel: (979) 680-0659, Email: inform@flowkinetics.com, Website: www.flowkinetics.com, "FKS 1DP-PBM Multi-Function Meter Pressure, Velocity & Flow User's Manual", web search 07/16/2012, original source: http://www.flowkinetics.com/FKS_1DP_PBM_Manual.pdf [copy on file] and "FKT Series Flow Measurement And Pressure Acquisition System User's Manual" http://www.flowkinetics.com/FKTSeriesManual.pdf [copy on file]
[33] Histoire de l'Académie royale des sciences avec les mémoires de mathématique et de physique tirés des registres de cette Académie: 363–376. Retrieved 2009-06-19.- Pitot Tubes, Henri Pitot (1732)
[34] Wikipedia provided background information about some topics discussed at this website provided this citation is also found in the same article along with a " retrieved on" date. NOTE: because Wikipedia entries are fluid and can be amended in real time, we cite the retrieval date of Wikipedia citations and we do not assert that the information found there is necessarily authoritative.
"Pressure sensor", retrieved 7/16/2012
[35] "GE Zoneline® Owners Manual and Installation Instructions, Heat/Cool Model 2900, Heat Pump Model 3900", General Electric Corporation, [copy on file].
[36] "GE Zoneline® Owners Manual and Installation Instructions, Heat Pump Model 5800", General Electric Corporation, [copy on file].
[37] "Whirlpool WGPH45 Packaged Heat Pump, Product Specifications", Whirlpool Corporation, [copy on file]. Website: www.whirlpoolcomfort.com
[38] N Lu, YL Xie, Z Huang, "Air Conditioner Compressor Performance Model", U.S. Department of Energy, August 2008, [copy on file as PNNL-17796.pdf] Available to the public from the National Technical Information Service, U.S. Department of Commerce, 5285 Port Royal Rd., Springfield, VA 22161 ph: (800) 553-6847, fax: (703) 605-6900 email: orders@ntis.fedworld.gov online ordering: http://www.ntis.gov/ordering.htm
[39] Yinger R, R Bravo, and D Martinez. 2006 Air Conditioner Stalling Effects Study/Air Conditioner Testing Procedures. Southern California Edison, Rosemead, California
[40] Bravo, R, R Yinger, and L Gaillac. 2006. Conditioner Stalling Unit Level Solutions Test Report. Southern California Edison, Rosemead, California.
[41] Lu N, B Yang and Z Huang. 2008a. Evaluation of Southern California Edison Air-Conditioner Stalling Solutions. PNNL-17686, Pacific Northwest National Laboratory, Richland, Washington.
[42] Danny S. Parker, John R. Sherwin, Bart Hibbs, "Development of High Efficiency Air Conditioner Condenser Fans", ASHRAE Transactions June 2005, [copy on file as FSEC-CR-1674-05.pdf]
Books & Articles on Building & Environmental Inspection, Testing, Diagnosis, & Repair
Our recommended books about building & mechanical systems design, inspection, problem diagnosis, and repair, and about indoor environment and IAQ testing, diagnosis, and cleanup are at the InspectAPedia Bookstore. Also see our Book Reviews - InspectAPedia.
...