Paint Analysis - Peeling Paint? How to Diagnose, Correct, & Prevent Paint Failure on buildings
PAINT FALURE, DIAGNOSIS, CURE, PREVENTION - home - CONTENTS: Analysis of small paint samples provides the history of paint layers & colors on buildings & can diagnose the cause of paint failures - How to diagnose the cause of failing paint on a building exterior or interior
POST a QUESTION or READ FAQs about how to diagnose, cure or prevent paint failures on building exteriors or interiors
InspectAPedia tolerates no conflicts of interest. We have no relationship with advertisers, products, or services discussed at this website.
Paint failure causation, diagnosis, cure:
This article series explains the diagnosis, cause, cure and/or prevention of all types of paint failures on buildings. We discuss paint analysis and reviews common building exterior & interior painting mistakes, describes how to diagnose paint failures on buildings, and outlines a procedure for diagnostic field inspection & lab testing of failed painted surfaces.
We include photographs of paint failures on buildings and more photos of forensic paint laboratory examination of samples of failed paint useful to assist in diagnosing the probable cause of each type of paint failure.
Green links show where you are. © Copyright 2017 InspectApedia.com, All Rights Reserved.
Paint analysis for historical information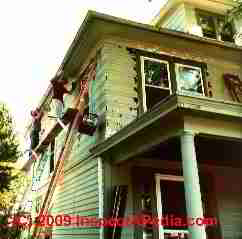 - Daniel Friedman
The examples discussed in this paint failure analysis article use building exterior paint failures (and remedies), but many interior paint failures and even some paint failures on artworks, paintings and artifacts are similar their origin and cure.
[Click to enlarge any image]
[Photo at left, the author & Arthur Cady painting a home on Parker Avenue, Poughkeepsie, NY]
In discussing the procedure and value of analysis of paint samples to diagnose the cause and cure of failures, here we include both our own field and laboratory experience and procedures and also paint problem diagnostic information provided by some paint manufacturers, home improvement suppliers, historic building and historic conservation experts such as the U.S. NPS, art conservation experts, and by National Forest Products Laboratory experts.
We will discuss paint sample analysis procedures using microscopy and microchemistry, and typically working with small chips of paint removed from a surface, provides useful paint and coating information for several different purposes, including historical paint information, paint failure diagnostic analysis on buildings, and art conservation. We describe these just below.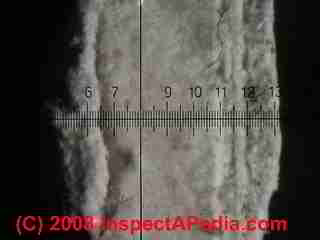 Paint analysis for historical information: Microscopic and microchemical analysis of small samples of paint from a building interior or exterior can provide key historical information: the colors, types, and numbers of layers of paint used.
The New York Times reported (Feb 2010) an excellent example of this service: renovators of New York City cast-iron loft buildings dating from 1873 used paint chip analysis to identify the original colors of paint used on buildings as well as the history, sequence, and colors of 13 layers of paint.
Our paint lab photo (left) shows varying thickness of layers of white paint from a more modern building surface.
Paint analysis for paint failure diagnosis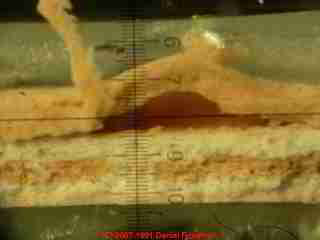 Paint analysis for paint failure diagnosis:
Using similar methods, the diagnosis and cure of paint failure on buildings, particularly on wood siding and trim, is quite possible if there is a careful and thorough inspection of the building, its history, its surfaces, and the actual points of paint failure.
It is diagnostic to compare the same coating on the same type of surface at different locations on a building and in areas of failed and not-failed paint.
Our lab photo (left) shows four layers of paint, with a paint blister in the topmost layer. Paint blistering is discussed at PAINTING in SUN or WIND (thermal blistering).
Distinguishing among types of paint blistering is discussed and illustrated at PAINT FAILURE ANALYSIS LAB PHOTOS

Analysis of paint from art works and artifacts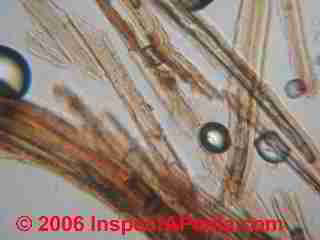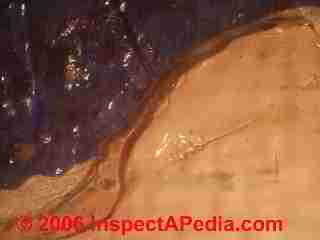 Analysis of paint from art works and artifacts: can provide information invaluable to art conservators, including distinguishing among causes of paint failures and in suggesting conservation methods.
Working with museum conservators such as Ulrik Runeberg, Museo de Arte Contemporáneo de Puerto Rico, San Juan, we have found that forensic analysis of small surface samples of stains, using simple adhesive tape sampling can provide useful art conservation information without requiring punch samples or paint chip samples.
Our photo (above right) of a closeup of the surface of a painting whose surface was flaking was provided courtesy of Mr. Runeberg and formed part of a joint investigation into the adhesion failure of paint in this work.
On superficial examination at only low magnifications, microbiological deterioration of art works, such as due to fungal attack, can be confused with other causes of spots, blotching, or staining in works of art, such as extractive bleeding from pressed hardboard substrates.
Material identified as hardboard fibers from a stained painting surface (photo, above left) sampled from the painting En Aire, in the Museo de Arte Contemporáneo de Puerto Rico, San Juan, was obtained using clear adhesive tape and the particle sampling method (also used for mold testing) described at TEST KITS for DUST, MOLD, PARTICLE TESTS.
Those painting surface samples helped to prove that in many cases the staining of acrylic paintings on fiberboard are an unlucky combination of the artist´s habit to apply only a single layer of paint and the humid conditions in which many works had been stored. - U.R. Understanding the cause of stains on art works helps direct the best course of action for both cleaning and preservation.
Other Paint Analysis Methods: Additional chemical and age testing of paints are performed by paint manufacturers in developing these products. Other much more costly types of paint sample analysis, such as pyrolysis-gas chromatography can provide specific product identification signatures of basic modern paints and can list their constituents;
Fourier transform infrared spectroscopy for paint analysis, direct temperature-resolved mass spectrometry may also be used. But a skilled analyst trained in field investigation and forensic microscopy can address questions of paint layer color, history, and most causes of paint failures quickly, economically, and sometimes more reliably.
PAINT FAILURE CHECKLIST - Typical Considerations in Evaluating Paint Failures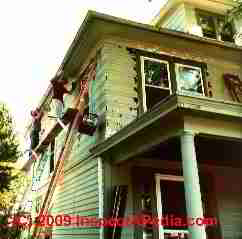 Also see PAINTING MISTAKES.
Experts representing paint manufacturers see many field failures of painted surfaces, often arising from a common cause. But getting a clear answer from these professionals can be tricky: the painting contractor is their customer, not the building owner.
Therefore, while most paint failures are due to poor surface preparation or painting in improper conditions of temperature or moisture, the "expert" may be reluctant to say so. Importantly, other paint failures are due to construction errors, building ventilation or vapor barrier errors, building leaks, or improper maintenance.
It is important to understand why a paint failure occurred before re-painting a building. Otherwise the expense of a new paint job may be wasted.
Our 1984 photo (left) shows the website editor D. Friedman (at rear) and Art Cady preparing surfaces of a home for painting. Prepping soft wood shingle surfaces that have been previously painted is horrible work and very labor intensive.
"Improper or inadequate surface preparation is by far the most common cause of house paint failures such as blistering, peeling and staining.
If the new paint is separating from the old coat of paint, it is most likely due to chalking or some contaminant on the old paint that prevents the new paint from penetrating and binding to the old painted surface. If the peeling failure is down to the bare wood, it is most likely that the problem is a result of too much moisture within the wall, forcing itself out, taking the entire paint film with it."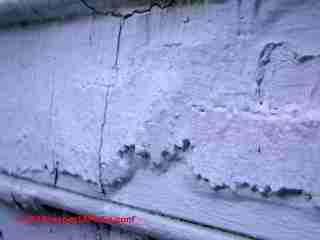 "Over 65% of all paint failures can be attributed to poor or improper surface preparation.
Two of the major causes of paint failure on exterior wood surfaces are either moisture passing through the substrate from the interior, or exterior sources of moisture getting behind the paint film.
Temperature and humidity have major effects upon drying and ultimately upon the characteristics of the paint film.
These effects will always determine the actual appearance and performance of the paint itself. Paint should be applied at temperatures of 70o F, (21o C), ideally, plus or minus 20o F (12o C) - unless product specifications state otherwise. A surface should not be painted if its temperature is within 5o F of the dew point or the relative humidity is above 85%." -- PPG Exterior Failures.
But you don't need fourier transform nor any other sophisticated paint analysis to understand the paint job shown just above. The West end of this New York home (inspected by DJF ca 2000) is believed built by Derick Hegeman 1759-1769, and the East end was added by Thomas Storm or John Adriance (all of Ducthess County, NY) 1769 - 1794.
The home was purchased by George Brinckrerhoff in 1795. It looks as if almost all of the coats of paint are still present in some of the really thick layers on this wall clapboard.
The follow sections of this document form a checklist of building and site conditions leading to paint failures (such as peeling paint, blistering paint, chalking paint, cracking or alligatoring paint, or bleeding and stains through paint--terms defined below). The focus is on failures of painted wood surfaces on building exteriors but the paint failure diagnostic procedure can be generalized to other surfaces inside and out.
PAINT FAILURE CHECKLIST: EXTERIOR CLUES - Exterior Observations Related to Paint Failures
Here is our list of clues that help diagnose the cause of exterior building paint job failure. If you are diagnosing an indoor paint problem see PAINT FAILURE - INTERIOR CLUES. The photo below shows the author (on roof) working with Arthur Cady during a house painting project in New York.
A photo of the finished paint-job is at SHORTCUT ERRORS.
Additional clues that can help diagnose an outdoor paint problem are at STAIN DIAGNOSIS on BUILDING EXTERIORS.
Dictionary of types of paint failures and problems, and other painting terms - see PAINT FAILURE DICTIONARY
Paint failure types: include quite a few failure names for example adhesion failures, cracks, stains, peeling, sagging, etc - this is a long list for which a paint vocabulary is useful and is given in the paint failure dictionary just cited.

Naming the type of paint failure correctly is critical in diagnosing the cause of paint failure on a building or on an artifact or art work.
Pattern, location, and type(s) of paint failure found
Paint failure pattern variations, such as by building location, exposure, weather exposure, surface type, wall field, trim, columns, paint failures on horizontal surfaces vs. frequency of paint failures on vertical surfaces, paint failure depth, type of peeling, and alligatoring, and checking or cracking,, or blistering or chalking. Hairline cracks in painted stucco surfaces that appear only in some building areas -

see PAINT on STUCCO, FAILURES
Appearance of surfaces from which paint has separated: mill gloss, or see chalking, old paint, wood fibers, moisture push. Blotching, white stains in painted stucco that appear only in some building areas.
Ssee PAINT on STUCCO, FAILURES.
Mapping of failed and not-failed paint on various building areas, overlaid on the above list of possible causes.
Sun/shade/rain/wind/mechanical-damage exposure of the building surfaces
Surface drainage control
Roof runoff control
Evidence of paint or caulk-created moisture traps such as paint-sealed lap joints at heavily-painted wood clapboards.
Other site water/moisture sources, dominant direction of wind-blown rain and snow
Paint chip information (wood fibers, prior paint layers, mold, or debris present or absent on back of paint chips) - examined in the field by simple magnification, and examined in the paint lab using high power microscopy and paint layer sectioning can provide rapid, inexpensive, and conclusive paint failure diagnostic aid.

See PAINT LAB SAMPLE PREPARATION and

see PAINT FAILURE CASE PHOTOS, LAB.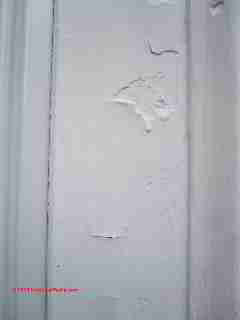 Thickness of coating materials, number of paint layers, and identification of the layer which appears to be separating. Collect painted sample materials or paint chips which will permit measurement of the dry film paint thickness (DFT) which can be compared with the required wet film thickness (WFT) by calculation using the percentage of volume solids in the paint.

See PAINT LAB SAMPLE PREPARATION.

Our photo (left) shows the condition of a nearly brand-new paint job on an older home in Poughkeepsie, NY. We noticed that old paint was left on the surface with no feathering of the edges of the few spots where paint had been removed or had fallen off before the paint job.

We noticed also that the painter tried to "seal" the loose paint by globbing on plenty of new paint - see that drip running down the trim board?

Finally, we noticed that this new paint job was already failing - the split in the paint visible in the lower portion of the photograph.

Although the building owner told us that this paint job was "guaranteed" by the painter, these observations made us nervous. How many times will the owner be able to call the painter back to "touch up" these annual failures in the paint job before the painter gets tired of these unpaid visits and informs the owner that now the paint failure is "normal aging"?

This paint job will have a shorter life than if the surface had been stripped, but then the painter (and owner who was selling his home) avoided a much higher cost of stripping lead-containing paint from an older building.
Paint thinners: what thinners were allowed, in what quantities, and what thinners may actually have been used? Compare the quantity of paint invoiced to the job with the coverage rating per gallon or liter of the paint. See paint thickness notes above.
Information about insulation, ventilation, vapor retarders, water and air barriers used on and in the building exterior walls.

See VENTILATION in BUILDINGS.
Rust stains on buildings - see RUST STAINS on SHINGLES
Signs of exterior mold (misnamed "MILDEW") on building surfaces on the exposed surfaces, between paint layers, between the building surface and the failing or other paint coatings. Mildew is a sub-class of molds that grow on living plants (grapes, for example).

See MOLD DETECTION & INSPECTION GUIDE

and TEST KITS for DUST, MOLD, PARTICLE TESTS
Samples of paint used at the building, including liquid samples of primer and top coat, for possible further testing.

See PAINT LAB SAMPLE PREPARATION
and
see PAINT FAILURE CASE PHOTOS, LAB.
Paint cans which held the current and prior paint used on building surfaces: for recording of the manufacturer or "paint brand", lot number, tinting information, date of manufacture, and the producer's storage, application, thinning, area coverage rating, % volume solids, recommended application thickness, and other technical information. Documenting the paints used on a building may discover incompatible coatings.
Paint and thinner MSDS sheets, if they are available; usually you can find these documents online from the manufacturer.
Water: evidence of water infiltration into building cavities, such as ice dam leaks into walls, leaks at windows, or general indoor moisture and humidity levels and history, such as a history of wet basements, crawl spaces, attics, or specific building areas or rooms. Many paint failures are highly likely to be mapped to specific locations of elevated moisture or actual building leaks.

See STUCCO PAINT FAILURES for examples.

See VENTILATION in BUILDINGS
as well as
WATER ENTRY in BUILDINGS

and see VAPOR BARRIERS & CONDENSATION in buildings.
Quotes in the opening text of this document are from the encyclopedic but not quite complete paint website: PPG Exterior Failures http://www.ppg.com/getpaint/etraining/solver/exterior.html
...
Continue reading at PAINT FAILURE LAB ANALYSIS or select a topic from closely-related articles below, or see our complete INDEX to RELATED ARTICLES below.
Or See PAINT FAILURE INDICATORS for more detail when invasive inspecting is permitted.
Or see PAINT & STAIN LIFE CHART that gives typical life expectancies of building exterior coatings on different types of wood surfaces.
Or see LEAD POISONING HAZARDS GUIDE.
Suggested citation for this web page
PAINT FALURE, DIAGNOSIS, CURE, PREVENTION at InspectApedia.com - online encyclopedia of building & environmental inspection, testing, diagnosis, repair, & problem prevention advice.
Or use the SEARCH BOX found below to Ask a Question or Search InspectApedia
...
Frequently Asked Questions (FAQs)
Try the search box below or CONTACT US by email if you cannot find the answer you need at InspectApedia.
...
Ask a Question or Search InspectApedia
Use the "Click to Show or Hide FAQs" link just above to see recently-posted questions, comments, replies, try the search box just below, or if you prefer, post a question or comment in the Comments box below and we will respond promptly.
Search the InspectApedia website
Technical Reviewers & References
Click to Show or Hide Citations & References
[1] Exterior Paint Problems on Historic Woodwork [Copy on file as /exterior/Preservation_Brief_10_ Exterior_Paint_Problems_on_Historic_Woodwork.pdf ] - , Kay D. Weeks and David W. Look, AIA, U.S. Department of the Interior, National Parks Service Preservation Brief No. 10. Web search 02/01/2011, original source: http://www.nps.gov/hps/tps/briefs/brief10.htm
Reference Texts for Paint & Fiber Forensic Analysis, Diagnosis, Conservation:
Analysis of Modern Paints, Thomas J.S. Learner, Research in Conservation, 2004 ISBN 0-89236-779-2
[Chemistry of modern paints, overview of analytical methods, pyrolysis-gas chromatography signatures of basic modern paints and their constituents, Fourier transform infrared spectroscopy for paint analysis, direct temperature-resolved mass spectrometry, and analysis in practice - technical reference useful for forensic paint science, focused on art works. One of our most useful texts in forensic investigation of paint failures and paint problem diagnosis - for building investigators as well as art conservators. -DF]
Although oil remains an important binding medium in artists' paints, today's synthetic resins are being used with increasing frequency. This was true during much of the twentieth century, when artists such as David Alfaro Siqueiros, Jackson Pollock, and Pablo Picasso used commercial or industrial paints based on synthetic resins. The growing popularity of synthetic resin materials carries important implications for the conservation, preservation, and treatment of modern art.
This volume outlines the techniques that are currently employed to analyze the synthetic resins used in modern painting materials, such as pyrolysis-gas chromatography-mass spectrometry, Fourier Transform infrared spectroscopy, and direct temperature-resolved mass spectrometry. For each technique, results are given for standard samples of the principal classes of synthetic binding media, various pigments and extenders, tube paint formulations, and microscopic paint fragments taken from actual works of art.
Primarily intended for conservation scientists, conservators, researchers, and students of conservation, this book will also be of interest to other museum professionals.
Art, Biology, and Conservation: Biodeterioration in Works of Art, Robert J. Koestler et als. Eds., Metropolitan Museum of Art, 2003, ISBN 1-58839-107-8
Series of excellent research and advice articles on art work conservation of special use to conservators and also to building, artifact, and art forensic investigators. MOMA. - DF
Despite the perception that artworks are timeless and unchanging, they are actually subject to biological attack from a variety of sources—from bacteria to fungi to insects. This groundbreaking volume, which publishes the proceedings of a conference held at The Metropolitan Museum of Art in 2002, explores how the development of these organisms can be arrested while preserving both the work of art and the health of the conservator.
The richly illustrated text, containing the writings of over 40 scientists and conservators, is divided into sections on stone and mural paintings, paper, textiles, wood and archaeological materials, treatment and prevention, and special topics. The artworks and cultural properties discussed include, among many others, Paleolithic cave paintings, Tiffany drawings, huts built by early Antarctic explorers, and a collection of toothbrushes taken from Auschwitz victims. -- Robert J. Koestler is a research scientist at The Metropolitan Museum of Art; Victoria H. Koestler is a freelance writer and editor; A. Elena Charola is a freelance conservation scientist; and Fernando E. Nieto-Fernandez is a biologist at Old Westbury College, New York.
Cultural Heritage and Aerobiology, Methods and Measurement Techniques for Biodeterioration Monitoring, Paolo Mandrioli, Guilia Caneva, and Cristina Sabbioni, Eds., Kluwer Academic Publishers, 2003 ISBN 1-4020-1622-0
This is a translated and revised edition of the original Italian version. This book is the first to give a general overview of the application of aerobiology (the science that studies the biological components of the atmosphere) to the conservation of our cultural heritage. Aerobiological monitoring makes it possible to estimate the risks of degradation of artefacts of historical or artistic importance by airborne microorganisms (airborne spores and vegetative structures) according to the types of materials forming the artefacts, to the conditions of the microclimate and to the type of environmental pollution, thus enabling the planning of preventive or reparative intervention. Among the book's main features are: + Aspects of the biodeterioration of different materials (paper, wood, fabrics, parchment, leather, stone, glass, metals, plastic, etc.). + Methods for measuring environmental parameters, both physical (microclimatic) and chemical (pollutants). + Methods and techniques of aerobiological monitoring. + Specific problems concerning the different types of environments. Audience: The subject is thoroughly explored, thus supplying a useful tool to those who are in charge of the conservation of our cultural heritage (libraries, archives, museums, churches, hypogea, monuments, archaeological sites, etc.).
See our book review of this reference.
Exterior Paint Problems on Historic Woodwork [Copy on file as /exterior/Preservation_Brief_10_ Exterior_Paint_Problems_on_Historic_Woodwork.pdf ] - , Kay D. Weeks and David W. Look, AIA, U.S. Department of the Interior, National Parks Service Preservation Brief No. 10. Web search 02/01/2011, original source: http://www.nps.gov/hps/tps/briefs/brief10.htm
Microscopy of Textile Fibres (Microscopy Handbooks, 32), P H Greaves, Garland Science; 1 edition (January 1, 1995), ISBN-10: 1872748244, ISBN-13: 978-1872748245
[We ordered our copy from the British publisher - now it's on Amazon.
These 3 fiber books have been essential forensic lab references supplementing our McCrone Research courses on forensic microscopy; also of use to textile conservators. - DF
An up-to-date practical guide to the properties and characteristics of textile fibres, with clear advice on sampling, specimen preparation and examination procedures.
Microscopy of Animal Textile Fibres, Alex Blakey Wildm, 1954
Hard to obtain, useful for forensic microscopy - DF
Modern Paints Uncovered (Getty Conservation Institute Symposium Proceedings), Thomas Learner, Getty Publications (March 1, 2008),ISBN-10: 089236906X, ISBN-13: 978-0892369065
Over the past seventy years, a staggering array of new pigments and binders has been developed and used in the production of paint, and twentieth-century artists readily applied these materials to their canvases. Paints intended for houses, boats, cars, and other industrial applications frequently turn up in modern art collections, posing new challenges for paintings conservators.
This volume presents the papers and posters from "Modern Paints Uncovered," a symposium organized by the Getty Conservation Institute, Tate, and the National Gallery of Art and held at Tate Modern, London, in May 2006. Professionals from around the world shared the results of research on paints that have been available to artists since 1930--the date that synthetic materials began to significantly impact the paint industry.
Modern Paints Uncovered showcases the varied strands of cutting-edge research into the conservation of contemporary painted surfaces. These include paint properties and surface characteristics, analysis and identification
Of Microbes and Art: The Role of Microbial Communities in the Degradation and Protection of Cultural Heritage, Kindle Edition, Springer; 1 edition (June 30, 2000), ASIN: B000VHV4FC
Paint Handbook: testing, selection, application, troubleshooting, surface preparation, etc., Guy E. Weismantel, Ed., McGraw Hill Book Company, 1981
[Excellent but a bit obsolete paint theory and practice, also a bit light on field investigation methods, out of print, available used. Very useful reference for paint testing, selection, and paint failure diagnosis - focus on non-artistic use of paints such as on buildings, roofs, marine coatings. -DF]
How to select and apply the right paint or coating for any surface. The first major reference to help you choose the correct paint or other finish to do the job best on a particular surface exposed to a particular environment. Experts in the field give full advice on testing surface preparation, application, corrosion prevention, and troubleshooting. The handbook covers wood, metal, composites, and masonry, as well as marine applications and roof coatings. A ``must'' working tool for contractors, architects, engineers, specification writers, and paint dealers
Paint Magic, Jocasta Innes, Frances Lincoln; 4th edition (August 17, 2006), ISBN-10: 071122272X, ISBN-13: 978-0711222724 - Paint advice for home decoration, including painting techniques such as antiquing, bambooing, bleaching, color washing, combing, decorative painting, dragging, dyeing, gliding, graining, japanning, lacquering, lining, marbling, porphyry, rag-rolling, sponging, staining, stencilling, stippling, tortoiseshelling, trompe l'oeil, and vinegar painting - DF
Paint and Surface Coatings, Theory and Practice - [purchase at Amazon.com], R. Lambourne & T.A. Strivens, Ed., Woodhead Publishing Ltd., William Andrew Publishing, 1999 ISBN 1-85573-348 X & 1-884207-73-1
[ This is perhaps the leading reference on modern paints and coatings, but is a difficult text to obtain, and is a bit short on field investigation methods. Encyclopedic reference on the composition, production, properties, use, and testing of paints and coatings - DF]
Provides a comprehensive reference source for all those in the paint industry, paint manufacturers and raw materials suppliers, undergraduate and postgraduate students, and industrial paint users.

Plant Biology for Cultural Heritage: Biodeterioration and Conservation, Giulia Caneva, Maria Pia Nugari, Ornella Salvadori, Getty Publications (January 15, 2009), ISBN-10: 0892369396, ISBN-13: 978-0892369393
Quality Assessment of Textiles, Karl Marshall, Kindle Edition, Springer; 2nd edition (October 31, 1993, ASIN: B00193F3BI
The damage which can occur in certain fibrous raw materials or during the production and storage of textiles is expertly described in this book by Karl Mahall. He particularly shows how to find concealed textile defects by using microscopic analysis. The examples represent typical cases that the author encountered during forty years of experience in the industry. Well-illustrated with impressive photographs, they invite you to follow each step and learn to apply the same methodology in practice. This book is especially useful as a manual for both chemical and textile engineers and quality engineers. It is also a useful reference for others in the textile industry in general.
Seeing Through Paintings, Physical Examination in Art Historical Studies, Andrea Kirsh, Rustin S. Levenson, Materials in Fine Arts, 2000 ISBN 99-051835 [ forensic science, technical reference, focused on art works - DF]
One of the best texts available for forensic investigation of the history, authenticity, and condition of paintings - DF
Building Pathology, Deterioration, Diagnostics, and Intervention, Samuel Y. Harris, P.E., AIA, Esq., ISBN 0-471-33172-4, John Wiley & Sons, 2001 [General building science-DF - ** Particularly useful text **
Understanding Ventilation, John Bower, The Healthy House Institute, ISBN 0-9637156-5-8, 1995 [General building science-DF - ** Particularly useful text. Mr. Bower has retired from the field but his book continues to be important]
Dampness in buildings, Diagnosis, Treatment, Instruments, T.A. Oxley & E.G. Gobert, ISBN 0-408-01463-6, Butterworths, 1983-1987 [General building science-DF]
"Moisture Control in buildings: Putting Building Science in Green Building," Alex Wilson, Environmental Building News, Vol. 12. No. 5. [Good tutorial, "Moisture 101" outlining the physics of moisture movement in buildings and a good but incomplete list of general suggestions for moisture control - inadequate attention given to exterior conditions such as roof and surface drainage defects which are among the most-common sources of building moisture and water entry.--DJF]
"Paint Failure Problems and Their Cure," Daniel L. Cassens and William C. Feist, National Forest Products Laboratory, online via Purdue University, http://www.ces.purdue.edu/extmedia/NCR/NCR-133.html
Why House Paint Fails [on file as /exterior/Why_House_Paint_Fails_FPL1.pdf ] - , Mark Knaebe, US FPL, web search August 2010, original source: http://www.fpl.fs.fed.us/documnts/finlines/knaeb95a.pdf
Why Paint Jobs Fail [on file as /exterior/Why_Paint_Fails_Bennett.pdf ] - , web search, August 2010, original source: http://www.bennette.com/pdf/whyfail.pdf, four pages describing alligatoring, bleeding, blistering, etc. Bennette Corporation, P.O. Box 9088, Hampton, VA 23670, Phone: 757-838-7777, Toll Free: 800-869-2929 Fax: 757-827-0529, Email: info@bennette.com, Website: www.bennette.com quoting:
Bennette Paint Manufacturing Company, Inc. is a Virginia corporation which was founded in Newport News, Virginia in 1966 by James P. Bennette, Sr. In 1984, Mr Bennette sold the company to his employees through an Employee Stock Ownership Plan (ESOP). Today the company has a modern manufacturing plant, research laboratory, central warehouse and general offices located at 401 Industry Drive, Hampton, Virginia. From these facilities the company is able to supply quality paints and coatings through its company owned distribution and service centers and authorized dealers located in Virginia, North Carolina and South Carolina. Bennette Paint Manufacturing Company, Inc. also owns and operates Bennette Equipment Company which specializes in the sale, service, and rental of paint spraying and pressure cleaning equipment.
Supplemental Guidelines for Removing Paint From Interior and Exterior Wood Surfaces [on file as "/exterior/Paint_Removal_USGSA.pdf ] - , US General Services Administration, Historical Preservation Technical Procedures, 06400-02, web search August 2010, original source: //w3.gsa.gov/web/p/Hptp.nsf/0/40aff5a115b6a9e5852565c50054b4f4?OpenDocument
"Common Paint Problems," http://www.parkerpaint.com/Common%20Paint%20Problems.html illustrates common paint failures - though their images and text appear to have been stolen from PPG - see http://www.ppg.com/getpaint/etraining/solver/exterior.html which catalogs paint failures and causes
"Paint problem solver" from Lowes, http://www.lowes.com/lowes/lkn?action=howTo&p=Improve/PntPrbSlv.html&rn=RightNavFiles/no.html
"Mill Glaze: Myth or Reality," R. Sam Williams, Mark Knaebe, US FPL, original source: fpl.fs.fed.us/documnts/finlines/willi01a.pdf
http://www.paintlab.com/failure.html is a lab offering paint chip failure analysis
PPG Exterior Failures http://www.ppg.com/getpaint/etraining/solver/exterior.html
"Peeling Back Paint Layers For a Glimpse Into the Past," James Barron, The New York Times, 25 Feb 2010, p. A26
"Staining and Microbiological Infestation of Acrylic Paintings on Hardboard", Ulrik Runeberg, Conservator (Dipl. Rest./M.A.), Museo de Arte Contemporáneo de Puerto Rico, San Juan Presented,April 2007 conference in Richmond Virginia, sponsored by the AIC (American Institute for Conservation), this paper discussed the staining and microbial infestation of acrylic paintings on hardboard. - private correspondence, ER <->DF 12 September 2006. The following quotation is from the paper's abstract:
"Hardboard served as a common and popular support for many modern paintings that were carried out from the mid - 1920's, and still is used occasionally in contemporary art. Many artists rejected hardboard as an inferior industrial construction material of low aesthetical value, whereas others considered the processed and compressed wood fiber boards to be a stable, light and economic alternative to solid wood panels and other rigid supports.
"From the conservator's critical point of view, the many disadvantages of this type of support include:  high acidity, hygroscope characteristics, tendency of 'off-gassing', (>tendency of) warping, occasional flaking of painting material in the case of tempered hardboard. The deterioration of paintings on hardboard depends on a number of factors including:  the quality of the hardboard, prevailing storage conditions, and the preparation of the support by the artist. While there are many paintings on hardboard that are in very good condition, this paper will focus on those paintings that are heavily deteriorated and damaged.
"A very characteristic damage found on porous painting layers such as acrylic colour on hardboard, is the formation of stains. Generally, those stains are described without any differentiation as 'fox-spots'. The examination of various paintings concerned led to the conclusion, that there exist different kinds of stains that need to be discriminated against each other, to ensure an appropriate conservation and restoration treatment.
"This paper aims to characterize and differentiate the stains, and will provide preventive and practical treatment proposals for the conservation and restoration of affected paintings.  Questions such  as 'What are the stains composed of?' and 'Which may be the causes?' will be addressed.  Stains may consist of a variety of contents, such as: Ligneous residues, fungal infestation, bacterial activity, a combination of microbial and support induced discolouration [SID], a 'symbiotic relation' of 'SID' and fungal infestation, or the blooming of ingredients from the original painting materials. A range of microscopic analysis of the actual microbiological infestation of selected samples will be provided.  The paintings that were examined, sampled and treated, are part of the Puerto Rican heritage, and were all kept in excessive humid tropical conditions, before they entered the Conservation Department of the Museum of Contemporary Art in Puerto Rico.
"Conservation treatment options of stained paintings on hardboard will be discussed.  A high level of acidity (caused from SID and/or micro-organisms) may require measures of reduction, disinfection and neutralization. Treatment methods that reduce the ligneous stains and residues of micro-organisms, and neutralize affected areas in painting layers include stain removal through the application of soaking compresses (poultices), and de-acidification through alkaline material.
"Other aspects of deterioration, that do not have to do directly with the formation of stains, but also are typical for hardboard as painting support, will be mentioned briefly." - U.R
Ross R. T. (1963) Microbiology of paint films. Adv. Appl. Microbiol. 5:217–234.
Saiz-Jimenez C., Samson R. A. (1981) Biodegradacion de obras de arte. Hongos implicados en la degradacion de los frescos del monasterio de la Rabida (Huelva). Bot. Macaronesica 8–9:255–264.
Seves A. M., Sora S., Ciferri O. (1996) The microbial colonization of oil paintings. A laboratory investigation. Int. Biodeterior. Biodegrad. 37:215–224.
Seves A. M., Sora S., Ciferri O. (1996) La flora batterica. "L'affresco di Sant' Agata al Monte di Pavia: ricerche ed analisi per il restauro." Memorie dell'Istituto Lombardo—Accademia di Scienze e Lettere (Instituto Lombardo di Scienze e Lettere, Milan, Italy), XL, no. 4:229–233.
Strzelczyk A. B. (1981) Paintings and sculptures. in Microbial deterioration. ed Rose A. H. (Academic Press, London, United Kingdom), pp 203–234.
Tomaselli L., Margheri M. C., Florenzano G. (1979) Indagine sperimentale sul ruolo dei cianobatteri e delle microalghe nel deterioramento di moumenti ed affreschi. Atti del 3° Congresso Internazionale sul Deterioramento e la Conservazione della Pietra, Venice, Italy. (University of Padua, Padua, Italy), pp 313–325.
Winters H., Isquith I. R., Goll M. (1975) A study of the ecological succession in biodeterioration of a vinyl acrylic paint film. Dev. Ind. Microbiol. 17:167–171.
Books & Articles on Building & Environmental Inspection, Testing, Diagnosis, & Repair
Our recommended books about building & mechanical systems design, inspection, problem diagnosis, and repair, and about indoor environment and IAQ testing, diagnosis, and cleanup are at the InspectAPedia Bookstore. Also see our Book Reviews - InspectAPedia.
...