Manufacturers & brands of HVAC Equipment and Parts identified and decoded in the CDA Technical Reference Guide include about 128 different brands of equipment sold in North America
Aaon, Inc., Ack-O-Matic ,Aero Burners, Aero Environmental, Airco, Airtemp and Tempmatic, Aitons' Equipment - APCO, Allanson Transformers, Amalgamated Electric, Amana, American Standard, American Standard Water Heater Group, Amtrol, Anthes, APCO, ARCO Air, Arkla Industries, Armstrong Air Conditioning Co., S.A. Armstrong, Baltimore Aircoil of Canada, Bard, Bell & Gossett, Borg-Warner, Bradford White, Bristol Compressors, Bryant manufacturing Co. of Indianapolis, Buffalo Package Equipment, Bulloch, Burke Water System Industries, Burnham Corporation, Canadian Tire Corporation, Carlyle Compressor Company, Carrier, Chromalox Canada, Chrysler, Clare Brothers, Clare Mega Save, Clare HECLA, Clawsey-Sohrt Manufacturing Co., Climate Control Products, Climate Master, Climatrol, Coleman, Comfort Aire, Copeland, Copelaweld Compressors, Crane, Davie Environmental Equipment, Day-Nite, DMO Industries, Ducane Heating Division, Dunham Bush, Duomatic, Economite, Elect-Aire, Electric Apparatus COmpany, Elliot, Emerson Electric Company, Enmar Enmar Systems, Envirotron, Esso, Evcon Industries, F.P. Industries, Fairbanks Morse, Fedders, Fess, Findlays Limited, Flamemaster, Fleetline, Florida Heat Pump Manufacturing, FMC Corporation, FP Industries, Franklin Electric Company, Frick, Friedrich, Frigidaire, Frigiking, Fuel Master Burners, G.M.L. Manufacturing, GSW Inc., Galais Manufacturer, Galaxy Boilers, General Controls (ITT), General Electric, Gilbarco, Gilbert and Barker, Goettl, Good Cheer, Goodman, Grimsby Stove and Furnace Ltd., Heat Controller Inc., Heil, Hill York, Hitachi, Homart, Honeywell, Howard Furnace and Boilers, Howell Electric Motors Company, Hydrotherm Inc., I.C. Burners, ITT, Inglis, Inter City Gas (I.C.G.), International, International Comfort Products, Intertherm, Iron Fireman, Janitrol Heating and Air Cooling Conditioning, John Wood Co., Johnson Air Ease, Keeprite, kenmore, Koldwave, Kool-Fire, LG, The Arthur S. Leitch Co., Lennox Industries, Lincoln, Louis Allis Company, Luxaire, Magic Chef Air Conditioning Co., Mgnatec, Marathon Electric, Marcus Transformer, Marley Cooling Tower, Marvair, McLary, McQuay International, Mestek, Metzger, Metropolitan Oil and Gas Industries, Mid Continent Metal Products Co., Miller, Mitsubishi, Modine, Mueller, N'Furno, Nordyne, Norseman Boilers, Oakwood Iron Works (OIW), Olsen, Payne, Pendell Boiler Ltd., Philco, Powermatic, Precision Boilers, Preston, Pyreco, Raypak or Raypak, RBI Water Heaters, Refcan, Reznor ITT, Rheem, Roberts Gordon, RUUD, Sanyo, SJC Corporation, Scarboro Pump Manufacturing Co., Sears, Sears Roebuck, Severn Boiler, Simpsons-Sears, Shell, Singer, Slant Fin Ltd., A.O. Smith, H.B. Smith Co., Smith Boilers, Snyder General Corp., Spacepak, Spencer Boilers, State Industries, Sterling HVAC Products, Sun Dial Manufacturing Inc., Sunscan Compressors, TACO (Canada), TACO, Tappan, TECO, Techumseh Compressors, Teledyne Laars, Tempmatic, Temprite, Tempstar, Thermo Pride, Trane, Typhoon, Unitary Products, viessman, Viking, Warden King, Water Furnace, Watts Regulator Co., Weben jarco, Weil-McLain, Westinghouse, Whirlpool, White-Rodgers, Wood, Worthington Air Coils Ltd., York - Borg Warner.
How to Use Heating Equipment as Indicators of Building Age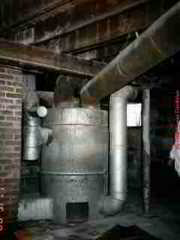 Indoor heating methods by historic periods or years: (adding date ranges is continuing for the list below - Contact Us to contribute).
Illustration of a Warn Air Heating System Using a Gravity Furnace
Our photo (left) shows a gravity warm-air "octopus" furnace; in its earliest version these furnaces, installed in the late 1800's in the U.S. were coal fired; many were later converted to oil.
Gravity furnaces rely on natural convection (warm air rises) to deliver heat to the occupied space. There is no blower fan in the system. In their simplest design, the gravity furnace system included no ductwork whatsoever. Rather a large grate was provided in the building floor just above the furnace itself. In a multi-story house, heat rose to upper floors by passing up the stairwell or through open registers in first floor ceilings.
The gravity furnace we show at left was a more advanced design in which an "octopus" of duct work "arms" delivered heat directly to individual areas of the building.
The furnace in our photo is taking much of its "return air" from the basement - a very expensive way to heat a home. Earlier models eschewed ductwork and instead fed heat into the first floor of the building through a large central grate in the floor immediately above the furnace.
Central fireplaces, no chimneys
Indoor fireplaces, chimney in building or on exterior building wall
Free-standing wood-burning stoves, the Franklin Stove
Coal burning free-standing stoves;
Kerosene stoves
Coal fired octopus furnaces and steam boilers (photograph above) 1850 - 1930. Some of these heaters have continued into contemporary use after having converted to oil-burners.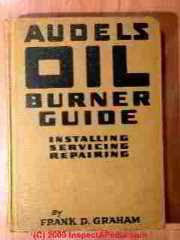 Oil burners: different types of oil burners, coal conversions, low speed, high speed, high efficiency. Audel's 1946 Oil Burner Guide originally sold for $1.00 U.S. and includes photos and sketches of its generation of oil heating burners, boilers, furnaces, radiators, steam and hydronic systems, as well as control devices. Frank Graham's no-heat diagnostic steps are still useful today and is provided free at InspectApedia.com beginnning
at OIL HEAT TEXTBOOK
If you don't know what kind of heat your building uses, we explain how to figure out the answer at HEATING SYSTEM TYPES.
If your heating system is not working properly, see NO HEAT - BOILER or NO HEAT - FURNACE.
Beginning at HEATING SYSTEMS - home we discuss different types of heating systems such as