Chimney Stains, Leak, Diagnosis, Cleaning & Repair Guide
Diagnose & clean stains on chimney exteriors & building exteriors from chimney defects
CHIMNEY STAINS & LEAKS - CONTENTS: How to diagnose, evaluate & cure stains on masonry & metal chimneys & on roof or other building surfaces near or below chimneys. What do dark oozing stains mean on a metal or masonry chimney exterior indoors or outside?
POST a QUESTION or READ FAQs about the cause, significance, and cure of stains on chimneys both outside and within buildings
InspectAPedia tolerates no conflicts of interest. We have no relationship with advertisers, products, or services discussed at this website.
How to diagnose & evaluate stains on chimneys outdoors or indoors & where to look for signs of chimney damage.
This article describes stains that appear on chimney surfaces both indoors and outside. We identify common dark brown or black stains as well as white or light-colored stains or white powdery material that appears on masonry chimney surfaces.
We discuss: What do white powdery stains mean when found on a masonry chimney exterior indoors or outside? How to Evaluate & Diagnose Black or Brown Stains on Chimney Exteriors. Water and Chimney Leaks Lead to Damage that may show up indoors on walls.
Indoor Stains & Wall Damage May Be Traced to Chimney Leaks. Fireplace Stains May Indicate Chimney Leaks & Damage.
Stains and leak damage to a chimney may be visible in the attic. Stains, cracks, evidence of chimney leaks & damage may be visible in the basement.
We explain what these chimney stains might mean, why safety hazards may be present, and how to proceed to inspect and repair the chimney.
Green links show where you are. © Copyright 2017 InspectApedia.com, All Rights Reserved.
Significance of Stains on a Chimney Exterior Surface: Creosote, soot, water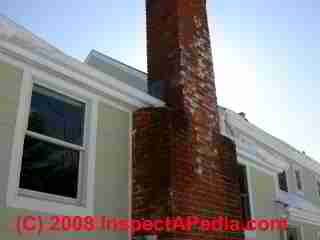 Here we discuss stains found on or at chimneys themselves both on the building exterior, and in the building interior at walls or ceilings near chimneys.
Diagnosing White Efflorescence Stains on Chimney Exteriors
White powdery or crystalline stains on masonry chimneys is often efflorescence, a mineral salt left on the surface as water evaporates. Efflorescence may appear on the outside surfaces of a chimney both outdoors and inside as well as inside the flue itself.
(You are not likely to see these stains on a metal chimney unless the metal chimney and flue are damaged and leaking insulation material.)
If you are not sure what efflorescence is or how to recognize it, see EFFLORESCENCE SALTS & WHITE DEPOSITS.
Efflorescence might be just cosmetic - as wind-blown rain wets the chimney sides and leaches out mineral salts which remain white on the masonry surface of the chimney.
But efflorescence might also mean that water is running inside of the chimney flue or chimney structure. Further diagnostic inspection is needed.
Left unattended, water entering a masonry chimney risks damage to the flue (unsafe) and to the chimney structure (unsound and unsafe).
at SLATE ROOF DEFECTS Questions & Answers we provide additional discussion about sources of white stains that may be found on chimneys or on roofs below or near chimneys.
How to Evaluate & Diagnose Black or Brown Stains on Chimney Exteriors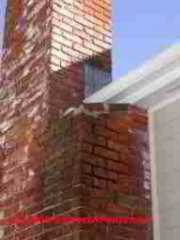 This chimney is suffering water damage from at least two locations. The white efflorescence along the upper side of the chimney (at left) may originate at a bad chimney cap or rain cap.
But the chimney also seems to be suffering from roof runoff/spillage, perhaps due to a clogged roof gutter - as you can infer from the additional brown and black stains on the right side of this chimney from below the roof eaves.
Inside the building it is important to inspect building walls for signs of chimney leakage and it may be appropriate to have a professional inspect the safety and condition of the entire chimney flue.
To remove these white effloresence stains on the brick chimney see EFFLORESENCE REMOVAL & PREVENTION
In the photograph below, notice the black stains originating at the chimney shoulder on its left side, and the cracking stucco on the chimney's right side in this photograph.
If your chimney inspection began at ground level, both of these clues should raise a red flag and call for close attention to the chimney condition from both outdoors and inside the building.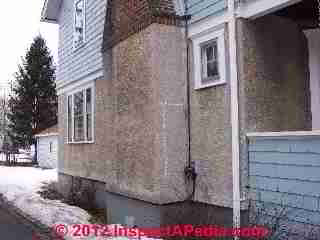 This poor chimney, discussed in more detail at CHIMNEY MOVEMENT, ONGOING vs STATIC, was leaning well away from the building - not so easy to notice when inspecting the chimney base shown at left.
In our chimney photo at below left, notice the black and brown stains (and that odd rain cap) at the upper section of this masonry block chimney.
Now without looking more closely we're not sure if we are seeing a history of creosote wash-down the chimney sides from a woodstove or other heater (the flue is too small for a fireplace), or alternatively, we might discover that the chimney interior flue is damaged, cracked, leaky, sending rain-washed creosote or condensate out thorough the chimney at cracks and mortar joints.
This chimney needs expert inspection for safety and condition.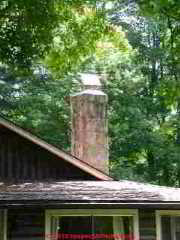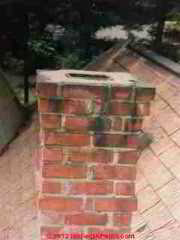 Oil Burner Soot Stains at & Below a Chimney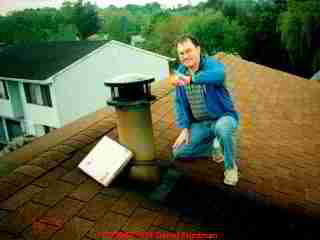 At above right the black stains on the sides of this chimney near its top are probably soot or creosote wash-down.
The chimney flue is short, the chimney cap is thin and cracked, and of course there is no rain cap (see CHIMNEY CAP & CROWN DEFINITIONS) . Look closely for frost damage at both the exterior and interior of this chimney.
Photos of soot at a metal chimney cap and on the roof below were provided courtesy of ASHI inspector Roger Hankey.
Soot at the chimney top (photo at left & below left) , particularly on an oil or gas fired heating equipment flue, is a good indicator of improper equipment adjustment or a related chimney and draft operating problem.
Watch out: sooting gas fired heating equipment is very dangerous and risks production of fatal carbon monoxide gases in the building.
Our second example of a roof stain traced to a chimney is shown in our photo at below right - rusting metal chimney components.
See ROOF STAINS from CHIMNEYS for details and for more examples of both of these chimney related stain topics.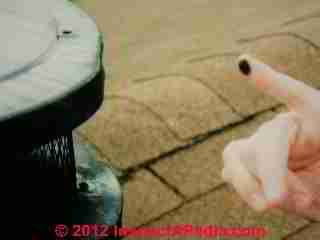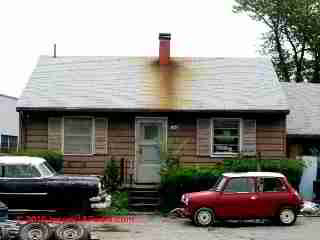 Dark Algae Stains on Masonry Chimneys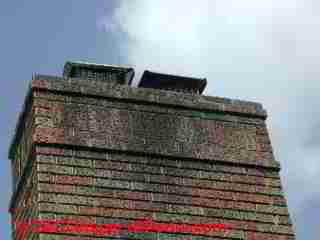 The dark stains at the upper center of this brick masonry chimney are probably algae growing in higher concentration on the masonry surface that is most-wetted by runoff from the chimney top.
But we'd want to make an on-roof inspection from much closer to be sure we're not looking at soot deposition.
Red Rust-Colored Stains At & Below Chimneys
Red or rust-colored stains at or around or originating at a metal chimney or chimney rain cap may be caused by rust or by other even more dangerous conditions.
See CHIMNEY CAP & CROWN DEFINITIONS for examples of rust damage at chimney tops, caps, and crowns.
Watch out: See CHIMNEY RAIN CAP OPENING SIZE for an example of a constricted chimney cap, a different and immediately dangerous cause of red and yellow stains at the chimney top shown at above right.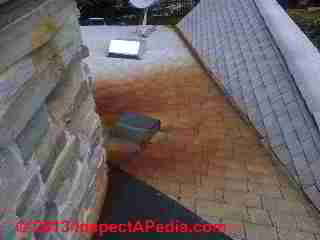 For a detailed analysis of the red roof stains in the photo above, see RUST STAINS on ROOFS where we describe tracking red or rust-colored stains on chimneys or roofs to their cause.
Black Soot Stains on Roof Shingles Around Chimneys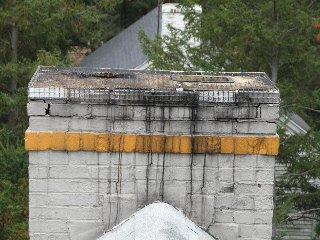 Roof stains due to chimney defects: this section on roof stains at or around chimneys describes how to identify and diagnosis of black roof stains caused by soot or creosote washing off of building chimneys and we discuss possible safety and fire hazards associated with this condition.
Our chimney inspection, cleaning & repair articles discuss all aspects of chimney inspection & troubleshooting, while our building stain diagnosis articles articles tell readers how to identify & explain the most-common causes of black, brown, red, gray, green, or white stains appearing on roof shingles and on other building surfaces.
This article focuses on stains on roofs caused by chimney problems.
Soot from fireplace flues washing down onto the roof - characterized by staining appearing below and in line with the chimney
Similarly, soot from oil-fired heating flues washing down onto the roof, characterized by the same pattern of staining around and below the chimney; also probably an indicator of an operating problem with the heating system.
That was clearly the case in the photograph shown at page top.
At left our photo shows soot stains running down a masonry chimney and onto the roof surface. Incidentally, this chimney needed to be re-lined but evidence of that is not presented in this photo.
Gas Flue Safety Warning: If this same sooting appears on and around a gas-fired appliance flue, there is a very unsafe condition present and risk of fatal carbon monoxide production inside the building. Immediate action is be needed.
[Photograph of a soot-stained roof top at page top was courtesy of Roger Hankey a Minnesota home inspector.
The Location of Roof Stains Can Help Diagnose Their Cause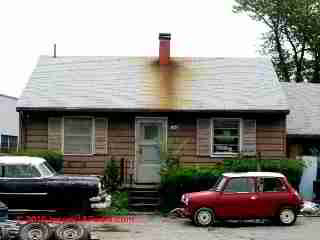 Unlike other roof shingle stain patterns shown in our article series on roof stain diagnosis, black stains caused by soot staining from a chimney or brown stains from a rusting chimney or chimney flashing, or sometimes a combination of the two will be prominent in a wide swath along the sides and below the chimney and will be little in evidence elsewhere on the roof.
Our photo of red-brown roof stains below and around a metal-enclosed chimney (left) was taken in Wappingers Falls, NY. The stains on this roof are around and below a metal enclosure that in turn surrounds a metal chimney.
This CLOSER LOOK at the CHIMNEY TOP [Image] shows black sooting - the heating system in this home has not been operating properly, and we pose that the roof and chimney stains are probably a combination of rust and soot wash-down from the sooty flue gases as well.
Watch out: we often see that the top of metal box frames around older metal chimneys has rusted through, but may not be noticeable from the ground.
Sending water down the chimney risks costly damage to the heating furnace or boiler. Look for water leak stains on the flue and chimney base inside the building and inspect the chimney top carefully from outside.
...
Continue reading at CHIMNEY STAINS, INDOORS or select a topic from closely-related articles below, or see our complete INDEX to RELATED ARTICLES below.
Or see RUST STAINS on ROOFS Rust and red stains on roofs and chimneys
Or see STAINS on BRICK SURFACES
Or see CAUSES of ROOF STAINS and CATALOG of ALL ROOF STAINS for the causes and types of stains that occur on building roofs. There are other sources of roof staining, from cosmetic to harmful to the roof.
Or see CHIMNEY INSPECTION DIAGNOSIS REPAIR - home
Suggested citation for this web page
CHIMNEY STAINS & LEAKS at InspectApedia.com - online encyclopedia of building & environmental inspection, testing, diagnosis, repair, & problem prevention advice.
Or use the SEARCH BOX found below to Ask a Question or Search InspectApedia
...
Frequently Asked Questions (FAQs)
Try the search box below or CONTACT US by email if you cannot find the answer you need at InspectApedia.
Question: creosote stain diagnosis on chimneys
(Oct 8, 2012) sally bailey said:
I turned my gas heater on yesterday, today I noticed that the outside of the cinderblock chimney was very dark black, I think it best not to use the heater until I have it looked at. How dangerous is this? It seems to be less dark since I turned the heat off.
Mar 11, 2013) charlie said:
my chimney has oozing big time black brown stains obn the outside of the surface, I do have cap on it tha is correct for my chimney, could water realy be leaking in thru the bricks from the inside of the chimney, i look inside from the top it looks to be pretty tight, I have a gase hot air furnace could there be any saftey problems from this leak?
thank you
charlie

Reply:
Charlie,
I suspect condensate is dissolving creosote. Was this chim previously venting an oil burner, coal, or wood fire?
Air and water leaks along a flue could interfere with safe draft, and I speculate that crud dripping bCk into a heating appliance could damage it. Why not schedule a thorough chimney inspection, cleaning, repairs.
Question:
(Mar 21, 2013) Kristen said:
We had horrible dark brown (almost molasses looking) gunk oozing out of our chimney when running our furnace this winter. The goo, in turn, leaked into the walls and floor around the chimney area. We have since replaced the furnace (it no longer vents through the chimney), and put in a new metal liner for the hot water heater. Is it safe to replace the walls and floor surrounding this chimney? We have gotten conflicting responses from the HVAC professionals that installed our furnace and chimney liner. One said that the problem is resolved, the other said that the condensation that collected in the chimney will continue to leak into our walls/floor unless we replace the entire chimney. I'd hate to spend the money on replacing the chimney if we don't have to..
Reply:
Kristen,
The goo you describe is usually creosote dissolving and leaking out through defects in the chimney.
You have re-lined the chimney, which, properly performed, should have stopped leaks and made it safe to use. If however there continues to be outdoor water leakage into the chimney structure or condensation forming between the chimney liner and the older chimney materials you may see new oozing and stains emitted.
I'm not sure, however that you have to replace the entire chimney to fix the problem. YOu haven't said how it is constructed; I'm guessing it's masonry - stone, block, brick.
If there are no leaks into the chimney from outside through its walls or top, and if the installer insulated between the chimney liner and original chimney walls, I'd not expect to see much leakage or staining in the future.

Question: how to get rid of chimney stains
(Mar 11, 2014) tillie said:
Have a question. We had a new chimney built 1 year ago (block with clay insulating). We primarily heat with a wood boiler system (a gassification system). We are starting to notice some black staining outside on the chimney block. We have our chimney and wood boiler professionally cleaned and inspected each year before winter and have not had a problem. What could be causing this, how can we stop it, and how can we get rid of the ugly stains?
Reply:
Black stains on the outside of the masonry block chimney are often caused by leaks out of the internal flue that run down the space between the clay flue tiles and the interior of the masonry blocks, finding an opening in the blocks where the stain seeps out; creosote (from burning wood) combines with condensate moisture to make the actual leaks, but the concerns are more than just the stain; the question is whether or not the chimney was properly constructed, lined, and leakproof; leaks in the chimney can cause poor draft and can also be a source of a building fire if sparks pass through an opening to contact wood framing; and of course flue gases could also seep into a building.
Sounds as if you need a chimney flue inspection by a certified chimney sweep - someone independent from the builder.
Just "getting rid of the stains" (clean and re-paint with sealer then finish coating on the chimney exterior) are missing the more important concerns.
Question: red roof stains traced to bricks?
(Oct 20, 2014) Anonymous said:
Can reddish roof stains be caused by old chimney bricks?
Reply:
Possibly; follow the stains up-roof: they'll point to the source. Most often I find rusting flashing or other metal on-roof components as the source of red roof stains.
Question:
(Oct 22, 2014) Kayla said:
I have a Columbia summer winter hook up oil boiler. I also have really ugly red staining on the exterior of the stucco chimney. From the stain pattern, it is clearly coming from the furnace/boiler flue, not the fireplace flue. I've had the chimney cap examined, the chimney swept by a certified chimney sweep, verified the stainless steel lining is fine and is the correct size for the boiler, had the boiler inspected and cleaned by the oil company, and no one can figure out the problem. There is nothing that is rusting. I've found a few references to the red dye in the oil causing this kind of problem, but not much info and no ideas on how to alleviate the problem. The chimney stucco itself is not in good shape so I'm arranging to have that fixed, but before I put all that money into it, I'd like to figure out how to avoid the nice new stucco getting stained with red streaks. Help!
Reply:
Red dye in heating oil won't cause red roof stains; more likely someone has missed a combustion issue, chimney contaminant, or a rusting on-roof component.
...
Ask a Question or Search InspectApedia
Use the "Click to Show or Hide FAQs" link just above to see recently-posted questions, comments, replies, try the search box just below, or if you prefer, post a question or comment in the Comments box below and we will respond promptly.
Search the InspectApedia website
Technical Reviewers & References
Click to Show or Hide Citations & References
Eric Galow, Galow Homes, Lagrangeville, NY. Mr. Galow can be reached by email: ericgalow@gmail.com or by telephone: 914-474-6613. Mr. Galow specializes in residential construction including both new homes and repairs, renovations, and additions.
Mark Cramer Inspection Services Mark Cramer, Tampa Florida, Mr. Cramer is a past president of ASHI, the American Society of Home Inspectors and is a Florida home inspector and home inspection educator. Contact Mark Cramer at: 727-595-4211 mark@BestTampaInspector.com 11/06
Roger Hankey is principal of Hankey and Brown home inspectors, Eden Prairie, MN. Mr. Hankey is a past chairman of the ASHI Standards Committee. Mr. Hankey has served in other ASHI professional and leadership roles. Contact Roger Hankey at: 952 829-0044 - rhankey@hankeyandbrown.com. Mr. Hankey is a frequent contributor to InspectAPedia.com.
Arlene Puentes, an ASHI member and a licensed home inspector in Kingston, NY, and has served on ASHI national committees as well as HVASHI Chapter President. Ms. Puentes can be contacted at ap@octoberhome.com
Wikipedia provided background information about some topics discussed at this website provided this citation is also found in the same article along with a " retrieved on" date. NOTE: because Wikipedia entries are fluid and can be amended in real time, we cite the retrieval date of Wikipedia citations and we do not assert that the information found there is necessarily authoritative.
...
Books & Articles on Building & Environmental Inspection, Testing, Diagnosis, & Repair
Our recommended books about building & mechanical systems design, inspection, problem diagnosis, and repair, and about indoor environment and IAQ testing, diagnosis, and cleanup are at the InspectAPedia Bookstore. Also see our Book Reviews - InspectAPedia.
...