Electric Heating System Repair & Maintenance
ELECTRIC HEAT - CONTENTS: Electric Heating System Inspection Methods, Diagnosis, Safety, Repairs.
POST a QUESTION or READ FAQs about types of electric heating systems and electric heat problem diagnosis & repair
InspectAPedia tolerates no conflicts of interest. We have no relationship with advertisers, products, or services discussed at this website.
Electric heat installation & repairs:
This article describes the types of residential electric heating systems and their inspection, diagnosis & repair.
We describe each type of electric heat used in buildings and provide links to further and more detailed electric heat diagnosis & repair articles for each heater type.
Discussed here: Electric baseboard heater UL Standards, safety features, thermal cutoffs. What are the Different Types of Electric Heat in Homes? Electric heating boilers, Electric Furnaces, Electric convector heaters, Electric floor-mounted heaters, Electric toe-kick heaters, Electric wall mounted heaters, Electric radiant heat panels, Electric plenum heaters, Night storage heaters, Wesix™ type Wall & Floor Mounted Electric Heaters.
This article series answers most questions about all types of heating systems and gives important inspection, safety, and repair advice. Sketch at page top courtesy of Carson Dunlop Associates.
Green links show where you are. © Copyright 2017 InspectApedia.com, All Rights Reserved.
Electric Heating System Inspection Methods, Diagnosis, Safety, Repairs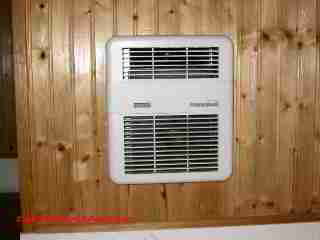 Electric heat is about the easiest heating method to install, the least costly type of heating equipment to purchase, and in many locales, the most costly way to heat a conventional home.
Super-insulating a building, and paying special attention to drafts and air leaks can change that picture however, as can special electrical rates available from utility companies in some areas.
[Click to enlarge any image]
This article describes different types of electric heat in buildings and give some inspection and no-heat diagnosis tips for each.
Article Contents
Our photograph (above left) shows a Fahrenheat electric wall heater observed in a remodeled bathroom in a Poughkeepsie NY home and sold by Marley Engineered Products.
If you don't know what kind of heat your building uses, we explain how to figure out the answer at HEATING SYSTEM TYPES.
What are the Different Types of Electric Heat in Homes?
Electric baseboard heat (see our photo above left, and the page top sketch) is installed on (usually exterior) walls in occupied rooms. The number of linear feet of electric heating baseboard (and some other parameters) determine how many watts of electric heat is provided.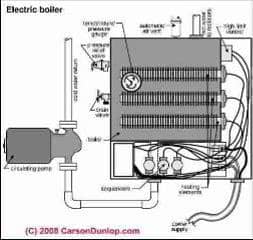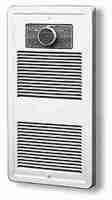 We do not have research data on this nor other specific brands of small point-of-use electric heaters (see US CPSC, Consumer Reports, and similar sources). We have read sporadic field reports of Wesix heaters. These electric heaters were made by the Wesix Electric Heater Company [WEH], a California company, chartered originally in 1938 and again in 1942, and headed by Thomas J. Mellon.

Wesix™ electric heaters were often installed in bathrooms, in floors as a small fan convector unit, and as electric baseboards, including both 120V and 240V models that included a brass data tag on the bottom of some units. The company also made the Wesix Mark IV ion collector used in researching the effect of ions on microorganisms and other biological materials.
Wesix heater product identification & electrical data:
Possible Wesix electric heater (and similar product) concerns to be noted by owners or home inspectors:

overheating covers
age and reliability, including loose or corroded connections leading to loss of heat (easily repaired) and burned-out heater element (replace the unit) - neither of these defects are peculiar to this brand nor to a particular model (as reported
Inoperative thermostat or controls
Electric Baseboard Heat Inspection - home inspector reports abnormally hot electric baseboards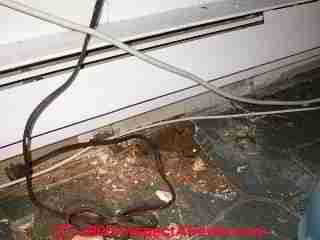 4/14/14 Bill O'Callaghan said:
While doing a home inspection, I viewed the electric baseboard heaters with a thermal camera. Internal, core temps began around 160* which seems the norm, but when I went into the bathrooms, the shorter registers emitted 225* and were only on for a short period.
I recommended further evaluation, then spent a bunch of time researching the web for a safety document concerning this. I believe the units have been designed with thermal shut-offs since 1983 and should be Listed and labeled since 1995?
What about "Commercial" IE Condo's or apartments? Thanks, Bill O
Reply: Diagnosing an electric baseboard heater that's too hot or won't shut off
Hi Bill, that's an interesting observation giving us some data on IR scans of electric baseboards. I understand that some electric baseboards (such as some Cadet models) indeed have a built-in upper limit switch. But note this quote from the heater's installation notes
More important, you may have saved someone from having a house fire.
One Cadet document I reviewed emphasized that all Cadet baseboard heaters require a thermostat though in a Cadet installation manual from another source I read that wall thermostats are optional.
Presumably they meant that if you're not using a wall thermostat you must use a thermostat installed in the baseboard at one of its ends. The company gives these diagnostics for electric baseboards that don't shut off (paraphrasing)
Heat loss from the room is greater than the baseboard's output
The baseboard thermostat is defective
The thermostat is not wired correctly
Room temperature is below thermostat set temperature.
They don't mention a failure of an internal temperature limit as a defect, but that concern does show up in the standard as I will quote.
Standards for Fixed-in-Place Electric Heaters: requirement for a thermal cutoff
Bill UL 1042 20.1 confirms your observation:
The applicable standard for baseboard electric heaters, UL 1042 (1995) is a voluntary one. Thermal cutoffs are discussed on p 31 and 32 of that lengthy document:
UL 1042 20.1 "A Thermal cutoff shall be secured in place and located so that it will be accessible for replacement without damaging other connections or internal wiring."
UL 1042 20.2 A thermal cutoff shall open the circuit in the intended manner without causing the short-circuiting of live parts and without causing live parts to become grounded to the enclosure when the heater is connected to a circuit having a voltage in accordance with 33.1.21 and operated in a normal position to cause abnormal heating.
A second standard applies to certain other electric heaters: UL 2021 (1997). The US CPSC reported on the hazards of "Fixed Position Electric Heaters" in 2002. - www.cpsc.gov//PageFiles/117191/fpheater.pdf That study says that the thermal limiter you describe is included in a "typical heater".
UL Standards Exclusions for Commercial Properties
About an exclusion of applicability of the UL Standard for commercial installations of electric baseboard, I didn't see anything in the UL Standard nor in the US CPSC hazard analysis that would exclude these same heaters from having the required safety features in particular applications such as "Commercial" use or in Condos or Apartments. Furthermore, how would a manufacturer of a particular electric baseboard heater model know the classification of the building into which it is to be installed?
Thermography & Electric Baseboard Heat: detection of abnormal conditions can warn against a building fire
Bill you may not have come across it but over at THERMAL IMAGING, THERMOGRAPHY in a series of articles, we've been working with Paul PRobett from Incodo (New Zealand) to report on what can be useful and what should be viewed with caution when using thermal scanning of any sort.
And I've had my own little excitement: using a little Exergen thermal temperature sensor to look at some aluminum-wired baseboard heaters during a home inspection I found that one heater was much hotter than its brothers.
I warned the owner about an aluminum wire overheat and fire risk and was nearly run off the property by the volume of his scoffing. That night the house burned down. Luckily no one was injured.
My view is that we can make some use of temperatures mostly by comparison such as in the case I just described. I suspect that unless we are measuring a black emitting surface our temperature readings are not precise.
Your comparison of "much hotter" among some units was the important observation. (Cadetheat has a useful table of wattage output for different baseboard lengths and voltages that may be useful to compare with your field scans.)
More safety inspection points for electric baseboard heat are at ELECTRIC BASEBOARD HEAT SAFETY.
...
Continue reading at ELECTRIC BASEBOARD FEET NEEDED or select a topic from closely-related articles below, or see our complete INDEX to RELATED ARTICLES below.
Or see ELECTRICAL POWER SWITCH FOR HEAT
Or see ELECTRICAL RESISTANCE vs HEAT GENERATED
Or see THERMOSTAT WIRING LINE VOLTAGE 120-208-240VAC - for electric heat
Or see these
Articles on Electric Heat
Suggested citation for this web page
ELECTRIC HEAT at InspectApedia.com - online encyclopedia of building & environmental inspection, testing, diagnosis, repair, & problem prevention advice.
Or use the SEARCH BOX found below to Ask a Question or Search InspectApedia
...
Frequently Asked Questions (FAQs)
Try the search box below or CONTACT US by email if you cannot find the answer you need at InspectApedia.
Question: can electric baseboard heaters be replaced?
Nov 3, 2012) vicci Martinazzi said:
Can this heater be replaced?? I need the same dimensions as above,the box is 33' long, 6 and 7/8" wide and 3and1/8" deep. The in wall heater to be replaced is in a metal box that measures 33 inches long, not feet!! 3 and 1/8 inch deep and 6 and 7/8 inches wide. It is in a 1950's house. Wesix serial number sf681161 1500 W,12.5 amp. Is there a replacement??? viccimartini@yahoo.com
Reply:
Vicci,
Yes an electric wall heater can be replaced; provided that the feeding circuit is properly wired and sized and fused, it should be a minor matter to remove the old unit and, if you don't find a replacement that fits perfectly in the existing opening, changing the opening size is basically trivial carpentry and drywall work.
Question: Parts for a Wesix 240-V in-wall heater
(Feb 5, 2014) Darrell said:
Hi - I have an older Wesix 240v in-wall electric heater that has a strange copper tube attached to a wire coming out of the fan switch box. I assume it is related to temperature control, but I can't find any info on it. Anyway, the copper tube broke away from the attached wire the other day and left a strong chemical smell in the air that I couldn't identify. It looks as though I could solder it back on the end of the wire, but I'm not sure it would work if the fluid has spilled from the tube. Does anyone have any suggestions on this problem? Thanks.
Reply:
Darrell, perhaps you could send us some sharp photos - using the CONTACT link found at page top or bottom. I'm not sure, but if what broke was a temperature sensing device the system will not work safely without it.
Question:
(Nov 12, 2011) Kmck said:
Is there any issue with getting insurance for a radiant heated home?

Reply:
not that I know of that's specific to that heating approach
Question: popping sounds from electric baseboard heat
(July 1, 2014) Jason Wyman said:
My electric baseboard is making a really loud popping sound every few minutes. It's the middle of Summer, so the heat obviously isn't turned on. I have no idea what this means. Maybe there's a release valve somewhere to let air out. No sleep tonight.
Reply:
If you feel the electric baseboard and it is cool - or room temperature and is definitely OFF then the popping sound is from another source, possibly temperature changes in other building components or even metal casing of the baseboard.
Question: noisy electric heat
(Nov 2, 2014) Audrey Johnson said:
I have an electric broiler system heated with water in copper piping. There are base board heaters in each room. There are separate thermostats for upstairs and down. Ever since the temperature has dropped and the heat comes on, there is a loud fast ticking noise in the ceiling on the first level, in two places. This happens every 10- 15 min when the cycle starts. At the end of the cycle there is a very loud bang that seems to be the cycle shutting off, in the same place where the ticking noise started. This has been keeping me awake all night for weeks. I had a HVAC service man come over, he cleaned the "burners, spark pilot assembly, and checked anti-freeze, expansion tank,auto vent and pump". However told me this loud obnoxious noise was "normal" and the only way to fix it would be to cut holes in the wall and re-insulate the piping.
Please help! I really think there is something wrong.
Also, I forgot to mention that I turned off both thermostats and the ticking/clicking noise still happens, though it is much slower. This was not happening in the summer months. There was no noise this summer
Reply:
Audrey,
If the noise is caused by movement of heating piping due to thermal expansion I agree in part with your heating tech except the usual fix is to improve clearance around piping where it passes through framing etc, and where needed to change out pipe support mounts to silent nylon lined ons, not simply to add insulation.
If the noise complaint is a new one ask
What has changed?
Question: snapping sound from circuit breaker when heat turns off
(nov 19, 2014) sharky said:
1970 atr-20 wesco electric furnace 20kw! It's a great high quality made unit, but it sure will run you broke at the cost of electricity now adays. These were made for 1970's and 1990's electric rates and not for todays gouging electric rates. Ouch!
(Nov 21, 2014) mark said:
We have an electric forced air heater in a two bedroom 1100sq ft condominium. Upon turning heat on it runs and blows out hot air and them when cycle is almost over the circuit breaker snap or pops. After reset of circuit breaker the heat goes on again and then the same thing happens. What to do.
Reply:
Mark
Watch out: Most likely the electrical circuit is overloaded and popping the breaker. It's time for help from a licensed electrician. The situation is unsafe and risks a fire.
Question: clicking noise from floor heaters
(Nov 26, 2014) Angellos Glaros said:
We have a baseboard and two in floor heaters on one thermostat. Lately when the rooms get up to temperature there is a clicking noise coming from the floor (ducts are down there) and the heaters cycle on and off every 20 seconds or so.
I did replace the thermostat recently but it kind of sounds like there may be a fan or something in the duct... I'll be going into the crawl space tomorrow to check that out. Does this sound weird? I thought that usually it was just wiring going to the thermostat on the way to the heaters. Would there likely be another fan/switch/relay or something in between? Thanks
Reply:
Angellos
Watch out: I would ask for help from a licensed electrician - it sounds as if there is a bad thermostat or relay, but I'm concerned about the risk of an electrical fire.
Question: heater elements stay on
(Dec 9, 2014) Miles J. Terwillegar said:
It seems like the heater elements stay on after the blower stops. I can feel heat coming from the unit so I turn on the fan manually. This happened last year, and I shut off, and restarted the heater a few times, and this seemed to have stopped the problem, but now it is happening again. do I need to replace the limit switches? Thank's, Miles AND please don't say ASK A LICENSED ELECTRICIAN! I am not rich, and will not pay someone hundreds of dollars for something I can do myself easily with the right parts.
Reply:
(Dec 9, 2014) Anonymous said:
It sounds like maybe you have a bad connection if it keeps popping the breaker. Check to make sure all of your wiring is good and solidly connected. (shut off the main breaker first to insure the power is off) If you recently replaced some parts don't assume they are good. I have gotten bad parts straight out of the box that got past the quality control people IF they even have a testing, and quality control department.
Moderator said:
Sounds like a control board or relay failure.
I understand the wish to DIY, Miles, but keep in mind that some mistakes can cause a fire or electrocution. Part of being smart is to figure out when we need someone on-site who has more experience and training.
At VOLTS / AMPS MEASUREMENT EQUIP the article in MOre Reading above you'll also see some advice about using test instruments and instrument safety. Stay safe.
Question: mobile home electric furnace biower motor stop running?
21 March 2015 kim said:
why wont my mobile home electric furnace biower motor stop running?
Reply:
Kim we offer some diagnostic suggestions at
...
Ask a Question or Search InspectApedia
Questions & answers or comments about types of electric heating systems and electric heat problem diagnosis & repair
Use the "Click to Show or Hide FAQs" link just above to see recently-posted questions, comments, replies, try the search box just below, or if you prefer, post a question or comment in the Comments box below and we will respond promptly.
Search the InspectApedia website
Technical Reviewers & References
Click to Show or Hide Citations & References
Fahrenheat produces a range of wall heaters including s 1500 heater often used in breezeways and baths, 2000 watt 240V wall units (Model#FFH1615) and commercial 4000 Watt 240V units such as the Model #VFK404. Farenheat products are sold by Marley Engineered products. Quoting from Marley:
Marley Engineered Products markets heating products under these well known name brands: Berko®, QMark®, Leading Edge®, Fahrenheat® and Marley Industrial Products®. Depending on brand, products are available for residential, commercial and industrial applications.
Marley Engineered Products, 470 Beauty Spot Road East, Bennettsville, SC 29510, Phone: 800-642-4328, Fax: 843-479-9932, Email: meptechsupport@marleymep.spx.com

Mark Cramer Inspection Services Mark Cramer, Tampa Florida, Mr. Cramer is a past president of ASHI, the American Society of Home Inspectors and is a Florida home inspector and home inspection educator. Mr. Cramer serves on the ASHI Home Inspection Standards. Contact Mark Cramer at: 727-595-4211 mark@BestTampaInspector.com
John Cranor is an ASHI member and a home inspector (The House Whisperer) is located in Glen Allen, VA 23060. He is also a contributor to InspectApedia.com in several technical areas such as plumbing and appliances (dryer vents). Contact Mr. Cranor at 804-747-7747 or by Email: johncranor@verizon.net
Fuel Oil & Oil Heating Magazine, 3621 Hill Rd., Parsippany, NJ 07054, 973-331-9545
Domestic and Commercial Oil Burners, Charles H. Burkhardt, McGraw Hill Book Company, New York 3rd Ed 1969.
National Fuel Gas Code (Z223.1) $16.00 and National Fuel Gas Code Handbook (Z223.2) $47.00 American Gas Association (A.G.A.), 1515 Wilson Boulevard, Arlington, VA 22209 also available from National Fire Protection Association, Batterymarch Park, Quincy, MA 02269. Fundamentals of Gas Appliance Venting and Ventilation, 1985, American Gas Association Laboratories, Engineering Services Department. American Gas Association, 1515 Wilson Boulevard, Arlington, VA 22209. Catalog #XHO585. Reprinted 1989.
The Steam Book, 1984, Training and Education Department, Fluid Handling Division, ITT [probably out of print, possibly available from several home inspection supply companies] Fuel Oil and Oil Heat Magazine, October 1990, offers an update,
Principles of Steam Heating, $13.25 includes postage. Fuel oil & Oil Heat Magazine, 389 Passaic Ave., Fairfield, NJ 07004.
The Lost Art of Steam Heating, Dan Holohan, 516-579-3046 FAX
Principles of Steam Heating, Dan Holohan, technical editor of Fuel Oil and Oil Heat magazine, 389 Passaic Ave., Fairfield, NJ 07004 ($12.+1.25 postage/handling).
"Residential Steam Heating Systems", Instructional Technologies Institute, Inc., 145 "D" Grassy Plain St., Bethel, CT 06801 800/227-1663 [home inspection training material] 1987
"Residential Hydronic (circulating hot water) Heating Systems", Instructional Technologies Institute, Inc., 145 "D" Grassy Plain St., Bethel, CT 06801 800/227-1663 [home inspection training material] 1987
"Warm Air Heating Systems". Instructional Technologies Institute, Inc., 145 "D" Grassy Plain St., Bethel, CT 06801 800/227-1663 [home inspection training material] 1987
Heating, Ventilating, and Air Conditioning Volume I, Heating Fundamentals,
Boilers, Boiler Conversions, James E. Brumbaugh, ISBN 0-672-23389-4 (v. 1) Volume II, Oil, Gas, and Coal Burners, Controls, Ducts, Piping, Valves, James E. Brumbaugh, ISBN 0-672-23390-7 (v. 2) Volume III, Radiant Heating, Water Heaters, Ventilation, Air Conditioning, Heat Pumps, Air Cleaners, James E. Brumbaugh, ISBN 0-672-23383-5 (v. 3) or ISBN 0-672-23380-0 (set) Special Sales Director, Macmillan Publishing Co., 866 Third Ave., New York, NY 10022. Macmillan Publishing Co., NY
Installation Guide for Residential Hydronic Heating Systems
Installation Guide #200, The Hydronics Institute, 35 Russo Place, Berkeley Heights, NJ 07922
The ABC's of Retention Head Oil Burners, National Association of Oil Heat Service Managers, TM 115, National Old Timers' Association of the Energy Industry, PO Box 168, Mineola, NY 11501. (Excellent tips on spotting problems on oil-fired heating equipment. Booklet.)
...
Books & Articles on Building & Environmental Inspection, Testing, Diagnosis, & Repair
Our recommended books about building & mechanical systems design, inspection, problem diagnosis, and repair, and about indoor environment and IAQ testing, diagnosis, and cleanup are at the InspectAPedia Bookstore. Also see our Book Reviews - InspectAPedia.
...