Caneboard Properties

Softboard Pinboard Sheathing & Insulating Board
CANEBOARD PANELS - CONTENTS: what are the components of caneboard or softboard or pinboard made from sugar cane or similar cellulose products?
POST a QUESTION or READ FAQs about fiberboard building sheathing: how to identify fiberboard products, fiberboard uses, fiberboard, Celotex, Homasote, Insulite & other brands, fiberboard ingredients, does fiberboard contain asbestos?
InspectAPedia tolerates no conflicts of interest. We have no relationship with advertisers, products, or services discussed at this website.
Caneboard:
What are the ingredients in cane-board or softboard, also called grayboard or pinboard? Is there asbestos in caneboard?
The image shown at the top of this page is a contemporary Caneite softboard product distributed by Lifetime Industries in Australia, cited below.
This article series describes and provides photographs that aid in identifying various insulating board & fiberboard sheathing materials used on building walls and roofs, such as Homasote, Celotex, Insulite, and Masonite insulating board sheathing products. Here we provide fiberboard product names and we describe the components, properties, and applications of various fiberboard, hardboard, and insulating board or sound deadening board products.
Green links show where you are. © Copyright 2017 InspectApedia.com, All Rights Reserved.
Properties of Caneboard, aka softboard, greyboard, pinboard
Photos at page top and in this article illustrate a light-brown cellulosic-like fiberboard ceiling panels installed in a building in the Solomon Islands. This material looks like a cellulose product and might be caneboard.
Other contemporary caneboard product images are also given here. Caneboard, originally made from sugar cane cellulose is a wood-fiber product and would not normally contain asbestos.
Softboards (including Caneite) are considered a multi-purpose low-density fiberboard panel used in a wide variety of applications including as a sound and insulating covering for building interior ceilings and walls, heat insulation, impact resistance. Sugar cane board is also sold as a packaging material.
Softboards used as exterior sheathing are often sold in a form impregnated with bitumen to add moisture resistance. Those products are described at FIBERBOARD SHEATHING.
Question: is there likely to be asbestos in these 1970's Ceiling Panels installed in the Solomon Islands
I hope it is OK to ask a question, to which any reply would be most helpful and welcome. Sorry if I am presuming, but your website seems to invite questions.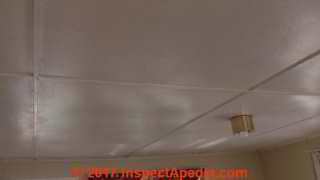 We live in Solomon Islands in a wood frame house built in the 1970s.
Recently our corrugated iron developed a small leak which we noticed when a ceiling board began to sag. In replacing the board I began to wonder if it may contain asbestos as the house was built in the 1970s.

Photos attached.

The boards are 10 ft by 4ft unlike most these days which seem to be 8ft x 4ft.
They are about 1cm thick, and are quite soft, and very absorbent as that was why the dripping roof led to the weight of water breaking open the board.
The underside facing into the room is covered in a sheet of paper like material.
The upper surface does not have any particular pattern but it is obviously quite old. The boards are nailed to the rafters with wide headed nails (with points obviously). There are no markings but the material would almost certainly have been sourced from Australia (mid 1970s)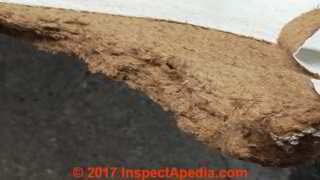 When broken, it does seem to have a layered texture. The board crumbles rather than snaps and unless you are careful the paper can peel off beyond the break. On inspection the material seems to be pressed brown fibres that looks like wood, brown colour. There is no obvious powdery constituent. When we pulled down the board it left tufts of the material around the nails.

We have no environmental standards enforcement here, no testing and no way to know if there is any hazard. I expect you won't be able to give any definitive answer but any observations would be very helpful.

Thank you - Anonymous by private email 2017/05/07
Reply: asbestos (absent in) Canite Board, Caneboard, softboard, greyboard, pinboard in the Solomon Islands & the Pacific areas including Australia & New Zealand
With the relcama that a visual inspection of photos of ceiling materials is no substitute for a lab test and also that we don't know the manufacturer of the ceiling material, after all that ducking and weaving, I note that the material in yourphotos looks like a wood fiber (cellulose) product, not an asbestos product.
There were some instances of asbestos cross-contamination of wood fiber products depending on when and where they were made - making fiberboard products at the same location where asbestos-containing products were made meant that that cross-contamination could have occurred, but to date (2017) I have not found authoritative research confirming that that actually has been determined, detected, or documented.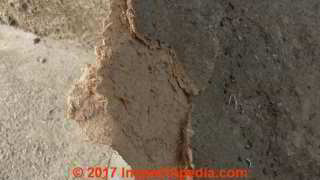 Knowing the age of the building (1970's) helps as asbestos was widely used in some building products in most countries in that period. Knowing the building supplier and product source could also be informative.
In the Solomons canite board (at least originally made from sugar cane) is and has been a widely-used cellulose insulating type low-density fibreboard product (also known as "softboard", Greyboard, or as "pinboard") that looks like your ceiling panels produced both in soft forms (easy to push a pin or thumb-tack into) and harder forms (perhaps used as shelving or in furniture).
Producers in the Pacific area (Bryunzeel, Bunnings, Carter Holt Harvey, Demar, Gunnesons, & Worldwide Timber Traders for example) particularly in Australia and New Zealand - are, I think, common exporters to the Solomon Islands. I'll attach an MSDS for this product as it's a likely guess and as it's had a long use.
Right in the Solomon Islands the Tongs Corporation is a significant supplier of building products since the 1990's (too recent) but some of the older people there might know whose fiberboard products and sheathing boards were imported in the 1970's.
If you are facing a very worried occupant or worse, a complaint, then I'd collect a sample of both the material and of settled dust in the work area to have tested by a certified asbestos test lab.
In the Solomons and surrounding Pacific there has been concern for asbestos use and release from various products, discussed and addressed by PacWaste https://www.sprep.org/pacwaste/asbestos under SPREP located in Apia, Samoa.
At these articles you'll find examples of fiberboard products that do or don't contain asbestos and that are worth reviewing:
SHEATHING, FIBERBOARD ASBESTOS CONTENT - this is the main article you should see.
Also
Research on Caneboard Softboard Pinboard Products: manufacturers, product sources, caneboard properties & ingredients & patents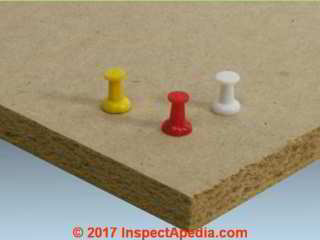 The image shown here is a contemporary Caneite pin-board product distributed by Lifetime Industries in Australia, cited below.
REFERENCES at the end of this article provides research citations on the use of sugar cane bagasse for the manufacture of particleboard, MDF_board, pulp, paper, and other building mateirals.
Ariel, Larmer Lowry Charles. "Sound reproducing systems." U.S. Patent 2,768,702, issued October 30, 1956.
Use of caneboard for sound insulation.
Bruynzeel Canite-softboards, retrieved 2017/05/07, Sydney Australia building supplier, Bruynzeel Unit 4c, (Inside the Winbourne Estate), 9/13 Winbourne Rd, Brookvale NSW 2100, Australia Tel: 02 8076 9155, original source: http://www.bruynzeel.com.au/products/canite-softboards-.aspx
Excerpt:

Softboard is a multipurpose, low density fibreboard panel that is easy to handle, light weight and durable. It has numerous uses in homes, factories and educational institutions. Uses include: Pin Boards/Notice Boards Display Boards Wall Linings Office Screens Protective Covering Boards Sizes stocked: 2440x1220x13mm White Primed one side - $45.00 per sheet +GST
Cane-ite™ INSULATING BOARD, Canite ivory insulating board MSDS [PDF], CHH Woodlogic, Carter Holt Harvey Pinepanels, ACN 000 002993106 Level 1, 118-120 Pacific Highway St Leonards NSW 2065 Locked Bag 3025 Crows Nest NSW 1585 Australia Telephone: 1300 658 828 (available in Australia only))
Caneite Soft Board & Caneite Pinboard, Lifetime Industries, Units 2 & 3 / 56 John St Leichhardt NSW 2040 Australia T: 61 (2) 9518 5901 F: 61 (2) 9518 9834 E: sales@lifetime.net.au Toll Free: 1800 70 70 72 web article: http://www.lifetime.net.au/pdetail/pid/65/id/107/soft-board retrievved 2017/05/07 [images shown above and at page top]
Celotex caneboard: Details are at IDENTIFY Celotex® Insulating Board and Fiberboard Products from which we excerpt:

Celotex Insulating Lumber was a cellulose fiber board made from bagasse or sugar cane fiber using a felting process, and produced in Celotex's New Orleans LA plant. These fibers "each of which contains thousands of sealed air cells", were fabricated into "building lumber" using a patented press and bonding process. Several patents listed in the mid 1920's addressed the production of insulating, structural, and sound-absorbing board products for walls, roofs, and ceilings produced by Celotex.

Patents & Reserarch pertaining to building insulation & insulating board, Celotex & Insulating Board type products

Kato, H. 1936. Studies on utilization of bagasse. VII. Some measurements of thermal influences in a Celotexroom. Cellulose Industries (Tokyo). 12(4): 23.
Summary: Variations of temperature, humidity, and vapor pressure inside a house built with Celotex wall were found to be much smaller inside than outside.
"Sound absorbing board for walls and ceilings", Patent No. 1,554,180, issued to W.S. Trader, September 15,1925, first disclosed a wallboard constructed from "Celotex", a felted mass of strong bagasse fibers, so compacted as to be capable of use as an artificial lumber in that it can be sawed and nailed, and has sufficient strength in many cases to be substituted for lumber. That same patent mentions "Insulite", a building board made from wood pulp tailings and which likewise has a porous fibrous body portion and which is possessed of considerable strength so that the same can be nailed, etc. Celotex was preferred as an insulating material because its internal cells produce a sound-deadening insulating effect.
"Method and apparatus for drying moving material", Treadway B. Munroe et als, assigned to Dahlberg & Co., U.S. Patent No. 1,598,980, 7 September 1926, described a method and apparatus for drying sheets of artificial heat insulating lumber, known on the market as Celotex, improving the original process.
"Reenforced composition board", Treadway B. Munroe et als, U.S. Patent No. 1,578,344, 30 March 1926
"Insulating Structural Board", U.S. Patent 2,159,300, Armen H. Tashjian et als, assigned to William B. Miller, Lakewood OH, 23 May 1939, describes insulating structural boards of laminated construction for use as roof or floor slabs, and refers to "Standard insulating fiber boards, such as "Celotex", "Masonite", "Insulite", etc. that had excellent insulating properties but have relatively slight structural strength in flexure or bending under load, hence are not and cannot be used as structural slabs for load sustaining purposes, as roof or floor slabs, for example. [Adding structural strength ran into the problem of reducing the insulating value of the product.]
"Sound-absorbing chamber", Treadway B. Munroe et als, U.S. Patent No. 1,705,778, 19 March 1929 (using Celotex to construct a sound deadening chamber.
"Method of and apparatus for drying moving material", U.S. Patent 2,376,612, Carl G. Muench, New Orleans, assigned to Celotex Corporation, described a method and apparatus for drying sheets of artificial heat insulating lumber, preferably formed by the felting of bagasse fiber along with other materials necessary to make a satisfactory structural fiber board. 22 May 1945
"Sound-absorbing board for walls and ceilings," U.S. Patent 1,554,180, Sept. 15, 1925, Wilber S. Trader, assignor to Dahlberg & Company, Chicago IL. described an interior-use sound insulating product.


See CELOTEX HISTORY & PRODUCTS

Also see SHEATHING, FIBERBOARD IDENTIFICATION
de Barros Filho, Roberto Monteiro, Lourival Marin Mendes, Kátia Monteiro Novack, Leonardo Oliveira Aprelini, and Vagner Roberto Botaro. "Hybrid chipboard panels based on sugarcane bagasse, urea formaldehyde and melamine formaldehyde resin." [PDF] Industrial Crops and Products 33, no. 2 (2011): 369-373. Retrieved 2017/07/30, original source: http://www.sciencedirect.com/science/article/pii/S0926669010002906
Abstract:

The expansion of Brazilian agricultural production was very important in the last decade. A number of waste residues were produced showing an enormous potential for industrial crops and products.

Sugarcane bagasse is the most important one and it has been investigated for chipboard panel's preparation. In this sense, this work aims to develop, characterize and compare chipboard panels made with sugarcane bagasse with urea formaldehyde (UF) and melamine formaldehyde (MF) resins.

Panels were obtained with a mixture of sugarcane bagasse and particles, like pine or eucalyptus, with and without paraffin in the formulation. Nine different types of panels have been made, all with 9% in resin mix, under a pressing cycle of 4.0 MPa cm2, and temperature of 160 °C.

Under physical tests, the panels complied with the American Standard CS 236-66 for trading chipboards of medium density and, in most cases the results obtained were lower than the ones raised in the literature. Under mechanical tests, that same standard was not complied with and, in most cases the results were close to or higher than those obtained in the literature.
Hoareau, William, Francielli B. Oliveira, Stephane Grelier, Bernard Siegmund, Elisabete Frollini, and Alain Castellan. "Fiberboards based on sugarcane bagasse lignin and fibers." Macromolecular Materials and Engineering 291, no. 7 (2006): 829-839.

Summary: Fiberboards were prepared using phenolic type resins (phenol-formaldehyde) and sugarcane bagasse fibers. Lignin extracted through an organosolv process from sugarcane bagasse was used as substitute of phenol in phenolic resins from 40 (lignin-phenol-formaldehyde) to 100 wt.-% (lignin-formaldehyde) substitution.

Some of the fibers were chemically modified by oxidation with chlorine dioxide and treatment with furfuryl alcohol (FA), leading to fibers coated with polyfurfuryl alcohol. Thermal analysis (DSC and TGA) of the prepolymers allowed setting up an efficient curing to prepare fiberboards.

Impact strength and water absorption were measured showing the importance of the curing pressure to obtain good performance. When chemically modified fibers were used to prepare board samples, enhanced durability against white root fungi is observed, and to a less degree against brown root fungi.

Sugarcane bagasse fiberboards were prepared from prepolymers where lignin substituted phenol up to 100%. This replaces these materials in advantageous position, relating to those prepared from phenol-formaldehyde resins, due to their high content of renewable raw materials.

The results obtained are promising for the utilization of sugarcane bagasse as raw materials for preparing fiberboards to be used in tropical areas.
PRIMAflex Hume Cemboard Cladding Sheet [PDF] product specifications, Hume Cemboard Industries Sdn., Berhad (2009), No. 12 Jalan Tandang, 46050 Petaling Jaya, Selangor, Malaysia. retrieved 2017/05/07, original source: http://www.ibs.co.nz/media/1275/prima-flex-international.pdf
PRIMAflex™ cavity system, Hume Cemboard Industries op.cit., in New Zealand: http://www.ibs.co.nz/media/1090/prima_flex_branz.pdf
"Properties of insulating fiberboard sheathing", [PDF] Forest Products Laboratory (U.S.) Luxford, R. F. (Ronald Floyd), 1889 (1960), original report 1955, citation:hdl.handle.net/1957/2489, web search 6/29/12, original source: http://ir.library.oregonstate.edu/xmlui/handle/1957/2489
SHEATHING, FIBERBOARD - Insulating Board Sheathing, Sound Insulation Board Product Guide.
The STATE of ASBESTOS in the PACIFIC, [PDF], PacWaste, SPREP PROE, WHO, EU, Secretariat of the Pacific Regional Environment Programme (SPREP) (685) 21929, PO Box 240, Apia, Samoa, sprep@sprep.org, www.sprep.org
Sugar Cane Board packaging products, Detpak, DETPAK Australia, Head Office, 55 East Street, Brompton, SA 5007 For all enquiries call 1300 362 620 DETPAK New Zealand, Regional Head Office, 34 Verissimo Drive, Mangere, Auckland 2022 For sales enquiries call toll free 0800 338 725 retrieved 2017/05/07, original source: http://www.detpak.com/product-detail/78/sugar-cane-board
Excerpt:
The Sugar Cane Board Pails are part of Detpak's range of environmentally friendly packaging products - I am eco™. Every product in the range is made from nature, using trees, corn and sugracane. These pails are made from bagasse sugarcane board with a PLA bioplastic lining, a revolutionary new material offered exclusively by Detpak. Sugarcane board provides excellent print capability for showing off your brand, and freights efficiently, so it is an excellent marketing and environmental choice.
Thai Cane Board, (softboard, 100% wood fiber, asbestos free, formaldehyde free), Thai Cane Board Co., Ltd., 147/235 Baromrajchonnaee Road, Arunmaria, Bangkok-Noi, Bangkok 10700, Thailand, Tel: +662 885 8881, Email: info@hardboardthai.com, Website: http://www.hardboardthai.com/ Thai softboard is sold in thicknesses 10mm to 20mm at a density of 140-300 Kg/M3 with a thermal conductivity of 0.037-0.07.
Tongs Corporation, Po Box 128, Honiara, Solomon Islands Email: sales@tongscorp.com Tel: +677-38159. The company is clearly aware of asbestos concerns in the Solomons, as suggested by this text describing its current fibre cement board products.

Top grade cellulose fiber, Portland cement, ground sand, selective additives and water. PRIMAflex contains no asbestos, fiberglass or formaldehyde. Various sizes available, which are suitable for ceiling, interior & exterior walling, flooring.
Youngquist, John A., Brent E. English, Roger C. Scharmer, Poo Chow, Steven R. Shook, "Literature Review on Use of Nonwood Plant Fibers for Building Mateirals and Panels", [PDF] United States Department of Agriculture, Forest Service, Forest Products Laboratory, GTR # FPL-GTR-80
...
Continue reading at SHEATHING FIBERBOARD CONSTRUCTION or select a topic from closely-related articles below, or see our complete INDEX to RELATED ARTICLES below.
Or see CELOTEX HISTORY & PRODUCTS
Or see this
Article Series Contents
Suggested citation for this web page
CANEBOARD PANELS at InspectApedia.com - online encyclopedia of building & environmental inspection, testing, diagnosis, repair, & problem prevention advice.
Or use the SEARCH BOX found below to Ask a Question or Search InspectApedia
...
Frequently Asked Questions (FAQs)
Try the search box below or CONTACT US by email if you cannot find the answer you need at InspectApedia.
Recently-posted questions & answers about the asbestos content of fiberboard sheathing products
Typically fiberboard - a wood cellulose product. See FIBERBOARD SHEATHING - home
I'm removing what I thought was ceramic tile but turned out to be metal from bathroom. Behind the tile is a dark brown fiberboard that was nailed to wood and then it appears glue was applied to hold the metal tile.
The fiberboard has square grids. Any ideas on what this could be? House was built late 40's or early 50's.
I have a pic of some Celotex thermax sheathing where could I send it and would you know if it contains asbestos?
I have Tuf-Flake Floor Underlayment, Mill 32 Type 1-8-1 with another number such as C8236-61 (can't clearly read it) used as underlayment for carpet in my home built in 1971. Is there a way to confirm that it does not contain asbestos?
Can't find any reference online.
Thank you for this site! Very helpful!
I have a pic of that type of insulation board if you still would like to research it but I will need to email it to you.
Anon:

I don't know the Temple brand insulating board. Use our page-bottom or page-top CONTACT link to send me some sharp photos of the board surfaces, edge, and any markings or labels and I will research the brand further.
Yes I am remodeling a house and it has temple insulation board was wondering if abestos is a issue or can I get feedback on the product.
Tim to know for certain about your building materials you'd be best served by an inexpensive lab test of a representative sample (about $50 U.S.D.)

Search InspectApedia.com for ASBESTOS TEST LABS to find lab lists & contact information
I have a building I'm taking down with two different kinds of sheathing one is burrite and the other is flintkote how do I know if they contain asbestos
The NY Beaverboard company appears to have received shipments of ground vermiculite from Libby Montana, which is known to contain Tremolite, Winchite and Richterite amphibole asbestiforms (asbestos).
I have come across beaverboard with a gold reflective side which I suspect is the ground vermiculite adhered to the inside surface of the board. As such, it seems that there is a possibility that these types of materials could contain some asbestos.
Thanks for the feedback, Leslie.

If you can contribute some photos of the sheathing you're demo'ing, including any markings, please do so - use the page bottom CONTACT link. That may help other readers.

Daniel
Thanks for the website - getting ready to demo a structure with Simpson Insulation Sheathing and am more confident now about it not containing asbestos.

...
Ask a Question or Search InspectApedia
Use the "Click to Show or Hide FAQs" link just above to see recently-posted questions, comments, replies, try the search box just below, or if you prefer, post a question or comment in the Comments box below and we will respond promptly.
Search the InspectApedia website
Technical Reviewers & References
Click to Show or Hide Citations & References
Borlando, L.A. 1964. Panels of sugar cane bagasse and synthetic resin. Plast. Resinas. 6(29): 4-7, 10-20. [Spanish].
Summary:
Particleboards were manufactured from sugarcane bagasse agglomerated with urea-formaldehyde resin. Experimental results of the study are reported.
Celotex Corporation, PO Box 31602, Tampa FL 33631, with offices in Atlanta, Chicago, Cincinnati, Dallas, Oakland and Philadelphia, and plants in six U.S. States is headquartered in Tampa, FL. Celotex is a national manufacturer of residential and commercial building materials. Website: www.celotex.com Tel: 800-CELOTEX
"Insulation Selector Guide", Celotex Corporation, web search 6/29/12, original source: http://www.silvercote.com/PDF/ThermaxInsulSelectorGuide.pdf, [copy on file as CelotexThermaxInsulSelectorGuide.pdf ]
"Celotex Blue Ridge Fiberboard", SturdyBrace®, produced by Blue Ridge Fiberboard Inc., 250 Celotex Dr., Danville VA 24541, product literature, web search 6/29/2012, original source: blueridgefiberboard.com/pages/sturdybrace.php, [Copy on file as Celotex_BlueRidge_SturdyBrace.pdf].
MSDS: original source: blueridgefiberboard.com/pages/sturdybrace/pdfs/SturdyBrace-msds-br.pdf
"Guide Specifications: SturdyBrace® Structural Fiberboard Wall Sheathing", 6/29/12, original source: blueridgefiberboard.com/pages/sturdybrace.php [Copy on file as SturdyBrace-guidespecs.pdf]

Hesch, Rolf. "Device for treating of processing and especially for disintegrating of substances or compounds." U.S. Patent 6,435,433, issued August 20, 2002.
Excerpt:
Depithing of Sugar Cane Bagasse Sugar cane bagasse is an excellent raw material for the manufacture of particleboard, MDF-board, pulp and paper, furfural and others. The fibers are embedded in a matrix of parenchymatic tissue. For board and pulp only the fiber can be used. For furfural the parenchymatic tissue, socalled "pith" gives the better yield. Separating fibers from pith is done in two steps according the state of the art, namley pre-depithing when still wet, then drying and subsequent defibration by wing beater mills, double stream mills or similar. As with wood flakes, the bagasse becomes brittle after drying.
Hesch, Rolf. "Particleboard from sugar cane-a fully integrated production plant." (1967).
Hesch, R. 1967. Particle board from bagasse. II. Manufacture of bagasse particle board on the Island of Reunion. Holz-Zentralblatt. 93(85): 1367. [German].
Summary:
The manufacture of bagasse particleboard as practiced at a new board plant on the island of Reunion is described in detail. The properties of bagasse boards are compared with those of boards made from other annual plants and wood, showing that bagasse is a most suitable raw material for particleboard. Some applications of bagasse particleboard were outlined.
Hesch, R. 1967. Particle board from sugar cane-a fully integrated production plant. Board Manufacture. 10(42): 39-45.
Summary:
The process and equipment used at the Bagapan plant on the Island of Reunion for the manufacture of particleboard from bagasse are described. Bagasse is depithed in a special machine in two stages, dried, mixed with a binder, and hot pressed in the same way as boards made from wood particles. The boards produced ranged in thickness from 8 to 35 mm, and in density from 0.30 to 0.75 g/cm3 . Strength properties are comparable to those of similar boards made of jute sticks, hemp shives, flax shives, and various wood species. Bagasse particleboards can be used as flooring, wall partitions, ceilings, roofings, and furniture.
Hesch, R. 1968. Annual plants as raw material for the particle board industry. Holz als Roh- und Werkstoff. 26(4): 129-140. [German].
Summary:
A general review is of present and future important raw materials for particleboard other than wood; namely, bagasse, flax, hemp, and jute. Both the economic and technology of their use are discussed in some detail.
Hesch, R. 1968. Bagasse–particleboard additional income for sugar industry. Sugar News. 44(11): 634, 636, 638, 640, 642, 644, 646, 648-654, 656-657.
Hesch, R. 1970. Prospects and economics of utilizing bagasse for particleboard manufacture. Sugar Y Azucar. 65(1): 23-26, 28, 34. [English and Spanish].
Hesch, R. 1971. New bagasse particle board plant being erected in Trinidad. Sugar Y Azucar. 66(10): 86-88. [English and Spanish].
Hesch, R. 1973. Producing particleboard from sugar mill. bagasse. World Wood. 14(8): 16-18.
Hesch, R. 1975. Physical properties of bagasse particleboard. Sugar Y Azucar. 70(5): 23-24. [English and Spanish].
Hsieh, W.; Chen, M. 1972. Preparation of phenolic resin bagasse particle board. Tai-Wan Tang Yeh Shih Yen So Yen Chiu Hui Pao. 57: 95-107. [Chinese].
Summary:
Phenol-formaldehyde resin, phenol-m-cresolformaldehyde resin, and phenol-resorcinol-formaldehyde resin were prepared, mixed with bagasse particles, and press cured for about 15 min at roughly 145°C to 150°C at 1.2 MPa to give particleboards that met WCPA specifications. Their resistance to weathering was tested. All boards had good weathering resistance. In accelerated aging tests (ASTM D 1037-64), flexural strength was 70 to 85 percent of the original strength. Phenol-resorcinol-formaldehyde resin had the best overall physical properties.
Huang, H.C. 1966. Quality improvement of bagasse particle board with low-resin cost. Taiwan Sugar. 13(5): 23-25, 29.
Summary:
A study was made of the effect of urea-formaldehyde resin content and resin extender on the quality of bagasse particleboard. The results can be summarized as follows: resin spraying conditions had no effect on board quality; reducing the resin content to less than 6 percent resulted in an abrupt decrease in board strength; and neither wheat flour nor sodium silicate were suitable resin extenders. Sulfur acted as an extender, but the long hot-pressing time required makes it uneconomical to use. Good results were obtained when using asphalt as an extender. Board containing 6 percent resin, 2 percent asphalt, and 1 percent paraffin wax had a water absorption of 8.6 percent and a thickness swell of 11.8 percent after 24 h of immersion. Strength properties of the board were satisfactory.
Maldas, D.; Kokta, B.V. 1990. Studies on the preparation and properties of particleboards made from bagasse and PVC. I: Effects of operating conditions. Journal of Vinyl Technology. 12(1): 13-19.
Summary:
The mechanical properties of particleboards prepared from ground sugarcane bagasse, polyvinyl chloride (PVC), and polymethylene polyphenylene isocyanate and the effects of different parameters-such as mixing temperature, molding conditions, particle size of the bagasse, concentration of PVC and polymethylenepolyphenylene isocyanate, as well as dilution of polymethylene polyphenylene isocyanate, on the mechanical properties of particleboards were investigated. The properties of phenol formaldehyde particleboards changed with the variation of mixing and molding conditions. A mixing temperature of 79.4°C and molding conditions (platen temperature, 87.8°C; time, 10 min; and pressure, 3.8 MPa) were optimal conditions for producing particleboards. Both the mechanical properties and the density of particleboards of bagasse with a 60-mesh size improved up to 20 percent by weight of PVC and 10 percent by weight of polymethylene polyphenylene isocyanate.
Mestdagh, M.; Verkor, S.A.; Lawe, N.V. 1970. Particle board from annual plant wastes. United Nations Industrial Development Organization Document UNIDO) ID/WG.S3/5. United Nations Industrial Development Organization (UNIDO) Expert Working Group meeting on the production of panels from agricultural residues; 1970 December 14-18; Vienna, Austria. 45 p.
Summary:
A review is given of the manufacture of particleboard from agricultural residues, especially from bagasse and flax shives. The physical properties of phenolic bonded flaxboards and bagasse boards are reported. Other fibrous materials considered were: hemp, jute, cotton stalk, rice hulls, groundnut shells, cereal straw, cornstalks, sisal, abaca, coconut fiber, bamboo, reed, palm leaves, and palm trunks.
Naffziger, T.R.; Hofreiter, B.T.; Rist, C.E. 1962. Upgrading insulating board and molded pulp products by minor additions of dialdehyde starch. Tappi. 45(9): 745-750.
Summary:
Experimental insulating boards and handsheets were prepared from a range of furnishes containing sugarcane bagasse pulp and waste paper to which 2.5 percent cationic starch or 2.5 percent cationic starch and dialdehyde starch had been added. Retention of as little as 0.5 percent dialdehyde starch resulted in greatly improved dry and wet strength properties. With boards made from 75 percent bagasse and 25 percent newsprint blends, increases of 64 and 130 percent in dry modulus of rupture and dry tensile strength were obtained by the use of dialdehyde starch. Wet strength increases for the same pulp blend were 400 and 900 percent of that of untreated boards. Dialdehyde starch also provides improved pulp drainage and lower board densities.
Usmani, A.M.; Ball, G.L.; Salyer, I.O.;Werkmeister, D.W.; Bryant, B.S. 1980. Alternative lowcost roofing material candidates based on bagasse filledcomposites. Journal of Elastomers and Plastics. 12(1):18-44.Summary:
Four composite material systems useful forroofing in the tropics were developed which utilize majorpercentages of bagasse filler and minor amounts of phenolicor other resin binders. The various materials were actuallymanufactured in small quantities in three developingcountries and trial exposure roofs installed. Extensive testdata are included.
Books & Articles on Building & Environmental Inspection, Testing, Diagnosis, & Repair
Our recommended books about building & mechanical systems design, inspection, problem diagnosis, and repair, and about indoor environment and IAQ testing, diagnosis, and cleanup are at the InspectAPedia Bookstore. Also see our Book Reviews - InspectAPedia.
...