Building Electrical Component Age

Determine the age of building electrical panel, wiring, components
ELECTRICAL COMPONENTS, AGE, TYPES - CONTENTS: index to articles explaining how to determine the age of electrical components in a building: electrical panel age, electrical wiring age, age of receptacles, switches, light fixtures, controls and other electrical equipment.
POST a QUESTION or READ FAQs about how to determine the age of a building or home or its components & systems
InspectAPedia tolerates no conflicts of interest. We have no relationship with advertisers, products, or services discussed at this website.
How to find the age of a building's electrical system:
Visual clues, date stamps, serials numbers, and other information can give us the approximate and sometimes exact age of a building's electrical panel, electrical wiring, and other electrical compnents.
This article series provides a photo guide to determining the age of a building by examination of the architectural style of construction or the building materials and components that were used in the structure.
Green links show where you are. © Copyright 2017 InspectApedia.com, All Rights Reserved.
Age of Electrical Components Also Indicate Building Age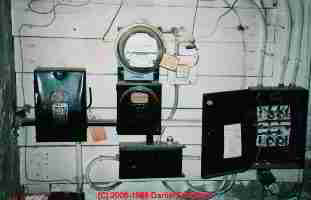 Here is a photograph of an obsolete 30-Amp electrical meter and fuse panel, ca 1935.
[Click to enlarge any image]
While varying somewhat by area of the country in the U.S., Latin America, Europe, and other areas, there are recognizable generations of electrical wiring ( KNOB & TUBE, greenfield, armored cable or " BX" wiring, plastic or " NM/NMC" wiring), wiring materials (copper, tinned copper, aluminum, copper-plated aluminum), and also, easily recognized generations of electrical meters and electrical service panels.
In this list of articles describing the age of and properties of older electrical system components in buildings we illustrate various of these materials and products and we provide information about their safety or about the need to inspect or perhaps replace or upgrade certain problematic electrical equipment such as obsolete or sometimes unsafe electrical panels, wiring, devices.
ALUMINUM ELECTRICAL WIRING, although it may have made earlier appearances, was used extensively in new construction in North America from about 1967 to 1975, probably in response to a spike in copper prices, and ending as the fire hazards of aluminum wiring became widely known.

Presently solid conductor aluminum wiring is not used in new construction but multi-strand aluminum wiring is still in use for service entry cables and single-appliance high-amperage circuits such as air conditioners and electric ranges. (Overheating and connection failures occur with multi-stranded aluminum wiring too.)
ARMORED CABLE - BX, metallic-sheathed electrical cable was first introduced in 1896 and continues in use in modernized form (with better conductor insulators) today. The earliest armored cable wiring used only paper inside of the insulating steel jacket, a material that failed when the wire was wet or was flexed excessively. Later generations of armored cable used rubber-insulated and fabric covered conductors.

We find lots of rubber-insulated armored electrical cables in U.S. homes dating between 1920 and around 1940. Beware of this older armored cable: often the conductor insulation is deteriorated and unsafe, particularly close to electrical lights and other connections where heat may have been present.

We've successfully repaired and kept such circuits in use by cutting back the damaged overheated length of wire. Modern BX wiring uses plastic insulated conductors and is available in a variety of wire gauge s and number of conductors.
ELECTRICAL PANEL AGE - decoding the data tag in an electrical panel serial number
Electrical receptacles and device power cord plugs have varied in design and features over the history of electrical wiring;

Un-polarized electrical receptacles: Early electrical receptacles were (and are) usually two-prong, with each receptacle slot of equal size, and with no ground connection for the power cord that is plugged into the receptacle
Polarized electrical receptacles: Electrical receptacles were changed to require proper polarity of electrical connection between the receptacle and the connecting appliance or device cord by making one of the receptacle slots wider and the corresponding power cord plug spade wider than the other.

These un-grounded (or unearthed) electrical receptacles (some people call them electrical sockets or wall plugs) are still in use and should still be installed if the electrical circuit to which they are connected does not provide a ground path.
Grounded electrical receptacles: Most modern electrical receptacles (power outlets, wall sockets, wall plugs) provide a combination of polarized connectors (one slot wider than the other) and a ground connection (the rounded opening below the center of the two spade connectors).

The most common electrical receptacle used in homes in the Americas, Japan, and some other countries is the 15 Amp (#14 copper wire circuit) receptacle described as NEMA 5-15 15 A/125V electrical outlets.

If the receptacle is properly installed with the ground connection "down", the wider slot on the left accepts the neutral connection of the power cord and the more narrow slot accepts the "hot" connection of the power cord.

Beginning with the U.S. 1992 electrical code, special versions of grounded electrical receptacles may shift the pattern of the spade connector slots to provide receptacles that accept both 15A and 20A power cords and others which rotate one of the spade connectors to 90 degrees from the other, to accept only 20A power cords.
European electrical receptacles in modern form (2008) use the CEE 7/16 electrical socket and matching wall plug with openings 19 mm apart and 4 mm in diameter, and that usually does not include a ground connection.That's because european residential electrical circuits are designed for 240-volt circuits (both wires to the receptacle are "hot" and the power cord plug can be inserted in either position.

These receptacles are designed for 2.5A/240V circuits with no ground path. A grounded version of this wall receptacle is used in the U.K. (BS 4573) and is called the UK "Shaver" receptacle.
European electrical receptacles of an older design and still found in many buildings in the U.K. and India use a three prong 5-amp 240V BS 546 plug (one is for ground) or a higher capacity BS-546 "M" receptacle rated for 15 amps.

The older British 3-pin 13-Amp line cord plug and matching wall receptacle (BS 1363) first saw use after WW II in 1946 and is still found in the UK and some other countries and has two flat 240V pins and a single vertical ground pin connector.
Different electrical receptacles and line cord connectors are used in France (Type E -pin with a female connection to ground (earth) on the line cord plug and a protruding ground pin on the wall receptacle, and in Germany and Russia (Type F two pin with a ground connection provided by a metallic clip below the hot pin connections and at the edge of the line cord plug and electrical receptacle socket. CF: Wikipedia for a nice detailed article describing these connectors.

OLD HOUSE ELECTRICAL WIRING Inspection and repair of old house electrical systems including wiring and other devices
OLD ELECTRICAL WIRING TYPES How to identify, inspect & repair or improve electrical grounding in older homes or other buildings. How to recognize knob and tube electrical wiring and unsafe "extension cord" wiring. How to evaluate the number of electrical circuits in an older home. Photo guide to types of old building electrical wires.
FPE - Federal Pacific Stab-Lok electric panels discusses these latent safety hazards in homes and provides a very detailed history of this product
First generation electrical wiring, including from Thomas Edison's D.C. electricity era, used a pair of physically separated copper electrical conductors insulated with cloth and stapled to building framing.

Where this wiring was to be exposed to moisture its cloth covering was sealed with tar or similar bituminous compounds and buried in a wooden trough according to a Wikipedia entry. It is unlikely that you'll find this wiring in active use, but if you do, it's dangerous and should be replaced.
GAS PIPING used to route electrical wires: often in older homes when gas service was discontinued the gas pipes were used to route electrical wires through building walls, particularly when the occupants wanted to install an electric light where a gas light had previously been found.

But don't assume all gas piping in an old house has been abandoned - it may still be "live", as we discuss at GAS LIGHTING, PIPES, FIXTURES
KNOB & TUBE WIRING details this electrical wiring system, and also see other old house electrical wiring and its history that are provided here. Knob and tube wiring is probably the oldest electrical wiring style that was applied with any standard consistency, and was used from 1880 right up into the 1970's in some jurisdictions, though it fell from widespread use by 1940 when less costly insulated electrical cables increased in popularity.
PLASTIC WIRING CABLE - "Romex" was introduced in the U.S. in 1950 with a PVC insulating jacket according to a Wikipedia entry.
Rubber-insulated electrical cables were introduced in 1922 and contained two electrical conductors insulated with a rubber coating and wrapped with an asphalt-like impregnated cloth. Some inspectors refer to this as "cloth" or "fabric" wrapped electrical wiring but it's not, it's rubber-insulated.
Wooden floor baseboard trim and other wood molding trims in older homes were often routed on their back side in order to run electrical wires. Be careful in driving nails through wood baseboards before you know if wires are present.
ZINSCO/SYLVANIA ELECTRICAL PANELS discusses these latent safety hazards in homes
...
Continue reading at OLD HOUSE ELECTRICAL WIRING or select a topic from closely-related articles below, or see our complete INDEX to RELATED ARTICLES below.
Or see AGE of a BUILDING, HOW to DETERMINE - Visual clues pointed out by a home inspector or available to any careful building inspector can help indicate the age of a building.
Or see ELECTRICAL INSPECTION, DIAGNOSIS, REPAIR - home
Or see this
Article Series Contents on Old House Electrical Components
Suggested citation for this web page
ELECTRICAL COMPONENTS, AGE, TYPES at InspectApedia.com - online encyclopedia of building & environmental inspection, testing, diagnosis, repair, & problem prevention advice.
Or use the SEARCH BOX found below to Ask a Question or Search InspectApedia
...
Frequently Asked Questions (FAQs)
Try the search box below or CONTACT US by email if you cannot find the answer you need at InspectApedia.
...
Ask a Question or Search InspectApedia
Use the "Click to Show or Hide FAQs" link just above to see recently-posted questions, comments, replies, try the search box just below, or if you prefer, post a question or comment in the Comments box below and we will respond promptly.
Search the InspectApedia website
Technical Reviewers & References
Click to Show or Hide Citations & References
American Institute of Electrical Engineers. Transactions of the American Institute of Electrical Engineers. Vol. 12. American Institute of Electrical Engineers., 1896.
Cites early electrical patents by Edison, Sprague et als.
Aronstein, J. "An updated view of the aluminum contact interface." In Electrical Contacts, 2004. Proceedings of the 50th IEEE Holm Conference on Electrical Contacts and the 22nd International Conference on Electrical Contacts, pp. 98-103. IEEE, 2004.
Aronstein, Jesse, and Wilfred E. Campbell. "Failure and overheating of aluminum-wired twist-on connections." Components, Hybrids, and Manufacturing Technology, IEEE Transactions on 5, no. 1 (1982): 42-50.
Aronstein, Jesse, and Wilfred E. Campbell. "The influence of corrosion inhibitor and surface abrasion on the failure of aluminum-wired twist-on connections." Components, Hybrids, and Manufacturing Technology, IEEE Transactions on 7, no. 1 (1984): 20-24.
Aronstein, J. "AC and DC electromigration in aluminum." In Electrical Contacts, 1996. Proceedings of the Forty-Second IEEE Holm Conference on??. Joint with the 18th International Conference on Electrical Contacts, pp. 311-320. IEEE, 1996.

Bazerman, Charles. The languages of Edison's light. Cambridge, MA: MIT press, 1999.
Dini, David A. "Residential Electrical System Aging Research Project" [PDF] Fire Protection Research Foundation, Quincy, MA (2008). Retrieved 6/6/2010, original source: http://ul.com/global/documents/corporate/aboutul/publications/newsletters/thecodeauthority/tca_issue_2_2008.pdf
and
The Residential Electrical System Aging Research Project done for NFPA/FPRF is available in its entirety at this site, http://ewh.ieee.org/cmte/pses/ffat/support/RESAReport.pdf
Dini, David A., P.E., "Some History of Residential Wiring Practices in the U.S.", [PDF] Underwriters Laboratories, Inc., (2006)
Dini, David A., Thomas Z. Fabian, and J. Thomas Chapin. "An analytical study of some physical properties of wire and cable samples collected from older homes." [PDF] Underwriters Laboratories Inc (2006). David Dini, Northbrook, Ill. Tel: 1.847.664.2982; Email: David.A.Dini@us.ul.com
These two papers were presented at the FPRF Aged Electrical Systems Symposium of 2006. These papers on this subject can be downloaded for free.
http://www.nfpa.org/research/fire-protection-research-foundation/projects-reports-and-proceedings/proceedings/2006-proceedings/aged-electrical-systems-symposium
Edison, T.A., "The dangers of electric lighting",. [PDF] The North American Review, 149(396), pp.625-634.1889 RE-published by the University of Northern Iowa, http://www.jstor.org/stable/25101896 and available on JSTOR.
Edison, Thomas A. "Manufacture of filaments for incandescent electric lamps." U.S. Patent 470,925, issued March 15, 1892.
Abstract:
As before explained in prior applications for patents for inventions of mine relating to lighting by electricity, it is essential that the incandescing conductor should be of high resistance and that great advantages result from the increase of resistance when such increase can be obtained without increase in the extent of the radiating surface. I have discovered that an incandescing conductor of very high resistance in comparison with the radiating surface may be made by taking several exceedingly-fine fibers or filaments of carbonizablematerial and welding them together prior to carbonization by a suitable cementing carbonizable liquid. For this purpose I prefer to use natural fiberssuc'h as bast, jute, manila, hemp, &c.-or other fibers of endogenous growth made up of a great number of parallel elementaryfibers cemented together by a natural cementing material, which on carbonization locks all the elementary fibers together into a homogeneous filament. I take several of these natural fibers, and after removing the extraneous matter by passing them through a cutting-die I form them into a bunch and dip them together into a solution of sugar or other carbonizable liquid and then carbonize them as one fiber, the carbonizable cementing-liquid binding them firmly together into a homogeneous filament of high resistance and moderate radiating surface.

Edison, Thomas A. "Electric conductor." U.S. Patent 470,924, issued March 15, 1892.
Excerpt:
To all whom it may concern: Be it known that I, THOMAS A. EDISON, o Llewellyn Park, in the county of Essex and State of New Jersey, have invented a certain new and useful Improvement in Electrical Conductors, (Case No. 732,) of which the following is a specification.
The object of my invention is to eifectively insulate wire, so that it will be waterproof and capable of being used in moist places and even under water without detriment to its insulating qualities, and also fire-proof, so that if by accident the wire becomes red-hot the insulating-covering will not be set on fire and burned, but only oxidation Will result, which will leave the wire pyro-insulated.
The main feature of the invention is the use as an insulating-covering of a mixture of rubber with an infusible material in the form of a powder.
I prefer to employ crude gum rubber, which I soften or partially dissolve by a suitable solventsuch as benzole-and then mix in a suitable mixing or kneading mill with about twice the quantity of the infusible powder, such as kaolin, chalk, carbonate of zinc, or phosphate of lime. The proportions of these substances will vary with the use to which the wire is to be put. They must be such that the covering, when placed upon the wire, will be flexible, water-proof, and a good insulator, and such that when the wire is heated the covering will not burst into a flame at any temperature up to the melting-point of the wire. lVhile pure rubber is an almost perfect insulator, it is so inflammable when used alone or in conjunction with cotton or other fabric that it cannot be safely used in electric-light wiring. In my in vention the infusible substance mixed with the rubber serves to prevent the flame, and a very considerable quantity thereof may be used without lowering the insulating and water-proof qualities too much for ordinary use. If the wire is to be used in situations where it requires to be bent sharply and so must be very flexible, or if it is to be used in very wet places, then the minimum amount of infusible material which will make the covering non inflammable must be used; also, the amount of rubber to the infusiblc material will vary, according to the character of the latter.
Edison, Thomas A. "Electrical Indicator" U.S. Patent 307,031, issued October 21, 1884.
Abstract:
The object of my invention is to produce an eflicient apparatus for indicating variations of electro-inotive force in an electric circuit, preferably for use in connection with systems of electrical distribution to show the changes in pressure in the various parts of the district. The apparatus is also capable of use in automatically regulating the elcctro-motive force to correspond with such variations. I have discovered that if a conducting substance is interposed anywhere in the vacuous space within the globe of an incandescent electric lamp, and said conducting substance is connected outside of the lamp with one terminal, preferably the positive one,of the incandescent conductor, a portion of the current will,when the lamp is in operation, pass through the shunt-circuit thus formed, which shunt includes a portion of the vacuous space within the lamp. This current I have found to be proportional to the degree of incandescence of the conductor or candle-power of the lamp.
Edison, Thomas Alva. "Electric lamp." U.S. Patent 223,898, issued January 27, 1880.
Abstract: filled with scanning typographical errors -hard to read. Excerpt:
By using the carbon wire of such high resistance l mu enabled to use flnc platinum wires for leiuling'wires, as they will have a small resistance compared to the burner, and hence will not limit and crack the sealed vac uunl-bulb. llatinu can only be used. no its expansion is nearly the same as that of glass. By using a considerable length of carbon wire and coiling it the exterior, which Is only a small portion of its entire surface, will form the principal rndiuting-surtnce; hence I am able to raise the apccitic heat of the whole of the carbon, and thus prevent the rapid reception and disuppeamncc of the light, which on a plain wire is pn-judicial, as it shows the least. unsteadiness of the current by the flickering of the light; but it the current is steady the defect does not show. I have carbonized and used cotton and linen thread, wood splints, papers coiled in various ways, also lamp-black, plunibago, and carbon in various forms, mixed with tar and kneaded so that the same may be rolled out into wires of various lengths and diameters. Each wire. however, is to be uniform in size throughout.

Greenfield, Edwin T. "Armored Electrical Cable" U.S. Patent 616,612, issued December 27, 1898.
Excerpt:
Be it known that I, EDWIN T. GREENFIELD, a citizen of the United States, residing at New York, in the county of New York and State of New York, have made a new and useful Invention in Armored Electric Cables, of which the following is a specification. My invention is directed particularly to improvements in electric cables designed for ocean service, and has for its objects, first, to devise an armored cable of such anature that the insulation of the cable will be thoroughly protected from the attacks of borers or other insects or animals which usually attack cables of this nature when sunk in the body of the ocean second, to devise an armored cable of such a nature that its exterior armor will fully protect it (the cable) from unnatural wear when it is suspended over ledges of rock in the body of the ocean; third, to provide a cable of the nature indicated in which the armor is of steel, phosphor-bronze, or any preferred metal having the desired strength and qualities for adapting it for use in the ocean and in making such armor of a flexible nature, so that the completed cable may be wound upon a drum in the usual way when it is desired to lay it in the bed of the ocean, and, fourth, to provide a lead or equivalent covered cable with a flexible protecting armor which will protect the lead covering from the action of metal slivers when drawn into a conduit.
Hargadon, Andrew B., and Yellowlees Douglas. "When innovations meet institutions: Edison and the design of the electric light." Administrative science quarterly 46, no. 3 (2001): 476-501.
Abstract:
This paper considers the role of design, as the emergent arrangement of concrete details that embodies a new idea, in mediating between innovations and established institutional fields as entrepreneurs attempt to introduce change. Analysis of Thomas Edison's system of electric lighting offers insights into how the grounded details of an innovation's design shape its acceptance and ultimate impact. The notion of robust design is introduced to explain how Edison's design strategy enabled his organization to gain acceptance for an innovation that would ultimately displace the existing institutions of the gas industry. By examining the principles through which design allows entrepreneurs to exploit the established institutions while simultaneously retaining the flexibility to displace them, this analysis highlights the value of robust design strategies in innovation efforts, including the phonograph, the online service provider, and the digital video recorder.
Hughes, Thomas P. "The electrification of America: the system builders." Technology and Culture 20, no. 1 (1979): 124-161.
Hughes, Thomas Parke. "British electrical industry lag: 1882-1888." Technology and Culture 3, no. 1 (1962): 27-44.
Roger Hankey is principal of Hankey and Brown home inspectors, Eden Prairie, MN. Mr. Hankey is a past chairman of the ASHI Standards Committee. Mr. Hankey has served in other ASHI professional and leadership roles. Contact Roger Hankey at: 952 829-0044 - rhankey@hankeyandbrown.com. Mr. Hankey is a frequent contributor to InspectAPedia.com.
Norwig, E. A. "Patents of Thomas A. Edison, The." J. Pat. Off. Soc'y 36 (1954): 275.
Elizabeth Sluder, Montross, VA, a contributor to this article, is a public school teacher who writes basic educational articles about a variety of building, construction, and other topics. Her husband, a licensed electrician, consults for her writing on electrical topics. Her articles appearing at the InspectAPedia TM Website have been edited, illustrated, and on occasion content has been added by the website author. These articles are © 2010 InspectAPedia copyright-protected, all rights reserved.
Mullin, Ray, and Phil Simmons. Electrical wiring residential. Nelson Education, 2014.
Thanks to our reader Ed (anon) for assistance with technical page editing 03/29/2010.
Books & Articles on Building & Environmental Inspection, Testing, Diagnosis, & Repair
Recommended books on electrical inspection, electrical wiring, electrical problem diagnosis, and electrical repair can be found in the Electrical Books section of the InspectAPedia Bookstore. (courtesy of Amazon.com)
...