Asphalt Roof Shingle Warranties, Shingle Failure Claims
Roof Shingle Class Actions, Claim Forms, Warranty Claims Assistance
WARRANTIES for ROOF SHINGLES - CONTENTS: How to evaluate roofing shingle warranties, how to make a shingle warranty claim, issues concerning roof shingle warranties. Contact information for roof warranties, roofing manufacturers, shingle failure claims & class action lawsuit. Roof warranty claim advice and assistance
POST a QUESTION or READ FAQs about roof shingle warranties: coverages, how to file a claim, roof inspections
InspectAPedia tolerates no conflicts of interest. We have no relationship with advertisers, products, or services discussed at this website.
Roof warranties & roof covering or roof shingle warranties:
This document assists readers who have had an asphalt shingle roof failure or defect and who need to know how to obtain asphalt roofing shingle failure warranty claims assistance.
Green links show where you are. © Copyright 2017 InspectApedia.com, All Rights Reserved.
We include articles on how to identify common asphalt roof shingle failures, manufacturing defects, and other damage. Readers are also invited contribute roof failure information to the web author for research purposes.
Roofing Warranties - Valuable or Sales Tool?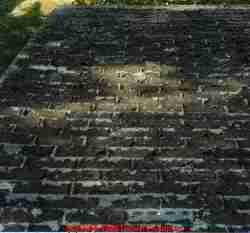 [Click to enlarge any image]
Above is a worn-out asphalt shingle roof. This roof is shot, but has actually worn normally and is more than 20 years old. But if a roof wears out, or suffers damage that is likely to reduce its remaining life to less than the anticipated life or warranty period, a warranty claim might be in order.
Don't have high hopes: if the roof was not properly installed the shingle warranty may be void. Other roofing products that have known premature failure problems are also discussed here.
Article contents
As stated in Best Practices Guide to Residential Construction:
Shingle warranties run from 20 to over 50 years. Although products with longer warranties are usually of higher quality, in some cases, the longer warranties are more of a marketing strategy than an accurate predictor of shingle life.
While the specific terms of the warranty are important, more important is the manufacturer's reputation for warranty service in the local area. All manufacturers retain the right to void the warranty if installation instructions are not closely followed, and they can often find a way to avoid honoring a claim if so inclined.
Background about roof warranties: Asphalt roof shingles are the most common covering used on residential properties in North America.
Early shingles were made by saturating rag-felts with asphalt and by coating each side of the saturated felt with an asphalt-mineral filler-coat, covering the top surface of the shingle with mineral granules (sunlight and weather resistance) and coating the bottom surface with a material to prevent shingles from sticking together in storage or shipment.
Beginning in the 1940's the felt mat was changed to a zero rag-content using wood fibers and cellulose (newspaper). More recently many manufacturers began producing shingles using a fiberglass mat to replace the felt. The fiberglass mat was thought to have good tear resistance, possibly slightly better fire resistance, and as the mat was generally thinner than the felt mat, we believe that there were also economic advantages for both the manufacturer (less asphalt used in the mat) and the roofing installer (lighter material, easier to install).
In certain instances specific roofing products have shown common early failure, failing in a characteristic pattern which is easily identified (such as the thermal splitting defect. Some manufacturers offer limited warranty coverage of their product. Many roofers also guarantee their work to be free from leaks, but usually for a time period substantially shorter than the manufacturer's rated life of the roof material.
In cases which we've handled in the 1990's to about 2004 and involving thermal splitting or tearing of fiberglass-based asphalt shingles, some manufacturers (such as GAF) offer a limited product warranty.
Following a fairly involved claims procedure requiring documentation, photographs, and a sample of damaged material the manufacturer may elect to warrant the roofing material on a pro-rated basis depending on the age of the roof and its warranted life. Sometimes the manufacturer's warranty covers only material cost, not installation cost (labor, demolition, removal of old materials) unless the roofing contractor chooses to extend such coverage.
The cost of roofing material is not the main ingredient in roofing cost. Labor and possibly disposal of old roofing material are significant costs. Out of concern for future roof life, some roofers are reluctant to install new roofing atop failed material even where additional layers of roofing are permitted by local codes.
Some homeowners are reluctant to install as new roofing the same product which failed early in the first place. Manufacturers might have changed the formulation of the product to improve durability, but they are understandably reluctant to say so, out of concern for increasing product liability.
Without assurance from the manufacturer that a product which failed early has been modified to correct the problem, we advise our clients to consider using alternative products with design and performance expectations having a better track record.
Best Practices Guide to Residential Construction lists several key issues to consider in evaluating a roof shingle warranty:
Is the warranty prorated from the date of installation, or is there an introductory term of 5 to 10 years when the full value can be recovered?
How long are warranties valid against wind damage, algae growth, or other types of damage?
Does the warranty cover a portion of the labor costs of tear-off, disposal, and installation, or does it cover materials only?
Is the warranty transferable?
Perhaps most importantly, does the manufacturer have a strong reputation for warranty service in the local area?
When buying clay roof tiles, look for at least a 50-year warranty on both durability and fading.
-- Adapted with permission from Best Practices Guide to Residential Construction.
Question: roof manufacturer offers very limited settlement on asphalt shingles with granule loss
2016/09/08 Spencer Rafferty said:
I have a roof of 12yrs with 25yr shingles on it, I noticed significant granule loss on 90% of whole roof on the single layer part of arc. shingles. I contacted manufacturer and they only offered 384.00, then I contacted local representative and he's only offering about 1,700.
Now I am a Home Inspector and know from experience this is a manufacturers defect because its on 90% of roof and certain parts of each shingle. Problem is I feel they should honor their warranty of full replacement, so how do I go about getting independent testing of shingles to determine if it was manufacturers defect to go after company ?? Any help would be appreciated !
This question and reply were posted originally at GRANULE LOSS from SHINGLES
Reply:
Thanks for the important roof shingle warranty question, Spencer. Now it's time for a dose of painful reality. What follows is my OPINION.
Roof shingle warranties vary, and you don't mention the brand and model of your roof shingles so we don't know what your warranty promised. Usually shingle warranties, even "lifetime" ones, are actually quite limited.
IF the manufacturer agrees at all that the product is defective, you'd expect recover a portion of the shingle material cost, pro-rated based on the percent of roof life promised vs. delivered.
When the roof has lost granules such that its remaining life is likely to be reduced and when we are now at 1/2 of the roof's rated life, but the roof is not yet leaking, the manufacturer is going to argue that the roof has not yet "failed" - it's not leaking.
So they are re-adjusting the 50% of shingle material cost to a smaller sum which is the manufacturer's own opinion of the amount of reduction from the 25-year life that has been caused by the roof's deterioration. They may not enjoy explaining that to you but that's probably the rationale behind the pathetic warranty offering.
The manufacturer will also adjust the warranty coverage for a roof based on their own observation of installation defects including virtually anything that did not completely follow the manufacturer's installation instructions regarding product selection, underlayment, nailing schedule, condition of the roof deck, flashing details, roof ventilation details and perhaps other conditions (such as mechanical damage from ice dams).
The cost of a roof leak in damaged building insulation, wiring, finish materials, drywall, and potentially mold clean-up can also be a significant cost that won't be covered by roof warranty even if the roof is actually leaking.
The labor to install roof shingles is normally a much greater cost than the materials, a third fact that makes roof shingle warranties of only very limited value.
What we learn from this is that product warranties are more of a marketing feature than something intended to actually protect the consumer. Roof shingle warranties may tell us something about the comparable expected life of different roof products but they're not particularly valuable as insurance against early roof leaks.
In corresponding with readers about this topic for decades now I've seen that just what the roof manufacturer or roof installer offer in settlement varies considerably depending in part on how much trouble the consumer is making and how persistent is the consumer in pressing a claim as well as on the difference between large commercial jobs and residential roof jobs.
Asphalt shingle test labs offer product testing services that can explain why a shingle product is failing or appears defective, such as loss of volatiles, over-heating during manufacture, or other manufacturing or service life defects. You could try asking one of these labs to test representative samples of your roof; you'd need to photo-document the whole roof, document the product, its installation details, and other information, then cut samples, patch the cut area, and send your samples to a test lab.
I would of course be interested in what the lab tells you - we'd all benefit from that if your case were adequately documented. But I warn that YOU are not an important customer to the roof shingle test lab. The roofing manufacturers may use independent asphalt shingle test labs to monitor and assess their own manufacturing process.
They, the manufacturers, are far more important customers to the lab than you. Therefore you might find some reluctance on the part of test labs to help you prepare material that will in turn be used to annoy their main client.
We discuss asphalt shingle test lab services at ROOFING MATERIALS TEST LABS inspectapedia.com/roof/Roof_Shingle_Test_Labs.php
Do keep me posted, and do use the page top or bottom CONTACT link to send me sharp photos of the whole roof, varying conditions by roof slope, and close-ups of granule loss on shingle surfaces as well as of the lost -granules that you probably see in your gutters or on the ground.
Roofing Manufacturer Contact Information
American Cemwood: fiber cement roof shake failures, class action litigation - see AMERICAN CEMWOOD ROOFING for details, claims forms, contact information.
Atlas Roofing contact information, fiberglass and organic roof shingles. You can also send written correspondence and completed warranty registration cards to the Consumer Services Department at: Atlas Shingle roofing shingle warranty claims, ATTN: Consumer Services, 802 Highway 19 N, Ste. 190, Meridian MS 39307 (800) 478-0258 (consumer services) or 601-484-8900. The company's website is at http://www.atlasroofing.com/



For questions regarding the ACFoam® Limited Warranty, Pending Claims, or a Potential Product Defect for polyiso insulation, please contact us by phone, toll free at: Commercial Technical Services: (800) 388-6134 -

You can also send written correspondence and completed warranty registration cards to the Commercial Technical Services at: Atlas Roofing Corporation, Attn: Commercial Technical Services, 2000 RiverEdge Parkway, Suite 800, Atlanta, GA 30328

Litigation: a lawsuit was filed against Atlas in September, 2005. Hilton v. Atlas Roofing Corporation of Mississippi, No. 05-4204, in the U.S. District Court for the Eastern District of Louisiana. The plaintiff has asked the Court to make it a class action. If you could be a member of that class (if the class is/was certified), you may have the right to nullify your settlement with Atlas.

For further information about these cases, you can read the Second Amended Complaint document concerning this Atlas Roofing class action lawsuit (PDF file) and the Answer and Affirmative Defense Response document (PDF).

Another potential class action lawsuit based on similar allegations was filed and was (and may be) pending in the U.S. District Court for the Middle District of Louisiana: Sewell vs. Atlas Roofing Corp., No. 06-577.

Further information is at http://www.laed.uscourts.gov/HiltonvAtlas/05cv4204.htm

Do not contact the Court with questions regarding your potential claim or whether you would be a member of any class action, if certified. Judicial employees, including the Clerk's Office staff, are prohibited by the Code of Judicial Conduct from providing legal advice of any kind.

Reader question: Sept 8, 2011) james brown said: tried to go to atlas court case no longer there

Reply: Because Google does not like to see copies of original documents reproduced at a second website we removed our online PDF copies of the Atlas court case. If you need to see the .PDF just send us an email (use our CONTACT link) and we an send you a copy.

Bird Inc. Roofing: contact information, for Bird Shingle roofing shingle warranty claims (obs. address: 1077 Pleasant St., Norwood MA 02062 617-5551-0656) is - an affiliate of CertainTeed Corporation - so try contacting CertainTeed: P.O. Box 860, 750 East Swedesford Road, Valley Forge, PA 19482 USA Phone: (610) 341-7000 Fax: (610) 341-7113 E-mail: corporate@certainteed.com
BPCO Roofing contact information, 9510 St. Patrick, LaSalle, P! H*R 1R9 Canada 514-364-0161
Cal-Shake® Roofing contact information, Class Action Lawsuit - 1986-1995 Roofs

How To Identify Cal-Shake Shakes (Cal-Shake, Cal-Slate, Cal-Clay Roofing)

Cal-Shake Shakes are a fiber cement roofing product made to look like wood shakes. Cal-Shake Inc. also manufactured Cal-Slate and Cal-Clay, both of which are included in this settlement. Cal-Shake Shakes were manufactured as shakes and distributed between 1980 and 1995.

Please review the information below to see if you have Cal-Shake Shakes installed on your roof. If you take the steps suggested below and are still having trouble determining whether you have a Cal-Shake Shake Roof, please call 1-866-844-0600. Here is a Cal_Shake Claims Form.

Ask the roofer who installed your roof.
Review any invoices, statements, or warranty information that the roofer provided you when the roof was installed or may have been provided to you at the time of purchase by the previous owners of the home.
Review any home-inspection report you may have received upon purchase of your house, which may contain information on the type of roof installed.
Look for broken shakes to see whether the logo "Cal-Shake" is embossed on the top half of the shake.

You do not have a Cal-Shake Shake Roof if:

The shakes on your roof are made of wood The cement composite shakes on your roof were manufactured by: American Cemwood, NatureGuard, Terra Shake, FireFree®, Hardie Shake, Monier, Owens Corning Mira Vista, Protex.

To be a member of the New Cal-Shake Settlement Class, your Cal-Shake roof must have been manufactured between February 1, 1986 and March 31, 1995. The date of manufacture is not marked on the Shake, but if your roof was installed within this period you are probably a member of the New Cal-Shake Settlement Class. People whose roofs were installed very early in this time period might have Old Cal-Shake roofs.

- Web Search 07/12/2010, original source http://www.calshakeclassaction.com/ProductIDnew.html

Celotex Corporation contact information, for Celotex Shingle Original roofing shingle warranty claims, 4010 Boy Scout Blvd., Tampa FL 33607-5750 813-873-1700

Celotex Roofing Shingle warranty offered in 1995 was 40 years.

Celotex roofing operations were bought by CertainTeed corporation (itself a wholly owned subsidiary of Compagnie de Saint-Gobain of Paris ) in mid-2000.

So you might want to contact that company to see if they're honoring older pre-acquisition Celotex roofing warranty claims.
Cemwood Roof Shakes: Information about American Cemwood roofing shakes and related products is found here in our article at AMERICAN CEMWOOD ROOFING. Contact information is at: American Cemwood - imitation wood shakes crack, swell and discolor.

The American Cemwood roofing settlement includes Cemwood Shakes, Permatek Shakes, Permatek and Permatek II. Cascade Shake, Trieste Tile, Pacific Slate, Permatek II and Royal Shake. Class action settlement site: www.cemwoodclaims.com or for help identifying Cemwood or Permatek shakes on a roof see http://www.cemwoodclaims.com/identify.html
CertainTeed Corporation contact information, for CertainTeed Shingle roofing shingle warranty claims, (some folks spell it Certain Teed or Certainteed Roofing), Technical Service Department, 1400 Union Meeting Road, PO Box 1100, Blue Bell, PA 19422 - 1-800-345-1145 or 610-341-6212 FAX, Website: www.certainteed.com



CertainTeed Notice of Settlement, U.S. District Court for Eastern District of Pennsylvania, Notice of Settlement for Qualifying Owners of Property on Which Certain Organic Asphalt Shingles Manufactured by CertainTeed Corporation Are or Have Been Installed: You Could Get a Payment From A Class Action Settlement.

Certainteed Organic [Roof] Shingles Class Action Settlement Standard Claim Form - Instructions

Completed claims forms for CertainTeed organic roof shingles should be mailed to

CertainTeed Shingle
Settlement Claims Administrator
1400 Union Meeting Road
Blue Bell, PA 19422-0761

Above forms are provided by the CertainTeed Single Settlement website http://www.certainteedshinglesettlement.com/
Web search 10/27/2010 original source: http://www.certainteedshinglesettlement.com/casedocuments.cfm

Watch out: be sure that your roof shingle warranty claim are filed with the roofing manufacturer following the company's procedures and within the time limits provided by the roofing manufacturer's warranty. Otherwise you can expect a response such as this one sent to us by reader Nancy Lescarbeau:

At the end of June 2009, I tore off and replaced the shingles on my roof and opened a claim to CertainTeed. I took 40 some pictures and typed up detailed information for each. I sent in a sample of the bad shingles like Certain Teed asked on their roof warranty claims form. But I never sent in the claim till the winter months, and I received the answer back that states:

"....The warranty may be enforced only by the original homeowner/consumer who purchased the shingles or by an individual who had transferred the warranty during the allowable time period. " (which is two years) ".. CertainTeed Corporation, therefore, is excluded from any liability or obligations to you under the terms of the warranty since you are not the original homeowner/consumer..."

The original owner installed the new CertainTeed roof two years before selling the home to me in 1999. So, even if he had transferred the roof shingle warrantee, the time limit still exceeded CertainTeed's transfer warranty provisions. At the time of my roofing shingle claim (or the claim I wanted to submit), my roof was 12 years old not 10. And not covered by a warranty at all.
A CertainTeed Roofing Product warranty claim form in .pdf form can be found below and also at http://www.certainteed.com/NR/rdonlyres/93C5F27C-E0CC-4284-84CB-89DDCF39457E/0/internetclaimform71504.pdf

and a second .pdf document is a FAQ or question and answer sheet about how to make a shingle or roofing product warranty claim to the CertainTeed Corporation - see http://www.certainteed.com/NR/rdonlyres/3564FD08-0533-4BA6-9B75-6AFE5832A145/0/WarrantyFAQs_2_.pdf .

[Original CertainTeed Roofing address we had on file was: 750 E. Swedesford Rd., Box 860, Valley Forge PA 19482 610-341-7000]
Elk Corporation contact information, for
Elk Shingle roofing shingle warranty claims,
14643 Dallas Pkwy, Ste 1000,
Dallas TX 75240-8871
214-851-0400.
Website: www.elkcorp.com
FireFree Roof Shakes: Re-Con roof tiles composed of 2/3 Portland Cement and 1/3 wood cellulose fiber crack, swell and discolor. Cass action settlement site: www.firefreeclaims.com. Details are discussed at MASONITE WOODRUF FIBERBOARD ROOFING
GAF contact information
GAF roofing shingle warranty claims,
1361 Alps Rd.,
Wayne NJ 07470
201-628-3000 - Technical Services & Guarantee Status Office 1-800-ROOF-411

GAF Warranty Service Department Tel: 1-800-458-1860

Current GAF Claims Status:

16 January 2013, Sourth Carolina federal judge (J. Michelle Childs) dismissed fraud and negligence claims (by Katheleen Erickson) but allowed warranty claims to survive. The Erickson suit has been consolidated with ten other related GAF roof shingle performace litigation actions concerning GAF's Timberline Ultra shingles that failed by cracking. See



Legal case citation: Erickson v. Building Materials Corp. of America, case No. 8:11-cv-03085, in the U.S. District Court for the District of South Carolina.

[See CRACKS in FIBERGLASS SHINGLES for examples of shingle cracking failure and an explanation of possible causes. ]

Note: at numerous legal services websites you will find reference to a potentaial GAF class action lawsuit alleging that GAF shingles manufactured at a GAF facility in Alabama failed prematurely by cracking. Timberline™ asphalt roof shingles produced by GAF are manufactured at multiple plants in the U.S. so we don't know if the product performs identically or differently depneding on where it was produced, when it was produced and according to other variables.

GAF class action settlement - call 800-414-4370 [NOW DEFUNCT] for more information or see the
GAF Class Action Lawsuit Settlement Website [ NOW DEFUNCT was at
http://www.gaf.com/settlement/ ]

Here are other GAF Roofing information links provided by GAF Corporation:
GAF Roof Shingle Case Citations [NOTICE: this is a partial listing and is included only to provide research into the types of roof single claims or failures that are presented. Similar citations may be obtained for other roofing manufacturers - Ed.]

Antz v. GAF Materials Corp., 719 A.2d 758 (Pa. Super. Ct. 1998).
BUILD. MATERIALS v. Allstate Ins., 38 A.3d 644, 424 N.J. Super. 448 (Super. Ct. App. Div. 2012).
Carr v. GAF, Inc., 711 So. 2d 802 (La. Ct. App. 1998) & Carr v. GAF, Inc., 721 So. 2d 472 (La. 1998).
Elk Corp. of Dallas v. GAF Bldg. Materials Corp., 168 F.3d 28 (Fed. Cir. 1999).
GAF Building Materials Corp. v. Elk Corp. of Dallas, 90 F.3d 479 (Fed. Cir. 1996).
HART ENGINEERING CORPORATION v. GAF BUILDING MATERIALS CORPORATION, 711 A.2d 649 (R.I. 1998).
Haysville USD No. 261 v. GAF Corp., 666 P.2d 192, 233 Kan. 635 (1983).
Mansfield v. GAF Corp., 364 N.E.2d 1292, 5 Mass. App. Ct. 551, 5 Mass. App. 551 (App. Ct. 1977).
School Bd. of Seminole County v. GAF Corp., 413 So. 2d 1208 (Fla. Dist. Ct. App. 1982).
State By Div. of Cons. Prot. v. GAF Corp., 760 P.2d 310 (Utah 1988).

Georgia-Pacific Corp. contact information, fiberglass and organic felt shingles.
Website: www.gp.com/build
Globe Building Materials contact information, for
Globe Shingle roofing shingle warranty claims,
2230 Indianapolis Blvd,
Whiting IN 46394
219-473-4500;

Globe Shingle appears to have disappeared from the roofing world before 2005; we have not had reports of successful warranty claims since that time;

however if your roofer knowingly installed Globe™ shingles after the company's shingle failure was well known, you might ask him/her what he/she is willing offer when re-roofing is needed. Some contractors will re-roof for the cost of the materials alone if they accept responsibility for the Globe shingle roof failure.

Also if the shingles were installed on a new home, depending on the U.S. state where the home is located, a new home warranty provision may apply.

Globe Building Materials, Inc. was manufacturer of asphalt and laminated roofing shingles from about 1934 to 2001.

In 2000 the company suffered financial difficulties and in January of 2001, Globe filed for Chapter 11 bankruptcy. In April 2001, Globe filed Chapter 7 bankruptcy. The lender was left with a large inventory of finished shingles as well as other assets and liabilities.

ARG, a company that assists corporations in financial trouble, assisted in closing out the bankruptcy, including managing the sale of more than 750,000 bundles (250,000 squares - a square is 100 sq. ft. of coverage) of Globe shingles.

However before, during, and after that time we and other researchers heard recurrent reports of Globe shingle defects and early product failures. While ARG considers the Globe shingle merchandising a financial success, it may be that that activity also dates the last sales of Globe roofing shingles to roughly 2001.


Hardi-Shake Roofing Class Action Lawsuit & Settlementcontact information,

HardiShake©, MaxiShake©, and Cemwood© produced by James Hardie Building Products (JHBP) and sold as lifetime roofing, were subject of a class action lawsuit for early roof wear or failures that appeared as softening, breaking, chipping, cracking, delaminating, or color changes.

This product series was made of a composite fiber cement shingle designed as a mixture of cement, sand, and wood-cellulose fibers.

On February 14, 2002, the Court granted final approval of the Settlement.

If you own or owned a home or structure with JHBP Roof Shakes, you may be entitled to file a claim for monetary compensation.

A proposed settlement has been reached in a class action lawsuit concerning roofing products manufactured or distributed by James Hardie Building Products, Inc. ("JHBP") under brand names such as HardiShake and HardiSlate, among others.

The settlement establishes a program by which claimants can recover the cost of roof replacement, under the terms of the Settlement Agreement. Please read the Court Ordered Notice and other materials available at this site explaining your rights including how to register to receive a Claim Form.

If you have additional questions, you may call 1-888-780-8579 or email hardieclaims@gardencitygroup.com

- Web Search 07/12/2010, original source http://www.hardieroofingclaims.com/

IKO contact information, Chicago, Inc., for IKO Shingle roofing shingle warranty claims,

IKO Roof Shingle Warranty Claims
6600 South Central Ave.,
Bedford Pk,
IL 60638 7
08-496-2800. Website: www.iko.com

Here is IKO's ROOFING SHINGLE WARRANTY and shingle damage claims document http://www.iko.com/shared/residential/warranties/USManWarr.pdf
We recommend first contacting the IKO company directly to ask for assistance and to give IKO an opportunity to respond if you believe that your shingles are defective.

At the Halunen & Associates law Firm website - http://www.ikoshingleslawsuit.com/ - is information about a class action filed against Iko in Michigan, New York, and New Jersey in 2009. We quote from their website:

"Halunen & Associates and partner law firms have initiated a class action lawsuit against IKO Manufacturing on behalf of consumers who have been affected by deteriorating, curling, or otherwise defective IKO shingles made by the company.

This case involves anyone who has previously owned, or currently owns, a home or other structure from 1987 through the present on which IKO Manufacturing shingles were installed.

We are seeking recovery of material costs and labor costs for the tear-off, removal and re-application of shingles for each member of the class. Our intent is to file this class action lawsuit, state by state, on an ongoing basis. We are still looking for plaintiffs from across the country to strengthen the case against IKO Manufacturing."
Malarkey Roofing contact information, 3131 N. Columbia Blvd., Portland OR 97217 503-283-1191
Masonite™ Woodruf Roofing Failures & Claims: See MASONITE WOODRUF FIBERBOARD ROOFING for details.
Owens-Corning Fiberglas contact information, for Owens Corning Shingle roofing shingle warranty claims, Fiberglass Tower, Toledo OH 43659 419-248-8000. To begin a roof shingle claim procedure, call 1-800-ROOFING, or visit the Owens Corning Website at www.owenscorning.com
Owens Corning, "Supreme Declaration of Performance", [PDF], Owens Corning Corporation,Op. Cit., retrieved 2017/07/21, original source: http://www.owenscorning.com/NetworkShare/Roofing/10022237-Supreme-Declaration-of-Performance---English.pdf
Owens Corning, "TruDefinition Declaration of Performance", [PDF] Owens Corning Corporation, Op. Cit., retrieved 2017/07/21, original source: http://www.owenscorning.com/NetworkShare/Roofing/10022241-TruDefinition-Duration-Declaration-of-Performance---English.pdf
PABCO Roofing contact information, for PABCO Shingle roofing shingle warranty claims, 1715 Thorne Rd., Tacoma WA 98241 206-272-0374
TAMKO Roofing contact information, for TAMCO Shingle roofing shingle warranty claims, 220 W. Fourth St., Joplin MO 64802 417-624-6644. Website: www.tamko.com
Intec/Permaglas contact information, for Intec Shingle roofing shingle warranty claims (some spelled it Intek Shingles), POB 2845, Port Arthur TX 77643 404-724-7024
NOTE: Some manufacturers may consolidate with others or may have ceased operation.
WOODRUF® ROOFING or MASONITE OMNIWOOD® Siding LAWSUIT SETTLEMENT NOTICE - PDF file
and see our article and photographs
at MASONITE WOODRUF FIBERBOARD ROOFING for details
Also see Phillips, Stephen M., "Asphalt Shingle Warranties: What to Expect", Professional Roofing, September 1996 pp. R8-R14 [PDF] retrieved 2017/08/04, National Roofing Contractors Association, 10255 W. Higgins Road Suite 600 Rosemont, IL 60018-5607 USA, Tel: (847) 299-9070 Website: http://www.nrca.net/, original source: http://docserver.nrca.net/technical/4455.pdf
How & Where to Report a Failing Asphalt Shingle Roof
Now at HOW TO REPORT SHINGLE FAILURES
List of Fiberboard & Fiber Cement Roof Shingle Warranty Claims Companies & Websites
Now at FIBERBOARD FIBER CEMENT SHINGLE CLAIMS SITES
...
Continue reading at HOW TO REPORT SHINGLE FAILURES or select a topic from closely-related articles below, or see our complete INDEX to RELATED ARTICLES below.
Or see ASPHALT SHINGLE FAILURE TYPES
Or see ROOF WARRANTY INSPECTION REPORT
Or see ROOFING MATERIALS TEST LABS
Or see WIND DAMAGE to ROOFS
Suggested citation for this web page
WARRANTIES for ROOF SHINGLES at InspectApedia.com - online encyclopedia of building & environmental inspection, testing, diagnosis, repair, & problem prevention advice.
Or use the SEARCH BOX found below to Ask a Question or Search InspectApedia
...
Frequently Asked Questions (FAQs)
Try the search box below or CONTACT US by email if you cannot find the answer you need at InspectApedia.
These questions & answers about roof shingle or roof covering warranties were posted originally at
Carl.

In 1995 Celotex was offering a 40-year warranty on their asphalt shingles (Phillips, Stephen M., "Asphalt Shingle Warranties: What to Expect", Professional Roofing, September 1996 pp. R8-R14 [PDF] - I'll add a link to that in the article above.

Celotex roofing operations were bought by CertainTeed corporation (itself a wholly owned subsidiary of Compagnie de Saint-Gobain of Paris ) in mid-2000. So you might want to contact that company to see if they're honoring older pre-acquisition Celotex roofing warranty claims. Unfortunately that move seems to have made locating older copies of older Celotex roofing shingle warranties difficult.

However I caution that if you have a roof that's within a few years of the end of its warranty, ehether it's 25 or 30, if your is a fee years from end of life, the value of the warranty to you if the roof is nearly or fully worn out is extremely low since normally it only covers the cost of the material in the first place - which is a smaller portion of the roof installation cost.

If that's the situation it's probably not worth a significant effort or expense to pursue it.

Furthermore, as you probably know from our articles on roof warranties if the manufacturer's representative finds errors or omissions in the roof installation, the warranty will be voided.

Would like to know how long the warranty was on celotex dimensoinal IV shadowband shake shingle from 1992. 25 yrs or 30 yrs

Have iko 25 roof shingles at 12 years are deteriatong cracking warping falling apart
Brien,

Publicly, the condition of the globe shingle manufacturer was known by 2001. But that certainly doesn't tell us when and if an individual roofer may have known of conditions at the company.nor of product issues.
To even imagine constructing a case to complain about an individual roofer I think you would have to show that the company already product failure claims for the same product they installed on your home before your work was begun
In what year were the defects on Globe asphalt shingles first "well known"?
I'm trying to find out if the roofer who installed mine did so after this date, basically knowing that he was installing faulty materials (which have now started to fail, 18 years into a 30-year roof).
Don't need a specific date, but if you have one, or a reference to where I can find it (I've searched the internet for references but no dice except for this site), it would be appreciated.
Charlene (and for other readers) Atlas Storm Mater Shake Shingles are an laminate-style asphalt roof shingle colored and shaded to resemble (somewhat) wood shake roofing. The shingle sport copper-coated mineral granules intended to improve algae resistance and the shingles are described as having impact resistance, perhaps improving resistance to hail damage.

Charlene: to permit a detailed reply along with quotes and source citations I have repeated your question and include our answer atBLISTERS on ASPHALT SHINGLES found at http://inspectapedia.com/roof/Asphalt_Shingle_Blister_Rash.php

Please take a look there and let me know what questions remain.

Also, use our page bottom CONTACT link to send me some sharp photos of the shingle blisters or other damage about which you have questions concerning your specific roof and we should be able to comment further. Photos of the blistering will show up best when lit from light at a low angle, or in early morning or later afternoon.
Close-up sharp photos are particlularly helpful. I'd also want to know if you are seeing differences in the pattern or occurrence of blistering or other damage varying by individual roof slope or different areas on your roof.
Is there a Class Action Law Suit against Atlas Storm Master Shake shingles? I bought mine in 2011 and now they are blistering and no one is willing to take care of the problem. They are Class 4. What can I do?
Re-posting

Harry said:
Thanks you guys!It's interesting a lot!If you are interested in roofing business you can read this article
Steel it and forget it--morning Ron
Question: roof algae aggravation
(June 17, 2011) Bill Wilson said:
This roof algae is widespread in East Texas yet no roofers advertise AR shingles. After seeing the warranties I can see why!
Reply:
Please see ALGAE STAINS on ROOFS
Regarding comment posted by CHalunen
The class action law firm [deleted] is investigating Tamko Building Products for a possible defective shingles lawsuit. We have received complaints that the product is falling apart, curling, delaminating, and showing excessive degranulation. If you have purchased shingle products from Tamko, including the Heritage shingle line, and are experiencing similar problems, please contact us at: ...
this appears to be advertising material - prohibited from posts at InspectApedia, as are links and other inappropriate material.
Question: looking for independent shingle testing lab
(Dec 20, 2012) DK said:
Need an independent lab to test poor shingle performance. The manufacturer may not say anything wrong with their prodeuct. Where can I send the shigles samples for performance.
Question:
(Apr 21, 2014) Diane said:
Tried to go to the GAF informtion and the link is broken. Also tried calling the 800.414.4370 number and got a recording unrelated to GAF.
Still looking for information on the GAF Timberline/Royal Sovereign settlement.
Question: GAF Sentinel Shingles failed after 8 years
(May 30, 2014) Charlene said:
GAF Sentinel shingles failed within 8 years. However the warranty only covers materials if you don't notify them that the shingles are defective within 3 years of installation.
How misleading is this? Who's going to peel back the shingles to determine if they are defective within 3 years?
Reply:
Charlene, I don't think that the warranty expects anyone to remove shingles to look for defects. The defect should appear on the exposed shingle surfaces or should show up as a roof leak.
...
Ask a Question or Search InspectApedia
Use the "Click to Show or Hide FAQs" link just above to see recently-posted questions, comments, replies, try the search box just below, or if you prefer, post a question or comment in the Comments box below and we will respond promptly.
Search the InspectApedia website
Technical Reviewers & References
Click to Show or Hide Citations & References
Eric Galow, Galow Homes, Lagrangeville, NY. Mr. Galow can be reached by email: ericgalow@gmail.com or by telephone: 914-474-6613. Mr. Galow specializes in residential construction including both new homes and repairs, renovations, and additions.
Mark Cramer Inspection Services Mark Cramer, Tampa Florida, Mr. Cramer is a past president of ASHI, the American Society of Home Inspectors and is a Florida home inspector and home inspection educator. Contact Mark Cramer at: 727-595-4211 mark@BestTampaInspector.com 11/06
Roger Hankey is principal of Hankey and Brown home inspectors, Eden Prairie, MN. Mr. Hankey is a past chairman of the ASHI Standards Committee. Mr. Hankey has served in other ASHI professional and leadership roles. Contact Roger Hankey at: 952 829-0044 - rhankey@hankeyandbrown.com. Mr. Hankey is a frequent contributor to InspectAPedia.com.
Arlene Puentes, an ASHI member and a licensed home inspector in Kingston, NY, and has served on ASHI national committees as well as HVASHI Chapter President. Ms. Puentes can be contacted at ap@octoberhome.com
Wikipedia provided background information about some topics discussed at this website provided this citation is also found in the same article along with a " retrieved on" date. NOTE: because Wikipedia entries are fluid and can be amended in real time, we cite the retrieval date of Wikipedia citations and we do not assert that the information found there is necessarily authoritative.
...
Books & Articles on Building & Environmental Inspection, Testing, Diagnosis, & Repair
Our recommended books about building & mechanical systems design, inspection, problem diagnosis, and repair, and about indoor environment and IAQ testing, diagnosis, and cleanup are at the InspectAPedia Bookstore. Also see our Book Reviews - InspectAPedia.
...