Design Guide & Choices of Countertops for Kitchens and Baths
COUNTERTOPS, KITCHEN & BATH - CONTENTS: Kitchen countertop design: material choices, installation, layout. Countertop Design Issues: what countertop attributes provide the most convenient, durable, and attractive work surface for kitchens and baths?Cleanup Advice for Countertops. Advice About High-Pressure (Plastic) Laminate Countertops. Edge Treatment Choices for Countertops. Cast Polymer (Cultured Marble, Engineered Stone) Countertop Guide. Guide to Cultured Marble Countertop Properties & Quality. Solid Surfacing Corian-type Countertop Guide. Recommendations for Using Engineered Stone Countertops. Guide to Choosing Ceramic Tile Countertops. Guide to Choosing Natural Stone Countertops: Granite, marble, soapstone, slate countertops
POST a QUESTION or READ FAQs about kitchen & bath countertops: choices, materials, properties, installation, maintenance, repair
InspectAPedia tolerates no conflicts of interest. We have no relationship with advertisers, products, or services discussed at this website.
Countertop choices for kitchens or baths:
Tthis article discusses the choices of kitchen countertops or bath countertop materials, including laminate countertops, cultured marble or engineered stone countertops, solid surfacing Corian type countertops, ceramic tile counters, and natural stone countertop choices among granite, marble, soapstone, slate.
We discuss the properties, pros and cons of each countertop type and material.
Green links show where you are. © Copyright 2017 InspectApedia.com, All Rights Reserved.
Design Guide & Choices for Countertops for Kitchens and Baths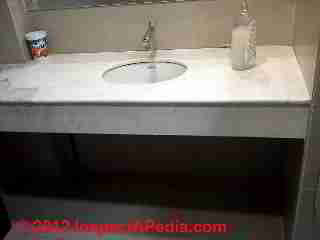 As detailed in Chapter 6 of Best Practices Guide to Residential Construction:
After the cabinets, the countertop is the most visible element in most kitchen and bath designs.
[Click to enlarge any image]
In addition to providing a visual focal point, durable and easy-to-clean counters are critical for both hygiene and efficiency.
These workhorse surfaces should resist scratching, knife cuts, and burns, be impervious to water and stains, and wipe clean with a sweep of the sponge.
Figure 6-46 below offers a table of popularity of various countertop surfaces.
[Click any image or table to see an enlarged version with additional detail, commentary & source citation.]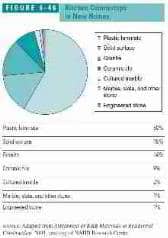 Below we illustrate a cultured marble bath countertop installed in a bathroom where, as you can see from the table at left, use of this material is more common than in kitchens..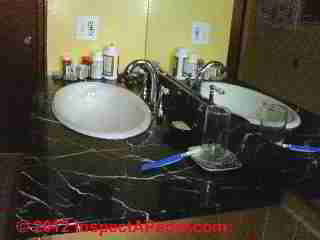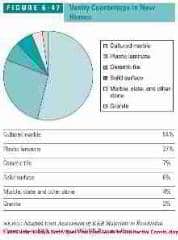 Nonporous surfaces like plastic laminate, solid surface, and engineered stone fit the bill well.
While plastic laminate still dominates the market based on its combination of good performance and low cost, both natural and manmade stone products now account for a substantial and growing share of the market (Figure 6-46 above and Figure 6-47 at left)..
Since no one product can meet every need in a home, it often makes sense to mix and match materials, particularly in the kitchen.
The main counter areas might be plastic laminate or solid surfacing with special sections using, for example, stone for baking, wood for a cutting board, and tile for a place to set hot pots.
The most common countertop materials and their characteristics are shown in Table 6-8 below. [Click to enlarge any image]
[Click any image or table to see an enlarged version with additional detail, commentary & source citation.]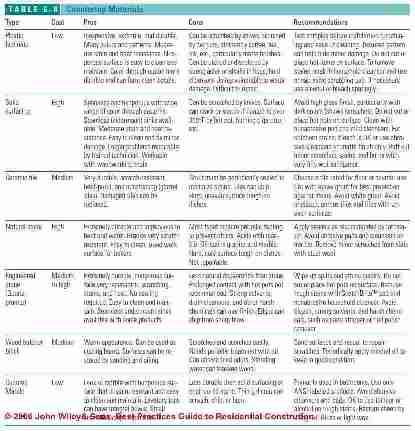 Countertop Design Issues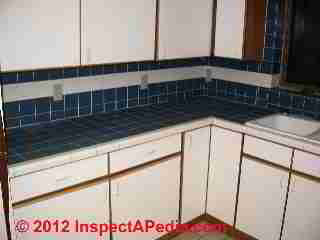 For ease of use and maintenance, a countertop will function best if it has the following characteristics:
A smooth surface that is nonporous, stain-resistant, and has minimal joints and seams. At left we illustrate a ceramic tile countertop. It may have seemed a good idea to Larry and Toby, the builders who installed this surface, but it was a bear to keep clean.
A flush or under mount sink that lets the homeowner easily sweep water and dirt into the sink.
A waterproof joint where the counter meets the backsplash and side splashes. Side splashes. should go wherever a counter end meets a wall or tall cabinet.
A coved corner at the backsplash makes this joint easier to keep clean.
In the kitchen: a no-burn area to set down hot pots.
In the bathroom: a raised dripless counter edge helps keep water contained near the sink.
Cleanup Advice for Countertops
For most customers, easy cleanup of countertops is a top priority. While most of the materials discussed below are at least moderately stain-resistant, the actual performance will vary, depending on the specific color, pattern, finish texture (gloss vs. matte), and porosity of the material. If possible, obtain samples of the materials being considered, with sealers applied if planned.
Mark each sample with a few stubborn stains: indelible marker, grape juice, salad oil. Let them dry for an hour and then see how easily they clean up with normal household cleansers and nonabrasive cleaning pads.
Advice About High-Pressure (Plastic) Laminate Countertops
Plastic laminate still dominates the market for kitchen counters, because it provides an attractive, durable surface at a cost of $5 to $10 per square foot versus $50 to $100 per square foot for solid surfacing or stone. The range of colors and textures continues to expand with new printing technologies that have produced realistic looking wood and stone surfaces.
Made from a sandwich of resin-impregnated kraft paper, a decorative paper layer, and a top layer of clear melamine fused under heat and pressure, plastic laminate is impervious to moisture and resists scratches, dents, and chips. It can be scratched with a knife, however, or scorched with a hot pot. Small chips can be repaired with special sealers, but scratches and burns are permanent.
Before selecting a countertop color, it is a good idea to test a few sample squares with an indelible marker to see how easily the marks clean off. Matte finishes stain much more readily than gloss, and there may be considerable variation from one pattern and finish to another. More expensive color through plastic laminates show wear less than the standard type, and they eliminate the dark band at exposed edges.
If using a postformed counter with a miter joint, it is essential to mechanically draw the joint tight and to seal that joint to prevent water intrusion, which will degrade the particleboard and open the joint. Silicone or special laminate seam sealer can be used.
Edge Treatment Choices for Countertops
There are now many alternatives to the traditional square edge that exposes the dark edge of the horizontal sheet of laminate. The least expensive is a postformed counter with either a seamless square edge or raised dripless edge. A wide variety of upgrades are available to dress up the counter. Beveled laminate, solid surfacing, and hardwood edging are common details. Site applied wood edging, however, can lead to problems over time if the joint is not watertight.
Cast Polymer (Cultured Marble, Engineered Stone) Countertop Guide
Cultured marble, solid surfacing, engineered stone, and most other composites used in kitchen and bath counters, sinks, and wall panels are different types of cast polymer. Cast polymer products consist of a plastic resin, either acrylic or polyester, and a mineral filler.
The type and amount of filler largely determines the hardness, stain resistance, and overall durability of the product. Cultured marble, for example, which uses crushed limestone as a filler, is relatively soft and porous and needs to be protected by a gel coat.
The new granite and quartz "engineered stone" composites, on the other hand, are nearly indestructible. These materials are described in greater detail below.
Guide to Cultured Marble Countertop Properties & Quality
Cultured marble has been produced since the 1960s. It combines ground-up marble dust with polyester resins and pigments to make a sheet material for use in kitchens and bathrooms, as well as fireplace surrounds and other ornamental applications.
Nearly all cultured marble products are finished with a thin clear or colored gel coat, which provides the color and pattern and creates a relatively hard and stain-resistant skin.
Quality varies widely, as there are hundreds of small-volume manufacturers around the country producing the material. Some of the lower-quality products have had problems with crazing (small cracks) in the gel coat around drains and other areas subjected to thermal shocks. High-quality products should carry a label certifying compliance with ANSI standard Z-124.
While cultured marble is stronger and less brittle than natural marble, it is less impact-resistant and scratch resistant than other cast polymers such as solid surfacing. The nonporous surface resists mildew and most stains and is easily cleaned with nonabrasive cleaning agents.
Cultured marble is commonly used for vanity tops with integral sinks, as well as shower and tub enclosures, but it is rarely used for kitchen counters. Scratches and small chips can be repaired using a special gel-coat compound available from the supplier, but cracks or breaks cannot be repaired. Since the gel coat provides the color and pattern, significant damage to the gel-coat cannot be repaired.
The sheen, however, can be restored with a thin coat of auto wax or Gel Gloss (TR Industries).
Because many of the light-colored products are translucent, they should always be installed on a light-colored background material with clear silicone adhesive.
Solid Surfacing Corian-type Countertop Guide
Initially introduced as Corrigan® by Dupont almost 40 years ago, solid surfacing products consist of mineral fillers, usually alumina trihydrate (a product of bauxite), and acrylic or polyester resins. Solid surfacing is a hard and durable homogenous material with color throughout and is easily machinable with woodworking tools.
It can be seamlessly welded to itself at joints and to under mount sinks made of the same material. This creates an attractive, continuous work surface that is easy to wipe clean. An economical veneer version, laminated over a particleboard substrate, is available from some manufacturers.
Because solid surfacing is nonporous, stains do not penetrate and it will not support mold or bacterial growth. Most stains can be wiped away with a nonabrasive pad and mild cleanser, although bleach is OK if needed. It also resists mild chemicals, but it should not be exposed for long to harsh chemicals, such as acetone or paint thinner. The alumina trihydrate filler also makes solid surfacing fire resistant, although it is possible to scorch the surface.
While relatively easy to scratch or stain, solid surfacing is easily repaired. Tough stains as well as minor scratches or burns can be buffed out of a matte finish with an abrasive cleanser and Scotch-Brite pad, or wet sanded with very fine sandpaper (start with 1000-grit and use coarser grits as needed). Most solid surfacing used on countertops has a matte-satin finish, which is the easiest to maintain. For a gloss finish, follow the recommendations of the manufacturer.
Recommendations for Using Engineered Stone Countertops
The newest class of cast polymer, sometimes called composite or engineered stone, uses a high percentage of quartz, quartz silica, and granite to produce a material with the hardness of natural stone and the easy maintenance of solid surfacing. Engineered stone typically has over 90% stone aggregate with just enough acrylic resin and binders to hold it together. Combined under heat and pressure, the resulting material is uniform throughout and has greater flexural strength than stone.
The nonporous surface is virtually stain-proof and very scratch-resistant, although it should not be used as a cutting board. Unlike natural stone, it does not require any sealing or waxing. Although it will not burn or scorch, placing hot pots directly on the surface can cause surface damage from the thermal shock.
Some manufacturers are able to add a seamless under mount solid-surface sink to the engineered stone slab, adding to the appeal of the material. Products include Silestone® (Cosentino USA), Zodiaq®, (Dupont), Cambria®, (Cambria), Technistone® (Technistone USA), Ceasarstone® (U.S. Quartz Products), and Granyte® (Halstead International).
Guide to Choosing Ceramic Tile Countertops
Ceramic tile is a popular countertop material in the West and Southwest. Its main advantages are high durability and imperviousness to heat and water. Glazed tiles will not stain, and tiles rated for use on floors and counters are very scratch resistant. Softer tiles are prone to chipping, but damaged tiles can be removed and replaced if necessary. Installing ceramic tile on one section of counter near the range can provide a handy place to set down hot pots and pans.
The main problem with tile counters are the grout joints, which tend to discolor over time. Using a latex modified grout and sealing the grout will help but will not prevent stains altogether. The best solution is to use an epoxy grout and to choose a dark or neutral grout color such as gray.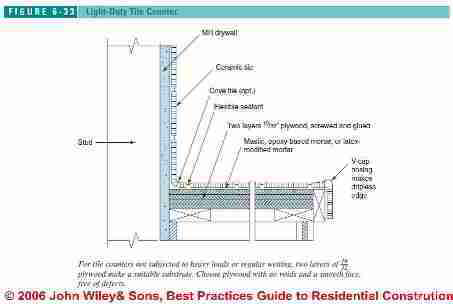 Lighter colors are generally OK on backsplashes and walls. Tile is also very hard and prone to breaking fragile glasses or dishes that strike it.
[Click any image or table to see an enlarged version with additional detail, commentary & source citation.]
Two details that will enhance a tile counter are a V-cap nosing tile, which will create a clean-looking dripless edge, and a coved corner at the backsplash, which will make it easier to keep the corner clean. Tile counter details are shown in Figure 6-33 above and Figure 6-35 below.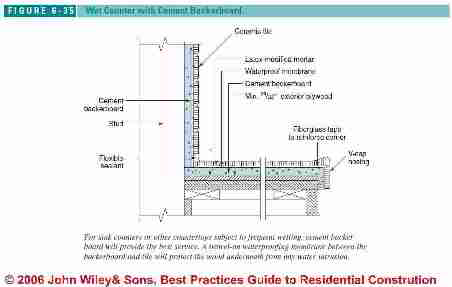 Figure 6-35
Guide to Choosing Natural Stone Countertops
Natural stone has become as popular as solid surfacing in the past few years as stone prices have dropped and finished stone slabs have become more widely available.
In general, natural stone is hard, heavy, and cold, and is unaffected by heat and water. Bakers like the cool, smooth surface for handling dough. Stain and scratch resistance varies with stone type, but all stones need some type of sealer to prevent staining. The most common choices are discussed below:
Granite countertop properties: Very hard and resistant to scratching or chipping. Takes high polish. Oil and grease may stain granite if not sealed.
Marble countertop properties: Acidic foods etch or dull surface. Porous surface absorbs oils, stains, and some odors if not sealed. Avoid abrasive pads or cleansers.
See MARBLE CLEANING METHODS
Soapstone countertop properties: Very dense and stain-resistant but relatively soft. Usually treated with mineral oil. Scratches can be sanded out.
Slate countertop properties: Very stain-resistant. May need sealers depending on quality of stone. Minor scratches can be buffed out with steel wool.

-- Adapted with permission from Best Practices Guide to Residential Construction.
This article describes common defects found at installed cabinets and countertops. This article series discusses current best design practices for kitchens and bathrooms, including layout, clearances, work space, and accessible kitchen and bathroom layout, clearances, turning space, grab bars, controls, etc. We include advice on choosing and installing kitchen countertops, cabinets, and kitchen or bathroom flooring, sinks, and other plumbing fixtures and fixture controls such as faucets.
...
Continue reading at CABINETS & COUNTERTOPS - home, or select a topic from closely-related articles below, or see our complete INDEX to RELATED ARTICLES below.
Or see BATH & KITCHEN DESIGN GUIDE - home
Or see CABINET DESIGN GUIDE, KITCHEN
Suggested citation for this web page
COUNTERTOPS, KITCHEN & BATH at InspectApedia.com - online encyclopedia of building & environmental inspection, testing, diagnosis, repair, & problem prevention advice.
Or use the SEARCH BOX found below to Ask a Question or Search InspectApedia
...
Frequently Asked Questions (FAQs)
Try the search box below or CONTACT US by email if you cannot find the answer you need at InspectApedia.
...
Ask a Question or Search InspectApedia
Questions & answers or comments about kitchen & bath countertops: choices, materials, properties, installation, maintenance, repair.
Use the "Click to Show or Hide FAQs" link just above to see recently-posted questions, comments, replies, try the search box just below, or if you prefer, post a question or comment in the Comments box below and we will respond promptly.
Search the InspectApedia website
Technical Reviewers & References
Click to Show or Hide Citations & References
Best Practices Guide to Residential Construction, by Steven Bliss. John Wiley & Sons, 2006. ISBN-10: 0471648361, ISBN-13: 978-0471648369, Hardcover: 320 pages, available from Amazon.com and also Wiley.com. See our book review of this publication.

Kitchen and Bath Product Manufacturers, Sources, Associations

Ceramic Tile-Setting Material Manufacturer List

Bonsal American www.bonsal.com Setting compounds, grouts, preformed shower pans, curbs, and niches. Also, distributor of backerboards, isolation membranes, and other tile-setting products

Color Caulk, div. of Roanoke Companies Group www.colorcaulk.com Color-matched caulking

Custom Building Products www.custombuildingproducts.com Elastomeric and liquid-applied membranes, self-leveling underlayments, setting compounds, and grouts

Laticrete International www.laticrete.com Trowel-on membranes, self-leveling underlayments, setting compounds, grouts, and sealants

Noble Company www.noblecompany.com CPE sheet membranes, trowel-on membranes, clamping ring drains, and preformed slopes, niches, and curbs

Mapei www.mapei.com Trowel-on and sheet membranes, self-leveling underlayments, setting compounds, grouts, and color-matched sanded caulks

Ceramic Tile Backerboard Producers

Custom Building Products www.custombuildingproducts.com Wonderboard cement backerboard, Easyboard cement and polystyrene lightweight backerboard, and Rhinoboard fiber-cement backerboard

Georgia-Pacific Gypsum www.gp.com/build Denshield gypboard backer with glass-matt facing

James Hardie Building Products www.jameshardie.com Fiber-cement backerboard

National Gypsum www.nationalgypsum.com Permabase lightweight cement and polystyrene backerboard

Schluter Systems www.schluter.com Kerdi tile membrane goes directly over drywall or other substrates

T. Clear Corp./Fin Pan Inc. www.finpan.com Util-A-Crete lightweight concrete backerboard

U.S. Gypsum www.usg.com Durock cement backerboard

W. R. Bonsal www.bonsal.com Extruded polystyrene backerboard with fiberglassreinforced cement facing

Cabinet Hardware Manufacturers List

Accuride International www.accuride.com Ball-bearing drawer slides

Amerock Corp. www.amerock.com Comprehensive catalog of cabinet hinges, pulls, slides, and accessories

Grass America www.grassusa.com Cup hinges, slides, shelf supports, and storage accessories

Hafele America www.hafeleamericas.com Cup hinges, ball-bearing slides, pulls, and KD connectors

Mepla Inc. www.mepla-alfit.com Cup hinges, ball-bearing slides, drawer systems, shelf supports, and KD connectors

Hettich America www.hettichamerica.com Cup hinges, ball-bearing drawer slides, shelf supports, and KD connectors

Plastic Laminate Countertop Manufacturers List

Abet Inc. www.abetlaminati.com

Arborite www.arborite.com

Formica Corp. www.formica.com

Nevamar Decorative Surfaces www.nevamar.com

Pionite Decorative Surfaces www.pionite.com

Wilsonart International www.wilsonart.com

Solid Surface Countertop Manufacturers

Avonite Surfaces www.avonite.com

Centura Solid Surfacing www.centurasolidsurface.com

Dupont www.corian.com

Formica Corp. www.formica.com Formica solid surfacing, formerly Surell and Fountainhead

Halstead International www.e-topstone.com Topstone solid surface distributor

Lippert Corp. www.lippertcorp.com

Sansung Staron www.getstaron.com Swanstone www.theswancorp.com

TFI www.tficorp.com

Transolid Inc. www.transolid.com

Wilsonart International www.wilsonart.com

Engineered Stone Countertop Manufacturers

Cambria www.cambriausa.com Cosantino USA www.silestoneusa.com

Dupont www.zodiaq.com

Halstead International www.halsteadintl.com Granyte distributor

Technistone USA www.technistoneusa.com

U.S. Quartz Products www.caesarstoneus.com

Jetted and Soaking Tubs Manufacturers

American Standard www.americanstandard-us.com

Aqua Glass Corp. www.aquaglass.com

Aquatic Industries www.aquaticwhirlpools.com

Bains Oceana Baths www.bainsoceaniabaths.com

Eljer Plumbingware www.eljer.com

Hydro Systems www.hydrosystem.com

Jacuzzi Whirlpool Baths www.jacuzzi.com

Kohler Co. www.kohler.com

Lasco Bathware www.lascobathware.com

Maax www.maax.com

MTI Whirlpools www.mtiwhirlpools.com

Bath Fan Manufacturers

American Aldes www.americanaldes.com Remote location single- and multi-port exhaust ventilators

Broan-Nutone LLC www.broan.com Low-sone Broan bath fans, also single- and multiport remote location exhaust ventilators; Nutone ceiling-mount bath fans

Fan Tech www.fantech.com Remote location inline-duct fans

Kanalflakt www.kanalflakt.com Remote location inline-duct fans

Marley Engineered Products www.marleymeh.com Ceiling-mount bath fans and general kitchen and room exhaust fans

Panasonic www.panasonic.ca/English/ventilationfans Low-sone, Energy-Star-compliant ceiling-mount, inline, and wall bath fans

Kitchen Exhaust Fan Companies

Amana www.amana.com Pop-up and traditional range hoods

Bosch www.boschappliances.com Chimney style, downdraft, and traditional range hoods, stainless steel and colors

Kitchenaid www.kitchenaid.com Retractable downdraft, slide out, island, and traditional range hoods

Broan-Nutone LLC www.nutone.com Nutone downdraft, island, and traditional range hoods

Dacor www.dacorappl.com Commercial-style, stainless-steel pop-up and overhead range hoods; hood liners for custom canopies

Gaggenau www.gaggenau.com/us Chimney-style, pop-up, slide-out, and island range hoods in stainless-steel, aluminum, and glass

Jenn Aire/Maytag Corp www.jennaire.com Pop-up, under-cabinet, wall, soffit, island, and fans and hood liners for custom canopies

Thermador www.thermador.com Updraft, downdraft, and island-range hoods

Wolf Appliance Co. www.wolfappliance.com Pop-up, chimney-style, wall, and island-range hoods in stainless steel



Books & Articles on Building & Environmental Inspection, Testing, Diagnosis, & Repair
Our recommended books about building & mechanical systems design, inspection, problem diagnosis, and repair, and about indoor environment and IAQ testing, diagnosis, and cleanup are at the InspectAPedia Bookstore. Also see our Book Reviews - InspectAPedia.
"The Elimination of Unsafe Guardrails, a Progress Report," Elliott O. Stephenson, Building Standards, March-April 1993
"Are Functional Handrails Within Our Grasp" Jake Pauls, Building Standards, January-February 1991
Access Ramp building codes:

UBC 1003.3.4.3
BOCA 1016.3
ADA 4.8.2
IBC 1010.2

Access Ramp Standards:

ADA (Americans with Disabilities Act), Public Law 101-336. 7/26/90 is very often cited by other sources for good design of stairs and ramps etc. even where disabled individuals are not the design target.
ANSI A117.4 Accessible and Usable buildings and Facilities (earlier version was incorporated into the ADA)
ASTM F 1637, Standard Practice for Safe Walking Surfaces, (Similar to the above standards)

America's Favorite Homes, mail-order catalogues as a guide to popular early 20th-century houses, Robert Schweitzer, Michael W.R. Davis, 1990, Wayne State University Press ISBN 0814320066 (may be available from Wayne State University Press)
American Plywood Association, APA, "Portland Manufacturing Company, No. 1, a series of monographs on the history of plywood manufacturing",Plywood Pioneers Association, 31 March, 1967, www.apawood.org
ASHRAE resource on dew point and wall condensation - see the ASHRAE Fundamentals Handbook, available in many libraries. The following three ASHRAE Handbooks are also available at the InspectAPedia bookstore in the third page of our Insulate-Ventilate section:
Best Practices Guide to Residential Construction, by Steven Bliss. John Wiley & Sons, 2006. ISBN-10: 0471648361, ISBN-13: 978-0471648369, Hardcover: 320 pages, available from Amazon.com and also Wiley.com. See our book review of this publication.
Building Research Council, BRC, nee Small Homes Council, SHC, School of Architecture, University of Illinois at Urbana-Champaign, brc.arch.uiuc.edu. "The Small Homes Council (our original name) was organized in 1944 during the war at the request of the President of the University of Illinois to consider the role of the university in meeting the demand for housing in the United States. Soldiers would be coming home after the war and would be needing good low-cost housing. ...  In 1993, the Council became part of the School of Architecture, and since then has been known as the School of Architecture-Building Research Council. ... The Council's researchers answered many critical questions that would affect the quality of the nation's housing stock.

How could homes be designed and built more efficiently?
What kinds of construction and production techniques worked well and which did not?
How did people use different kinds of spaces in their homes?
What roles did community planning, zoning, and interior design play in how neighborhoods worked

The Circular Staircase, Mary Roberts Rinehart
Energy Savers: Whole House Systems Approach to Energy Efficient Home Design [copy on file as /interiors/Whole_House_Energy_Efficiency_DOE.pdf ] - U.S. Department of Energy
"Energy Savers: Whole-House Supply Ventilation Systems [copy on file as /interiors/Energy_Savers_Whole-House_Supply_Vent.pdf ] - ", U.S. Department of Energy energysavers.gov/your_home/insulation_airsealing/index.cfm/mytopic=11880?print
"Energy Savers: Whole-House Exhaust Ventilation Systems [copy on file as /interiors/Energy_Savers_Whole-House_Exhaust.pdf ] - ", U.S. Department of Energy energysavers.gov/your_home/insulation_airsealing/index.cfm/mytopic=11870
"Energy Savers: Ventilation [copy on file as /interiors/Energy_Savers_Ventilation.pdf ] - ", U.S. Department of Energy
"Energy Savers: Natural Ventilation [copy on file as /interiors/Energy_Savers_Natural_Ventilation.pdf ] - ", U.S. Department of Energy
"Energy Savers: Energy Recovery Ventilation Systems [copy on file as /interiors/Energy_Savers_Energy_Recovery_Venting.pdf ] - ", U.S. Department of Energy energysavers.gov/your_home/insulation_airsealing/index.cfm/mytopic=11900
"Energy Savers: Detecting Air Leaks [copy on file as /interiors/Energy_Savers_Detect_Air_Leaks.pdf ] - ", U.S. Department of Energy
"Energy Savers: Air Sealing [copy on file as /interiors/Energy_Savers_Air_Sealing_1.pdf ] - ", U.S. Department of Energy
Gypsum Construction Guide, National Gypsum Corporation
Gypsum Construction Handbook [purchase at Amazon.com] H17, Technical Folder SA920 and PM2, PM3 and PM4, United States Gypsum Company, 125 South Franklin ST., PO Box 806278, Chicago, IL 60680-4124,
Humidity: What indoor humidity should we maintain in order to avoid a mold problem?
Ice Dam Leaks in building attics and roof cavities, how to inspect for evidence of leaks, identify causes, and
What Style Is It?: A Guide to American Architecture, Rev., John C. Poppeliers, S. Allen Chambers, Wiley; Rev Sub edition (October 6, 2003), ISBN-10: 0471250368, ISBN-13: 978-0471250364
...