Guide to Building Siding Types, Defects, Installation
Photos, descriptions, & properties of all types of building exterior wall sidings
InspectAPedia tolerates no conflicts of interest. We have no relationship with advertisers, products, or services discussed at this website.
Guide to building siding & wall claddings:
This guide to types of building siding includes photos and descriptions of each type of building siding, including photos helpful in recognizing various types of residential building siding materials and building exterior cladding systems.What's the difference between hardboard siding, fiber cement siding, and asbestos cement siding?
Is hardboard siding the same thing as fiber cement siding? Is steel siding better than aluminum siding? How long will vinyl siding last?
We define these terms and explain the differences here. We include links to detailed information about the installation, inspection, troubleshooting & repair of each siding type and where pertinent, links to health, environmental, and siding or failure warranty claim information about various building siding materials.
We also provide a MASTER INDEX to this topic, or you can try the page top or bottom SEARCH BOX as a quick way to find information you need.
Siding, Sheathing on Building Exteriors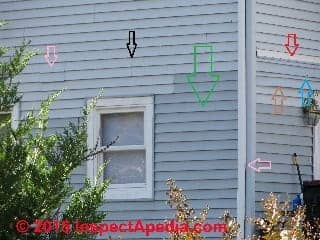 This page lists key articles discussing the installation, inspection, troubleshooting & repair of building siding & sheathing. We include photo guides to help identify various building exterior cladding or covering products.
To find what you need quickly, if you don't want to scroll through this index you are welcome to use the page top or bottom SEARCH BOX to search InspectApedia for specific articles and information.
[Click to enlarge any image]
Article Contents
The terrible vinyl siding job shown above is discussed in more detail at VINYL SIDING INSPECTION & REPAIR.
Aluminum Siding Identification Photos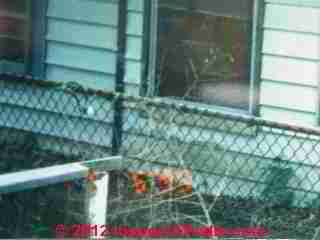 [Click to enlarge any image]
At above our photo illustrates buckled aluminum siding, a clue that there is hidden damage to the building sills and structure.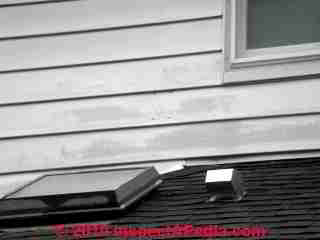 Above is 1960's vintage aluminum siding with surface coating loss.
See SIDING, ALUMINUM
Also see the additional photo and drawing guides to building architectural styles in the links listed at page top or at the MORE READING links at the bottom of this article see ARCHITECTURE & BUILDING COMPONENT ID for illustrations of building architectural types, roof shape, architectural features.
Also see AGE of a BUILDING, HOW to DETERMINE as well as individual building component links listed at the "More Reading" links at the bottom of this article .
Age and types of building windows and doors and related architectural features can be found at WINDOWS & DOORS, Age, Types.
Asbestos Cement Siding & Cement Board & Fiber Cement Siding Identification Photos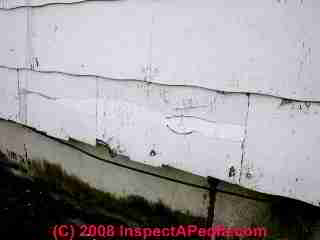 Exterior Siding & Roofing Using Asbestos Cement included asbestos cement shingles, asbestos cement siding, corrugated asbestos-cement roofing.
Other fiber cement materials used in construction included
Modern Cement Board & Non-Asbestos-Fiber Cement Products
Cement board is a non-structural building sheathing material which in its contemporary form is made from Portland cement covered with a reinforced fiberglass mesh fabric.
Cement board is used as a tile backer or a backer board for stucco applications on buildings. Current producers include Custom Building Products (WonderBoard™) and US Gypsum (Durock™).
Panels made of a mixture of cement and wood fibers are produced for building siding by James Hardi (Hardi-panel and Cemplank™), and CertainTeed (Weatherboard™).
Details about modern fiber cement siding (not an asbestos product) are organized at
Also see
History & dates in process, contributions invited - CONTACT us
Asphalt Shingle or Sheet Building Siding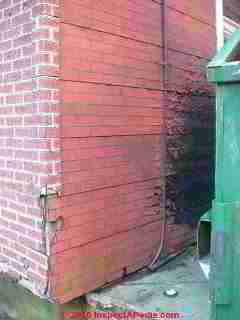 For detailed description and information about asphalt siding and asphalt shingle siding used on buildings see these articles:
Bamboo Exterior Walls & Siding
Bamboo is widely used for simple exterior walls as well as in roofing in tropical climates such as this building in southern Oxaca, Mexico. Typically, using galvanized wire, rope or string, the bamboo is placed vertically and laced to a horizontal beam in a simple framed wall.

Bark (tree bark) Used as Building Siding & Walls: Birchbark structures, Other bark structures & exteriors
Tree bark, both in heavy rigid form and in thinner or peeled-bark form such as birch bark, has been used as a building material probably since pre-historic times
. Use of some barks such as birch bark continue into contemporary time in a wide variety of applications ranging from wall enclosures to canoes to carrying vessels as we illustrate below.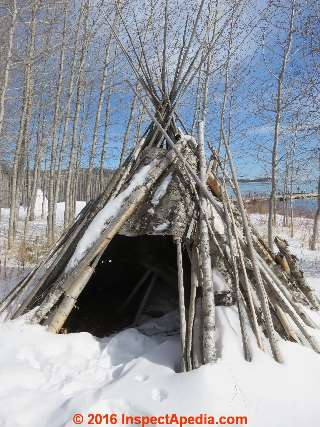 [Click to enlarge any image]
Above: a rough tipi type winter structure, incomplete, on display at the Grand Portage State Park, Grand Portage MN near High Falls Minnesota, the state's tallest waterfall offering a visual explanation of why for both native Americans and the voyageurs a portage was necessary in the first place.
Also see FABRIC & ANIMAL SKIN EXTERIORS for other tipi-like structures.
The Grand Portage State Park, managed by the Ojibwe tribe, includes a museum offering both life-sized models and smaller models of Ojibwe structures, canoes, baskets, tools and culture, some of which are included in our photographs below.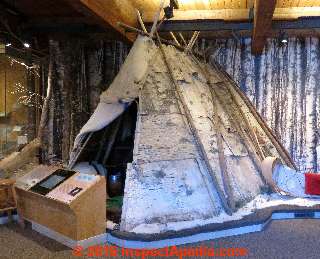 Above: in a rather posh indoor environment, this birch bark sided winter structure is on display in the Ojibwe museum at Grand Portage State Park. A detail of the birch bark structure is given in the photo just below.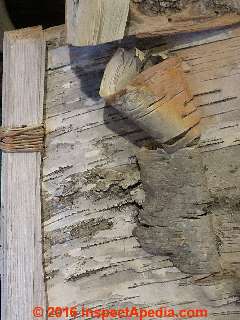 According to interpretive notes provided by the museum, winterers ("North Men" or "hivernants") from the North West Trading Company over-wintered and traded with native Americans who themselves hunted beaver and other furred animals and who prepared the hides for trading.
Below we reproduce one of the Grand Portage National Monument Heritage Center Museum's photographs of a much larger winter lodge built of birch bark.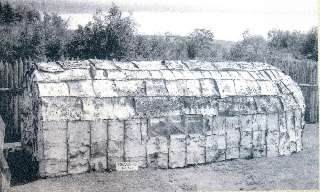 Grand Portage National Monument Heritage Center, Website: http://www.nps.gov/grpo/planyourvisit/grand-portage-national-monument-heritage-center.htm, Excerpts from the park's web page:
In 1958, the Grand Portage Band donated part of its land inside its reservation to the National Park Service to establish the site of the Grand Portage National Monument. ...

Norman Deschampe, the Grand Portage Band tribal chairman, and other tribal leaders thought a self-governance agreement might work at Grand Portage. However, it took almost five decades of negotiating and persuasion to convince the federal government and Congress to fully fund the visitor center which would be known as the Grand Portage National Monument Heritage Center. ... N

orman Deschampe, the Grand Portage Band tribal chairman, and other tribal leaders thought a self-governance agreement might work at Grand Portage. ... The Grand Portage National Monument Heritage Center opened on August 10, 2007 with a commitment to honor the area's history, people and culture. The 16,600-square-foot, $4 million building is located on a rocky hill overlooking the reconstructed fur-trading post.

It features pine pillars that rise from the basement to the roofs pointing out the Four Cardinal Directions important in Ojibwe culture. The building houses exhibit galleries about Ojibwe culture and the fur trade, a bookstore, multi-media programs, park offices, archives and a classroom.

Grand Portage State Park, 9393 East Highway 61 Grand Portage, MN 55605 tel: 218-475-2360 fax: 218-475-2365 email: grandportage.statepark@state.mn.us Website: http://www.dnr.state.mn.us/state_parks/grand_portage/index.html
Back in the Eastern United States, and illustrated below, tree bark is shown as used on some traditional native american structures demonstrated in this shed located in Cooperstown, NY.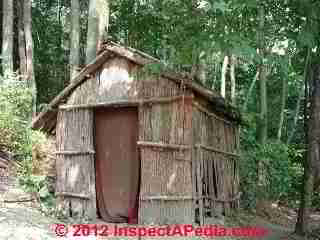 Brick & Stone Veneer Building Exteriors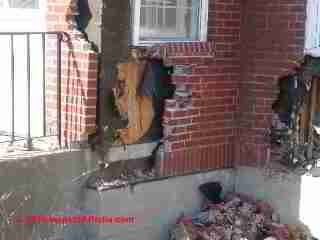 For detailed description and information about both structural brick walls and brick veneer walls (photo at left) used used on buildings see these articles:

EIFS Synthetic Stucco System Building Exteriors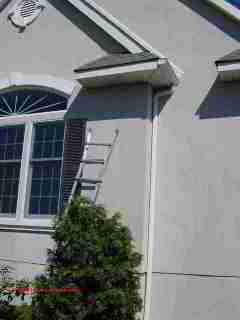 For detailed description and information about EIFS & synthetic stucco products used on buildings see these articles:
Fabric & Animal Skin Sided Structures: Tipis
Animal skins and fabrics (canvas, cotton, and other mateirals) have been used for thousands of years to enclose both temporary and longer-term use structures such as tents, tipis and lodges.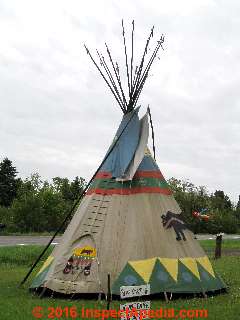 [Click to enlarge any image]
Above, a modern tipi sided with painted canvas, on display at the Silver Creek Gifts and Gallery gift shop near Two Harbors MN. Photo courtesy of owners Amy Church and Mark Klug.
Silver Creek Gifts and Gallery gift shop, 1825 Highway 61, Two Harbors MN 55616, Tel: 218-834-4995, Website: http://www.silvercreekgifts.com/ This property is currently (2016) for sale.
Also see BARK SIDING & EXTERIOR WALLS
Fiber Cement Siding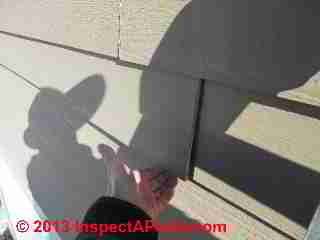 Fiber cement siding is produced from a mixture of cementious bonding material and wood fibers. Do not confuse this product with hardboard siding (wood fibers bonded by resin adhesive and heat/pressure SIDING HARDBOARD) nor with ASBESTOS CEMENT SIDING
What's the difference between hardboard siding and fiber cement siding?
We've seen that some, even among home inspectors, confuse hardboard siding, asbestos cement siding, and fiber cement siding.
Asbestos cement siding and similarly asbestos cement roof shingles are a hard, cementious building material made from cement and asbestos fibers as well as asbestos filler. This is a durable, very fire-resistant material that has proven long-lived, though fragile and vulnerable to mechanical damage. Asbestos dust hazards can be significant especially during demolition or cutting or grinding the material with power tools. Details are at
Fiber cement siding and similar fiber cement roof products are a hard, cementious material that uses (usually) wood fibers to add strength and body - replacing more hazardous asbestos fibers. There are however health warnings issued by the manufacturers and others concerning silica dust that might be created by the same mechanical means as we described for asbestos.

Fiber cement siding and roofing should have similar durability and fire resistance properties to asbestos-cement products. We've heard reports of "swelling" "rotting" etc. with fiber cement products but have not found hard evidence - possibly the reporters were confusing their materials.
Hardboard siding was made from wood fibers and wood products using a combination of binding resins, heat, and pressure.
Hardboard Siding Identification Photos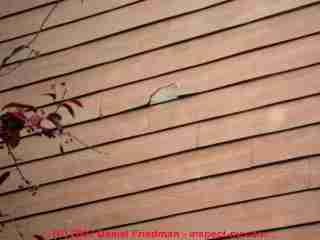 For details about all brands of hardboard siding and siding failure claims information see
and also see
Steel Building Siding
Below: corrugated steel siding on a medical center in Oxaca, Mexico. This building, located in the highlands above Pluma de Hidalgo, serves as a medical center.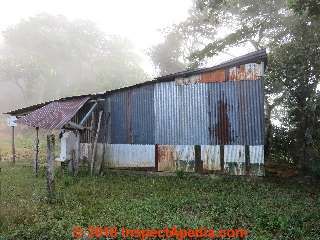 Photos and steel siding specifications wanted (contact us)
Below: corrugated steel siding on a commercial storage building in Poughkeepsie, New York. This building is viewed from the Poughkeepsie Rail Trail near the railroad bridge. Located in a climate of nearly opposite properties to the Oxacan building shown above, this building and the one above both have been in place for at least 30 years.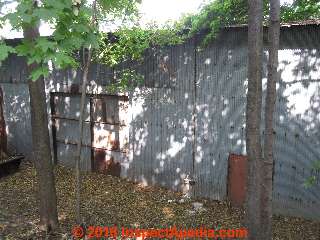 See SIDING STEEL for additional information.
Vinyl Siding Identification Photos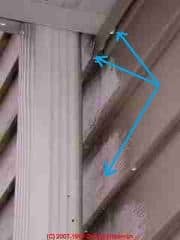 For a detailed description of vinyl building siding, its properties, proper installation methods, and effects of vinyl building products on odors or health questions see these articles:
Wood Siding Identification Photos: clapboards, board & batten, plywood, T111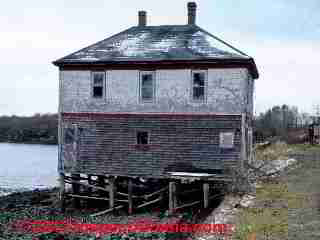 For description of all types of wood siding products on building exteriors see
We discuss plywood siding, T111 siding, wood shingle siding, board and batten siding and similar approaches to cladding the building exterior.
Index to Key Bbuilding Siding Articles
Additional building exterior siding articles are listed here:
SIDING, ASBESTOS CEMENT - Asbestos fiber & asbestos cement shingle siding: popularity declined with the rise in popularity of aluminum siding in the U.S. in the 1950's.

That article provides asbestos cement siding & roofing identification, photos, replacement materials, safety recommendations, disposal issues
SIDING, ALUMINUM - (also see this PHOTO of ALUMINUM SIDING, installed in the 1960's, showing siding installed over peeling painted clapboard, siding backer board details).

Aluminum & steel building siding - popular in the U.S. 1940's - 1970's. Because of the large amounts of energy used to produce aluminum siding and increasing raw materials costs, aluminum siding declined in popularity in the U.S. in the 1970's.

Aluminum siding, produced from aluminum coil stock and painted in a wide variety of colors, provided a durable exterior building cladding that resisted rust and rot. See SIDING, ALUMINUM for details.

Watch out: some versions of aluminum siding included a paint coating that weathered, chalked, and even washed off entirely, leaving a bare aluminum surface. With careful surface preparation and selection of a paint recommended by its manufacturer for aluminum siding, it is possible to re-paint weathered aluminum siding - of course we then have converted a "no maintenance" material into one that will require occasional repainting.
SIDING ASPHALT SHINGLE or SHEET - Asphalt shingle siding and asphalt sheet siding

(PHOTO of ASPHALT SIDING, Coolidge Hotel, White River Junction, VT). Asphalt siding: materials similar to asphalt roof shingles, used as building siding, designed to resemble brick, wood, or other materials, popular from ca 1930 - 1955.

See SIDING ASPHALT SHINGLE or SHEET
Brick building exteriors: structural brick walls & brick veneers, see BRICK FOUNDATIONS & WALLS and see BRICK VENEER WALLS, and also BRICK LINED WALL CAVITIES
Composite wood siding - Masonite, Woodruf, and other brands - see hardboard siding just below.
SIDING HARDBOARD - Hardboard building siding: Abatibi, ABTCO, Boise Cascade, Forestex, Georgia Pacific, James Hardie & Hardieplank, Jefferson Fmurfit, Louisiana Pacific, LP, Masonite, Shakertown, Sorbilite, Stimpson Fortex, Temple Inland, Weyerhaeuser, Wervallit, Wolverine: siding failures, inspections, class actions.
SIDING EIFS & STUCCO building wall cladding installation defects, leaks, damage, class actions - links list;

EIFS SYNTHETIC STUCCO PHOTO
LOG HOME CONSTRUCTION: SOLID LOG CONSTRUCTION vs. SLAB LOG CABIN SIDING - these are very different types of construction, don't confuse them.

Also see ANTIQUE & OLD LOG CABINS

and VERTICAL LOG WALLS ON CABINS & HOMES.
PAINT FAILURE DIAGNOSIS - extensive library of how-to articles on diagnosing and preventing paint problems on buildings and in art conservation
Plaster/cement horsehair lath siding - see CEILINGS & WALLS, PLASTER TYPES
Sawn clapboard siding - see SIDING WOOD, FAILURES OVER FOAM BOARD

and also see PAINT FAILURES
SIDING STEEL - Steel building siding was sold based on advantages similar to aluminum siding (see Aluminum siding) but with disadvantages of heavier weight, more difficult to install (harder to cut and trim), and vulnerable to rust. Steel siding was never as popular in North America as aluminum nor its later replacement - vinyl.
Stucco siding on building exteriors: Horsehair mixed with plaster or cement for building exterior wall covering,
also see SIDING EIFS STUCCO.

Also see STUCCO OVER FOAM INSULATION - choices of insulation and support for stucco over foam insulation over masonry walls
Synthetic stucco siding, EIFS wall cladding - see SIDING EIFS & STUCCO
VAPOR BARRIERS - Vapor barriers: history of use of housewrap and vapor barriers; vapor barrier types:
SIDING VINYL - Vinyl siding:

PVC based vinyl siding was introduced in the U.S. in the 1950's and 60's, began to overtake aluminum siding for building exterior wall coverings in the 1970's and by the 1980's was the dominant exterior siding material on residential structures in the U.S. for both new construction and for remodeling.

The cost of covering a building exterior with vinyl siding was competitive with a properly executed exterior paint job, and the result more durable.

Vinyl Siding, includes review & comments about moisture & vapor barriers. Vinyl siding is popular in part because it is lightweight and easy to work with, easy to cut, trim, and install.

Watch out: early vinyl siding suffered from weathering, cracking, impact damage, and buckling from heating. While modern vinyl siding products are very durable, impact and dent and weather resistant, the material will still buckle if it is not properly installed (nailed too tightly to the building).

Also see
SIDING WOOD, FAILURES OVER FOAM BOARD - Wood shingle siding:

and also see PAINT FAILURES
At Field Guides to North American House Architecture we list (and you can buy at Amazon) books we have found particularly helpful in identifying architectural styles, including: as this more extensive list of architectural styles: Folk Houses, Native American Houses (U.S.), Pre-Railroad houses, National Architectural Styles (U.S.), Colonial Houses (1600-1820), Post medieval English, Dutch Colonial, French Colonial, Spanish Colonial, Georgian, Adam, Early Classical Revival, Romantic Houses (1820-1880), Greek Revival style architecture, Gothic Revival style architecture, Italianate style architecture, Exotic Revivals style architecture, Octagon houses, Victorian style architecture Houses (1860-1900), Second Empire style architecture, Stick style architecture, Queen Anne style architecture, Shingle style architecture, Richardsonian Romanesque style architecture, Folk Victorian style architecture, Eclectic Houses (1880-1940), Anglo-American style architecture, English style architecture, and French Period Houses, Colonial Revival style architecture, Neoclassical style architecture, Tudor style architecture, Chateauesque style architecture, Beaux Arts style architecture, French Eclectic style architecture, Mediterranean Period Houses style architecture, Italian Renaissance style architecture, Mission style architecture, Spanish Eclectic style architecture, Monterey style architecture, Pueblo Revival style architecture, Modern Houses including Prairie style architecture, Craftsman style architecture, Modernistic style architecture, International style architecture, and American Houses Since 1940: Modern style architecture & Neoeclectic style architecture as well as unusual houses such as MONGOLIAN CLOUD HOUSES (photo, Kuehn) and UNDERGROUND HOUSES (photo, Roy).
...
Continue reading at HOUSEWRAP / SHEATHING WRAP or select a topic from closely-related articles below, or see our complete INDEX to RELATED ARTICLES below.
Or see these
Siding Articles
Suggested citation for this web page
SIDING TYPES, INSTALLATION, DEFECTS at InspectApedia.com - online encyclopedia of building & environmental inspection, testing, diagnosis, repair, & problem prevention advice.
Or use the SEARCH BOX found below to Ask a Question or Search InspectApedia
...
Frequently Asked Questions (FAQs)
Try the search box below or CONTACT US by email if you cannot find the answer you need at InspectApedia.
...
Ask a Question or Search InspectApedia
Use the "Click to Show or Hide FAQs" link just above to see recently-posted questions, comments, replies, try the search box just below, or if you prefer, post a question or comment in the Comments box below and we will respond promptly.
Search the InspectApedia website
Technical Reviewers & References
Click to Show or Hide Citations & References
...
Wikipedia provided background information about some topics discussed at this website provided this citation is also found in the same article along with a " retrieved on" date. Because Wikipedia and other website entries can be amended in real time, we cite the retrieval date of such citations and we do not assert that the information found there is always authoritative.
Certainteed Weatherboard fiber cement siding and trim products - see certainteed.com/ or see certainteed.com/resources/sidingandtrimspecsheet.pdf
Vassar College Architecture, Main Building, James Renwick, Jr., architect, William Harloe, builder, Second Empire style, http://vcencyclopedia.vassar.edu/buildings-grounds/buildings/main-building/
Vassar College, Maryann Bruno, Elizabeth A. Daniels, Arcadia 2001 ISBN 0-7385-0454-8
Vassar College, The Campus Guide, an Architectural Tour, Karen Van Lengen, Lisa Reilly, Princeton Architectural Press, 2004, ISBN 1-56898-349-2
Main to Mudd, and More, Elizabeth A. Daniels Poughkeepsie, NY, 1996.
Books & Articles on Building & Environmental Inspection, Testing, Diagnosis, & Repair
Our recommended books about building & mechanical systems design, inspection, problem diagnosis, and repair, and about indoor environment and IAQ testing, diagnosis, and cleanup are at the InspectAPedia Bookstore. Also see our Book Reviews - InspectAPedia.
"Weather-Resistive Barriers [copy on file as /interiors/Weather_Resistant_Barriers_DOE.pdf ] - ", how to select and install housewrap and other types of weather resistive barriers, U.S. DOE
...