James HardiePlank® Cement board Lap Siding

Installation, Troubleshooting, Repairs
JAMES HARDIEPLANK® FC SIDING - CONTENTS: Hardieplank® fiber cement board siding information & company contact data - James HardiePlank® stain coating failure case study
POST a QUESTION or READ FAQs about hardboard siding failures, claims, replacement, repair, painting, maintenance, James Hardie's HardiePlank
InspectAPedia tolerates no conflicts of interest. We have no relationship with advertisers, products, or services discussed at this website.
James HardiePlank™ cementboard siding product information.
This article describes the composition, installation, inspection & maintenance or repair of HardiePlank fiber cement board siding. We include discussion of complaints of paint or coating failures and shrinkage gap concerns.
On the James HardiePlank cement board siding shown at the top of this page stain was found flaking off of the siding - a subject of consumer complaint about this home located in central Nebraska. Building paper was installed below the siding, there was no evidence of delamination or water damage, and the siding was delivered to the builder (Wardcraft) already stained.
Green links show where you are. © Copyright 2017 InspectApedia.com, All Rights Reserved.
Green links show where you are. © Copyright 2017 InspectApedia.com, All Rights Reserved.
James HardiePlank Surface Coating Failure Investigation & Case History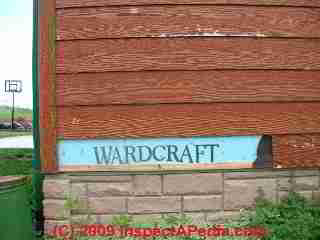 James HardiePlank™cement board siding is a cementious product that has been installed on more than 5 million homes.[10]
Reader Marie Carr provided the page top photograph along with the following case history (in 2008 & 2009) as part of a an investigation into the most-likely cause of a stain flaking problem observed on this building's siding. See PAINT FALURE, DIAGNOSIS, CURE, PREVENTION for a detailed paint and stain failure analysis guide.
We have James HardiePlank siding that was stained. When we tried to make a claim against the company, they indicated that they recommended their siding not be stained.
So then we are trying to make a claim against the company that stained the product, and they indicate that it was moisture in the board that is causing the siding to flake.
Article Series Contents
So as you can see, we are going in circles at this time. The stain company suggests we paint over the siding as a correction and we would like your opinion on that corrective measure. We would like an independent company determine, if possible, what is actually causing the siding to flake off.
We are looking for independent lab to test siding to see why stain is lifting from the cement board siding.
It is also spider web cracking. Here is the picture of the area we removed the siding from. We are not sure how the stain was applied.
From what we know, the siding was delivered to Wardcraft stained. We purchased additional siding from them when we completed our garage and it was wrapped with packing material between the pieces.
The home was assembled in doors at their factory in Minden, NE, siding was placed on the home there, for the most part in Feb 2005, with the remaining siding placed on the home once it was set at our site, March 2005.
The only siding that was put on the home at the site was the top peak on the north side. Weather, from what I can remember, was sunny. As I indicated, the siding was stained when they placed it on the home.
When we picked up the siding we bought for the garage from Wardcraft, we asked for some stain at that time, and they told us that we could use stain that we purchased from a local supplier, they didn't have any stain there.
Note: James HardiePlank™cement board siding is a cementious product that has been installed on more than 5 million homes.[10]
This material is NOT the same composition as hardboard siding products sold by Abatibi Corp, Masonite Corp., Boise Cascade, and Georgia Pacific Corp, all of which experience failures of delamination, swelling, softening, and general deterioration when exposed to water and weather, depending on the quality of installation, exterior coatings, and maintenance.
Also see SIDING, ASBESTOS CEMENT.

Typical Steps in Diagnosing & Curing HardiePlank™ or Other Cementious-Siding Flaking and Cracking Problems
We also want to inspect or otherwise see photos of all sides of the home, showing distant and closeup images of the failures. We want to know how the peeling varies by location.
We will also want to know the age and leak history of the home – any leaks of any kind that have ever occurred, and where water passed.

HardiePlank® siding instructions require that the surface be painted; they recommend a combination of factory primer and an acrylic topcoat. They are within their rights to object to coating with a stain.
Once a siding coating failure has been observed, we would not paint over the stain before we have some confidence that we know the cause of the failure, and further, that we have some assurance that the paint-over coating will bond with the surface adequately (special prep may be needed) and that it is chemically compatible with the existing stain. Else you may have a new failure.

A very careful collection of surface samples of peeling material as well as some tape samples of the surface right under where a fresh peeled stain has just come off might be diagnostic.
In the forensic laboratory we can examine, and dissect a short piece of siding that is representative of the failure. To examine a failure such as that described above we would need to study a sample in the lab using several methods including by stereo microscope.
Then we would need to prepare a sample of the peeled-off surface, collecting several samples of the peeling material. Those paint chip samples are then examined in cross-section forensically using high powered microscopy – that can tell us whether or not the stain was coming off due to moisture or from another cause.
The fee for that level of analysis was (2010) typically around $500. and of course includes a written report and photographic documentation as well as discussion if you have questions about the report and its findings.
A detailed examination of paint or stain thickness on the siding may tell us if the siding was sprayed, and if it was pre-coated before assembly on the home – that might explain, for example, why the stain is very thin on the upper ridges of the material and thicker between them in the simulated wood grain.
The company offers the following recommendation for paint maintenance:
Remove any damaged, chipped, or cracked paint. Prior to repainting make sure that the surface area is properly cleaned and prepared. Repaint immediately using 100% acrylic paint. Note: for best results please refer to your paint manufacturer's written specifications for application rates and required topcoats or refer to James Hardie's Technical Bulletin No. S-100. [14]
See PAINT FALURE, DIAGNOSIS, CURE, PREVENTION for a detailed series of diagnostic steps in paint or stain failure analysis.
If you have additional siding product failure examples or questions that are not found addressed at InspectAPedia.com you are welcome to CONTACT US to provide additional field photos or information that may assist others in identifying and repairing siding failures.
Current HardiePlank® Lap Siding Warranty Information
Currently (effective in 2011) the company notes that HardiePlank® lap siding comes with a 30-year non prorated, transferable, limited warranty. The company provides two different warranty documents depending on the product designation as HardiePlank® HZ5® or HZ10® Lap Siding. HZ5® describes HardiePlank siding installed in northern U.S. & Canada while HZ10® describes lap siding installed in the Southern portion of the U.S.
The following excerpt is from the HZ5 warranty (additional terms and conditions apply - see the company's complete warranty documents).:
James Hardie Building Products Inc. ("Hardie") warrants, for a period of thirty (30) years (the "Limited Warranty Period") from the date of purchase of Hardie Fiber-Cement HARDIEPLANK® HZ5®, HARDIEPANEL® HZ5®, HARDIESHINGLE® HZ5® and HARDIESOFFIT® HZ5® products (each, the "Product") for installation ...

within the U.S. (except Alaska), Puerto Rico and Canada (except Yukon Territory, Northwest Territories, Nunavut, New Foundland and Labrador, Nova Scotia, Prince Edward Island, and New Brunswick) that such purchased Product complies with ASTM C1186, will resist damage caused by hail or termite attacks, and is free from defects in material and workmanship. This Limited Warranty extends only to

(i) the first retail purchaser of the Product;

(ii) the first owner of the structure to which the Product is applied and

(iii) the first transferee (each a "Covered Person").- [11]
Siding installers should take careful note that the siding must have been stored, handled, and installed according to the company's instructions. Other exclusions include:
This Limited Warranty does not cover damage or defects resulting from or in any way attributable to:
(a) The improper storage, shipping, handling or installation of the Product, including, without limitation, failure of the Product to be installed in strict compliance with the Conditions of Limited Warranty set forth in Section 3 of this Limited Warranty and/ or improper installation of studs or other accessories);
(b) Further processing, modification or alteration of the Product after shipping from Hardie;
(c) Neglect, abuse, or misuse;
(d) Repair or alteration;
(e) Settlement or structural movement and/or movement of materials to which the Product is attached;
(f) Damage from incorrect design of the structure;
(g) Exceeding the maximum designed wind loads;
(h) Acts of God including, but not limited to, tornados, hurricanes, floods, earthquakes, severe weather or other natural phenomena, (including, but not limited to, unusual climate conditions);
(i) Efflorescence, peeling or performance of any third party paints, stains and/or coatings;
(j) Growth of mold, mildew, fungi, bacteria, or any organism on any surface of the Product (whether on the exposed or unexposed surfaces);
(k) Lack of proper maintenance. or
(l) Any cause other than defects in material and workmanship attributable to Hardie.- [11]
Building owners should take careful note that paint & coating failures, mold growth, problems due to lack of proper maintenance will void the warranty as may "repair or alteration".
Question: Requirement for housewrap in Hardieplank Installations?
Re-posting reader question rec'd by private email:
I have ask a few times on some of the websites with no answers. we were wondering what year the code is for having a house wrapped before using Hardy plank, and what kind of issues it can cause thru the years with no wrap. We are looking to buy a home built in 2004 in Eastern, Or. and just found out it wasn't wrapped.
We are very concerned now, and what should the sellers do now that it has been disclosed to us to make this right? Thank you, RJH 2016/10/14
Reply:
I've looked at this question and while I don't know specific dates of Oregon codes, at https://www.oregon.gov/bcd/codes-stand/Pages/adopted-codes.aspx you can find both current Oregon code and contact with the state's code authority who can answer technical questions about current and prior codes. It seems almost certain that in 2005 codes would have specified that the home must be built to the manufacturer's siding specs.
Installation guides for James Hardie's Hardieplank siding:
If you're asking in anticipation of a future dispute about building leaks blamed on the omission of the housewrap, I'm doubtful that "code" or "not code" is going to be sufficient to settle an argument about a home's use of housewrap.
James Hardie Hardieboard Fiber Cement Siding Class Action Information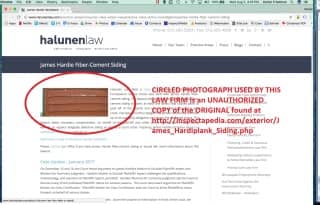 Several class action websites as well as the originator, Halunen Law, reported in 2013 having filed a a class action lawsuit against the company. Halunen can be reached at: 866-921-0029
Watch out: regrettably, the Halunen law firm's web page, as seen in this screen shot, used our photograph (shown at page top of this article) cropped to remove our © notice and taken without our permission.
Using that company's contact page form, we asked Halunen to remove our photograph from their website. - Editor 2017/08/0
The Hardieboard damages claim is described as an alleged premature failure of James Hardie fiber cement siding causing subsequent damage to the structure upon which the siding was installed.
[Click to enlarge any image]
Signs of failure are typically described as siding with a flaking or cracked surface, warping, or shrinking.
The claim continues that siding fails in these manners well before the company's 50-year warranty of no required maintenance. The complaint also asserts that these siding failures cause costly building damage by permitting leaks into the building structure.
Halunen reports in a January 2017 update that in-court arguments were made in December (presumably in December 2016) (court details not provided) and that the company is waiting for the court to rule.
See the amended James Hardieplank Siding complaint document provided by the Minnesota court: In re Hardieplank Fiber Cement Siding Litigation, Court File No. 12-md- 2359 (D. Minn.) [PDF] retrieved 2017/08/02, original source: http://www.mnd.uscourts.gov/MDL-HardiePlank/Orders/2013/Hardiplank-Amended-Complaint.pdf
What is the Actual Risk of Building Damage from Warped, Gapped, Loose Hardieplank Siding?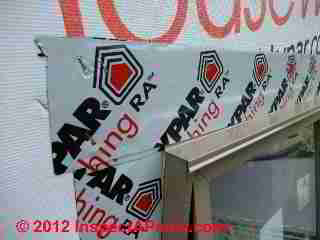 Excerpt from the complaint cited above, page 3 paragraph 6:
The Siding is susceptible to premature failure, causing damage to the underlying structures and property of Plaintiff by allowing water and moisture to penetrate into the structure.
How often will this water penetration "into the structure" occur and what sorts of damage will it cause?
Really? What is the actual vulnerability of buildings to the claim made above?
OPINION: There can be no question that siding that loses its exterior surface finish, color or texture or that warps and buckles is suffering a cosmetic failure. When these defects occur well before the promised life of the product that's at the least, disappointing.
But how likely is it that gaps or deteriorated Hardieplank siding (or any other siding) will result in leaks into the building structure and concomitant damage?
The answer is, it depends. Gaps and loose siding are defects that might result in actual loss of siding from the building but that's uncommon. More-likely is the development of openings that permit leaks behind the siding.
Some siding openings are normal, such as water entry at aluminum or vinyl siding bottom-edge vents.
Provided that in addition to the leak at an opening in siding there are accompanying errors, omissions or damage in or to the building's house wrap and/or in building flashing around windows, doors, or other locations or omissions of sealant where it is required then water indeed can enter the actual building structural wall cavity.
Without these additional defects, water that passes behind building exterior siding, cladding, or trim should be remain on top of the house-wrap and be directed down the wall to a point of exit at the wall bottom.
Sometimes that works. When it doesn't, then water can enter the building wall cavity at butt joints between building plywood or OSB or other sheathing.
See SIDING LEAK POINTS & CAUSES for a catalog of leak points in and through building siding.
See SIDING LEAK DIAGNOSIS & REPAIR for a complete discussion of siding leak causes, cures, prevention.
The peel-and-stick flashing membrane shown in my photo is discussed at PEEL & STICK FLASHING MEMBRANES.
See these examples of key materials that must be installed properly beneath most building siding products if air and water leaks and related damage are to be avoided.

James Hardie Company, Asbestos, Fiber Cement Siding, & History
As we also noted at SIDING HARDBOARD, that fiber cement building siding (like James Hardie Products (HardiePlank®)) may indeed be a more durable alternative to wood-fiber-based hardboard siding, but that some fiber-cement products have been the subject of extensive and recurrent product failures (gaps, shrinkage, warping) and class actions see AMERICAN CEMWOOD ROOFING.
James Hardie & Asbestos-Cement Product Claims - Fibro
James Hardie Building Products [more information at REFERENCES ] is a Melbourne Australia company founded in 1888. Hardie mined and distributed asbestos as well as asbestos-containing products including asbestos material referred to in some products as "Fibro" that ultimately led to significant litigation and mesothelioma claims. Hardie began labeling asbestos-containing products with a warning notice in 1978 and ceased using asbestos in its products in 1987.[2]
Hardie manufactured asbestos-cement building products (Hardie's Fibrolite Asbestos Cement Building Sheets" (until March 1987)) and other fiber cement products.
In Australia, driveways and garage floors of certain homes built in the 1970's contained asbestos waste from James Hardie.[1]
Also see Asbestos in Carpet Padding? at CARPETING & INDOOR AIR QUALITY for other asbestos materials from Hardie.
Thanks to reader Marie Carr for James HardiePlank siding photograph and case history information. 06/01/2008
What about CertainTeed WeatherBoard and other fiber cement siding product warranties?
Warranty information and installation specifications for CertainTeed fiber cement siding products are discussed separately at CERTAINTEED WeatherBoards™ and at SIDING, FIBER CEMENT.
Question: Where & When did James Hardie build his first U.S. manufacturing plant?
... I am now working on Fibre Cement History in the US.
I gathered quite a good lot of informations from different sources, but don't happen to find out when and where did JAMES HARDIE built his first plant in USA.
Could you help me without your lasting to much time searching ? - J.R. by private email, 2017/08/11
Reply: History of James Hardie Corporation & U.S. Plants & Facilities
At JAMES HARDIEPLANK® FC SIDING I discuss James Hardie and their hardieplank siding. Please take a look at the History section of that article "James Hardie Company, Asbestos, Fiber Cement Siding, & History" You'll see the company history goes back to 1888. The current James Hardie Industries posted before 2012 has now been updated to 2017.
We can often find additional historical details about the history of specific products or manufacturing methods by researching U.S. patent applications and then actually reading them to see what older patents they cite. You can do this for yourself using google scholar.
Or look at the James Hardie company's website for their own history at https://www.jameshardie.com/about-us/our-company though I didn't find that too helpful. You might just send the company an email inquiry or call their press and public relations offices, as I was not able to find a precise answer to the first year they produced fiber cement siding though the company gives years I'll cite next:
The company makes the interesting claim
In the mid-1980s, James Hardie invented fiber cement technology, and began designing and manufacturing a wide range of building products that utilized fiber cement's durability, versatility and strength.
The company entered the North American market in the early 1990s with the launch of its HardiePlank® lap siding product, which ignited a substantial shift in siding technology and product choice over the ensuing decades, according to Dave Donofrio, James Hardie Director of Products and Segments. - retrieved 2017/08/12, original source https://www.jameshardie.com/about-us/news/125th-anniversary-celebrating-founders-legacy
I think the company must be referring to their development of wood-fibre based fibre-cement products that replaced asbestos-fibre-cement products beginning in the 1980's.
At ASBESTOS CEMENT ROOF & SIDING HISTORY I point out that it was Hatschek who invented fiber cement technology much earlier, in 1907. James Hardie's developments in the 1980's are about seventy years later. Of course Hardie could rightly-claim to have modernized the process and to have used fibres other than asbestos at that time.
That page also refers you to CEMENT ASBESTOS PRODUCT MANUFACTURE where we have re-published Rosato's seminal work on the history of use of asbestos in many products.
Those pages don't specifically address the James Hardie corporation, but they do set an earliest-likely date for the manufacture of fiber cement products when the "fiber" was asbestos, given that the Hatschek machine was not invented until 1907.
At ASBESTOS CEMENT SIDING - home, I discuss the history of early fiber-cement (asbestos cement) bulding siding products.
Reader follow-up:
Thanks a lot for all those web sites and the time you spent to help me. I already knew most of them, I visited them newly and did not happen to find any list or map of the numerous plants of J.H. in the USA;

Reply: Curring Information about James Hardie Building Products
James Hardie Building Products is the $1.5B world-leader in Fiber Cement Siding. In the United States, we have operations in eight manufacturing plants, two regional offices and two research centers. - James Hardie reports on LinkedIn - https://www.linkedin.com/company/james-hardie-building-products
The company announced plans for a 9th plant in 2017 as I will report below.
This list of James Hardie manufacturing plants and other locations in the United States (excluding other countries for now) may be incomplete as it is based on the company's listing of job openings in August 2017; as there may be other locations where there are no jobs being filled, those locations will not be on the list of all U.S. James Hardie manufacturing plants, research laboratories, and other offices given below:
Atlanta, GA, US
Baltimore, MD, US
Charlotte, NC, US
Chicago, IL, US - Corporate Office
Cleburne, TX, US - Manufacturing (largest Southern facility) Interior & Exterior products, ColorPlus, Embossed Colonial, etc.
Dallas, TX, US
D.C, WA, US
Denver, CO, US
East Carolina, NC, US
Eugene, OR, US
Fontana, CA, US - Research Lab
Greensboro, NC, US
Houston, TX, US
Jacksonville, FL, US
Miami, FL, US
Mission Viejo, CA, US - Corporate Office (secondary according to Hardie thugh Bloomberg financial says that's their HQ)
Mobile, AL, US
Montgomery AL US - new plant plans announced 17 May 2017 - see http://www.madeinalabama.com/2017/05/alabama-recruited-more-than-14700-jobs-in-2016/
Naperville, IL, US - Corporate Office
None, AB, CA
Orange County, CA, US
Peru, IL, US, 61354 - Manufacturing interior & exterior fiber cement products
Phoenix, AZ, US
Plant City, FL, US - Manufacturing inteior & exterior fiber cement productgs eg HardiePlank
Pleasanton, CA, US
Pulaski, VA, US - Manufcturing Plant (largest) interior & exterior fiber cement products
Raleigh, NC, US
Reno, NV, US - Manufacturing Plant, producing HardieBacker & G2 Products, + excterior products Artisan V-Groove Reveal
Seattle, WA, US
Summerville, SC, US
Tacoma, WA, US - Manufacturing Plant, interior & exterior products - 120 items
Tampa, FL, US
Waxahachie, TX, US - Manufacturing Plant, interior & exterior fiber cement products including HardiePlank, HZ10, HardieSoffit
Wichita, KS, US
Above list of James Hardie Building Products Inc., manufacturing locations & other locations in the U.S. based on James Hardie job locations: (as of 2017 08 13) - retrieved 2017/08/13, original source: https://jameshardie.jobs2web.com/key/james-hardie-plant-locations.html?q=james+hardie+plant+locations&startrow=75
James Hardie operates in 10 locations in the United States, including corporate, manufacturing and research facilities. On top of that, field sales and marketing positions cover even more territory, building a very strong company community. - retrieved 2017/08/13, original source: http://www.jhcareercenter.com/Locations
James Hardie Building Products, Inc. manufactures fiber-cement building materials for new home construction and remodeling applications. Its products include sidings, lap sidings, vertical sidings, pre-cut panels, weather barriers, and cement boards.
The company serves homeowners, builders, and contractors in the United States and internationally. It offers its products through dealers. The company was founded in 1986 and is based in Mission Viejo, California.
It has manufacturing facilities in the United States, Australia, New Zealand, and the Philippines; and operations in Amsterdam. James Hardie Building Products, Inc. operates as a subsidiary of James Hardie Industries plc. - retrieved 2017/08/13, original source: https://www.bloomberg.com/research/stocks/private/snapshot.asp?privcapId=1597241
I hope this will be helpful. - Editor.
...
Continue reading at SIDING, FIBER CEMENT GAPS or select a topic from closely-related articles below, or see our complete INDEX to RELATED ARTICLES below.
Or see SIDING, FIBER CEMENT DEFECTS - home
Or see ASBESTOS & FIBER CEMENT ROOFING - home
Or see these
Fiber cement siding articles
Or see SIDING HARDBOARD
Suggested citation for this web page
JAMES HARDIEPLANK® FC SIDING at InspectApedia.com - online encyclopedia of building & environmental inspection, testing, diagnosis, repair, & problem prevention advice.
Or use the SEARCH BOX found below to Ask a Question or Search InspectApedia
...
Frequently Asked Questions (FAQs)
Try the search box below or CONTACT US by email if you cannot find the answer you need at InspectApedia.
Comment: owner unhappy with Hardiplank®
(July 23, 2011) Danny Page said:
I bought my 2 year old home in Summerville , sc.
The previous owner was a hardiplank rep. I have at least 30 cracked panels
On the corners , In the middle . Not even near a nail and it's cracked
I hate it!
Question: where to buy James Hardie products in Canada
(May 9, 2012) James Hardie Siding said:
where can I buy james Hardie stucco fiber cement panel siding in Ontario Canada
Reply:
James HS
Try contacting James Hardie directly to find your closest distributor:
1-888 J-HARDIE
1-888 542-7343 or by email to info@JamesHardie.com
Question: builder says no flashing needed under Hardiplank
(Sept 9, 2014) Colleen said:
I am thinking of buying a home on the Oregon coast that was built in 2008 (don't know the month). There is no flashing behind some gaps (up to 5/16ths in.)
in the siding. The builder says the moisture barrier is bullet proof (he used 15 lb. felt paper) and that flashing is not needed. Can you advise me. Thank you.
Reply:
Perhaps the builder can show you (and us) an authoritative source for his opinion. I think his installation is
1. not using modern housewrap materials
2. not in keeping with specificaitions from siding manufacturers that require flashing at windows, doors, and other penetrations
3. opinion not fact
Question:
(Oct 25, 2014) Anonymous said:
I found that Hardie cement products can shrink a lot. The 5/16 gap that you are seeing is larger than I have experienced, however the but joints should have been flashed with copper or some other metal that will not react with the cement product. I personally would never depend on the building wrap to prevent leaks. If you consider that water can get behind the siding due to the large openinig at the butt joints you can imagine that it is just a matter of time before there are problems.
Reply:
Thanks anon; there can be little question that the range of siding butt joint or end joint gaps will vary considerably in dimension depending on a wide range of conditions. S
See
Question: how high to start fiberboard or cement board siding over a slab
(Mar 31, 2015) Tim van der Pol said:
I have a question regarding how high to start installation of hardi siding over concrete slab, in order for it to be spaced and breath from the first coarse on up
Reply:
Tim maybe I need to see a sketch to see what you mean - see our CONTACT link at page bottom. We don't install siding on slabs. And if you meant that the bottom course of siding touches the slab, that too would be a poor practice in most climates.
Generally I like 6-8" minimum vertical clearance between the bottom edge of any siding and a patio, slab, deck, or the ground. More is better.
...
Ask a Question or Search InspectApedia
Use the "Click to Show or Hide FAQs" link just above to see recently-posted questions, comments, replies, try the search box just below, or if you prefer, post a question or comment in the Comments box below and we will respond promptly.
Search the InspectApedia website
Technical Reviewers & References
Click to Show or Hide Citations & References
James Hardie Fiber Cement Siding Best Practices, Appendix A, (2014) [PDF] available from James Hardie Corporation, 231 S. LaSalle St., Suite 2000

[1] "James Hardie's Mesothelioma and Asbestos Legacy Continues, 2009", web search 03/01/2011, www.survivingmesothelioma.com
[2] Killer Company, James Hardie Exposed, Matt Peacock, Harper Collins Australia, ISBN: 9780733325809; ISBN10: 0733325807
[3] " Anyone else have HardiePlank siding on their house?", Early Retirement.org online blog, retrieved 1/14/2013, original source: http://www.early-retirement.org/forums/f27/anyone-else-have- HardiePlank-siding-on-their-house-19475.html
[4] - DIY Chatroom, retrieved 1/17/2013, original source http://www.diychatroom.com/f2/ certainteed-weatherboard-vs-HardiePlank-4638/
[5] Certainteed Weatherboard fiber cement siding and trim products - see certainteed.com/ or see certainteed.com/resources/sidingandtrimspecsheet.pdf

[5a] "CertainTeed WeatherBoards™ Fiber Cement Siding Installation Manual", CertainTeed Corporation, 2012, CertainTeed Corporation, PO Box 880, Valley Forge PA 19482, Professional Help Line: 800-233-8990, Consumer Help Line: 800-782-8777, Website: Certainteed.com www.certainteed.com/resources/fc017.pdf retrieved 4/11/2013, [copy on file as Certainteed_Fiber_Cement_Siding_Install_fc017.pdf ]
[5b] "Certainteed WeatherBoards™ Fiber Cement Siding Best Practices for Effective Job Site Management", CertainTeed Corporation, retrieved 4/15/13 original source: www.certainteed.com Copy on file as Certainteed_FC_Handling Brochure-Contractor_FC063.pdf

[6] "Moisture Control in buildings: Putting Building Science in Green Building," Alex Wilson, Environmental Building News, Vol. 12. No. 5. [Good tutorial, "Moisture 101" outlining the physics of moisture movement in buildings and a good but incomplete list of general suggestions for moisture control - inadequate attention given to exterior conditions such as roof and surface drainage defects which are among the most-common sources of building moisture and water entry.--DJF]
[7] J. Tibbets, "Green Houses", NCBI, retrieved 1/17/2013, original source: http://www.ncbi.nlm.nih.gov/pmc/articles/PMC1469482/
[8] Gleeson et al, "Fiber Cement :Building Materials with Low Density Additives", U.S. Patent 8,182,606, B2 5/22/2012, [adding low volumes of volcanic ash & hollow ceramic microspheres to cellulose fiber-reinforced building materials.
[9] Thanks to reader Marie Carr for James HardiePlank siding photograph and case history information. 06/01/2008
[10] JamesHardie HardiePlank® Lap Siding information can be found at the company's web page on this material:
http://www.jameshardie.com/homeowner/products_siding_hardieplankLapSiding.py
[11] "30-Year Limited Warranty HardiePlank® HZ5® Lap Siding, HardiePanel® HZ5® Vertical Siding,
HardieShingle® HZ5® Siding, HardieSoffit® HZ5® Panels", 1-800-9-HARDIE
10901 Elm Avenue Fontana, CA 92337, retrieved 1/18/2013, original source: http://www.jameshardie.com/pdf/warranty/hz5.pdf [copy on file as Hardieplank_Warranty_hz5.pdf]
[12] James Hardie Building Products, James Hardie CustomerLink™ Service Centre, 10 Colquhoun Street, Rosehill NSW 2142, Tel: 13 1103, Outside Australia 61 2 8837 4709, Fax: 1 800 818 819. Hardie has operations in Australia, Asia, Canada, Europe, New Zealand, United States, and the Philippines. The company is a significant producer of fiber cement siding and backerboard. Email: info@JamesHardie.com and Website http://www.jameshardie.com/

JamesHardie Corporation, in the U.S. can be contacted at 26300 La Alameda, Suite 400, Mission Viejo, California 92691 - 1-888 J-HARDIE
1-888 542-7343 or by email to info@JamesHardie.com
[12b] "Technical Bulletin #9, Joint Flashing at Field Butt Joints", JamesHardie, retrieved 4/15/2013, original source: www.jameshardie.com, copy on file as James_Hardie_9-joint-flashing.pdf - quoting:
This Technical Bulletin is an explanation supporting the announcement made by James Hardie on September 8th, 2008 withdrawing its recommendation on the use of caulk at field butt joints for HardiePlank® lap siding.

[13] Instructions for application of HardiePlank lap siding can be found at http://www.jameshardie.com/homeowner/products_siding_hardieplankLapSiding.py?openTab=jsnavLink4
[14] "Homeowners Care and Maintenance Tips", 1-800-9-HARDIE
10901 Elm Avenue Fontana, CA 92337, included with product warranty information, retrieved 1/18/2013, original source: http://www.jameshardie.com/pdf/warranty/hz5.pdf [copy on file as Hardieplank_Warranty_hz5.pdf]
[15] "HardiePlank HZ5 Lap Siding Installation Requirements - Primed & Colorplus® Products",JamesHardie, November 2012, 1-800-9-HARDIE, 10901 Elm Avenue Fontana, CA 92337, retrieved 1/18/2013, original source: http://www.jameshardie.com/pdf/install/hardieplank-hz5.pdf, [copy on file as Hardieplank-hz5_Install.pdf]
[16] Technical Bulletin #9, Joint Flashing at Field Butt Joints, James Hardie corporation, retrieved 1/19/2013, original source: http://www.jameshardie.com/pdf/technical-bulletins/9-joint-flashing.pdf
[17] Technical Bulletin #17, Fastening Tips for HardiePlank® Lap Siding, James Hardie Corporation, retrieved 1/19/2013, original source: http://www.jameshardie.com/pdf/technical-bulletins/17 -fastening-tips-for%20-plank.pdf [copy on file]
[18] Technical Bulletin #8, Expansion Characteristics of James Hardie® Siding Products, James Hardie Corporation, retrieved 1/19/2013, original source: http://www.jameshardie.com/pdf/technical-bulletins/8-expansion-characteristics.pdf [copy on file]
[19] Eric Galow, Galow Homes, Lagrangeville, NY. Mr. Galow can be reached by email: ericgalow@gmail.com or by telephone: 914-474-6613. Mr. Galow specializes in residential construction including both new homes and repairs, renovations, and additions. Personal communication 3/20/2013.
Paint Handbook: testing, selection, application, troubleshooting, surface preparation, etc., Guy E. Weismantel, Ed., McGraw Hill Book Company, 1981, ISBN-10: 0070690618, ISBN-13: 978-0070690615, [Excellent but a bit obsolete paint theory and practice, also a bit light on field investigation methods, out of print, available used-DF]
How to select and apply the right paint or coating for any surface. The first major reference to help you choose the correct paint or other finish to do the job best on a particular surface exposed to a particular environment. Experts in the field give full advice on testing surface preparation, application, corrosion prevention, and troubleshooting. The handbook covers wood, metal, composites, and masonry, as well as marine applications and roof coatings. A ``must'' working tool for contractors, architects, engineers, specification writers, and paint dealers.
Paint and Surface Coatings, Theory and Practice, R. Lambourne & T.A. Strivens, Ed., Woodhead Publishing Ltd., William Andrew Publishing, 1999 ISBN 1-85573-348 X & 1-884207-73-1 [This is perhaps the leading reference on modern paints and coatings, but is a difficult text to obtain, and is a bit short on field investigation methods - DF]
Provides a comprehensive reference source for all those in the paint industry, paint manufacturers and raw materials suppliers, undergraduate and postgraduate students, and industrial paint users. R. Lambourne was in the Research Department at ICI Paints Division and the Industrial Colloid Advisory Group, Birstol University, UK.
Seeing Through Paintings, Physical Examination in Art Historical Studies, Andrea Kirsh, Rustin S. Levenson, Materials in Fine Arts, 2000 ISBN 99-051835 [ forensic science, technical reference, focused on art works - DF]
Sealants, Durability of Building Sealants (RILEM Proceedings), J.C. Beech, A.T. Wolf, Spon Press; illustrated edition (1995), ISBN-10: 0419210709, ISBN-13: 978-0419210702
This book presents the papers given at the RILEM Seminar held at the Building Research Establishment, Garston, UK in October 1994. The book provides an opportunity for researchers to review up-to-date progress towards the achievement of the objectives of the standardisation of laboratory techniques of sealants in the variety of service conditions to which they are exposed.
Staining, Prevention of Premature Staining in New buildings, Phil Parnham, Taylor & Francis; 1996, ISBN-10: 0419171304, ISBN-13: 978-0419171300
The appearance of ugly staining early in a buildings life, ruins an otherwise pleasing appearance, tarnishes the image of the owners and gives rise to costly refurbishment works. In this book Phil Parnham raises a number of questions that should be considered whenever a new building is being designed or built. These are: * why has staining become so prominent; * what causes premature staining; which parts of new buildings are likely to be affected; * how can it be avoided? By using a number of highly illustrated case studies, the author answers these questions and ends by suggesting measures that should be taken by all design and construction professionals to prevent premature staining.
"Weather-Resistive Barriers [copy on file as /interiors/Weather_Resistant_Barriers_DOE.pdf ] - ", how to select and install housewrap and other types of weather resistive barriers, U.S. DOE
Books & Articles on Building & Environmental Inspection, Testing, Diagnosis, & Repair
Our recommended books about building & mechanical systems design, inspection, problem diagnosis, and repair, and about indoor environment and IAQ testing, diagnosis, and cleanup are at the InspectAPedia Bookstore. Also see our Book Reviews - InspectAPedia.
...