How to Identify the Brand of Fiber Cement Siding
Photos, markings, dimensions, profiles, characteristic knots or fingerprints of FC siding
SIDING, FIBER CEMENT IDENTIFICATION - CONTENTS: how to identify fiber cement lap siding & other siding products using photographs, measurements, product stampings, markings, & dimensions
POST a QUESTION or READ FAQs about about the identification procedure for fiber cement siding products such as CertainTeed Weatherboard, James Hardie's HardiePlank, & other manufacturers of fiber cement lap siding.
InspectAPedia tolerates no conflicts of interest. We have no relationship with advertisers, products, or services discussed at this website.
Fiber cement siding identification photos & markings: here we explain how to identify the manufacturer, brand, or type of fiber cement siding installed on a building.
This article describes the characteristic embossed fingerprints of woodgrain or knots on some fiber cement siding products, the markings and stampings on others, and the dimensions or details on still others, all of which can help make a reliable identification ofjust what fiber cement siding product is installed.
We also summarize the differences among manufactured "lookalike" siding products such as asbestos cement siding, fiber cement siding, and hardboard siding - differences that can be confusing to many people.
Green links show where you are. © Copyright 2017 InspectApedia.com, All Rights Reserved.
How to Identify Fiber Cement Siding Products, Brands, Labels
Marie Carr provided photograph at below left along the product's identification from construction records. The siding finish concern is discussed at
Article Contents
Make Sure You Have Correctly Identified the Siding Material and Brand
Watch out: informal surveys we performed in 2012 and 2013 in which we reviewed the top 20 website discussing fiber cement siding failures or performance issues we found a lot of confusion: hardboard siding was mistaken for fiber cemetn siding, and people were also inclinied to assign a manufacturer's name to a product before it was positively identified.
On some of our own field investigations of siding installations in that same period we found that onsite "experts", even manufacturer's representatives were not much more helpful. Too oftne the onsite consultant confined himself to simply stating "that's not our product".
Note: James HardiePlank™cement board siding is a cementious product that has been installed on more than 5 million homes.[10] This material is NOT the same composition as hardboard siding products sold by Abatibi Corp, Masonite Corp., Boise Cascade, and Georgia Pacific Corp, all of which experience failures of delamination, swelling, softening, and general deterioration when exposed to water and weather, depending on the quality of installation, exterior coatings, and maintenance. (Also see SIDING, ASBESTOS CEMENT).
Below we illustrate a loose fiber cement siding problem discussed at SIDING, FIBER CEMENT DEFECTS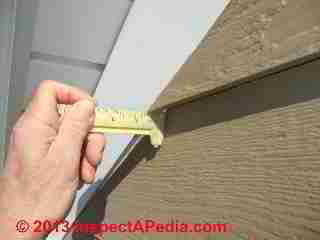 Unfortunately more nailing defects were apparent at the gable ends of the home where the lap siding abutted (or was supposed to abut) the gable end trim.
Left un-nailed the corners of most of these siding boards were curling away from the building. .
Consistent with our earlier warning that one bad turn suggests more are in store, even in a casual inspection we noticed other disappointing details on this home that was less than ten years old:
Rotted trim at windows and doors
Openings left un-sealed where mechanicals penetrated the building walls
Clogged non-functional weep holes in brick veneers
Improperly-constructed masonry patio and steps abutting wood siding and trim, settling, trip hazards, rot
How to Identify Brands of Fiber Cement Siding Products: Certainteed, JamesHardie, others.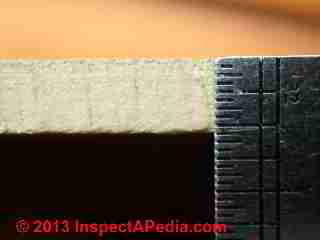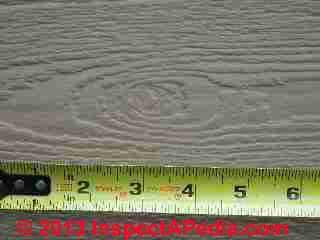 Unidentified Fiber Cement Siding Photos
At above right and again at below right is a photograph of a knot embossed in the siding at the home that whose fiber cement siding installation is illustrated beginning at SIDING, FIBER CEMENT DEFECTS. Comparing the characteristic wood grain "knot" pattern in our "unknown" brand siding (above right and below right) suggests that while the unknown product is not a CertainTeed siding product, it may be an imitation or effort at copying the CertainTeed marking shown at below left.
This siding was back primed but included no numbers or markings on its reverse side, of dimensions 8 1/4" wide by 9/32" thick with squared edges.
That detail rules out HardiePlank® as you'll read below. Our knot comparison, given next, seems to rule out Weatherboard.™
Identifying Details for CertainTeed® WeatherBoard™ fiber cement siding
At below left is a characteristic knot ID pattern from CertainTeed Weatherboard™ - on order to focus on the imprint pattern and not color, we shifted the hue to match that of the unidientifed product at below right. CertainTeed fiber cement lap siding will include an imprint on the reverse side, using numbers and letters including one of these three letter pairs: RR, TH or WC.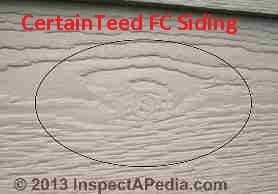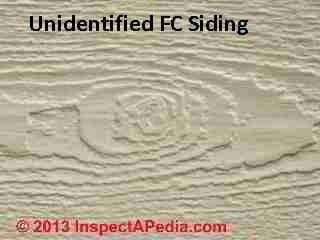 More about identifying CertainTeed fiber cement siding is just below at CERTAINTEED WeatherBoards identification markings.
On 3/20/2013 we learned that James Hardie has now told the homeowner of the mystery siding that the siding on their home is not Hardieplank. It appears that the mystery siding is also not a CertainTeed product.
Site visits to collect siding samples and to review conditions at the building were made during 2012 and 2013. Conversation with a Chinese fiber cement siding manufacturer who had contacted us with the exciting news that they had now come back into posession of molds to create woodgrain product.
Several people asked if it were not possible to compare woodgrain patterns as an identifying fingerprint for fiber cement lap siding products, as has been the case with similar products in the past. Well yes, and perhaps no or maybe. First, not all fiber cement products rely on an identifying wood-grain pattern or knot. For example HardiePlank fiber cement siding illustrated below is identified by other markings both embossed as a nail line or in data stamps on the product back side.
How to Identify CertainTeed® WeatherBoards™ fiber cement siding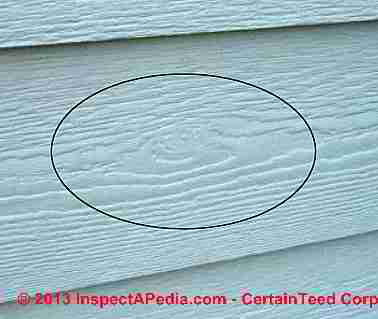 All CertainTeed fiber cement products can be easily identified by one of two means, both of which are accepted by the company when processing product warranty claims: [5c]
Product control and identification numbers imprinted on the reverse side of the fiber cement siding will always be present and will include one of these sets of initials:

TH (Terre Haute Plant)
WC (White City Plant)
RR (Roaring River Plant)

Unique fingerprint of wood grain in fiber cement siding: CertainTeed WeatherBoards are imprinted with a wood grain pattern that includes a characteristic knot recognizable in photographs as well as in siding samples.
Other Certainteed Weatherboard siding observations & characteristics:
Square cut board edges on standard lap siding products
Beaded edges on lower siding edge on some fiber cement lap siding products [see product images given below.
DuraPress® logo stamped on the back side of some Certainteed Weatherboard fiber cement siding.
Certainteed® DuraPress® stamp on fiber cement siding back

[Click to enlarge any image]
Comment: Characteristic Certainteed Embossed Knot on FC siding & DuraPress® stamp on siding back side
Don said:
The "Unidentified FC Siding" image at the top of SIDING, FIBER CEMENT IDENTIFICATION is the same as my house.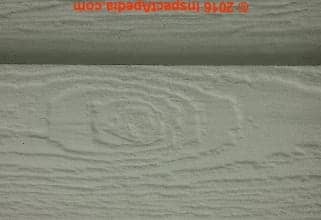 Above: Don's Siding flipped upside-down to ease the comparison with our page top FC Siding image (shown again just below). Look closely, these images are very similar but not identical. The unidentified FC siding has the knot closer to the middle of the board, and to the extent that it copied the original Certainteed product, it is reversed in several regards. We think that this "unidentified" product may be a different generation of Certainteed's FC siding or simply a copy of it.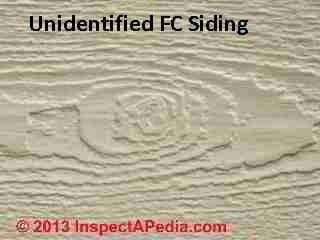 Below: a longer view of Don's Certainteed Weatherboard™ fibrer cement siding in proper orientation.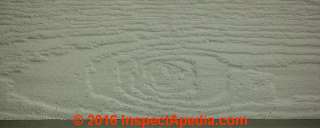 On the back side, it is stamped DuraPress. I found a Contractor guide published by Certaineed in 2001 & 2002 which talks about DuraPress as part WeatherBoard line - Can anyone confirm this? - private email from Don Anonymous 2016/08/15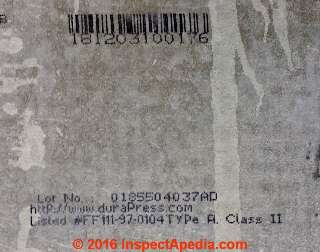 Reply:
Don's original comment included a link to a Certainteed document describing Certainteed Weatherboards™ Fibercement siding. Certainteed produced Weatherboard™ fiber cement siding in various colors and designs including lap siding in four designs, vertical panel siding in stucco, smooth, grooved and un-grooved cedar, soffit coverings, and in the company's "Shapes siding" panels are provided in a several lap shingle designs.
Here is a copy of the Certainteed document providing various siding images that can aid in identification of these products:
Don is quite correct that the DuraPress® grain definition is a Certainteed registered trademark. DuraPress® is a proprietary manufacturing process using the company's DesignMold™ plates providing embossed patterns such as wood grain. So if you find a DuraPress® stamp on the back of your fiber cement siding product then it's a Certainteed siding material. Quoting the company's brochure cited above:
CertainTeed's proprietary DuraPress® System of manufacturing gives WeatherBoards siding superior protection against the elements. And to further protect its beauty, WeatherBoards is available factory-sealed with the exclusive FiberTect™ Sealing System. Your home deserves the great looks and long-lasting durability of WeatherBoards siding, America's finest fiber cement siding. - Op. Cit.
Watch out:however we included the two images above because of confusion about this characteristic knot mark in Certainteed siding. The right-hand image is very similar to the "official" Certainteed knot mark but is an obverse. Look with care when making these comparisons and if you like use the page top or bottom CONTACT link to send photos for comment.
Watch out: the same name DuraPress, a registered Certainteed trademark is also occupied as a .com website by a domain name squatter. Avoid that site.
Examples of Certainteed DuraPress® embossed fiber cement siding products
[Click to enlarge any image]
Above and just below: Certainteed DuraPress® fiber cement siding from a 2001 product brochure cited earlier.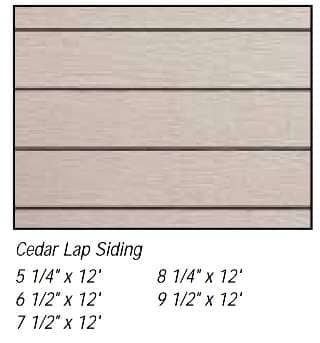 Below: Certainteed Weatherboard® DuraPress® fiber cement siding in wood-like shingle patterns.
...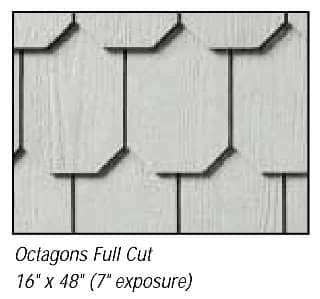 Below: Certainteed Weatherboard® DuraPress®-embossed fiber cement sheet siding in a stucco pattern.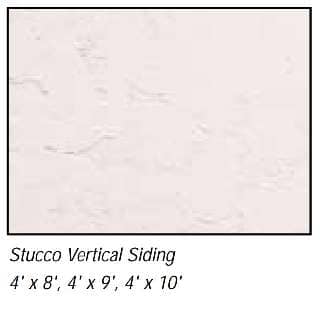 Certainteed Weatherboard Class Action Lawsuit Settlement Status
Class members: homeowners of a structure on which Certainteed Weatherboard FiberCement siding was installed on or before 30 September 2013, provided your siding shows "qualifying damage" as set forth in the settlement agreement
Settlement approved by the court: 20 March 2014
Claim Filing Deadline: 6 years from 20 March 2014
Certainteed Weatherboard Class Action Information Website: http://www.certainteedfibercementsettlement.com/
How to Identify James Hardie's HardiePlank® fiber cement siding
Look for the Nail Line on some HardiePlank® products
Our photo just below shows the nail line markings embossed into the upper edge of certain James Hardie HardiePlank® products. This marking was found on James Hardie's pre-finished Autumn Tan HZ5 Cedarmill Hardie ee fiber cement siding at the Galow Homes fiber cement replacement job we describe in this article series.

HardiePlank's hz5-canada brochure avilable from the company at www.jameshardie.com also includes a product photo (adapted at beow left and quite a bit blurrier than our own image) suggesting that one can identify the product by the James Hardie imprint along the nail line (which in blind nailed lap siding should be covered by the overlap of the succeeding siding course). [12c]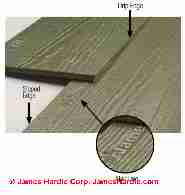 About the nail line on Hardieplank® FC siding, the company warns:
HardiePlank® HZ5® lap siding is manufactured with a nail line that should be used as a guide for proper nail placement when blind nailing. This nail line should not be used as a lap line. [12c]
This means you won't see this line on installed siding jobs unless you remove a section of the material.
While we searched in vain for a unique identifying knot or imprint photo online and at the company's website, nevertheless the company provides indirect assistance: you can send siding photos to their warranty claim office [if you think it's a Hardie product], or you can start by noticing that James Hardie's fiber cement product should be easily recognizable by
The imprint along the nail line (not present on all products).
Siding top edge is beveled or "sloped" in the company's parlance - a feature intended to help shed wind-blown water (see our photos just below).
The siding bottom edge profile is also cut to provide a drip edge (see our photos just below).
Fiber Cement Lap Siding Top & Bottom Edge Profiles Aid in Product Identification
Our photographs just below illustrate the top and bottom edge profiles of Hardieplank®HZ5® lap siding fiber cement product. These pictures were taken of siding still placed flat on the delivery pallet, rotated to their "installed" position, so the edge bevel and bottom drip edge profile may not be in the "installed" position on the building.
Additional Identifying Stamps on HardiePlank fiber cement siding back side
Our photographs below illustrate what are probably mill and lot identification stamps found on the back of some Hardieplank® HZ5® lap siding fiber cement boards.
Identify other Brands of Fiber Cement Siding
Cemplank www.cemplank.com Cemplank fiber-cement siding and trim
CertainTeed www.certainteed.com Fiber-cement lap siding as well as fiber cement vertical and shingle sidings, and soffits and trim including WeatherBoard™ fiber cement siding


Chinese-made fiberboard siding products (more than one manufacturer)
GAF Fiber Cement Siding Weatherside fiber-cement siding Website: www.gaf.com
James Hardie HardiePlank, Hardipanel, fiber-cement shingles Website: www.jameshardie.com

Also see Hardie's Fibrolite™ or Fibro where used in Australia and New Zealand.

Maxiplank and Maxipanel (North Pacific, 10200 SW Greenburg Rd. Portland, Oregon 97223 800.547.8440)
Nichiha Wall Systems www.n-usa.com Fiber-cement lap siding and simulated shakes, brick, and stone
Nichiha Fiber Cement, 6465 E Johns Crossing, Suite 250 Johns Creek, GA 30097, USA, Tel: 1.866.424.4421 or 770-805-9466 Fax: 770-805-946 , Website: http://www.nichiha.com/ Email: info@nichiha.com
How to Identify Fiber Cement Siding Produced in China
The illustration below is of a Chinese-made fiber cement siding product produced by Ningbo Yihe Greenboard Co., Ltd. While we have no specific complaint about this product, it and similar fiber-cement siding board products may add to difficulties in determining the origin and manufacture of various modern fiber-cement siding products.

The siding above is described by the Zhejiang manufacturer as having hese dimensions:
Standard board sizes are:1220mm x 2440mm or 1200mm x 2400mm; and the standard thickness varies from 6mm to 18mm; for other sizes or thickness, the company can also customize siding dimensions up to a maximum width of 1220mm & a maximum length is 3000mm.
Watch out: That fiber cement siding is available from a variety of sources is evident from the list given
in SIDING, FIBER CEMENT.
Identification of Chinese-Made Fiber Cement siding may be aided by this additional detail offered by the manufacturer: beginning in 2012, fiber cement siding from the supplier listed above is provided only with a smooth finish. The embossed wood grain patterns that were used before 2012 have, according to the manufacturer "been mostly destroyed".
In the spring of 2013 the company contacted us with this update
While,unfortunately,since last year we had already stopped producing the Fiber Cement Siding Boards in wood-grain pattern.Because,most of the moulding plate that are used for wood-grain embossing were broken. And now,we can only produce common Fiber Cement Siding Boards without wood-grain embossing.
We have asked for identifying markings and a siding fingerpring.
...
Continue reading at FIBER CEMENT PRODUCT MANUFACTURERS or select a topic from closely-related articles below, or see our complete INDEX to RELATED ARTICLES below.
Or see SIDING, FIBER CEMENT DEFECTS - home
Or see ASBESTOS & FIBER CEMENT ROOFING - home
Or see these
Fiber cement siding articles
Suggested citation for this web page
SIDING, FIBER CEMENT IDENTIFICATION at InspectApedia.com - online encyclopedia of building & environmental inspection, testing, diagnosis, repair, & problem prevention advice.
Or use the SEARCH BOX found below to Ask a Question or Search InspectApedia
...
Frequently Asked Questions (FAQs)
Try the search box below or CONTACT US by email if you cannot find the answer you need at InspectApedia.
Please see the fiber cement siding questions & answers at SIDING, FIBER CEMENT FAQs
...
Ask a Question or Search InspectApedia
Use the "Click to Show or Hide FAQs" link just above to see recently-posted questions, comments, replies, try the search box just below, or if you prefer, post a question or comment in the Comments box below and we will respond promptly.
Search the InspectApedia website
Technical Reviewers & References
Click to Show or Hide Citations & References
James Hardie Fiber Cement Siding Best Practices, Appendix A, (2014) [PDF] available from James Hardie Corporation, 231 S. LaSalle St., Suite 2000

[1] "James Hardie's Mesothelioma and Asbestos Legacy Continues, 2009", web search 03/01/2011, www.survivingmesothelioma.com
[2] Killer Company, James Hardie Exposed, Matt Peacock, Harper Collins Australia, ISBN: 9780733325809; ISBN10: 0733325807
[3] " Anyone else have HardiePlank siding on their house?", Early Retirement.org online blog, retrieved 1/14/2013, original source: http://www.early-retirement.org/forums/f27/anyone-else-have- HardiePlank-siding-on-their-house-19475.html
[4] - DIY Chatroom, retrieved 1/17/2013, original source http://www.diychatroom.com/f2/ certainteed-weatherboard-vs-HardiePlank-4638/
[5] Certainteed Weatherboard fiber cement siding and trim products - see certainteed.com/ or see certainteed.com/resources/sidingandtrimspecsheet.pdf

[5a] "CertainTeed WeatherBoards™ Fiber Cement Siding Installation Manual", CertainTeed Corporation, 2012, CertainTeed Corporation, PO Box 880, Valley Forge PA 19482, Professional Help Line: 800-233-8990, Consumer Help Line: 800-782-8777, Website: Certainteed.com www.certainteed.com/resources/fc017.pdf retrieved 4/11/2013, [copy on file as Certainteed_Fiber_Cement_Siding_Install_fc017.pdf ]
[5b] "Certainteed WeatherBoards™ Fiber Cement Siding Best Practices for Effective Job Site Management", CertainTeed Corporation, retrieved 4/15/13 original source: www.certainteed.com Copy on file as Certainteed_FC_Handling Brochure-Contractor_FC063.pdf

[6] "Moisture Control in buildings: Putting Building Science in Green Building," Alex Wilson, Environmental Building News, Vol. 12. No. 5. [Good tutorial, "Moisture 101" outlining the physics of moisture movement in buildings and a good but incomplete list of general suggestions for moisture control - inadequate attention given to exterior conditions such as roof and surface drainage defects which are among the most-common sources of building moisture and water entry.--DJF]
[7] J. Tibbets, "Green Houses", NCBI, retrieved 1/17/2013, original source: http://www.ncbi.nlm.nih.gov/pmc/articles/PMC1469482/
[8] Gleeson et al, "Fiber Cement :Building Materials with Low Density Additives", U.S. Patent 8,182,606, B2 5/22/2012, [adding low volumes of volcanic ash & hollow ceramic microspheres to cellulose fiber-reinforced building materials.
[9] Thanks to reader Marie Carr for James HardiePlank siding photograph and case history information. 06/01/2008
[10] JamesHardie HardiePlank® Lap Siding information can be found at the company's web page on this material:
http://www.jameshardie.com/homeowner/products_siding_hardieplankLapSiding.py
[11] "30-Year Limited Warranty HardiePlank® HZ5® Lap Siding, HardiePanel® HZ5® Vertical Siding,
HardieShingle® HZ5® Siding, HardieSoffit® HZ5® Panels", 1-800-9-HARDIE
10901 Elm Avenue Fontana, CA 92337, retrieved 1/18/2013, original source: http://www.jameshardie.com/pdf/warranty/hz5.pdf [copy on file as Hardieplank_Warranty_hz5.pdf]
[12] James Hardie Building Products, James Hardie CustomerLink™ Service Centre, 10 Colquhoun Street, Rosehill NSW 2142, Tel: 13 1103, Outside Australia 61 2 8837 4709, Fax: 1 800 818 819. Hardie has operations in Australia, Asia, Canada, Europe, New Zealand, United States, and the Philippines. The company is a significant producer of fiber cement siding and backerboard. Email: info@JamesHardie.com and Website http://www.jameshardie.com/

JamesHardie Corporation, in the U.S. can be contacted at 26300 La Alameda, Suite 400, Mission Viejo, California 92691 - 1-888 J-HARDIE
1-888 542-7343 or by email to info@JamesHardie.com
[12b] "Technical Bulletin #9, Joint Flashing at Field Butt Joints", JamesHardie, retrieved 4/15/2013, original source: www.jameshardie.com, copy on file as James_Hardie_9-joint-flashing.pdf - quoting:
This Technical Bulletin is an explanation supporting the announcement made by James Hardie on September 8th, 2008 withdrawing its recommendation on the use of caulk at field butt joints for HardiePlank® lap siding.
[12c] "HardiePlank® Lap Siding Product Description, James Hardie Corporation, retrieved 4/16/2013, original source: http://www.jameshardie.com/ [copy on file as HardiePlank_hz5-canada-2012-v6-hardieplank.pdf]

[13] Instructions for application of HardiePlank lap siding can be found at http://www.jameshardie.com/homeowner/products_siding_hardieplankLapSiding.py?openTab=jsnavLink4
[14] "Homeowners Care and Maintenance Tips", 1-800-9-HARDIE
10901 Elm Avenue Fontana, CA 92337, included with product warranty information, retrieved 1/18/2013, original source: http://www.jameshardie.com/pdf/warranty/hz5.pdf [copy on file as Hardieplank_Warranty_hz5.pdf]
[15] "HardiePlank HZ5 Lap Siding Installation Requirements - Primed & Colorplus® Products",JamesHardie, November 2012, 1-800-9-HARDIE, 10901 Elm Avenue Fontana, CA 92337, retrieved 1/18/2013, original source: http://www.jameshardie.com/pdf/install/hardieplank-hz5.pdf, [copy on file as Hardieplank-hz5_Install.pdf]
[16] Technical Bulletin #9, Joint Flashing at Field Butt Joints, James Hardie corporation, retrieved 1/19/2013, original source: http://www.jameshardie.com/pdf/technical-bulletins/9-joint-flashing.pdf
[17] Technical Bulletin #17, Fastening Tips for HardiePlank® Lap Siding, James Hardie Corporation, retrieved 1/19/2013, original source: http://www.jameshardie.com/pdf/technical-bulletins/17 -fastening-tips-for%20-plank.pdf [copy on file]
[18] Technical Bulletin #8, Expansion Characteristics of James Hardie® Siding Products, James Hardie Corporation, retrieved 1/19/2013, original source: http://www.jameshardie.com/pdf/technical-bulletins/8-expansion-characteristics.pdf [copy on file]
[19] Eric Galow, Galow Homes, Lagrangeville, NY. Mr. Galow can be reached by email: ericgalow@gmail.com or by telephone: 914-474-6613. Mr. Galow specializes in residential construction including both new homes and repairs, renovations, and additions. Personal communication 3/20/2013.
Paint Handbook: testing, selection, application, troubleshooting, surface preparation, etc., Guy E. Weismantel, Ed., McGraw Hill Book Company, 1981, ISBN-10: 0070690618, ISBN-13: 978-0070690615, [Excellent but a bit obsolete paint theory and practice, also a bit light on field investigation methods, out of print, available used-DF]
How to select and apply the right paint or coating for any surface. The first major reference to help you choose the correct paint or other finish to do the job best on a particular surface exposed to a particular environment. Experts in the field give full advice on testing surface preparation, application, corrosion prevention, and troubleshooting. The handbook covers wood, metal, composites, and masonry, as well as marine applications and roof coatings. A ``must'' working tool for contractors, architects, engineers, specification writers, and paint dealers.
Paint and Surface Coatings, Theory and Practice, R. Lambourne & T.A. Strivens, Ed., Woodhead Publishing Ltd., William Andrew Publishing, 1999 ISBN 1-85573-348 X & 1-884207-73-1 [This is perhaps the leading reference on modern paints and coatings, but is a difficult text to obtain, and is a bit short on field investigation methods - DF]
Provides a comprehensive reference source for all those in the paint industry, paint manufacturers and raw materials suppliers, undergraduate and postgraduate students, and industrial paint users. R. Lambourne was in the Research Department at ICI Paints Division and the Industrial Colloid Advisory Group, Birstol University, UK.
Seeing Through Paintings, Physical Examination in Art Historical Studies, Andrea Kirsh, Rustin S. Levenson, Materials in Fine Arts, 2000 ISBN 99-051835 [ forensic science, technical reference, focused on art works - DF]
Sealants, Durability of Building Sealants (RILEM Proceedings), J.C. Beech, A.T. Wolf, Spon Press; illustrated edition (1995), ISBN-10: 0419210709, ISBN-13: 978-0419210702
This book presents the papers given at the RILEM Seminar held at the Building Research Establishment, Garston, UK in October 1994. The book provides an opportunity for researchers to review up-to-date progress towards the achievement of the objectives of the standardisation of laboratory techniques of sealants in the variety of service conditions to which they are exposed.
Staining, Prevention of Premature Staining in New buildings, Phil Parnham, Taylor & Francis; 1996, ISBN-10: 0419171304, ISBN-13: 978-0419171300
The appearance of ugly staining early in a buildings life, ruins an otherwise pleasing appearance, tarnishes the image of the owners and gives rise to costly refurbishment works. In this book Phil Parnham raises a number of questions that should be considered whenever a new building is being designed or built. These are: * why has staining become so prominent; * what causes premature staining; which parts of new buildings are likely to be affected; * how can it be avoided? By using a number of highly illustrated case studies, the author answers these questions and ends by suggesting measures that should be taken by all design and construction professionals to prevent premature staining.
"Weather-Resistive Barriers [copy on file as /interiors/Weather_Resistant_Barriers_DOE.pdf ] - ", how to select and install housewrap and other types of weather resistive barriers, U.S. DOE
Books & Articles on Building & Environmental Inspection, Testing, Diagnosis, & Repair
Our recommended books about building & mechanical systems design, inspection, problem diagnosis, and repair, and about indoor environment and IAQ testing, diagnosis, and cleanup are at the InspectAPedia Bookstore. Also see our Book Reviews - InspectAPedia.
Analysis of Modern Paints, Thomas J.S. Learner, Research in Conservation, 2004 ISBN 0-89236-779-2 [Chemistry of modern paints, overview of analytical methods, pyrolysis-gas chromatography signatures of basic modern paints and their constituents, Fourier transform infrared spectroscopy for paint analysis, direct temperature-resolved mass spectrometry, and analysis in practice - technical reference useful for forensic paint science, focused on art works -DF]
Building Pathology, Deterioration, Diagnostics, and Intervention, Samuel Y. Harris, P.E., AIA, Esq., ISBN 0-471-33172-4, John Wiley & Sons, 2001 [General building science-DF - ** Particularly useful text **
Understanding Ventilation, John Bower, The Healthy House Institute, ISBN 0-9637156-5-8, 1995 [General building science-DF - ** Particularly useful text. Mr. Bower has retired from the field but his book continues to be important]
Dampness in buildings, Diagnosis, Treatment, Instruments, T.A. Oxley & E.G. Gobert, ISBN 0-408-01463-6, Butterworths, 1983-1987 [General building science-DF]
...