Stucco Wall Methods & Choices - Best Practices Guide
STUCCO WALL METHODS & INSTALLATION - CONTENTS: Stucco building exteriors: drainage plane, installation, 3-coat stucco, thin coat stucco, EIFS, stucco painting. Stucco recipes. Three-coat stucco installation details. Metal lath based stucco wall installation. Thin coat stucco wall systems & installation. EIFS and synthetic stucco wall systems, success, issues, inspection, and problem diagnosis. The role of weather, moisture, temperature, cleaning, in stucco wall success or failure and stucco wall painting problems
POST a QUESTION or READ FAQs about different types of exterior wall stucco and stucco application methods
InspectAPedia tolerates no conflicts of interest. We have no relationship with advertisers, products, or services discussed at this website.
Stucco wall covering method choices, methods, & comparisons:
This article discusses types of stucco building exterior wall materials and installation methods, including stucco recipes, three-coat stucco installations, stucco wall expansion joints, metal-lath stucco systems, how stucco is applied to walls, thin coat stucco systems,
EIFS synthetic stucco wall systems, and the role of weather and moisture in stucco wall installation, durability, and painting success.
Green links show where you are. © Copyright 2017 InspectApedia.com, All Rights Reserved.
Stucco Building Exteriors: Product Choices, Installation Details
Adapted/paraphrased with permission from Best Practices Guide to Residential Construction. Steven Bliss.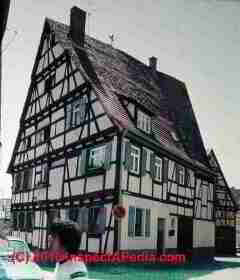 Stucco on building exteriors, in its traditional form is a cementious coating, installed over wood lath or more recently over expanded metal wire lath. Stucco systems have been used for hundreds, and in some forms (mud over wood lath), for thousands of years.
[Click to enlarge any image]
Our photograph above shows an antique stucco-walled building in Germany. I photographed this structure in 1969 but the building is more than 200 years old. No stucco system is impervious to water penetration, whether traditional three-coat stucco, modern one-coat systems, or exterior insulation and finish systems (EIFS). Since water may enter through cracks, penetrations, or through the stucco finish itself, all stucco exteriors rely on a backup waterproof drainage plane to protect the structure.
Article Contents
The drainage plane under stucco is essentially the same as under other exterior claddings, with building paper layered to shed water and carefully integrated with all flashings at doors, windows, and other penetrations.
In addition, stucco systems need a weep screed or similar perforated flashing at the bottom of the wall to safely drain away any trapped water at the foundation. Without a continuous drainage plane, stucco systems are subject to serious water problems.
While older, traditional stucco walls were designed to get wet and readily dry out, the newer synthetic systems are less permeable to moisture. If trapped water cannot readily drain away or dry to the exterior, the underlying structure is more vulnerable to moisture damage.
This article series discusses best practices construction details for building exteriors, including water and air barriers, building flashing products & installation, wood siding material choices & installation, vinyl siding, stucco exteriors, building trim, exterior caulks and sealants, exterior building adhesives, and choices and application of exterior finishes on buildings: paints, stains.
This article series includes excerpts or adaptations from Best Practices Guide to Residential Construction, by Steven Bliss, courtesy of Wiley & Sons.
Stucco Building Wall Drainage Plane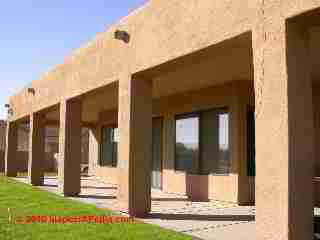 Our photograph of a modern stucco exterior shows how stucco is used in the southwestern U.S., in this case Marana, outside Tucson, AZ.
Traditionally, stucco contractors have used Grade D building paper rather than asphalt felt when applying stucco to wood-frame walls. Grade D building paper is an asphalt-impregnated kraft-type paper, similar to the backing on fiberglass insulation.
Unlike asphalt felt, it is made from new wood pulp, rather than recycled material. It has water-resistance ratings ranging from 20 to 60 minutes, depending on the thickness.
Although the International Residential Code (IRC) does not specify a required rating for stucco underlayment, the trend in the industry is to use two layers of 15- or 30-minute Grade D paper, isolating one layer from direct contact with the stucco and creating a secondary drainage space in the gaps between the two layers.
Two layers are necessary, since the stucco tends to bond to the outer layer of building paper or plastic housewrap, compromising its water repellency. The wetter the climate, the heavier the paper should be. In coastal areas, some contractors use as much as two layers of 60-minute paper. The heavier papers provide better protection, but they are less flexible and more difficult to install.
Some contractors are starting to use plastic housewrap under stucco. How well it holds up in direct contact with stucco is in question. One option is to use plastic housewrap as the first layer and cover it with Grade D building paper, which has a longer track record in direct contact with stucco.
Other than the building paper, on buildings in northern climates and where other stucco systems are applied to wood framed structures, flashings are essentially the same as with any other cladding system. Metal or membrane pans are recommended at the bottoms of windows and doors. As with other cladding systems, it is critical that the building papers layer over window head flashings and that window pan flashings drain on top of the building paper.
Watch out: Do not caulk the horizontal joints at window head and pan flashings; this way, any trapped water can drain out.
To complete the system, the drainage plane behind stucco must have a perforated flashing called a "weep screed" at the foundation line. According to the IRC, this must be at least 4 inches above grade and must allow trapped water to drain to the outside of the building. Without a weep screed, the stucco tends to bond to the top of the foundation, creating a moisture dam.
Cement Stucco on Adobe Structures & Walls
Below: an antique adobe structural wall with cement stucco coating in Oxaca, Mexico. I first visited this building in 1960 and saw it in its present condition in 2016. Stucco on adobe suffers different problems from stucco systems on framed walls. Here the most common failure I see is adhesion loss, usually when rain water penetrates the stucco wall coating. Adobe structures that are protected from the weather can survive for more than 100 years. But the story changes when there is a roof or wall leak.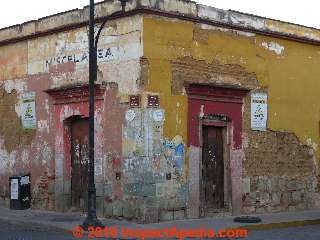 The adobe wall with cement stucco shown below is located in San Miguel de Allende, Guanajuato, Mexico.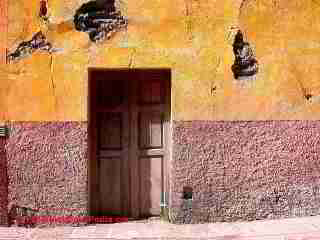 Our photograph of stucco coating the exterior of an adobe structure (San Miguel de Allende, Mexico) demonstrates that on these traditional structures stucco was applied directly to the surface of adobe bricks.
Unlike the stucco on steel or wood-framed buildings in colder climates, none of the stucco-coated traditional adobe structures I've inspected in several countries has used flashings. Cement stucco is applied directly in one or two coatings to the exterior of the adobe walls.
Three-Coat Stucco Building Walls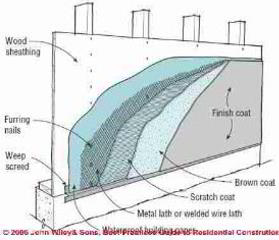 Three-coat stucco using Portland-cement plaster has been used successfully in the United States for nearly 200 years.
It is applied about 7/8-inch thick over metal lath, which creates a drainage space between the building paper and the stucco, allowing water to drain out through the weep screed at the foundation (see Figure 1-29).
Stucco relies on this drainage plane for waterproofing, since the stucco material itself is relatively porous.
It tends to soak up water when it rains, but it dries out quickly since it is highly permeable to water vapor.
[Click to enlarge any image]
Stucco-Wall Structure Requirements & Stucco Cracking
Portland-cement stucco shrinks as it dries, which normally creates small hairline cracks in the finished surface. Larger cracks may form, however, if there is significant movement in the structure, since stucco is nonstructural and relatively rigid.
A well-designed foundation and good-quality, dry framing lumber with adequate bracing will minimize this type of movement. On stucco jobs with no structural sheathing, still common in some western states, adequate bracing for racking strength and rigidity is particularly critical.
Cracking can also result from thin sections in the stucco finish. To avoid these problems, fur out or straighten any bowed or irregular walls before applying stucco.
Expansion Joints in Stucco Walls
Our photo at below left shows how traditional three-coat stucco has been adapted for use on smaller homes, this one in Hyde Park, NY. On a building with relatively small unbroken fields of stucco exterior wall, often no expansion joints were used.
But where stucco is applied over metal lath on wood framing, the Portland Cement Association recommends expansion joints every 10 feet, forming panels of no more than 150 square feet. Expansion joints are used in some other stucco installation methods as well. Our second photo (below-right) shows an insulating-board based Stucco-wall expansion joint on an elevator tower on the Vassar College campus, Poughkeepsie, NY.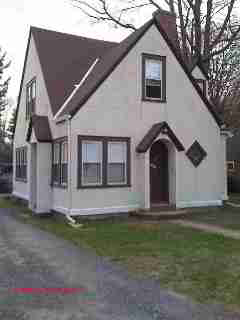 Expansion joints are particularly critical at joints between dissimilar materials, such as where wood framing meets masonry, or wherever excessive movement is expected, such as the band joist area between two stories.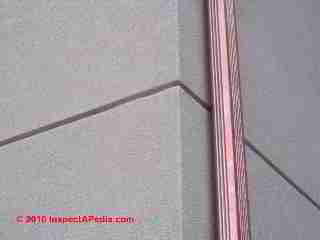 Many residential projects are built without expansion joints, which can lead to cracking given the excessive movement associated with today's lower quality framing materials.
Metal Lath Support for Stucco Walls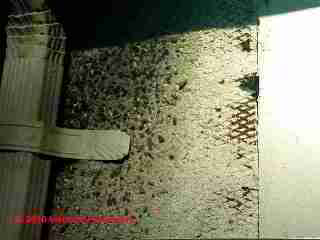 Stucco will bond directly to most masonry surfaces, but on sheathed walls the stucco requires metal lath to form a mechanical bond to the wall.
On residential projects, contractors use either expanded metal lath or "stucco netting," a 17- or 18-gauge galvanized wire woven into a hexagonal mesh that looks like chicken wire.
Lath should always run perpendicular to the studs, and expanded metal lath must be installed with the correct side pointed up or the plaster will slip off when troweled on.
Our photo (left) shows exposed metal lath in the stucco exterior of a poorly-finished home in New York. It looks as if the top coat of stucco may have not been applied at all.
The expanded metal lath used to support stucco on building exteriors (or interiors as well) is nailed or stapled approximately every 6 inches at studs and other framing members.
Galvanized staples are now widely used to attach metal lath. However, unless the lath is the self-furring type, it should be installed with special furring nails that space the lath about 1/4-inch from the wall, fully embedding it in the scratch coat, according to stucco expert Ron Webber, of Procoat Systems, in Orange, California.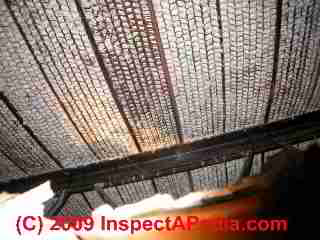 Another common stucco lath problem, according to Webber, is that lath installed too tightly at corners causes poor embedment of the mesh at the corners.
This will cause cracks at the corners as the building undergoes normal movement with changes in temperature and humidity. To prevent corner cracks, installers should use a special corner bead called Cornerite™ or build up the corners with two layers of wire.
Another option is to pull the lath away from the building at the corners to make sure it is properly embedded.
The corners at either side of window and door headers is another common location for stucco cracks. To reinforce these areas and reduce cracking, some contractors add a second layer of reinforcing at these corners using a rectangular section of metal lath placed diagonally at each corner.
The metal lath should form a continuous layer around the building with all laps wired together and vertical laps staggered. With large-mesh reinforcement, lap vertical and horizontal joints at least one full mesh and a minimum of 2 inches. For small-mesh reinforcement, the laps should be at least 1 inch.
Stucco Recipes & Stucco Mixtures
Details of stucco recipes and application are found at STUCCO RECIPES & APPLICATION. Excerpts are below.
Stucco is a mixture of Portland cement, sand, and water, with a little lime or a plasticizer added for workability. A proper mixture has good tensile strength and weather resistance and the ability to bond well to the mesh or substrate. It is also easy to trowel on and resists sagging. In cold climates, it must also have freeze-thaw durability, usually obtained by using air-entrained plaster.
The cement base can be masonry cement, plastic cement, or Portland cement, which may have air-entraining additives. Do not add lime or a plasticizer to masonry cement or plastic cement since these already contain plasticizers. While approximate proportions are well established, the right mix for a job depends on the weather exposure of the wall and weather conditions during application (see Table 1-9).
Other than the right proportions, the keys to a good stucco mix are clean, good quality sand and clean potable water. Since sand makes up about 97% of the stucco mixture by volume, it is critical to use good sand. The sand should be free of vegetable matter, loam, clay, silt, and soluble salts and should conform to ASTM C897, which designates the distribution of particle sizes (gradation). Impurities in the sand or water can affect the strength of the mix, and poor grading of the sand will hurt its workability.
Salts can cause staining on the finished surface from efflorescence.
Stucco Wall Application Procedure
Details of stucco recipes and application are found at STUCCO RECIPES & APPLICATION. Excerpts are below.
Stucco can either be hand troweled or blown with a machine. Some stucco contractors use a pump for the base coats but apply the finish coat by hand.
Although the mixes are slightly different for the two approaches, both can produce a high-quality finish. In threecoat stucco, the first and second coats are 3/8-inch thick, and the finish coat is 1/8-inch for a total thickness of 7/8 to 1 inch.
Applying the Stucco First or Scratch Coat
The first, or "scratch," coat, which forms the base for the next two coats, should completely encase the reinforcement. While still wet, the plaster is scored horizontally with a special metal rake or trowel to create a good mechanical bond with the second coat (vertical scratching promotes cracking at studs).
For proper curing, the scratch coat needs to be kept moist by misting or fogging with water for 48 hours. Except in very moist weather, misting should start as soon as the freshly applied stucco lightens in color and be repeated at the start and end of each day until the second coat goes on.
Applying the Stucco Wall Brown Coat
The second, or "brown," coat should go on as soon as the first coat is hard enough to accept the second coat without cracking, but at least 48 hours later, according to the IRC. The second coat fills any cracks in the scratch coat, and the additional sand in the brown coat helps prevent new shrinkage cracks. Whether it is hand troweled or machine-applied, it must be leveled with a straightedge ("rodded") and floated to produce an even surface for the final coat.
A short delay between the first and second coat helps to create a good bond between the two and strengthens the scratch coat by rewetting it for a more complete cure. Any cracks larger than 1 1/16-inch in the brown coat should be patched before the top coat goes on. In the Southwest, where adobe is popular, the brown coat is often steel troweled for an adobe look and serves as the final coat.
Applying the Stucco Wall Finish Coat
After the second coat is allowed to cure for a minimum of 7 days (14 will allow a more complete cure), the top coat is applied to provide the finish color and texture. Many contractors now use premixed color coats, some with acrylic additives to increase water resistance and flexibility.
Creating a uniform color and texture requires a skilled applicator, uniform mixing, favorable weather (avoid direct sun), and a uniform substrate without variations in texture or water absorption.
Problems in the substrate will tend to show through the thin finish coat. It is best to do an entire side of the building in one batch with no cold joints. A modest amount of color variation is considered part of the character of traditional stucco, but too much is a sign of substandard work.
A certain amount of shrinkage cracking is also inevitable in stucco exteriors. Application over wood-frame construction results in more cracking than over concrete block or other more stable substrates. Coarse textures in the finish will tend to hide the cracks better than smooth finishes. Even under the best of conditions, small shrinkage cracks of less than 1/16-inch will occur in the finished stucco and are to be expected. Generally these do not leak or indicate substandard work.
The Importance of Weather to Stucco Work and Stucco Paint Coatings
See details about the cause, diagnosis, cure, or prevention of paint failures on stucco exterior walls, discussed at STUCCO FAILURES DUE TO WEATHER.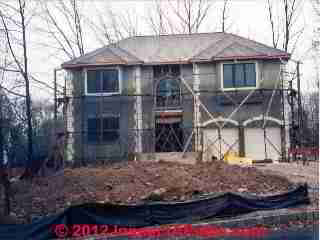 Moisture, humidity, rain, or wet conditions during thin-coat or EIFS stucco work can lead to a subsequent series of failures of the entire installation.
The home shown in our photo (left) was the subject of litigation. We observed that the final stucco had been applied over wet surfaces and in some cases over surfaces that also had been troubled by soil that had splashed-up on the building during rainy weather.
Stucco wall paint failures are also traced to moisture, efflorescence, and failure to adequately clean the exterior and then allow it to dry before painting.
See P AINT on STUCCO, FAILURES and also PAINTING in SUN or WIND.
Temperature during stucco work will speed up or slow down the hydration process that cures the cement in stucco. It is best to avoid application in extremely hot or cold temperatures. In hot, dry, and windy weather, frequent misting will be required on the scratch coat or the installer may need to tape polyethylene sheeting in place for proper curing.
Direct sun tends to dry out the fresh stucco too fast, so installers should try to follow the shade around the building. Also, retardants are available that can be sprayed on the scratch or brown coat in hot weather to slow down the curing. Sun, heat, and rapid drying conditions can present special stucco application troubles or subsequent stucco paint coating troubles in hot dry climates such as the American Southwest. (Photo at left).
Cold weather also presents problems. Stucco should not be applied under 40°F, and it should not be allowed to freeze within 24 hours of application. Accelerators can be added to the stucco mix in cold weather, but these can weaken the material, and calcium-based accelerators can lead to efflorescence. Heating the materials and, if necessary, tenting the structure can permit work to proceed in cold, even freezing, weather.
Cool, moist weather is ideal for traditional stucco wall installations. In humid weather, with relative humidity over 70% or heavy fog, misting is not usually required.
See STUCCO FAILURES DUE TO WEATHER.
More about stucco paint and coating failures is found at found at STUCCO PAINT FAILURES.
Thin-Coat Stucco Specifications
Details about thin-coat stucco applications are at STUCCO THIN COAT APPLICATION. Excerpts are below.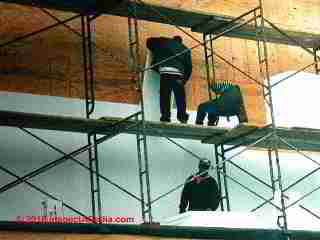 In an effort to speed up stucco application time and simplify the process, several manufacturers have introduced proprietary thin-coat stucco systems variously referred to as one-coat, two-coat, thin-coat, or fiberglass-reinforced stucco.
Our photo of a thin-coat stucco wall being constructed (left) was at a Barnes and Noble bookstore in Poughkeepsie, NY.
All these systems apply a single base coat and a top coat with a total thickness of 2/8 to 1/2-inch, compared to 7/8 to 1 inch for traditional three-coat stucco. The thinner finish weighs from 5 to 6 pounds per square foot, compared to 9 pounds for three-coat, and it is cost-competitive with traditional stucco.
Like traditional three-coat stucco, thin-coat is applied over wire mesh or expanded metal lath by hand or pump. It is backed up by a waterproof drainage plane consisting of Grade D building paper, integral flashings, and a weep screed along the top of the foundation to drain away any trapped water.
Some manufacturers, such as United States Gypsum, have introduced hybrid systems in which the stucco is applied to a cementitious board rather than to wire mesh. The advantage is that cement board is impervious to moisture. The drainage plane, and in some cases a layer of foam insulation, lies behind the cement board.
Thin Coat Stucco Application Procedure
The base coat in thin-coat systems has acrylic polymers and chopped fiberglass added to increase its strength and resistance to shrinkage cracking and to freeze-thaw cycles.
The base coat is premixed with only sand and water added at the job site. Most contractors using these systems apply an elastomeric color coat, similar to a thick acrylic paint with fine aggregate, and formulated to bridge small gaps less than 1/16-inch.
This produces a smoother finish that is more water- and stain-resistant and less prone to cracking than a traditional stucco. The top coat can also be a traditional cement stucco finish.
Most of these systems require a 24- to 48-hour moist cure and a total of six or seven days of curing before the top coat is applied. Some require a primer for acrylic finishes.
Our thin-coat stucco wall damage photo (above-left) shows the vulnerability of this system to damage by common events at or around a building: in this case the use of a weed-whacker to trim growth close to the building wall. This EIFS installation is also installed so close to the ground as to invite insect attack on the structure.
Also see Insects & Foam Insulation.
Pros and Cons of Alternative Stucco Systems
To their credit, properly applied onecoat systems are more waterproof and less prone to shrinkage cracking than traditional stucco. It is easier to obtain a uniform color and texture with the synthetic color coat than with a traditional cementitious finish coat. Whether a customer prefers the uniform color of a synthetic finish or the more muted and variable color of cement stucco is a matter of taste.
Our photo of a leaky stucco window sill on a New York home (left) shows a damaged, leaky sill where plastic mesh was used as a modern substitute for expanded metal lath.
On the downside, one-coat systems are less impact resistant than traditional three-coat stucco. And with a thickness of only 3/8-inch, one-coat systems are less able to hide irregularities in the framing and are more likely to have thin spots that are prone to problems.
Also, one-coat stucco systems are not completely waterproof. Over time, water will find its way in at joints, penetrations, or cracks, and the synthetic stucco will be slower to dry out than the more permeable traditional stucco.
Finally, each system is proprietary and must be installed according to the manufacturer's approved specs and details, which vary from system to system. Otherwise, warranties are voided and code approvals, which are based on building code evaluation reports, are invalid. For both reasons, contractors should avoid mixing and matching components from different thin-coat systems.
Details about thin-coat stucco applications are
at STUCCO THIN COAT APPLICATION.
Exterior Insulation and Finish Systems (EIFS)
Details about EIFS wall problems, inspections, and litigation are found at our home page for this topic:
SIDING EIFS & STUCCO.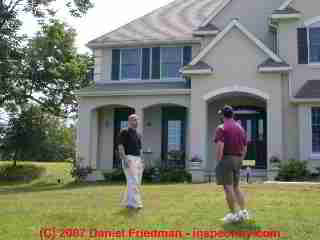 When originally imported from Europe to the United States in the 1970s, most exterior insulation and finish systems (EIFS) were "barrier" type systems. They were designed to create a waterproof exterior skin consisting of a thin layer of acrylic polymer-based synthetic stucco directly applied to foam insulation.
Our photo (left) shows a modern Sto-Wall covered home that was investigated to diagnose the sources of wall leaks through the stucco system. We found many installation details that did not follow the manufacturer's recommendations. As a result there were significant leaks into building walls and a considerable mold contamination issue as well.
The expanded polystyrene (EPS) foam was glued to the building's sheathing. A layer of fiberglass cloth embedded in the synthetic stucco provided reinforcement, and a thin acrylic finish coat added color and texture.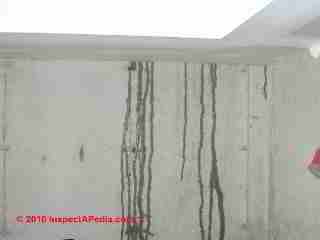 With the EPS glued directly to the sheathing, there was no place for building paper or conventional flashings at penetrations. Openings, joints, and penetrations relied on caulks and sealants for waterproofing. With no backup waterproofing or drainage layer, there was little margin for error.
While these systems performed adequately in Europe for nearly 25 years, the United States version had thinner base coats and lower polymer content, creating a weaker skin.
Also, workmanship in the United States was often inferior due to lack of applicator training and quality-control programs.
The water running down this building interior wall (photo above-left) was traced to omission of the manufacturer-specified sealant methods at the top of the building exterior wall. Wind-blown rain entered the wall top just below the soffit overhang, wet the wall interior cavity, and finally appeared on the foundation walls below.
When water leaked into these systems through failed caulk joints, cracks in the stucco skin, or through the window frames themselves, it wet the foam insulation, sheathing, and sometimes the structural framework.

A photo guide to some common leak points found on EIFS clad buildings is at SIDING EIFS WALL LEAK POINTS.
If you are an EIFS manufacturer, installer, or EIFS inspector, contact us at LINK EXCHANGE to add listings - there is no fee.
Details about EIFS wall problems, inspections, and litigation are found at SIDING EIFS & STUCCO.
Also see INSECTS & FOAM INSULATION
Drainage Systems for EIFS "Stucco" Walls to Reduce Leak Damage
Details about the role of drainage systems in preventing leaks and water damage to EIFS-clad buildings can be found at STUCCO EIFS DRAINAGE SYSTEMS. Excerpts are below.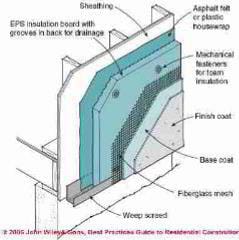 In response to these problems, most EIFS manufacturers have introduced new "drainage" or "water-managed" systems, which require the same type of waterproof drainage plane found behind traditional stucco systems (see Figure 1-30)
[Click to enlarge any image]
As with traditional stucco, layered building paper or plastic housewrap protects the framing and sheathing, and all exterior openings and penetrations are flashed to conduct any water to the outside of the sheathing wrap.
Since window leakage was the single biggest contributor to EIFS failures, pan flashing is recommended at windows.
Rather than gluing the EPS foam to the sheathing, the new drainage EIFS typically use mechanical fasteners and are designed with a capillary break between the back of the EPS and the sheathing wrap to promote drainage.
Some EIFS contractors use special corrugated or wrinkled sheathing papers to create the drainage space, while others have vertical grooves cut into the back face of the foam insulation.
In all cases, the drainage plane leads to a perforated weep flashing at the foundation to drain away any trapped water.
Workmanship & EIFS Exterior Stucco Wall Success
The backup drainage layer, however, should not provide an excuse for sloppy workmanship on the exterior skin. The new kinds of EIFS should still be made as waterproof as possible, since any water that leaks past the skin may be slow to dry out. EIFS consultant Russell Kenney, who has worked with these systems for nearly 20 years, recommends exceeding the minimum specs required by EIFS manufacturers.
Kenney recommends a higher-density EPS foam with only 2% water absorption by volume instead of the 4% allowed by ASTM C584. In addition, Kenney recommends a heavier 6-ounce reinforcing mesh versus the typical 3-ounce cloth, as well as special high-impact mesh in high-traffic areas.
He also recommends a 3/32-inch base coat applied in two layers, with the first layer used to partially embed the fiberglass reinforcing and the second layer to fully cover and protect it.
These steps will significantly improve the impact resistance of EIFS, but it is still less durable than traditional stucco or thin-coat stucco.
See details about the cause, diagnosis, cure, or prevention of paint failures on stucco exterior walls, found at STUCCO PAINT FAILURES.
Apply Sealant to EIFS Base Coat
As with the original barrier EIFS, all penetrations require a high-quality elastomeric sealant. The sealant needs to be applied to the base coat since the finish coat tends to soften when wet, providing a poor substrate for sealant. For the caulk joints to last, they must be wide enough to tolerate the anticipated movement, typically 3/8 to 1/2-inch, and backed up by backer rod (see "Joint Design," page 37 in Best Practices Guide to Residential Construction).
While control joints are generally not needed along the length of the wall—unless it exceeds 75 feet and is in direct sun—they are required between floors on multistory buildings. Silicone sealant is recommended at all joints for its longevity and flexibility in cold temperatures.
In theory at least, drainage EIFS should function the same as any other exterior cladding systems. Any water that manages to penetrate the outer skin should be stopped by the drainage layer and safely drained away.
However, given the low permeability of polymer-based coatings and the tendency of EPS foam to soak up and hold water, EIFS are best avoided in residential projects unless high-quality workmanship and regular maintenance of sealants can be assured.
Details about the role of drainage systems in preventing leaks and water damage to EIFS-clad buildings can be found at STUCCO EIFS DRAINAGE SYSTEMS.
Reader Question: Desirability of using the BASEX stucco coating system
4/21/2014 Shannon said:
Hello,
We have just had all of the stucco removed and new stucco applied on our home over the last several weeks. Our contractor has mentioned the stucco subcontractor recommends a basex flexible membrane be applied prior to our color coat. How beneficial is this as the cost is close to $5000. I am wondering what real benefits we will gain or what disadvantages we will experience if we do not go with this option. Many thanks, Shannon
The only added information I have is that this recommendation is an anti-fracture BASEX membrane to go in before the final coat of plaster is installed. This is like a thin wire mesh that will limit the amount of cracking and pealing of the final coat of plaster. Not sure if that help provide the needed details.
Reply:
Shannon,
Basex is a product of Merlex Stucco (merlex.com) who offer some helpful information about BASEX in stucco applications. BASEX is a "Polymer-modified base coat and anti-fracture membrane for smooth-troweled finishes" - so what does that mean?
Merlex BASEX is specifically designed for application over brown coat where smooth-troweled finishes are used (such as Santa Barbara Finish). When mesh is embedded in BASEX, cracking is reduced significantly, which allows for higher-quality smooth-troweled finishes. BASEX contains a high percentage of polymer for flexibility, microscopic fibers for crack-resistance, and proprietary additives for workability and working time. The product has suction to ensure good bond between the finish plaster and base coat. BASEX can also be used on rescrubs directly over structurally sound existing plaster, eliminating the need for sandblasting.
In sum, picture a combination of a patented coating compound (modified portland cement) that is applied over a mesh base that in turn has been secured to the building wall. The manufacturer says the system can be applied over a variety of surfaces, new and old "... over standard Portland cement brown coat, concrete masonry units, existing stucco, and brick. "
It's notable that if BASEX is applied without the mesh coating, the promise of reduced cracking is in my words - nullified.
Here is contact information for the company
Merlex - Orange County Stucco Manufacturer - Executive Office
2911 Orange-Olive Rd.
Orange, CA 92865
Phone: 714-637-1700
Website: www.merlex.com
Email: service@merlex.com
Parex Exterior Insulation and Finish Systems (EIFS) also make use of basecoat and other products to reduce cracking as do other manufacturers.
ParexUSA
4125 E. La Palma Avenue, Suite 250
Anaheim, California 92807
Tel: 7877-547-8822
Email: info@parex.com
Technical Support 800.226.2424
Email: technicalservice@parexusa.com
I wanted to add some citations on the prevention of stucco cracking, but first must emphasize that proper construction, surface preparation, and importantly, following the stucco system manufacturer's instructions are the key ingredients in a successful job. Most of the failures I see are due to installation that does not follow what are sometimes unrealistically demanding instructions.
Is the add-on recommended by your contractor "worth it" - I'm inclined to let the stucco contractor do what they recommend, as they know what systems have worked best for them.
Also remember to look carefully at your warranty terms. In my OPINION stucco failures such as chalking, cracking, or leaks that are due to poor installation will usually show up in the first year or so, though some leaks such as those in EIFS systems can be a bit hard to spot and can leak into a wall where a mold problem develops for some time before occupants notice the trouble.
In general, as Cheple (2000) point out, using polymer additives improves the flexibility of the stucco coating and thus should improve its crack resistance. N
Needless to say there are countless citations on stucco cracking and crack prevention. Here are some I recommend for readers who want to consult those who've conducted more expert research:

Arnold, Andrew Eric, Chia-Ming Uang, and Andre Filiatrault. "Cyclic behavior and repair of stucco and gypsum woodframe walls: Phase I." CUREE Publication No (2003).
Arnold, Andrew Eric, Chia-Ming Uang, and Andre Filiatrault. "Cyclic behavior and repair of stucco and gypsum sheathed woodframe walls: Phase I." SSRP (2002): 07.
Bern, D. L., and F. F. Grant. "High-Performance Cement Plaster (Stucco) Systems." AEI 2008: Building Integration Solutions (2008).
Cheple, Marilou, and Patrick H. Huelman. Literature review of exterior insulation finish systems and stucco finishes. Cold Climate Housing Program, University of Minnesota, 2000.
Lstiburek, Joseph William, P. Eng, and M. A. Westford. "Rainwater Management Performance of Newly Constructed Residential Building Enclosures During August and September." (2005).
Spagna, Francesco J., and Stephen S. Ruggiero. "Stucco Cladding-Lessons Learned from Problematic Facades." ASTM SPECIAL TECHNICAL PUBLICATION 1422 (2003): 214-230.
Suprenant, Bruce A. "Stuccoing over masonry." Aberdeen's Magazine of Masonry Construction (1990):
Exterior Insulation and Finish Systems (EIFS) Resources & Suppliers
Dryvit Systems www.dryvit.com
Parex www.parex.com
Senergy www.senergyeifs.com
Sto Corp. www.stocorp.com
Construction Sealant (Caulks) Suppliers & Products
Polyurethanes and other high-performance sealants
DAP www.dap.com
Acrylic latex caulks
Dow Corning Sealants www.dowcorningsealants.com
Silicone sealants
GE Silicones www.gesilicones.com Silicone sealant
Geocel Corp www.geocelusa.com Acrylic latex, tripolymer, copolymer, Kraton, and clear sealants
Macklanburg-Duncan www.mdteam.com Acrylic latex sealants
OSI Sealants Inc www.osisealants.com Polyseamseal PVA-based caulk. Pro Series includes latex, polyurethane, and Kraton sealants.
www.phenoseal.com Phenoseal vinyl adhesive caulk
Red Devil www.reddevil.com Acrylic, silicone, and butyl sealants
Sashco Sealants www.sashco.com Big Stretch and Mor-Flexx water-based sealants, Lexel Kraton sealant
Sika Corp www.sikaconstruction.com Complete line of Sikaflex polyurethane-based sealants, butyl sealant
Tremco Inc. www.tremcosealants.com High-performance, architectural-grade sealants,
UGL www.ugl.com Acrylic latex caulks
White Lightning www.wlcaulk.com Tripolymer, butyl, polyurethane, silicone, elastomeric, and other high-performance sealants
-- Adapted with permission from Best Practices Guide to Residential Construction.
Stucco Finish System Articles
...
Continue reading at STUCCO RECIPES & APPLICATION or select a topic from closely-related articles below, or see our complete INDEX to RELATED ARTICLES below.
Suggested citation for this web page
STUCCO WALL METHODS & INSTALLATION at InspectApedia.com - online encyclopedia of building & environmental inspection, testing, diagnosis, repair, & problem prevention advice.
Or use the SEARCH BOX found below to Ask a Question or Search InspectApedia
...
Frequently Asked Questions (FAQs)
Try the search box below or CONTACT US by email if you cannot find the answer you need at InspectApedia.
Question: so who can I get to install stucco on my home?
I enjoyed reading your report on stucco installation. I am in the process of taking the old stucco off my house in Brooklyn NY and installing new stucco. Most contractors I have spoken to have a blank stare when it comes to the true installation process. And they are supposed stucco contractors. Are there any stucco contractors you would recommend in the NYC Area,. Any help or recommendations would be greatly appreciated. Thanks. M.P.
Reply:
Thank you for the nice note, and of course the stucco question.
Sorry to say I don't have a specific stucco contractor to recommend, and more generally, even when we know of a contractor who has done great work in the past, as they say about the stock market, "past performance is no guarantee of future satisfaction" - I find that crew members and onsite managers can vary from job to job, with varying results even for the same contractor, unless it's a smaller company who always uses the same people.
Where that leads, also unfortunately, is that unless you are working with a known contractor whose worked for you before you pretty much need to learn a little about the topic yourself so that you can protect yourself from the wild arm-wavers who have never even read the instructions on the package.
Watch out: in a New Jersey synthetic stucoo failure court case I attended I was disgusted to hear that the prime contractor simply was ignorant or hasty and omitted critical steps and left out critical materials that would have insured a successful job. He did not follow the stucco installation recommendations nor standards provided by the manufacturer.
Yet when the contractor was challenged by the homeowner's attorney, he told the judge, who knew nothing about stucco, that the omitted steps were simply not included in his stucco job contract. The installation contractor omitted key details like backer rods and sealants that would have prevented serious building leaks, water and mold damage. He also failed to follow other installation requirements. His reply: our contract doesn't cover those components.
A typical homeowner would hardly know that something was being omitted from the stucco installation procedure. The least the contractor could have been done would have been to point out that omission and recommend how it should be addressed in order to get a successful stucco job.
Who the heck was supposed to install them then? It's as if you were buying a car and it was delivered without the motor. In my OPINION, you didn't get a car.
Question: thinking of buying a home with traditional 3-coat stucco exterior - was re-done over with synethtic, now it's cracking.
I am looking at a home for sale that has been built using Traditional 3 coat stucco. The owner had the stucco "redone" 5 years ago with a synthetic stucco which was applied over the traditional stucco. Now the stucco on the parapets (it is a pueblo style home in the southwest) has cracked and in rain the traditional stucco underneath has become wet and turned to mush.
I would like to remove all the synthetic stucco coating and get down to the traditional stucco and REDO THE STUCCO ON THE ENTIRE HOME USING TRADITIONAL STUCCO. The stucco company in my area says that the only way to go back to traditional stucco is to re-net (put new lath) on the home and then apply a base coat, wait 2 weeks and then put the traditional stucco color coat on. Is this the only way or can the synthetic stucco color coat be removed by a process such as sandblasting? - Patty 9/17/11
Reply:
Patty, I suspect that the overcoat of synthetic stucco did not include the manufacturer's recommended backer rods, sealants, and protection at penetrations. Once water gets behind synethetic stucco, as you have unfortunately found out, it stays there, causing trouble. This stucco job is in serious trouble.

I am afraid I agree with the stucco company you consulted. Mechanical removal of the problem material is what's needed, along with an investigation to be sure there is no rot or mold that needs to be addressed.
Reader follow-up:
Thank you Dan,
The stucco company told me this is what they consider to be a failed synthetic stucco. They stated that the company who had redone the stucco for this home using a synthetic stucco over the traditional stucco had likely not followed manufacturer's instructions to properly use the appropriate mesh over the parapets and to prime the home. They have given me estimates of 15,000 to redo the stucco using a synthetic stucco product or 25,000 to re-net (rewire) the entire house and do a traditional stucco job. This is only a 1,400sq foot home with a 2 car garage. The seller of the home did not know whether the stucco was synthetic or traditional stucco and likely she did not understand the problems that could occur from having a company use synthetic stucco instead of redoing the home with traditional stucco which would have been less costly and given a better result.
I have decided not to proceed with the purchase of this home as there is too much water damage to the parapets. Thanks again! Patty
Opinion:
Patty:

It would be unusual to find a defect that would be so costly that it makes buying the home out of the question, but nevertheless it's important that you have as accurate as possible assessment of the home's condition, needs for repairs, and priority of repairs so that you have an accurate picture of the home's true cost:

True home cost = purchase price plus the cost of repairs that are necessary for the home to be safe, functional, and not rapidly deteriorating.

If the true cost greatly exceeds the purchase price or the projected near term value of the home once it has been repaired then the deal may not make sense. For example, I inspected a home in Beacon NY that was selling for $125,000. in a neighborhood of $100,000 homes and that needed another $50,000. in urgent repairs. The deal just didn't make sense unless the buyer had great reason for going ahead and if s/he expected the home to remain in the family for generations.

Under the aegis of that advice, if you were to decide to buy a home such as the one you describe, your home inspector should form an opinion about the level of risks of leaks into the structure and a possibly costly hidden mold or rot or insect damage problem. A problem with inspecting stucco-covered homes is that there can be hidden damage that does not quickly show up in the forms of cracks, movement, etc.
Question: stucco over wood shiplap siding?
We are in Sacramento, CA. Our home was built in the 40s and skinned with redwood shiplap siding. We would like to stucco over the siding for a more durable finish. I have 2 questions:

(a) I recently learned about stucco rainscreens applied behind the stucco to better manage water against the sheathing. Is it necessary or an "extra." I was going to apply a layer of Tyvek stucco wrap as a water proof membrane then follow std procedure with 2 layers of grade D 60 min paper. I'm thinking of the South and West walls which gets the most rain and sun. Can you comment on this?

(b) If we like the look of wood trim over the stucco around the windows, my understanding is that we could either leave the existing 1x4 trim and stucco to it or take out the trim and stucco to the window. In the latter, the wood trim could be applied over the stucco for aesthetics. Can you comment on each option - pros/cons and best practices for minimizing water leakage from trim applied over stucco. - Sherman Wong 10/25/2011
Reply:
I would not apply stucco to the building without, for the specific stucco method you like, reading the manufacturer's specifications in detail, as they vary. The particular rain screen type and installation and requirements vary, for example.
About stuccoing up to trim, you might want to test that approach on one section of your home. You may not like the aesthetics of the windows and doors beginning to recede into the skin of the building.
And in any event, review the stucco manufacturer's advice for proper sealing around all of the building trim - leaks into the walls at trim, and trim rot, are common problems on many stucco'ed buildings, both with the traditional stucco methods and with the EIFS methods.
Question: one-coat stucco on concrete block
Thank you for all the good information. Here in Florida the standard practice seems to be to apply one coat of stucco directly to the concrete block walls ( no lathe ). They seem to use various trim pieces or corner moldings out of styrofoam ( i think ) or plastic. The stucco is cracking open at the vertical corners, probably from heat expansion of the plastic. Is there an accepted repair method for this type of failure? - BGrubert 11/22/11
Reply:
Bugrubert:

from your description I wonder if your wall needed an expansion joint or two. Before repairing the stucco wall by cutting, patching, repainting, it would be a good idea to check with the particular stucco system manufacturer and compare the wall dimensions with their specifications to see if you need one or more control joints. I'd also double check that the cracking is only in the stucco, not in the underlying masonry block walls.
Question: troubles with stucco contractor
I have a bully contractor who has dragged his feet on the job and now is in a hurry to finish a large room and is not even allowing 24 hours between the middle coat and top coat. I was told that it didn't matter that it will all cure at the same rate. he is using a stucco cement with stucco sand added and no bonding agent. it is applied to wire mesh on old cedar lath walls in a fram house. By tomorrow he will be back to work and my ulcer will be flairing up --- Thanks I will look for a reply. - itmaybetoolate 5/9/12
Reply:
Maybe - you need an onsite consultant who is an expert and who can help you deal with your contractor.
Question: acceptable viewing distance for examining a paint job
What is the acceptable distance to view an exterior paint finish. I know painted concerete is approx 20 ft away not noticing holidays? Any comments? - BigBee 5/15/12
Reply:
Good question, I don't know but will look for some standards. If you can cite any let me know.
Question: Exactly how do we apply stucco to our house?
We are building a house w stucco exterior. what are the steps? So far we have plywood in place. And will be doing Tyvek. When do windows and doors get installed? - Kim 6/24/12
Reply:
Kim,
eek, this is more than I can answer as a simple reply to an e-question. But for a very detailed exposition on exactly what steps are involved in applying stucco to a building, contact the manufacturer of the stucco system that you are going to use. Every stucco system manufacturer provides very detailed and clear specifications for how their product should be installed.
Windows and doors and their flashings are installed when the building sheathing is in place.
These questions make me worry further that you are building a house with no experienced builder supervising the job.
And incidentally, most residential stucco leaks and failures seem to be traced to failure to follow the instructions to the letter.
Question: how do I use stucco to close off gaps in a fireplace wood storage areas
..i want to use stucco to close off gaps in the inside fireplace wood storage area..i have a brick fireplace with a wood storage area to the right..facing the fireplace it appears to all be solid brick..but when you get down to floor level and crawl inside the bricked wood storage area you find the brick work near the 'ceiling' stops about 2 layers in..then another layer of brick but with a 1-2 inch gap..i can feel cold air coming in here during the winter..

can i just stuff wire mesh tightly in this gap and then apply stucco..perhaps in layers to seal this off?

don - Don 8/20/12
Reply:
Don:

The setup you describe makes me a little nervous about who built the fireplace and where else s/he may have left air gaps that might be unsafe. And as for Chuck, I don't quite get the picture - about the - 2 layers in - but in general, and assuming we're not messing with some wierd combustion air supply scheme, and provided that we are NOWHERE near the firebox itself (as there you want solid masonry, no?) if you seal that leaky air gap with a fireproof material such as wire lath and stucco that should be ok.
Question: how do I stucco over bare studs in a shed?
I want to stuco a shed over bare studs could you help me with the prosses - Chuck King 11/29/2012
Reply:
Chuck,

It's a bit risking giving detailed instructions about a building and site we know absolutely nothing about. So I demur.

But in general, if you are stuccoing over bare wall studs on a building exterior, building sheathing is needed first; probably then you'd use either an EIFS method or a traditional wire lath method.

If you are stuccoing indoors on an un-finished wall in a storage shed, there are plenty of options that are quicker and easier, like nailing up plywood or another sheathing board. If nevertheless you want to apply stucco, you might look at the expanded wire lath method.
Question: is a 1/2" or greater air leak at the bottom of a stucco'ed wall "normal"?
(Jan 13, 2013) Alex said:
Hello. I purchased a new construction home in southern California where the builder used the one coat stucco system. The problem I have is throughout the perimeter of the home, there are more places than not where I can fit my fingers if not my hand behind the weep screed and the foundation/ framing 2x4s.
My builder said it is normal but it is causing problems with cold air in the winter and hot air in the summer to drastically change the temperature inside my home as well as insects. I don't know anything about stucco but I do know this is not acceptable to have the framing of my home exposed to the elements. What is your take and or recommendations for my problem? Thanks Alex 1.13
Reply:
Alex, when your builder describes as "normal" an air leak at the wall bottom that is big enough that you can stick your hand into the opening, I am led to the OPINION that it may be normal for him or her, but it's not good construction. Someone needs to take a closer on-site look at exactly what's going on before prescribing any repair steps.
Question: comment:
(Feb 1, 2014) (mod) said:
Re posting an anonymous comment without hyperlinks (not allowed, for security reasons)
We build new homes in California and have switched to stucco trim products It is a non foam product. It is a wire mesh shape that becomes solid.
Question: chalking around windows on a stucco home
(Mar 18, 2014) Dusty said:
On a new construction, should you chalk around all windows on an all stucco house! Also, over time some separation is notice between stucco and window casings. Should this be chalked?
Reply:
Dusty,
If by "should you chalk around" you mean drawing chalk lines, I have no idea and don't know what you're after.
If you mean should there be white effloresence markings or deposits on the exterior, that defect may indicate a leak into the walls or it may indicate improper painting or coating. Near the top of this article to right of the first photo click on
SIDING EIFS STUCCO PAINT FAILURES - separate article - for more examples and explanation.
Question: is there any problem with using a synthetic like STO on the parapets, and traditional stucco everywhere else.
(June 8, 2014) Doug said:
The parging has cracked/broken off my foundation walls, there is a thin layer of tar on the concrete wall all the way up to the stucco. I can't remove the tar because its sealing the wall from moisture. So is there a bonding agent or membrane I should apply before trying to get the parging to adhere to the wall?
(June 13, 2014) Nitin B. PAtil said:
i want to such as product which is applicable for filling the gaps between wood frame and RCC/Brick work
(July 27, 2014) Gil said:
Our home currently has traditional cement and lime stucco. We live in the high desert of Albuquerque, New Mexico. We have trouble with cracks that develop mainly on the parapets, which protrude out a few inches for a decorative effect. I am wondering if there is any problem with using a synthetic like STO on the parapets, and traditional stucco everywhere else. We would use an accent color for the parapets, probably a darker shade of the cement stucco color, so we do not have to worry about trying to match the cement stucco. My hope is that the synthetic would have more resistance to cracking, but I would not need to worry about moisture being trapped by the synthetic if it is just being used on the parapets.
Reply:
Gil,
My OPINION is that it should be fine to use synthetic stucco for different segments of the construction that abut as you describe *provided* the transitions are flashed, sealed, or otherwise treated per the stucco system manufacturer's specs.
Generally the worst problems with moisture intrusion into synthetic stucco systems is at un-sealed penetrations in the EIFS membrane. Since your parapets would not have penetrations (such as for lights, windows, etc) the risk is minimized.
Take special care at the juncture of parapet to roof and parapet to wall at its overhang joint.
Also check that the cracking you are seeing is not due to poorly-constructed parapets that are sagging or moving.
Question: Which stucco method is more durable?
(July 29, 2014) Bruce Fitz-Gerald said:
I am looking to have the stucco redone on my house. The original stucco was done when the house was built in 1951. The stucco was applied directly to cinderblock walls. I have two quotes currently. The first is using foam board adhered to the existing walls with galvanized nails and then scratch and stucco layers applied. The second quote is to powerwash the existing walls, chip away any loose material and then apply mesh with galvanized nails, scratch and stucco layers.
Of the two methods, which one is more durable? Does the foam board make the walls softer? and finally, what needs to be done so the foam board does not become saturated with water?
Reply:
Bruce, I'm not of the OPINION that there is a single right answer to your interesting question. For all stucco systems the devil is in the detail of application - did the installer follow the stucco system specifications?
Stucco on block is indeed less vulnerable to impact damage; it's also less vulnerable to moisture leaks into the wall cavity that can occur on some synthetic stucco systems installed on wood-framed walls, but as your walls are solid block the concern is likely minor.
Stucco on foam boards, properly installed is quite durable. I don't worry about moisture entering the foam boards provided the installer uses the foam board (and all other components and sealants etc) recommended by the manufacturer of the stucco system they are going to use.
There may be an added advantage (depending on where you live) of having some insulation on an otherwise uninsulated block wall.
Question: Which stucco is better, traditional or synthetic
(Aug 25, 2014) Linda said:
We live in the Albuquerque area and have a 15year old home with traditional stucco. When we do a redo on the stucco and parapets...everyone has a different opinion as to which is better, synthetic or traditional. People who have put synthetic over traditional have not had problems over a couple years, but I wonder what will happen in the long run. Should we stick with traditional? What is the truth,it seems to depend on the contractor and what he wants to do.
Reply:
Linda as I opined to Bruce just above, the truth lies here in the skill and care of workmanship. IF the contractor is very expert in a particular method naturally it's safer to let him or her use the most familiar method.
Complaints about EIFS failures are usually traced to leaks in the system that are usually blamed on the contractor not following the (arduous, demanding, hard to follow in all details) specifications from the manufacturer.
Applying synthetic stucco over existing old-stucco on wire or wood lath? I'd be cautious about mixing materials and approaches. We will do some research on that hybrid approach.
Question: sealant for stuccos, Stucco in Oklahoma, Stucco in San Diego CA
(Oct 9, 2014) Keith said:
Hi,
I have some stucco siding that needs repair. During a back yard reno I found the landscaping elevation was above my walk-out basement floor slab, resulting in seepage and rot beneath the lower portion of my stucco siding. I removed the lower 24 inches of stucco and from that determined 16 inches of rotted boarding needed to be replaced, which I did with green treated plywood. I have double wrapped the area with Grade D paper and it is ready for stucco. One issue is there is no room beneath the exiting stucco to allow for a proper lap of the horizontal seam of the new house wrap. I have however attached the new house wrap as tight as possible against the lower edge of the existing stucco. And the repaired area will be parged rather than trying to match the 20 year old stucco colors. Will I have a problem with the house wrap not being underlapped with the existing stucco ? Or is there a sealant I could use to mitigate the potential problems of not haveing a proper underlap ?
(Oct 23, 2014) John said:
Hi, we are living in Noman, Oklahoma and are planning to build a new home in Spanish Revival style over the next year. We have lived in a Spanish Revival house built in 1937 with traditional stucco that has seemed to hold up fairly well. Our builders have used EIFS with drainage for years on wood frame homes and prefer that over traditional stucco. What do you think would be the best choice for stucco in my area of the country. We have 4 definite seasons with hot summers often over 100 degrees and cold winters with freezing temperatures. I have even thought about using stucco over brick. Thank you for your help.
(Nov 4, 2014) Karen C said:
Hello. My 1950s tract house in San Diego, CA had some stucco damage near the bottom in a few areas. The damage was repaired and the house stuccoed with a scratch and finish coat. There is no weep screed. The house' roof has a small overhang and no gutters, so the rain hits close to the foundation and had caused a trough that fills with water when it rains substantially. In preparation to have the house restuccoed, I dug the soil out 6" down and 6" out from the foundation. Now I am trying to prevent the new stucco from taking up water from the soil and mud splashing onto the stucco when it rains. The house is at the top of a small hill so drainage is generally good.
Do you have any suggestions? How good would it be to install an apron of gravel, concrete or pavers that meet the house and angle away to direct water away from the stucco? Thank you.
(Nov 6, 2014) omar said:
can be stucoo aplied to an adhered thermal insulation on a concrete wall ?
i mean will the adhered insulation hold the wait of the stucco?
Reply:
Karen
Be sure that the roof gutters are kept cleared and working.
Walk around the house during heavy rain to see where water is going and thus what might need repair.
Keep 6" or more between the ground surface and the bottom of any siding material that could invite termites or carpenter ants into the structure.
With working gutters and downspouts, good surface drainage, and proper ground clearance, and with the wall finish sealed with paint or another approved stucco coating, the remaining splash-up from rain itself ought not be an issue.
Omar
you'll need to apply a mechanically-adhered mesh to support the stucco system.
Question: for supporting stucco, which mesh is better, steel or fiberglass ?
(Jan 8, 2015) Craig said:
Greetings,
I have an old building the first floor is block, however the second floor is corrugated fiberglass. Is it possible to stucco over the corrugated fiberglass?
Great articles, Thanks for the information.
Craig
One more, please..
Should I use a steel mesh, plastic or fiberglass mesh?
Reply:
Craig: You will need to mechanically adhere a mesh to apply stucco.
Steel diamond mesh - which cuts the installer easily - has more rigidity and may be needed over irregular surfaces like a corrugated surface. But ultimately you want to select a mesh type recommended by the manufacturer of the particular stucco product you are planning to use.
Generally we see steel mesh with traditional stucco and fiberglass mesh with modern EIFS or synthetic stucco systems.
Question: water leak at horizontal stucco joint
28 January 2015 Ken said:
I have a water leak about 2 feet over the top of a window and I suspect there is water intrusion at the control joint which runs horizontally over this window. The stucco is over the control joint channel, which I guess is for asthetic purposes. Can the control joint be sealed and somehow made waterproof and if so what would be a good product? Traditional 3 coat stucco.
Reply:
Ken
I'd need to see installation details to be confident in advice about the leak you describe, but generally you'd expect horizontal zee flashing at a horizontal stucco control joint. Just sealant alone may not be reliable.
If you know the brand and type of stucco system that was installed we can (either of us) take a look at exactly how the stucco manufacturer wants the joint treated - they have the best say on the matter.
Question:
(Apr 9, 2015) Kathy Machir said:
The picture of San Miguel de Allende, Mexico could almost be ours as we also live there. Although our house is only 6 years old, we have repaired cracks which do not hold, repainted with two coats of acrylic paint over freshly repaired cracks, and continue to have the paint peel off. The house is a traditional brick house with thin plaster coating. I have read through your many analysis',recommendations, etc., until I am ready to cry "uncle". This is clearly not a job for a traditional Mexican contractor. As you have access to a photo of San Miguel, and understand the building issues here, by chance do you have a contractor you could recommend to use for this project?
Reply:
Kathy,
You are welcome to contact me by email - found at the CONTACT link at page top or bottom. You can send me some photos of the home and of the leaks or cracks and I maybe able to offer comments; or I may be able to take a look at your home myself - directly - and make some suggestions.
Typically you need to find and fix the moisture source: leaks from the other side of a wall or from a roof.
Question:
(June 5, 2015) Cam said:
I built a traditional adobe wall with doors, windows, buttresses, curves, etcetera - 150 feet long, 6' high - a 2 summer art project. The intense rains here in Colorado have been slowing eroding it, so decided it was time to stucco. Exchanged a contract which provides for metal lathe and two coat application. Came home from work yesterday to find the contractor and 5 workers had applied the first coat directly to the adobe wall with no mesh. It rained like crazy last night, and the first coat is cracking and peeling. I discussed the metal lathe with the contractor before the work began. What would you suggest be done at this point? Can they put the metal lathe on now and re-coat, or does the first coat have to come off and start over?
(June 18, 2015) jackiecimento@msn.com said:
We are contemplating having some stone planter boxes installed in front of our stucco home. The landscaper suggested using the house as the back wall of the planter by installing a water sealant to the areas where the soil will be against the wall. Would you recommend an elastomeric waterproofing membrane, or liquid water proofing membrane, or advise staying away from the idea altogether?
(6 days ago) Darcy Saby said:
We have built a stucco wall and placed a wood cap on top. There is now a gap between the top of the wall and the wood in some places. What should we fill the crack with?
Thanks!

Reply:
I'd use a latex-based sealant that is formulated to resemble the stucco in texture and colour, or one that is paintable to match. Some of the concrete patching sealant/caulk products might suit.
Question: builder left out the weep screeds
I have just built a modern home with first floor (slab on grade) stucco exterior. I've had some difficulties with the builder. After final inspection - it was noted that there was no "weep screed" The builder said for cosmesis - it was under the stucco. It seemed fishy and after a few go arounds between lawyers, he agreed to remediate the stucco.
When the stucco was off the house - I took pictures and there was no metal lathe under -- it was placed by the stucco vendor secondarily and a screed now exists for 90% of the house. He ignored several small sections (reverting to his assertion that the screed exists - it's under the stucco and the remediation he agreed to was just for cosmesis)
This yard is very wet and I can't believe that some of the stucco, but not all, needs a vapor escape system. MN Lathe and Plaster won't let me pay them to come and give an opinion. The city inspector (who passed the house initially) is not willing to comment... so I am left to believe the builder who has been untruthful about the project from the beginning. Please advise. - 6 July 2015 Anon
Reply:
Please see STUCCO WALL WEEP SCREED DRAINAGE where there are details about this case.
...
Ask a Question or Search InspectApedia
Use the "Click to Show or Hide FAQs" link just above to see recently-posted questions, comments, replies, try the search box just below, or if you prefer, post a question or comment in the Comments box below and we will respond promptly.
Search the InspectApedia website
Technical Reviewers & References
Click to Show or Hide Citations & References
Steve Bliss's Building Advisor at buildingadvisor.com helps homeowners & contractors plan & complete successful building & remodeling projects: buying land, site work, building design, cost estimating, materials & components, & project management through complete construction. Email: info@buildingadvisor.com
Steven Bliss served as editorial director and co-publisher of The Journal of Light Construction for 16 years and previously as building technology editor for Progressive Builder and Solar Age magazines. He worked in the building trades as a carpenter and design/build contractor for more than ten years and holds a masters degree from the Harvard Graduate School of Education. Excerpts from his recent book, Best Practices Guide to Residential Construction, Wiley (November 18, 2005) ISBN-10: 0471648361, ISBN-13: 978-0471648369, appear throughout this website, with permission and courtesy of Wiley & Sons. Best Practices Guide is available from the publisher, J. Wiley & Sons, and also at Amazon.com
Best Practices Guide to Residential Construction, by Steven Bliss. John Wiley & Sons, 2006. ISBN-10: 0471648361, ISBN-13: 978-0471648369, Hardcover: 320 pages, available from Amazon.com and also Wiley.com. See our book review of this publication.
Mark Cramer Inspection Services Mark Cramer, Tampa Florida, Mr. Cramer is a past president of ASHI, the American Society of Home Inspectors and is a Florida home inspector and home inspection educator. Mr. Cramer serves on the ASHI Home Inspection Standards. Contact Mark Cramer at: 727-595-4211 mark@BestTampaInspector.com
John Cranor is an ASHI member and a home inspector (The House Whisperer) is located in Glen Allen, VA 23060. He is also a contributor to InspectApedia.com in several technical areas such as plumbing and appliances (dryer vents). Contact Mr. Cranor at 804-747-7747 or by Email: johncranor@verizon.net
Paul Galow - technical consultant on networking, LAN design, applications support. Galow Consulting Services, 914-204-1749, email: paulgalow@galowconsulting.com
John Rudy, Advantage Home Inspections, Flemington N.J. 08822 home inspector, 908-806- 6364, Home, Radon & Termite Inspections, Central & Parts of North New Jersey, email: jonadvantage1@yahoo.com
Malco® Products siding tools are available from that company, including the SideSwiper II SRT2 discussed at Malco's website. Websearch 09/07/2010 http://malcoproducts.com/product/roofing-siding-gutter/siding-vinyl/siding-tools-vinyl/sideswiper-ii. Malco also produces other vinyl siding repair tools such as aprons, awls, hole punches, saw blades, and tools for for fiber cement products including power-assisted cutters
Parmetol, a wood preservativerecommended by the manufacturer was used as a fungicidal additive to paint on the Blue Poplar wood sculpture in Amsterdam, by artist Mari Shields [ - art conservation consult DJF-artist MS 2010]
"Weather-Resistive Barriers [copy on file as /interiors/Weather_Resistant_Barriers_DOE.pdf ] - ", how to select and install housewrap and other types of weather resistive barriers, U.S. DOE
"Flashing: the plain solution to leaky walls", Thomas E. Remmele, Manager, Technical Services, Sto Corporation, Building Standards, November/December 1999 p. 21-25.
Books & Articles on Building & Environmental Inspection, Testing, Diagnosis, & Repair
Our recommended books about building & mechanical systems design, inspection, problem diagnosis, and repair, and about indoor environment and IAQ testing, diagnosis, and cleanup are at the InspectAPedia Bookstore. Also see our Book Reviews - InspectAPedia.
Decks and Porches, the JLC Guide to, Best Practices for Outdoor Spaces, Steve Bliss (Editor), The Journal of Light Construction, Williston VT, 2010 ISBN 10: 1-928580-42-4, ISBN 13: 978-1-928580-42-3, available from Amazon.com
The Journal of Light Construction has generously given reprint permission to InspectAPedia.com for this article. All rights and contents are ©Journal of Light Construction and may not be reproduced in any form.
...