Asphalt Siding
History, patterns, inspection, repair, replacement of asphalt siding
InspectAPedia tolerates no conflicts of interest. We have no relationship with advertisers, products, or services discussed at this website.
Asphalt building siding:
This article provides photographs of asphalt-based siding products and discusses common defects observed in asphalt exterior building siding, such as buckling, splitting, cracks, odors, and questions about the need for a vapor barrier behind asphalt siding and over building sheathing. Included are comments from several recognized building inspection and construction authorities.
Green links show where you are. © Copyright 2017 InspectApedia.com, All Rights Reserved.
Asphalt Siding Concerns, Defects, Vapor Barriers, Inspection, and Diagnosis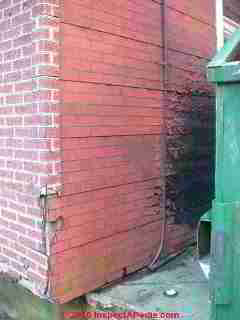 Asphalt building siding became a popular building renovation alternative to painting weathered or rotted wood clapboard or wood shingle siding as early as the 1930's, becoming popular in the 1940's and the 1950's in North America where it was used both for low-cost housing and for covering the deteriorated exterior walls of older homes.
Asphalt building siding products are typically composed of asphalt shingle-like material: colored mineral granules bonded to an organic or wood-product base with asphalt. Colored mineral granules form a desired pattern such as the faux-brick shown here.
Here we provide identification photos of several types of asphalt-based building siding and we list asphalt-sided building inspection, diagnosis, and repair suggestions.
We discuss asphalt siding damage, defects, and repairs, asphalt siding installation defects and its effect as a vapor barrier on the exterior wall of a building. We also discuss asphalt siding leaks and rot risks.
We include a brief history of the development, patterns, brands and colors of faux brick and faux stone siding, offering clues ab out what is probably underneath it.
We also review the possible asbestos content in this asphalt-impregnated felt product, and finally we address a common question: can I use asphalt roofing shingles as building siding?
Article Contents
Our page top photo shows an asphalt shingle sided home located in Two Harbors, Minnesota. If you click to enlarge the picture you'll see that an apparent asphalt siding repair was made above the second floor windows.
Our Coolidge Hotel photo shows (above-left) shows that the material can also be quite durable if properly installed and weather protected. [Click to enlarge any image]
A Little History of Asphalt Building Siding Products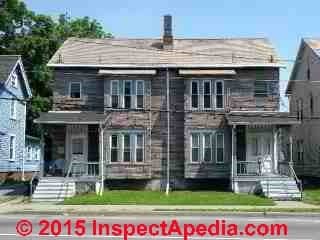 Asphalt-impregnated felt material similar to roof shingles or asphalt-impregnated felt bonded to hardboard or to insulating board was discussed as a building siding material in the U.S. as early as 1904 (Terpening 1904).
[Asphalt-impregnated materials had been in use in a variety of forms for hundreds of years and had been in wide use in roofing in North America since the 1840's.]
Asphalt-based siding resembling bricks was described by 1914 (Powell 1914) and further developed by Welty (1924).
But asphalt-siding but did not become widely popular in North America until the 1930's when the Mastic Corporation began marketing InselBrick, asphalt-based faux-brick siding panels.
The use of asphalt roofing-like materials as building siding no doubt grew out of the combination of un-sold asphalt roofing during the Great Depression in the U.S. and the lack of maintenance on homes during that period that left a need for an economical wall re-covering material.
Asphalt siding material was made in two common versions, one much like asphalt roof shingles but in larger sheets (right-side of the building photo near the top of this article) and the other was comprised of an asphalt coating laminated to hardboard siding material or laminated to a softer wood-based insulating board panel, often sold as InsulBrick or InsulStone siding depending on the manufacturer.
Commonly made to look like brick (faux brick), asphalt building siding also appears in faux-stone versions (not to be mistaken for "perma stone" which has been sold since the 1960's as an exterior wall covering) and even in a wood-shingle lookalike, as well as a utilitarian covering that was unabashedly plain asphalt sheeting.
Introduced in 1929 Sears sold brick veneer kit homes in the Honor-Bilt series (SEARS KIT HOME IDENTIFICATION). Eleven years later, in 1940 Sears introduced a substitute for actual brick veneer: Honor Bilt Brick Roll-Type siding.
This asphalt siding was produced in 32" x 43' sections, as a new addition to Sears' four brick double lap siding that had first been marketed by the company three years earlier in both roll type and rigid type asphalt siding in brick patterns as a low-cost and durable building renovation material.
Asphalt based random stone pattern siding was developed and sold in a random stone pattern as early as 1943 when Sears produced gray Inselstone (Ashlar stone in some references).
Colored random stone pattern siding like that shown just above (Poughkeepsie, NY) was sold beginning in 1954, sold as Ranch Stone patterned asphalt siding.
The development of the aluminum siding industry (introduced in the 1940's) and later the vinyl siding industry after World War II meant that few buildings of that later era were covered with asphalt shingle or slab material.
Asphalt Sheet Siding Properties & Pictures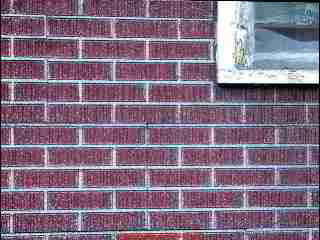 The example of asphalt sheet siding in a red brick pattern shown in our photo above is from the Coolidge Hotel, White River Junction, VT.
The random stone asphalt building siding shown just below is based on a hardboard substrate and is quite rigid when installed.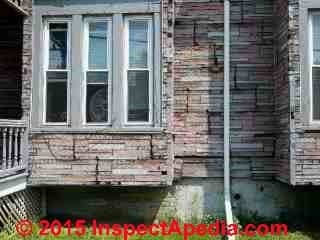 It would be rare to find asphalt-based exterior siding material as original wall cladding on a building; usually it was applied over wood clapboards which in turn were badly in need of paint or repair.
The asphalt-sided home shown just above, located in Poughkeepsie, New York, illustrates the usual wear pattern: the faux-stone pattern asphalt panels weather at their edges where leaks ultimately begin.
At above right at the center of the photo at the bottom of the asphalt-panel siding you can see the original clapboard siding on this home. The house was probably built before 1900.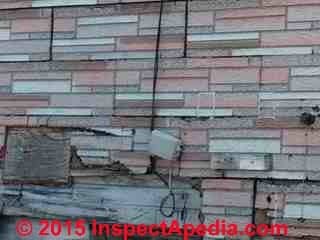 Above you can see more details of wear, actual loss of hardboard-backed asphalt siding panels, attempts at repair by nailing up a plywood panel, and also rotted wood siding.
Watch out: Don't mistake mineral-granule-covered roll roofing that may have been nailed-up on a building wall for an asphalt siding product. Roofing products were not usually designed for use on a vertical surface and are likely to be found falling off unless extra nails were used.
You can easily spot roll roofing on a building because of its length - you will find long horizontal runs, perhaps 15 feet or more (rarely vertical) without seams.
As we show in our ASPHALT SIDING DEFECT CHECKLIST photographs (below), leaks into this exterior wall covering or mechanical damage to it can expose the hardboard or wood-product substrate to weathering and disintegration.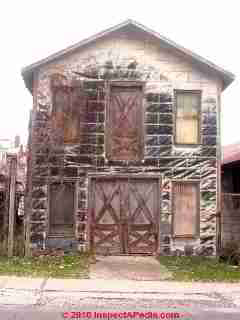 Just below we provide photographs of a thin asphalt exterior wall covering found on a building in Hudson, NY. This asphalt wall shingle product appeared to have no mineral granule coating whatsoever.
Notice that the stunning number of roofing nails used to affix this exterior asphalt cladding did not make much difference in how the wall covering endured.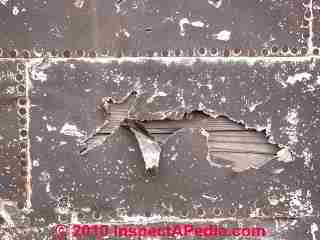 Asphalt Siding Defect Checklist
The two asphalt sheet siding photographs (below) show two defects often found on older buildings: falling siding where nails have been removed or lost (below left) and mechanical damage or tears in the siding (below-right).
The asphalt siding product shown at below right (produced on an all asphalt substrate similar to asphalt roof shingles) is different from the product at left (produced on a hardboard substrate). A closeup photograph of the hardboard substrate of this asphalt siding is shown at below-right.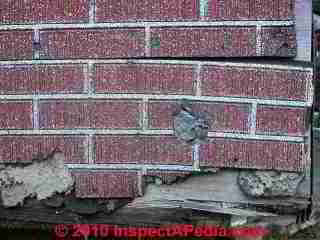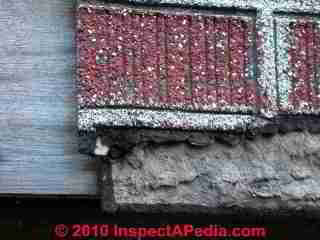 Asphalt sheet siding - paper substrate is shown in the photographs just below. You can see that this material may lose its granule coating to expose the asphalt-impregnated felt or paper base.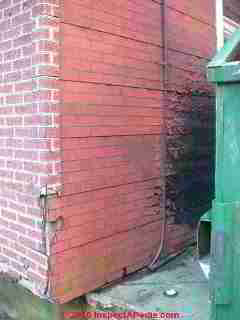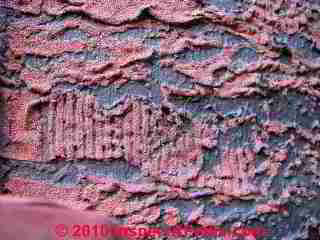 Our photo at below-left shows that this hardboard-based asphalt building siding was installed over wood lath. We pose that the original building wall had been covered by stucco.
Asphalt Siding Repairs?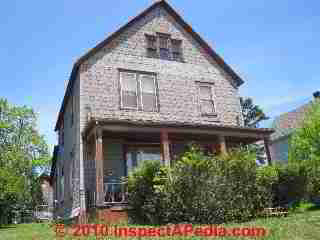 Loose asphalt wall siding that is otherwise in acceptable condition can be repaired by re-nailing it to the building.
Do not leave openings in the building cladding that permit leaks and water entry (such as shown in our photographs above) as you will be inviting a rot, wood destroying insect, or mold problem in the structure.
If money is short, a stopgap repair can be made by patching over with roll roofing or even a few roof shingles (and extra nails) as someone appears to have done in our photograph (left).
If large areas of the asphalt building siding are worn-through, the proper repair is to completely remove the material from the structure, inspect for and repair any structural damage, followed by installation of a new exterior wall covering.
Can I Still Buy Asphalt-Based Exterior Siding?
Question:
Can you tell me where to buy faux asphalt brick siding? I live in New York. - N. verizon.net
Reply:
We have not found any of the U.S. asphalt product manufacturers such as GAF, Certainteed, Oldcastle who currently produce asphalt-based building siding such as the brick-pattern you asked about.
The asphalt-based brick pattern exterior siding products found on some older buildings were generally produced by the same companies who produced asphalt-based roofing shingles.
Asphalt-based [roof shingle material on an organic (paper mat) or asphalt on hardboard] siding products were later supplanted by cement-asbestos siding-shingles, then aluminum siding and steel siding, then currently by vinyl siding.
We are doubtful you would find a current supplier of new asphalt siding products today, but I'll continue to look for such a source.
CONTACT us if you find a modern source, use, and building-code approval for asphalt-based faux-brick or similar pattern exterior siding.
Can I Use Roof Shingles for Exterior Siding?
We do not recommend using roof shingles for exterior siding, but if you are going to attempt that anyway, be sure that you follow the appropriate vertical and near-vertical nailing instructions for the roof shingles. Otherwise you'll find them falling off of the building.
See SIDING ASPHALT ROOF SHINGLES on WALLS for details.
Does Old Asphalt Building Siding Contain Asbestos
Reader question: I was just wondering if the Brick looking asphalt siding ever contained any asbestos or hazardous material.
Your opinion would be greatly appreciated.
I need to remove some of this product but will use a knife to cut it into pieces and bag it appropriately. Also i am having a room demo that is 20x38 and the drywall joint compound is suspected to have chrysotile asbestos contained. I have taken appropriate measures and have sealed of the area with 6mil poly and taped the joints.
Should this upon removal be sprayed with water or are the asbestos crystals encapsulated in joint compound. Have you come across this situation. Thank-You. D.T., Canada
(July 21, 2012) Kent W. Roeser said:
I have asphalt faux brick Finnish shingles on the back of my house how can I tell if they are asbestos? The house was built in 1920 and the addition was later on. The owner said they were asbestos but with the seizures his memory is not there.
Reply: Maybe.
A competent onsite inspection by an expert might confirm the age and type of this particular asphalt-siding product, and also, based on the probable building age, it is certainly possible that other asbestos-containing materials are present. That said, here are some things to consider:
In general I think you are referring to an asphalt product that is made essentially of the same material as asphalt roof shingles, though some versions applied bituminous and asphalt and mineral granules to a hardboard base rather than a paper ("organic") base.
Some asphalt roof shingle products, and therefore quite possibly some asphalt siding products, did indeed contain asbestos fibers in their substrate or coating. Roof shingles, even if the material contained asbestos (which it might) are rarely the only nor even the principal source of problem-levels of asbestos fibers in a building and I suspect the same is true of asphalt-based building siding. That's because the asbestos fibers are encapsulated in asphalt or similar non-friable bases.
There might be a concern if building demolition is underway and the removal of old siding created dust - especially if power tools such as power saws or grinders were used.
Watch out: if that's going on with your building it would be prudent to use appropriate dust control measures and to minimize the break-up of the material, and especially, to avoid using power saws. And there may be provincial or local municipal regulations that govern the demolition and removal of these materials.
Kent some old asphalt roofing and siding materials contained asbestos but to know for sure you'd need to send a small sample to a certified asbestos testing lab. If you can send me some photos I can comment further.
Research on the History of Asphalt Siding Products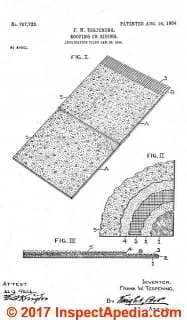 Arkansas Historic Preservation Program, "Asphalt Roofing Materials" published by the Arkansas Historic Preservation Program, retrieved 2017/10/08 original source: paragoninspects.com/articles/pdfs/exterior/ cladding/siding/asphalt/ asphalt-siding-materials-ahpp.pdf
Beckman, Bernard C., "Composite siding." U.S. Patent 1,674,630, issued June 26, 1928. Assignee Beckman Dawson Roofing Company
Cowan, Clarence Percival. "Cowan." U.S. Patent 1,655,494, issued January 10, 1928.
Excerpt:

My invention relates to improvements in roofing and siding construction and material for building purposes with more particular reference to prepared sheet surfacing material such as asphalt shingles and asphalt clap-boards and the object of the inventon is to devise an improved form of this lmaterial by means of which a superior construction may be obtained; ...
French, Henry, "Strip shingle." U.S. Patent 1,732,403, issued October 22, 1929.
Excerpts:

This invention has for its object to provide a new form of strip shingle which may be laid with others in overlapping rows to simulate laterally spaced individual roofing units, to provide a new and pleasing design or effect,...

Jacobs, Frank Davis. "Roofing and siding material." U.S. Patent RE12475, issued April 24, 1906.
Jacobs, Frank Davis. "Roofing and siding material." U.S. Patent 788,358, issued April 25, 1905.
Mullin, Thomas J., "Building material." U.S. Patent 1,362,888, issued December 21, 1920. Assignee Richardson Paper Company.
Excerpt:

My invention relates to material to be used in the construction of houses or other buildings as weatherproof fiber-board siding, to take the place of Wooden siding and weatherboarding for the outer wall covering for houses or buildings. Wall board has been used for inside construction in houses as an iusidewall finish, but for outside wall construction, paper or fibrous material has not heretofore been made available.

It is accordingly the object of my invention to provide a material suitable for construction of outside walls, made of paper board, which is formed up with additional material and provided with a finish or outer layer or coating of materialwhich will make it available as an outside wall construction material.
Terpening, Frank W. "Roofing or siding." U.S. Patent 767,723, issued August 16, 1904. [Click to enlarge any image]
Excerpt:

My invention relates to that class of readymade rooting or siding which is composed of g a series of layers of impervious material rendered waterproof b the application of cei [sic] reference to roofing or siding sheets of this character in which is incorporated a layer of wire fabric to add strength and resistance to wear incident to the handling and service of the roofing or siding. ...

A designates sheets of vmy improved roofing or siding, each ot' which is provided .at one end with a lap surface B. rlhe rooting or siding sheets are each composed of a bottom layer 1 of fibrous wool-felt, onto which is laid a layer or coating 2 of cement, such as asphalt.

Above the layer 9. of asphalt is a layer or sheet 3 of wire fabric, which is surmounted by a layer or coating of cement, such as asphalt.

The layers'of` cement 2 and 4 permeate into the mes of the wire-fabric sheet 3 and furnish adhesion between said wire fabric and the bottom layer of wool-felt, thereby rendering the g sheet of rooting or siding intact throughout.

Onto the topmost layer 4 of cement Iapply a layer 5 of crushed granite, gravel, or other suitable granular material, which by embedding into the topmost layer of cement becomes an integral part of the rooting or siding sheets.
Powell, John R., and Benjamin G. Casler. "Roofing and siding material." U.S. Patent 1,114,032, issued October 20, 1914.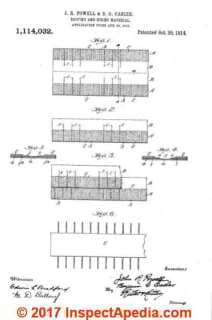 Welty, Peter P., "Siding and shingle strip for building purposes." U.S. Patent 1,515,530, issued November 11, 1924.
Excerpt:

This invention relates to siding or shingle strips for building purposes composed of flexible, water-proof material and adapted to be laid in overlapped courses, each strip constituting a member of the covering of the side of a building.

The main object of the invention is to provide a building strip of the class specified, constructed to simulate building units such as bricks and presenting, when a number of the strips are laid and overlapped,

a surface having the appearance of a brick wall, and to utilize in connection with these strips at inner and outer corner angles of the side portion of a building novel forms of supplemental strips having a particular specific construction,

to regularly continue the courses of the overlaid strips at the points indicated and preserve the continuity of the said strips at inner and outer angles.

7 A further object of the invention is to generally improve building strips of the character specified by forming the same from comparatively cheap material and subjecting the strips to treatment to render them water-proof, and thereby economize in the cost of building materials with substantially the same degree of efficiency in service and wearing ability.
Also see REFERENCES at the end of this article
...
Continue reading at SIDING ASPHALT ROOF SHINGLES on WALLS or select a topic from closely-related articles below, or see our complete INDEX to RELATED ARTICLES below.
Or see ASPHALT SIDING FAQs questions & answers about asphalt based siding products
Or see SIDING TYPES, INSTALLATION, DEFECTS - home
Suggested citation for this web page
SIDING ASPHALT SHINGLE or SHEET at InspectApedia.com - online encyclopedia of building & environmental inspection, testing, diagnosis, repair, & problem prevention advice.
Or use the SEARCH BOX found below to Ask a Question or Search InspectApedia
...
Frequently Asked Questions (FAQs)
Try the search box below or CONTACT US by email if you cannot find the answer you need at InspectApedia.
Questions & answers about asphalt siding products on buildings that were posted originally at this page are now found at ASPHALT SIDING FAQs
...
Ask a Question or Search InspectApedia
Questions and answers about asphalt-based building siding products.
Use the "Click to Show or Hide FAQs" link just above to see recently-posted questions, comments, replies, try the search box just below, or if you prefer, post a question or comment in the Comments box below and we will respond promptly.
Search the InspectApedia website
Technical Reviewers & References
Click to Show or Hide Citations & References
"Weather-Resistive Barriers [copy on file as /interiors/Weather_Resistant_Barriers_DOE.pdf ] - ", how to select and install housewrap and other types of weather resistive barriers, U.S. DOE
Certainteed Weatherboard fiber cement siding and trim products - see certainteed.com/ or see certainteed.com/resources/sidingandtrimspecsheet.pdf
"Weather-Resistive Barriers [copy on file as /interiors/Weather_Resistant_Barriers_DOE.pdf ] - ", how to select and install housewrap and other types of weather resistive barriers, U.S. DOE>
Books & Articles on Building & Environmental Inspection, Testing, Diagnosis, & Repair
Our recommended books about building & mechanical systems design, inspection, problem diagnosis, and repair, and about indoor environment and IAQ testing, diagnosis, and cleanup are at the InspectAPedia Bookstore. Also see our Book Reviews - InspectAPedia.
...