Fiberboard Identification

Building Wall & Roof Sheathing, Insulating Board Identification Key
POST a QUESTION or READ FAQs about fiberboard building sheathing: how to identify fiberboard products, fiberboard uses, fiberboard, Celotex, Homasote, Insulite & other brands, fiberboard ingredients, does fiberboard contain asbestos?
InspectAPedia tolerates no conflicts of interest. We have no relationship with advertisers, products, or services discussed at this website.
Fiberboard insulating sheathing identification guide:
Here we help identify and give information about the manufacture, ingredients & use of various fiberboard insulating sheathing products. We explain how to recognize/identify Celotex®, Homasote®, Masonite® Nu-Wood® and other insulating fiberboard building sheathing products used as exterior wall sheathing and as interior wall & ceiling surfaces.
This article describes and provides photographs that aid in identifying various insulating board sheathing materials used on building walls and roofs, such as "black-board", Barrett R-Brace, Eastman PS-57-73, Celotex, Homasote, Insulite, and Masonite, Upsonboard, Nu-Wood and other insulating board sheathing products.
In this article series we provide fiberboard product names and we describe the components, properties, and applications of various fiberboard, hardboard, and insulating board or sound deadening board products. We also answer questions such as do Celotex or Homasote or other fiberboard and insulating board products contain asbestos? fiberboard water resistance, fiberboard recycling.
We also provide a MASTER INDEX to this topic, or you can try the page top or bottom SEARCH BOX as a quick way to find information you need.
Guide to Identify Homasote®, Celotex®, Insulite, Nu-Wood, Upsonboard, & Fiberboard & Insulating Sheathing Board & Plasterboard Products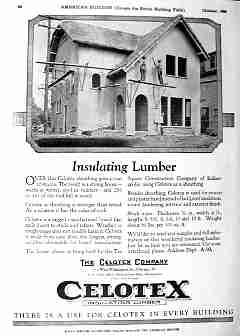 Low-density fiberboard panels and products trace their origin in the U.S. to Azel Storrs Lyman's 1858 patent for separating the fiber of wood and for the manufacture of paper and other purposes. (Jester 2014).
More significant for fiberboard products was W.E. Hale's patent for wallboard that described using fiberboard in construction (Hale 1870) and Cobb's patent for using a soft board made of straw in place of wood lath as a plaster base (Cobb 1871).
Jester explains that Cobb's straw fiber board was treated with cheap oil as a waterproofing agent, an idea that was elaborated by Homasote, Celotex, and the other big boy fiberboard producers of the 20th century.
The Agasote Millboard Co. (Trenton N.J.) was formed in 1909, and as Jester notes, by 1916 that company was producing the widely-known Homasote brand fiberboard that probably has been a century-long thorn in the side of Celotex, Insulite Nu-Wood, and Masonite.
By 1910 in the U.S. the manufacturer of fiberboard made these products available to builders and homeowners for use as a sheathing product that was used on wall exteriors, wall and ceiling interiors, and even as roof sheathing. In my personal experience, low-density fiberboard roof sheathing was a bad idea.
[Click to enlarge any image]
Article Contents
Identify the Type of Fiberboard Sheathing & Fiberboard Manufacturer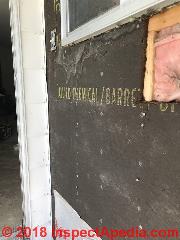 Fiberboard manufacturers such as those listed in this article series produced cellulose-based fiberboard or "caneboard" from a variety of plant- or wood-fiber sources. These panels were used as an insulating sheathing on building exteriors (mostly walls, rarely roofs).
Fiberboard panels were even more-widely used inside buildings as ceiling and wall paneling that was sometimes left un-painted, sometimes painted, and sometimes used as a plaster-base.
Exterior Fiberboard Sheathing
Insulating board sheathing has been widely used on building exterior walls, under roofs, and against masonry foundations in finished basements.
Exterior fiberboard, like the Allied Chemical / Barrett R-Brace sheathing shown here was usually treated to improve its water-resistance. If exterior-use fiberboard has a dark coating that's black or nearly-black it is usually an asphalt-based surface.
If the exterior-use fiberboard is tan or dark-brown in color it will probably also have a satin or slightly-shiny surface as it was treated with a water-repellant wax. Both types of fiberboard or "caneboard" sheathing may be impregnated throughout with a water repellant and often also with borate or other insect repellants.
That's true across the fiberboard-producing companies. You can often further-identify the fiberboard sheathing by a specific manufacturer if the sheathing bears stampings or printed product or company names.
Interior Fiberboard Sheathing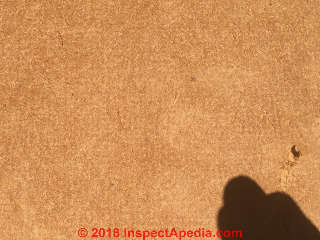 Interior fiberboard sheathing might also have been coated or treated with water repellants and insect repellants, but more-often the manufacturer's interior-use fiberboard products did not require and were not treated.
As a result interior-use fiberboard is more-likely to be light tan or brown in color with a natural finish - unless it was painted or plastered-over.
Our fiberboard photo shows the wall-cavity side of an interior-use fiberboard paneling that was found in the U.S. in an older home in Vermont.
You can see the characteristic linear screen-link texture on the fiberboard's surface. There are no manufacturer's marks. This photo, provided by an readery by email in 2018, identifies interior-use insulating board for which we can rule-out some brands like gray caneboards but beyond that the manufacturer is uncertain.
Below is another fiberboard photo provided by the same reader.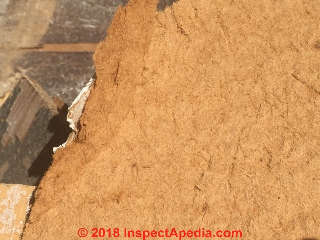 Above we're looking at the interior of a fiberboard panel that has been split or torn during demolition. You can see the difference in surface texture - still without a certain identification of a specific manufacturer.
Below is a third fiberboard panel photo also provided by the same reader.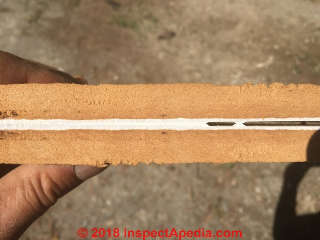 Above: the reader cut this fiberboard, perhaps with a sharp knife, and doubled it back over itself so that the wallboard sides that had been painted form a white line in the center of the image between the two board edges.
You can see the consistency of material in this insulating board. We can correctly state that this is a wood-based or wood-fiber based insulating board. Products made from post-consumer paper will be more gray in color throughout.
By color we can rule out Greylite, Homasote, and Upsonboard, but that's about our limit.
By color and texture this looks like but is not Beaverboard - Beaverboard bore identifying stampings or markings - see IDENTIFY BEAVERBOARD Identification
I suspect this is an older Celotex insulating board product.
Reader Question: Is it OK to re-side a home with Homasote building sheathing on its walls?
My home was built in the early 1940s and it was re-sided around 1994 (possibly a bit later but that's all the info we have). There are what we thought was sheetrock on the outside, but someone suggested it may be Homasote boards from when the house was originally built.
Two questions, if they are these boards from 50 years ago (at the time the house was re-sided), was that ok to do based on housing codes? Could they contain asbestos? Thanks. - K 12/2/2011
Reply: Yes
I've not found any building code issue constraining the procedure of re-siding a home because of the type of exterior sheathing used on the structure. The asbestos question is addressed in earlier FAQs addressed above. Wood or plant fibers are not asbestos materials.
Watch out: fiberboard sheathing should be protected from water that penetrates some building siding systems (such as aluminum or vinyl siding) by installing a water or moisture barrier - housewrap. See HOUSEWRAP AIR & VAPOR BARRIERS
Allied Chemical / Barrett R-Brace Insulating Sheathing
Reader Question: does Allied Chemical/Barrett Division R-brace mediate sheathing contain asbestos?
2018/03/19 Laura said:

Can you please tell me if the Allied Chemical/Barrett Division R-brace mediate sheathing contains any asbestos? My husband is going to take this sheathing down from a wall in our house and I am concerned about what it's made with.
Thanks for your help
This question & reply were posted originally at SHEATHING, FIBERBOARD ASBESTOS CONTENT
Reply: probably not, but we don't yet know for certain
Initial research suggests the answer is no, Barrett R-brace is a cellulose insulating wall sheathing that is not asbestos-based. But we have not seen asbestos test results from a sample of the material.
From the product name and from your photo I infer that this sheathing board was intended to provide some insulation - hence the "R" in its R-brace name - as well as to serve as bracing of a wood-framed wall against lateral movement, hence the "brace" in its name. The photo looks like an asphalt-coated fiberboard product.
Please tell me the country, city, state or province of the building and the year it was constructed as this will help me research your question.
Here is what I have found so far:
Most cellulose or organic fiber building sheathing board is a wood product not an asbestos product, though we've documented some interesting exceptions.
As you've noted, Barrett is and has been (since 1917) a division of Allied Chemical & Dye Co.
A search of the company's current website does not find ANY references to structural sheathing, insulating sheathing, nor R-Brace.
Okabe, Minoru, J. David Barrett, Hidehiko Fumoto, and Ken McKeen. "Effect of wood density on structural performance of shear walls for post and beam construction." In Proceedings of 8th World Conference on Timber Engineering. 2004. is interesting as it shows a Canadian Barrett still involved in structural sheathing in 2004.
Older U.S. patent disclosures give a view of some of Barrett's products and asbestos use, none of which that I've found so far cite asbestos.
Holder, John I. "Combined waterproof sheet and flashing receptacle." U.S. Patent 1,377,349, issued May 10, 1921. Original assignee: Barrett Co.
Eckert, Clarence R. "Siding material." U.S. Patent 2,038,102, issued April 21, 1936. Original Assignee: Barrett Co.
Swenson, George E. "Lathing for stucco." U.S. Patent 1,731,067, issued October 8, 1929. Original assignee: Barrett Co.
shows us that Barrett was producing panels as a lath substitute in that era. Asbestos is not cited in that patent.
In a 1954 advertisement for sale as an antique document we found confirmation that *some* Barrett products contained asbestos, though this does not tell us about the building sheathing in your photo.
Barrett Asbestos Pipeline Felt "Barrett Asbestos Pipeline Felt is a coal-tar saturated wrapper, shield, and reinforcement. It bonds readily to all coal-tar enamels to provide an inorganic permanent shield. This felt reinforces the enamel, absorbs impact shocks, and shields coatings against compressive underground forces which tend to disrupt or displace bituminous coatings.
Barrett Industries, founded by Samuel Barrett descended from Barrett roofing and then Barrett paving materials at the turn of the last century.
The company can be contacted at
Barrett Industries (Corporate Office), 3 Becker Farm Road, Suite 307, Roseland, NJ 07068 USA Phone: (973) 533-1001 Email: bpmicorp@barrettpaving.com Website: https://barrettindustries.com/
Beaver Board & History of How Fiberboard Was & Is Manufactured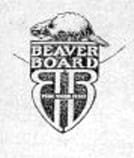 Beaver Board was marked on the back of each sheet with an ink-stamped trademark and brand.
If a single fiberboard sheathing product wanted to go up against Homasote as claiming the most-generic use of its name to describe low-density fiberboard sheathing made from wood fibers, or plant fibers, it'd be Beaver Board.
Details about identifying true Beaverboard panels are at BEAVERBOARD IDENTIFICATION.
However "beaverboard" as well as "celotex" are often used as a generic product name. That's understandable, because Beaverboard and other low-density fiberboard sheathing or wallboard products were similar in being comprised of relatively-homogenous plant-fibers bonded together by the interlacing of the fibers and treated with a waterproofing agent.
While no doubt some ugly logs that wouldn't have made a nice stud or joist were ground into chips for processing, I think that most of these sheathing products were considered to take enormous advantage of sawmill waste in the form of wood chips, sawdust, and wood scrap, or for some manufacturers, in the form of other plant materials such as straw, sugar cane, or bagasse.
Where wood was the initial material the wood was chopped into chips, sized, ground to finer size, and smashed into individual wood cells using steam and rollers. The combination of steam or water and pressure permitted the fibers to bond together into a sheet that was further pressed by hydraulic rams and rollers called platens (think of a huge typewriter platen or roller if you were born before 1980).
Randomly-crossed wood fibers make a strong product, a realization that appeared again later as MDF and HDF and similar products. To get the plant or wood fibers to adhere to one another beyond their mechanical arm linking, adhesives were used during the fiber consolidation process.
Jester names silicate of soda, flour paste, glues, dextrin, plaster of paris, waterglass and clay, rosin, turpentine, paraffin wax (see Homasote®), asphalt (giving a nice dark black color to the fiberboard panels and making them unattractive to termites and carpenter ants). (Jester 2014 pp 90-90).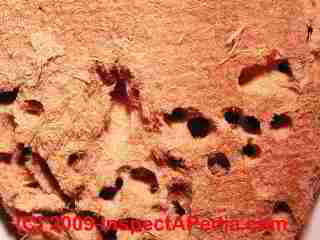 Photo above: low density fiberboard is not, however absolutely insect-proof, as my photo shows. More about this particular insect damage is at FIBERBOARD SHEATHING MOLD CONTAMINATION
Beaverboard, as other low density fiberboard products, was then trimmed, treated with a water repellent, and possibly colored, or for fancier products like Nuwood™ cut to bevels or tooled.
Caneboard sheathing
Caneboard was a fiberboard panel made from sugar cane.
Details are at IDENIFY CANEBOARD PANEL.
Celotex® Insulating Board and Fiberboard Products
Our photographs below show Celotex® insulating board with an older Celotex fiberboard building sheathing board at left and a more recent Celotex insulating board product shown at below-right.
Details for identifing Celotex at at
IDENTIFY Celotex® Insulating Board and Fiberboard Products
See also CELOTEX HISTORY & PRODUCTS
Eastman Sheathing Board
Eastman insulating sheathing, apparently cellulose-based fiber insulating board stamped with code PS 57-73 - [citations and research in process]
How to Identify National Gypsum's Gold Bond® Cellulose-based Insulating Board
Shown here in photos provided by a reader are a portion of the Gold Bond logo used by National Gypsum on "black" or "brown" board insulating board or IB.
The second photo plainly shows brown cellulose-like fibers that would be expected to be a wood or plant product based material.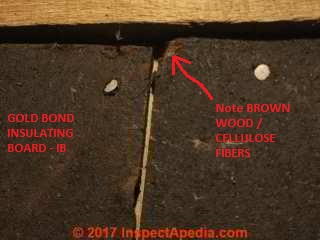 National Gypsum produced a very wide range of building products, a number of which contained asbestos, principally in products based on gypsum board or plaster board, or cement or asbestos cement board and coatings.
At ASBESTOS PRODUCING COMPANIES where you will find National Gypsum in that alphabetic list, we discuss a number of Gold Bond™ products, all produced by National Gypsum, that did indeed contain asbestos.
How to Identify Homasote® Brand Boards & Panels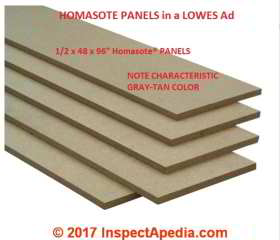 Homasote® wallboard and panels used for building sheathing are a cellulose-based product made from re-cycled paper to produce an internally-homogenious (non-layered) gray or gray-tan panel. .
Homasote® Identification: check color & texture & cross section
Despite widespread use of the word Homasote® to describe brown fibrous and soft board panels, actually Homasote is gray or in my OPINION gray-tan in color, as it's produced from post-consumer paper.
However once installed the product may have been painted or covered-over so an inspector cannot assume that she will always find the gray color without some digging into the structure.
The Homasote picture shown here is from a discontinued product previously sold at Lowes stores.
According to Homasote®,
[Homasote brand fiberboard products in] cross section would not show layers of fiber since our products, unlike other fiberboards, are not layered.
With aging our products normally have a yellowish brown tint otherwise they are gray.
In all cases, unsanded Homasote Products all have very visible patterns on the face and back side surfaces. As far as I can tell, none of the samples shown below [at Unidentified Fiberboard Products] have our mold patterns.
Each fiber is coated with a wax emulsion thus making the panel weather resistant.
Homasote® company history, current product list, product composition & contact information are at HOMASOTE HISTORY & PRODUCTS
How to Identify Graylite - Insulite, Cellulose FiberBoard Insulating Board & Plaster Base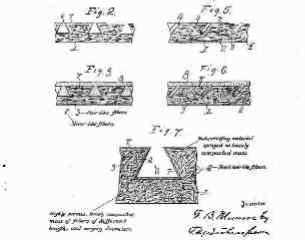 Insulite was a cellulose-based (all wood fiber) insulating board or sheathing material that, unlike Celotex, was made from wood pulp byproduct or tailings fibers. Insulite was patented by Carl G. Muench who founded the Ontario Paper Company, and who started manufacturing Insulite, billed as "the first rigid insulating board", in International Falls, Minnesota in 1915. (Jester 2014)\
[Click to enlarge any image]
The Insulite board was treated to "... resist moisture, vermin and rodents" and also was sold as a "sound deadener"[10] and in some applications the product was installed in the air space between gypsum board partitions to improve sound isolation between building areas.
Insulite was described as having stronger structural properties than Celotex, the latter being superior for insulation and sound insulation while Insulite offered greater strength for other applications. Insulite was
... composed of large sliver-like particles often 1/16" to 1/32" in width and say one half an inch long. These sliver like fibers give great porosity to the mass but they render the binding together of the particles more difficult. [10]
Insulite as a plaster board contained rabbeted grooves or "joints" in its surface to which plaster or other material could be applied. Insulite's name for this product was Lok-Joint Lath
Insulite ingredients included a composition of plaster of paris, cement, or other like substance, combined with hair, wood fiber, sawdust, wool, wood shavings, excelsior, straw, or similar substances. (Asbestos was not cited in the product description. )[11]
Dahlberg (St. Paul MN and Celotex, Chicago IL in this early patent U.S. No. 1,333,628, described a plaster-board of fibrous material intended to provide a less costly base for plaster walls and ceilings.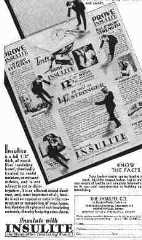 This was the earliest citation of "Insulite" that we could find. It improved on the original "insulite" construction by including additional long fibers for strength combined with more short fibers to serve as filler for the mass, developing a board that was light weight, had adequate strength, and included entrained air for improved insulation.
This invention, instead of impregnating the insulating board with a waterproofing compound, simply coated its surface. The result was a product [intended and claimed to be] well suited for use as plasterboard.
Sound absorbing board for walls and ceilings", Patent No. 1,554,180, issued to W.S. Trader, September 15,1925, first disclosed a wallboard constructed from "Celotex", a felted mass of strong bagasse fibers, so compacted as to be capable of use as an artificial lumber in that it can be sawed and nailed, and has sufficient strength in many cases to be substituted for lumber.
That same patent mentions "Insulite", a building board made from wood pulp tailings and which likewise has a porous fibrous body portion and which is possessed of considerable strength so that the same can be nailed, etc.
Celotex was preferred as an insulating material because its internal cells produce a sound-deadening insulating effect.
Details about Graylite and Insulite are found in this article: FIBERBOARD PLASTER BASE SYSTEMS
Also see FIBERBOARD SHEATHING - home, wood or cellulose-based insulating sheathing or board sheathing products and also see Masonite® hardboard siding products.
Masonite™ and other hardboard Sheet and Siding Building Materials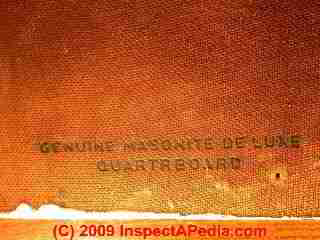 (History, more photos, & dates in process, CONTACT us, contributions invited)
Our photo (left) shows the back side of an early hardboard interior-use product labeled "Genuine4 Masonite Quartrboard".
More about hardboard sheet products used on building interiors is found
at DRYWALL, FIBERBOARD, PLASTER INTERIORS
Nu-Wood Fiberboard Wall & Ceiling Covering Product Identification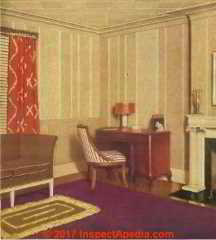 Nu-Wood ® fiberboard panels, also referred to as NuWood or Nu Wood paneling or ceiling tiles were a low-density fiberboard panels used on walls & ceilings & as a plaster lath support. They were produced by the Wood Conversion Company in St. Paul, Minnesota who also produced Balsam Wool.
The parent Wood Conversion Company was incorporated in 1921 in Delaware by eleven stockholding companies, including the Weyerhaeuser firms. The Wood Conversion Company headquarters was located in Cloquet, Minnesota.
According to the company's product literature, some Nu-Wood fiberboard was thus plastered over while other installations were left with the original factory color coating.
Keep in mind that a 1940's home that used Nu-Wood wall or ceiling panels may well have been painted-over, plastered over, or later even laminated-over with a layer of more modern drywall.
[Click to enlarge any image]
Our details about the identifying details for Nu-Wood fiberboard panels are now found at IDENTIFY NU-WOOD PANELS - a separate article.
Un-Labeled Fiberboard Products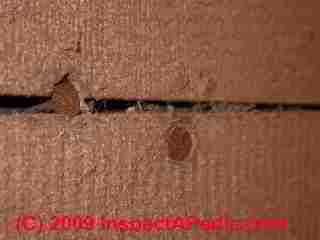 I photographed this insulating board under the overhanging floor portion of a raised ranch in Dutchess County New York. This is a browninsulating fiberboard product that is not Homasote™. What is it?
Often we can, however, use the color and texture to at least rule out some fiberboard products and thus to narrow the possible identification down to a short list.
See UNIDENTIFIED Fiberboard Products for help in identifying fiberboard or insulating board products that look like this and that do not bear an indentifying mark or stamp.
How to Identify Upson Board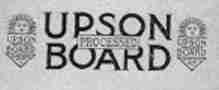 Upson board embossed its marking into the board itself, and a "Blue Center" runs through every piece of the board.
Examine a cross section of the board for this characteristic blue material.
...
Continue reading at FIBERBOARD SHEATHING MOLD CONTAMINATION or select a topic from closely-related articles below, or see our complete INDEX to RELATED ARTICLES below.
Or see DRYWALL, FIBERBOARD, PLASTER INTERIORS - home
Or see INSULATION IDENTIFICATION GUIDE - home for identification of various insulating board products
Or see MDF Medium-Density Fiberboard DEFINITION & CHARACTERISTICS
Or see this
Article Series Contents
Suggested citation for this web page
FIBERBOARD SHEATHING IDENTIFICATION at InspectApedia.com - online encyclopedia of building & environmental inspection, testing, diagnosis, repair, & problem prevention advice.
Or use the SEARCH BOX found below to Ask a Question or Search InspectApedia
...
Frequently Asked Questions (FAQs)
Try the search box below or CONTACT US by email if you cannot find the answer you need at InspectApedia.
Recent questions & answers about how to identify the brand or manufacturer of fiberboard sheathing products used inside or outside of buildings
Watch out, Savannah. In addition to possible asbestos in some old wall coverings, some old wallpapers, particularly ones with green in the pattern, contained arsenic.

At ASBESTOS LIST of PRODUCTS we include what's probably the most-extensive list you'll find for asbestos-containing products found in or around homes.
There I haven't listed "asbestos containing wallpaper" but such products might have existed, particularly where an insulating or strengthening fiber was wanted or where fire resistance was a concern.
Keep in mind that asbestos may be present in some plaster and gypsum products found beneath wallpaper too.
Research citing asbestos use in films and papers used on walls:
Breiner, R. "Asbestos-plastic film laminates." U.S. Patent 3,770,569, issued November 6, 1973.
Gerek, Gene, and Rowland S. Hartzell. "Asbestos-foam laminates." U.S. Patent 3,522,140, issued July 28, 1970.
Newman, Arnold H. "Insulated wallpaper." U.S. Patent 4,039,709, issued August 2, 1977.
Prain, Willis A., "Wallpaper steamers." U.S. Patent 3,158,139, issued November 24, 1964. (asbestos used in this device not directly in wallpaper)
SJJ, Langford AL, and Textiles Pearson. "Wallpaper (1827) n. Paper, or paperlike material, usually decorated in colors, which is pasted or otherwise affixed to walls or ceilings of rooms. Wall stress (1) In a filament‐wound pressure." - used atop asbestos cement wallboard
Werhane, Patricia H., Jenny Mead, Regina Swart, and Mollie Painter-Moreland. "South African Mining and Asbestos-Related Diseases (a)."
Asbestos mining tailings were mixed with cow dung or mud used to paper or line walls in houses.
Lewis, Herman. "Cement composition." U.S. Patent 1,595,897, issued August 10, 1926.
Used asbestos in wall lining products
I live in a 1920s home and noticed the wallpaper detaching from the plaster wall. I started pulling it off put realized it may contain asbestos. Anyone have experience, should I be concerned?
Woody, Fiberboard sheathing is a wood fiber product. You're welcome to use our page bottom CONTACT link to send me photos of your sheathing and of any markings on it.
hey.. bought a 1940 house and have found various areas where asbestos has been located and re mediated but thought we had it all out.. found a Celotex board that only has Celeotex Lath.. this is a fiber board and need to find out if this was an asbestos product.. have a pick if that helps
thanks, Woody
Question:
I know per your articles that Celotex interior fiberboard usually does not contain asbestos but the directions on the back of mine talk about spraying it the day before installing it. My question is what might that spray do to the product?
I'm enclosing a picture of my product label. I find no other product marking however and want to be assured that it is not something containing asbestos.
Any thoughts would be appreciated. - Anon. by private email 2015/12/14
Reply:
Thanks for the question and also for the image - it was one I've not seen and it contains helpful details.
In the article above in the Celotex section I've posted your image of the Celotex instruction label discussing wetting the wallboard before use in plastering
OPINION: The spray was intended to boost the adhesion of plaster when this board was used as a substitute for (earlier) wood lath. These products were somewhat water resistant, some including waxes specifically for that purpose.
Wetting wallboard 24 hours before installing it as a plaster base would have increased its moisture content a bit; I doubt it'd have become too soft to apply or the manufacturer wouldn't have advised spraying both sides.
In this context I wouldn't expect other problems (such as mold growth) from this step as the board was to be installed to studs or ceiling joists promptly.

...
Ask a Question or Search InspectApedia
Try the search box just below, or if you prefer, post a question or comment in the Comments box below and we will respond promptly.
Search the InspectApedia website
Technical Reviewers & References
Click to Show or Hide Citations & References
Jester, Thomas C., ed. Twentieth-century building materials: History and conservation. Getty Publications, 2014.
Wood Conversion Company, "NU-WOOD INTERIORS FOR EVERY WALL AND CEILING", [PDF] Wood Conversion Company, St. Paul Minnesota, (u1936), retrieved 2015/12/04, original source: https://archive.org/stream/ Nu-woodInteriorsForEveryWallAndCeiling/ Nu-woodInteriorsForEveryWallAndCeiling_djvu.txt,
Wilson, Richa, Kathleen Snodgrass, "Early 20th-Century Building Materials: Fiberboard and Plywood", [PDF] (2007) United States Department of Agriculture, Forest Service, Technology & Development Program, 073-2308-MTDC, retrieved 2017/07/29, original source: https://www.fs.fed.us/t-d/pubs/htmlpubs/htm07732308/
[1] Homasote® Company, 932 Lower Ferry Road, West Trenton, NJ 08628-0240 Tel: 800-257-9491 Ext 1332, or from outside the U.S. call 609-883-3300. Website: http://www.homasote.com/ , Email: Sales@homasote.com.
Thanks to Homasote CEO Warren Flicker for technical review and comment on this article.
[2] Celotex Corporation, PO Box 31602, Tampa FL 33631, with offices in Atlanta, Chicago, Cincinnati, Dallas, Oakland and Philadelphia, and plants in six U.S. States is headquartered in Tampa, FL. Celotex is a national manufacturer of residential and commercial building materials. Website: www.celotex.com Tel: 800-CELOTEX
"Insulation Selector Guide", Celotex Corporation, web search 6/29/12, original source: http://www.silvercote.com/PDF/ThermaxInsulSelectorGuide.pdf, [copy on file as CelotexThermaxInsulSelectorGuide.pdf ]
"Celotex Blue Ridge Fiberboard", SturdyBrace®, produced by Blue Ridge Fiberboard Inc., 250 Celotex Dr., Danville VA 24541, product literature, web search 6/29/2012, original source: blueridgefiberboard.com/pages/sturdybrace.php, [Copy on file as Celotex_BlueRidge_SturdyBrace.pdf].
MSDS: original source: blueridgefiberboard.com/pages/sturdybrace/pdfs/SturdyBrace-msds-br.pdf
"Guide Specifications: SturdyBrace® Structural Fiberboard Wall Sheathing", 6/29/12, original source: blueridgefiberboard.com/pages/sturdybrace.php [Copy on file as SturdyBrace-guidespecs.pdf]
[3] Douglas Leen, Petersburg AK 99833, contributed the photograph of insulating board scraps from roof insulation removed from a building. Dr. Leen provides such a wide range of services, collectables, and historical information about the Northwest that a succinct description is difficult: flying dentist goes anywhere, antique forestry posters, historic campers, the tugboat Katahdin, in Alaska, Washington, and Wyoming. Mr. Leen can be contacted at mail@dougleen.com or at 907-518-0335
[4] Georgia Pacific: information about DensGlas gypsum board building sheathing can be found at the company's website at gp.com/build/product.aspx?pid=4674
[5] "Roof Shingle Tear-Off Procedure for Homasote Products", PDF document, Homasote Co., 932 Lower Ferry Road, West Trenton, New Jersey 08628-024, U.S.A. 800-257-9491 website: at www.homasote.com
[6] Thermafiber, Inc., (now a division of Owens Corning®) at Thermafiber, Inc., 3711 Mill Street, Wabash, IN 46992, Tel: 888-834-2371 (U.S. & Canada) - 260-563-2111 Website: www.thermafiber.com or Thermafiber technical services at 888-834-2371 (U.S. & Canada) ; Phone: 260-569-0801, Fax: 260-563-8979 or Email: technicalservice@owenscorning.com
[7] Weaver: Beaver Board and Upson Board: Beaver Board and Upson Board: History and Conservation of Early Wallboard, Shelby Weaver, APT Bulletin, Vol. 28, No. 2/3 (1997), pp. 71-78, Association for Preservation Technology International (APT), available online at JSTOR.
[8] Pittsburgh Press, "Yesterday - in costly homes alone, Today even the simplest home can have this hidden comfort", The Pittsburgh Press, 19 April 1925, classified ads section. Web search 6/22/12, [Copy on file as Celotex_Ad_023_PP.jpg and more]
[9] pending research
[10] Patents pertaining to building insulation & insulating board, Celotex & Insulating Board type products

"Sound absorbing board for walls and ceilings", Patent No. 1,554,180, issued to W.S. Trader, September 15,1925, first disclosed a wallboard constructed from "Celotex", a felted mass of strong bagasse fibers, so compacted as to be capable of use as an artificial lumber in that it can be sawed and nailed, and has sufficient strength in many cases to be substituted for lumber. That same patent mentions "Insulite", a building board made from wood pulp tailings and which likewise has a porous fibrous body portion and which is possessed of considerable strength so that the same can be nailed, etc. Celotex was preferred as an insulating material because its internal cells produce a sound-deadening insulating effect.
"Method and apparatus for drying moving material", Treadway B. Munroe et als, assigned to Dahlberg & Co., U.S. Patent No. 1,598,980, 7 September 1926, described a method and apparatus for drying sheets of artificial heat insulating lumber, known on the market as Celotex, improving the original process.
"Reenforced composition board", Treadway B. Munroe et als, U.S. Patent No. 1,578,344, 30 March 1926
"Insulating Structural Board", U.S. Patent 2,159,300, Armen H. Tashjian et als, assigned to William B. Miller, Lakewood OH, 23 May 1939, describes insulating structural boards of laminated construction for use as roof or floor slabs, and refers to "Standard insulating fiber boards, such as "Celotex", "Masonite", "Insulite", etc. that had excellent insulating properties but have relatively slight structural strength in flexure or bending under load, hence are not and cannot be used as structural slabs for load sustaining purposes, as roof or floor slabs, for example. [Adding structural strength ran into the problem of reducing the insulating value of the product.]
"Sound-absorbing chamber", Treadway B. Munroe et als, U.S. Patent No. 1,705,778, 19 March 1929 (using Celotex to construct a sound deadening chamber.
"Method of and apparatus for drying moving material", U.S. Patent 2,376,612, Carl G. Muench, New Orleans, assigned to Celotex Corporation, described a method and apparatus for drying sheets of artificial heat insulating lumber, preferably formed by the felting of bagasse fiber along with other materials necessary to make a satisfactory structural fiber board. 22 May 1945
"Sound-absorbing board for walls and ceilings," U.S. Patent 1,554,180, Sept. 15, 1925, Wilber S. Trader, assignor to Dahlberg & Company, Chicago IL. described an interior-use sound insulating product.

[11] "Insulite Co. v. Reserve Supply Co.," 60F.2d 433 (1932), Circuit Court of Appeals, Eighth Circuit, July 26, 1932. Web Search t/23/12. Quoting:
Rabbeted joints in material to which plaster or other material is applied are found in the Jones patent, No. 886,813. In this patent the composition is made up of plaster of paris, cement, or other like substance, combined with hair, wood fiber, sawdust, wool, wood shavings, excelsior, straw, or similar substances. The length of the lath covers three joists instead of four. The boards are arranged in staggered relation to each other and the joints are shiplapped. The specification states that after the boards or blocks are placed in position they may be covered with wallpaper or other similar material, which, of course, would include plaster.

"Machine for perforating Insulite Boards", U.S. Patent No. 1,306,283, Patented 10 June 1919, John K. Shaw, inventor from Minneapolis MN, describes improvements for machines for perforating Insulite Boards.
"Before you Build write for this mailing piece and a sample of Insulite", [advertisement], The Literary Digest, 13 September 1940.

[12] Museum of Fine Arts, Boston, web search 6/22/12, original source: http://cameo.mfa.org/browse/record.asp?subkey=3644 [Copy on file as MFAB_Fiberboard.pdf]
[13] "Separating the Fiber of Wood", A.S. Lyman, U.S. Patent No. 21,077, 3 August 1858
[14] Standards pertaining to fiberboard insulating sheathing:

ASTM C 208-95 (2001) – Standard Specification for Cellulosic Fiber Insulating Board. Type IV Grade 2 (Structural Wall Sheathing).
ASTM C 846-94 (2003) – Application of Cellulosic Fiber Insulating Board for Wall Sheathing.
ASTM D 1554 - Definitions of terms Relating to Wood Based Fiber and Particle Panel Materials.
ASTM E-72 (1997)- Standard Method for Conducting Strength Tests of Panels for Building Construction.
ANSI /AHA - A194.1, Cellulosic Fiberboard.
U.S. Department of Commerce: PS57-73, Cellulosic Fiber Insulating Board
A.F.A. (2003): Fiberboard Sheathing test results

[15] "Properties of insulating fiberboard sheathing", Forest Products Laboratory (U.S.) Luxford, R. F. (Ronald Floyd), 1889 (1960), original report 1955, citation:hdl.handle.net/1957/2489, web search 6/29/12, original source: http://ir.library.oregonstate.edu/xmlui/handle/1957/2489
R-Value of Wood, U.S. Department of Energy
Books & Articles on Building & Environmental Inspection, Testing, Diagnosis, & Repair
Our recommended books about building & mechanical systems design, inspection, problem diagnosis, and repair, and about indoor environment and IAQ testing, diagnosis, and cleanup are at the InspectAPedia Bookstore. Also see our Book Reviews - InspectAPedia.
...