Types of Septic Systems & Septic Designs
SEPTIC SYSTEM TYPES - CONTENTS: Types of Septic Systems, Alternative Septic System Designs, Master List & Descriptions of Kinds of Septic Systems
POST a QUESTION or READ FAQs about the different types of septic systems, onsite wastewater disposal systems used for private onsite wastewater and graywater treatment & disposal
InspectAPedia tolerates no conflicts of interest. We have no relationship with advertisers, products, or services discussed at this website.
Types of septic systems: onsite waste disposal system types.
This septic system design reference lists and describes all of the types of septic systems, including both conventional septic tank and drainfield systems and alternative septic system designs for difficult building sites such as wet sites, steep sites, rocky sites, limited space, bad soils with no percolation or sandy soils with too fast percolation, and other difficult site conditions. We provide detailed articles about each alternative septic system design choice, listing its features, design requirements, inspection details, maintenance needs, product sources.
We include links to septic design engineers, advanced septic system products and septic design books and building codes. This document is a chapter provides in our Septic Systems Online Book.
Green links show where you are. © Copyright 2017 InspectApedia.com, All Rights Reserved.
Definitions of Septic System Types & Onsite Wastewater Treatment Alternative Designs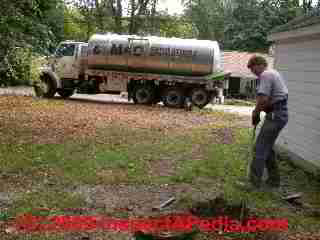 Daniel Friedman, Massachusetts Title 5 Licensed Septic System Inspector, & New York State H.I. License # 16000005303 (inception to 2008).
This document catalogs conventional and alternative septic system designs and provides links to detailed descriptions of these designs for onsite wastewater treatment.
"Septic System Alternative Designs" refers to any onsite wastewater disposal method other than the widely used conventional septic tank and leach field. In the U.S. most states require that an "alternative septic system" be designed by a professional and submitted to the local health department for approval.
Examples of advanced septic designs include aerobic septic systems, chemical, composting, incinerating & waterless toilets, evaporation-transpiration (ET) septic systems, septic media filters, greywater systems, holding tank septic systems, mound septics, raised bed septics, pressure dosing septic systems, sand bed filters, peat beds, constructed wetlands, wastewater lagoons, constructed wetlands, and septic disinfection systems.
Also seeSEPTIC SYSTEM INSPECT DIAGNOSE REPAIR - home.
Each of the links below presents a document with more in-depth information about each of these alternative septic system designs.
Septic Tank Types
Septic tanks are responsible for retaining solid waste in a residential onsite wastewater treatment system (septic system), and for partial treatment of sewage and septic effluent to improve its sanitation. In a typical conventional septic tank waste water is treated to about 40% of total treatment required before discharge to the environment.
The remaining effluent treatment normally occurs in the soils around and under the drainfield or absorption system. Some more advanced or alternative-design private septic systems achieve much higher levels of treatment by oxygenation (aerobic septic systems), chemical treatment (disinfection systems), or other methods. See SEPTIC SYSTEM DESIGN ALTERNATIVES.
Septic tanks of Single vs. Multiple Compartments
More septic tank compartments means that solid waste (floating scum, settled sludge) are better-separated from septic effluent before it is discharged to a drainfield. Below we illustrate single compartment (below left) and two-compartment (below right) septic tank designs. Image source: USDA.
Advanced treatment septic tanks may use more compartments, including a final pumping chamber, as well as other features such as aerobic systems (shown at the top of this page), media filters, or effluent filters that both improve the level of wastewater treatment and also improve the life expectancy of the absorption field or drainfield.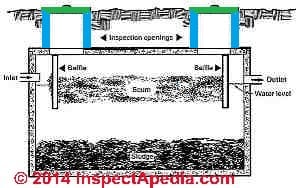 You may also notice that our septic tank shown above has inlet and outlet baffles constructed of concrete while the septic tank below shows an inlet baffle constructed using plastic pipe - a common repair method if septic tank baffles are damaged.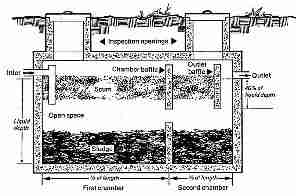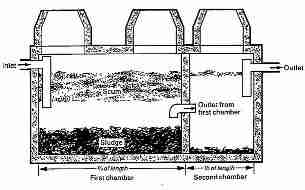 This USDA sketch of a different two-compartment septic tank design illustrates how additional compartments can help retain solid waste in the septic tank and improve the quality of wastewater discharged to the drainfield or soakaway bed or absorption bed.
Septic Tank Materials & Construction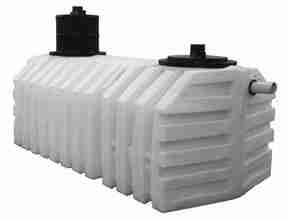 Typical septic tank materials of construction include
Basic septic system designs are discussed in the articles listed just below
Basic septic tank and drainfield systems are discussed at SEPTIC SYSTEM DESIGN BASICS.
Here are some more detailed articles about basic septic system design, installation, inspection, maintenance, cleaning or pumping, & repair.
Alternative or Advanced Septic System Design Types (for Difficult Sites)
Also see this discussion of the most common alternative septic system besides mounds or raised bed designs:
Aerobic Treatment Septic Systems: in residential use, ATUs are pre-packaged septic treatment systems which are in essence a mini-wastewater treatment plant for home use. Waste is fed into a "trash tank" (similar to a septic tank); effluent moves to a clarifier. Air (oxygen) is pumped through the system to provide oxidation and waste treatment using a variety of designs.

Aerobic septic system treatment units (ATUs) are used at sites where a conventional drain field system cannot be employed, and are capable of successful wastewater treatment of septage on difficult or "impossible" residential sites.


See AEROBIC TREATMENT SEPTIC SYSTEMSand
also
see AEROBIC SEPTIC SYSTEM DISINFECTION - Use of calcium hypochlorite tablets for aerobic septic systems. (Do not use pool chlorine tablets)


Definitions of Types of Septic Systems, Toilets, Components
DRIP DISPERSAL SEPTIC TANK EFFLUENT SYSTEMS - (Jantrania/Gross wastewater system type III or if treated to level 2 or better effluent, Jantrania/Gross wastewater system type VII). Septic effluent is distributed to the soil by a drip system that flows by gravity from through a series of perforated pipes or porous piping material. Note that effluent may enter the drip system from a pump and pumping chamber however.
GRAVELLESS SEPTIC SYSTEMS or "no rock" or "chamber" systems are not a complete alternative onsite wastewater design. Rather these are special products using geotextiles, plastic chambers, or polystyrene-wrapped perforated piping for effluent disposal into the soil, providing alternatives to conventional gravel-trench drainfields.

In some cases these systems might permit design of an acceptable effluent disposal system where a site too little space for a conventional drainfield, or where gravel is unavailable or is very expensive. Some gravelless systems are accepted for use in areas with difficult or low-perc soils.
HOLDING TANK SEPTIC SYSTEMS: use a sealed tank to hold household waste and wastewater until the tank can be pumped out by a septic pumping company.

Most jurisdictions do not permit septic holding tanks as a permanent wastewater handling method for full-time occupied residences, but holding tanks may be permitted during new home construction and in other special cases. In New York State we've seen holding tank systems in use on small-lot properties located along the Hudson River. Generally such systems will not be acceptable for full time occupied residences as even a large tank of several thousand gallons will require frequent and costly pumping and disposal.


INCINERATOR TOILET SYSTEMS: incinerating toilets use electricity or gas to burn the waste placed into these systems. Like chemical toilets and holding tanks they have limited capacity, are used where water is not available or must be conserved, and they do not address the handling of remaining graywater from sinks and showers.

My favorite of this type was the "Destroylet" incinerator toilet which was electric/propane fueled and which is no longer on the market. Each flush resulted in a more than 10-minute burn cycle which produced a pretty smelly exhaust.
See ALTERNATIVE & WATERLESS TOILETS for details about all types of waterless toilet systems.


Inspection and Testing of septic systems is discussed at
SEPTIC DYE TEST PROCEDURE
and at
SEPTIC FAILURE SIGNS

Packaged Onsite Residential and Small Commercial Septic Systems
PACKAGED ONSITE RESIDENTIAL SEPTIC TREATMENT SYSTEMS: complete packaged onsite wastewater treatment systems can produce sufficiently cleaned and treated wastewater that these systems may be permitted where local regulations would not permit a conventional septic tank and absorption field. These packaged wastewater treatment plants are sold in sizes and designs suitable for residential and other smaller, non-commercial installations.

Check with your local building department and local septic engineers. Some aerobic treatment units or ATUs may also meet this specification. Some example suppliers of packaged onsite wastewater treatment systems are listed here:


Delta POD Series™ ECOPOD® Advanced Wastewater Treatment, for individual residential installations, cluster designs, and small-to-medium commercial applications. Delta Environmental, , 8263 Florida Blvd., Denham Springs LA 70726, USA, Tel: 800-219-91283, Website: http://www.deltaenvironmental.com/ecopod.asp
NSF / ANSI 40: Residential Onsite Systems, described by NSF, worldwide offices, NSF International P.O. Box 130140 789 N. Dixboro Road Ann Arbor, MI 48105, USA e info@nsf.org p +1 734 769 8010 f +1 734 769 0109 Toll Free USA +1800 NSF MARK (800 673 6275)

NSF/ANSI 40 is a standard for residential wastewater treatment systems with rated capacities between 400 and 1,500 gallons (1,514 and 5,678 liters) per day. We can evaluate any kind of system, regardless of treatment technology, in test facilities in the U.S., Canada and Europe.

To achieve certification, treatment systems must produce an acceptable quality of effluent during a six-month (26-week) test. Class I systems must achieve a 30-day average effluent quality of 25 mg/L CBOD5 and 30 mg/L TSS or less, and pH 6.0-9.0 spanning six months of testing. System service and maintenance are prohibited during the test period.
For more information on NSF/ANSI 40, call +1 734.827.5668 or email wastewater@nsf.org.

Website: http://www.nsf.org/services/by-industry/water-wastewater/onsite-wastewater/residential-wastewater-treatment-systems
Orenco Systems, Inc., 814 Airway Avenue, Sutherlin, OR 97479 USA, +1 (541) 459-4449 / (800) 348-9843 provides engineered packaged septic systems and water-tight wastewater handlign systems. Website: http://www.orenco.com/sales/
SeptiTech, 69 Holland St.,Lewiston ME 04240 USA, Tel: 207-333-6940, email: info@septitech.com - wastewater treatment products for properties not hooked up to a public sewering system, including SeptiTech® STAAR™ System
SSI Aeration, MMBR Systems (moving bed bioreactor systems) SSI Aeration, Inc. 4 Tucker Drive Poughkeepsie NY 12603 USA +1-845-454-8171 +1-845-454-8094 Website: http://www.ssiaeration.com/

Also see HOLDING TANK SEPTIC SYSTEMS

Also see SEPTIC SYSTEM DESIGN ALTERNATIVES



PEAT FILTERED SEPTIC SYSTEMS: Septic effluent treatment systems using peat as the filter media include an effluent dosing system, peat filter media, and a drainage system. Unlike sand bed filters, peat filtration systems are sold as prepackaged systems which provide modular peat units enclosed in containers or "pods" ready to install. Also see MEDIA FILTER SEPTIC SYSTEMS


PRESSURE-DOSED DRAINFIELD SEPTIC SYSTEMS: pressure dosing systems use a separate dosing chamber and pump, located downstream from the septic tank, to move effluent into a drainfield which in turn distributes effluent through a pressure-fed network of distribution pipes. (Jantrania/Gross wastewater system type II or if treated to level 2 or better effluent, system type VI)

Pressure dosing is used in a variety of disposal field designs including mounds and sand beds, and have the advantage of being able to distribute effluent uniformly throughout the absorption system, and the disadvantage of added system cost and complexity, along with the requirement for electricity for system operation.
An alternative but possibly less long-term reliable version of a drainfield dosing system that may not require electricity is the siphon system.
Also see Dosing Systems, Gravity/Siphon.


RAISED BED SEPTIC SYSTEMS: a wastewater absorption trench system which has been constructed in soil-fill material which has been placed on top of the natural soil on a building lot.

Raised systems are often confused with "mound systems" (see below) but have different design requirements, and make at least partial use of existing soils for wastewater treatment. Also see "Mound Systems" above.


SAND BED or SAND FILTER SEPTIC SYTEMS: also referred to as an Intermittent Sand Filter Septic System: wastewater effluent from the septic tank is intermittently distributed over the surface of a specially prepared bed of sand placed atop the existing soil surface. Effluent which has passed through the sand is collected by additional pipes at the bottom of the sand bed. The sand is not visible as it's covered by topsoil.


SEPTIC EFFLUENT SPRAY & SEPTIC SPRAY HEAD effluent dispersal systems often combined with aerobic septic system designs, treat septic wastewater effluent to level 3 or better (Jantrania/Gross wastewater system type X). S

eptic spray systems are high-level-of-treatment aerobic septic systems using spray heads to disperse effluent require maintenance that includes occasional spray head cleaning or replacement. You'll need to identify the brand and model effluent spray head on your aerobic septic system in order to replace with the same part in-kind.

Also see SEPTIC TANK SUPPLIERS: a directory list of septic tank suppliers
and
see SEPTIC SYSTEM SUPPLIERS for directory lists of other septic system component suppliers for sources of septic effluent spray system repair parts and sprayers.


Septic Tanks: septic tank types are described at TANK INSPECTION PROCEDUREand include

steel septic tanks,
concrete septic tanks,
plastic and
fiberglass septic tanks, and
home-made septic tanks that we've found constructed of stone, concrete block, bamboo, brick, and wood.
Also see SEPTIC TANK SOURCES or for a directory list of septic tank suppliers

see SEPTIC SYSTEM SUPPLIERS for directory lists of other septic system component suppliers.



SEPTIC TANK & GRAYWATER FILTERS are products used at a septic tank outlet or at a graywater tank inlet or outlet to prevent suspended solids from reaching and clogging the soil absorption system. Readers should distinguish between in-tank septic or graywater filters and types of septic media filter and bed systems such as:
MOUND SEPTIC SYSTEMS or

RAISED BEDseptic systems,

MEDIA FILTER septic systems, septic systems

or SAND BED SEPTIC systems.


SEQUENCING BATCH REACTOR SEPTIC SYSTEMS - The sequencing batch reactor (SBR) process is a sequential suspended growth (activated sludge) process in which all major steps occur in the same tank in sequential order (figure 1). There are two major classifications of SBRs: the intermittent flow (IF) or "true batch reactor," which employs all the steps in figure 1, and the continuous flow (CF) system, which does not follow these steps.


STEEP SLOPE SEPTIC SYSTEM DESIGNS - how to install sewer lines from building to septic tank; how to install septic drainfields, leach field systems at steep or sloped sites.


Trenches for effluent dispersal, gravity fed or pressure dosed, with gravel or gravelless systems are discussed under conventional septic and drainfield pages, pressure dosing, or gravelless systems. Also see "Gravity Trenches" above.


VEGETATED SUBMERGED BED SEPTIC SYSTEMS and

other HIGH SPECIFIC SURFACE ANEROBIC REACTOR SEPTIC SYSTEMS - A high-specific-surface anaerobic reactor is any tank or cavity filled with solid media through which wastewater flows with a high hydraulic retention time (HRT). In onsite treatment the two primary types are vegetated submerged beds (VSBs) and anaerobic upflow filters (AUFs). The first is characterized by horizontal flow and prolific growth of macrophytes on the surface.

The second comes in a variety of forms from upflow sludge blanket systems and fixed media anaerobic filters to partially fluidized beds of fine media. Both have long HRTs, produce anaerobic effluents, generally treat either high-strength or minimally pretreated wastewater, and usually require some form of posttreatment to meet surface discharge or water reuse requirements
Wastewater Treatment Systems, Onsite, Packaged: see PACKAGED ONSITE RESIDENTIAL SEPTIC SYSTEMS


WATERLESS TOILETS: also see the various toilet types and greywater/graywater links on this page
such
as CHEMICAL TOILETS, COMPOSTING TOILETS,

and INCINERATOR TOILET SYSTEMS. (Jantrania/Gross wastewater system type IV).

Also see GREYWATER SYSTEMS.

See ALTERNATIVE & WATERLESS TOILETS for details of all of these systems.


WETLAND SEPTIC SYSTEMSor "natural" septic systems use a constructed wetlands area (or a greenhouse) to treat septic effluent. These systems are more common in Louisiana, Mississippi, Tennessee, South Dakota, and Florida where both municipal wetland septic designs and private homeowner wetland septic system designs are in use. "Wetlands" may include both visible water such as open ponds, and underground water located in constructed beds which are covered with soil.
Also see LAGOON SEPTIC SYSTEM DESIGNS
...
Continue reading at SEPTIC SYSTEM DESIGN or select a topic from closely-related articles below, or see our complete INDEX to RELATED ARTICLES below.
Suggested citation for this web page
SEPTIC SYSTEM TYPES at InspectApedia.com - online encyclopedia of building & environmental inspection, testing, diagnosis, repair, & problem prevention advice.
Or use the SEARCH BOX found below to Ask a Question or Search InspectApedia
...
Frequently Asked Questions (FAQs)
Try the search box below or CONTACT US by email if you cannot find the answer you need at InspectApedia.
...
Ask a Question or Search InspectApedia
Use the "Click to Show or Hide FAQs" link just above to see recently-posted questions, comments, replies, try the search box just below, or if you prefer, post a question or comment in the Comments box below and we will respond promptly.
Search the InspectApedia website
Technical Reviewers & References
Click to Show or Hide Citations & References
Septic System References & Books
"International Private Sewage Disposal Code," 1995, BOCA-708-799-2300, ICBO-310-699-0541, SBCCI 205-591-1853, available from those code associations.
"Manual of Policy, Procedures, and Guidelines for Onsite Sewage Systems," Ontario Reg. 374/81, Part VII of the Environmental Protection Act (Canada), ISBN 0-7743-7303-2, Ministry of the Environment,135 St. Clair Ave. West, Toronto Ontario M4V 1P5 Canada $24. CDN.
Manual of Septic Tank Practice, US Public Health Service's 1959
Septic Tank Capacity vs Usage in Daily Gallons of Wastewater Flow, calculating required septic tank size, calculating septic tank volume from size measurements
Septic Tank/Soil-Absorption Systems: How to Operate & Maintain [ copy on file as /septic/Septic_Operation_USDA.pdf ] - , Equipment Tips, U.S. Department of Agriculture, 8271 1302, 7100 Engineering, 2300 Recreation, September 1982, web search 08/28/2010, original source: http://www.fs.fed.us/t-d/pubs/pdfimage/82711302.pdf.
How Big Should the Leach Field Be? - table of soil percolation rate vs. field size
Septic System Drainfield Absorption System Biomat Formation - what leads to drain field clogging and expensive drainfield repairs
Septic Tank Pumping Guide: When, Why, How to pump the septic tank
Table of Required Septic & Well Clearances: Distances Between Septic System & Wells, Streams, Trees, etc.
Ten Steps to Keeping a Septic System Working, suggestions from the U.S. EPA, edits and additions by DJF
What is a Septic System An Engineer's View & Septic System FAQ's
Pennsylvania State Fact Sheets relating to domestic wastewater treatment systems include:

Pennsylvania State Wastewater Treatment Fact Sheet SW-161, Septic System Failure: Diagnosis and Treatment
Pennsylvania State Wastewater Treatment Fact Sheet SW-162, The Soil Media and the Percolation Test
Pennsylvania State Wastewater Treatment Fact Sheet SW-l64, Mound Systems for Wastewater Treatment
Pennsylvania State Wastewater Treatment Fact Sheet SW-165, Septic Tank-Soil Absorption Systems
Document Sources used for this web page include but are not limited to: Agricultural Fact Sheet #SW-161 "Septic Tank Pumping," by Paul D. Robillard and Kelli S. Martin. Penn State College of Agriculture - Cooperative Extension, edited and annotated by Dan Friedman (Thanks: to Bob Mackey for proofreading the original source material.)
Books & Articles on Building & Environmental Inspection, Testing, Diagnosis, & Repair
Composting Toilets - Books & References
Composting Toilet System Book: A Practical Guide to Choosing, Planning and Maintaining Composting Toilet Systems, David Del Porto, Carol Steinfeld. Quoting an Amazon review: Del Porto's book is the definitive composting toilet book at this time. There is nothing even close. His book covers all aspects of composting toilet systems and touches on graywater issues as well. He treats the composting toilet as part of the home system. If a person is seriously interested in installing/having a composting toilet, this book can save him/her all of the mistakes people usually make. He even (carefully) explodes some of the advertising myths that the purveyors of composting toilets would have us believe. The book covers ready-made systems as well as home built systems. As trite as this sounds, the book truly is a must for someone considering installing composting toilet.
The Humanure Handbook: A Guide to Composting Human Manure, 3rd Ed., Joseph C. Jenkins. Quoting part of an Amazon review: The Humanure Handbook provides a wealth of thoroughly researched, hands-on experience and scientific data that demonstrates that after a natural process called "thermophilic" bacterial digestion, which occurs in a compost bin and where all pathogens are killed, excreta is then converted to a valuable nutrient for agriculture and thereby completing a full-circle life cycle. Most importantly, effluent can then be kept out of our drinking water and not treated or referred to as an undesirable "waste product".
The information is conveyed in a humorous, folksy, down-to-earth easy to understand style along with drawings, charts, tables, photos and a wealth of resource info for further research. Jenkins' website has a forum for sharing more info, experiences and to answer any and all questions in the process of humanuring and constructed wetland gray water treatment.
Thermal composting of fecal matter as treatment and possible disinfection method--laboratory-scale and pilot-scale studies, B. Vinneras, A. Bjorklund, H. Jonsson. Quoting Amazon review: When using toilets where the urine and faeces are collected separately for reuse as nutrients in agriculture, the collected matter should be disinfected. One way to do this is by thermal composting. Composting of different material mixes was investigated in a laboratory-scale experiment. This showed that the best mixture for dry thermal composting was a mix of faeces, food waste and amendment. The urine was collected separately by use of urine-diverting toilets. A new method was developed to mathematically evaluate and estimate the safety margins of pathogen inactivation during thermal composting. The method is based upon a mathematical calculation of the number of times total inactivation (at least 12log"1"0 reduction) of the organisms is achieved. In a pilot-scale experiment, the disinfection of a faeces/food waste mix was performed with a calculated safety margin of more than 37 times the total die-off of Enteroviruses and some 550 times that of Ascaris. Thus, well functioning composting seems to be effective for disinfection of faecal matter. To get a high temperature in all of the material, the reactor has to have sufficient insulation. A major disadvantage is the initial need for handling the raw un-disinfected material. The degradation of the organic matter in the compost was almost 75%, resulting in a small final volume that could safely be recycled.
Experiences with a composting toilet article from: Countryside & Small Stock Journal, available as HTML download. Quoting Amazon review: This digital document is an article from Countryside &amp Small Stock Journal, published by Countryside Publications Ltd. on May 1, 1994. The length of the article is 1516 words. The page length shown above is based on a typical 300-word page. The article is delivered in HTML format and is available in your Amazon.com Digital Locker immediately after purchase. You can view it with any web browser.
From the supplier: A composting toilet is a good alternative to propane burning toilets, but it also has many problems. The worst part is emptying the waste and compost every 4-6 weeks. Other problems are the fan that must be kept running constantly and bug infestation.
Decentralized Systems Technology Fact Sheet: Septic Tank - Soil Absorption Systems, U.S. EPA, PDF Document provides basic information about septic tanks and drainfields.
Design Manuals for Septic Systems
US EPA Onsite Wastewater Treatment Systems Manual [online copy, free] Top Reference: US EPA's Design Manual for Onsite Wastewater Treatment and Disposal, 1980, available from the US EPA, the US GPO Superintendent of Documents (Pueblo CO), and from the National Small Flows Clearinghouse. Original source http://www.epa.gov/ORD/NRMRL/Pubs/625R00008/625R00008.htm Onsite wastewater treatment and disposal systems, Richard J Otis, published by the US EPA. Although it's more than 20 years old, this book remains a useful reference for septic system designers. U.S. Environmental Protection Agency, Office of Water Program Operations; Office of Research and Development, Municipal Environmental Research Laboratory; (1980)
Eco John® Innovative Toilet Solutions, Global Inventive Industries, Fountain Valley CA, PDF, product brochure
"International Private Sewage Disposal Code," 1995, BOCA-708-799-2300, ICBO-310-699-0541, SBCCI 205-591-1853, available from those code associations.
"Manual of Policy, Procedures, and Guidelines for Onsite Sewage Systems," Ontario Reg. 374/81, Part VII of the Environmental Protection Act (Canada), ISBN 0-7743-7303-2, Ministry of the Environment,135 St. Clair Ave. West, Toronto Ontario M4V 1P5 Canada $24. CDN.
Manual of Septic Tank Practice, US Public Health Service's 1959.
Greywater System Books
The New Create an Oasis With Greywater, Art Ludwig; Buy New: $14.25. Ludwig is one of the most thoughtful, prolific, and sometimes controversial writers on gray water systems and alternative designs. We recommend his book as clear, easy-to-understand writing aimed at property owners who want or need to consider a graywater installation to conserve water, recycle water, reduce water use, or to reduce the load on their septic system. This is the latest edition of this Art Ludwig's greywater design book classic.
Builder's Greywater Guide, Art Ludwig; Buy New: $10.17. Installation of Greywater Systems in New Construction & Remodeling; A Supplement to the Book "Create an Oasis With Greywater" (Paperback). Quoting a review from Amazon: I recommend that you get the 3 companion books on greywater treatment "Create an Oasis", "Branched Drain Greywater Systems" and "Builder's Greywater Guide". The information in these volumes will keep most of us far more informed than most of the regulators, the system builders, and the experts-in-theory. These volumes are real-world gems.
Art Ludwig has cut to the core of wastewater issues. He's obviously done all of his homework, mulled-over the variables, and come up with a common sense, economically reasonable, environmentally responsible approach to wastewater. I expect to save money that I would have spent on a post-septic tank, aerobic unit that would seemingly have been ecologically responsible; but because of the technological overkill, ultimately that system would have defeated my altruistic environmental concerns.
... These books talk the talk and walk the walk better than anything else that I've seen. Buy a set for yourself, a set for your neighbors, and a set for the regulators.
Branched Drain Greywater Systems [superseded by "The New Create an Oasis with Greywater"], Art Ludwig. If you already have this book but are in the process of installing new gray water systems you should take a look at the newer edition listed first above in this section of our Greywater book recommendations. You may prefer the newest edition, but there is great information in this older version, perhaps all you need, and these copies are sold at very low prices - an aid to people of limited means.
Create an Oasis With Greywater: Your Complete Guide to Choosing, Building and Using Greywater Systems, Art Ludwig, [superseded by new edition] (Paperback) You may prefer the newest edition, but as I said above, there is great information in this older version, perhaps all you need, and these copies are sold at very low prices - an aid to people of limited means.
Rainwater Catchment Systems for Domestic Supply: Design, Construction and Implementation, Erik Nissen-Petersen, John Gould. (Mr. Ludwig, while much appreciated, is not the only author providing really useful design guides for graywater systems--DF) Quoting from an Amazon review: This book reviews the art of roof and ground catchment systems for rainwater. The water collected can be used for household or other purposes. The designs are aimed for individuals with limited access to electricity and/or civic water utilities. The text includes drawings, photographs and step-by-step instructions.
One might say the book is really written for the 'aid worker' since it also considers ethnic and gender issues that would be 'obvious' to the future owners of the the systems.
Guidelines on rainwater catchment systems for Hawaii, (CTAHR resource management publication) Patricia S. H Macomber. This more technical document may be especially helpful for rainwater collection and recycling systems for climates where there is heavy rainfall such as demonstrated for Hawaii.
Design for Water: Rainwater Harvesting, Stormwater Catchment, and Alternate Water Reuse, Heather Kinkade-Levario. Quoting from Amazon's review: Design for Water is an accessible and clearly written guide to alternate water collection, with a focus on rainwater harvesting in the urban environment. The book:
Outlines the process of water collection from multiple sources-landscape, residential, commercial, industrial, school, park, and municipal systems Provides numerous case studies, Details the assembly and actual application of equipment, Includes specific details, schematics, and references.
All aspects of rainwater harvesting are outlined, including passive and active system setup, storage, storm water reuse, distribution, purification, analysis, and filtration. There is even a section on rainwater harvesting for wildlife.
In addition to rainwater, there are several affordable and accessible alternate sources, including cooling tower bleed-off water, air conditioning condensate, gray water, and fog collection. Design for Water is geared to providing those making development decisions and guidelines with the information they need to set up passive harvesting techniques. The book will especially appeal to engineers, landscape architects, municipal decision-makers, developers, and landowners.
Heather Kinkade-Levario is a land-use planner in Arizona and the author of the award-winning Forgotten Rain. She is president of Forgotten Rain L.L.C., a rainwater harvesting and stormwater reuse company.
The Toilet Papers: Designs to Recycle Human Waste and Water : Dry Toilets, Greywater Systems and Urban Sewage (Paperback) Sim Van Der Ryn, Wendell Berry; Quoting from an Amazon review: With a title like "Toilet Papers" and from a distinguished eco-architect like Sim Van der Ryn, I needed no intro or review to buy a copy of this little, but well researched historical over-view of effluent mitigation and current eco-friendly toilet design.
This book is filled with good line drawings and photographs to depict everything from the historical perspective to the current dry toilets and their construction..
Rainwater Reservoirs Above Ground Structures for Roof Catchment: Most Common Rainwater Tanks in Comparison and Construction Manual, (Paperback) Rolf Hasse. [I have not reviewed this book --DF, but it may be helpful to people constructing rainwater collection and reservoir systems for use in arid climates such as Mexico and the U.S. Southwest.
Quality issues in harvested rainwater in arid and semi-arid Loess Plateau of northern China, K. Zhu, L. Zhang, W. Hart, M. Liu, H. Chen (out of print, find by search and deferred order). Amazon's description may be helpful: Loess soils cover vast areas in the arid and semi-arid regions of northern China. Due to the lack of reliable surface water and ground-water, rainwater harvesting has played a prominent role in farmers' domestic usage and agricultural irrigation. An economical and valid type of water storage cistern with optimum design of components has been introduced to rural areas in the Loess Plateau. Different collection alternatives showed apparent variations in rainwater quality. By using different catchments, such as mortar roofs and cement-paved courtyards, compacted land or road surfaces, rainwater can be effectively collected for storage in cisterns. This study focused mainly on the quality of rainwater harvested from the different catchment systems and stored for different periods of time. By analysis of the water samples stored in these cisterns, it was evident that rainwater quality could be improved significantly by self-purification during the storage. With emphasis on rainwater quality affected by the different catchment systems, it was found that the measured inorganic compounds in the rainwater harvested from roof-yard catchment systems generally matched the WHO standards for drinking water, while the concentrations of some inorganic compounds in the rainwater collected from land and road surfaces appeared to be higher than the guideline values for drinking water, but generally not beyond the maximum permissible concentrations. However, Fecal Coliform, which is an important bacteriological parameter for the three catchment systems, exceeded the limits of drinking water to a greater extend. Trace amounts of 55 organic pollutants were identified, including aliphatic hydrocarbons, aromatic compounds and phthalate esters, etc. The analytical results indicated that roof-yard catchments that included the ''first flush'' usually provided safe drinking water with low organic contents, even for rainwater collected immediately after rainfall. In contrast, rainwater harvested from road surfaces had poor quality with respect to the organic constituents, regardless of stored time.
City eying home water-recycling technology; uses bath and washer water for irrigation., (ReWater Systems' equipment for greywater irrigation): This is an article from: San Diego Business Journal [HTML] (Digital) available online in digital format. I have not (yet) reviewed it -- DF

Onsite Wastewater Disposal Books
Onsite Wastewater Disposal, R. J. Perkins; Quoting from Amazon: This practical book, co-published with the National Environmental Health Association, describes the step-by-step procedures needed to avoid common pitfalls in septic system technology. Valuable in matching the septic system to the site-specific conditions, this useful book will help you install a reliable system in both suitable and difficult environments. Septic tank installers, planners, state and local regulators, civil and sanitary engineers, consulting engineers, architects, homeowners, academics, and land developers will find this publication valuable.
Onsite Wastewater Treatment Systems, Bennette D. Burks, Mary Margaret Minnis, Hogarth House 1994 - one of the best septic system books around, suffering a bit from small fonts and a weak index. (DF volunteers to serve as indexer if Burks/Minnis re-publish this very useful volume.)While it contains some material more technical than needed by homeowners, Burks/Minnis book on onsite wastewater treatment systems a very useful reference for both property owners and septic system designers. We refer to it often. While Minnis says the best place to buy this book is at Amazon (our link at left), you can also see this book at Minnis' website at http://web page .pace.edu/MMinnisbook
Septic Tank/Soil-Absorption Systems: How to Operate & Maintain [ copy on file as /septic/Septic_Operation_USDA.pdf ] - , Equipment Tips, U.S. Department of Agriculture, 8271 1302, 7100 Engineering, 2300 Recreation, September 1982, web search 08/28/2010, original source: http://www.fs.fed.us/t-d/pubs/pdfimage/82711302.pdf
Soil Percolation Tests soil perc testing guide and instructions
Percolation Testing Manual, CNMI Division of Environmental Quality, PO Box 501304, Saipan, MP 96950
Planting Over Septic System Component", Daniel Friedman (author/editor, InspectAPedia.com), The Innovator, Winter/Spring 2008, BCOSSA, British Columbia OnSite Sewage Association, 201-3542 Blansard St., Victoria BC V8X 1W3 Canada
Save the Septic System - Do Not Flush These Items Down the Toilet, Daniel Friedman, InspectAPedia.com - PDF document, printable
Septic System Owner's Manual, Lloyd Kahn, Blair Allen, Julie Jones, Shelter Publications, 2000 $14.95 U.S. - easy to understand, well illustrated, one of the best practical references around on septic design basics including some advanced systems; a little short on safety and maintenance. Both new and used (low priced copies are available, and we think the authors are working on an updated edition--DF. Quoting from one of several Amazon reviews: The basics of septic systems, from underground systems and failures to what the owner can do to promote and maintain a healthy system, is revealed in an excellent guide essential for any who reside on a septic system. Rural residents receive a primer on not only the basics; but how to conduct period inspections and what to do when things go wrong. History also figures into the fine coverage.
Test Pit Preparation for Onsite Sewage Evaluations, State of Oregon Department of Environmental Quality, Portland OR, 800 452-4011. PDF document. We recommend this excellent document that offers detail about soil perc tests, deep hole tests, safety, and septic design. Readers should also see Soil Percolation Tests and for testing an existing septic system, also see Dye Tests
Grass is Always Greener Over the Septic Tank, Bombeck, Erma: $ 5.99; FAWCETT; MM; This septic system classic whose title helps avoid intimidating readers new to septic systems, is available new or used at very low prices. It's more entertainment than a serious "how to" book on septic systems design, maintenance, or repair. Not recommended -- DF.

US EPA Onsite Wastewater Treatment Systems Manual Top Reference: US EPA's Design Manual for Onsite Wastewater Treatment and Disposal, 1980, available from the US EPA, the US GPO Superintendent of Documents (Pueblo CO), and from the National Small Flows Clearinghouse. Original source http://www.epa.gov/ORD/NRMRL/Pubs/625R00008/625R00008.htm
Water Wells and Septic Systems Handbook, R. Dodge Woodson. This book is in the upper price range, but is worth the cost for serious septic installers and designers. Quoting Amazon: Each year, thousands upon thousands of Americans install water wells and septic systems on their properties. But with a maze of codes governing their use along with a host of design requirements that ensure their functionality where can someone turn for comprehensive, one-stop guidance? Enter the Water Wells and Septic Systems Handbook from McGraw-Hill.
Written in language any property owner can understand yet detailed enough for professionals and technical students this easy-to-use volume delivers the latest techniques and code requirements for designing, building, rehabilitating, and maintaining private water wells and septic systems. Bolstered by a wealth of informative charts, tables, and illustrations, this book delivers:
* Current construction, maintenance, and repair methods
* New International Private Sewage Disposal Code
* Up-to-date standards from the American Water Works Association

Wells and Septic Systems, Alth, Max and Charlet, Rev. by S. Blackwell Duncan, $ 18.95; Tab Books 1992. We have found this text very useful for conventional well and septic systems design and maintenance --DF. Quoting an Amazon description:Here's all the information you need to build a well or septic system yourself - and save a lot of time, money, and frustration. S. Blackwell Duncan has thoroughly revised and updated this second edition of Wells and Septic Systems to conform to current codes and requirements. He also has expanded this national bestseller to include new material on well and septic installation, water storage and distribution, water treatment, ecological considerations, and septic systems for problem building sites.

The NSFC Products List has an excellent list of design manuals/modules available from their website or by telephone 800-624-8301
Submissions welcome. send us a suggested document link or request an exchange of website links
...
Effluent Dosing Septic System References & Products
Rissy Plastics, 350 Cedar Lane, Torrington, CT 06790 USA, Tel: 877-221-4426, Email: tanxrus@aol.com, for information about the the Flout™ floating outlet valve dosing system control for septic systems and onsite wastewater disposal.
Please also see SEPTIC SYSTEM SUPPLIERS and also review the suppliers listed at ATU Suppliers
Evapotranspiration and Evapotranspiration / Infiltration Systems for Septic Effluent Disposal
Bauer, D.H., E.T. Conrad, and D.G. Sherman. 1979. Evaluation of Existing and Potential Technologies for Onsite Wastewater Treatment and Disposal. EPA/600/S2-81-178. U.S. Environmental Protection Agency, Cincinnati, OH.
Beck, A.F. 1979. Evapotranspiration bed design. Journal of Environmental Engineering Division-American Society of Civil Engineers 105(2): 411-415.
Frank, W.L. 1996. Engineering parameters in the design of evapotranspiration beds. Water and Engineering Management November, 31-37.
Ingham, A.T. 1987. Guidelines for Evapotranspiration Systems. State Water Resources Control Board, State of California. Sacramento, CA.
Lomax, K.M., et al. 1978. Guidelines for Evapotranspiration Systems. State Water Resources Control Board, State of California. Sacramento, CA.
National Small Flows Clearinghouse (NSFC). 1998. Evapotranspiration Systems Fact Sheet. Cooperative Agreement CX825652, U.S. Environmental Protection Agency, Washington, DC.
National Small Flows Clearinghouse (NSFC). 2000. Evapotranspiration systems. Pipeline 11(1).
Peters, E.C. 1988. An Evaluation of Enhanced ET Onsite Sewage Treatment and Disposal Systems. Master's thesis, University of Maryland, College Park.
Salvato, J.A. 1982. Rational design of evapotranspiration bed. Journal of Electrical Engineering-American Society of Civil Engineers 109(3):646-660.
U.S. Environmental Protection Agency (USEPA). 1999. Manual: Constructed Wetlands Treatment of Municipal Wastewaters. EPA/625/R-99/010. U.S. Environmental Protection Agency, Cincinnati, OH.
Victoria (AUS)-Environmental Protection Agency. 1980. The Use of Transpiration Beds for Domestic Wastewater Disposal. EPA Report No. 104. Melbourne, Australia.
Wheeter, D.W. 1979. The Use of Evapotranspiration as a Means of Wastewater Disposal. Research Report No. 73. Tennessee Water Resources Research Center, University of Tennessee, Knoxville
...
Media Filters - Septic Media Filter System References & Products
Measuring Septic Sludge & Scum Levels in Septic Tanks - Measuring the Level of Accumulated Solids, Sludge and Floating Scum in Treatment Tanks
Septic Contaminants, identifying - what are the Nitrogen contaminants produced by septic systems and what can be done about them if they escape initial treatment?
Safety: Septic System, Septic Tank, & Cesspool Safety Warnings for Septic Inspectors, Septic Pumpers, and Homeowners
Sewage & Septic Backups and what to do about sewage spillage in buildings
SEPTIC SYSTEM FLOOD DAMAGE REPAIR when and what to do to a septic system after area flooding
"Septic Tank/Drainfield System Fact Sheet", Utah Department of Environmental Quality, Division of Drinking Water, Source Protection Program - (801) 536-4200 Division of Water Quality - (801) 538-6146 Sonja Wallace, Pollution Prevention Coordinator - (801) 536-4477 Environmental Hotline - 1-800-458-0145 - Original source: http://www.drinkingwater.utah.gov/documents/spec_services/pollution_prevention_septic_tanks.pdf
New York State Wastewater Treatment Standards - Individual Household Systems, Appendix 75-A (1990), Public Health Law 201(1)(1).
New York State Alternative Septic System Design Regulations, Wastewater Treatment Standards - Individual Household Systems, Appendix 75-A, of Public Health Law 201(1)(1) 1990.
Peat Media - Septic Peat Moss Bed Designs & Suppliers
Sand Filters - Septic Sand Filter System References & Products
Sequencing Batch Reactor Septic System References & Products
Arora, M.L., et al. 1985. Technology evaluation of sequencing batch reactors. Journal of the Water Pollution Control Federation 57:867.
Ayres Associates. 1998. Florida Keys Onsite Wastewater Nutrient Reduction Systems Demonstration Project. HRS Contract No. LP988. Florida Department of Health, Gainesville, FL.
Buhr, H.O., et al. 1984. Making full use of step feed capability. Journal of the Water Pollution Control Federation 56:325.
Deeny, K.J., and J.A. Heidman. 1991. Implementation of Sequencing Batch Reactor Technology in the United States. Paper presented at the 64th Annual Meeting of the Water Pollution Control Federation, Toronto, Canada.
Eikum, A.S., and T. Bennett. 1992. New Norwegian Technology for Treatment of Small Flows. In Proceedings of Seventh Northwest Onsite Wastewater Treatment Short Course, ed. R.W. Seabloom. University of Washington, Seattle.
U.S. Environmental Protection Agency (USEPA). 1986. Summary Report, Sequencing Batch Reactors. EPA 625/8-86-001. Technology Transfer, Cincinnati, OH.
U.S. Environmental Protection Agency (USEPA). 1987. Analysis of a Full-Scale SBR Operation at Grundy Center, Iowa. EPA/600/J-87-065. U.S. Environmental Protection Agency, Cincinnati, OH.
U.S. Environmental Protection Agency (USEPA). 1993. Process Design Manual for Nitrogen Removal. EPA 625/R-93-010. U.S. Environmental Protection Agency, Cincinnati, OH.
Water Environment Federation. 1998. Design of Municipal Wastewater Treatment Plants. Manual of Practice No. 8. Water Environment Federation, Alexandria, VA.
[Websearch original material on Onsite wastewater treatment: Morrison-Maierle, Inc - http://www.m-m.net/techsheets/on_site_ww_treatment.pdf ]
...