High-Treatment Effluent Spray Dispersal Septic Systems
InspectAPedia tolerates no conflicts of interest. We have no relationship with advertisers, products, or services discussed at this website.
ATU System Spray Heads:
This document describes high-treatment aerobic septic systems using septic effluent spray heads to disperse effluent over an absorption area. We include links to septic design engineers, advanced septic system products and septic design books and building codes.
Examples of advanced septic designs include aerobic septic systems, chemical, composting, incinerating & waterless toilets, evaporation-transpiration (ET) septic systems, septic media filters, greywater systems, holding tank septic systems, mound septics, raised bed septics, pressure dosing septic systems, sand bed filters, peat beds, constructed wetlands, wastewater lagoons, constructed wetlands, and septic disinfection systems.
Green links show where you are. © Copyright 2017 InspectApedia.com, All Rights Reserved.
AEROBIC Septic Systems using Effluent Sprayers to Disperse Effluent
Septic Effluent Spray & Septic Spray Head effluent dispersal systems, treating effluent to level 3 or better (Jantrania/Gross wastewater system type X). Septic spray systems are high-level-of-treatment aerobic septic systems using spray heads to disperse effluent require maintenance that includes occasional spray head cleaning or replacement.
You'll need to identify the brand and model effluent spray head on your aerobic septic system in order to replace with the same part in-kind.
Maintenance of Septic Effluent Spray Systems - a Quick Diagnostic & Repair Guide
Question:
I have a question on aerobic septic system maintenance.

We may be 'missing it' but is there information on your Aerobic Septic System maintenance section about Spray head maintenance? if so, where? we have 2 spray heads working & one that is not & would like to check before calling someone. Is this something we can check ourselves? we have water standing where one spray head is having to do 'extra spray' -- Glenda Marsh
Answer:
A typical aerobic system treats effluent and then disposes of it by spraying treated effluent over the ground surface. In the treatment tank air is pumped through the effluent to increase the level of tank treatment, and effluent is filtered before leaving the tank. 85-95 percent of solids and organics are removed in the tank (compared with less than 50% in a conventional gravity-draining septic tank and Drainfield, non-aerobic).
AEROBIC Septic system designs vary by the terrain in which they are installed, but in general, include a pre-treatment tank, an aeration chamber, a settling chamber, and a "land application system" that typically involves a pumping chamber, pump, and spray heads that distribute treated effluent onto the ground surface.
I AM GUESSING that you ARE talking about an effluent disposing sprinkler - these are sprinkler tops (aerators) such as the Rain Bird that are less than $50. that spray effluent onto the ground for disposal  (permitted in some states like TX -
1. Before replacing the sprinkler head, take off the access cover to the tank that contains the pump. You should see a float that turns the pump on and off;

Lift the float with a wire hook, to cause the pump to run, watch as the liquid level falls in the tank down to about where the pump would shut off; make sure that there are no leaks in the line going to the bad-performing sprayer - if there are leaks you would see spraying inside the tank from the leak point and that would prevent pressurized effluent from getting to the spray head. As one sprayer works and the other doesn't, this is probably not the problem.
As you see good flow from one spray head and not from the other, we suspect as so you it's the sprayer not a pump problem.
2. Wet spots outside the septic tank: If this is what we're discussing, in addition to looking in the tank for pipe leaks (discussed just below), if you find a wet or soft spot between the tank outlet and the sprayer, there may be a buried pipe leak that is the culprit.
3. Clean the septic effluent spray head: If the spray head is easily and safely removed, it can probably be removed and one might try cleaning it. Sometimes I see sprayers that are clogged with mineral deposits from hard water - soaking overnight in vinegar can often loosen or dissolve if that's the problem; else just replace the part.
See http://stores.shopeasttexasseptic.com/-strse-New/Categories.bok or another vendor http://www.septic-system-supplies.com/home.php?cat=288 if in fact this is the part you're talking about.)
Sketches of typical aerobic systems are also at http://www.septicsolutionsllc.com/Products/tabid/331/Default.aspx
including LPD (Low pressure dosing systems and surface drip systems).
I am GUESSING that you are NOT talking about an in-tank aerator rather than an effluent disposer that sprays onto the ground surface in the disposal area.  In the treatment tank, aerobic systems all use a system for aerating the effluent to increase bacterial activity. Some aerobic septic systems use a diffuser stone (below liquid level, typically about $50 to replace). That's a cheap part compared with septic aerator pumps that are $350 - $500.
You would help me tremendously and help me write this up to assist other owners if you could take and send me sharp photos of the part as installed and keep me posted on what you do and how things progress.
See http://www.profloaerobic.com/onlinedocuments/ownersmanual.pdf for an owners manual for Pro Flo wastewater treatment systems - they use an air diffuser
See http://www.aaaseptictank.com/resources/SING_BROCHURE.pdf for a sales brochure on the Singulair system
An aerobic or septic spray head pump retailer is at http://www.septic-system-supplies.com/home.php?cat=249 or select a topic from closely-related articles below, or see our complete INDEX to RELATED ARTICLES below.
Also see The Septic System Information Website. Massachusetts Title 5 Licensed Septic System Inspector, & New York State H.I. License # 16000005303 (inception to 2008).
Aerobic Septic System ATU Sprinkler Problems
Question: Rain-Bird 5000 Sprayer is Leaking
Richard Poore said:
One of our Rain Bird 5000 sprayers seeps water continuously. It is at a foot or two lower elevation. Neither switching nor replacement of the whole rotor stops the flow.
Pushing the head down or twisting to I'll left stop only reduces the seepage. Ideas? - 2017/08/14
This question was originally posted at AEROBIC ATU SEPTIC PROBLEMS
Reply: Basic Aerobic Septic Sprinkler Head Rrepair & shutoff control for Rainbird 5000 Plus spray head, contact information for RainBird
Richard,
First let's see if there is dirt or debris blocking the sprinkler head parts or if there is an obviously broken internal part or clogged filter. These steps are generally correct for the sprinkler head on most ATU sprinkler or rotor systems, but you will want to review the instructions, parts and maintenance details for your specific sprinkler head brand and model - I'll give some of that information below.
Examine the outside of the sprinkler head or rotor for obvious damage, cracks, or blockage by dirt or debris.
Remove the sprinkler head top by un-screwing it to permit removal of the operating cylinder
Examine the filter on the bottom of the sprinkler or rotor for crud or damage and clean it as is usually needed, simply by spraying the filter clean with a garden hose. Then put the filter back in place.
Before replacing the rotor or sprinkler head into its housing, inspect the housing for sand, pebbles, debris - clean it out if necessary, then replace the sprinkler head securely in place.
Check the sprinkler head adjustments such as the Rain Bird adjustments you'll find in the instructions I'll give below.
If your Rain Bird 5000 series spray head is the "Plus" model, there is a center screw opening/slot that is used to turn the flow of water on or off. A screwdriver simply turns the slotted screw 180 degrees clockwise to turn OFF the flow of water.
If you have a standard RainBird 5000 spray head it sounds as if an internal check valve is broken or the valve body is cracked and needs replacement. Before replacing it, though, give the company a call to see if their experts have other advice. And do let us know what you're told as that will help other readers.
Rain Bird rotors or "spray heads" as some readers call them, are provided in a series of models, the Rainbird 3500 Series, 5000Series, Falcon 6504 series, and the Rainbird 8005 series. Each of these products coves a range of effluent distribution rates and operates at various ranges of effluent distribution system pressures. The Rain Bird ROTORS BROCHURE cited above also provides a helpful product model number decoding guide to features and specifications of each rotor model.
You didn't give a location (we have readers world wide) so I'll paste in all of the company's contact information and the instructions for the RainBird 5000 series sprayheads at AEROBIC SEPTIC EFFLUENT SPRAY HEAD SOURCES
Question: the sprinklers on my aerobic system are leaking. I pumped the tank. Didn't help.
My aerobic septic system is not working right. The sprinklers basically just leak all the time instead of spraying. The sprinklers are downhill from the tanks. I had the tanks pumped out (1st time in 6 years) and the sprinklers are still not spraying. Any clues? - Kenneth Skoczlas 5/1/12
Reply:
Kenneth, if an aerobic sprinkler is leaking, it's not going to be fixed one iota by pumping the septic tank. More likely fittings or gaskets or sprinkler heads need replacement.
Also see our diagnostics starting at AEROBIC SEPTIC EFFLUENT SPRAY HEAD REPAIR for details
Question: sprinklers have stopped working on my Aerobic Septic System
(Aug 10, 2014) Lydia said:
I have an aerobic system with sprinklers. I've noticed that my sprinklers have not been working for a couple of weeks. I realized that electricity was not running through the aerator.
I used an extension cord and it started running again, but not without a strong odor. The sprinklers still didn't work. Should i just leave the pump running, and will the sprinklers eventually start working?
Reply:
No Lyida,
If you don't see water coming out of the sprinklers I'd turn off the pump - to reduce the risk of burning it up if it has not already been damaged. You need to call a local repair company who is in your area and is familiar with aerobic sprinkler system repairs. Keep us posted. Daniel
Aerobic ATU Septic Spray Heads & Irrigation or Reclaimed-Water Spray Heads & Rotors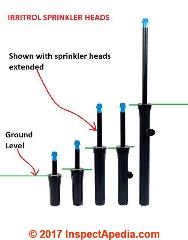 Above: Irritrol® Corporation's irrigation spray heads shown with the heads extended up. [Click to enlarge any image].
Irritrol® Corporation, Impact Septic sprinkler Head, Example Model 550R Series, Tel: 1-800-634-TURF (8873), Email: irrigationsupport@irritrol.com Website: https://www.irritrol.com/ [No corporate address at website]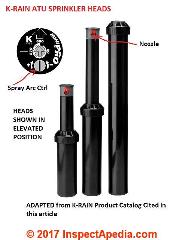 Above: K-Rain® sprinkler head, example of a few of many K-Rain products - see the catalog below. [Click to enlarge any image]
K-Rain® 1640 Australian Avenue Riviera Beach, Florida 33404 USA Tel: (1) 800-735-7246, Example Model 11003-RCW Reclaimed Water Spray Head irrigation rotors - Website: http://www.krain.com/

K-Rain PRODUCT CATALOG [PDF], (2017) retrieved 2017/08/24, original source: http://www.krain.com/media/custom/upload/2017_KRAIN_Catalog.pdf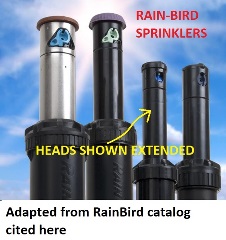 Above: example ATU sprinkler heads from Rain Bird, discussed in this article. [Click to enlarge any image]
Rain Bird® Corporation 6991 E. Southpoint Rd., Bldg. #1 Tucson, AZ 85706 USA Phone: (520) 741-6100 Fax: (520) 741-6522

Rain Bird Corporation 970 W. Sierra Madre Azusa, CA 91702 USA Phone: (626) 812-3400 Fax: (626) 812-3411
Rain Bird International, Inc. 145 North Grand Avenue Glendora, CA 91741 USA Phone: (626) 963-9311 Fax: (626) 963-4287
Rain Bird Technical Service (800) 247-3782 (USA & Canada only) www.rainbird.com
Rain Bird Europe S.A.R.L. 900 Rue Ampère, BP 72000 13792 AIX-EN PROVENCE CEDEX 3 FRANCE Tél. : (33) 04 42 24 44 61 Fax : (33) 04 42 24 24 72
Rain Bird Deutschland GmbH Siedlerstraße 46 71126 Gaüfelden - Nebringen Deutschland Tel : 07032 - 9901 - 0 Fax : 07032 - 9901 - 11
Rain Bird Iberica S.A. Pol. Ind. Prado del Espino C/Forjadores, Parc. 6, M18, S1 28660 Boadilla del Monte-MADRID España Tél. : (34) 916 324 810 Fax : (34) 916 324 645 www.rainbird.fr
Rain Bird Sweden PL 345 (Fleninge) 260 35 Ödåkra Sweden Tel : (46) 042 20 58 50 Fax : (46) 042 20 40 65
Rain Bird Turkey ‹stiklal Mahallesi, Alemda¤ Caddesi, No 262 81240 Ümraniye ‹stanbul Turkey Phone: (90) 216 443 75 23
RAINBIRD 5000 / 5000Plus Rotors INSTALLATION MANUAL [PDF], retrieved 2017/08/14, original source: http://www.rainbird.com/documents/turf/man_5000_5000Plus_PRS.pdf
RAINBIRD 5000/5000 Plus Rotors Performance Data [PDF], provides spray radius and gpm or ln/n for various nozzle sizes and distribution system pressure, retrieved 2017/08/14, original source: http://www.rainbird.com/documents/turf/chart_5000.pdf
RAIN BIRD Effluent Distribution ROTORS BROCHURE [PDF] retrieved 2017/08/14, original source: http://www.rainbird.com/documents/turf/bro_RotorFamily.pdf

Singulair Aerobic Treatment Units: See http://www.aaaseptictank.com/resources/SING_BROCHURE.pdf for a sales brochure on the Singulair system
Fedler, Clifford B., John Borrelli, Runbin Duan, "MANUAL for DESIGNING SURFACE APPLICATION of OSSF WASTEWATER EFFLUENT" [PDF], Dept. of Civil & Environmental Engineering, Texas Tech University, Lubbock TX 79409 & Texas On-Site Wastewater Treatment Research Council, Grant No. 582-8-88017 (2008) retrieved 2017/08/14, original source: https://www.tceq.texas.gov/assets/public/compliance/compliance_support/ regulatory/ossf/FinalManualforDesigningSurf.application582-8-88017-Fedler.pdf
Lesikar, Bruce J., Diane Bowen, Justin Mechell, Ryan Gerlich, "LIVING WITH AN AEROBIC TREATMENT UNIT AND SPRAY FIELD", [PDF], Texas Water Resources Institute, Agri-Life Extension, Texas A&M System, B(2010), retrieved 2017/08/14, original source: https://www.h-gac.com/community/water/ossf/OSSF-Treatment-Systems_Living-with-an-Aerobic-Treatment-Unit.pdf

Excerpt from end of this document:
A comprehensive guide for homeowners, Checking My Aerobic System: General Guidance for Monitoring Aerobic Treatment Units, Disinfection Units, and Spray Fields in Texas, is available at the Texas AgriLife Extension Service Bookstore at https://agrilifebookstore.org. Also available at that site is Onsite Wastewater Treatment Systems: Responding to Power Outages and Floods.
Jarrett, Albert R., "INDIVIDUAL RESIDENTIAL SPRAY IRRIGATION SYSTEMS (IRSIS)" [PDF] , Penn State Extension, Pennsylvania Association of Sewage Enforcement Officers (PASEO) 4902 Carlisle Pike #268 Mechanicsburg, PA 17050 Telephone: 717-761-8648 and Pennsylvania Septage Management Association (PSMA) Box 144 Bethlehem, PA 18016 Phone: 717-763-PSMA retrieved 2017/08/14, original source: http://extension.psu.edu/natural-resources/water/septic-systems/on-site-wastewater-treatment-system-options/individual-residential-spray-irrigation-systems-irsis

This document discusses all of the system components: a treatment tank, a dose tank, a secondary filtration unit, a chlorine contact unit, a storage tank, and the spray field, including spray heads, patterns, distribution.

Excerpt:
The spray field provides tertiary treatment for the chlorinated wastewater. The wastewater should be applied at low rates. The wastewater landing on the soil surface and vegetation plus the sunlight and evaporation of the wastewater enhance the system's ability to produce high quality water. The minimum spray field areas for an IRSIS system are shown in Table 1. [in the document linked above]

Effluent should be applied to the spray area once each day after midnight. A manual override of the pump system allows interruption of the spray cycle when weather conditions are not conducive to spraying. Sprinkler heads must be spaced so the spray patterns from individual sprinklers do not overlap.

Each sprinkler must be placed on a riser that extends 1.5 to 5 feet above the land surface. Vegetation must be cut or trimmed to keep it from interfering with the sprinklers' rotation and spray diameter. The minimum pump discharge shall be equal to the total discharge of all sprinklers at design operating conditions.
This document is a chapter provides in our Septic Systems Online Book.
...
Continue reading at CONVERT to AEROBIC SEPTIC SYSTEM or select a topic from closely-related articles below, or see our complete INDEX to RELATED ARTICLES below.
Or see SEPTIC TANK SUPPLIERS: a directory list of septic tank suppliers
Or see SEPTIC SYSTEM SUPPLIERS for directory lists of other septic system component suppliers for sources of septic effluent spray system repair parts and sprayers.
Aerobic Septic System Articles
Or see SEPTIC SYSTEM INSPECT DIAGNOSE REPAIR - home
Or see SITE WEATHER or NEIGHBOR'S SEWER ODORS
Suggested citation for this web page
AEROBIC SEPTIC EFFLUENT SPRAY HEAD REPAIR at InspectApedia.com - online encyclopedia of building & environmental inspection, testing, diagnosis, repair, & problem prevention advice.
Or use the SEARCH BOX found below to Ask a Question or Search InspectApedia
...
Frequently Asked Questions (FAQs)
Try the search box below or CONTACT US by email if you cannot find the answer you need at InspectApedia.
...
Ask a Question or Search InspectApedia
Use the "Click to Show or Hide FAQs" link just above to see recently-posted questions, comments, replies, try the search box just below, or if you prefer, post a question or comment in the Comments box below and we will respond promptly.
Search the InspectApedia website
Technical Reviewers & References
Click to Show or Hide Citations & References
The Septic System Information Website home page for this topic
Septic Systems Inspection, Testing, & Maintenance - online textbook. Detailed how to inspect, maintain, repair information
Septic Tank Pumping Guide: When, Why, How to pump the septic tank
Septic Tank Capacity vs Usage in Daily Gallons of Wastewater Flow, calculating required septic tank size, calculating septic tank volume from size measurements
Septic Tank/Soil-Absorption Systems: How to Operate & Maintain [ copy on file as /septic/Septic_Operation_USDA.pdf ] - , Equipment Tips, U.S. Department of Agriculture, 8271 1302, 7100 Engineering, 2300 Recreation, September 1982, web search 08/28/2010, original source: http://www.fs.fed.us/t-d/pubs/pdfimage/82711302.pdf.
How Big Should the Leach Field Be? - table of soil percolation rate vs. field size
Septic System Drainfield Absorption System Biomat Formation - what leads to drain field clogging and expensive drainfield repairs
Table of Required Septic & Well Clearances: Distances Between Septic System & Wells, Streams, Trees, etc.
Ten Steps to Keeping a Septic System Working, suggestions from the U.S. EPA, edits and additions by DJF
Pennsylvania State Fact Sheets relating to domestic wastewater treatment systems include

Pennsylvania State Wastewater Treatment Fact Sheet SW-161, Septic System Failure: Diagnosis and Treatment
Pennsylvania State Wastewater Treatment Fact Sheet SW-162, The Soil Media and the Percolation Test
Pennsylvania State Wastewater Treatment Fact Sheet SW-l64, Mound Systems for Wastewater Treatment
Pennsylvania State Wastewater Treatment Fact Sheet SW-165, Septic Tank-Soil Absorption Systems
Document Sources used for this web page include but are not limited to: Agricultural Fact Sheet #SW-161 "Septic Tank Pumping," by Paul D. Robillard and Kelli S. Martin. Penn State College of Agriculture - Cooperative Extension, edited and annotated by Dan Friedman (Thanks: to Bob Mackey for proofreading the original source material.)

...
Books & Articles on Building & Environmental Inspection, Testing, Diagnosis, & Repair
Design Manuals for Septic Systems
US EPA Onsite Wastewater Treatment Systems Manual [online copy, free] Top Reference: US EPA's Design Manual for Onsite Wastewater Treatment and Disposal, 1980, available from the US EPA, the US GPO Superintendent of Documents (Pueblo CO), and from the National Small Flows Clearinghouse. Original source http://www.epa.gov/ORD/NRMRL/Pubs/625R00008/625R00008.htm Onsite wastewater treatment and disposal systems, Richard J Otis, published by the US EPA. Although it's more than 20 years old, this book remains a useful reference for septic system designers. U.S. Environmental Protection Agency, Office of Water Program Operations; Office of Research and Development, Municipal Environmental Research Laboratory; (1980)
Eco John® Innovative Toilet Solutions, Global Inventive Industries, Fountain Valley CA, PDF, product brochure
"International Private Sewage Disposal Code," 1995, BOCA-708-799-2300, ICBO-310-699-0541, SBCCI 205-591-1853, available from those code associations.
"Manual of Policy, Procedures, and Guidelines for Onsite Sewage Systems," Ontario Reg. 374/81, Part VII of the Environmental Protection Act (Canada), ISBN 0-7743-7303-2, Ministry of the Environment,135 St. Clair Ave. West, Toronto Ontario M4V 1P5 Canada $24. CDN.
Manual of Septic Tank Practice, US Public Health Service's 1959.

Onsite Wastewater Disposal Books
Onsite Wastewater Disposal, R. J. Perkins; Quoting from Amazon: This practical book, co-published with the National Environmental Health Association, describes the step-by-step procedures needed to avoid common pitfalls in septic system technology. Valuable in matching the septic system to the site-specific conditions, this useful book will help you install a reliable system in both suitable and difficult environments. Septic tank installers, planners, state and local regulators, civil and sanitary engineers, consulting engineers, architects, homeowners, academics, and land developers will find this publication valuable.
Onsite Wastewater Treatment Systems, Bennette D. Burks, Mary Margaret Minnis, Hogarth House 1994 - one of the best septic system books around, suffering a bit from small fonts and a weak index. While it contains some material more technical than needed by homeowners, Burks/Minnis book on onsite wastewater treatment systems a very useful reference for both property owners and septic system designers.
Septic Tank/Soil-Absorption Systems: How to Operate & Maintain [ copy on file as /septic/Septic_Operation_USDA.pdf ] - , Equipment Tips, U.S. Department of Agriculture, 8271 1302, 7100 Engineering, 2300 Recreation, September 1982, web search 08/28/2010, original source: http://www.fs.fed.us/t-d/pubs/pdfimage/82711302.pdf
SEPTIC SOIL & PERC TESTS soil perc testing guide and instructions
Percolation Testing Manual, CNMI Division of Environmental Quality, PO Box 501304, Saipan, MP 96950
Planting Over Septic System Component", Daniel Friedman (author/editor, InspectAPedia.com), The Innovator, Winter/Spring 2008, BCOSSA, British Columbia OnSite Sewage Association, 201-3542 Blansard St., Victoria BC V8X 1W3 Canada
Save the Septic System - Do Not Flush These Items Down the Toilet, Daniel Friedman, InspectAPedia.com - PDF document, printable
Septic System Owner's Manual, Lloyd Kahn, Blair Allen, Julie Jones, Shelter Publications, 2000 $14.95 U.S. - easy to understand, well illustrated, one of the best practical references around on septic design basics including some advanced systems; a little short on safety and maintenance. Both new and used (low priced copies are available, and we think the authors are working on an updated edition--DF. Quoting from one of several Amazon reviews: The basics of septic systems, from underground systems and failures to what the owner can do to promote and maintain a healthy system, is revealed in an excellent guide essential for any who reside on a septic system. Rural residents receive a primer on not only the basics; but how to conduct period inspections and what to do when things go wrong. History also figures into the fine coverage.
Test Pit Preparation for Onsite Sewage Evaluations, State of Oregon Department of Environmental Quality, Portland OR, 800 452-4011. PDF document. We recommend this excellent document that offers detail about soil perc tests, deep hole tests, safety, and septic design. Readers should also see SEPTIC SOIL & PERC TESTS and for testing an existing septic system, also see Dye Tests
Grass is Always Greener Over the Septic Tank, Bombeck, Erma: $ 5.99; FAWCETT; MM; This septic system classic whose title helps avoid intimidating readers new to septic systems, is available new or used at very low prices. It's more entertainment than a serious "how to" book on septic systems design, maintenance, or repair. Not recommended -- DF.

US EPA Onsite Wastewater Treatment Systems Manual Top Reference: US EPA's Design Manual for Onsite Wastewater Treatment and Disposal, 1980, available from the US EPA, the US GPO Superintendent of Documents (Pueblo CO), and from the National Small Flows Clearinghouse. Original source http://www.epa.gov/ORD/NRMRL/Pubs/625R00008/625R00008.htm
Water Wells and Septic Systems Handbook, R. Dodge Woodson. This book is in the upper price range, but is worth the cost for serious septic installers and designers. Quoting Amazon: Each year, thousands upon thousands of Americans install water wells and septic systems on their properties. But with a maze of codes governing their use along with a host of design requirements that ensure their functionality where can someone turn for comprehensive, one-stop guidance? Enter the Water Wells and Septic Systems Handbook from McGraw-Hill.
Written in language any property owner can understand yet detailed enough for professionals and technical students this easy-to-use volume delivers the latest techniques and code requirements for designing, building, rehabilitating, and maintaining private water wells and septic systems. Bolstered by a wealth of informative charts, tables, and illustrations, this book delivers:
* Current construction, maintenance, and repair methods
* New International Private Sewage Disposal Code
* Up-to-date standards from the American Water Works Association

Wells and Septic Systems, Alth, Max and Charlet, Rev. by S. Blackwell Duncan, $ 18.95; Tab Books 1992. We have found this text very useful for conventional well and septic systems design and maintenance --DF. Quoting an Amazon description:Here's all the information you need to build a well or septic system yourself - and save a lot of time, money, and frustration. S. Blackwell Duncan has thoroughly revised and updated this second edition of Wells and Septic Systems to conform to current codes and requirements. He also has expanded this national bestseller to include new material on well and septic installation, water storage and distribution, water treatment, ecological considerations, and septic systems for problem building sites.

The NSFC Products List has an excellent list of design manuals/modules available from their website or by telephone 800-624-8301
Submissions welcome. send us a suggested document link or request an exchange of website links
...