How to Adjust the Water Pressure Regulator / Pressure Reducing Valve
WATER PRESSURE REGULATOR ADJUSTMENT - CONTENTS: How to adjust the water pressure regulator valve - municipal building water pressure . How to adjust the water pressure reducer or water pressure regulator. Which way to turn the pressure reducer or pressure regulator screw to increase or decrease building water pressure. How to test a water pressure regulator that seems to be misbehaving . ow to diagnose & correct loss of water pressure or loss of water in a building
POST a QUESTION or READ FAQs about how to adjust water pressure regulators
InspectAPedia tolerates no conflicts of interest. We have no relationship with advertisers, products, or services discussed at this website.
Water pressure regulator control adjustment:
This article describes exactly how to adjust a building water pressure reducer or water pressure regulator control, as part of diagnosing and correcting poor building water pressure or perhaps the need for a replacement water pressure regulator/pressure reducer.
Distinguishing between static water pressure, dynamic water pressure, and water flow rate can help diagnose water problems in a building. Here we explain these concepts and we describe how to measure water pressure and flow at a property where either municipal water supply or a private well and pump water supply is in use.
Green links show where you are. © Copyright 2017 InspectApedia.com, All Rights Reserved.
How to Adjust the Water Pressure Regulator on Municipal Water Supply
Find the pressure reducing valve or pressure regulator control for the building
A water pressure regulator or pressure reducing may be installed. See the illustration at the top of this page and at left. A device, usually a few inches across and often shaped a bit like a bell, may be found installed quite close to the building water meter.
The water meter is often installed where water pipes enter the building and the pressure regulator will be installed just after the water meter on the same pipe.
Notice the Pressure Reducing Valve Model
At WATER PRESSURE REDUCER / REGULATOR we explain that selecting the proper water pressure reducing valve (or water pressure regulating valve) is important to avoid both unsafe conditions (wire draw), and poor performance (water pressure too high or too low, noisy valve operation, etc).
Notice the Pressure Reducer Adjustment Screw & Lock Nut
You may see a set-screw secured by a lock-nut on the top of the pressure regulating valve or water pressure reducing valve that is built right into a water meter, or more often there is a separate device, shown in our photos, that includes a screw (and lock nut) or knob that will permit the water pressure regulator to be adjusted to set the water pressure up or down in the building.
Loosen the Lock Nut & Turn the Pressure Reducer Adjustment Screw
Which way to turn the water pressure regulator screw? On most pressure regulators, after loosening the lock-nut around the adjusting screw, turning the screw in will increase the water pressure. Don't overdo-it. Just a turn or two should make a difference. Keep track of the number of turns so that you can go back to where you started if necessary.
Sometimes the municipal water supply may itself be temporarily shut down or running at reduced flow. Check with your local water department or neighbors.
Increasing the building water pressure by adjusting the pressure regulator (or a pump pressure control switch) will not fix a poor water delivery rate from the source (municipal water main or local private water pump), but if the pressure was set too low to start with you may see an improvement by this adjustment. If your loss of water pressure or flow was sudden, it's not likely to be a problem with the pressure regulator except in the less common cases of a blockage or failure in the regulator itself.
Watch out: don't set the water pressure reducing valve higher than necessary. Doing so wastes water and as we discuss
at WATER PRESSURE TOO HIGH: DANGERS, setting water pressure too high can cause both plumbing problems and actual serious safety hazards at buildings.
If Adjusting the Water Pressure Regulating Valve Still Does Not Provide Enough Water Flow
If a small adjustment to the pressure reducing valve does not produce the desired water pressure and flow rate in the building, it's not a good idea to set the control to the extremes of its adjustment range. These devices work best operating near the middle of their rated pressure and flow ranges.
How to Get More Water Flow Through the Pressure Reducing Valve
As we explain at WATER PRESSURE REDUCER / REGULATOR, parallel pressure reducing valves/water pressure regulators can be installed, one set at a higher psi flow rate than the other. For example installing a Watts Model 223 pressure reducer set at 50 psi in parallel with a second Watts 223 pressure reducer set to 60 psi will allow increased total water flow capacity during periods of peak water demand.
Water Pressure Regulator Testing, Diagnosis, & Repair or Replacement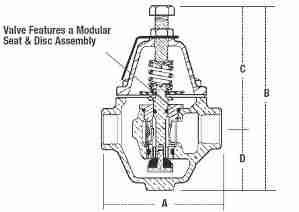 This article describes how to observe, diagnose, or perhaps how to test a water pressure regulator that seems to be misbehaving.
Some readers whose homes are connected to municipal or community water supply systems have commented that the water pressure in the home has been observed to increase to a pressure above the water pressure regulator set-pressure overnight when no one is using water.
First, what might cause water pressure to increase to abnormal levels in a building served by a community water supply?
At WATER PRESSURE VARIATION CAUSES we listed quite a few reasons that water pressure may vary in a building. One of these is described as:
Variation in performance of the pressure regulator itself: a water pressure regulator may be misbehaving. One water pressure regulator failure mode causes gradual increases in building water pressure above the set point on the regulator. This may be due to an internal failure or leak in the water pressure regulator, dirt on the regulator valve seat, or a leak in an internal regulator valve or pressure-sensing diaphragm if your valve uses such a component.
A Watts 123LP low water pressure regulator is shown in our sketch at above left. Notice that i the middle of the valve is a modular seat and disc assembly and at the bottom of the valve is the actual valve seat (above the "A"). If a piece of debris, (rust flake, dirt, mineral fragment) happens to jam on this valve seat, the valve may not close fully as it is intended to do at a given water pressure setting.
During the day when building occupants are frequently using water, even if the pressure regulator is feeding water at a pressure above the intended setting, no one may notice, because water use "bleeds off" the excess pressure.
But at night when no one is using water, a slow leak at the water regulator will feed more water into the building piping. In an extreme case (which we OPINE would be unusual) combining a defective water pressure regulator and high municipal supply pressure (say over 80 psi i the water mains), the result could be leaky plumbing fittings, pipes, fixtures.
How to Test The Water Pressure Regulator
1. Read & record the initial static building water pressure using a pressure gauge.
By initial static building water pressure we mean the water pressure at the start of a test interval over which we're going to watch for a change in building water pressure.
When water is not being run in the building the water pressure should not change. If you observe water pressure just after plumbing fixtures have been run you will see the immediate pressure regulator response - it should restore water pressure to its set point. If, after that time no water is run in the building for some time period, say eight hours overnight, the water pressure should be the same.
Use a water pressure gauge that is already installed, or an add-on water pressure gauge (see photo at the top of WATER PRESSURE MEASUREMENT) that you can connect to a convenient fitting such as a hose bib or clothes washer hook-up.
If you have a water pressure gauge already installed (some homes include a water pressure gauge close to the pressure regulator even where the water supply is from a community supply) you may be reading water pressure on the gauge.
Watch out: as we explain at WATER PRESSURE GAUGE ACCURACY, pressure gauges may become inaccurate or sticky. Try tapping gently on the pressure gauge to see if its pressure reading changes.
2. Read & record the ending static building water pressure
At the end of a test period during which no one has run any water (we recommend over night if possible or eight hours), make a note of the water pressure again.
If ending static water pressure is lower than your start point we suspect that there is a leaky plumbing fixture, dripping faucet, or running toilet.
If ending static water pressure is higher than your start point we suspect that either:
The pressure regulator has an internal leak, or
The municipal water pressure in the water mains at the time of your start point was below the set point on your building's water pressure regulator
Water Pressure Regulator Repairs
Flush the regulator valve seat: you might be able to remove a bit of debris on the pressure regulator valve seat or in the valve assembly by loosening the lock nut and temporarily increasing the set pressure, followed by running water out at a nearby fixture.
(Alternatively some water pressure feeder/regulators (usually lower-pressure devices found on heating boilers - see WATER FEEDER Valves, Hydronic) include a bypass lever that can be lifted to temporarily bypass the pressure control and flush water through the valve.)
Watch out: be sure to restore the set pressure to a safe level for the building.
Following pressure regulator valve flushing, you'll want to repeat the pressure test we described above.
If a gentle attempt to flush debris from the valve seat makes no difference and the regulator continues to overfeed water to the building, the pressure regulator needs to be replaced. This will require temporarily shutting off water at the main building water shutoff, draining water pressure from the building piping, then removing and replacing the pressure regulator device.
While it may be possible to disassemble and clean and replace water pressure regulator internal parts, unless homeowner repairs are specifically described in the installation and maintenance manual for your water pressure regulator, we do not recommend trying that. It's rather easy to lose a tiny part or damage something, leaving yourself with no water in the building for still longer while someone dashes out for a replacement part.
A Guide to Building Water Pressure by Adjusting or Repairing the Water Pump Pressure Control Switch on a Private Pump and Well Water Supply
If your water pressure problems are concerned with a private well water supply system or a small community well water supply system (well, pump, water pressure tank, and pump pressure control switch) see the notes just below.
For details about diagnosing poor well water pressure and flow, start
at BAD WELL WATER PRESSURE or FLOW or go directly to the individual items listed just below.
How to Adjust Water Pump Pressure: The detailed, step by step procedure for inspecting and adjusting the water pressure control switch is discussed in detail
at ADJUST PUMP PRESSURE CONTROL.
Diagnosing Water Pump Short Cycling on and off: If your water pump is clicking on and off too often or quite rapidly
see SHORT CYCLING.
Diagnosing Water Pressure Drops without explanation when the pump stops,
see WATER PRESSURE FALLS SLOWLY, ERRATIC PUMP: bad pressure control switch, building water running or leak, bad pressure gauge, bad check valve, bad foot valve.
Diagnosing & Repairing Lost Air in the Water Tank: The problem of lost air in the water pressure tank along with how to correct that condition are discussed beginning
at SIGNS OF AIR LOSS.
Diagnosing & Repairing a Water Pressure Control or Water Pump Control Switch: We discuss diagnosing and repairing a water pressure control switch that sticks "on" or "off" or simply won't operate,
at WATER PUMP PRESSURE SWITCH REPAIRS
Water Pressure Diagnosis & Improvement Articles
...
Continue reading at WATER PRESSURE REDUCER / REGULATOR - home, or select a topic from closely-related articles below, or see our complete INDEX to RELATED ARTICLES below.
Or see WATER PUMP PRESSURE CONTROL ADJUSTMENT
Or see WELL WATER PRESSURE DIAGNOSIS for details about diagnosing poor well water pressure and flow
Suggested citation for this web page
WATER PRESSURE REGULATOR ADJUSTMENT at InspectApedia.com - online encyclopedia of building & environmental inspection, testing, diagnosis, repair, & problem prevention advice.
Or use the SEARCH BOX found below to Ask a Question or Search InspectApedia
...
Frequently Asked Questions (FAQs)
Try the search box below or CONTACT US by email if you cannot find the answer you need at InspectApedia.
Question: how do I lower the water pressure?
(Jan 13, 2013) ronald said:
Water pressure is at 28 pay how can i lower the water pressure
Reply:
Loosen the lock nut and turn the screw counter-clockwise one turn.
Question: are the parts in the pressure regulator replacable?
(Apr 2, 2014) Gerry said:
Can the adjusting screw be removed and be replaced in a water line pressure control valve
Reply:
(Apr 3, 2014) (mod) said:
Gerry, depending on the brand+model some water pressure regulators can be re-built, including replacing the bolt that adjusts pressure. If you are doing a DIY project I'd be sure to match the original part not just in dimensions and thread but I'd use a corrosion resistant material as may have the original (brass or stainless steel for example).

Question: pressure in the house goes up too high
(Apr 19, 2015) john d. said:
my recently purchased regulator is set at 50, after the valves in my house are all turned off it goes up to 80 or more why is this,my last regulator did the same thing,I thought it was bad and replaced it with this one. jcd206@yahoo.com
Reply:
John
Check for a defective pressure gauge buoy making an independent measurement of water pressure.
Next check
for a clogged mounting the that communicates the actual water pressure to the switch?
...
Ask a Question or Search InspectApedia
Use the "Click to Show or Hide FAQs" link just above to see recently-posted questions, comments, replies, try the search box just below, or if you prefer, post a question or comment in the Comments box below and we will respond promptly.
Search the InspectApedia website
Technical Reviewers & References
Click to Show or Hide Citations & References
Watts, 815 Chestnut Street, North Andover, MA, USA 01845-6098, web search 09/18/2010 Watts Regulator Corporation, 815 Chestnut Street, North Andover, MA, USA 01845-6098, provides pressure and temperature relief valves, water pressure test gauges, water pressure regulators, backflow preventers, check valves, and other plumbing and heating controls and supplies. Website: http://www.watts.com/

Watts Backflow preventers - 978-688-1811
Watts Control valves - 713-943-0688 for example Watts pressure reducing valves, original source: http://www.watts.com/pages/learnAbout/reducingValves.asp?catId=64
Watts Drainage products - 828-288-2179
Watts Potable water PEX plumbing - 978-688-1811
Watts Water safety controls - 978-688-1811
Watts Water quality & conditioning products - 352-465-2000
Access Water Energy, PO Box 2061, Moorabbin, VIC 3189, Australia, Tel: 1300 797 758, email: sales@accesswater.com.au Moorabbin Office: Kingston Trade Centre, 100 Cochranes Rd, Moorabbin, VIC 3189
Australian supplier of: Greywater systems, Solar power to grid packages, Edwards solar systems, Vulcan compact solar systems, water & solar system pumps & controls, and a wide rage of above ground & under ground water storage tanks: concrete, steel, plastic, modular, and bladder storage tanks.
Smart Tank, Installation Instructions, Flexcon Industries, 300 Pond St., Randolph MA 02368, www.flexconind.com, Tel: 800-527-0030 - web search 07/24/2010, original source: http://www.flexconind.com/pdf/st_install.pdf [Copy on file as /water/Smart_Tank_Flexcon.pdf ] -
Typical Shallow Well One Line Jet Pump Installation, Grove Electric, G&G Electric & Plumbing, 1900 NE 78th St., Suite 101, Vancouver WA 98665 www.grovelectric.com - web search -7/15/2010 original source: http://www.groverelectric.com/howto/38_Typical%20Jet%20Pump%20Installation.pdf, [Copy on file as /water/Jet_Pump_Grove_Elect_Jet_Pumps.pdf ] -
Typical Deep Well Two Line Jet Pump Installation, Grove Electric, G&G Electric & Plumbing, 1900 NE 78th St., Suite 101, Vancouver WA 98665 www.grovelectric.com - web search -7/15/2010 original source: http://www.groverelectric.com/howto/38_Typical%20Jet%20Pump%20Installation.pdf, [Copy on file as /water/Jet_Pump_Grove_Elect.pdf ] - Cooperative Extension, School of Forest Resources, web search 07/24/2010, original source: http://pubs.cas.psu.edu/FreePubs/pdfs/XH0002.pdf
Books & Articles on Building & Environmental Inspection, Testing, Diagnosis, & Repair
Our recommended books about building & mechanical systems design, inspection, problem diagnosis, and repair, and about indoor environment and IAQ testing, diagnosis, and cleanup are at the InspectAPedia Bookstore. Also see our Book Reviews - InspectAPedia.
Crystal Clear Supply provides portable ceramic water filter purifiers and portable reverse osmosis water treatment equipment - see http://www.crystalclearsupply.com/category_s/7.htm
Handbook of Disinfectants and Antiseptics, Joseph M. Ascenzi (Editor), CRC, 1995, ISBN-10: 0824795245 ISBN-13: 978-0824795245 "The evaluation of chemical germicides predates the golden age of microbiology..." -
This well-focused, up-to-date reference details the current medical uses of antiseptics and disinfectants -- particularly in the control of hospital-acquired infections -- presenting methods for evaluating products to obtain regulatory approval and examining chemical, physical, and microbiological properties as well as the toxicology of the most widely used commercial chemicals.
Potable Aqua® emergency drinking water germicidal tablets are produced by the Wisconsin Pharmacal Co., Jackson WI 53037. 800-558-6614 pharmacalway.com
Principles and Practice of Disinfection, Preservation and Sterilization (Hardcover)
by A. D. Russell (Editor), W. B. Hugo (Editor), G. A. J. Ayliffe (Editor), Blackwell Science, 2004. ISBN-10: 1405101997, ISBN-13: 978-1405101998.
"This superb book is the best of its kind available and one that will undoubtedly be useful, if not essential, to workers in a variety of industries. Thirty-one distinguished specialists deal comprehensively with the subject matter indicated by the title ... The book is produced with care, is very readable with useful selected references at the end of each chapter and an excellent index. It is an essential source book for everyone interested in this field. For pharmacy undergraduates, it will complement the excellent text on pharmaceutical microbiology by two of the present editors."
The Pharmaceutical Journal: "This is an excellent book. It deals comprehensively and authoritatively with its subject with contributions from 31 distinguished specialists. There is a great deal to interest all those involved in hospital infection ... This book is exceptionally well laid out. There are well chosen references for each chapter and an excellent index. It is highly recommended." The Journal of Hospital Infection.: "The editors and authors must be congratulated for this excellent treatise on nonantibiotic antimicrobial measures in hospitals and industry ... The publication is highly recommended to hospital and research personnel, especially to clinical microbiologists, infection-control and environmental-safety specialists, pharmacists, and dieticians."
New England Journal of Medicine: City Hospital, Birmingham, UK. Covers the many methods of the elimination or prevention of microbial growth. Provides an historical overview, descriptions of the types of antimicrobial agents, factors affecting efficacy, evaluation methods, and types of resistance. Features sterilization methods, and more. Previous edition: c1999. DNLM: Sterilization--methods.
U.S. Army Field Manual 21-10, Field Hygiene and Sanitation, 1988, web search 07/02/2010, original source: http://www.enlisted.info/field-manuals/fm-21-10-field-hygiene-and-sanitation.shtml
The purpose of this manual is to assist individual soldiers, unit commanders, leaders and field sanitation teams in preventing disease and environmental injuries. The manual provides information on preventive medicine measures (PMM) to the individual soldier as well as essential information for the unit commander, unit leaders, and the unit field sanitation team on applying unit level PMM.
When Technology Fails, Matthew Stein, Chelsea Green Publisher, 2008,493 pages. ISBN-10: 1933392452 ISBN-13: 978-1933392455, "... how to find and sterilize water in the face of utility failure, as well as practical information for dealing with water-quality issues even when the public tap water is still flowing". Mr. Stein's website is www.whentechfails.com/
...