Air-Bound Radiant Heating System Zones
How to diagnose & fix a radiant heating zone that doesn't get warm
InspectAPedia tolerates no conflicts of interest. We have no relationship with advertisers, products, or services discussed at this website.
Radiant floor or system heating zone troubleshooting including air-bound radiant heat tubing or tubing leaks:
This article, using an actual case, describes the diagnosis and repair of a cool or cold zone in a multi-zone radiant floor heating system. The building owner describes the problem and provides photos of the radiant heating system controls. In discussing several diagnostic questions we pose possible explanations of the trouble.
After a power outage and power surges, apparent weird heating behavior (heating zone running backwards or water circulating when there is no heat call) are ultimately traced by the building owner to air in the heating zone tubing of this radiant-floor heating system.
Green links show where you are. © Copyright 2017 InspectApedia.com, All Rights Reserved.
Air-Bound Radiant Heating Tubing Loops
Reader Question: radiant floor heating zone runs backwards after power surges - traced to Air-Bound radiant heat tubing loops
We recently had a "5 day power outage" in really cold weather. Since restarting my system (which has worked fine in the past) I have a three zone system but only two work fine. For the third (upper level), when not calling for heat, water circulates - when thermostat calls for heat, water stops flowing. What would cause that? - S.C. 1/21/2014
[Click to enlarge any image]
At above left we see three WarmRite radiant heat floor zone controls. Each has its own circulator, manifold, temperature gauges and related controls.
For the WarmRite Floor radiant heat control and manifold shown at above right, at the bottom or return manifold we see that this heating zone uses four tubing loops.
A = zone valve controlled by the room thermostat
B = Flow control for each heating zone or run
Reply: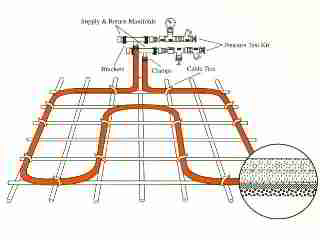 Let's get this figured out. A circulator that runs when NOT calling for heat and stops when you call for heat - if that's exactly what's happening, suggests to me a power surge or other-damaged relay, control or thermostat.
Our sketch at left shows a simple diagram, courtesy Entran radiant heating, illustrating the pressure test kit connections to a radiant heating circuit.
On occasion we also lose a capacitor on a motor or a motor can actually run backwards but this does not quite sound right from what you said so far.
1. Reassure me that nobody has touched or changed any wiring or controls.
2. What type of zone control are we using: multiple circulators or 1 circulator and multiple zone valves [this question was later answered by the photographs given above - Ed.]
3. Things to check right away - these snafus could explain why one of 3 radiant heat zones is not heating
If your system uses zone valves, check to see that the bad-behaving zone is not "latched" in the open position - that would keep it open all the time and keep calling for heat;
Rule out a blown thermostat and then shorted thermostat wires; disconnect the thermostat wires right at the zone valve or circulator relay and see what happens.
Also think about: an air bound heating zone - can you tell that water is really circulating or is it just that a circulator pump is running [without actually moving water, due to air blockage in the system] ?
Reader follow-up:
Please refer to the pictures of my system [shown above], then see additional answers to your questions below.

When calling for heat, flow is indicated as "normal" in each tubing run - [B] in the photograph above.
When thermostat turned up in 3rd zone, I can see the change in A (lever moves down), but then the flow seems to stop and flow indicators B get "sucked" up to zero (= 0 liters/minute) - which indicates that something is blocking the flow once the zone is opened up to the hot water from the main heating system.
Regarding wiring changes, nobody has touched anything, but we did have several power interruptions with the recent East Coast Ice storm … lost power for 5 days, then 3-4 days of sporadic power "hits" (power off, then on again within 1 minute). Power is stable again now though.
Regarding a latched-open zone valve, I don't see the problem of the zone valve being latched open.
Regarding shorted thermostat wires, the thermostat and valves "appear" to function normally.
Regarding the chances that the system is air bound, I can see and "hear" the water circulating within the zone (slight amount of air, but that will get worked out and does not seem to affect the circulation at this point) - however once I turn up the thermostat for zone 3, the flow can be seen to stop. Almost like the blockage is before the zone valve … if air, then I have started/stopped it many times and doesn't seem to blow it out.
Reply:
Working "backwards" - as far as we're sure that's what's happening - should be diagnostic.
It looks from the photos as if each heating zone has its own circulator pump and control and as if the circulator is a Grundfoss unit. But I can't make out the zone valve brand and model. That's item [A] in your photo at above-right.
Indeed for some heating controls, a power surge or lightning strike can damage the equipment and cause erratic operation. It's a little early yet but I suspect we're going to end up changing out that zone valve. But first we'll want to rule out a mechanical problem.
It almost looks as if your zone valve has gotten reversed. Normally on a call for heat by the thermostat, wires connected to the zone valve's low voltage motor cause the motor to rotate a mechanical valve to allow water to flow, and on end of the call for heat the motor rotates the valve closed. When the valve fully-opens, and end-switch in the valve turns on the circulator.
When the TT stops calling for heat the valve closes and turns off the circulator.
We need to know the brand and model of this zone valve and then to check with the manufacturer, asking its failure modes and asking if power surges could damage the valve or if power surges could leave the true valve position out of synch with the valve circuitry's guess at the valve position.
With the zone valve model and thus wiring diagram it should also be easy to check for proper voltage at its various terminals.
Also check that the low-voltage power transformer for the system is working properly.
See LOW VOLTAGE TRANSFORMER TEST
And what's the thermostat brand and model?
And about the system being air-bound: if the radiant heating system was operating normally until very recently and then it's suddenly begun to operate backwards, this does not strongly suggest an air bound loop problem.
[But indeed when a heating system is shut down for some time, air may appear where it was not before, or air that was circulating through the piping or tubing may accumulate in a high spot, forming a blockage - Ed.]
With the risk of embarrassing myself when the final diagnosis has been completed, things are looking like a control problem.
[I was wrong, and as the owner reports below, he found it was an air-bound system problem. This diagnosis and repair illustrates the difficulty of guessing at HVAC diagnosis from a remote location: we may know great questions to ask but our eyes and ears are only those of the people on the scene - Ed.]
Radiant Heat Floor Resources for your system:
WarmRite Floor Systems is a product of American Radiant Technologies, 88 Parsonage Hill Road Northford, CT 06472-1490 Tel: 203-484-2888, Toll Free 877-214-2888, Fax 203 484-0110, Email: info@americanradiant.com http://www.americanradiant.com/warmrite.shtml - [as of 1/23/2014 links to more detailed product information were not working at the WarmRite Floor web page - Ed.]
Reader follow-up: radiant heat "no-heat" problem solved - automatic air purging fixed the air-bound system
I have good news though. After reading my own notes on the symptoms, it appeared that opening the zone to the supply system created a vacuum. Therefore it would have to be something somewhere on the supply side that is causing the "blockage". 
Although I was timid when in previous tests (turning the thermostat up, making it call for heat) as I feared the vacuum created may damage the circulating pump for the zone. 
This time I got more adventurous and left the zone calling for heat, and once the vacuum was created, I closed and opened the supply valve several times and noticed it seem to alleviate the vacuum scenario longer each time.  Eventually, the vacuum was not created at all and there was plenty of air (which the system is bleeding out now).
After the power outages, the other two zones had air as well, but worked themselves out after a while and were never "blocked".  I suspect the 3rd zone's supply from the main system had the air-lock - most likely due to water being frozen for the week of -30 degree temperatures - the 3rd zone's supply and return to the main system runs closest to the outside wall of the basement (exposed to the colder temperatures).
All seems to be working fine now, and I appreciate the effort you put into trying to determine the problem and resolving my "issue".
Thanks again - it is appreciated.
Reply:
Thanks for the follow-up. The lesson we learned is that depending on where you observe or measure hydronic heating, radiant or not, an air bound system may show up as a "vacuum" on the inlet side of the circulator pump. Nice to know!
Radiant Heat System Air Eliminators & Air Purgers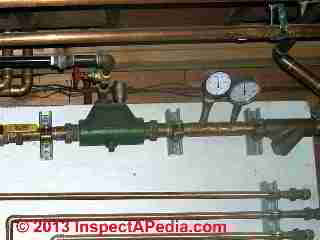 The air eliminator, typically part of an expansion tank and air purge kit, is a device used to vent air from the radiant heat tubing and piping system.
Without this device it is easy for water flow through the heating tubing to become blocked or air-bound.
The problem of air-bound heating systems is not unique to radiant heating, nor are its solutions.
In our photo (above left) (1) marks the air scoop/air purge device, (2) marks the automatic air bleed valve that removes air collected in (1), and (3) marks pressure and temperature gauges installed on the system.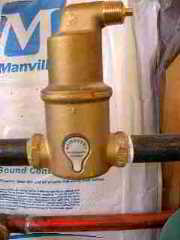 Air bleeder valves are used with an expansion tank and air purge "kit" to manually remove air from the radiant heat tubing during installation.
While these components are found on other hydronic heating systems, often a factory-packaged radiant heating system installation will include a factory-designed plumbing package that includes all of the necessary fill and drain valves, expansion tank, air purge or air eliminator valve.
Our photo (left) shows a Spirovent air purger eliminator installed on a radiant heat floor system.
Details about types of air purging devices are at
...
Continue reading at RADIANT HEAT CONTROLS or select a topic from closely-related articles below, or see our complete INDEX to RELATED ARTICLES below.
Or see AIR-BOUND HEATING SYSTEMS
Or see RADIANT HEAT - home
Suggested citation for this web page
RADIANT HEAT AIR BOUND at InspectApedia.com - online encyclopedia of building & environmental inspection, testing, diagnosis, repair, & problem prevention advice.
Or use the SEARCH BOX found below to Ask a Question or Search InspectApedia
...
Frequently Asked Questions (FAQs)
Try the search box below or CONTACT US by email if you cannot find the answer you need at InspectApedia.
...
Ask a Question or Search InspectApedia
Use the "Click to Show or Hide FAQs" link just above to see recently-posted questions, comments, replies, try the search box just below, or if you prefer, post a question or comment in the Comments box below and we will respond promptly.
Search the InspectApedia website
Technical Reviewers & References
Click to Show or Hide Citations & References
Ralph Arlyck, Timed Exposures, Tivoli, NY. Mr. Arlyck is a documentary film maker and producer/director of Timed Exposures, an independent film production company, Timed Exposures has produced more than a dozen critically-acclaimed documentaries which span a broad spectrum of subjects. These films have been broadcast widely in the United States and Europe, and have won top prizes at American and international festivals. Email: ralph@timedexposures.com
Steve Bliss's Building Advisor at buildingadvisor.com helps homeowners & contractors plan & complete successful building & remodeling projects: buying land, site work, building design, cost estimating, materials & components, & project management through complete construction. Email: info@buildingadvisor.com
Steven Bliss served as editorial director and co-publisher of The Journal of Light Construction for 16 years and previously as building technology editor for Progressive Builder and Solar Age magazines. He worked in the building trades as a carpenter and design/build contractor for more than ten years and holds a masters degree from the Harvard Graduate School of Education. Excerpts from his recent book, Best Practices Guide to Residential Construction, Wiley (November 18, 2005) ISBN-10: 0471648361, ISBN-13: 978-0471648369, appear throughout this website, with permission and courtesy of Wiley & Sons. Best Practices Guide is available from the publisher, J. Wiley & Sons, and also at Amazon.com
Azel Technologies controls, temperature gauges & thermostats for radiant heating systems
Calorique Radiant Heating Floor & Ceiling Systems, Calorique LLC, 2380 Cranberry Highway, West Wareham, MA 02576 USA, Tel: 800 922-9276, produces thin film radiant heating panel systems used for interior building heating (ceilings or floors), snow melting, de-icing, drum and tank heaitng, agricultural uses, pet heating systems, and consumer end products. The company provides radiant floor heating systems in several designs including specifically for use below laminate flooring, carpeting, and tile floors. - Thanks to reader Jim O'Dowd for suggesting this resource.
FloorHeat 3130 Sovereign Drive, Lansing, MI 48911, 888-265-5455, Email: info@FloorHeatCompany.com) radiant floor heating panels,
Heatshield Panels, 27354 Valley Center Road, Valley Center, California 92082 USA, 800-750-3978
Nuheat Industries 3105 - 6900 Graybar Road, Richmond, BC Canada V6W 0A5, electric radiant heat systems for use under tile, stone, and laminate flooring, 800-778-WARM (9276) Email: info@nuheat.com
ASHRAE 25 Heating, Refrigeration, and Air Conditioning engineering standards
ASHRAE 90.1-2004 User's Manual, <!z-- http://www.scribd.com/doc/40143853/ASHRAE-90-1-2004-User-s-Manual --> instructions for the design of commercial and high-end residential buildings "to ensure their compliance with ANSI/ASHRAE/HESNA Standard 90.1-2004 including the application of principles of effective energy conserving design..."
CarbonicHeat radiant heat flooring products, 866.786.1806 sales@carbonicheat.com, [no mailing address]
Entran radiant heat:
Passive Solar Design Handbook Volume I, the Passive Solar Handbook Introduction to Passive Solar Concepts, in a version used by the U.S. Air Force - online version available at this link and from the USAF also at wbdg.org/ccb/AF/AFH/pshbk_v1.pdf
Passive Solar Design Handbook Volume II, the Passive Solar Handbook Comprehensive Planning Guide, in a version used by the U.S. Air Force - online version available at this link and from the USAF also at wbdg.org/ccb/AF/AFH/pshbk_v2.pdf [This is a large PDF file that can take a while to load]
Wikipedia provided background information about some topics discussed at this website provided this citation is also found in the same article along with a " retrieved on" date. NOTE: because Wikipedia entries are fluid and can be amended in real time, we cite the retrieval date of Wikipedia citations and we do not assert that the information found there is necessarily authoritative.
Books & Articles on Building & Environmental Inspection, Testing, Diagnosis, & Repair
Our recommended books about building & mechanical systems design, inspection, problem diagnosis, and repair, and about indoor environment and IAQ testing, diagnosis, and cleanup are at the InspectAPedia Bookstore. Also see our Book Reviews - InspectAPedia.
...