Guide to Heating Boiler Expansion Tanks
How to troubleshoot, drain, or service & repair the expansion tank (compression tank) on hot water heating systems
InspectAPedia tolerates no conflicts of interest. We have no relationship with advertisers, products, or services discussed at this website.
Hot water heating system expansion tank / compression tank installation, troubleshooting, repair:
How to identify, inspect, install, repair, or service heating boiler expansion tanks: here we explain the function of expansion tanks on hot water (hydronic) heating systems.
We discuss what happens if the expansion tank becomes waterlogged, how to drain a waterlogged expansion tank, and what sorts of expansion tanks, like the one shown at page top, should never become waterlogged.
We describe where the expansion tank may be found (sometimes in the attic!) and we illustrate different sorts of expansion tanks used over the history of hydronic heating in buildings. In this article series we provide a heating system expansion tank / compression tank Troubleshooting & Repair Guide that will address just about any problem traced to this heating system component.
Green links show where you are. © Copyright 2017 InspectApedia.com, All Rights Reserved.
Heating Boiler Expansion Tanks - Troubleshoot, Understand, Fix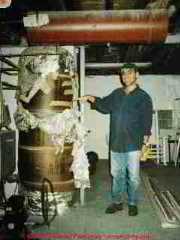 The photo at page top shows a modern Extrol(R) bladder-type heating system expansion tank. At left over our client's head is a reddish tan steel heating boiler expansion tank (or compression tank in some texts).
Here discussion includes: How to Drain an Expansion Tank - Troubleshooting & Repair Guide: Diagnostic Tests for Waterlogged Heating Boiler Expansion Tank - How to troubleshoot an internal-bladder type expansion tank or How to troubleshoot a traditional bladderless expansion tank or compression tank. HOW TO diagnose trouble with internal bladder Extrol type expansion tanks - What goes wrong with bladderless expansion tanks - waterlogging & its causes
[Click to enlarge any image]
What is a Heating Boiler Expansion Tank & How Do Expansion Tanks Work
Heating boiler expansion tanks are metal tanks of varying sizes that are installed to absorb the initial pressure increase that occurs when the heating boiler system warms up. Air molecules entrained in water inside the heating boiler itself as well as in the heating system piping, baseboards, or radiators, expand and thus cause an initial pressure increase in the heating system.
That pressure is increase is absorbed by allowing water from the heating system to squash or compress a reservoir of air inside the expansion tank - which is why some heating experts call our expansion tank a "compression tank".
Inside of a working expansion tank is a reserve space of air. In fact, when the heating boiler and system are cool, the traditional bladderless boiler expansion tank will contain mostly air.
Or in newer smaller internal bladder type expansion/compression tanks an internal rubber bladder keeps air separated from the heating system's water - avoiding rapid loss of air by absorption into the heating systems' water.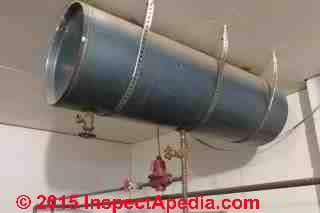 As the heating system warms up and as air entrained in the water raises system pressure, the increased pressure forces some of the heating system water into the expansion tank, squashing its air-charge into a smaller volume, thus permitting the tank to absorb the initial increase in system pressure.
Technical note: the water and air inside the expansion tank will always share the same pressure, but since water is not (very) compressible and air is, the increase in pressure will squeeze the air down to a smaller volume. That's why some heating system water can pass into the expansion tank.
If heating system pressures and/or temperatures exceed normal (for a residential heating boiler that would be a pressure above 30 psi or a temperature much above 200 °F) then the expansion tank is dismissed from duty and the pressure/temperature relief valve on the boiler will open to provide emergency relief.
What Happens if the Expansion / Compression Tank is Not Working?
The loss of air cushion in the expansion / compression tank means that at each heating-on cycle the system pressure can be too high, causing the temperature/pressure relief valve to spill.
See RELIEF VALVE LEAKS for a catalog of causes of TPR valve leaks.

Watch out: if you see water dripping or squirting out of the temperature/pressure relief valve on any vessel, such as a hydronic heating boiler, the situation is unsafe. The valve may be doing its job of relieving excessive pressure or temperature, but there is a risk that the valve becomes clogged by mineral deposits or crud left by the escaping water. A clogged TPR valve is no longer protecting the system from an explosion - BLEVE EXPLOSIONS
A second problem with older expansion/compression tanks - those that do not use an internal bladder to keep water and air separate, is the loss of air out of the compression tank and into the heating system water. We won't like the result.
Why do we care about keeping air out of the heating system water?
Air in the hot water heating system can cause loss of heat: air in baseboards radiators keeps hot water out - they don't get hot. And air in hot water heating system piping can simply keep hot water from ever reaching the radiators or baseboards.
Details are at AIR-BOUND HEATING SYSTEMS
See HOT WATER PRESSURE EXPANSION RATE if you're feeling curious about the physics involved in the pressure increase as we heat up water,
How & Why do Expansion Tanks Get Waterlogged?
Loss of Air Charge in a Bladderless Steel Traditional Heating System Expansion Tank
In older hot water heating boiler expansion tanks that do not have an internal bladder to keep air and water separate, over time air in the expansion tank may become absorbed into the heating water. Air may also find its way via the heating water to other air bleeders or vents in the system.
As air is lost and water just stays in the expansion tank, the space and pressure cushion provided by air in the expansion tank gets too small, or is lost entirely. There is no more air cushion to absorb initial pressure increases in the heating system during each heating boiler on-cycle.
Loss of Air Charge in an Internal-Bladder-Type Heating System Expansion Tank
In a modern internal-bladder type expansion tank use on heating systems it is not usually necessary to add air nor to change the tank pressure. There are however several sources of loss of the air charge and causes of water logging in an internal bladder-type expansion tank:
Expansion tank bladder rupture: Occasionally the internal bladder of these tanks an rupture, leading rather quickly, perhaps in less than a single heating season, to a water-logged expansion tank tank. In that case the symptom may be observing that heating system pressure relief valve may spill or water may be found leaking out at the expansion tank's air pressure adjustment valve.

See this field report: RELIEF VALVE LEAK DUE TO EXPANSION TANK that traces a leaky relief valve to a failed expansion vessel on a Cosmogas boiler.
Expansion tank pinhole leak: occasionally a pinhole leak develops in the internal bladder of an expansion tank. We first received reports of this subtle failure from readers reporting on waterlogged water supply system pressure tanks.

The pinhole leak is almost impossible to observe even if you cut apart the tank to remove and inspect the rubber tank bladder or diaphragm.

Rather the symptom shows up as a slow loss of tank volume that can result in cyclic leaking at the heating systems TPR valve. Since other heating system problems such as water hammer can also cause sporadic TPR valve leaks or drips this defect can be hard to track down.

On water supply system tanks we may observe an increase in the air pressure of the tank above its initial charge, measured at its pressure valve, even when there is no water pressure on the system.

That's because water has leaked into the air space, reducing the available volume for air and thus permanently increasing the pressure therein. Remember from your gas laws that P1V1 = P2V2? If we reduce the air volume the pressure must increase.
Expansion tank membrane permeability: Reader NJT, Holohan, and several other sources cited at REFERENCES note that a bladder-type hydronic heating expansion tank may lose air pressure at about 1 psi per year as air passes through the tank membrane and into the heating system's hot water.

Considering that heating system pressures and temperatures are cycling constantly during the heating season, one may speculate that the unidirectional movement of air from the tank through its bladder and into the heating water would have to be occurring when system pressures are highest.
Article Series Contents
Expansion Tank Sizing Procedures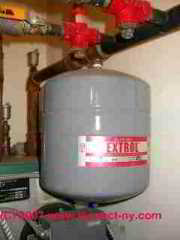 This article has moved to EXPANSION TANK SIZING GUIDE
Amtrol's Adapted Extrol®, the Fill-Trol® Diaphragm-Type Expansion Tank
This article section has been moved: see AMTROL's EXTROL®, the FILL-TROL®
Signs of Trouble with a Heating Boiler Expansion Tank
This content has moved to EXPANSION TANK DIAGNOSIS
How to Drain & Re-Charge the Air Needed in a Heating Boiler Expansion Tank, step by step
This topic has moved to EXPANSION TANK DRAIN & AIR RE-CHARGE
Can't Find the Expansion Tank?
This article section has been moved to FIND the EXPANSION TANK
Other Leaks Into Boilers Can Cause Over-Pressure in the Boiler & Relief Valve Leaks
Reader Question: I drained the expansion tank but the system pressure is still too high; high radiators in the house are cold & the relief valve spills
We moved this discussion to LEAKS into the BOILER CAUSE RELIEF VALVE LEAKS
Pressure Settings for Expansion Tanks
Moved to EXPANSION TANK PRESSURE ADJUSTMENT
Service Procedure Using a Pump Damages Expansion Tank Internal Bladders
This discussion has moved to BOILER DRAIN DAMAGES EXPANSION TANK

See HOT WATER TANKS, INDIRECT FIRED for details about that type of domestic hot water heater.
...
Continue reading at FIND the EXPANSION TANK or select a topic from closely-related articles below, or see our complete INDEX to RELATED ARTICLES below.
Or see EXPANSION TANK DIAGNOSIS
Suggested citation for this web page
EXPANSION TANKS, BOILERS at InspectApedia.com - online encyclopedia of building & environmental inspection, testing, diagnosis, repair, & problem prevention advice.
Or use the SEARCH BOX found below to Ask a Question or Search InspectApedia
...
Frequently Asked Questions (FAQs)
Ask a Question or Search InspectApedia
Use the "Click to Show or Hide FAQs" link just above to see recently-posted questions, comments, replies, try the search box just below, or if you prefer, post a question or comment in the Comments box below and we will respond promptly.
Search the InspectApedia website
Technical Reviewers & References
Click to Show or Hide Citations & References
Holohan, Dan, "Why compression tanks waterlog", HeatingHelp.com (June 2014) - retrieved 19 March 2015, original source: https://heatinghelp.com/systems-help-center/why-compression-tanks-waterlog/
Etherton, Mark (contractor), "Expansion Tanks 101: the facts and myths", Contractor Magazine, contractormag.com, (March 2000), retrieved 19 March 2015, original source: http://contractormag.com/hydronics/cm_column_75
Extrol Corporation, "Installation & Operation Instructions, Extrol (R) Hydronic Diaphragm Expansion Tanks In-Line & SX-Series", Extrol Corporation, 1400 Division Road, West Warwick RI 02983, Tel: 401-884-6300, Website: www.amtrol.com, retrieved 3/3/2014, original source http://www.amtrol.com/media/documents/extrol/9015183_3_11_EXTROL_IO.pdf

Research on permeability of rubber used in internal bladder-type heating system compression tanks or expansion tanks

Bodell, Bruce R. "Distillation of saline water using silicone rubber membrane." U.S. Patent 3,361,645, issued January 2, 1968.
Ciesielski, Andrew. An introduction to rubber technology. iSmithers Rapra Publishing, 1999.
Fuller, James, and David M. Stedham. "Expansion tank with a predictive sensor." U.S. Patent 8,633,825, issued January 21, 2014.
Martinello, Ermanno, and Mark Weih. "Membrane coating for a water pressurization Bladder." U.S. Patent Application 12/498,128, filed July 6, 2009.
Stern, S. A., F. J. Onorato, and Charles Libove. "The permeation of gases through hollow silicone rubber fibers: Effect of fiber elasticity on gas permeability." AIChE Journal 23, no. 4 (1977): 567-578.
Terashita, Fumihiro, Shingo Takagi, Shinzo Kohjiya, and Yasutoshi Naito. "Airtight butyl rubber under high pressures in the storage tank of CAES‐G/T system power plant." Journal of applied polymer science 95, no. 1 (2005): 173-177.

[4] B&G / ITT Reducing Valves, Instruction Manual V55999: Reducing Valves Installation, Operation, & Service Instructions, Bell & Gossett Air Separators and other heating system components, Bell & Gossett, 8200 N. Austin Ave., Morton Grove IL 60053, USA - Tel 847 966-3700 Fax 847 965-8379. Original source www.bellgossett.com/literature/files/610.pdf
[5] Bell & Gossett Airtrol® System Installation, Operating and Service Instructions, Bell & Gossett, 8200 N. Austin Ave., Morton Grove IL 60053, USA - Tel 847 966-3700 Fax 847 965-8379. Retrieved 8/9/2012, original source B&G, [copy on file as Airtrol_Installation_Manual.pdf linked in this reference]
Domestic and Commercial Oil Burners, Charles H. Burkhardt, McGraw Hill Book Company, New York 3rd Ed 1969.
National Fuel Gas Code (Z223.1) $16.00 and National Fuel Gas Code Handbook (Z223.2) $47.00 American Gas Association (A.G.A.), 1515 Wilson Boulevard, Arlington, VA 22209 also available from National Fire Protection Association, Batterymarch Park, Quincy, MA 02269. Fundamentals of Gas Appliance Venting and Ventilation, 1985, American Gas Association Laboratories, Engineering Services Department. American Gas Association, 1515 Wilson Boulevard, Arlington, VA 22209. Catalog #XHO585. Reprinted 1989.
The Steam Book, 1984, Training and Education Department, Fluid Handling Division, ITT [probably out of print, possibly available from several home inspection supply companies] Fuel Oil and Oil Heat Magazine, October 1990, offers an update,
Principles of Steam Heating, $13.25 includes postage. Fuel oil & Oil Heat Magazine, 389 Passaic Ave., Fairfield, NJ 07004.
The Lost Art of Steam Heating, Dan Holohan, 516-579-3046 FAX
Principles of Steam Heating, Dan Holohan, technical editor of Fuel Oil and Oil Heat magazine, 389 Passaic Ave., Fairfield, NJ 07004 ($12.+1.25 postage/handling).
"Residential Steam Heating Systems", Instructional Technologies Institute, Inc., 145 "D" Grassy Plain St., Bethel, CT 06801 800/227-1663 [home inspection training material] 1987
"Residential Hydronic (circulating hot water) Heating Systems", Instructional Technologies Institute, Inc., 145 "D" Grassy Plain St., Bethel, CT 06801 800/227-1663 [home inspection training material] 1987
"Warm Air Heating Systems". Instructional Technologies Institute, Inc., 145 "D" Grassy Plain St., Bethel, CT 06801 800/227-1663 [home inspection training material] 1987
Heating, Ventilating, and Air Conditioning Volume I, Heating Fundamentals,
Boilers, Boiler Conversions, James E. Brumbaugh, ISBN 0-672-23389-4 (v. 1) Volume II, Oil, Gas, and Coal Burners, Controls, Ducts, Piping, Valves, James E. Brumbaugh, ISBN 0-672-23390-7 (v. 2) Volume III, Radiant Heating, Water Heaters, Ventilation, Air Conditioning, Heat Pumps, Air Cleaners, James E. Brumbaugh, ISBN 0-672-23383-5 (v. 3) or ISBN 0-672-23380-0 (set) Special Sales Director, Macmillan Publishing Co., 866 Third Ave., New York, NY 10022. Macmillan Publishing Co., NY
Installation Guide for Residential Hydronic Heating Systems
Installation Guide #200, The Hydronics Institute, 35 Russo Place, Berkeley Heights, NJ 07922
The ABC's of Retention Head Oil Burners, National Association of Oil Heat Service Managers, TM 115, National Old Timers' Association of the Energy Industry, PO Box 168, Mineola, NY 11501. (Excellent tips on spotting problems on oil-fired heating equipment. Booklet.)


Books & Articles on Building & Environmental Inspection, Testing, Diagnosis, & Repair
Our recommended books about building & mechanical systems design, inspection, problem diagnosis, and repair, and about indoor environment and IAQ testing, diagnosis, and cleanup are at the InspectAPedia Bookstore. Also see our Book Reviews - InspectAPedia.
Carbon Monoxide Gas Toxicity, exposure limits, poisoning symptoms, and inspecting buildings for CO hazards
DUST, HVAC CONTAMINATION STUDY An Investigation of Indoor Dust Debris Blamed on a Heating/Cooling System Reveals Carpet Dust
Fuel Oil & Oil Heating Magazine, 3621 Hill Rd., Parsippany, NJ 07054, 973-331-9545
Home Heating System Should Be Checked[for proper venting and for CO Carbon Monoxide Hazards - DJF]
Inspection Procedures for Oil-Fired Heating Systems Detailed step by step approaches for inspecting complex systems]
Oil Tanks - The Oil Storage Tank Information Website: Buried or Above Ground Oil Tank Inspection, Testing, Cleanup, Abandonment of Oil Tanks
Oil Tanks Above Ground, UL Standards, guidance for home owners, buyers, and inspectors
...