Roof Install, Inspect & Repair
InspectAPedia tolerates no conflicts of interest. We have no relationship with advertisers, products, or services discussed at this website.
Building roofs:
How to Install, Inspect, Diagnose, Repair Roofs; Roofing Defects, Product Sources, Installation Advice.
Roof inspection, installation, diagnosis, repair & replacement guide: these articles provide in-depth un-biased articles about building roofing materials, installations, inspection, roof problem or roof leak diagnosis and repair, roof covering or shingle product failures, roof warranties, roofing and roof structure defects, roofing repairs, and all types of roof covering products.
Page top Photo: collapsed barn, Cooperstown, NY leaves only its roof in view - Daniel Friedman
Desktop text test.
We also provide a MASTER INDEX to this topic, or you can try the page top or bottom SEARCH BOX as a quick way to find information you need.
Roofing Installation, Inspection, Diagnosis & Repairs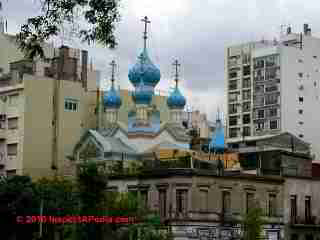 Example topics discussed in our building roofing articles include asphalt roof failures including thermal splitting and other defects, causes and types of asphalt shingle roof leaks, shingle blow-offs and wind damage, shingle cracks, blisters, stains, thermal splitting, and other damage, Fire retardant plywood roof sheathing defects.
How to find and choose a roofing contractor, How to inspect roofs, Roofing product failures, class actions, warranty claims, Roofing repair methods, Roofing product sources for Residential and light commercial roofs, Slate roof inspection and repair methods.
Our page top photo shows a current roof situation that deserves some thought. At left is a beautiful if complex roof over a Russian Orthodox temple in Buenos Aires. [Click to enlarge any image]
Our roofing inspection, diagnosis, repair and installation articles listed below provide roof inspection, roof leak or problem diagnosis, roof installation, and roof repair information as well as details about the factors that affect the life of any roof.
This website also includes detailed information about roofing age, life, inspection, troubleshooting, and repair.
Particular sources of roof damage such as hail damage, ice dam damage, and wind damage as well as insurance inspections and claims are explained here.
We discuss often-argued-about proper roof flashing, roof slope, roof job estimating, roofing felt or underlayment, roof ventilation, and we include roof warranty and claim information and links to roofing product sources. We also discuss roof safety hazards and safety procedures & standards for roofers.
To find what you need quickly, if you don't want to scroll through this index you are welcome to use the page top or bottom SEARCH BOX to search InspectApedia for specific articles and information.
Asbestos cement shingle roofs
See ASBESTOS CEMENT ROOFING SHINGLES,
or on more recent roofs where we find non-asbestos-containing
FIBER CEMENT SHINGLES or corrugated fiber cement products that are similar to slate in durability and costs.

See ASBESTOS & FIBER CEMENT ROOFING and

See ASBESTOS CEMENT CORRUGATED ROOFING
also
see CORRUGATED ROOFING.

Also see SIDING, ASBESTOS CEMENT.
Asphalt shingle roofs - have an installed cost (including labor) of $100 - $350 per square. (one square covers 100 sq .ft. of roof surface)
See ASPHALT ROOF SHINGLES

Asphalt shingles have a typical life expectancy of 15-25 years, with some warranties extending up to 45 years, and asphalt roof shingles typically weigh 225-385 pounds per square.
Built up roofing - BUR -- multi-ply membrane roofing, including tar and gravel roofs, have a life expectancy of about 5 years per ply.
See BUILT UP ROOFS
Clay tile roofing material and installation labor are more expensive than alternate materials, but the material has a life expectancy of up to 350 years where high quality vitreous tiles are used. Clay tiles are heavy, weighing between 850 and 1,700 pounds per square.
See CLAY TILE ROOFING.
Concrete roofing - systems include poured concrete flat roofs and low slope roofs, and concrete roofing tiles, slates, or shingles.
See CONCRETE ROOFING

Also see CORRUGATED ROOFING where we include corrugated fiber cement roof products.
Copper roofing
See COPPER ROOFING - metal roofing systems involving soldered or mechanically crimped seams, used on steep, standard, low-slope, and some flat building roofs. 50+ years.
Corrugated Roofing -- low cost metal roofing (or corrugated fiber cement roofing) used on buildings and outbuildings
See CORRUGATED ROOFING

Also see ASBESTOS CEMENT CORRUGATED ROOFING
and
see METAL ROOFING


DISASTERS: BUILDING INSPECTION & REPAIR includes advice on avoiding roof damage from wind, wildfires, hurricanes
DURALITA & METAL TILE ROOFS describes clay tile look-alike roof coverings made of metal or of other man-made materials
EPDM roofing - is discussed beginning at EPDM, RUBBER, PVC ROOFING

also referred to as MEMBRANE & SINGLE PLY ROOFS
Fiber cement roofing -
See ASBESTOS & FIBER CEMENT ROOFING,
also see roofing failure product claims information

at AMERICAN CEMWOOD ROOFING also see


Fiber-wood and fiberboard roofing are discussed at FIBERBOARD ROOFING & FIBER-WOOD ROOFING
Flat roofs - see
Greenhouse roofs
See GREEENHOUSE / SOLARIUM ROOF LEAKS - where do leaks occur on greenhouse or solarium attachments to homes?
Leaky roof: diagnosis and repair guide
See LEAKY ROOF DIAGNOSIS & REPAIR - This article describes procedures for finding and fixing all types of leaks in roofs, figuring out the actual spot where a roof leak is occurring, and methods for tracking down the source of water or wet spots on ceilings or in attics. The first part of this article describes different types and causes of roof leaks - clues about how and where to look for the causes of a roof leak.

The second part of this article discusses how we track an actual roof leak backwards to its probable source or entry point on the roof. This article series helps with diagnosis and repair of roof leaks found in different types of roof coverings and different types of roof designs.

We distinguish among actual roof leaks during rainfall, unusual leaks during hurricanes and high winds, wind-blown rain leaks, ice dam leaks in northern climates, and attic condensation or HVAC ductwork condensation and icing that may be mistaken for a roof leak in any climate.
Low slope roofing refers to roofing systems for pitches below 4" in 12" of slope.
PLASTIC ROOFING TYPES - plastic roof shingles, some sold with a 50-year or lifetime warranty, produced by a variety of manufacturers. Unfortunately some models failed early.
Metal roofing material costs $35 - 250 per square (wide range because of wide range of types of metal roofing), with an installed cost of $35 - $400 / square, a life of 15-40 years or more (a roof kept properly coated can last longer), and weigh 50 - 270 pounds / square. A high end aluminum metal roof may cost $800 - $1000 / square.
Membrane roofing such as modified bitumen, rubber, or built up roofing using tar and gravel have a life expectancy of 20 - 40 years, varying significantly depending on materials and workmanship, and may cost $750 to $1000 per square.
Modified bitumen roofing - MODIFIED BITUMEN ROOFING - a torch-applied single-ply membrane roof covering used on low slope and flat roofs.
Plastic roofing products are discussed at PLASTIC ROOFING TYPES
Rubber Roof Shingles & Slates - often made from recycled tire rubber roofing, are discussed in detail at RUBBER ROOF SHINGLES & SLATES
Repair Standards for Roofs

ROOF & WATERPROOFING MAINTENANCE & REPAIR, HUD Guidebook V, Chapter Five, [PDF] retrieved 2018/02/17, original source: https://www.hud.gov/sites/documents/HUDGB5C5GUID.PDF

This document, originally produced in 1994, describes emergency repairs procedures for fmost common roof types and addresses leaks and wind damage.
Roll Roofing - ROLL ROOFING, ASPHALT - simplest roof covering to install on a small section of low slope roof is 90-pound roll roofing.

This consists of a heavy, asphalt-saturated organic or fiberglass felt with a granular surface.

Rolls are 36 inches wide and weigh 90 pounds. We discuss double coverage and other roll roofing details.
Slate Roofing - has an installed cost of $900 - $1,000 per square, has a SLATE ROOF LIFE EXPECTANCY of 30 - 100 years (or 300 or more in some cases), and weighs 500-1,000 pounds/square. Synthetic slates cost less, typically $700 -$900 per square.

See SLATE ROOF INSPECTION & REPAIR - provides a virtual encyclopedia of slate roof inspection, diagnosis, repair, replacement, maintenance
Sod Roofing
SOD ROOFING - traditional in rural areas of North America and for hundreds of years in Europe. Photo guide to construction techniques.
Sprayed Polyurethane Foam - discussed in NPS article "Roofing Today" use of modern roof materials on historic buildings:

Sprayed polyurethane foam is a contemporary system that is sometimes appropriate for use on historic structures. Sprayed polyurethane foam (SPF) accepts a variety of substrates and is readily adapted to recovering existing flat or low sloped roofs.

This roofing can be designed to incorporate increased slope for better drainage. The foam also serves as insulation. A smooth or granular coating is usually applied to provide protection from sunlight.
Stone Roofing - STONE ROOFING includes stone slabs, and also

see SLATE ROOF INSPECTION & REPAIR
Thatch Roofing -
THATCH ROOFING addresses natural fiber roofs using brush, grass, similar materials.
Tile roofing is discussed in detail beginning at TILE ROOFING - home, including ceramic tile, glazed tile and clay tile roof systems.
Wood roofing shingles and shakes material cost $150-200 per square, with an installed cost of $130 - $160 / square. Wood shingle roofs have a typical life expectancy of 10-40 years, and weigh 300-400 pounds per square.

The life of a wood shingle roof can vary widely depending on the wood species of shingles used and the treatment of wood roof shingles with preservative.
The cost of roofing installations varies considerably by geographic area as well as material selected, pitch and height of roof, and roof shape or design complexity.

Roofing cost estimates do not necessarily include the cost of any necessary structural or roof decking repairs that may be needed when re-roofing, nor do they include the cost of removing and disposing of old roofing materials.
All of these roofing materials have a fire rating of A except wood shingles which, if treated with a fire retardant, are fire rated B. Un-treated wood roof shingles have no fire rating and are not permitted by code in some areas.

A class A fire rated wood shingle roof can be installed using special procedures and materials that include plywood and gypsum board.
The life expectancy of any roof depends significantly on other factors besides its composition, including the installation workmanship, the condition of the roof decking, and proper roof ventilation. For best life expectancy, fiberglass based asphalt shingles should meet standard ASTM D-3462 and organic mat based asphalt roof shingles should meet standard ASTM D-225.

Architectural asphalt roof shingles can be expected to last longer than less-costly three-tab asphalt roof shingles.
See "Choosing Roofing" in Fine Homebuilding Magazine (1995 data shows relative costs; absolute prices will have changed).
Roof Slope or Roof Pitch Definitions
Summary of Definitions of Roof Slope Types: Flat, Low Slope, Steep Slope Roofs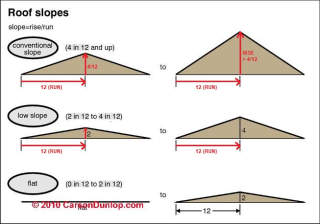 The illustration just above, courtesy of Carson Dunlop & Associates, summarizes the ranges of roof pitch or slope for flat, low-slope or conventional or "steep slope" roofing.
Flat roof: 0-2" rise per foot of run
Low-Slope Roof: less than or equal to 3" rise per foot of run
Steep slope roof: 4" rise in 12 or more.
[Click to enlarge any image]
Details about how roof slope is measured or calculated along with examples of converting between angle, slope and grade are at ROOF SLOPE DEFINITIONS.
Roof Covering Fire Resistance or "Fire Ratings"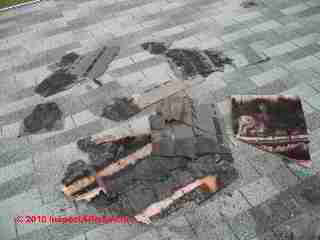 In the U.S. and most other countries roof coverings are rated for their ability to resist fire and to avoid spreading fire if the building burns. Both UL 790 and ASTM E 108 fire classification tests use the same test methods.
Class "A" roof fire ratings mean that under the specifics of the UL (or ASTM) fire rating test definition, the roof is effective against severe fire exposure.

Class "B" roof fire ratings mean that the roof is effective against moderate fire exposure.
Class "C" roof fire ratings mean that the roof is effective against slight fire exposure only.
Details about roof fire resistance effectiveness and roof fire ratings are at FIRE RATINGS for ROOF SURFACES.
...
Continue reading at ALGAE, FUNGUS, LICHENS, MOSS on SHINGLES or select a topic from closely-related articles below, or see our complete INDEX to RELATED ARTICLES below.
Or see BEST ROOFING PRACTICES
Or see ROOFING MATERIALS, Age, Types
Or see ROOF ARCHITECTURAL STYLES
Suggested citation for this web page
ROOFING INSPECTION & REPAIR at InspectApedia.com - online encyclopedia of building & environmental inspection, testing, diagnosis, repair, & problem prevention advice.
Or use the SEARCH BOX found below to Ask a Question or Search InspectApedia
...
Frequently Asked Questions (FAQs)
Questions & answers or comments about types of roofing materials, installation, inspection, diagnosis, repair, maintenance, & warranties
Question: Staining on building from roof shingles made from recycled tires?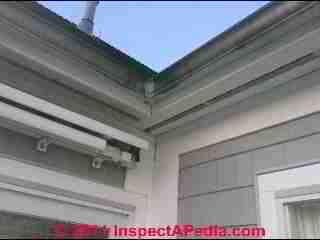 Here are photos of the gutters and sliding door trim that are just below the roof. If you're able to enlarge them, you will see the black stain that's coming from the roof shingles.
There are no trees around the house. We live in New Jersey right on the bay. Our builder had the gutters washed, but the black stain could not be removed.
Also, upon further investigation, my husband found extra shingles stored under the eaves of our attic. To our surprise "Royal Roofing" was stamped on the inside of each shingle--not Eternit!
Are these two separate companies? The architect's notes indicated "Eternit" as the roofing tiles--now I'm confused. Unfortunately, he has passed away and his business was dissolved.
When I contacted Eternit in England via e-mail, they said that they never manufactured a roof tile made from "recycled" tires. That was exactly how our architect described the tiles to us! He was very excited about its reported durability and longevity. Once again, Daniel, I hope you can shed light on this dilemma! - M.
Reply: Bleed-out and run-down stains on the building vs. shingle life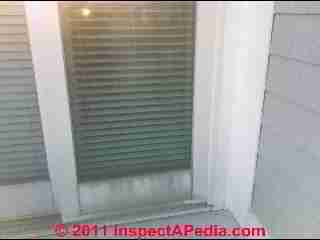 I'd like to see sharp photos of your roof shingles in place, both the field of the roof and closeups of the shingles, and I'd certainly want to see photos of the surfaces and markings of the extra shingles you found in your attic so that we can more accurately identify and contact the manufacturer with follow-up questions.
I'm not sure that all of the black stains in your photos are due to the composition of your roof shingles, and it's common to see some black stains on the outer edges of white K-profile aluminum gutters even on asphalt shingle roofs. More about diagnosing building stains is at STAINS on & in BUILDINGS, CAUSES & CURES.
But if your roof shingles are bleeding out significant levels of black debris, in addition to needing to clean the building exterior, you ought to be able to avoid stains on other building surfaces by properly routing roof runoff into gutters and downspouts.
A second question that might arise is whether or not black runout stains from a roofing product are a sign of deterioration or reduced roof life. Certainly the manufacturers of plastic and composite roof shingles we list below all promise rather long-life warranties.
Your roof shingles may be a Canadian product: Royal Dura Shingles. But first let's correctly identify your shingles and then ask the manufacturer for an opinion and advice. "Royal" as a roofing name alone is a bit broad as you'll see from our references below, including manufacturer names, roofing company names, and several asphalt shingle product names including IKO Royal Estate shingle and GAF Royal Sovereign shingles.
"Royal Roofing" may be a company name or a shingle model produced by a company of a different name. In any case, Eternit, a company about which you asked us previously, produced fiber cement shingles and is separate from Royal Group Technologies who produce Dura slate roof shingles (see our company list below).
Several companies produce roofing shingles made from recycled materials, rubber, composites, plastics, including:
EcoStar (EcoStar 104 Terrace Drive Mundelein, IL 60060 USA , Tel: (800) 211-7170 , Carlisle SynTec Incorporated, North Carolina) synethetic shingles, lightweight rubber and plastic roof shingles, slate lookalikes, (Majestic Slate Traditional, Colonial, Designer, Class A, Titus Tiles & Seneca Cedar Shake. 50-year warranty.
Royal Roofing, Royal Group Technologies Limited 1 Royal Gate Blvd. Woodbridge, Ontario Canada L4L 8Z7, Tel: 905-264-0701, and Royal Dura Shingles, 91 Royal Group Crescent Woodbridge, ON L4H 1X9, Canada (905) 850-9700, Website: http://www.royalbuildingproducts.com/. Royal Building Products is a division of the Ontario, Canada based Royal Group Technologies Ltd.. Product focus is on siding and exterior trim. I've read that Royal's Dura Slate roof shingles include a 50-year limited transferable warranty, as well as hail protection and a Class A Fire Rating.

Royals - cedar shingles: "Royals" can also refer to Western Red Cedar shingles that are 24" (610mm) in length, in all grades. These shingles are all 1/2" (12.5mm) thick, (nominal - in all grades). The recommended exposure for a 24" shingle roof is 7-1/2" (190mm) for a 3-ply, water tight construction. 

RuBBur roof, Hi-Tek Rubber Inc. 308 E. Burlington St #114 Iowa City, IA 52240, Tel: 319-321-3040, Class A for fire resistance roofing shingles. Hi-Tek Rubber, Inc., Iowa City IA, "double-lifetime warranty"
Question: How do I track down roof leaks and decide if leaks are active or inactive? Wet spots & black mold found during interior repairs after prior roof leaks and a new roof installation
We live in a condo building, four story, concrete structure with brick face.
We have had our flat, concrete roof repaired multiple times in the past few years. Last year the roof was sponge-y with water. We had repairs made in all areas as per a building inspector's advice, and a water expert's advice, except for some tuck pointing problems which were terribly expensive, and didn't look all that problematic . Also we installed roof vents.
This summer the roof is no longer sponge-y. It is solid. But the owners of the fourth (top) floor apartment are having interior work done and are discovering black mold and water/moisture coming in in the very areas they want to repair.
The roof LOOKS good, flashing and parapets are tight, caps on parapets are repaired and in good shape, roof surface (modified bitumen) has been sealed this summer and looks to be in good shape.
Is it possible this is still water percolating down from our concrete roof? Or should we be looking for new leaks?
Should we be calling yet another roofer? Or should we be waiting for the interior to be free of the old buildup of water which is still making its way down from the soggy, sponge-y roof we had last summer.
Thank you for any advice you can give us. - M.J.
Reply: Look for & trace moisture or water under the roof, explore for leaks during mold cleanup, don't look just for "black mold"
Our home page for roof leak detection, diagnosis, and repair (where to patch) is at LEAKY ROOF DIAGNOSIS & REPAIR. Excerpts are below.
If your roof is low slope or flat water travels and it can be tricky tracking down a leak - an inspector using infra red and moisture meters should be able to help sort out the question of whether there is an active leak and if so where it originates. As you report that the top floor occupant has found wet areas, it seems likely that other than concrete and structural members, other wet materials such as insulation will need to be removed - a step that will help trace the size and pattern of wet areas back to inspection points on the roof above.
It's common on large commercial buildings and apartments to simply add another layer of roofing over leaky flat or low-slope roofs. Sometimes the roofer will also put down a layer of insulating board first. As long as the roof can be mechanically secured soundly to the structure, that practice is acceptable in many communities.
But roofing over wet layers of old material can lead to future troubles including
moisture vapor bubble formation and bulging in the new roof membrane
difficulty distinguishing between old leaks and new leaks in the roofing system
continued mold growth in building materials and over longer periods, increased risk of rot or insect damage to wood structures
If the roofer roofed over wet conditions they could take a long time to dry out, particularly if the roof was installed atop multiple layers of old material. You didn't say how long ago the new roof was installed nor whether or not there was a tear-off of old layers. Also, while we like modified bitumen as a roof covering material, the roof can "look good" but could have improperly made seams.
An experienced roofer or roof inspector will look closely at the modified bitumen seams and flashing details to be more confident that at least from above the roof doesn't show obvious leak points. See our detailed response to this question at LEAKY ROOF DIAGNOSIS & REPAIR. Also see MODIFIED BITUMEN ROOFING for details about the type of roofing installed on this building. .

...
Ask a Question or Search InspectApedia
Try the search box just below, or if you prefer, post a question or comment in the Comments box below and we will respond promptly.
Search the InspectApedia website
Technical Reviewers & References
Click to Show or Hide Citations & References
ROOF ASSEMBLIES & ROOFTOP STRUCTURES [PDF], Chapter 8 of the 2013 California Building Code, California Office of State Fire Marshal, retrieved 2017/10/28, original source http://osfm.fire.ca.gov/codedevelopment/pdf/wildfire protection building construction/2013-Part-2-CBC-Sec1505.pdf
ROOF COVERINGS & BEST PRACTICES [PDF] FEMA, retrieved 2017/10/28, original source https://www.fema.gov/media-library-data/ 20130726-1706-25045-9347/chapter8.pdf
"Choosing Roofing," Jefferson Kolle, January 1995, No. 92, Fine Homebuilding, Taunton Press, 63 S. Main St., PO Box 5506, Newton CT 06470 - 800-888-8286 - see http://www.taunton.com/FineHomebuilding/ for the magazine's website and for subscription information.
Owens Corning Corporation, One Owens Corning Parkway Toledo, Ohio 43659 U.S.A. Telephone: (419) 248-8000 Fax: (419) 248-5337 http://www.owenscorning.com Owens Corning is credited as the inventor of fiberglass when Owens Illinois [O-I] researcher Dale Kleist and his colleague John Thomas stumbled onto and then realized the significance of producing glass fibers in 1932. O-I formed a joint venture with the Corning Glass Works in 1935, leading to the formation of Owens Corning Corporation in 1938. More on Owens Corning's history is at

Focus, Toledo, Ohio, Owens-Corning Fiberglas Corporation, October 1988. "A History of Innovation," http://www.owenscorning.com, 1997.
Stewart, Thomas A., "Owens-Corning: Back from the Dead," Fortune, May 26, 1997.
International Directory of Company Histories, Vol. 20. St. James Press, 1998.

"Two-Year Wisconsin Thermal Loads for Roof Assemblies and Wood, Wood–Plastic Composite, and Fiberglass Shingles [on file as Roof_Thermal_Loads.pdf] - ", Jerrold E. Winandy Michael Grambsch Cherilyn A. Hatfield, US Department of Agriculture, US Forest Products Laboratory, Research Note FPL-RN-0301
ARMA - Asphalt Roofing Manufacturer's Association - http://www.asphaltroofing.org/
750 National Press Building, 529 14th Street, NW, Washington, DC 20045, Tel: 202 / 207-0917
ASTM - ASTM International, 100 Barr Harbor Drive, PO Box C700, West Conshohocken, PA, 19428-2959 USA The ASTM standards listed below can be purchased in fulltext directly from http://www.astm.org/
NRCA - National Roofing Contractors Association - http://www.nrca.net/, 10255 W. Higgins Road, Suite 600, Rosemont, IL 60018-5607, Tel: (847) 299-9070 Fax: (847) 299-1183
UL - Underwriters Laboratories - http://www.ul.com/
2600 N.W. Lake Rd.
Camas, WA 98607-8542
Tel: 1.877.854.3577 / Fax: 1.360.817.6278 E-mail: cec.us@us.ul.com
copy on file as /roof/Roofing_Historic_NPS .pdf Roofing for Historic buildings", Sarah M. Sweetser, Preservation Brief 4, Technical Preservation Services, National Park Service, U.S. Department of the Interior, web search 9./29.10, original source:
http://www.nps.gov/history/hps/tps/briefs/brief04.htm
copy on file as /roof/Asbestos-to-Zinc_Metal_Roofing_NPS .pdf From Asbestos to Zinc, Roofing for Historic buildings, Metals", Technical Preservation Services, National Park Service, U.S. Department of the Interior, web search 9./29.10, original source:
http://www.nps.gov/history/hps/tps/roofingexhibit/metals2.htm
copy on file as /roof/Asbestos-to-Zinc_Metal_Roofing_NPS_3 .pdf From Asbestos to Zinc, Roofing for Historic buildings, Metals-part II, Coated Ferrous Metals: Iron, Lead, Zinc, Tin, Terne, Galvanized, Enameled Roofs", Technical Preservation Services, National Park Service, U.S. Department of the Interior, web search 9./29.10, original source:
http://www.nps.gov/history/hps/tps/roofingexhibit/metals.htm
copy on file as /roof/Asbestos-to-Zinc_Metal_Roofing_NPS_4 .pdf From Asbestos to Zinc, Roofing for Historic buildings, Metals-part III, Slate", Technical Preservation Services, National Park Service, U.S. Department of the Interior, web search 9./29.10, original source:
http://www.nps.gov/history/hps/tps/roofingexhibit/slate.htm
copy on file as /roof/Asbestos-to-Zinc_Metal_Roofing_NPS_5 .pdf From Asbestos to Zinc, Roofing for Historic buildings, Metals-part IV, Wood", Technical Preservation Services, National Park Service, U.S. Department of the Interior, web search 9./29.10, original source:
http://www.nps.gov/history/hps/tps/roofingexhibit/slate.htm
copy on file as /roof/Asbestos-to-Zinc_Metal_Roofing_NPS_5 .pdf From Asbestos to Zinc, Gutters", Technical Preservation Services, National Park Service, U.S. Department of the Interior, web search 9./29.10, original source:
http://www.nps.gov/history/hps/tps/roofingexhibit/gutters.htm
copy on file as /roof/Asbestos-to-Zinc_Metal_Roofing_NPS_2 .pdf From Asbestos to Zinc, Roofing for Historic buildings, Metals- Roofing Today", Technical Preservation Services, National Park Service, U.S. Department of the Interior, web search 9./29.10, original source:
http://www.nps.gov/history/hps/tps/roofingexhibit/roofingtoday.htm
copy on file as /exterior/NPS_Preserv_Brief_16_Subs_Mtls.pdf The Use of Substitute Materials on Historic Building Exteriors ", Sharon C. Park, AIA, Preservation Brief 16, Technical Preservation Services, National Park Service, U.S. Department of the Interior, web search 9./29.10, original source:
http://www.nps.gov/history/hps/tps/briefs/brief16.htm
Books & Articles on Building & Environmental Inspection, Testing, Diagnosis, & Repair
Best Practices Guide to Residential Construction, by Steven Bliss. John Wiley & Sons, 2006. ISBN-10: 0471648361, ISBN-13: 978-0471648369, Hardcover: 320 pages, available from Amazon.com and also Wiley.com. See our book review of this publication.
Decks and Porches, the JLC Guide to, Best Practices for Outdoor Spaces, Steve Bliss (Editor), The Journal of Light Construction, Williston VT, 2010 ISBN 10: 1-928580-42-4, ISBN 13: 978-1-928580-42-3, available from Amazon.com
The Journal of Light Construction has generously given reprint permission to InspectAPedia.com for this article. All rights and contents are ©Journal of Light Construction and may not be reproduced in any form.
Architectural elements: the technological revolution: Galvanized iron roof plates and corrugated sheets; cast iron facades, columns, door and window caps, ... (American historical catalog collection), Diana S Waite, available used out of Amazon.
Building Pathology, Deterioration, Diagnostics, and Intervention, Samuel Y. Harris, P.E., AIA, Esq., ISBN 0-471-33172-4, John Wiley & Sons, 2001 [General building science-DF] ISBN-10: 0471331724 ISBN-13: 978-0471331728
Building Pathology: Principles and Practice, David Watt, Wiley-Blackwell; 2 edition (March 7, 2008) ISBN-10: 1405161035 ISBN-13: 978-1405161039
Built-Up Roof Systems, Manual, C.W. Griffin, Mcgraw-Hill (Tx); 2nd edition (July 1982), ISBN-10: 0070247838, ISBN-13: 978-0070247833
Concrete Folded Plate Roofs, C. Wilby PhD BSc CEng FICE FIStructE (Author), Butterworth-Heinemann, 1998, ISBN-10: 0340662662, ISBN-13: 978-0340662663
Concrete Shell Roofs, C. Wilby PhD BSc CEng FICE FIStructE (Author),
Concrete Dome Roofs (Longman Concrete Design and Construction Series),
Concrete Roofing Tile, History of the, Batsford, 1959, AISN B000HLLOUC (available used)
Copper Roofing, by CDA
Copper Roofing, Master specifications for copper roofing and sheet metal work in building construction: Institutional, commercial, industrial, I.E. Anderson, 1961 (hard to find)
Corrugated Iron, Building on the Frontier, Simon Holloway
Green Roof Plants: A Resource and Planting Guide, Edmund C. Snodgrass, Lucie L. Snodgrass, Timber Press, Incorporated, 2006, ISBN-10: 0881927872, ISBN-13: 978-0881927870. The text covers moisture needs, heat tolerance, hardiness, bloom color, foliage characteristics, and height of 350 species and cultivars.
Green Roof Construction and Maintenance, Kelley Luckett, McGraw-Hill Professional, 2009, ISBN-10: 007160880X, ISBN-13: 978-0071608800, quoting: Key questions to ask at each stage of the green building process Tested tips and techniques for successful structural design Construction methods for new and existing buildings Information on insulation, drainage, detailing, irrigation, and plant selection Details on optimal soil formulation Illustrations featuring various stages of construction Best practices for green roof maintenance A survey of environmental benefits, including evapo-transpiration, storm-water management, habitat restoration, and improvement of air quality Tips on the LEED design and certification process Considerations for assessing return on investment Color photographs of successfully installed green roofs Useful checklists, tables, and charts
Handbook of Building Crafts in Conservation, Jack Bower, Ed., Van Nostrand Reinhold Company, NY 1981 ISBN 0-442-2135-3 Library of Congress Catalog Card Nr. 81-50643.
Historic Preservation Technology: A Primer, Robert A. Young, Wiley (March 21, 2008) ISBN-10: 0471788368 ISBN-13: 978-0471788362
Historic Slate Roofs : With How-to Info and Specifications, Tina Skinner (Ed), Schiffer Publishing, 2008, ISBN-10: 0764330012 , ISBN-13: 978-0764330018
Low Slope Roofing, Manual of, 4th Ed., C.W. Griffin, Richard Fricklas, McGraw-Hill Professional; 4 edition, 2006, ISBN-10: 007145828X, ISBN-13: 978-0071458283

Roof failure causes in depth (and specific methods for avoiding them)
Roof design fundamentals and flourishes, based on voluminous industry research and experience
New technologies and materials -- using them safely and correctly
Comprehensive coverage of all major roofing systems pecifications, inspection, and maintenance tools for roofing work

Metal Roofing, an Illustrated Guide, R.A. Knowlton , [metal shingle roofs],
Patio Roofs, how to build, Sunset Books
Problems in Roofing Design, B. Harrison McCampbell, Butterworth Heineman, 1991 ISBN 0-7506-9162-X (available used)
Roofing The Right Way, Steven Bolt, McGraw-Hill Professional; 3rd Ed (1996), ISBN-10: 0070066507, ISBN-13: 978-0070066502
Slate Roofs, National Slate Association, 1926, reprinted 1977 by Vermont Structural Slate Co., Inc., Fair Haven, VT 05743, 802-265-4933/34. (We recommend this book if you can find it. It has gone in and out of print on occasion.)
Roof Tiling & Slating, a Practical Guide, Kevin Taylor, Crowood Press (2008), ISBN 978-1847970237,
If you have never fixed a roof tile or slate before but have wondered how to go about repairing or replacing them, then this is the book for you. Many of the technical books about roof tiling and slating are rather vague and conveniently ignore some of the trickier problems and how they can be resolved. In Roof Tiling and Slating, the author rejects this cautious approach. Kevin Taylor uses both his extensive knowledge of the trade and his ability to explain the subject in easily understandable terms, to demonstrate how to carry out the work safely to a high standard, using tried and tested methods. 
This clay roof tile guide considers the various types of tiles, slates, and roofing materials on the market as well as their uses, how to estimate the required quantities, and where to buy them. It also discusses how to check and assess a roof and how to identify and rectify problems; describes how to efficiently "set out" roofs from small, simple jobs to larger and more complicated projects, thus making the work quicker, simpler, and neater; examines the correct and the incorrect ways of installing background materials such as underlay, battens, and valley liners; explains how to install interlocking tiles, plain tiles, and artificial and natural slates; covers both modern and traditional methods and skills, including cutting materials by hand without the assistance of power tools; and provides invaluable guidance on repairs and maintenance issues, and highlights common mistakes and how they can be avoided. The author, Kevin Taylor, works for the National Federation of Roofing Contractors as a technical manager presenting technical advice and providing education and training for young roofers.
The Slate Roof Bible, Joseph Jenkins, www.jenkinsslate.com, 143 Forest Lane, PO Box 607, Grove City, PA 16127 - 866-641-7141 (We recommend this book).
Slate Roofing in Canada (Studi4es in archaeology, architecture, and history),
Smart Guide: Roofing: Step-by-Step Projects, Creative Homeowner (Ed), 2004, ISBN-10: 1580111491, ISBN-13: 978-1580111492
Solar heating, radiative cooling and thermal movement: Their effects on built-up roofing (United States. National Bureau of Standards. Technical note), William C Cullen, Superintendent of Documents, U.S. Govt. Print. Off (1963), ASIN: B0007FTV2Q
Tile Roofs of Alfred: A Clay Tradition in Alfred NY
"Weather-Resistive Barriers [copy on file as /interiors/Weather_Resistant_Barriers_DOE.pdf ] - ", how to select and install housewrap and other types of weather resistive barriers, U.S. DOE
Wood Shingle Roofs, Care and Maintenance of wood shingle and shake roofs(EC), Stanley S. Niemiec (out of print)
...