No Heat Diagnosis

for Oil or Gas Fired Hot Water Heating Boilers
POST a QUESTION or READ FAQs about how to fix a heating boiler that is not working - how to diagnose the loss of heat in a building when the heat source is an oil or gas fired boiler
InspectAPedia tolerates no conflicts of interest. We have no relationship with advertisers, products, or services discussed at this website.
Heating boiler problem diagnosis and repair guide - no heat or loss of heat calls: Here we explain how to recognize & diagnose no-heat problems with residential heating boilers, including loss of heat, heating boiler noises, leaks, odors, or smoke, and high heating costs.
This article explains the diagnosis and correction of no heat conditions for water or hydronic or hot water or radiator or baseboard hot water heating systems.
We give help in troubleshooting heating systems using LP gas (propane) or natural gas. How to inspect & repair central hot water heating boilers - hydronic heating. Baseboard, radiator, convector heat inspection, defects, repairs.
This website answers questions about all types of heating systems, advising on troubleshooting, inspection, diagnosis, and repairs. We describe how to inspect, troubleshoot and repair heating and air conditioning systems to inform home owners, buyers, and home inspectors of common heating system defects.
We also provide a MASTER INDEX to this topic, or you can try the page top or bottom SEARCH BOX as a quick way to find information you need.
How to To Diagnose a "no heat" problem: steps the occupant or owner can take before calling repair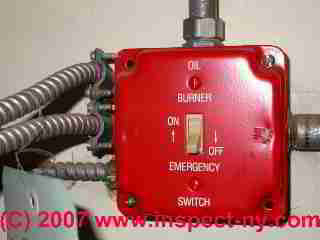 Hot Water Heating System: Once you confirm that your heat is made by hot water (a heating boiler) you might want to review hot water or "hydronic" heating systems

at BOILER COMPONENTS & PARTS
and
at BOILER OPERATING STEPS where we describe the parts and operating sequence of hot water heating systems.
Note: some hybrid or mixed heating systems combine both hot water and hot air to heat a building, such as water to air systems which use a heating boiler (oil, gas, or electric) to heat water which circulates through (and inside of) a heat exchanger (that looks like a car radiator) - described

Types of Defects and Problems with Hot Water Heating Boilers - Hydronic Heating Systems, Loss of Heat, Noises, Leaks
What sort of defects should you look for when inspecting a heating system?
LOSS OF HEAT in your BUILDING? - boiler or furnace won't operate, or system operates but heat is not produced in the living area - we outline a step by step diagnostic procedure for "no heat" conditions just below.
Improper Heating System Function:
NOISES ODORS SOOT, unreliability, inadequate heat distribution
Unsafe conditions on the heating system
Missing Heating System Components: safety controls, operating aids
Unreliable heating systems or heating systems at or near the end of their useful life
Improper Heating System Construction/Installation
Heating System Damage: leaks, mechanical damage
Clues of potential other heating system defects:
LEAKS CORROSION STAINS, abnormal temperature
or pressure,
HIGH HEATING BILLS
No domestic hot water for washing and bathing? This is not usually a home heating system problem, but if your hot water is made by a tankless coil and a gas or oil fired heating boiler, the problem could be with the heating boiler itself. If your water heater is not working, find your water heater type
at WATER HEATERS.
How to Diagnose Loss of Heat With Oil-Fired or Gas-Fired Hot Water Heating Systems - hydronic heating system troubleshooting
If the heating boiler oil burner is not turning on at all check the causes listed on this page. We'll take you through photo-illustrated step by step things to do when you have no heat and you need to determine what's wrong. First let's review these simple "no heat" concepts .
NO HEAT: BURNER OFF, SAFETY NOT TRIPPED: - Oil or gas burner has stopped, no safety switch is tripped
1. Is the thermostat calling for heat? check that the room thermostat setting is at least 5 degrees above the actual room temperature.
See THERMOSTATS.
2. No electrical power: check that all of the switches that power on the oil or gas burner are in the "on" position. Check heating circuit fuses & circuit breakers, not just the wall switch. We discuss this in detail just below.
3. Is there fuel in the oil tank or LP gas tank? Check your oil tank or LP gas tank tank gauge.

Out of heating oil? If the marker in your oil tank gauge reads 1/8 full or less, or is at the bottom or out of sight you are probably out of oil. If your oil tank is buried, and if you do not have an indoor (remote) fuel level gauge, the oil level is checked in the tank by removing the tank filler pipe cap and using a long (clean) stick (or in emergency a clean string and weight) to measure the depth of heating oil in the tank.

Remember that a problem with the oil piping, oil filter, or fuel unit can also cause no oil to be delivered to the oil burner even if plenty of oil is in the tank.

See OIL BURNER FUEL UNIT for some helpful diagnostics
and
also OIL & GAS PIPING.

Out of LP liquid propane gas? Check the gauge on your propane tank. If the reading is 10% or less you are out of fuel.

If your boiler is fueled by piped-in natural gas from a utility company, check that the company hasn't turned off your gas supply at the gas meter - something that might happen if you didn't pay a gas bill or if the gas company thought your building's gas system was unsafe.

4. Electric motor problem at the burner or blower fan: Check that an electric motor (for the oil burner, gas burner, or blower assembly) reset switch may have tripped. See our notes above about electric motors, and

See RESET SWITCH, ELECTRIC MOTOR.
5. Aquastat or cad cell control or relay trouble: if you hear or have ever heard buzzing from any heating system control that includes a relay switch, watch out for a control cover that is in contact with a relay switch in the unit.
If the cover is lightly touching the relay switch the control may simply buzz when the relay is trying to move.

But a too-tight control cover can also prevent a relay from operating, leading to loss of heat. Simply pulling off the cover to let the relay move freely can immediately discover and "fix" this problem.

Details and illustrations including diagnosing buzzing relays are

at HEATING SYSTEM NOISE DIAGNOSIS.
NO HEAT: BURNER HAS TURNED OFF ON SAFETY: Oil or gas burner has stopped, the safety switch is "off" or "tripped"
If you are not sure how to find and check the safety control reset buttons on your heating system, we describe these controls in more detail just a bit further on in this article.
The burner on your heating boiler, furnace, or water heater has shut down, if a red "reset button" has popped up on the burner primary control or on an electric motor that operates the system. This condition is called "Safety Off".
Watch out: Before re-setting the safety switch or button, it's a good idea check the following five common causes of loss of heat leading to a Safety Off condition. Photos and details follow these short paragraphs.
How to press the heating system reset button: If you do not see anything wrong, you can try re-setting the heating system: press and hold the red reset button down for 3 seconds and release it. If the heating system has electricity it will try to re-start.
Watch out: If the system does not keep running smoothly don't keep pressing the reset button - that could flood the combustion chamber with unburned fuel, causing a dangerous puff-back. Just press the reset button once. If the heating system starts and runs ok, you still should request a service call, but you can have heat while you're waiting.
1. Heating fuel failures - out of oil in the oil tank, clogged oil filter, clogged oil nozzle, oil line has been bent, crimped, clogged, clogged oil pump strainer (fuel unit strainer), or inability of the fuel unit to pump oil (broken motor shaft, missing internal bypass plug on a two line oil tank system, an air leak in the oil inlet line, or a leaky foot valve in the oil tank causing loss of oil prime). if the oil tank is outdoors in freezing weather the oil in the tank or in an oil line may have become waxy or jelled.

2. Oil burner motor failure: the electric motor that runs the oil burner may itself have gone off on reset. Some causes of electric motor failure: one pipe oil system with the bypass plug installed in the fuel unit (oil pump) causing excessive pressure and stalling the motor; centrifugal motor switch sticking (try banging on the motor once); motor condenser burned out; motor stator or internal windings burned or shorted; motor bearing failure.
Try re-starting the motor -
see RESET SWITCH, ELECTRIC MOTOR
3. Oil burner ignition failure: the oil burner's ignition transformer terminals are loose; the electrodes on the burner nozzle are dirty or not set to the proper gap; the oil is contaminated and is hard to ignite; the ignition transformer has become weak or has burned out (look for tar oozing out of the ignition transformer container); the oil burner nozzle is clogged preventing oil from contacting the ignition spark arc; the ignition electrode(s) are grounded on the air tube of the burner;
4. Faulty heating system control operation: the safety sensor that checks that a good oil burner flame has been established is not working; a stack relay spring or cad cell eye may be dirty with soot; the stack temperature may be too low for the stack relay (boiler is under-fired); the oil burner has been cycling on and off to frequently (a problem with the thermostat).
Tip: Look for loose electrical connections: before deciding that a control or switch has failed, confirm that the system has electrical power, all switches are on, and that a wiring connection has not come loose.
On a recent no-heat call we were embarrassed to learn from Bob, the service tech, that the problem was most likely that somebody (who me?) may have accidentally knocked loose the electrical connector at the oil delay valve (aka "quick stop valve").
The connector may still appear to be in place but may have been pushed slightly back or askew. The result is that on a call for heat the oil burner motor will run but the burner will never ignite. Details about loose connector diagnosis & cures for the quick stop valve or oil delay valve or the PD Timer are
at OIL LINE QUICK STOP VALVES.
Other common loose electrical connections might be at wiring to any heating control or at the oil burner itself.
5. Irregular stack temperatures: in the flue can cause oil burner draft and temperature or control problems. Downdrafts (missing chimney cap), insufficient draft due to chimney problems, or fluctuating oil burner flame may be at fault. Also
see CHIMNEY INSPECTION DIAGNOSIS REPAIR.
-- some of this material is paraphrased from Audel.
Oil Burner Operating Problems: Oil or Gas Burner rough, noisy, smoky, smelly
The heating burner operates but not properly.
See OIL BURNER NOISE SMOKE ODORS

Next let's check each cause of no heat in detail; if your system uses warm air heat instead of water or steam, review the check-items just below before going
to HEATING LOSS DIAGNOSIS-FURNACES.
SAFETY WARNING: If a heating system oil burner has been deliberately "shut down" and you don't know when or by whom this step was taken, beware of turning the heating system back on without an inspection and safety check by an expert technician.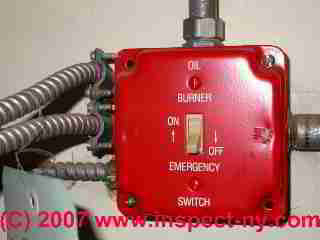 Electrical power to the heating boiler or oil burner is OFF: check the circuit breaker or fuse supplying power to the unit; check the service switch at the furnace or air handler, and if the system is air conditioning or a heat pump, check the service switch outside at the compressor/condenser unit to be sure it is "on".

Make sure that electrical power is on for all of the heating system components. Check local switches at the boiler, wall mounted boiler switches at the stairwell down to the basement or utility room or in other areas, and check the circuit breakers or fuses in the electrical panel.
Is the heating boiler turned on? Is there electric power to all of the heating system components such as an oil burner at the boiler and power to the circulator pumps?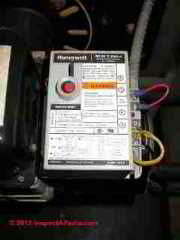 Oil Burner safety reset switch is OFF or TRIPPED: the heating or air conditioning system may have been turned off on reset - see our "off on reset" and other advice
at CAD CELL RELAY SWITCH (modern equipment).

LP and natural gas fired heating equipment and water heaters also have safety controls including temperature limit controls and gas spillage sensors (see list of reset switches below).

For gas heat, turn off electrical power to the gas fired heater using the service switch. Wait two minutes and turn the electricity back on.
See ELECTRICAL POWER SWITCH FOR HEAT. This will reset most gas heating equipment.

For oil heat: are you sure there is no safety or reset button tripped?

Where are all the heating system reset buttons? If you are looking for the main reset button on heating equipment you'll want to
see: AQUASTAT CONTROL FUNCTIONS

and CAD CELL RELAY SWITCH (hot water boilers and some water heaters),

Stack Relay Switch On older oil fired boilers and furnaces,

SPILL SWITCH, FLUE GAS DETECTOR (gas fired equipment),

and Low Water Cutoff Controls On steam heating systems.

At ELECTRIC MOTOR OVERLOAD RESET SWITCH we discuss the thermal overload switch and reset button that is found on many electric motors including those operating air conditioning fans, heating system oil burners, and furnace blowers and motors.
A Stack relay switch may be installed on the flue vent connector and may be in the "safety - off" position. To identify and reset this control see STACK RELAY SWITCH. Stack relays are found on older oil fired furnaces and boilers.
Heating fuel supply - check again: if it is a gas furnace, is the gas turned on? If your gas is from bottled or LP gas, is the tank empty? If it is an oil fired heating furnace, check the gauge on the oil tank. Are you out of oil?
See OIL TANK GAUGES.

Still no heat? Once you have assured that you have heating fuel and that electrical power is turned on to the heating unit, if you still don't have heat check these controls:
Thermostat is in the "off" position or is set to a temperature that does not call for heating (or cooling)
See FAN AUTO ON THERMOSTAT SWITCH for details about what turns the blower fan on and off.
Flue gas spill switch: If your heating boiler is gas-fired (natural gas or "bottled" LP gas), a flue gas spillage switch may have shut the system down after sensing possibly dangerous flue gases (that can contain fatal carbon monoxide).
See SPILL SWITCH, FLUE GAS DETECTOR. This switch will not normally be found on oil fired heating equipment.

Is there fuel for the boiler ?: check the oil tank gauge
(see OIL TANK GAUGES for tips on how to find, read,and test the oil tank gauge. If the heating boiler is fired by natural or LP gas and not oil, check that no one has shut the gas supply valves.

If the oil tank gauge says there is more than 1/4 of a tank of oil, you might want to pull the gauge plastic cap and press down on the gauge indicator - check to see if it was stuck indicating oil when the tank is in fact empty.

If you're out of oil or gas call your oil or gas company and request an emergency delivery. For oil systems, usually the delivery person will also need to enter the building to bleed air from the oil lines in order to get the oil burner operating again. For gas fired heating equipment the driver may want all gas appliances turned off in the building during delivery.


Oil burner motor coupling: another cause of an oil burner starting to run but never igniting at all may be a broken or slipping coupling (or a frozen coupling) between the oil burner motor and the fuel unit. In this case the burner starts in response to a call for heat, but there will be no ignition whatsoever because no oil is being delivered to the nozzle assembly.


Other reasons for no oil flow to the oil burner include:

an oil safety valve that has been "closed" (someone turned it the wrong way),
an oil delay valve or quick stop valve that has lost electrical power - discussed earlier on this page
low oil or no oil in the heating oil tank (the tank may not be completely empty but oil may be below the oil pickup line if the oil lines are exiting at the top of the tank),
a clogged oil filter or fuel unit strainer. If the oil filter is clogging the oil burner may re-start after the system has been off for a time, but in minutes after the burner ignites the flame may begin to stumble or even go out as the fuel unit has trouble sucking oil through the filter. An inspection of the oil filter for sludge and crud clogging the filter can diagnose this problem. While it's out, just replace the filter.
a clogged oil burner nozzle,
an air leak in the heating oil supply piping, or a crimp or clog or restriction in the oil piping.
If you recently ran out of oil and then got a delivery, and if your system uses a single oil line between tank and burner, the line or fuel unit may be air bound and needs to be bled. [8]



Is the thermostat calling for heat? and is the temperature at the thermostat lower than the thermostat setting?


Does the oil burner start but then shut off? Is the system "off on reset"? if so the red "reset" button will have popped up on the oil burner control (or possibly on an electric motor operating the oil burner) and the system has an operating problem and needs service. It may be possible to re-start an oil burner that has turned itself off by pressing the red reset button ONCE.

If the heating boiler or furnace re-starts and runs acceptably, you can have heat while waiting for the service technician but the system still needs inspection, service, and possibly other repairs before it can operate safely and reliably. If you push the reset button and the burner does not start and keep running for five minutes or more, DO NOT try again as you may flood the system with oil and make restarting difficult and dangerous.


Is the oil burner motor itself off on reset?
See MOTOR OVERLOAD RESET SWITCH.


Boilers-Hydronic Heat: Is hot water water circulating?


Check the hot water circulator: Test to see if the circulator is operating Feeling the hot water distribution piping (Watch out it should be HOT!). Feeling the piping can indicate if circulator is running or not -- a quick change in temperature means the circulator works; slow change in temperature may occur if the circulator does not work but hot water is circulating by convection.
Check for a bad zone valve or bad circulator pump relay. If the building has more than one heating zone it probably uses either multiple circulator pumps, each of which is operated by a circulator relay switch that is in turn operated by a wall thermostat, or it uses multiple zone valves, each of which is operated by a thermostat.

A bad circulator motor or pump, a bad circulator relay (or even a circulator relay cover that is pressed against and jamming the relay switch), or a stuck zone valve (common on some models) will prevent heating water from circulating in that zone while other zones may work fine.


Check hot water baseboards: if some baseboards are hot and others cold, are they all on the same heating zone? If not, are all of the thermostats turned up? If some heating baseboards are hot and others cold and we're sure that they're on the same zone, then the system is probably air-blocked. A heating circulator pump is capable of pushing water around in the loop of heating baseboard but is often not capable of overcoming a section of baseboard that contains a large bubble of air.

It's necessary to remove such air blocks. If air blocking has been recurrent a previous owner may have installed air bleeders at strategic points. The bleeder can be opened slightly and carefully, to permit air to escape. As soon as water starts coming out of an air bleeder valve it can be closed. Automatic air purge devices are available and are usually installed right at the heating boiler but sometimes additional ones are needed at higher levels in the building.


Check hot water radiators or convectors: if some radiators or wall convectors are hot and others are cold, and provided that the individual feed valves located at each of these devices is open (turned counterclockwise) the radiator or convector may be air blocked. Usually an individual air bleed valve is located on each of these devices.

Check the Oil Heating Equipment Safety Controls and Switches -
see FIRE SAFETY CONTROLS for photos and details
On gas fired heaters check for flue gas spillage at the heater or for a bad flue gas spillage switch: If your furnace is gas-fired, a flue gas spillage switch may have shut the system down after sensing possibly dangerous flue gases (that can contain fatal carbon monoxide).
See SPILL SWITCH, FLUE GAS DETECTOR for details.


On oil fired boilers or furnaces check for a bad automatic draft damper switch. If the draft damper does not open in response to a thermostat's call for heat the heating appliance will not start.


How to Diagnose Soot or Noises during Heating System & Oil Burner Operation
For full details of this topic be sure to
see OIL BURNER NOISE SMOKE ODORS.
Noises during oil burner startup - a "bang" or puffback which blows soot into the room through the barometric damper or through other equipment openings: the oil pump may not be shutting down properly at the end of an oil burn cycle, leaking incompletely burned oil into the combustion chamber. That oil ignites at startup causing a potentially dangerous puffback. Immediate service and repair are needed.


Soot and black marks in the living area can sometimes indicate an unsafe or poorly-functioning heating system but these marks can also be normal in some buildings depending on other conditions. Details about soot tracking are
at THERMAL TRACKING.

Watch out: Safety warning about soot: Sooting can occur with both gas fired and oil fired systems. Soot coming from a gas fired heater is probably indicating a very dangerous condition risking carbon monoxide poisoning. If a gas fired appliance is producing soot, it should be turned off and Immediate service is needed.
See COMBUSTION AIR DEFECTS
and
also SOOT on OIL FIRED HEATING EQUIPMENT

and GAS FIRED WATER HEATERS for safety warnings about soot at heating appliances.


Noises during oil burner startup - a "rumbling" sound (which usually continues all during operation" or a "stumbling" sound in the combustion chamber probably indicates that the system needs inspection and cleaning very soon. Some noise is normal however, but the normal sounds tend to be more smooth and continuous.


Noises during oil burner shut-down - a stumbling or rumbling after the oil burner motor has stopped, indicate that oil is continuing to leak into the combustion chamber and risks a dangerous puffback - see "Noises during oil burner startup" above. Immediate service is recommended.


Noises of shrieks or grinding coming from the electric motor or oil pump On the oil burner mean that immediate service is needed - probably a bearing is failing.


Startup problems: noises and clues of puff back: if you see flapping at the barometric damper or if you see or hear vibrations in the system, or if you see black soot on or near heating equipment the system may be unsafe and prompt service is needed


Noises from radiators or heating baseboards: clanking pipes or sharp snapping noises may be heard as a normal consequence of expansion of metals during the heating cycle. These noises can often be eliminated or reduced by careful routing of piping and by allowing room around heating pipes for expansion, but probably not eliminated in the case of hot water baseboards.

Bubbling or rumbling noises in hot water heating piping can be caused by air in the heating lines. If the amount of air becomes excessive the system may be unable to circulate hot water and extra steps to bleed unwanted air will be required.

Hissing sounds such as air escaping from radiators or other piping where air bleeder valves are installed are normal but should be brief and uncommon. If you constantly hear air hissing from radiator bleed valves double check that you understand what kind of heat you have - hissing from bleeder valves on steam heat radiators as heat is coming up in the building is normal.
How to Evaluate Heating Boiler Leaks & Corrosion
For full details of this topic see BOILER LEAKS CORROSION STAINS
When observing evidence of leaks on a heating boiler, keep these points in mind:
Even serious leaks may never show up as "wet" spots: A boiler may be leaking but you may see no actual water: during the heating season the boiler may always be hot, causing small leaks on the boiler or on heating piping to simply evaporate. But such leaks will usually be visually very evident: look for a build-up of corrosion, green or white or other colored mineral salts, or look for rust or water stains on the equipment.


Internal heating boiler leaks: Some critical boiler leaks may be internal and not visible by simple inspection, such as a leak inside the boiler heat exchanger which may pass water into the combustion chamber. A service technician or a skilled home inspector should be able to spot evidence of these leaks.


Surface rust, light, superficial rusting, is generally repairable. Clean the area and fix the leak when the boiler is next serviced and monitor for any future leaks.


Exfoliation, or thick flaking rust On any boiler but particularly on a steel heating boiler is very serious, possibly not repairable, and risks loss of the boiler as well as sudden loss of heat in the building. Examples of this problem are
at TANKLESS COILS


Leaks related to temperature or pressure: Some leaks occur only at peak operating temperature-e-g at relief valve. On some heating boilers such as some cast-iron units, leaks may occur between boiler sections when the system is cold - on these models some technicians prefer to keep a little heat in the boiler year-round to avoid this problem. Leaks between boiler sections may be repairable but if left unattended can destroy the equipment.
A Catalog of Common Heating System Leak Points - Where to Watch for Heating System Leaks
Tankless Coil mounting plate - see rust stains below and around plate -
see TANKLESS COILS
Pipe fittings anywhere in the system, including in water supply piping to a boiler, hot water distribution piping, or at face of coil plate - mineral salts and stains may show even a small leak though no water may be visible (it evaporates quickly on hot heating system components)
Leaks around bolt openings - suspect hidden damage
Leaks between sections of a cast iron boiler
Leaks at the circulating pump mounting flanges
Leaks at the boiler temperature/pressure relief valve. This leak may be very dangerous as corrosion from water passing through the valve may prevent its safe operation in an emergency. Prompt expert inspection and repair are needed. Watch for leaks below the valve's mouth or discharge pipe (a pipe should extend from the relief valve to a few inches from the floor) or watch for corrosion at the tip of the discharge pipe. Gently feel inside the tip of this pipe to see if it's wet. DO NOT TRY TO TEST or open or operate the relief valve itself.

Safety warning: a leaky relief valve indicates an potentially very dangerous condition; prompt service is needed.
Leaks at air bleeder valves - at the boiler or remote where such bleeders are placed on heating piping or baseboards or radiators
Leaks at radiator control valves or between radiator sections
Leaks at heating baseboards, at poorly-soldered copper pipe fittings on finned copper baseboard heating systems
Leaks due to frozen and burst piping or in extreme cases, frozen and burst heating boilers themselves. Freezing pipes produce very distinctive types of damage such as splits or separation at solder joints.
How to Recognize & Diagnose Inadequate Combustion Air for Oil-Fired Heating Systems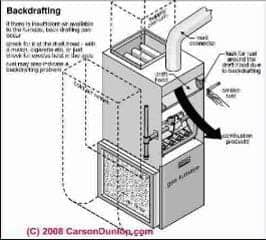 For full details of this topic see INADEQUATE COMBUSTION AIR
Lack of adequate combustion air can result in improper system operation, sooting, increased heating cost, damage to oil burner components (back pressure heat can destroy an ignition transformer), higher and more frequent heating service costs, loss of heat, noises, smoke, and potentially, the production of carbon monoxide or other flue or combustion gases which escape into the building - potentially dangerous
Safety warning: The sketch shown here, courtesy of Carson Dunlop, explains how dangerous furnace back-drafting can occur when there is insufficient combustion air.
These conditions can not only release flue gases into the occupied space, but they are likely to cause the production of potentially fatal carbon monoxide.
We've seen heating equipment that seemed to work just fine during its adjustment because the service technician was working with the door to the furnace or boiler room open. But when she left the system and closed the furnace room door, suddenly there was insufficient combustion air.
Also see Unsafe Air Conditioning or Heating Duct Openings which describes the risks of reduced combustion air on hot air heating systems when certain return air duct defects are present,
and also see CARBON MONOXIDE - CO
and CHIMNEY INSPECTION DIAGNOSIS REPAIR

A Guide to Heating Equipment Malfunctions & Their Implications
Noises & soot buildup can lead to a potentially dangerous puffback which can damage the heating equipment and blow soot and smoke throughout the building.
Leaks on hot water heating systems are never acceptable, anywhere. Leaking relief valves need immediate attention and repair (Leaking relief valve could be due to water-logged expansion tank, improper control settings (temperature too high), improper automatic water feeder operation (pressure too high), or defective valve (leaky).

True, you only have to report the valve. Did you miss problems at the other components?) Corroded relief valves also need to be test by a service technician and repaired or replaced
Relief Valves: Do not touch the heating boiler or water heater temperature or pressure relief valve - it may open and fail to shut down. A relief valve which does not work is dangerous since the system is missing an important safety device. Should an over pressure or over temperature condition develop for other reasons, the boiler could explode.
Corrosion on heating system parts: Do not pick at corrosion as you may start a catastrophic, un-stoppable leak requiring total system shut-down. Leaks left un repaired can destroy heating equipment.
Tankless coils for making hot water: If there is different water pressure/flow observed in the kitchen in which the hot water pressure is significantly less than cold, even before examining the building's mechanical systems you may speculate that a tankless coil installed may be installed.

What other clues suggest that the local water supply may be hard in minerals and that there may be a risk of clogged piping? When the water supply is high in minerals, the hot water pipes or tankless coils clog up before cold water piping. Is a water softener installed? Is there known "hard" water--have mineral deposits clogged the coil? Are there "cleanout" plumbing fittings on the tankless coil piping?

Does this suggest a history of clogging and acid-flush treatments? A clogged coil can be repaired or replaced. How severe was that rust you observed at the tankless coil mounting plate? Severe rust may mean that the boiler must be replaced.
Examples of Heating System Defects with Important Implications
Lack of adequate combustion air can result in improper system operation, sooting, loss of heat, noises, smoke, and potentially, the production of carbon monoxide or other flue or combustion gases which escape into the building - potentially dangerous
Leaky oil at an oil burner ignition transformer: watch for back pressure in combustion chamber--watch out for blocked heating flue or blocked chimney - these would be unsafe, or the heater may be unreliable. An unreliable heater can lead to frozen burst pipes and costly building damage. A blocked chimney could lead to a potentially fatal carbon monoxide hazard.
Unusual interior moisture conditions, noises, smoke, or odors during heating season--watch for blocked chimney or poor flue vent connections
Equipment recalls: Specific heating system problem brands Repco, Blueray etc.

[Do not confuse Repco™ heating boilers, which had fire chamber and other failures, with other products (REPCO pumps, REPCO controls, REPCO water conditioners, or water treatment that carry the Repco name. Those products are distinct from REPCO heating boilers and are produced/distributed by the R.E. Prescott Company. Further, we are unaware of any remaining warranty or replacement support for failed or antiquated Repco heating boilers.]
...
Continue reading at BOILER OPERATING PROBLEMS or select a topic from closely-related articles below, or see our complete INDEX to RELATED ARTICLES below.
Or see DIAGNOSE & FIX HEATING BOILER, FAQs - questions & answers posted originally at this page.
Or see BOILER REPAIR DIAGNOSTIC FAQs
Or see GAS PIPING, VALVES, CONTROLS if your heating system is fueled by LP or natural gas
See HEATING SYSTEM TYPES if you don't know whether your heat is provided by a furnace (hot air) or boiler (hot water), or steam boiler (steam heat) or whether your fuel is oil, gas, or electric, and whether your heat is hot water, steam, or warm air
Or see this
Article Series Contents
Suggested citation for this web page
DIAGNOSE & FIX HEATING PROBLEMS-BOILER at InspectApedia.com - online encyclopedia of building & environmental inspection, testing, diagnosis, repair, & problem prevention advice.
Or use the SEARCH BOX found below to Ask a Question or Search InspectApedia
...
Frequently Asked Questions (FAQs)
Ask a Question or Search InspectApedia
Use the "Click to Show or Hide FAQs" link just above to see recently-posted questions, comments, replies, try the search box just below, or if you prefer, post a question or comment in the Comments box below and we will respond promptly.
Search the InspectApedia website
Technical Reviewers & References
Click to Show or Hide Citations & References
Blueray Heating Boilers/Furnaces Safety Recall by the US CPSC, with additional history, photos, and technical details; Blue Flame Blue Ray
Domestic and Commercial Oil Burners, Charles H. Burkhardt, McGraw Hill Book Company, New York 3rd Ed 1969.
National Fuel Gas Code (Z223.1) $16.00 and National Fuel Gas Code Handbook (Z223.2) $47.00 American Gas Association (A.G.A.), 1515 Wilson Boulevard, Arlington, VA 22209 also available from National Fire Protection Association, Batterymarch Park, Quincy, MA 02269. Fundamentals of Gas Appliance Venting and Ventilation, 1985, American Gas Association Laboratories, Engineering Services Department. American Gas Association, 1515 Wilson Boulevard, Arlington, VA 22209. Catalog #XHO585. Reprinted 1989.
The Steam Book, 1984, Training and Education Department, Fluid Handling Division, ITT [probably out of print, possibly available from several home inspection supply companies] Fuel Oil and Oil Heat Magazine, October 1990, offers an update,
Principles of Steam Heating, $13.25 includes postage. Fuel oil & Oil Heat Magazine, 389 Passaic Ave., Fairfield, NJ 07004.
The Lost Art of Steam Heating, Dan Holohan, 516-579-3046 FAX
Principles of Steam Heating, Dan Holohan, technical editor of Fuel Oil and Oil Heat magazine, 389 Passaic Ave., Fairfield, NJ 07004 ($12.+1.25 postage/handling).
"Residential Steam Heating Systems", Instructional Technologies Institute, Inc., 145 "D" Grassy Plain St., Bethel, CT 06801 800/227-1663 [home inspection training material] 1987
"Residential Hydronic (circulating hot water) Heating Systems", Instructional Technologies Institute, Inc., 145 "D" Grassy Plain St., Bethel, CT 06801 800/227-1663 [home inspection training material] 1987
"Warm Air Heating Systems". Instructional Technologies Institute, Inc., 145 "D" Grassy Plain St., Bethel, CT 06801 800/227-1663 [home inspection training material] 1987
Heating, Ventilating, and Air Conditioning Volume I, Heating Fundamentals,
Boilers, Boiler Conversions, James E. Brumbaugh, ISBN 0-672-23389-4 (v. 1) Volume II, Oil, Gas, and Coal Burners, Controls, Ducts, Piping, Valves, James E. Brumbaugh, ISBN 0-672-23390-7 (v. 2) Volume III, Radiant Heating, Water Heaters, Ventilation, Air Conditioning, Heat Pumps, Air Cleaners, James E. Brumbaugh, ISBN 0-672-23383-5 (v. 3) or ISBN 0-672-23380-0 (set) Special Sales Director, Macmillan Publishing Co., 866 Third Ave., New York, NY 10022. Macmillan Publishing Co., NY
Installation Guide for Residential Hydronic Heating Systems
Installation Guide #200, The Hydronics Institute, 35 Russo Place, Berkeley Heights, NJ 07922
The ABC's of Retention Head Oil Burners, National Association of Oil Heat Service Managers, TM 115, National Old Timers' Association of the Energy Industry, PO Box 168, Mineola, NY 11501. (Excellent tips on spotting problems on oil-fired heating equipment. Booklet.)
R.E. Prescott Company, a producer of other REPCO™ residential and industrial products as well as a provider of design-build engineering services is at 10 Railroad Avenue, Exeter, NH 03833. Tel: 603-722-04321 or 888-786-7482. Trish O'Keefe from Prescott informed us (10/7/2009) that their company had nothing to do with the failed Repco heating boilers discussed at InspectAPedia.com. She wrote:

Our company manufactures & distributes residential water treatment equipment, including our Repco line of conditioners. We have a plumbing & heating supply dept as well. We are mistaken for the Repco Boiler company on a regular basis, most frequently in Oct. and Nov.
Any information you could give me on the other Repco company would be appreciated. We've assumed it is no longer in business, and we'd like to know that for sure. Many callers want to know where to get replacement parts and I would be glad to direct them if I knew...plus there's always a chance they might be interested in a Crown Boiler instead.

Thanks to Bottini Fuel service manager Ron Thomas for discussing aquastat functions, low limit controls, oil burner short cycling causes, and boiler maintenance, reliability, and service contracts 4/13/2010. Bottini Fuel is a residential and commercial heating oil distributor and oil heat service company in Wappingers Falls, NY and with offices in other New York locations. Bottini Fuel, 2785 W Main St, Wappingers Falls NY, 12590-1576 (845) 297-5580 more contact information for Bottini Fuel
[8] Suntec Model A-7400 Fuel Unit Solenoid Dumping Pump,
Suntec Industries Inc., 60 Aberdeen Drive - PO Box 5000 Glasgow, KY 42142-5000 - USA Tel : 270 651 7116 - Fax : 270 651 9276 e-Mail : info@suntecpumps.com and
Suntec Industries France, 1 Rue Lavoisier - B.P. 102 F-21603 LONGVIC Cedex - FRANCE Tel : +33 (0)3 80 70 60 70 - Fax : +33 (0)3 80 70 61 11 e-Mail : information@suntec.fr, [copy on file as /heating/Oil pumps fuel units/Sunted_Solenoid_DumpingPPump.pdf] ,
Also /Suntech_Solonoid_Safety_Valves.pdf (brochure)
web search 4/19/12, original source: http://www.suntecpumps.com/Suntecus/PDFs/Form%202740%20
-%20Solenoid%20Dumping%20Pump.pdf
Books & Articles on Building & Environmental Inspection, Testing, Diagnosis, & Repair
Our recommended books about building & mechanical systems design, inspection, problem diagnosis, and repair, and about indoor environment and IAQ testing, diagnosis, and cleanup are at the InspectAPedia Bookstore. Also see our Book Reviews - InspectAPedia.
...