Heating System Circulator Pumps & Circulator Relays
InspectAPedia tolerates no conflicts of interest. We have no relationship with advertisers, products, or services discussed at this website.
Hot water heating circulators or circulator pumps: install, troubleshoot, repair advice: this article series discusses Circulator Pumps: how to find, inspect, diagnose, and repair problems with Hot Water Heating System Circulator Pumps or circulator pump relay switches and controls.
This article series answers most questions about Heating System Boiler Controls on central heating systems to aid in troubleshooting, inspection, diagnosis, and repairs.
Circulator pump relay switches & controls on heating systems: Troubleshooting & Repair Guide, How to tell if a heating circulator pump is working, Why do some heating zones work and others not, why does heat come out of zones where thermostats are not calling for heat?
How to fix an air-bound heating system and blocked circulator pump,
How to cure circulator pump noises, Where should a circulator pump be installed on a heating boiler? On the inlet or on the outlet side of the boiler? Use of air exit tanks and circulator pumps on heating boilers.
Green links show where you are. © Copyright 2017 InspectApedia.com, All Rights Reserved.
Heating Circulator Pumps: how are circulators used to control heating zones & how do we Diagnose & Fix Circulator Pump Troubles?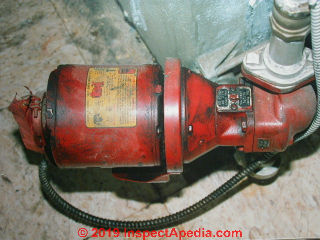 Heating circulator pumps or "zone circulators" are used to force hot water from the heating boiler through radianting devices such as hot water baseboards or radiators. The circulator is switched on as needed or in some designs may be wired to run continuously.
Our photo at left of a red B&G heating circulator pump shows equipment more than twenty years old and still spinning along nicely.
Proper installation, protection from leaks, and lubrication at annual service can give a long circulator life. Poor maintenance or improper installation can give less happy results.
[Click to enlarge any image]
After a brief introduction we describe what goes wrong (or how to get things to go right with heating zone circulator pumps. We also link to related articles for circulator choices, installation, troubleshooting, repair or replacement. Also see Checks for Circulator Operation.
Article Series Contents
How Hot Water Heating Circulators Work: One vs Multiple Circulators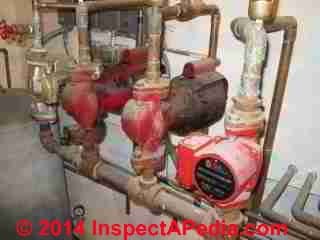 Hot water may be circulated throughout multiple zones using a single circulator pump and individual zone flow control valves, or each heating zone may be built with its own individual circulator pump.
Either approach to individual heating zone control can work just fine - using zone valves or using individual circulators.
Our photo above shows a single circulator system (no zone valves are in the photo - this may be a single-zone heat system) while at left our photograph shows a three-zone heating system with three B&G circulators in a home in Two Harbors, MN.
You'll notice that one of the circulators has been replaced with a newer Bell & Gossett Circulator SLC-30.
See MULTIPLE HEATING ZONE CONTROL for as much argument as you can stand about multiple circulator pumps versus multiple zone valves for heating zone control.
What goes wrong with hot water heating circulator pumps and circulator switches?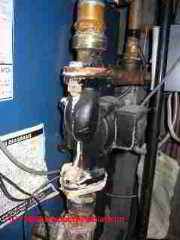 The heating system circulator pump, such as the trio of pumps shown at the top of this page, is used to move hot water from the heating boiler out through one or more loops of piping in a building, through heating devices such as radiators, heating baseboards, or convector units, then through return piping back to the heating boiler.
When the water temperature drops to a pre-set level the heating boiler will re-heat the water.
[Click to enlarge any image]
The circulator relay is an electrical switch which, in response to a request for heat from a thermostat, turns on the circulator pump. See RELAY CONTROL SWITCHES for details about how the circulator pump relay operates.
Single Circulator Heating Systems, One or Multiple Heating Zones
Some heating systems use a single circulator to move hot water through the building's heating devices (convectors, radiators or baseboards). In a one-circulator system, the building may still divide its heat into various zones or sub-areas of individual heat control, by using either individual radiators in rooms or perhaps by using electrically controlled zone valves which open and close flow of hot water through sub-loops in the building heating piping.
Also see ZONE VALVES, HEATING - home.
Even a single zone heating system might use two circulator pumps. In this case the second circulator is being used to control a separate indirect-fired water heating system to provide domestic hot water for washing and bathing.
See INDIRECT FIRED WATER HEATERS.
Multiple Circulator Heating Systems, Multiple Heating Zones
Some heating systems use multiple circulators to provide heat to individual building areas or "zones". In this case each heating zone will have its own thermostat which, acting as a low-voltage "heat on-off switch" will turn on individual circulator pumps when heat is desired in that zone.
Details are at CIRCULATOR PUMP RELAYS & OTHER CONTROLS. Also see RELAY CONTROL SWITCHES for details about how circulator relay controls work.
Mixed Multiple Circulator Heating Systems Plus Zone Valves
Less common are mixed heating zone systems in which multiple circulators are used but one or more of the circulators feeds a heating water pipe which is subsequently divided into additional sub-zones of heat control, each sub-zone being controlled by a zone valve. We often see this arrangement when the building owner/manager wants to sub-divide an existing heating zone into multiple zones of control.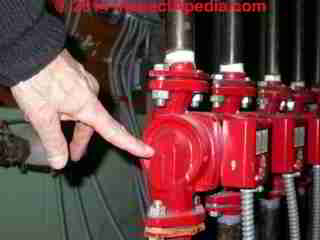 Before assuming the heating system is not working when the thermostat is calling for heat, feel the radiators or baseboards to see if they are getting hot.
On a call for heat at the thermostat, if the heating boiler is already hot (above the lower limit or cut-in temperature) then the circulator should turn on and move hot water to the baseboards or radiators.
Click to enlarge any image]
Only after the boiler temperature drops below the cut-in temperature will the heating boiler turn on to re-heat the water. The connection between the thermostat and the heating boiler turning on or off is indirect.
On most heating systems the thermostat turns the circulator pump on or off and the temperature of the heating water turns the heating boiler on or off.

Our photo (above left) shows leaks at the circulator pump mounting flanges. Notice those rust stains on the bottom circulator mounting flange. [(CIRCULATOR PUMP LEAKS)
The circulator pump may be leaky - often leaks occur at the circulator pump mounting flanges - a leak we describe in detail at LEAKS at CIRCULATORS. (See our photo, above left).


The circulator pump may not be running at all. The result can be no heat delivered to the occupied space, or heat may be delivered but only very slowly, as hot water is rising through the heating system by convection rather than being forced (more quickly) by the circulator pump assembly.

Because some circulator pumps are very quiet and may have no visibly moving parts (Taco® for example), below we explain how to determine whether or not the circulator is working at all.

At CIRCULATOR WONT START we include some diagnostic questions & answers.

At BYPASS CIRCULATOR we discuss running the boiler even if the circulator won't run


The circulator pump seems to run only intermittently, or starts and stops in short bursts. This is often a control or relay or wiring defect. See our Q&A discussion at CIRCULATOR RUNS INTERMITTENTLY
Also
See RELAY CONTROL SWITCHES for details about how the circulator pump relay operates.>


The circulator pump may be running but heat does not enter some building areas - part of the system may be air-bound. We introduce this topic below and explain how to correct an air bound heating system at AIR-BOUND HEATING SYSTEMS. Beginning at that article we also give several repair methods to fix an air-bound heating system.

If heat is reaching some but not all radiators, and where we do not think the circulator pump is the problem, take a look at our diagnostics found at COLD HOT WATER RADIATOR or BASEBOARD


The circulator pump may be running but baseboards or radiators don't get hot enough. While it is possible for a damaged impeller, low voltage, damaged circulator pump motor or similar defects to result in some but not enough hot water movement through the hydronic heating system, more often I find that the circulator is either moving hot water at its rated capacity or it's not moving anything.

A circulator pump may be running at its rated flow capacity but other problems such as a partly-closed zone valve, an obstruction in the heating system, or under-sized heating supply and return piping (too-small diameter), or under-capacity baseboards or radiators are at fault, resulting in heat being delivered at too low a temperature or too slow a rate to a building area.

Where heat supply and return piping are too small in diameter, changing out baseboards or radiators to higher capacity units, or changing the circulator pump to a higher capacity (flow rate) unit may solve the problem.

See CIRCULATORS VARIABLE SPEED

At WEAK HEAT we provide FAQs about troubleshooting cases in which hot water is delivered to radiators or baseboards or fan convetors but these devices do not get hot enough.
The circulator pump motor may run but the pump may not be moving water - less common than air-bound heating systems are mehanical defects in the circulator pump itself. This occurs if the circulator pump vanes or other internal parts have become damaged.

The circulator motor will run but the circulator does not pump. If the circulator motor runs but there is no temperature change on the heating system piping on the inlet and outlet side of the pump then this could be the problem.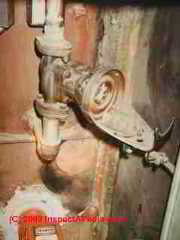 The circulator pump is noisy - this can be due to a variety of problems. Start by making sure that your system does not contain excess air since this is a very common hydronic heating complaint. See these three articles on purging air from hot water heat systems:

AIR SCOOPS SEPARATORS PURGERS.

A bearing could be failing in the circulator pump; in this case the pump will need repair or replacement. If you are mounting a new circulator pump assembly in an existing bracket,for example when just the pump impeller and housing are being replaced, make certain that the pump is properly mounted and supported in position.

We found an entire series of circulator pump failures at the same mounting point (photo, above-left) because every replacement had been mounted askew, placing stress on the Bell & Gossett circulator pump shaft.

For some circulator pump models, particularly if the circulator pump is used in a multiple-pump installation, the pump's internal check valve could be a noise source.

Taco, a manufacturer of circulator pumps and other heating system equipment, says that circulator noise can be due to the built in check valve on a radiant heating system and that the fix is to remove the check valve from the pump.

Question: I recently installed a Radiant Mixing Block to heat 2 zones of radiant floor. When the block injection pump injects at the 20–40% range, it makes a growling noise that sounds similar to dry bearing. Any suggestions?

Answer: The check valve in the inlet connect from the boiler supply line is making the noise. To prove a point, put an ice cube on the radiant supply sensor which should make the injection pump speed up. If the noise goes away when the pump speeds up, then it is the check.

To eliminate the noise, break the hot water supply connection and unscrew the adaptor fitting from the block manifold. Look inside that connection and you should see the check and a snap ring holding it in place. Remove the snap ring and then the check. Reinstall the adaptor fitting and re-splice the copper tubing.

This noise problem has occurred once in a while and we are developing a new check that should overcome it. At this time, this is our only solution and I have not heard of any problem operating without the check. -- Taco FAQ 01/15/2009

High Mineral-Content Water & Circulator Pump Problems - in a closed hydronic system, because the same water remains in the system forever except when emptied for service (or if there is a leak), the mineral content of the original water loaded into the heating system is not normally a problem.

In open pumping systems where new water is constantly introduced, mineral content in the water can clog and damage circulator pump internal moving parts. Here is a diagnostic example from Taco.

It is very unusual for a circulator to fail, but there are 4 basic modes of failure:



Oxygen in the system oxides the rotor laminations. The corrosion build up acts like a brake and stalls the rotor of the pump.
A weakness in the motor winding.
A loose wire or connection that needs to be repaired.
If there are many minerals in the water, they plate out on the rotor and eventually stall it. [DF - note that this will be a problem on open systems but not on a closed system that does not take in new water]

If the problem is a stalled circulator pump rotor, Taco has a replacement cartridge. If the motor is bad, you'll need a new pump. If you drain your system and put in fresh water, or if you have a leak where new water is being added all the time, oxygen and minerals will be continually added to the system. Whatever the reason, it is unusual for a 00 pump to fail.


Circulator pump location - where to put the pump, on the supply side or return side of the boiler? We were taught that circulator pumps may have a longer life and run cooler if placed at the return side of the boiler where the returning heating water is cooler than it was on first leaving the supply side of the boiler. But at least some manufacturers say it doesn't matter. Here is Taco's position on circulator pump position:

All of the "00" pumps can be used on the supply side or the return. It is preferable to put a circulator on the output of a boiler, but the expansion tank should be between the boiler and the pump section. Most of our "00" iron pumps have a max water temperature of 230ºF.

The max for the bronze is 220ºF. 160ºF is cold. No matter what the water temperature is, the motor housing will be hot. There will be no change in performance or life. - Taco FAQ
Circulator pump is not capable of pumping against the head pressure of water in the heating system: each manufacturer provides a table of their circulator pump models and the head pressure against which the pump can work, at various flow rates.

Many residential heating circulator pumps do not have a large "lift" capacity and depend on the heating piping to be full of water without any air blockages in order to function satisfactorily. Increasing the "cold" pressure of the water in the heating system may be necessary, especially in buildings taller than two stories. An alternative is to connect an additional circulator pump in series with the first one.

The gallons per minute (GPM) that a pump puts out are dependent on the head produced by the pump. The system resistance is the controlling factor in determining the flow produced by a pump. As the flow increases in a piping system, the resistance or pressure drop rises at the rate of the square of the ratio of the flows.

For example, if the resistance of the system is 2 ft. at 3 GPM, at (6 gpm/3 GPM)² x 2 ft.= 8 ft. Using this equation we can generate a system resistance curve and plot it on the pump curve. The point where the system resistance curve and the pump curve intersect is the maximum flow that the pump will produce in that piping system.

If any [circulator] pump is put in series with another pump, the heads are additive at the same flow. To increase the flow, the [circulator] pumps have to be put in parallel. With pumps in parallel, the flows are additive at the same head. When [circulator] pumps are put in series, install a nipple between 2 flanges.

Bolt the discharge of one [circulator] pump to one flange, and the suction of the other [circulator] pump to the other flange."  - Taco FAQs
Circulator pump position: Watch out: be sure that the circulator pump is installed as the manufacturer describes. While most circulator pumps can pump heating water in just about any position, there are some positional constraints. For example, quoting from B&G:

The Series LR Circulator can be installed to discharge up or down, horizontally, left or right, but the motor shaft must remain in the horizontal position, the arrow on the body must point in the direction of the flow, the conduit box must be positioned on the top or to the side of the motor housing. - "Instruction Manual, Bell & Gossett Series LR Circulators" [see References]

Circulator pump won't stop: this is not necessarily a defect - it depends on how your heating system was designed and wired. In some areas the circulator runs all winter and the thermostat just turns the boiler on and off. For diagnostic questions & answers about circulators that run continuously see CIRCULATOR WONT STOP.


Too much heat or un-wanted heat: Other cases of un-wanted heat may occur if hot water circulates through the heating system piping even when the circulator is OFF. Often this problem is traced to a check valve that's not working or a zone valve that's stuck open. See our diagnostic Q&A's at UNWANTED HEAT

Also see CHECK VALVES, HEATING SYSTEM
Reader Question: radiator exploded after circulator pump repair
(Jan 30, 2014) Heather said:
I have a boiler for heat in my home with two circulator pumps that supply two different zones (upstairs and downstairs). My circulator pump for the first floor went bad and was replaced, fixing the problem. The boiler itself had no issues.
An hour later, a radiator upstairs (different zone supplied by the other circulator pump) exploded and a 6 inch piece of metal was cast from the radiator causing water to flood the house. This happened in a different zone connected to the other pump from the same boiler.
Could the exploded radiator in the other zone have been affected by the replacement of the circulator pump to the other zone? I cant understand how this coincidentally happened when there seemed to be no problems with the supply to the zone on the second floor where it happened. Any feedback is appreciated.
This question was originally posted at HEATING SYSTEMS
Reply:
Heather,
This sounds horrible - and peculiar. Forensic investigators start by disbelieving coincidences.
But it's not clear why a radiator would explode under any circumstances. Really "explode" ? We're talking about hot water heat, at normal pressures under 30 PSI.
Watch out: if your heating system pressures were abnormally high (over 30 psi) then either your system was missing a critical safety device - a Temperature/pressure relief valve at the boiler - or the valve was installed but was jammed, or subverted, or not working.
IF that is is the case this is a VERY DANGEROUS condition as an exploding boiler can cause a BLEVE explosion of tremendous force. (Search InspectAPedia for Bleve explosion to read Details).
In short, a normal hot water heating circulator pump does not have great pumping power; if there was an overpressure problem in the system it seems more likely it came from another component. Naturally everbody involved in working on your system will be scared to admit fault. Focus on a thorough inspection of the heating boiler starting with
- the location, type and condition of pressure/temperature relief valve
- the normal operating pressure and temperature of the boiler
If on your own, before the heating company shows up, if you see high pressure readings on the boiler gauge (30 psi or above) or if you see water spilling out of a relief valve I would SHUT OFF THE SYSTEM immediately and would get the heck out of there.
Follow-up:
The PSI was not high before the repair. It was around 12. After the repair and the flooding upstairs, it is running around 18 psi now. I did look at the system this morning.
The only problem I see is that a pressure reducing valve has a slow drip from the bottom. The valve for the intake had been turned off last night to stem the flooding and then turned back on after the flow to that radiator was capped so I don't know if that affected the valve since it is about 10 inches away from the cutoff.
Reply:
12 PSI cold is normal for a typical 2 story home.
BTW I would not want to confuse an air bound system with one that is at too low pressure.

If the boiler runs but the heating baseboard or radiators in an area do not get hot, the problem could be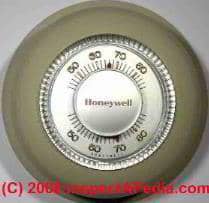 The thermostat - where multiple thermostats and heating zones are installed, the boiler may be running but the thermostat for a given zone may not be calling for heat; or the boiler may be running to make domestic hot water and even a single zone may not be calling for heat.

See THERMOSTATS.


The zone valve - may be stuck closed, if your system is using zone valves.

See ZONE VALVES, HEATING


The heating system may be air-bound - part of the system piping, baseboards, convectors, or radiators may be air-bound. We introduce this topic below and explain how to correct an air bound heating system at

AIR-BOUND HEATING SYSTEMS.
The circulator pump itself may have stopped working - some common circulator pump brands shown at this website in our diagnostic articles include Bell & Gossett™, Grundfoss™, and Taco™ - these are discussed at

CIRCULATOR DIAGNOSTICS
A heating zone manual control valve, flow balancing valve, or check valve may be manually or accidentally closed or stuck shut.
If the heating boiler itself if does not turn on in a response to a call for heat see NO HEAT - BOILER.
Question: circulator pump cost
See CIRCULATOR PUMP REPAIR FAQs
Question: circulator mounting position vs system pressure
See CIRCULATOR PUMP REPAIR FAQs
How to Hook Up Multiple Circulators or Zones
We moved this discussion to a new article: please see MULTIPLE HEATING ZONE CONTROL
Question: circulator pump won't start
We moved this discussion to a new article: please see CIRCULATOR WONT RUN
Question: circulator pump runs intermittently
We moved this discussion to a new article: please see CIRCULATOR PUMP RUNS INTERMITTENTLY
Weak Heat Questions
We have moved this discussion to a new article: please see WEAK HEAT, WEAK CIRCULATOR, TOO COOL
Question: Circulator Pump Noises, heating system noises

We have moved this discussion to a new article: please see CIRCULATOR NOISES.
Also see HEATING SYSTEM NOISE DIAGNOSIS for a more broad range of heating noise diagnosis & repair procedures.
Question: circulator pump runs even when we are not asking for heat
See CIRCULATOR PUMP REPAIR FAQs
...
Continue reading at BYPASS a BAD CIRCULATOR or select a topic from closely-related articles below, or see our complete INDEX to RELATED ARTICLES below.
Or see CIRCULATOR NOISES
Or see CIRCULATOR OPERATION CHECKS
Or see CIRCULATOR PUMP REPAIR FAQs for diagnostic questions & answers about heating circulator pumps & circulator relays.
Or see HOT WATER CIRCULATOR PUMP SPEEDS DELIVERY using a hot water circulator on domestic hot water supply to fixtures
Or see these
Hot Water (Hydronic) Heating Boiler Circulator Articles
Suggested citation for this web page
CIRCULATOR PUMPS & RELAYS at InspectApedia.com - online encyclopedia of building & environmental inspection, testing, diagnosis, repair, & problem prevention advice.
Or use the SEARCH BOX found below to Ask a Question or Search InspectApedia
...
Frequently Asked Questions (FAQs)
Ask a Question or Search InspectApedia
Use the "Click to Show or Hide FAQs" link just above to see recently-posted questions, comments, replies, try the search box just below, or if you prefer, post a question or comment in the Comments box below and we will respond promptly.
Search the InspectApedia website
Technical Reviewers & References
Click to Show or Hide Citations & References
"Instruction Manual, Bell & Gossett Series LR Circulators" P86101D, Mayu 2012, Xylem Inc. 8200 N. Austin Avenue Morton Grove, Illinois 60053 Phone: (847) 966-3700 Fax: (847) 965-8379 www.xyleminc.com/brands/bellgossett
"Installation and Operation Instructions, Raytherm Residential Boilers," courtesy of Raypak®, and technical advisor Wayne Hoffman, personal communication 5/11/2009. Mr. Hoffman is a technical advisor with more than 30 years experience in the heating field. Raypak is a Rheem company that provides hydronic heating boilers for residential, pool, and commercial use. Raypak can be contacted at 866-583-0664 for technical support or for assistance in selecting the proper heating equipment for a specific application. Rheem Corporation is a manufacturer of water heaters and heating equipment including Ruud heating and cooling products.
Bell & Gossett Air Separators and other heating system components, 8200 N. Austin Ave., Morton Grove IL 60053, USA - Tel 847 966-3700 Fax 847 965-8379 . Air separators are discussed by B&G at http://www.bellgossett.com/homeowners/BG-airseparator.asp
Taco air scoops and other heating system components & controls: Taco Inc., 1160 Cranston Street, Cranston, RI 02920 / (401) 942-8000 / Fax (401) 942-2360 Taco (Canada) Ltd., 6180 Ordan Drive, Mississauga, Ontario L5T 2B3 / (905) 564-9422 / Fax (905) 564-9436 www.taco-hvac.com
Taco also has some helpful FAQs that are useful in diagnosing circulator problems - see http://www.taco-hvac.com/en/faq.html#
Sparco air purgers, air scoops, and other heating system components & controls:
Books & Articles on Building & Environmental Inspection, Testing, Diagnosis, & Repair
Our recommended books about building & mechanical systems design, inspection, problem diagnosis, and repair, and about indoor environment and IAQ testing, diagnosis, and cleanup are at the InspectAPedia Bookstore. Also see our Book Reviews - InspectAPedia.
Domestic and Commercial Oil Burners, Charles H. Burkhardt, McGraw Hill Book Company, New York 3rd Ed 1969.
"Residential Hydronic (circulating hot water) Heating Systems", Instructional Technologies Institute, Inc., 145 "D" Grassy Plain St., Bethel, CT 06801 800/227-1663 [home inspection training material] 1987
Heating, Ventilating, and Air Conditioning Volume I, Heating Fundamentals,
Boilers, Boiler Conversions, James E. Brumbaugh, ISBN 0-672-23389-4 (v. 1) Volume II, Oil, Gas, and Coal Burners, Controls, Ducts, Piping, Valves, James E. Brumbaugh, ISBN 0-672-23390-7 (v. 2) Volume III, Radiant Heating, Water Heaters, Ventilation, Air Conditioning, Heat Pumps, Air Cleaners, James E. Brumbaugh, ISBN 0-672-23383-5 (v. 3) or ISBN 0-672-23380-0 (set) Special Sales Director, Macmillan Publishing Co., 866 Third Ave., New York, NY 10022. Macmillan Publishing Co., NY
Installation Guide for Residential Hydronic Heating Systems
Installation Guide #200, The Hydronics Institute, 35 Russo Place, Berkeley Heights, NJ 07922
...