Electrical Receptacle Wiring FAQs
Q&A on How to wire up an electrical receptacle
InspectAPedia tolerates no conflicts of interest. We have no relationship with advertisers, products, or services discussed at this website.
FAQs on how to wire up an electrical receptacle:
Questions & answers on how to wire up an electrical receptacle or "outlet" or "wall plug".
This article series shows the basic connections for the black, white neutral or grounded conductor), and ground wire when hooking up an electrical receptacle (wall plug or "outlet"). We describe how to wire an electrical receptacle by making the right connections between individual electrical wires and the proper screw or clamp connectors on the electrical receptacle device itself.
Green links show where you are. © Copyright 2017 InspectApedia.com, All Rights Reserved.
Electrical Wiring Connections for Installing an Electrical Receptacle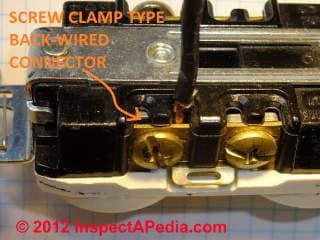 Watch out: mis-wired electrical receptacles are dangerous. Electrical wiring should be performed by a licensed, trained electrician and should comply with the National Electrical Code and local regulations. This article series describes how to choose, locate, and wire an electrical receptacle in a home.
[Click to enlarge any image]
Watch out: Electrical components in a building can easily cause an electrical shock, burn, or even death. Even when a hot line switch is off, one terminal on the switch is still connected to the power source. Before doing any work on the switch, the power source must be turned off by setting a circuit breaker to OFF or removing a fuse.
Recently-posted questions & answers about electrical receptacle wiring connections
Anon:
You'll need to review the wiring diagram for your Tandberg reel to reel tape recorder/player; I can't bet your life or a fire on a wild guess. -
I have a tandberg 4 track reel to reel with only two white wires to plug which goes in the Live? Sounds like a wiring error or loose connections. I suspect the box is over-crowded and when you push wires back into the wall something is coming disconnected.
plug in quit working for frig
replaced receptacle still wont work
2 blackwires are hot when grounded
2 white wires are neutral
yet when I test front of receptacle or plug in frig it doesn't work?

Re-posting
Mark said:
I've been searching around, but I can't find any guides on my type of outlet.
He posted a link to a floor-mounted receptacle for sale at Amazon, TOPGREENER 705506 Floor Box 1 Gang 20A Kit, Tamper / Weather Resistant Duplex Receptacle, UL Listed - Stainless Steel
The wiring connections for the receptacle you describe does not change because of its location.
You don't if the 3-prong receptacle is on a typical, common household circuit, as you'd be over-fusing the wire. I have a30 amp breaker how do I wire it to a 3 prong outlet ... a question on somebody's test, being asked of InspectApedia.com
more likely we're looking at a switched receptacle or a multiwire circuit using a common neutral; I doubt that the third wire is connected to your receptacle unless it's a 240V receptacle and circuit. If so it won't look like a regular 120V receptacle, right?
Now, no cheating on tests. A license obtained that way could encourage a mistake that could kill your clients. If a receptacle has one red one black one white and one ground wire is usually indicates it is I'm wiring up a air cond/heater that says 208/230 the receptacle where the unit plugs in only has 2 bronze lugs and a green ground screw no lug for a neutral or common I'm replacing a plug in the kitchen for a gfi plug rewired it the same way I took it off old plug and I just blow the breaker ? I have white and two blacks and a red wire
Thank you for your concern for electrical safety, Jack. It is certainly the case that among millions of readers, homeowners, apartment dwellers, home inspectors, repair technicians and licensed electricians quite a variety of questions will indeed arise. Technical researchers, writers, publishers, as well as building code compliance inspectors, licensing agencies, and electricians are quite unable to physically prevent an un-trained person from attempting a repair that she or he should not.
We can however help people understand where safety hazards lie, where there is risk of fire, shock or even death from electrocution, we can suggest consulting a qualified expert, and we can often help a consumer understand what is required in diagnosing and repairing building problems - an effort that can reduce these risks, improve safety, and at the same time can help a consumer understand why a fifteen minute repair by someone who knows what she or he is doing can and should more than fifteen dollars.
This warning appears at page top:
Watch out: Electrical components in a building can easily cause an electrical shock, burn, or even death. Even when a hot line switch is off, one terminal on the switch is still connected to the power source. Before doing any work on the switch, the power source must be turned off by setting a circuit breaker to OFF or removing a fuse.

I just came across this page, and I must say it terrifies me. The people asking these questions clearly should not be allowed anywhere near an electrical outlet other than to put in their iPod charger. We are supposed to install an outlet (3 prong) for a freezer and wire we have to work with is two black and one green. After seeing no white or ground wire, I am very confused now. Originally, the old freezer that we need to replace, was wired directly to the power switch in the freezer box section. Sorry, for my description. Best I can do. Thank you. I have seen in your illustrations that when you terminate the wires on the sides (using the screws) you put the wires underneath the metal tab that is immediately below the screw head. I realize that "tab" is probably not the proper term, but I don't know how else to describe it; perhaps plate or bracket is more applicable. Is it incorrect to terminate the wires in between the screw heads and that metal tab? Does it make a difference whether it's below or above the tab? Thanks. Mark
You'll need to follow those "black" wires to see what they actually are. It's possible that the installer was feeding hot in and hot out from one side of the receptacle - current flowing through the receptacle itself. I was looking to replace a duplex receptacle. It was an outlet with a ground. When I pulled
the receptacle out of the box I was surprised to find that one of the black wires was going to
the hot (brass) screw on top and other black wire was going to the neutral side on top. The white
wires had one going to the bottom brass screw and the other was going to the bottom neutral screw. So, what I have a black and white wire on the same side of the receptacle. What is going on here? Roger
You can obtain wiring instructions for the Harbor Breeze Oracoke fan by contacting Harbor Breeze (a Lowes brand) at 800 643 0067 , or by visiting a Lowes building supply store close to you or by calling 800 445 6937 for Lowes customer service - assuming you did not find that information in the product package. From what I've read, on this fan the wires are identified as follows (CHECK THIS with your instructions). Your electrician will sort this out for you. Typically:
Black: fan power - connects to the "hot" or usually black wire of the powering circuit
Blue: fan light power - connects to a switched hot wire circuit to permit switching the fan light on or off separately from the fan itself. If you wire the blue and black fan wires both to the same black powering circuit then fan and light would always be forced to be on together.
Green: fan ground wire, connects to the circuit grounding conductor (usually bare or green)
White: neutral wire, normally connects to the circuit neutral wire which is usually white
At http://inspectapedia.com/electric/Wiring_Colours.php you can see tables of wiring color codes for the U.S. or other countries. The fan is a Harbor Breeze, Ocracoke model. The wall switch has two red wires connected to the two terminals on the right of the switch ( as you face it) and the black wire is connected to the one terminal on the bottom left side. The ground is on the top left. Hope this helps. Thanks again. Roger
Sorry to be so timid but flying blind risks sending you into the electric-shock zone. I don't know what your switch terminals and wires are doing or connected-to. If you don't have a wiring diagram for the fan and switch, tell us the brand and model and perhaps we can help find that information. That'll tell us which wires connect to which terminals. i am installing a speed control switch for a recently installed ceiling fan. This switch has a green wire and two black wires. The on off switch in the wall is connected to two red wires, a black wire and a ground. Can I pigtail the two red wires and connect them to one of the black wires from the speed control switch? Thanks for your help. Talha,
In addition to obtaining a permit and inspections for electrical wiring safety, you will want to see
http://inspectapedia.com/electric/Backup_Electrical_Generators.php I'm building a generator at home. Could you please tell me how to hook it up to a receptacle? Tom Planer & other readers, Please click on the "Click to Show or Hide FAQs" link just above to see recently-posted comments and replies.
Question: can't get an electrical switch to work on a combined receptacle-switch device
(July 30, 2014) Anne said:
I am replacing an outlet that has the top half on a switch and the bottom half always on. The old outlet had stab wire connections for a black, white and RED wire in the top section. I have tried to install the new outlet, using the screws as recommended, rather than the stab connections, and cannot make the top half work on the switch. (I tried with the tabs in place, one tab removed and both tabs removed. Also tried the red & black on the same screw, red on the screw and black in the stab hole and the reverse.) How to I make the switch work?
Reply:
Anne I don't have a full picture of what you're doing but
first: be careful not to electrocute yourself or start a fire - a standard caveat I'd make to anyone not a trained electrician
Now, in general,
1. to power the upper and lower halves of a receptacle separately we have to break the line-in or black wire or power tab. You can break apart the tab on the white wire neutral side but those connections are going to be made common by a splice in the electrical box anyway.
2. The line-in power wire into the receptacle box is split into two feed wires. One goes to the lower "always on" half of the receptacle line in screw while the other connects to a wire leading to the receptacle switch. The return wire from that switch then connects to the line-in or black wire or gold-colored screw on the receptacle.
Question:
(Oct 30, 2014) James said:
I am an apprentice in house wiring I wired a four plate stove like this: I installed 30A circuit breaker in the consumer unit and ran wires to the kitchen where I connected the wires coming from the breaker box to the line (input) an I connected the load to the stove I used 2.5mm. I tested the it and is working but now my question is did I do it right? is the 2.5mm ok for the circuit? Is there a negative impact the wire size will have in future?
Reply:
James you don't identify your country nor voltage levels. Typically an electric stove is wired on a 220V-240V circuit, sometimes depending on stove design, some burners may use always or part time just one 120V leg. I'm not quite clear on what you did. Did the 4-plate electric stove come with wiring instructions and a wiring diagram?
Question: Tom Planer doesn't like photos of electrical wiring details
Tom Planer said:
I would be embarrassed to say I allowed the pictures in this article to be a part of this page.
You really need to take a quick look at NFPA Article 110.3 and 110.4 and do it quick.
Tom
Reply:
Tom, thank you for your comment.
Indeed I expect licensed electricians to know how to make proper electrical connections.
And to be familiar with the national electrical code. We do, however, often include photographs of as-is wiring as important illustrations of what's found in the real world - in the field. Showing what people actually do, right and wrong, can be useful.
While we regret that you might be embarrassed, explicit, technical comment would be more helpful than shame tossed over the electronic-wall.
Your comment to look at NFPA Article 110.3 probably intended to refer to the National Electrical Code NEC 110.3 which gives advice for the examination, installation, and use of [electrical] equipment and includes the expectation that such wiring details are inspected by the local electrical code compliance officer.
NEC 110.4 includes "The voltage rating of electrical equipment shall not be less than the nominal voltage of a circuit to which it is connected. "
Referring readers to a mere paratraph nunmber that points to lengthy electrical code specification without any specifics is not helpful.
Thanks - Moderator.
Article Series Contents
If you are wiring a 2-wire electrical circuit that has no ground wire, also see CONNECTION for 2-WIRE RECEPTACLE CIRCUITS for proper wiring details.
...
Continue reading at ELECTRICAL RECEPTACLE CONNECTION DETAILS or select a topic from closely-related articles below, or see our complete INDEX to RELATED ARTICLES below.
Or see GROUND WIRE CONNECTIONS
Or see ELECTRICAL OUTLET, HOW TO ADD & WIRE - home - for general wiring procedures, connections & advice for connecting electrical receptacles.
Or see CONNECTION for 2-WIRE RECEPTACLE CIRCUITS - no ground
Suggested citation for this web page
ELECTRICAL RECEPTACLE CONNECTION FAQs at InspectApedia.com - online encyclopedia of building & environmental inspection, testing, diagnosis, repair, & problem prevention advice.
Or use the SEARCH BOX found below to Ask a Question or Search InspectApedia
...
Frequently Asked Questions (FAQs)
Try the search box below or CONTACT US by email if you cannot find the answer you need at InspectApedia.
...
Ask a Question or Search InspectApedia
Use the "Click to Show or Hide FAQs" link just above to see recently-posted questions, comments, replies, try the search box just below, or if you prefer, post a question or comment in the Comments box below and we will respond promptly.
Search the InspectApedia website
Technical Reviewers & References
Click to Show or Hide Citations & References
Timothy Hemm has provided photographs of various electrical defects used at the InspectAPedia TM Website. Mr. Hemm is a professional electrical inspector in Yucala, CA.
Mark Cramer Inspection Services Mark Cramer, Tampa Florida, Mr. Cramer is a past president of ASHI, the American Society of Home Inspectors and is a Florida home inspector and home inspection educator. Mr. Cramer serves on the ASHI Home Inspection Standards. Contact Mark Cramer at: 727-595-4211 mark@BestTampaInspector.com
John Cranor is an ASHI member and a home inspector (The House Whisperer) is located in Glen Allen, VA 23060. He is also a contributor to InspectApedia.com in several technical areas such as plumbing and appliances (dryer vents). Contact Mr. Cranor at 804-747-7747 or by Email: johncranor@verizon.net
[3] NFPA - the National Fire Protection Association can be found online at www.nfpa.org
[4] The 2008 NEC National Electrical Code (ISBN 978-0877657903) Online Access LINK (you'll need to sign in as a professional or as a visitor)
[5] Special thanks to our reader Steve who pointed out prior errors in our illustrations.
[6] Simpson Strong-Tie, "Code Compliant Repair and Protection Guide for the Installation of Utilities in Wood Frame Construction", web search 5/21/12, original source strongtie.com/ftp/fliers/F-REPRPROTECT09.pdf, [copy on file as /Structures/Framing/Simpson_Framing_Protectors.pdf ]. "The information in this guide is a summary of requirements from the 2003, 2006 and 2009 International Residential Code (IRC), International Building Code (IBC), International Plumbing Code (IPC), International Mechanical Code (IMC), 2006 Uniform Plumbing Code (UPC) and the 2005 National Electrical Code."
"Electrical System Inspection Basics," Richard C. Wolcott, ASHI 8th Annual Education Conference, Boston 1985.
"Simplified Electrical Wiring," Sears, Roebuck and Co., 15705 (F5428) Rev. 4-77 1977 [Lots of sketches of older-type service panels.]
"How to plan and install electric wiring for homes, farms, garages, shops," Montgomery Ward Co., 83-850.
"Simplified Electrical Wiring," Sears, Roebuck and Co., 15705 (F5428) Rev. 4-77 1977 [Lots of sketches of older-type service panels.]
"Home Wiring Inspection," Roswell W. Ard, Rodale's New Shelter, July/August, 1985 p. 35-40.
"Evaluating Wiring in Older Minnesota Homes," Agricultural Extension Service, University of Minnesota, St. Paul, Minnesota 55108.
"Electrical Systems," A Training Manual for Home Inspectors, Alfred L. Alk, American Society of Home Inspectors (ASHI), 1987, available from ASHI. [DF NOTE: I do NOT recommend this obsolete publication, though it was cited in the original Journal article as it contains unsafe inaccuracies]
"Basic Housing Inspection," US DHEW, S352.75 U48, p.144, out of print, but is available in most state libraries.
Books & Articles on Building & Environmental Inspection, Testing, Diagnosis, & Repair
Our recommended books about building & mechanical systems design, inspection, problem diagnosis, and repair, and about indoor environment and IAQ testing, diagnosis, and cleanup are at the InspectAPedia Bookstore. Also see our Book Reviews - InspectAPedia.
Recommended books on electrical inspection, electrical wiring, electrical problem diagnosis, and electrical repair can be found in the Electrical Books section of the InspectAPedia Bookstore. (courtesy of Amazon.com)
...
...