Master Photo Guide to Asbestos-containing Products & Materials

ASBESTOS PHOTO GUIDE to Materials - CONTENTS: Photographs illustrate a detailed list of the forms & products in which asbestos was used in thousands of products - a photo guide to identify asbestos-containing products and materials

How to recognize most asbestos-containing materials in buildings - photographs & information about asbestos-containing materials in or on buildings

ASBESTOS LIST of PRODUCTS - separate article
POST a QUESTION or READ FAQs about how to visually identify asbestos containing materials and products
InspectAPedia tolerates no conflicts of interest. We have no relationship with advertisers, products, or services discussed at this website.
Asbestos product photo guide: this article provides a photo guide to and list of asbestos-containing products & materials, and links to detailed articles about individual asbestos-containing products & materials found in buildings and in a wide range of products used in both home and industry. We include photographs of a very wide range of examples of asbestos-containing products & materials found on or in or around buildings as well as other ACM products.
Green links show where you are. © Copyright 2014 InspectApedia.com, All Rights Reserved.
PHOTO GUIDE to ASBESTOS MATERIALS - List & Photographs of Asbestos-containing Materials used in buildings, Homes, Appliances, Products, and industry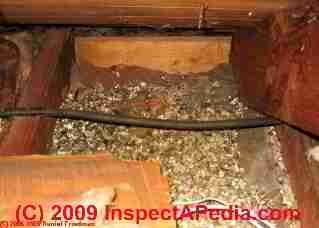 Here is our extensive list of the many forms in which asbestos was used. This list includes photographs of asbestos-containing materials and our links to more detailed articles about individual asbestos-containing products where you will find more photographs or descriptions of these materials.
These asbestos and asbestos-containing product photographs can assist in recognizing possible asbestos-containing materials, especially in old buildings, mechanical systems, or in old equipment. We include links to detailed articles about these individual asbestos-containing products.
While an expert lab test using polarized light microscopy may be needed to identify the specific type of asbestos fiber, or to identify the presence of asbestos in air or dust samples, many asbestos-containing building products not only are obvious and easy to recognize, but since there were not other look-alike products that were not asbestos, a visual identification of this material can be virtually a certainty in many cases. Also see Micro-Photographs of Dust from the World Trade Center collapse following the 9/11/01 attack. Links to U.S. government and other authoritative research and advice are included.
This document and other asbestos identification articles given here aid building buyers, owners or inspectors who need to identify asbestos materials (or probable-asbestos) in buildings by simple visual inspection. We provide photographs of asbestos containing materials and descriptive text of asbestos insulation and other asbestos-containing products to permit identification of definite, probable, or possible asbestos materials in buildings. Readers should also see our master list of asbestos containing products and materials found at ASBESTOS LIST of PRODUCTS. Contact Us to add items and photographs to this list of asbestos containing materials.
Asbestos Hazard Basics
Asbestos was banned in all home construction uses beginning in 1990, but beware: pre-1990 products might have been used in some homes built shortly afterwards.
Low asbestos risk in some materials: One should note that some of these products contain such small amounts of asbestos, or asbestos in forms not easily converted to airborne fibers (non-friable), that the risk from the product is likely to be very small. One might elect to dispose of an old asbestos-containing toaster, but not to hire an environmental test firm or asbestos abatement company for that procedure.
Many other asbestos-containing products, both historic and among some current products, encapsulate the asbestos fibers in cementious or resinous materials which minimize the possible release of asbestos fibers into the air.
Note: most of the uses of asbestos listed here are obsolete and the products mentioned have not been manufactured for quite some time. However these products may still be encountered, particularly in older buildings and among old consumer products.
However some current materials may contain and are permitted to contain asbestos. In May 1999 Asbestos Materials Bans Clarification was issued by the U.S. EPA clarified that there are some categories of asbestos-containing products that are NOT subject to a ban.
For example, the Asbestos National Emission Standards for Hazardous Air Pollutants, or NESHAP) rules issued in November, 1990 prohibits spray-on application of materials containing more than 1% asbestos to buildings, structures, pipes, and conduits unless the material is encapsulated with a bituminous or resinous binder during spraying and the materials are not friable after drying. [Italics inserted by -DF]. Thanks to Susan Kimball, Argus Pacific, for this clarification.
See ASBESTOS REGULATION Update for details and then see EPA Asbestos Materials Bans: Clarification 1999 - 2003 clarification for a description of what asbestos-containing materials are currently banned or not banned in the U.S.
Asbestos Product Pictures - Alphabetic List of Uses of Asbestos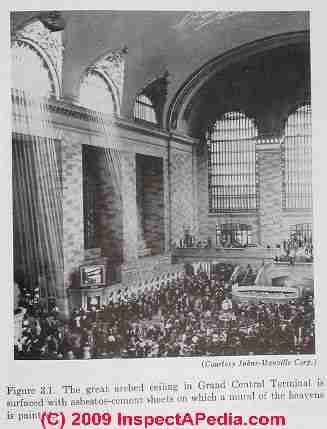 Rosato's photo shows asbestos cement sheets that were used to line the arched ceiling in Grand Central Terminal in New York City. The asbestos sheets served as a base for painting a mural of the heavens.
Abrasives containing asbestos were manufactured but saw limited use. Fibers were used as fillers with rubber-resins in a combination of theses substances in relative proportions by weight: asbestos fibers (25p), sulfur (100p), latex rubber (100p), Water (100-200p), and dry Hemoglobin (25p). This material was heated and shaped into hard forms such as rods for special applications. Abrasives that used asbestos are described at ASBESTOS OTHER PRODUCTS.
Acoustical ceiling tiles contained asbestos
Adhesives were manufactured containing asbestos and are discussed at ASBESTOS OTHER PRODUCTS.
Ammunition wadding contained asbestos
Appliances that contained asbestos include: older blankets (electric-blankets), broilers, clothes dryers, dishwashers, refrigerators, ovens, ranges, toasters, toaster ovens, hairdryers, popcorn poppers, may contain asbestos gaskets or asbestos-containing parts.

Asbestos use in appliances was banned in 1979 but in most cases the asbestos-containing parts are unlikely to be a source of health concern, except for hair dryers that contained asbestos heat shields. Hair dryers using asbestos were recalled in 1979.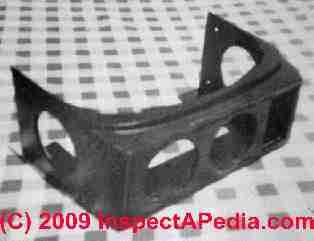 Asbestos-containing automotive parts such as this automobile air-conditioning housing (photo at left) made of a polyester premix compound containing 55 percent asbestos (Rosato, courtesy of Houston Reinforced Plastics Co.)
Asbestos-cement flat sheets & wallboard used for interior sheathing (refrigerator rooms), partitions, instrument mounting boards, tank liners, blackout or bombproof board, exterior sheathing for half-timbered home designs, lab table tops, cabinets. See Asbestos millboard
Asbestos cloth, asbestos fabrics were used for packing, insulation mattresses, firefighting blankets, ironing board covers, prison cell padding, berets, theatre scenery, and HVAC duct vibration dampers as well as a huge number of other applications. For a photo example see ASBESTOS DUCT VIBRATION DAMPENERS. For details about asbestos fabrics see ASBESTOS TEXTILES.
Asbestos composition material such as insulation compounds, lamp sockets, underground insulation, phonograph records, buttons, heater cord insulation, missile and aircraft plastics
Automotive products containing asbestos included not only the widely recognized brake shoes pads, but also automotive undercoating paint to which asbestos fibers were added. Asbestos was used in plastic-formed housings in automobiles, such as air conditioner duct housings shown just above.[5][11]
Automotive undercoatings contained asbestos and other fibers as a filler or strengthener. Asbestos use in automotive undercoatings is cited by various reliable sources including these citations: [5][11]Asbestos automotive undercoating is described at ASBESTOS OTHER PRODUCTS.
Asbestos Bearing Components: asbestos has been used in many industrial components including in gaskets or seals that are not necesssarily visible, such as the asbestos-containing bearings shown just below. Photos of asbestos in bearing materials were provided courtesy of

Damian Murphy

, of Mairin OHS&E Consulting Pty Ltd in Moe, Victoria, Australia, an Australian asbestos testing laboratory technician. - http://mairin.net.au - [11] Mr. Murphy offered these comments:
A client brought in some shaft bearings from a 78" butterfly valve installed in [a commercial facility] in Australia. They were full of chrysotile asbestos. I had previously never heard of asbestos being used in this way and couldn't see any reference to it on your site so I thought I would drop a line with a photo. These bearings are approximately 21cm diameter and 13cm wide. (The second picture of the valve at above-right is just a generic butterfly valve to indicate where the bearings were located in the valve.) - D.M. 3/12/2013
Asbestos Base flashing and asbestos fibers used in roofing mastics and sealants (generally not friable).
Asbestos Brake pads & Clutch facings and other automotive parts such as gaskets, a hazard for automotive repair garage workers; brake shoes containing asbestos were used in applications other than automotive, such as elevator brake shoes and brake shoes on other machinery.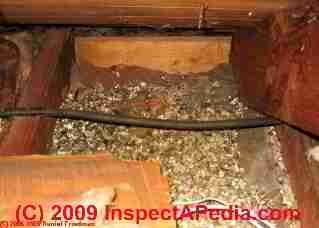 Asbestos Bricks made of asbestos were fabricated, often for use as heating boiler or furnace combustion chamber or kiln liners; we found asbestos bricks and slab materials as well as asbestos wet-pack relining materials used in oil fired heating boiler and furnace combustion chambers. See ASBESTOS OTHER PRODUCTS.
Asbestos Building insulation: depending on the mine from which it was obtained, some vermiculite insulation (photo at left), a loose-fill building insulation material, contains asbestos. See VERMICULITE INSULATION.
Asbestos Carpet underlayment - old products

Asbestos Caulking putties - see putty. Asbestos use in caulks & sealants is described further at Asbestos automotive undercoating is described at ASBESTOS OTHER PRODUCTS.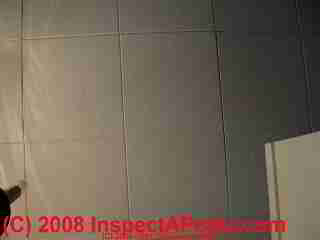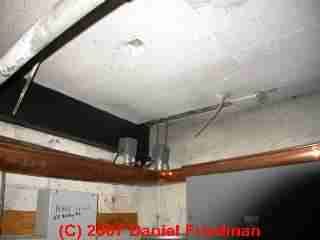 Asbestos Ceiling fireproofing panels (photo at left) also included tremolite asbestos - particularly hazardous. Even in good condition this material may be hazardous and should be professionally evaluated and removed. See FIREPROOFING ASBESTOS SPRAY-ON.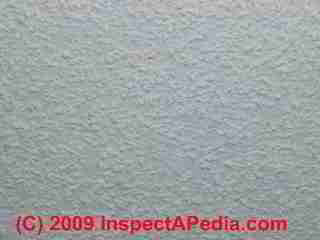 Asbestos Ceiling paints, textured or popcorn ceilings containing asbestos included spray-on acoustical ceilings and ceilings sprayed for fireproofing.

Textured ceiling paints were particularly popular in North America in the 1970's. If you are considering removing textured ceiling paint or "popcorn ceiling paint" in a building, since removing popcorn ceiling paint or textured paints that may contain asbestos are trickier than you may realize.

Details about recognizing & dealing with textured ceiling paints or popcorn ceilings that main contain asbestos are at CEILING PAINT TEXTURED ASBESTOS

Asbestos Cements and cementious products including some cement pipes contained asbestos fibers as a strengthening material. Asbestos cement roof ing is described just below, and cement wallboard and cement siding containing asbestos are described later in this document.

Complete details about asbestos cement history, composition, products and hazards are found at ASBESTOS CEMENT PRODUCTS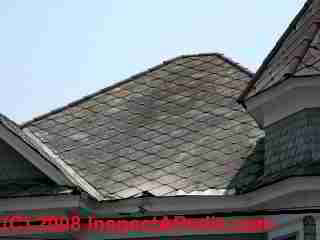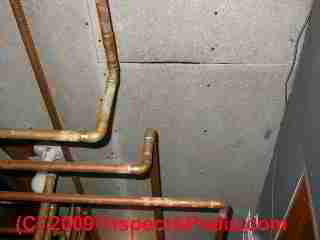 Asbestos Cement board used as a "fire proofing" over and near boilers and wood stoves - also called "cement wallboard" and "asbestos millboard".
Asbestos millboard (photo at left) used for stoves and heaters, in garages, as fireproof wallboard, as gaskets, as washers in electrical applications, stove mats, safes, motion picture booths, automobile hoods. Asbestos millboard is a cementious product that was produced in sheets and used for fire barriers and in other applications.

The material is quite similar to cement asbestos roof shingles and siding, and was produced in sheets of varying thickness (typically 1/8"- 1/4") and dimension depending on its intended use.

Asbestos millboard was used as a fire barrier behind and over and around wood stoves, coal stoves, & heating appliances in buildings up to 1978. It was also used in some locations where a moisture-resistant building material was desire. Also see Asbestos cement flat sheets.
Comparing drywall, plasterboard, and cement asbestos millboard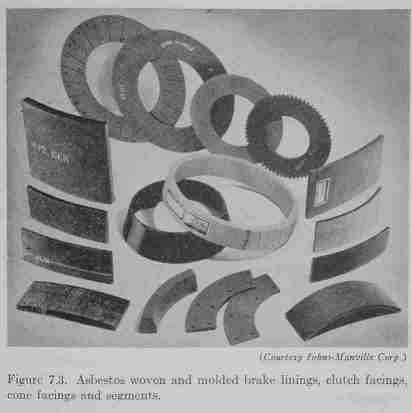 Above we illustrate a fragment of cement asbestos millboard that is about 1/8" thick and his hard - cementious, and at above right we take a look at the edges of two layers of drywall or plasterboard in an older home - showing that that material, principally made of gypsum, is comparatively soft, paper-faced, and easily cut with a knife.
Note that older drywall products and drywall joint compound often also contained asbestos. Also see DRYWALL, PLASTER, BEAVERBOARD
Asbestos Brake & Clutch parts used in automotive & other industries (Rosato)
Clothes dryers used asbestos on internal parts as gaskets, wiring covering, and possibly insulation
Asbestos Coatings to protect sheet iron and metal ware were sometimes performed using a solution of asbestos, soluble silicates, and phenolic resin to protect metal from oxidation when exposed to heat.
Asbestos Cooling tower components
Asbestos Deck undersheeting on building exterior Dishwashersused asbestos as internal insulation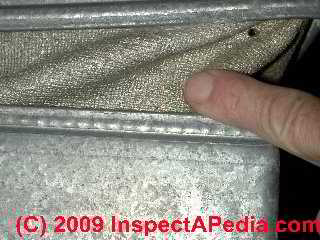 Duct Asbestos insulation: asbestos paper was used to wrap the exterior of heating ducts and their connection to heating registers. See ASBESTOS AIR DUCTS. Asbestos fabric was used to form the vibration damper at the connection between heating ducts and heating furnaces.

See ASBESTOS DUCT VIBRATION DAMPENERS. (Photo at left).
Asbestos Ducts for heating systems: air ducts, especially where air ducts were buried in concrete floors and slabs, were made using transite pipe. See TRANSITE PIPE AIR DUCTS for identifying photos and also a list of problems that occur with this type of duct system.

IL DEC asserts that asbestos was used for air duct lining; we have found this material on the exterior but not the interior of air ducts (but don't rule it out).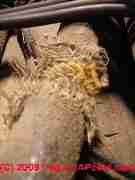 Asbestos Electrical Wiring: Electrical wiring insulation, such as in theatres, may contain asbestos. Also electrical wires in electric range tops and possibly some electric ovens and clothes dryers. The photo shown here (at left) is of old theater wiring which often includes asbestos wire insulation. Here is a second photo of theater wiring with asbestos-suspect covering. [Photos of theater wiring contributed by randomblogmail] See ASBESTOS ELECTRICAL INSULATION.
Asbestos Electric motor parts such as Quinterra-wrapped coils in an electric motor armature
Asbestos Elevator equipment panels: to resist heat from fires to try to keep elevators working in a fire
Asbestos Exterior siding: Cement-asbestos wall shingles - outside, and not easily friable unless being demolished or cut with power tools. See photos at Asbestos Siding in this document. And see ASBESTOS CEMENT SIDING for details about cement asbestos building siding, its repair, removal, demolition, or cover-over.
Fabrics that contained asbestos or were made entirely of asbestos were numerous and were used in a wide range of applications such as aluminized suits for fire-fighters, foundry workers, and furnace repairmen. See Fireproofing, Gaskets, and Textiles for examples.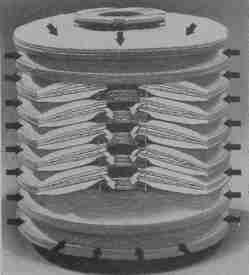 Asbestos Filters containing asbestos for various applications were made containing long asbestos fibers. (Photo at left - Rosato)

Chrysotile asbestos was used for filtering wines, fruit juices, beer, pharmaceuticals, sugar, blood plasma, and other liquids as well as filters for gases including simple air filters used for military purposes in order to attempt to filter out certain toxic substances. Blue Bolivian and blue African asbestos were important asbestos fibers that in combination with cellulose formed a paper sheet used for fine filtration.

Arizona chrysotile and Canadian chrysotile asbestos fibers were used similarly for operation at high temperatures and because very small particles could be filtered. Asbestos fabrics and felts were used in these filtering applications.
Details are at ASBESTOS FILTERS.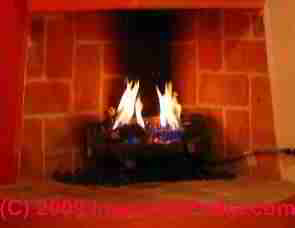 Asbestos Fireplaces, Asbestos fireplace logs, steel zero-clearance insert fireplaces, wood stove gaskets, gas fireplaces, gas fireplace "fake" logs - prior to 1977.

Click the photo at left to see more details (with the fire out). See more photos of asbestos used in fireplaces at ASBESTOS in UNUSUAL PLACES.

Asbestos Fire barriers: Cement-asbestos boards used as fire or heat barriers, such as over and around heating equipment. Also fire blankets (used by fire departments) and fire curtains both as fire barriers and in some theaters.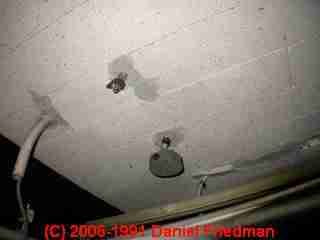 Asbestos Fireproofing: Asbestos spray-on insulation or trowel-on for fireproofing on structural members or under roofs in commercial buildings - has been banned since 1973. Our photo (left) shows tremolite asbestos ceiling insulating panels.

Spray-on or troweled on ceiling or wall materials used between 1945 and 1978 may have contained high levels of asbestos fibers. These materials are often soft and crumbly - easily made friable.

If the sprayed-on or troweled-on asbestos fireproofing material in a building is loose, falling off, or damaged, it should probably be professionally repaired or removed by a trained qualified asbestos removal contractor.

See FIREPROOFING ASBESTOS SPRAY-ON and ASBESTOS INSULATIONBecause there are also modern spray-on fireproofing materials that look a lot like the older asbestos-containing material, if documentation is not available confirming the age and composition of a spray-on fire resistant insulation product, lab testing may be needed.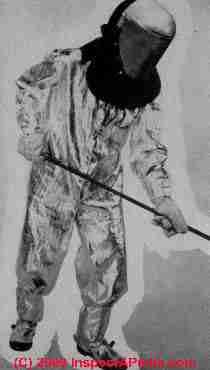 Asbestos Fire Protective Suits & Clothing, such as the fire gear shown in our photo (left) provided to Rosato by Mine Safety Appliances, Corp. Asbestos blankets were provided to and used by fire departments for use in firefighting.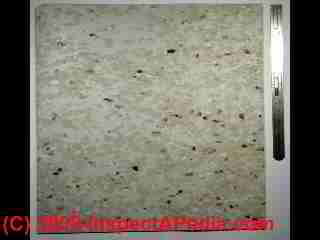 Asbestos Flooring materials in buildings: such as vinyl-asbestos floor tiles. Flooring backing materials such as the backing on sheet flooring also contained asbestos in some products. Sheet flooring such as early vinyl flooring contained asbestos fibers and filler.

Asbestos Flooring and floor tiles can contain hazardous amounts of asbestos fiber, released during demolition, sanding, cutting, grinding, polishing, or even by being walked-on in high traffic areas, in particular, where asbestos fibers were added to asphalt-based floor tiles. Asbestos in flooring products was also used in Vinyl Asbestos Sheets, Tiles, and Undersheeting. Asbestos fibers were also often contained in the mastic used to attach some flooring products.

Our photo (above-left) shows an asbestos-vinyl floor tile marketed by Montgomery Wards.
For a photo guide to vinyl-asbestos floor tile patterns, sizes, and years of manufacture, see ASBESTOS FLOOR TILE IDENTIFICATION PHOTOS by YEAR
See Floor tiles that may contain asbestos for details about asbestos-containing flooring products.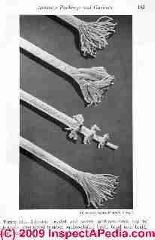 Asbestos Gaskets made of or containing asbestos were fabricated to withstand high pressure and high temperature applications such as steam equipment, and rope gaskets made of braided or woven asbestos were widely used in many applications where a thick rope-like gasket sealer or asbestos packing was needed. These asbestos yarn gaskets were found, for example, on wood and coal stove doors and lids in many products.

Photo of braided asbestos ropes and packing gaskets is from Rosato.
Asbestos Gasket materials such as braided asbestos packings and rope gaskets and sheet gaskets used in a wide variety of applications such as wood stoves, coal stoves, oven door gaskets, possibly some dishwashers, automotive engine head gaskets (often sandwiched between metal plates);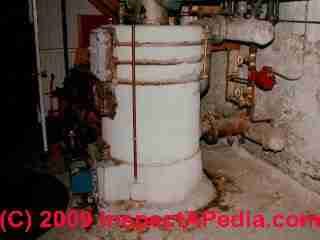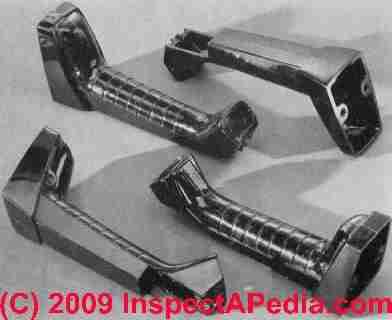 Asbestos handles for appliances, (photo above, Rosato, Courtesy Durez Plastics Division, Hooker Electro-Chemical Co.) included difficult asbestos-plastic moldings using a hollow center that was used to carry the electrical thermostat and wiring for the Dominion electric skillet.
Asbestos covered hoses such as this flue cleaning hose (photo below, Rosato, courtesy of the Gates Rubber Co.) were produced to avoid transfer of heat to the hands of the operator using the hose to clean flues, or to resist fire damage such as asbestos fabric fire hoses. Also see ASBESTOS TEXTILES.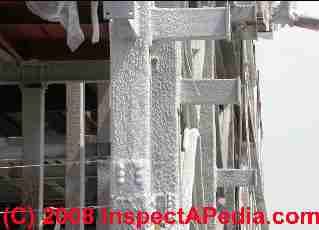 Asbestos Insulation used in walls and floors included asbestos or asbestos-containing products. Also spray-on fireproofing insulation.

See ASBESTOS INSULATION and in the list above also see "Fireproofing".

Blown-in insulation that may contain asbestos includes some brands of vermiculite.

Homes constructed between 1930 and 1950 may contain wall or ceiling insulation made of asbestos. In these homes asbestos insulation was placed in the wall cavity behind a plaster and lath or plasterboard finish wall.

Some sources (Illinois EPA) indicate that asbestos was used for loose blown-in fill building insulation as well as batt insulation.

Asbestos wall or ceiling insulation should be left un-disturbed, but if building construction or renovations require that it be disturbed, then an asbestos remediation professional should be consulted.

See examples of asbestos insulation products at
Asbestos Joint compound and ceiling or wall patching compound manufactured up to 1977 may contain asbestos fibers. It's best to leave this material alone or cover it over during renovations.
Asbestos Lubricants containing asbestos particles and fibers were used in industrial applications. The asbestos fibers were added in amounts from 5% up to 50% by weight to lubricants to give solidity and to control the rate at which lubricant greases would melt. Studies showed that these asbestos-containing lubricants were more effective than other lubricants in heavy-duty applications such as tractor roller greases and clothes washing machine gears. Roasato in estimated that by 1952 millions of pounds of asbestos-filled lubricants had been used in the U.S. Lubricants that made use of asbestos are detailed at ASBESTOS OTHER PRODUCTS.
Asbestos Mastics and adhesives used in construction and in flooring or ceiling tile installation including vinyl or asphalt vinyl or asbestos vinyl floor tiles, carpet tiles, ceiling tiles.
Medical uses of asbestos included an asbestos foot powder which used 50% by weight of powdered asbestos and talc. Details are at Asbestos automotive undercoating is described at ASBESTOS OTHER PRODUCTS.
Paints, varnishes, finishes, & textured paint on older buildings may contain asbestos fibers, particularly where fireproof paint was needed. Also an asbestos-oil based paint was used where acid resistance or metal corrosion resistance were needed. Asbestos-filled asphalt paint was used damp proofing on building foundations and as a roofing sealant for many decades up to 1978. The "popcorn ceiling" spray-on paint used in homes before 1978 often contained asbestos fibers and should not be demolished without taking appropriate precautions.

See CEILING PAINT TEXTURED ASBESTOS. And paints containing asbestos are also described at Asbestos automotive undercoating is described at ASBESTOS OTHER PRODUCTS..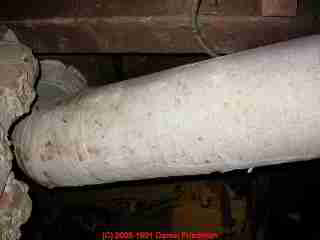 Asbestos paper used for a wide range of applications including in roofing products, filing cabinet liners, soldiers helmets, armored car roofs, welding applications, boiler jackets, gaskets, motor parts.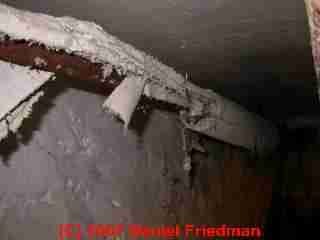 Asbestos Pipe insulation made of high asbestos content papers (for straight pipe runs) and mastics (for pipe elbows) were applied on hot water and steam heating systems and occasionally also on ordinary building plumbing piping. See ASBESTOS PIPE INSULATION.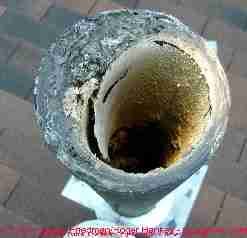 Asbestos Cement Pipes used for air ducts or chimneys contained asbestos. Cement asbestos pipe was used for water piping (mains in streets) and for plumbing vents on homes (photo at left).

See Transite Pipes, Chimneys & Flues and TRANSITE PIPE AIR DUCTS for identifying photographs and advice.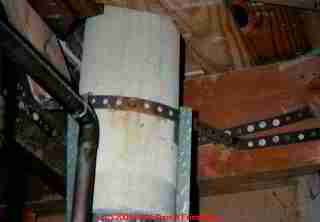 Asbestos pipes such as the cement asbestos or transite pipe used for a gas chimney in our photo above were used for water, sewage, gases, special liquids, as gas vent pipes (photo at left), as conduits, as air ducts, and as purlins, rafters, etc. for wartime buildings. See ASBESTOS PIPE INSULATION

Also see this a photo of Asbestos Cement Water Piping being installed (Rosato).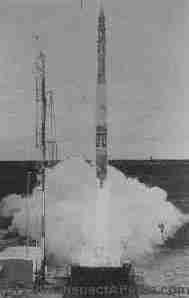 Plastics containing asbestos were a very important product that saw widespread application in automotive and other industries. Asbestos fibers were used to reinforce or fill plastics made of phenolic resins (phenol-formaldehyde resins) since the development of those products beginning in 1909.

Examples of asbestos-containing plastic resin products include automobile air conditioner housings, door and other handles, electrical components, roofing products, brake linings, door stripes,electrical spools, structural tiles, wood veneer panels, acid proof coatings, and innumerable other products. -- Cummins
Asbestos Plaster, plaster used for acoustical ceilings
Asbestos Potholders and ironing board pads - old products
Raw asbestos, such as for making yarn, flooring, rope, automotive parts, insulation materials, sewer piping, auto body undercoating
Asbestos in road surfacing materials is discussed at ASBESTOS OTHER PRODUCTS.
Asbestos Rocket motor tubes and other products in aerospace and missile programs. Shown (from Rosato) is a U.S. Navy official photo of a Vanguard rocket. Asbestos parts included the 6 1/2 foot nose cone, electrical and thermal insulation, conduits, etc.
Asbestos Packing materials such as loose packing and rope and gasket packing materials used to seal pipe penetrations between building areas
Asbestos Used In Pianos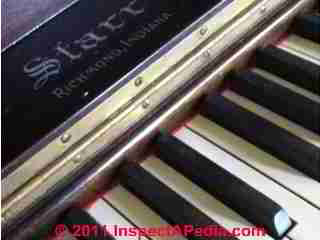 Reader Question: Did the Starr Piano company use any asbestos in any part / parts in there Star Remington Model?
Reply:
Certainly where asbestos is a general concern, an inspection onsite by an expert will provide far more assurance about asbestos risks than we can provide by web discussion. That said:
Asbestos was used in some piano padding. I have not found a referral to asbestos specifically used within pianos themselves. However it wouldn't surprise me if pianos made for humid climates didn't use asbestos millboard for some component parts.
Details about the use of asbestos in pianos are found at see ASBESTOS in PIANOS
Asbestos Paints and coatings, including textured paints and heat resistant paints; also popcorn spray-on paint used on ceilings. See CEILING PAINT TEXTURED ASBESTOS
Asbestos Powders including talcum powder and foot powders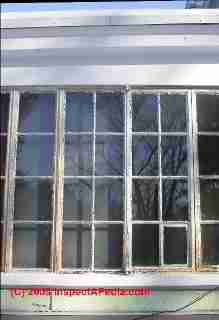 Asbestos Putty: Window or Plumber's Putty, such as asbestos-containing window putty (photo above) from some manufacturers may contain asbestos fibers. (Unlikely to be friable nor a meaningful source of airborne asbestos hazards except perhaps during demolition of a very large amount of such material.)

Here is a closeup photo of window putty from the 1950's vintage steel casement windows shown at left. This putty was tested and confirmed to contain asbestos fibers and filler.
Asbestos Range hoods on cookstoves used asbestos products
Asbestos Road paving containing asbestos: was experimented with in the early 1950's, and rubber latex compounds to which asbestos fibers were added was used for road surfacing.
Asbestos Roofing materials (photos above) containing asbestos included: asphalt roofing shingles (photo above left) and other products that contained asbestos fibers such as asphalt shingles, roll roofing, and asphalt sealants, coatings, some roofing felts, and mastics, and also Cement-asbestos roof shingles and corrugated cement asbestos sheet roofing (photo above right) - a cementious product also used outside, and not easily friable unless being demolished or cut with power tools.

See ASBESTOS REGULATION Update and ASBESTOS ROOF MATERIALS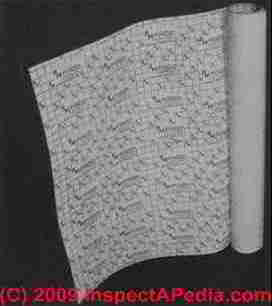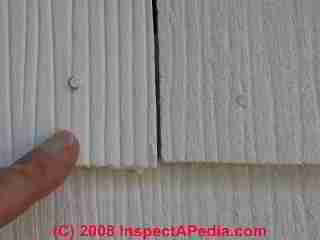 Asbestos Siding: some building siding materials contain asbestos: Cement-asbestos siding shingles (photo at left) (non-asbestos-containing replacement products now available) and cement asbestos board siding as well as undersheeting.

This is a cementious material and is unlikely to release significant levels of airborne asbestos fibers unless during severe demolition activities or someone using a power saw or sander on the material.

See ASBESTOS CEMENT SIDING for more details about cement asbestos building siding, its repair, removal, demolition, or cover-over.
Asbestos Spackling compounds - see joint compounds and drywall
Asbestos Spray-on decorative coatings containing asbestos have been banned for use in buildings since 1978
Stoves and Asbestos stove gaskets, wood stoves, coal stoves, and some kitchen ranges, used asbestos fibers; asbestos fibers were a significant component of asbestos millboard (a cementious asbestos sheet product) used as a fire barrier behind and over wood stoves, coal stoves, & heating appliances in buildings up to 1978.
Asbestos tape, used for oil burning apparatus, oven pull strings, insulating armatures, electrical wire insulation
Asbestos Taping compounds such as joint compound intended to be heat resistant and other drywall joint compounds in general.
Asbestos Textiles that contained asbestos included: felts, and yarns were produced for a wide range of uses that we list just below. Asbestos-based textiles used longer and better grade asbestos fibers such as Quebec Standard Crudes No. 1 and No. 2 and Group 3 chrisotile asbestos, crocidolite asbestos, and amosite asbestos, sometimes in blends. Blue asbestos textiles were manufactured for acid resistant applications using pure crocidolite. Standard numbering systems were used to identify different asbestos textiles.


Flue cleaning hose is covered with a braid of heat resistant asbestos cord. Such a cover protects the hose from the hot walls of flues and resists the transfer of heat to the hands of the operator. (Courtesy The Gates Rubber Co.) Details are at ASBESTOS TEXTILES

ASTM D299-52 numbered types of asbestos yarn, for example. Asbestos textiles were further described (and represented by identifying digits) by cut, number of plies, and amount of metallic strand in the fabric. "Cut" for asbestos fabrics was calculated as (grain weight of 100 yards of a single yarn) / 7000 grains. "Plies" in asbestos yarn refers to the number of asbestos yarn strands twisted together. ASTM D677-50 pertained to woven asbestos cloth. ASTM D577-52 provided methods for testing asbestos cloth for heat resistance.

For details see ASBESTOS TEXTILES.

Here is a list of typical uses of asbestos in textiles:

In fabrics, asbestos used was predominantly Chrysotile, sometimes blended with crocidolite and amosite.
Brake linings
Cloth for a variety of applications ranging from furnace vibration dampers to aluminum-coated high temperature protective clothing
Electrical tape
Fire hoses
Filters
Gas mask filters
Gaskets & gasket cloth
Packing's
Rope
Safety clothing
Spark plugs
Steam hoses
Stocking covers for lead cables
Tubing
Twine & sewing thread
Vibration dampers in duct work - see ASBESTOS DUCT VIBRATION DAMPENERS
Wire coverings for electrical wire or fixture components
Other products where fire and heat resistance were needed


Textured Asbestos paint used on building interiors included asbestos fillers and fibers. See asbestos ceiling paint above.
Theaters: Asbestos products in theaters included products to localize or control fires, wall sections in sets, fireplace fireboxes, fake dust on cobwebs, camera booth insulation, noise insulation, and for dressing scenes as having winter snow! Electrical wiring in theaters, especially for lighting, was often jacketed in an asbestos-braided fabric to resist fire.
Thermal Asbestos paper products - see Ducts or Asbestos Paperfor examples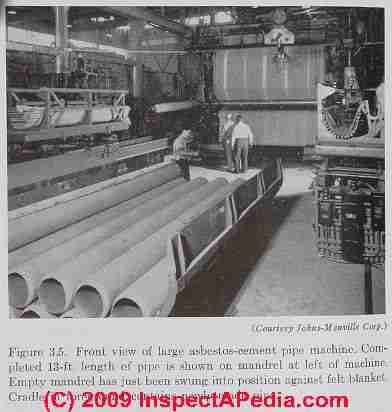 Transite Asbestos pipes, a cement-asbestos product, were widely used for warm air heating ducts, especially embedded in floor slabs, also for gas fired heating appliance chimneys, and for water transport in some cities as well.

See Transite Pipes, Chimneys & Flues and TRANSITE PIPE AIR DUCTS for identifying photographs and advice.

Photo at left from Rosato shows asbestos-cement pipe coming out of the fabricating machine.

Vermiculite Asbestos building insulation can contain significant levels of asbestos fibers, or little or none, depending on the mine from winch the vermiculite was obtained. See VERMICULITE INSULATION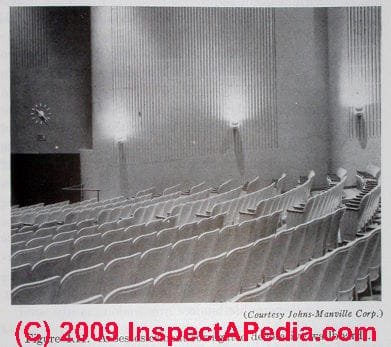 Asbestos Wallboard: used as fireproofing in a cement-asbestos form on furnace and boiler room ceilings and walls, and corrugated decorative wallboard used in theaters. Photo at left from Rosato. Wallboard (drywall) joint compound contained asbestos.
Water heater Asbestos : used asbestos for water heater jacket insulation

Asbestos Welding rods containing asbestos were produced in which asbestos was added to a potassium silicate to form a paint-on coating for wire electrodes used in arc welding. Asbestos used in welding rods is described at ASBESTOS OTHER PRODUCTS.
Asbestos wick packing used for packing for piping, armor plate, etc.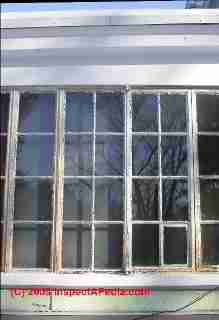 Asbestos Window putty - asbestos was used as a filler in window putty used to secure glass panes. A window putty removal procedure is suggested by U. Washington. We suggest that in some cases it may be more economical to replace the window.

Other environmental and health agencies such as U. Washington EHS point out that window putty binds asbestos in a matrix - depending on its condition it may not be a hazard.
Here is a closeup photo of asbestos-containing window putty from the 1950's vintage steel casement windows shown at left. This putty was tested and confirmed to contain asbestos fibers and filler.

If the window putty is cracked, drilled, sanded, or otherwise disturbed, it could result in the release of asbestos fibers into the air that could present a health risk. OSHA has cited contractors for exposing workers to asbestos during window renovations (June 1997) Window putty is normally on the exterior of windows: it is unlikely that it will release measurable levels of asbestos fibers indoors except during remodeling or demolition.

Based on their age, we would have guessed that the steel casement windows shown in our photo (above left) included both lead paint and asbestos-containing window putty. Lab tests confirmed that the window putty contained asbestos. The building owner was able to significantly reduce the cost of removing this asbestos material by having the contractor remove the entire windows intact rather than attempting to remove every inch of putty from the frames. The windows were replaced with newer more energy-efficient units.
Asbestos Woodstoves gasket materials used in doors and also between some wood stove sections; possibly also on some coal stoves and other similar appliances; heat reflectors and heat protection coverings for woodstoves were made of asbestos millboard or cement board, or metal-covered asbestos material. We have observed that metal covered asbestos heat shields used a soft friable asbestos board product.
Asbestos yarns, such as used to make asbestos cloth, gas mantles, fire hoses (see ASBESTOS TEXTILES). Asbestos ropes used as gaskets are discussed at ASBESTOS PACKINGS & GASKETS.
Reader Question: I want to work on my heating equipment - does it contain asbestos?
Thank you for your website. I would like to do the work on my furnace safely, and knowing if that material contains asbestos would be helpful. - Mark Seashock
Reply: Examples of visibly detected asbestos on heating equipment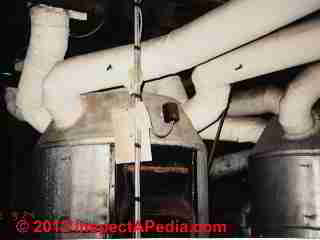 Mark, in our articles and photos there are quite a few of asbestos insulation installed on heating equipment, mostly boilers, and I have found asbestos corrugated paper insulation right inside the air plenum some older heating furnaces as well as of course ubiquitous asbestos pipe insulation, and paper duct wrap (photo at left).
Some of these materials are unmistakably asbestos-containing as there were not other look-alike products that did not contain asbestos.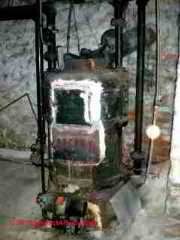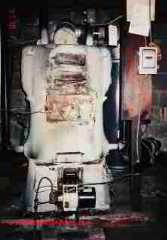 In other cases, such as pipe lagging and plasters used on piping elbows, the material content may be more uncertain. If you are in doubt, do not disturb the material, and don't run a conventional (non-HEPA) vacuum cleaner to clean up dust and debris in the area before you have had an inspection by an expert and/or testing by a certified asbestos testing laboratory.
Our photo (above left) shows a coal-fired heating boiler converted to an oil burner, from which asbestos insulation was almost certainly removed. What about that white cementious plaster sealing the combustion chamber doors? Apparently it was added after the asbestos jacket was removed. Uncertain? Test it. Our photo, above right, shows a traditional asbestos-insulated heating boiler of similar vintage. More details are at
More Reading
Green link shows where you are in this article series.
...
Frequently Asked Questions (FAQs)
Question: reader comments on testing for asbestos
Pays to consult an expert, siding & walls to sewing thread. I cant tell the difference. Better safe than sorry. Life is far more important than dollars. - Karen 5/27/11
Reply:
We agree that in particular if faced with a possibly costly asbestos remediation cleanup, the only proper way to proceed is to use qualified experts.

However for the more general question of whether or not a product may contain asbestos, it's worth noting that some asbestos products are unmistakable by visual inspection while others require an expert qualified asbestos testing lab.
Question: Has asbestos been banned completely?
Has asbestos been banned? - Todd
Reply:
No, Todd, there has not been a comprehensive ban on asbestos in North America.
See ASBESTOS MATERIAL REGULATIONS and ASBESTOS MATERIAL REGULATIONS Update and ASBESTOS MATERIAL REGULATIONS, OSHA for details for legislative citations.
Follow-up: reader comment:
I reviewed your "Asbestos Materials Regulations" section as well as your "Asbestos Regulation Update" as suggested.
But I found no mention of a ban of asbestos in home construction, and actually found the statement issued by the EPA in their 1999 Clarification document,
EPA has no existing bans on most other asbestos-containing products or uses
(other than)
1) Spray applied Surfacing >1% and not encapsulated,
2)wet applied and pre-formed pipe insulation, and pre-formed block insulation on boilers and hot water tanks,
3) Corrugated paper, rollboard, commercial paper, specialty paper, flooring felt, and new uses.
What am I missing?
(Keep in mind I am speaking from a United States perspective, not international.)
Reply:
Quite so Todd, it's been interesting to monitor changes in government and other agency language about asbestos as political climate in the U.S. has changed. However you are misinterpreting the very data you cite.
For example, asbestos heating pipe insulation was widely used in and remains present in many thousands of homes in the U.S. and in many cases remains not encapsulated (items 1 and 2 in the text you quote).
Item 3 in the text you quote is also found wrapped on heating and plumbing pipes and has been found in the air plenum of some older furnaces, as well as in in specialty paper found on heating air ducts.

It might be helpful for you to review the huge list of asbestos containing products.
Question: [Reader comments]
Thanks very much for the articles and the resources re: asbestos containing materials. They have been most useful and informative. I am wondering if you can specifically address the possibility that bricks and mortar used for fireplace hearths and exterior siding, etc. in the mid-1960's contain asbestos. I contacted my local waste recycling facilities and was told that bricks and mortar are very likely to contain asbestos. Thanks in advance for your response. - Mike Canada 11/14/2011
Fantastic article, most helpful. Thank you. - Angelina 1/5/2012
Reply:
Thanks Angelina and Mike - we work hard to make our information clear and accurate and without bias, but of course we are thrilled when we hear that you found it useful. We welcome questions about content or clarity.

Daniel
Question: Asbestos used in automobile under-coatings such as Mercedes?
Amazing. Thanks for the enlightenment....hard to believe we can "escape" asbestos exposure. I have recently come into contact with automobile undercoating fibers from a wire wheel cleaning.....do you know if/where I can find info about whether or not Mercedes-Benz used asbestos in their auto undercoatings, specifically on a 1972 300SEL 4.5?....Would REALLY appreciate this information. Thanks again. - Steve Lambiris 2/28/2012
Reply:
Have you tried contacting Mercedes Benz? - Ray Tupper 5/9/12
Steve. Ray makes a good suggestion, but you may find that manufacturers are touchy about providing information that might scare customers or invite litigation

I have seen quite a few assertions that automotive undercoatings did indeed contain asbestos, including into the early 70's - but what we want is an authoritative citation. I have found one so far - from U. FL, that I have added to the references & citations at the end of this article - see citation # [5], and in an entry above under "Automotive undercoatings". I'll continue to research the topic; What have you observed about automotive undercoating? If the material is as I suspect, a non-hardening coating, most likely any fibers in the substance, asbestos, fiberglass, others, are not ordinarily particularly friable.
Question: Asbestos on or in an antique Alpha sewing machine?
Hello guys, this is a very interesting resource! I was wondering if I could ask a question? I acquired an antique alpha brand sewing machine from the 1950's/60's When I received it I was aware that the foot pedal and motor contained Asbestos and so quickly and safely replaced these parts.
However, last night Of the machines main chassis broke off and I noticed that underneath the Machines laminated/ enamel like surface there was a material which looked Like concrete with glittery speckles, is it possible that I could have been exposed to Asbestos from within this part of the machine? - Scott 5/2/12
Reply:
Scott that's an interesting question, thanks. But I don't have a clear idea of just what parts you are discussing. Certainly if you are describing a cast iron chassis, asbestos would not have been included inside the cast iron. Perhaps you can send us some photographs of the machine and its broken part?

The question of your exposure to asbestos from the case you describe depends not only on any possible asbestos content (asbestos might have appeared on a machine as part of a gasket or liner, for example), but also on the total quantity of asbestos that could have been present, its condition, whether or not it is friable (easily pulverized to dust), how much it was disturbed, and your own duration and proximity of exposure. Frankly it sounds rather dubious to me.
Question: how can I tell the difference between asbestos drywall and asbestos cement board?
I have a question about some recent reno work done at my family cottage. The cottage was built in the late fifties and added on to in subsequent years.
Recently, we had a new roof installed. We decided to remove an old oil heater. The roofers removed the chimney pipe. It was quite difficult to get out so they were quite rough handling it.
My question, now that I look at the hole in the ceiling has to do with asbestos drywall. The ceiling tiles are likely asbestos containing but where the pipe had been installed looked like drywall.
I have read about asbestos insulating board and asbestos containing drywall and now am very concerned that there may be asbestos dust. I have read that insulating board has a higher asbestos content than the asbestos drywall, and is therefore more dangerous (40% asbestos in the insulating board?).
Is this true? And how can we tell the difference between insulating board and drywall? I don't see any fibres sticking out at the rough edges, if that makes a difference. I am concerned as we regularly take my 1.5year old son there as well. Any help you can provide would be greatly appreciated. Your website has already helped me on many occassions! :-) - B.P. 8/29/2013
Reply:
I'm not familiar with an "asbestos drywall" product, though certainly some drywall and some joint compounds contained asbestos. Drywall is principally a gypsum product, paper covered on both sides, and is comparatively soft - it can be cut with a utility knife or "drywall knife". Drywall is made in thickness from about 1/8" to 5/8".
Cement board or asbestos-cement board is a hard, cementious product, not paper coated, typically thinner (maybe 1/8 to 3/16" thick) and thus not nearly as friable as drywall or drywall compound; But if someone runs a power tool like a saw, grinder, or does a lot of pounding demolition, indeed one might make a dusty mess that could contain asbestos.
Question:
(July 20, 2014) Simon Day said:
I have a Norseman wood burner in my house circa 1970s? I was wondering what the cement like lining inside the burner was made of. Does it contain asbestos?
...
Ask a Question or Search InspectApedia
Use the "Click to Show or Hide FAQs" link just above to see recently-posted questions, comments, replies, try the search box just below, or if you prefer, post a question or comment in the Comments box below and we will respond promptly.
Search the InspectApedia website
Technical Reviewers & References
Click to Show or Hide Citations & References
[1] Asbestos, its Industrial Applications, D.V. Roasato, engineering consultant, Newton MA, Reinhold Publishing Co., NY, 1959, Library of Congress Catalog No. 59-12535. We are in process of re-publishing this interesting text. Excerpts & adaptations are found in InspectApedia.com articles on asbestos history, production & visual identification in and on buildings.
[2] "Asbestos in Plastic Compositions", A.B. Cummins, Modern Plastics [un-dated, pre 1952]
[3] "Asbestos in Your Home," Spokane County Air Pollution Control Authority, Spokane WA 509-477-4727 www.scapa.org provides a one-page image, a .pdf file drawing of a house warning of some possible sources of asbestos in the home. The sources are not ranked according to actual risk of releasing hazardous levels of airborne asbestos fibers and the list is useful but incomplete.
[4] The US EPA provides a sample list of asbestos containing products epa.gov/earth1r6/6pd/asbestos/asbmatl.htm
[5] "Characterization of asbestos exposure among automotive mechanics servicing and handling asbestos-containing materials", Gary Scott Dotson, University of South Florida, 1 June 2006, web search 3/9/2012 original source: scholarcommons.usf.edu/cgi/viewcontent.cgi?article=3505&context=etd [copy on file as /hazmat/Automotive_Asbestos_Exposuret.pdf ].
[6] Photos of theater wiring possibly containing asbestos are from http://filmhacks.wordpress.com/2007/07/10/photos-and-a-question/ - used by permission, September 2008. Thanks to randomblogmail
[7] Thanks to Susan Kimball, Argus Pacific Corp., Puget Sound, WA, for pointing out that some products are permitted to contain more than 1% asbestos fibers by current standards provided that the fibers are encapsulated in an appropriate binder. Argus Pacific, in Seattle, WA 98119, 206.285.3373, is an industrial hygiene firm who also provide OSHA and DOSH regulated training in Washington State, providing classes in asbestos, lead, mold, hazardous waste, emergency response, and other occupational health, safety, and professional development topics. -- September 2008.
[8] " Work Practice for Window Removal and Window Putty Patching With Less Than Or Equal To 1% Asbestos Window Putty and Caulking" University of Washington, 2002 http://www.washington.edu/admin/asbestos/1putty.html
[9] How do I Manage Asbestos in our House or Apartment Building?, Illinois Department of Environmental Conservation, provides this article at http://www.epa.state.il.us/small-business/asbestos-in-home/
[10] "Asbestos Awareness Training Outline", Michigan Department of Licensing and Regulatory Affairs, Michigan Occupational Safety & Health Administration, Construction Safety & Health Administration - asbestos program, Michigan Department of Licensing and Regulatory Affairs Michigan Occupational Safety & Health Administration Construction Safety and Health Division Asbestos Program 7150 Harris Drive, P.O. Box 30671 Lansing, Michigan 48909-8171 Phone: 517.322.1320, Fax: 517.322.1713 www.michigan.gov/asbestos E-mail: asbestos@michigan.gov, web search 3/9/12, original source www.michigan.gov/ [copy on file as /hazmat/Asbestos_awareness_training.pdf ]
[11] Damian Murphy, Marin OHS&E Consulting,Mairin OHS&E Consulting Pty Ltd 18-20 Kirk Street Moe Vic 3825 P: 03 5127 2311 F: 03 5127 2399 E: enquiries@mairin.net.au, personal correspondence to Daniel Friedman. 3/12/2013 Website: www.mairin.net.au
[12] Asbestos in buildings - employee notice, University of Washington dept. of Environmental Safety, http://www.ehs.washington.edu/ohsasbestos/index.shtm
[13] Window putty to be exempted from asbestos removal by State of Maine - http://list.uvm.edu/cgi-bin/wa?A2=SAFETY;wYpdKg;20010307113643-0500A
[14] EPA Region 6 identifies window putty as asbestos containing - http://www.epa.gov/earth1r6/6pd/asbestos/asbmatl.htm
June 1997 - Window Putty - OSHA case cites contractor for asbestos exposure during removal of window putty http://www.osha.gov/pls/oshaweb/owadisp.show_document?p_table=NEWS_RELEASES&p_id=1091
[15] Asbestos Identification and Testing References

Asbestos Identification, Walter C.McCrone, McCrone Research Institute, Chicago, IL.1987 ISBN 0-904962-11-3. Dr. McCrone literally "wrote the book" on asbestos identification procedures which formed the basis for current work by asbestos identification laboratories.
Stanton, .F., et al., National Bureau of Standards Special Publication 506: 143-151
Pott, F., Staub-Reinhalf Luft 38, 486-490 (1978) cited by McCrone

[16] EM>Asbestos in Your Home U.S. EPA, Exposure Evaluation Division, Office of Toxic Substances, Office of Pesticides and Toxic Substances, U.S. Environmental Protection Agency, Washington,D.C. 20460
"Handling Asbestos-Containing roofing material - an update", Carl Good, NRCA Associate Executive Director, Professional Roofing, February 1992, p. 38-43
[17] EPA Guidance for Controlling Asbestos-Containing Materials in buildings, NIAST, National Institute on Abatement Sciences & Technology, [republishing EPA public documents] 1985 ed., Exposure Evaluation Division, Office of Toxic Substances, Office of Pesticides and Toxic Substances, U.S. Environmental Protection Agency, Washington,D.C. 20460
[19] Building Failures, Diagnosis & Avoidance, 2d Ed., W.H. Ransom, E.& F. Spon, New York, 1987 ISBN 0-419-14270-3
[20] Asbestos products and their history and use in various building materials such as asphalt and vinyl flooring includes discussion which draws on Asbestos, Its Industrial Applications, D.V. Rosato, engineering consultant, Newton, MA, Reinhold Publishing, 1959 Library of Congress Catalog Card No.: 59-12535 (out of print, text and images available at InspectAPedia.com).
Books & Articles on Building & Environmental Inspection, Testing, Diagnosis, & Repair
The Home Reference Book - the Encyclopedia of Homes, Carson Dunlop & Associates, Toronto, Ontario, 25th Ed., 2012, is a bound volume of more than 450 illustrated pages that assist home inspectors and home owners in the inspection and detection of problems on buildings. The text is intended as a reference guide to help building owners operate and maintain their home effectively. Field inspection worksheets are included at the back of the volume. Special Offer: For a 10% discount on any number of copies of the Home Reference Book purchased as a single order. Enter INSPECTAHRB in the order payment page "Promo/Redemption" space. InspectAPedia.com editor Daniel Friedman is a contributing author.

Or choose the The Home Reference eBook for PCs, Macs, Kindle, iPad, iPhone, or Android Smart Phones. Special Offer: For a 5% discount on any number of copies of the Home Reference eBook purchased as a single order. Enter INSPECTAEHRB in the order payment page "Promo/Redemption" space.