Photos of Examples of unusual uses of asbestos in buildings
ASBESTOS in UNUSUAL PLACES - CONTENTS: Examples of unusual uses of asbestos insulation material in buildings. Asbestos used as building insulation - asbestos pipe insulation misplaced in attic floor. Asbestos Gas-Fireplace & Gas Fireplace Log Materials.
POST a QUESTION or READ FAQs about how to recognize asbestos used in unusual applications in or on buildings
InspectAPedia tolerates no conflicts of interest. We have no relationship with advertisers, products, or services discussed at this website.
Unusual or unanticipated uses of asbestos on or in buildings:
This article provides examples of examples of unusual uses of asbestos insulation material in buildings, most likely also hazards that should be evaluated.
This document assists building buyers, owners or inspectors who need to identify asbestos materials (or probable-asbestos) in buildings by simple visual inspection. We provide photographs and descriptive text of asbestos insulation and other asbestos-containing products to permit identification of definite, probable, or possible asbestos materials in buildings.
Page top photo: an asbestos-containing gas fireplace log in a home in San Miguel de Allende, Guanajuato.
Green links show where you are. © Copyright 2017 InspectApedia.com, All Rights Reserved.
Examples of unusual uses of asbestos insulation material in buildings
Article Index
Asbestos pipe insulation, found under attic floor as house insulation
In our photograph we show some unusual "attic insulation," made of corrugated asbestos "paper" laid flat, was in the floor of a 1940s house in New York state.
[Click to enlarge any image]
We speculated that the installer had a source of "free" insulation and that it was installed before the asbestos scare.
Asbestos Gas-Fireplace Materials in Old Houses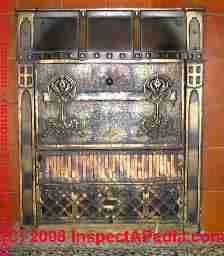 This pre-1900 gas fireplace found in a Minnesota home used tufts of asbestos fibers to support the heating flame. [Photograph courtesy Roger Hankey.]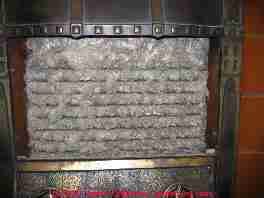 Asbestos use in Gas Fireplace Logs
Question: when did gas fireplaces use asbestos logs, rocks, ashes?
2017/09/19 Bill said:
Is it likely that a 1991-93 gas fireplace has asbestos logs, rocks, or ashes?
This question was posted originally at ASBESTOS PHOTO GUIDE to MATERIALS
Reply: U.S. Title 16 › Chapter II › Subchapter B Consumer Product Safety Act › Part 1305 › Section 1305.5: asbestos in emberizing materials
This title contains U.S. Code of Federal Regulations (CFR) rules and proposed rules published in the U.S. Federal Register relating to Title 16
Bill,
The answer depends largely on when and where the gas-logs were manufactured and sold. For example in the U.S. it would be highly unlikely to find asbestos gas-logs in 1991, but in some other countries such products may still have been marketed.
The U.S. CFR regulation I excerpt below had its first version published in the Congressional Record on 7 July 1983 - see the search I used given in citations below.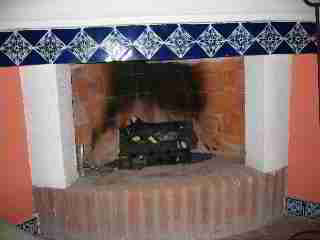 In the CURRENT U.S. Title 16 › Chapter II › Subchapter B› Part 1305 › Section 1305.5 (Thanks to Cornell Law School, Legal Information Institute)
§ 1305.5 Findings.
(a) The degree and nature of the risk of injury. The Commission finds that the risk of injury which this regulation is designed to eliminate or reduce is from cancer, including lung cancer and mesothelioma.
Measurements are not available of the amounts of asbestos in the air from asbestos-containing emberizing materials in homes.

However, it appears that the amount of airborne asbestos in such homes would increase when air currents in the home are created by downdrafts from a fireplace chimney or other activities that stir air in any room.

Since emberizing materials may contain up to 50 percent asbestos, which if not permanently bound into artificial fireplace logs would be in respirable form, the risk associated with emberizing materials is considerable, especially since it continues to exist 24 hours a day.
(b) Products subject to the ban. Artificial emberizing materials are decorative simulated ashes or embers, used in certain gas-buring fireplace systems, which glow to give the appearance of real burning embers.

The material is sprinkled on or glued to gas logs, or sprinkled on fireplace floors.
(c) Need of the public for the products and effects of the rule on their utility, cost, and availability. Artificial fireplace emberizing material serves a strictly decorative purpose and does not materially affect the actual performance of the fireplace gas system in terms of its ability to provide heat.

A certain degree of aesthetic desirability exists, however, since the product "system" itself (the gas log, ashes, and embers) is intended to simulate burning wooden logs.

Gas logs may be sold with artificial emberizing material attached at the factory (the log commonly referred to as being "frosted"), or with the "embers" in a separate kit, often mixed with simulated "ashes."
Virtually all gas logs are either frosted or packaged with an emberizing kit; however, the majority of gas logs produced in 1977 were packaged with non-asbestos-containing emberizing kits.

The Commission estimates annual sales of artificial gas logs at approximately 100,000 units. Some 25,000-30,000 of these would be subject to the ban.

Approximately 100,000 gas logs frosted or treated by consumers with asbestos are estimated to be in existence.

The Commission believes that the majority of gas logs are sold with emberizing kits; this gives the consumer a choice as to whether or not to use the artificial embers and ashes.
(1) Utility. Manufacturers of artificial gas log emberizing material are currently using four substitutes for asbestos in their products: vermiculite, rock wool, mica, and a synthetic fiber.

None of the four is claimed to be as aesthetically effective as asbestos. Thus, the utility derived by consumers from some gas-burning fireplace systems may be adversely affected.
GAS LOG FIREPLACE MANUALS provides resources including patent history of gas logs and gas fireplaces and the use of asbestos in those products in the U.S. beginning before 1900
Original source for the 1983 regulation, see: https://www.govinfo.gov/content/pkg/FR-1983-07-07/pdf/FR-1983-07-07.pdf [be warned this is a huge document, the entie Federal Registger for 7 July 1983 - Ed.]

Current: Title 16 - Commercial Practices, Chapter II - CONSUMER PRODUCT SAFETY COMMISSION Subchapter B - CONSUMER PRODUCT SAFETY ACT REGULATIONS Part PART 1305—BAN OF ARTIFICIAL EMBERIZING MATERIALS (ASH AND EMBERS) CONTAINING RESPIRABLE FREE-FORM ASBESTOS [PDF] retrieved 2017/11/09, original source: https://www.gpo.gov/fdsys/pkg/CFR-2012-title16-vol2/pdf/CFR-2012-title16-vol2-part1305.pdf Date January 1, 2017
U.S. Title 16 › Chapter II › Subchapter B › Part 1305 › Section 1305.5 [PDF, Cornell Law School, Legal Information Institute, retrieved 2017/09/19, original source: https://www.law.cornell.edu/cfr/text/16/1305.5
How to Search the U.S. CFR Federal Register: To search the US CFR use this website: https://www.govinfo.gov/app/search/
Asbestos used in light bulbs?
2016/02/29 Cam said:
Currently there are a couple articles on the internet indicates that light bulbs of the typical consumer type can contain asbestos. One has to do with Westinghouse asbestos litigation, the other is mesotheliomia info site.
I am wondering where in the light bulb asbestos would be. I can only imagine it might be in the material that binds the glass globe to the socket or possibly in the plastic or bitumin insulating material at the base. Can you clarify and is there any easy way to identify?
thanks, Cam

Reply: asbestos was used in some light bulbs & fixtures as an insulator, in special-purpose lamps & bulbs, & in fragrance dispensers
Thanks for the interesting question Cam.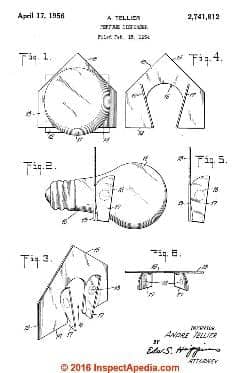 [Click to enlarge any image]
Above: Patent detail from Andre, 1956, showing use of asbestos as part of a fragrance dispensing system in a light bulb or lamp system. In this application asbestos-based blotting paper may have been used on the exterior of an ordinary light bulb. Most asbestos uses were inside of the lamp or bulb.
Indeed asbestos was used in some light bulbs, including some more-or less conventional bulbs such as fdor outdoor or farm use (Gross 1949).
To date my research through patents suggests that the most frequent use of asbestos in specialty bulbs including bulbs used in analysis or detection of certain elements or chemicals, and in light-bulb-activated fragrance dispensers, some of which included asbestos on the bulb exterior (Andre 1956), perfume dispensers, room deodorizers, and vaporizers used for treatment of colds or other illnesses (Curban 1932).
Asbestos was also used inside the bulb in some bulb bases for mounting other elements, probably in a cementious mix. And asbestos was also used in some in-bulb mountants or insulators and in asbestos-containing washers in bulbs because of its insulating properties. And asbestos-coated foil or other materials was used in some lamps designed as late as 1970 (Hancock 1970).
A patent search for asbestos uses in light bulbs and fragrance dispensers shows a long history of these applications and also indicates that contemporary (after the late 1970's) at least in North America, those asbestos-containing lamps, light fixtures, and fragrance dispensers had been replaced by re-designed devices that avoided asbestos-use.
Some lamp and bulb patents we researched were indeed ultimately assigned to major producers such as General Electric and Westinghouse. However have not yet been able to find scholarly research articles detailing support for asbestos exposure traced to light bulb manufacture.
Watch out: Some confusion about asbestos hazards and light bulbs may arise from sloppy research (including by mesothelioma attorneys) that encounters warnings of asbestos exposure when changing light bulbs mounted on or in ceilings that may themselves have contained asbestos (that is asbestos-containing ceiling materials). Those might include acoustic ceiling tiles, plaster, drywall joint compound, and possibly some suspended ceiling tiles.
In addition, in researching asbestos exposure from light bulb use or manufacture, I found online photographs of non-asbestos materials such as mineral-wool insulation that were described by the people posting the photograph as an example (mistaken) of asbestos hazards.
In my OPINION, the hazard to consumers from asbestos in light bulbs used in their homes would generally be beneath the limits of detection, particularly since asbestos used in these devices was generally inside the device. But there may have been measurable hazards for people working in the industries that produced those products.
Indeed some of the web pages posted by legal firms seeking mesothlioma litigation clients cite exposure of Westinghouse workers to asbestos when manufacturing light bulbs, power plants, electrical insulation and wiring, and in performing maintenance that required removal of asbestos containing materials.
U.S. patents involving use of asbestos in bulbs, lamps, lights, and fragrance dispensers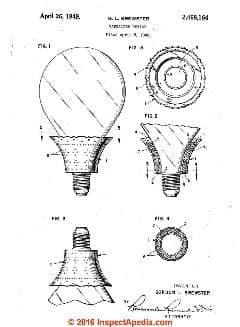 Above: illustration from Brewster's asbestos-fragrance dispenser light bulb attachment, 1949.
Andre, Tellier. "Perfume dispenser." U.S. Patent 2,741,812, issued April 17, 1956.
Excerpt:

This invention relates to perfume dispensers and has for its principal object to provide a perfume dispenser which can readily be applied to an electric lighting device in a room such as an incandescent bulb for utilizing the heat from the bulb for dispensing perfume odors around the room.

Another object of the invention is to provide a perfume dispenser with resilient absorbent wings which are adapted to embrace the neck of an incandescent bulb. In Fig. l, the improved perfume dispenser is shown applied to the neck 10 of an incandescent electric light bulb 11 which is mounted in a socket 12 on the wall of a room. T

he dispenser consists of a fiat body 13 of absorbent material such as blotting paper, asbestos and the like.
Bauer, George C. "Combination vaporizing lamp and night light." U.S. Patent 2,824,208, issued February 18, 1958.
Excerpt: ... be seated in a peripherally flanged, clamp-on cap 88 of heat-insulating material such as asbestos.
Brewster, Gordon L., "Vaporizer device." U.S. Patent 2,468,164, issued April 26, 1949.
Excerpt:

An annular tube-like liner or saturator I comprising an outwardly flared body, preferably constructed of asbestos, cement or any other suitable non-inflammable compound, moulded, cast or shaped to conform to the shape of the neck or stem of a lamp bulb and having both ends thereof open, is designed to be encased within the housing and secured in position by the flanges 2 and 4 and their bent ends 3 and 5.

The liner I is impregnated with a volatile or vaporizable substance, in liquid form, at any time either before or after it is positioned within the housing by submerging it for a time in the liquid of the substance desired to be vaporized. After the liner has become fully saturated, it is removed from the fluid, the excess moisture being removed by drying or by wiping off.

The impregnated liner is encased in the housing and the housin is slid over the stem portion of a lamp bulb and the light bulb screwed into the light socket.
Curban, Francis J. "Vapobizer." U.S. Patent 1,864,980, issued June 28, 1932.
Excerpts:

This invention relates to a vaporizer and more particularly to such a device'having special utility in the treatment of colds and other infections of the nose and throat. It isjalso 5 well adapted to function as a disinfecting or deodorizing device. ...

In order to prevent charring of the block, the interior of the same is provided with a covering 6 of a heat resisting medium, such as, asbestos, or the like, adapted to Contact the surface of the light bulb.
Gross, Henry R., "Farm light." U.S. Patent 2,508,063, issued May 16, 1950.
Excerpts:

This invention is concerned generally with a Fig. 4 is a fragmentary view taken along the spotlight and more specifically with a portable line 4-4 of Fig. 2; spotlight for operation from a commercial power Fig. 5 is a fragmentary sectional view taken line to give a focused beam of great intensity. along the line 55 of Fig. 2; The necessity for a small portable light p- Fig. 6 is a perspective view of a filament and erable from a commercial power line and capable ts mount; .of projecting an intense beam over an extended Fig. '7 is a perspective view of a modification distance for intermittent periods arises frequently 0f the structure shown in Fig. 6; in farms and suburban homes.

Emergency situ- Fig. 8 is a perspective view of the intermediate ations involving repair jobs, ...
A gasket 52 of asbestos is placed between the face 50 and the outer surface of the housing I2 and the handle I4 is secured to the housing by means such as screws or rivets 54. An asbestos pad 56 is cemented or otherwise secured over the washers 54 on the inner face of the rear of the housing I2 further to prevent heat transfer to the handle I4.

The butt of the handle is apertured to receive a drop cord 58 which may be of any convenient length. As seen in Fig. 3, the handle I4 comprises a body portion 60 of substantially channel shape and a cover 62 secured thereto by any desirable means such as screws.

A transversely extending wall 64 is secured within the body portion 60 and a second transverse wall 66 projects from the cover 62 to abut against the wall 64. Complementary semicircular openings in the walls provide a circular opening through which the conductors 68 of the drop cord 58 extend.

A clip I secured about the conductors prevents their being pulled back through the aperture formed in the transverse walls. One of the conductors 68 is connected to a switch I2 carried within the handle I4 while the second conductor is spliced by means of a coupling I4 to an asbestos covered wire I6 leading to a socket 18. A second asbestos covered wire 80 interconnects the switch 12 and the socket I8.

Hancock, John L., "Ornamental convection lamp." U.S. Patent 3,531,635, issued September 29, 1970.
Excerpt:

Turning to FIG. 4 of the drawings, it will be seen that there is provided a heat and light reflective enclosure 21 for the bulb 20. The said enclsoure comprises a split ring having a pair of thicknesses of reflective foil coated asbestos 22 and 24 sandwiched around a rigidifying metal core 26 and a flat bottom sheet 28 of reflective foil coated asbestos.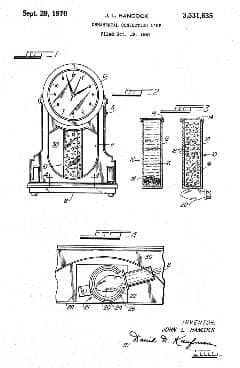 Above: Hancock's ornamental lamp using asbestos in its construction.

Keiffer, Lawrence R., "Electric lamp base." U.S. Patent 2,436,259, issued February 17, 1948.
Excerpt; As shown in Figs. 2, 3 and 4 the base also comprises a thin, flat electrically insulating piece l0 which rests on the flat end wall H of the neck 5 and extends outward through the opening 9 to electrically insulate the prongs 8 from the cap 3. A spacer l2 of electrically insulating material, such as asbestos board, which has a pair of straight slots l3 for accommodating the prongs 8, rests on the insulating piece I0,
Koch Edward L, "Ultraviolet lamp." U.S. Patent 2,382,939, issued August 14, 1945.
Excerpt: The asbestos washers I act as stops for the cement in applying ...
Koirtyohann, S. R., and E. E. Pickett. "Background Corrections in Long Path Atomic Absorption Spectrometry." Analytical Chemistry 37, no. 4 (1965): 601-603.
Excerpt:
The tube rests on asbestos blocks for thermal insulation from the remainder of the support. ... Yew tubes can be used to determine calcium at 4227 A,...
Lehmann, Ootthujp. "Ootthujp lehmann." U.S. Patent 1,803,334, issued May 5, 1931.
Excerpt:
The chamber 31 is adapted to receive a wad of asbestos wool 34 or similar suitable material adapted to be saturated with a perfume or fragrant extract or essence...
Moehn, Loren D. "The effect of quality of light on agonistic behavior of iguanid and agamid lizards." Journal of Herpetology (1974): 175-183.
Excerpt: The asbestos lining was painted with aluminum paint to insure reflectance.
Thomas, Adolph A, "Electric lamp." U.S. Patent 2,042,199, issued May 26, 1936.
Withrow, Robert B., and Victor Elstad. "Water-cooled lamp systems with refluxing aqueous filters." Plant physiology 28, no. 2 (1953): 334.
Excerpt: Unimpregnated asbestos Portland cement panels may be used if properly treated ...
Asbestos Use in Glass-Faced Radiant Heat Panels?
Question: was asbestos used in old glass radiant electric heat panels?
2017/12/02 Marie said:
Hi, I have some old glass radiant electric heat panels (maybe from the 1960's?) that were the heating system in my house
Rad. I replaced them several years ago with a non-glass radiant panel. I'm now trying to re-purpose or recycle the glass panels, but I notice that they are backed with a putty-like substance behind the metal grid and I'm wondering if that substance contains asbestos.
Reply:
Sorry,
I can't say for all radiant heater brands but at least some radiant heat glass panel products used asbestos in various components as I'll detail in our research findings below..
Can you tell me brand and model and attach a photo?
Reader follow-up:
Marie said
I can't find any markings of a brand name. I know Glassheat was one of the popular brands at that time. Panels are about 25" x 17".
Reply:
As some radiant heaters that used glass panels used asbestos in glazing putties as well as in some gaskets it would be prudent to assume that is the case for your heater. Asbestos was also uses as components of the heating element inside of some glass fronted and other radiant heaters.
I'm doubtful that asbestos forms a component of the glass panel itself.
Patent research confirms that asbestos was used in radiant heaters made by Glassheat in the 1950s, in at least one instance:
"Radiant heater and tray." U.S. Patent 2,613,308, issued October 7, 1952.
And asbestos was used or at least discussed in several forms such as asbestos gaskets in a variety of radiant heaters:
Le B, M.B., Albert C Nolte, 1959. Electric heating devices and the like. U.S. Patent 2,889,439.
including sometimes as a component of the heating element as recently as 1981:
Semanaz, Daniel, and Robert Cassat. "Heating element." U.S. Patent 4,272,673, issued June 9, 1981.

Excerpt: The heating element as defined by claim 6, wherein the reinforcing filler is selected from the group consisting of mica flakes, asbestos fibers, glass fibers, ceramic fibers, nonwovens comprised of glass fibers, batts of glass fibers and nonwovens comprised of asbestos fibers.
Reader follow-up
Marie said: Thank you. I will dispose of them with that in mind.

...
Continue reading at ASBESTOS LIST of PRODUCTS or select a topic from closely-related articles below, or see our complete INDEX to RELATED ARTICLES below.
Or see ASBESTOS IDENTIFICATION IN BUILDINGS - home
Or see ASBESTOS in PIANOS
Suggested citation for this web page
ASBESTOS in UNUSUAL PLACES at InspectApedia.com - online encyclopedia of building & environmental inspection, testing, diagnosis, repair, & problem prevention advice.
Or use the SEARCH BOX found below to Ask a Question or Search InspectApedia
...
Frequently Asked Questions (FAQs)
Try the search box below or
CONTACT US
by email if you cannot find the answer you need at InspectApedia.
These questions & replies were posted originally at ASBESTOS in UNUSUAL PLACES
...
Ask a Question or Search InspectApedia
Use the "Click to Show or Hide FAQs" link just above to see recently-posted questions, comments, replies, try the search box just below, or if you prefer, post a question or comment in the Comments box below and we will respond promptly.
Search the InspectApedia website
Technical Reviewers & References
Click to Show or Hide Citations & References
7/07: thanks to Roger Hankey & Cheryll Brown, ASHI home inspectors in Minnesota, for the gas fireplace photographs. Mr. Hankey is a past chairman of the ASHI Standards Committee, serves as co-chairman of ASHI legislative committee, and has served in other ASHI professional and leadership roles.
3/07: thanks to Gary Randolph, Ounce of Prevention Home Inspection, LLC Buffalo, NY, for attentive reading and editing suggestions. Mr. Randolph can be reached in Buffalo, NY, at (716) 636-3865 or email: gary@ouncehome.com
06/07: thanks for photographs of transite asbestos heating ducts, courtesy of Thomas Hauswirth, Managing Member of Beacon Fine Home Inspections, LLC and (in 2007) Vice President, Connecticut Association of Home Inspectors Ph. 860-526-3355 Fax 860-526-2942 beaconinspections@sbcglobal.net
June 1997 - Window Putty - OSHA case cites contractor for asbestos exposure during removal of window putty http://www.osha.gov/pls/oshaweb/owadisp.show_document?p_table=NEWS_RELEASES&p_id=1091
Asbestos Identification and Testing References

Asbestos Identification, Walter C.McCrone, McCrone Research Institute, Chicago, IL.1987 ISBN 0-904962-11-3. Dr. McCrone literally "wrote the book" on asbestos identification procedures which formed the basis for current work by asbestos identification laboratories.
Stanton, .F., et al., National Bureau of Standards Special Publication 506: 143-151
Pott, F., Staub-Reinhalf Luft 38, 486-490 (1978) cited by McCrone

ASBESTOS IN YOUR HOME U.S. EPA, Exposure Evaluation Division, Office of Toxic Substances, Office of Pesticides and Toxic Substances, U.S. Environmental Protection Agency, Washington,D.C. 20460
Asbestos products and their history and use in various building materials such as asphalt and vinyl flooring includes discussion which draws on ASBESTOS, ITS INDUSTRIAL APPLICATIONS, ROSATO 1959, D.V. Rosato, engineering consultant, Newton, MA, Reinhold Publishing, 1959 Library of Congress Catalog Card No.: 59-12535 (out of print, text and images available at InspectAPedia.com).
"Handling Asbestos-Containing roofing material - an update", Carl Good, NRCA Associate Executive Director, Professional Roofing, February 1992, p. 38-43
EPA Guidance for Controlling Asbestos-Containing Materials in buildings, NIAST, National Institute on Abatement Sciences & Technology, [republishing EPA public documents] 1985 ed., Exposure Evaluation Division, Office of Toxic Substances, Office of Pesticides and Toxic Substances, U.S. Environmental Protection Agency, Washington,D.C. 20460
...
Books & Articles on Building & Environmental Inspection, Testing, Diagnosis, & Repair
Our recommended books about building & mechanical systems design, inspection, problem diagnosis, and repair, and about indoor environment and IAQ testing, diagnosis, and cleanup are at the InspectAPedia Bookstore. Also see our Book Reviews - InspectAPedia.
...