Asbestos in Vermiculite Building Insulation
InspectAPedia tolerates no conflicts of interest. We have no relationship with advertisers, products, or services discussed at this website.
Vermiculite insulation home page:
Vermiculite identification photos, hazards, history, advice: what is vermiculite insulation, how is it identified, & what should be done about potential vermiculite-asbestos hazards ascribed to Zonolite ZAI attic insulation?
This article series explains how to recognize vermiculite building insulation that may contain asbestos fibers.
We provide photographs and descriptive text of asbestos insulation and other asbestos-containing products to permit identification of definite, probable, or possible asbestos materials in buildings.
Green links show where you are. © Copyright 2017 InspectApedia.com, All Rights Reserved.
Vermiculite Building Insulation: properties, uses, asbestos content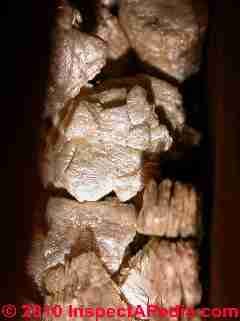 This article permits visual identification of vermiculite insulation; we include our own as well as US EPA photographs of various forms of vermiculite insulation to assist in recognizing vermiculite in buildings. We describe the history of vermiculite insulation, the asbestos hazard that may be present depending on which vermiculite insulation product is present, and how asbestos is identified in vermiculite insulation.
We give the history of the Libby vermiculite mine, its purchase by WR Grace Corporation, the asbestos-related bankruptcy filing, asbestos abatement cost claims & filings & the current ZAI settlement trust that may assist building tenants or owners with vermiculite removal costs. We also list other, including current producers of vermiculite insulation. This document assists building buyers, owners or inspectors who need to identify asbestos materials (or probable-asbestos) in buildings by simple visual inspection.
Watch out: vermiculite from some sources contains asbestos and can be an asbestos dust hazard in buildings. Details about the asbestos content in some vermiculite insulation products is found in this article.
Article Series Contents
[Click to enlarge any image]
What is vermiculite insulation & where is it used?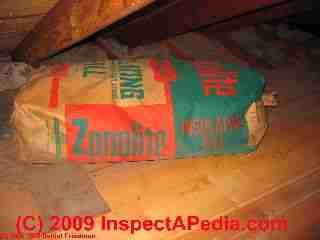 Vermiculite is a mineral (hydrated laminar magnesium-aluminum-iron silicates or hydrated phlogopite or biotite mica) from the phyllosilicate group. Vermiculite looks somewhat like mica in that it includes shiny flat plates of material that can be separated.
Details about the properties of vermiculite are at VERMICULITE PROPERTIES.
Vermiculite has a wide range of uses in industry, construction, packaging, insulation, packaging, even animal feed.
Building owners of older structures that had little or no attic insulation are most-often familiar with vermiculite that was poured into attic floors as a loose-fill insulating product. In some buildings vermiculite may also have been blown into previously-uninsulated wall cavities. See VERMICULITE LOOSE FILL Attic Insulation May Go Unrecognized as a Potential Hazard
In addition to its use as an insulation product and in construction as a masonry fill, a cavity fill, & in concrete blocks, vermiculite is added to soils in horticultural applications and to cement to make a lightweight concrete swimming pool base.
In contemporary building construction (2016) vermiculite is used in lightweight concrete and it has been widely used in spray-applied fireproofing. Spray-on fireproofing takes advantage of the light-weight and fireproof properties of vermiculite.
Older spray fireproofing that also used vermiculite may have employed Libby Amphibole Asbestos (LAA) from the Libby Montana mine: a vermiculite source that contained asbestos in several forms that we list later in this article. After 1991 spray-applied fireproofing that uses vermiculite would not be expected to use Libby-Montana vermiculite, so it would not be expected to be contaminated with asbestos. Pure vermiculite would not contain asbestos.
Vermiculite is also used in special applications such as industrial filters [17], in ceramics (ground & exfoliated, bonded with calcium silicate to form an unfired insulating layer), as a heat resistant component in brake linings (Yun 2010) and even as a treatment for oil-contaminated waters (Mysore 2005) and as a dessicant (Spitze 1942).
And as we illustrate below, vermiculite insulation can show up as an insulating layer in many products such as a ceiling light fixture.
Question: Vermiculite insulation used in light fixtures?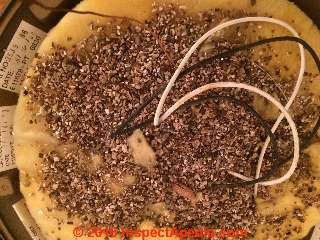 Your website is terrific and very helpful. I was on there to try to identify something. We removed a front hall lamp, by the entrance, and found some wood like droppings inside the lamp. Please see attached photos. We are not sure what this is but are concerned that it could be dry wood termite droppings. Any ideas? - Anonymous by private email, 2016/09/19
Reply:
What your photos show looks very much like vermiculite insulation - see VERMICULITE INSULATION.
Anon said:
I will send you a photo of the light fixture when I return home (just writing from the office). The house was built in 1934 (plaster walls, etc.). The light fixture looks something like this (picture from the internet):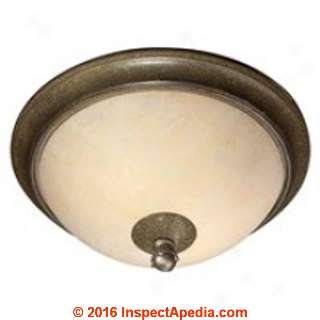 Mod said:
OK now I understand: that ceiling light fixture is insulating its heat from the ceiling above, perhaps for added fire safety. I look forward to seeing actual photos and with your OK will add this info to our vermiculite and light fixture articles as that will help other readers.
Beware that some vermiculite contains asbestos - avoid making a dusty mess and use damp wiping not a household vacuum cleaner for any spill cleanup.
Anon said:
Would you suggest we have the vermiculite tested for asbestos? We kept a sample.
Mod said:
No. The volume of such a small amount of insulation and thus the hazard are rather small. It wouldn't change what you do.
Identify Vermiculite Insulation - Photographs, Description, Properties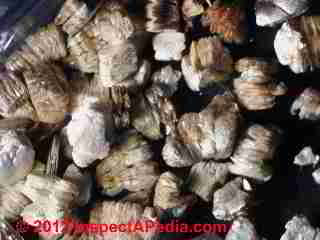 This topic has moved to HOW TO IDENTIFY VERMICULITE INSULATION - separate article
Watch out: while it is certainly possible to identify a material as vermiculite or vermiculite insulation by examining it with the naked eye or by examining photographs such as those on this page, one cannot determine whether or not vermiculite contains asbestos simply by looking at it with the naked eye nor by comparing photographs of the insulating material.
To absolutely identify asbestos content in vermiculite microscopic examination using polarized light (PLM) is necessary.
See ASBESTOS TESTING LAB LIST if you need to have an insulation sample tested for asbestos.
Vermiculite Insulation Identification Photographs
Please see VERMICULITE IDENTIFICATION PHOTOGRAPHS
Watch out: vermiculite insulation was not only poured into attic floors but also into building wall cavities during insulation retrofit projects. Particularly in older balloon-framed buildings, vermiculite could be poured from the attic right into wall cavities extending all the way to the building foundation top. Vermiculite was also often poured into hollow-core concrete block walls.
Unidentified Vermiculite Insulation Photographs
See UNIDENTIFIED (BRAND) VERMICULITE PHOTOGRAPHS
Vermiculite Insulation Identification Images from the US EPA & Other Sources
Moved to VERMICULITE IDENTIFICATION PHOTOGRAPHS (more)
Vermiculite Loose Fill Attic Insulation May Go Unrecognized as a Potential Hazard
Home inspector David Grudzinski provided more vermiculite insulation photographs now found at VERMICULITE LOOSE FILL Attic Insulation May Go Unrecognized as a Potential Hazard
I write this ... because of the irony in the situation. .... I found some traces of vermiculite in the basement at first in what looked like an area that one would use as a potting shed spot, so I was alert, but not alarmed. I explained what I found to the buyer and his father, and explained that I would be on the look out for other signs of vermiculite in the house.
The attic revealed what I was afraid of. Bags and Bags of the stuff [vermiculite loose fill building insulation produced by W.R. Grace & Co.]. Now I calmly explained the history and concerns to the buyer, then we began to look around and take photos.

Which Vermiculite Insulation Products Contain Asbestos? Does All Vermiculite Contain Asbestos?

Vermiculite building insulation might contain asbestos
Our vermiculite insulation photo (left) from the attic of a home in New York state, shows how you might spot the presence of vermiculite insulation even when most of the attic floor has been covered-over. You'll also notice that while most of the vermiculite insulation particles in this photograph are silver-tan or silver gray, some dark fragments are also present, as well as incidental debris.
Does All Vermiculite Contain Asbestos
No.
Libby Amphibole Asbestos mined at the Libby Montana site until 1990 was formed in the Triassic period (225 million years ago) and contained tremolite asbestos as well as other forms of asbestos including winchite and richerite, two forms of fibrous amphiboles.
See ZONOLITE BRAND VERMIULITE INSULATION ZAI & CLAIMS
Most of the vermiculite in the currently operating vermiculite mines (listed below) was formed 1.5 to 3 billion years ago in the pre-Cambrian and Archaen periods.
See this VERMICULITE MSDS from Schundler[17]

How is Asbestos Identified in Vermiculite Products?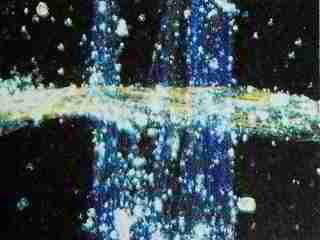 While an expert lab test using polarized light microscopy may be needed to identify the specific type of asbestos fiber, or to identify the presence of asbestos in air or dust samples, many asbestos-containing building products not only are obvious and easy to recognize, but since there were not other look-alike products that were not asbestos, a visual identification of this material can be virtually a certainty in many cases.
Also see ASBESTOS DUCTS, HVAC a field identification guide to visual detection of asbestos in and on heating and cooling system ducts and flue vents.
Also see Micro-Photographs of Dust from the World Trade Center collapse following the 9/11/01 attack. Links to U.S. government and other authoritative research and advice are included.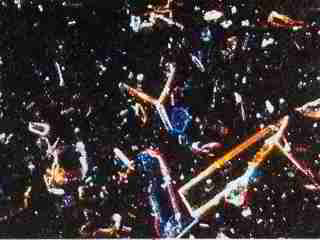 Walter C. McCrone, at McCrone Research Institute published detailed procedures for identifying asbestos by microscopic examination, and identifying which type of asbestos is in a material.
His text and microscopy courses taught at McCrone Research and subsequently at McCrone Institute provided methods for identifying fibrous and non-fibrous asbestos in a wide range of materials.[12]
Dr. McCrones photograph of fibrous tremolite asbestos is illustrated at above left. Like many minerals and some other particles, asbestos, including tremolite asbestos, can occur in both fibrous (above left) and non-fibrous (below left) forms.
What to Do About Vermiculite Building Insulation
This topic has been moved.
See WHAT TO DO ABOUT VERMICULITE INSULATION
The best way to minimize your risk of amphibole asbestos exposure is to avoid disturbing vermiculite-based insulation in any way. If vermiculite-based insulation is contained and not exposed to the home or interior environment, it poses very little risk.
Zonolite Brand Vermiculite Insulation, ZAI (Zonolite Attic Insulation) Dust & Tremolite Asbestos Hazards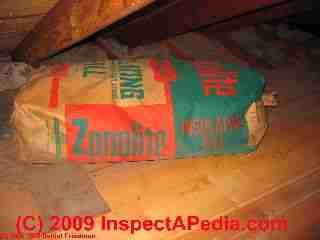 This discussion has moved to a separate article.
See ZONOLITE BRAND VERMICULITE INSULATION
Watch out: Depending on the mine from which this mineral-based insulation was obtained, vermiculite insulation may contain asbestos fibers (including tremolite asbestos) and could present a hazard in buildings, especially if disturbed during renovations.
The U.S. EPA has photos of the original bags in which this product was shipped - you're not likely to see these bags in a home, though I've found them on occasion as you'll see in our own photograph of a Zonolite Insulation Fill bag shown at left.
As we discuss at our notes on other loose-fill insulations such as mineral wool or cellulose, any building insulated with loose-fill or spray-in insulation may benefit from the ability of these loose materials to fill gaps and openings more uniformly than might be found if sloppy workers are careless about installing insulating batts.
Munn & Steele Vermiculite Insulation, Siscoe Vermiculite Mines, & Mica-Fill Vermiculite Insulating Products
Moved to MUNN & STEELE VERMICULITE, MICA-FIL, Siscoe Vermiculite Mine
Current Vermiculite Mines & Companies Providing Vermiculite Insulation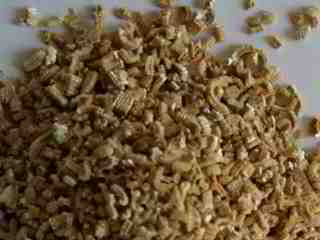 Vermiculite mining operations are found world-wide but the largest currently operating vermiculite mining operations continue in
Brazil,
Northwestern China (illustration at left & cited below)
Northeastern Transvaal, South Africa
Eastern Appalachian mountain range in Virginia & South Carolina in the United States
Zimbabwe
Some Current Producers and/or Vendors of Vermiculite Products
Schundler Company, (purchased by Normiska USA in turn purchased by Normiska Canada in 2005). Schundler also produces Coralux Perlite.) [17]
Queensland Vermiculite, 29 Antimony St., Carole Park 4300, Queensland Australia, Tel: 07-3271-5333, sold in 100L bags.
China: Leijie Trade Co., Ltd., Shijiazhuang City, Hebei Province Xinhua China, Website www.hbeijie.com, illustrated at above left.
Contemporary Uses of Vermiculite Insulation
Ceramic additives
Commercial or industrial filters
Concrete additive - lightweight concrete
Dessicants
Filters
Fireproofing, spray-on
Fill in hollow-core concrete masonry units or blocks
Floor insulation or under-floor sound-insulation
Heat resistant brake lining materials
Swimming pool construction, mixed with portland cement (V+16 Pool Base)
Gardening & horticulture (Perlite Insulation[16] or vermiculite) as a soil additive. (Perlite as an under-floor insulation and as an acoustical insulator is described by the Schundler Company[17]. Perlite as well as vermiculite from some sources do not contain asbestos.)
Hazards from Incidental Exposure to Vermiculite
This topic is now at VERMICULITE INSULATION INCIDENTAL EXPOSURE HAZARDS ?
Vermiculite & Vermiculite Mining & Uses
Uses of vermiculite were explored as early as 1824 by Webb, appearing the very next year in Robinson's catalog of American minerals. (Robinson 1825). Please see details about the history of vermiculite at HISTORY of the DISCOVERY & CHARACTERIZATION of VERMICULITE.
Properties of Vermiculite Insluation
Moved to a new article at VERMICULITE PROPERTIES
---
...
Continue reading at HOW TO IDENTIFY VERMICULITE INSULATION or select a topic from closely-related articles below, or see our complete INDEX to RELATED ARTICLES below.
Or see ASBESTOS TESTING LAB LIST
Or see INSULATION IDENTIFICATION GUIDE
Suggested citation for this web page
VERMICULITE INSULATION at InspectApedia.com - online encyclopedia of building & environmental inspection, testing, diagnosis, repair, & problem prevention advice.
Or use the SEARCH BOX found below to Ask a Question or Search InspectApedia
...
Frequently Asked Questions (FAQs)
Try the search box below or CONTACT US by email if you cannot find the answer you need at InspectApedia.
What should I do if I have vermiculite insulation in my building ?
Quoting & paraphrasing or elaborating further from the U.S. EPA information on Vermiculite[5]:
You should assume that the vermiculite insulation contains asbestos and it should not be disturbed. Particularly, do not stir up nor spread dust from this product.! Any disturbance could potentially release asbestos fibers into the air. If you absolutely have to go in your attic and it contains vermiculite insulation, you should limit the number of trips you make and shorten the length of those trips in order to help limit your potential exposure.
We and the US EPA recommend that you:
Leave vermiculite insulation undisturbed in your attic or in your walls.
Do not store boxes or other items in your attic if it contains vermiculite insulation.
Do not allow children to play in an attic with vermiculite insulation.
Do not attempt to remove the vermiculite insulation yourself.
Hire a professional asbestos contractor if you plan to remodel or conduct renovations that would disturb the vermiculite in your attic or walls to make sure the material is safely handled and/or removed.
[If substantial costs are involved in handling or removing any building product suspected of containing asbestos, particularly friable asbestos that can easily be spread through a building as airborne dust, you should have the material tested to confirm its asbestos content and in order to understand what special handling may be required. ] - Ed.

For more details about the inspection and detection of concerns with fiberglass building insulation, see:
INSULATION INSPECTION & IMPROVEMENT and FIBERGLASS HAZARDS .

Our separate websites on Fiberglass building insulation and or series of articles about HVAC duct work defects contain in-depth discussion about possible air quality and health concerns which may be associated with exposure to fiberglass dust.To compare insulating material R-values of fiberglass in various forms as well as other insulating materials, see our Table of Properties of Insulating Materials
Also see these U.S. & Canadian Guides to Asbestos-Hazards in Vermiculite Insulation
How Vermiculite Attic Insulation Becomes Airborne
Any airborne dust particles can be a respiratory irritant, but the hazard level is likely to be increased if the dust contains insect or rodent materials and of course also if it contains asbestos as is present in some vermiculite insulation installations. Particularly where loose fill vermiculite insulation remains exposed in an attic, such as in the attic floor, the following act ivies are likely to cause dust from this product to become airborne.
Operating a whole house fan or an attic vent fan
Walking on or near the vermiculite insulation
Disturbing the vermiculite insulation during building remodeling, renovations, or roofing work
Storing items on the vermiculite insulation - which risks transporting dust out of the attic into the living space if those items are then brought into the occupied space below
You can reduce these dust risks by installing a plywood floor over the tops of the floor joists (ceiling joists of the rooms below), by installing fiberglass batts on top of the vermiculite, or by spraying an acrylic encapsulant on the exposed surface of the vermiculite in the attic.
Watch out: spray-coating the upper surface of an attic insulation material installed in the floor risks creating a vapor barrier on the wrong side (the cold side) of the structure, trapping moisture and leading to condensation or even mold troubles.
Question: is .0004% of asbestos ok to be working in and preparing food in?
I work in a school in mt, and 2 years ago this substance was removed from two rooms in the school, one which is right by the kitchen i work in. well 2 days ago i found this substance on top the the cupboards and everywhere else, and can see that it is falling from the ceiling. Very concerned because i have a fan blowing in there, and there was asbestos in the school when they came and had it cleaned. my question to you is, is .0004% of asbestos ok to be working in and preparing food in?
i truly found this site excellent, it answered alot except that one question. thank you - Amy Swanson 9/2/11
Reply:
Thanks for tine nice note Amy.

A proper asbestos cleanup project, especially in a school, should have included post-cleanup inspecting and testing to assure that no asbestos hazard remained. You might want to ask for and read that report.

About the substance falling from your ceiling, if you think it's asbestos-containing material you certainly shouldn't be running a fan, and it would make sense to have it tested for asbestos content.

The % of asbestos number you cite leaves me confused. If you mean that the general dust from the environment is down to that minimal level, it sounds almost below the limits of detection. But I don't know what test you are describing, nor where nor how it was performed -those questions are key in understanding what the test results mean.

Your concern should be answered more specifically by a hygienist or similar professional who has specific expertise in asbestos and indoor air quality and who knows the building and its history.

We would much appreciate hearing any comments, critique, suggestions, or further questions from you or other readers. We are dedicated to making our information as accurate, complete, useful, and unbiased as possible: we very much welcome critique, questions, or content suggestions for our web articles. Working together and exchanging information makes us better informed than any individual can be working alone.
Reader follow-up:
Well this is my first year at this school, and was told that 2 years ago there was asbestos in the library and the music room and they did have it cleaned up professionally, but they didn't do it to the kitchen.
now this stuff that looks like your picture above with the gold and silver flakes in is is all over my kitchen and my boss told me it wasn't harmful cause they had it tested and it was at .0004%, but my concern is that if they had to clean it out of the other 2 rooms that it should be also done to my kitchen and i have 2 other ladies that work with me and we are all really concerned and are wondering what it is or whom it is that we can contact because everyone is telling us its ok and i don't think it is ok.
my boss is having someone come out there to caulk the ceiling again, and that is it...more or less just sweeping this under the rug. ..i have some of this stuff that fell from the ceiling in a plastic folder. it was hanging on the wall and caught it, but my concern is that i didn't know it was in there at the time i pulled a few papers out of it.
that is how it was brought to my attention of what it was. i am seriously concerned and would just like to know whom it is i need to contact outside the school, since no one in the school seems to really care about it or us.
Question: Zonolite Rolled Glass Fiber Home Insulation
i got zonolite rolled glass fiber home insulation is it safe ? - Concerned
Reply:
Concerned: I don't recognize the product you name - can you send me a photo of the material and of any labels or markings on packaging? Then I can research and comment further. Use the CONTACT US link at page top or bottom to send photos if you can.
Certainly "fiberglass" is not an asbestos material. In our opinion, fiberglass insulation is safe if it has been properly installed and has not been damaged. Severely damaged fiberglass insulation, such as a product that has been walked-upon numerous times, or that has been macerated during demolition, may produce high levels of glass fiber dust, including small particles that may are a respiratory irritant and may be more harmful.
Should I have my Attic Insulation Tested?
I found plastic bags in my attic space that say "Full Fill" Insulation 100% abestos free from Koos Inc. Kenosha, WI. Should I have the insulation tested? - Colleen 3/4/12
Reply: U.S. EPA Koos WI Site Visit Report on Vermiculite & Asbestos Exposure
Colleen, some mesothelioma and asbestosis websites, usually ones seeking to provide legal services, report that workers at Koos corporation in Wisconsin were exposed to dangerous levels of asbestos. The U.S. EPA visited the Koos site in Kenosha, WI on 9 March 2000. Here are two reports from the U.S. Government Accounting Office.
Unknown facility:
An EPA database compiled from W.R. Grace shipping invoices did not contain any records indicating Libby ore was shipped to this site. Because this site was associated with the Koos Inc. site in Kenosha, Wisconsin, EPA visited this site. (The Kenosha site is listed separately in this database) At the time of EPA's visit, IMC Salt, Inc. operated at this site. The company warehoused and distributed packaged salt. According to company officials, IMC started operations at the site in 1995. Company officials were not aware of vermiculite ore being handled at this facility. EPA did not find any records indicating that Koos had operated at this site before 1995. On the basis of this information, EPA determined no further action was needed.[19]
Former Koos Inc. exfoliation facility, asbestos, & vermiculite
According to an EPA database compiled from W.R. Grace shipping invoices, 1,995 tons of vermiculite ore from the Libby mine were shipped to this site between April 1969 and March 1982.
In addition, reports published by the U.S. Geological Survey in 1975, 1980, 1985, and 1990 indicated that this facility had been a vermiculite exfoliation plant. The site was about 10 acres and was bounded to the north by a street, to the east by railroad tracks, and to the west and south by businesses and residences. At the time of EPA's site visit, IMC Salt, Inc. was operating at the site. The site consisted of an office building, a warehouse and production area, a bulk storage building, and a maintenance shop.
According to IMC officials, IMC Vigaro purchased Koos, Inc. in 1995 and all exfoliation equipment was sold at that time. In 1998, IMC Salt, Inc. began salt packaging and warehousing operations at the site. From 1960 until 1995, Koos had exfoliated vermiculite at the facility and sold vermiculite wholesale. Exfoliated vermiculite was sold for use in fertilizer and in fire proof doors. Some of the exfoliated vermiculite waste had been placed in a local landfill.
An IMC official said Koos purchased vermiculite ore from American Vermiculite (a South African mine) and from W.R. Grace, but, to their knowledge, none of the ore came from the Libby mine. The ore was shipped to the facility by truck and rail and the exfoliation process was performed indoors. EPA did not see any evidence of vermiculite on the site. On April 3, 2001, EPA collected five soil samples at the site and analyzed them using polarized light microscopy (PLM). None of the samples contained detectable levels of asbestos. On the basis of this information, EPA decided no further action was needed.[20]
Therefore, while the "safe answer" is to spend your money testing your insulation, and given only the information in your brief question, we caution that as we report in detail in the article above, even if your insulation is a vermiculite product (you did not say that it was), a bulk test can give a false negative result. Therefore the EPA and other experts advise that consumers assume that their vermiculite contains asbestos and follow EPA's advice to leave the material alone, undisturbed.
Question: What are the chances that vermiculite in our home came from the Libby Mine?
I have a house in Massachusetts that was constructed circa 1770. Local lore has it that there was an attic fire circa 1890. The wood work and plaster indicate that the attic was "finished" circa 1900. Some floor boards are missing, the floorboards are 1" hard pine, T&G. They also indicate late 19th, early 20th century. The floorboards were removed in the 1950's for electrical wiring (I am certain vermiculite was not added at that time). I can see about 1 1/2 inches of vermiculite between the joists.

I have spoken with a local resident who grew up in the house in the 1940's, when it did not have electricity. He tells me that heat was by way of a hot air furnace in the cellar which released heat through a large grate in the first floor. This also indicates late 19th century. I would assume that was when any attic insulation was added.

So,my question is. given the era what is the likelihood that the vermiculite came from the Libby mine which contained the asbestos? - Ralph Donaldson 5/5/12
Reply:
Ralph,

Considering the very wide-spread use of Zonolite as a retrofit building insulation product, it is certainly possible that it was used in your home. Zonolite, which was found to contain tremolite asbestos, was produced in very large quantities, reaching 150,000 tons per year by 1950, and the plant continued to operate until 1990. There are other vermiculite mines that do not contain asbestos in their product and that continue to operate today.

It would be a mistake to presume that the Libby Montana Zonolite vermiculite mine source was the only source of asbestos containing products, including insulation, found in homes, as asbestos was used in a very wide range of building and in-home products and continues to appear in some products today. And it might be an error to presume this is the most serious hazard in a home as well.

In our article above we report in detail on the occurrence of asbestos in Zonolite Attic Insulation (ZAI) produced by the Zonolite Company and by its successor owner- W.R. Grace Corporation between 1923 and 1990.
Watch out: It might be useful to have your vermiculite insulation tested. If the result shows Tremolite asbestos (vermiculite mined at Libby Montana had a 10% Tremolite asbestos content) that probably points to the Libby vermiculite mine. But the US EPA warns that bulk testing of vermiculite for asbestos content can sometimes lead to a false negative finding (failing to detect asbestos even though it is present). That's a reason that the US EPA warned that people should err on the side of caution, assuming that it is asbestos-contaminated.
We also are researching the question of whether or not one can report a contents profile that would let one assay a vermiculite sample and guess at its source - as can be done very accurately with roofing slates. We will add that information here.
Question: Insulation in a 1969 house looks like white and gray furry stuff - is this vermiculite or asbestos?
I am buying a house that was build in 1969. I have not tested the insulation yet (I will). However, it doesn't looks like any of the above pictures. It looks like white and gray and furry. Are there still chance for the insulation to contain vermiculite or asbestos? - Will 7/12/2012
Reply:
Will,
For help in identifying the type of insulation in your home, see our INSULATION IDENTIFICATION GUIDE. From your description you may be looking at Mineral Wool - Rock Wool Insulation.
Question: was asbestos-contaminated vermiculite imported into the U.K.?
Are you aware if any of this contaminated vermiculite was imported to the UK? Thank you. - Laurence 9/15/2012
Reply:
Sorry Laurence, no I don't know.
Typically, because of price competition and the importance of shipping costs, insulation products are produced and shipped from locations a bit closer to their point of use.
Question: where can I have a sample of vermiculite insulation to have it tested?
I recently purchased a house from HUD. I had my home inspected and found out there is exposed vermiculite in the basement that has fallen to the floor and is now been tracked around. Where can I take a sample of this insulation to have it tested ? - Tim 9/16/2012
Reply: Where to Find a Certified or Accredited Asbestos Testing Laboratory
Tim, you can use any test laboratory certified for asbestos testing. Both the US EPA and many U.S. states or Canadian provinces maintain lists of currently-approved asbestos testing labs.
Most state and provincial governments regulate and certify asbestos testing laboratories, and we recommend that where there are health, legal, or cost concerns, you should only use a certified and competent asbestos testing laboratory to examine material samples for asbestos content.
We give a list of several ways to find a certified asbestos test lab at ASBESTOS TEST LABS.
Question: worried sick after our home inspector tested our "vermiculite insulation" for asbestos - lab said it was cellulose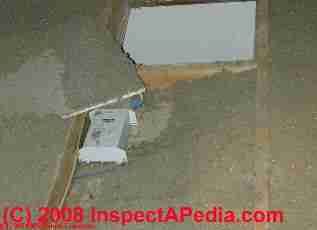 I recently bought a 1940s house which upon inspection was suspected to have vermiculita in a small area of the attic. The home inspector got it tested and it came back composed of cellulose and non fibrous materials, no asbestos. fast forward a few months we are now having our batting insulation replaced and the guys doing the work tell us its vermiculite. What do we go by? we also had our contractor tell us that its not vermiculite...im worried sick that now that the batting insulation is being removed, asbestos fibers might flying all over our house! - Worried sick., 10/5/2012
Reply: cellulose is not vermiculite and is not asbestos; but one insulation sample may not represent all building insulation in the structure
Worried:
You might be best off trying to not be worried sick, as that itself may be an immediate health hazard and also invites opportunists who may price-gouge you when they see that you're terrified. Scared means costly.
Provided your home inspector used a qualified forensic or asbestos test lab (see Where to Find a Certified or Accredited Asbestos Testing Laboratory), I'd trust their lab result for the insulation sample that was actually tested.
I am a little surprised that your home inspector could not himself tell the very obvious difference between cellulose building insulation and vermiculite insulation. They are not at all visually similar. Why did he test cellulose (Cellulose loose fill insulation - basically paper) for asbestos? Did he charge you a profit beyond the actual lab fee for that test?
I am not surprised that workers may have found vermiculite insulation in a 1940's house; Vermiculite was widely used as a pour-in insulation retrofit and often a 1940's home was originally built with little or no insulation to start with. In the 1970's many of us (including myself) added various insulation products, including vermiculite, in those homes.
By taking a look at the photographs in this article, even a child should be able to see the difference between vermiculite and other building insulation products. Our photo above shows a typical blown-in cellulose insulation installation. If indeed your workers are correct and vermiculite is in place, you should
Stop any work on the building that is or is likely to disturb the material and then
Follow the advice at Protect Your Family from Asbestos-Contaminated Vermiculite Insulation
If someone has already made a dusty mess in the home, extra cleaning measures such as damp-wiping and HEPA vacuuming are probably in order, asbestos-containing-vermiculite or not.
Question: did Vermiculite Insulation sold in the U.K. (Ireland in this case) contain asbestos?
I hope you can help me with a query I have. [Paraphrasing at reader request]: there was a vermiculite spill in my home in Ireland. How do I make sure that the home has not been contaminated with asbestos?
Reply: Dust sampling theory: usefulness & definitions of "old dust" and "recent dust" in buildings & where these are found
In an effort to be more clear about dust sampling theory I have expanded the descriptions of old dust, recent dust, where such samples are usually found, and why one would collect them for analysis - that discussion is now found at
DUST SAMPLE TYPES

In short, if you were worried that an original vermiculite spill had not been adequately cleaned, *or* if you wanted to know if the original vermiculite spill included asbestos, you might want to collect both a recent-dust sample and an old dust sample for comparison.

If, however, the cleanup was professionally conducted and post-cleanup testing was already performed properly, and if those steps indicated no problem remaining, in my *opinion* further testing would not be justified unless a new reason for further investigation is apparent. (Examples of such reasons are at MOLD / ENVIRONMENTAL EXPERT, HIRE ?  and also at MOLD TEST REASONS.
Reader follow-up:
The vermiculite spill was not professionally cleaned, and was swept and vacuumed with a standard household vacuum cleaner by the plumber before I ever knew what vermiculite was
Reply:
Thanks for the follow-up; Ordinary vacuuming actually increases the level of fine particulates; HEPA vacuuming would have been in order if we thought that asbestos was present, along with damp wiping of horizontal surfaces.
Most likely, from your case history, you're ok. If you want to get a settled-dust sample analyzed just send it to a certified asbestos testing laboratory and allow them to choose their method of analysis; typically the lab uses polarized light microscopy following the Walter McCrone procedure. Some asbestos test labs may also make use of other methods such as SEM; any certified lab will use appropriate asbestos identification procedures - as an amateur I would not second guess the lab ty telling them what to do, just make sure the sample is collected and question posed following their requrested procedure.
...
Ask a Question or Search InspectApedia
Questions & answers or comments about vermiculite insulation & asbestos.
Use the "Click to Show or Hide FAQs" link just above to see recently-posted questions, comments, replies, try the search box just below, or if you prefer, post a question or comment in the Comments box below and we will respond promptly.
Search the InspectApedia website
Technical Reviewers & References
Click to Show or Hide Citations & References
[1] Thanks to Gary Randolph, Ounce of Prevention Home Inspection, LLC Buffalo, NY, for attentive reading and editing suggestions. Mr. Randolph can be reached in Buffalo, NY, at (716) 636-3865 or email: gary@ouncehome.com, March 2007
[2] Thanks for photographs of transite asbestos heating ducts, courtesy of Thomas Hauswirth, Managing Member of Beacon Fine Home Inspections, LLC and (in 2007) Vice President, Connecticut Association of Home Inspectors Ph. 860-526-3355 Fax 860-526-2942 beaconinspections@sbcglobal.net, June 2007
[3] Thanks to home inspector Dan Phillips, Advanced Home Inspections, at P.O. Box 1068 Olive Branch, MS 38654-1068 , (901) 229-0822 email: dan@midsouthahi.com 05/29/2010
[4] David Grudzinski, Advantage Home Inspections, ASHI cert # 249089, HUD cert# H-145, is a professional home inspector who contributes on various topics including structural matters. Mr. Grudzinski, Cranston RI serving both Rhode Island and Eastern Connecticut can be reached at 401-935-6547 fax- 401-490-0607 or by email to Davidgrudzinski@aol.com. Mr. Grudzinski is a regular contributor to InspectAPedia.com - see DECK FLASHING LEAKS, ROT Case Study, and BASEMENT WATER MOLD IMPACT and VERMICULITE INSULATION for examples.
[5] Vermiculite: Protect Your Family from Asbestos-Contaminated Vermiculite Insulation, U.S. EPA, web search 08/17/2010, original source: http://www.epa.gov/asbestos/pubs/verm.html
[6] HOJA INFORMATIVA - Proteja a su familia del aislante de vermiculita contaminado con asbestos, web search 08/17/2010, original source http://www.epa.gov/asbestos/pubs/verm-ques-sp.pdf
[7] Vermiculite Insulation Containing, Amphibole Asbestos [PDF], Health Canada, September 2009, web search Jan 2011, source: http://www.hc-sc.gc.ca/hl-vs/iyh-vsv/prod/insulation-isolant-eng.php [copy on file as /hazmat/Vermiculite_Health_Canada.pdf] Vermiculite Insulation Containing Amphibole Asbestos - September 2009, Health Canada Quoting from the PDF document:
Some vermiculite insulation may contain amphibole asbestos fibres. These products can cause health risks if disturbed during maintenance, renovation or demolition. However, there is currently no evidence of risk to your health if the insulation is sealed behind wallboards and floorboards, isolated in an attic, or otherwise kept from exposure to the interior environment.
[8] Vermiculite: Protect Your Family from Asbestos-Contaminated Vermiculite Insulation, U.S. EPA , web search 08/17/2010, original source: http://www.epa.gov/asbestos/pubs/verm.html [copy on file as /hazmat/Vermiculite_US_EPA.pdf/ Current Best Practices for Vermiculite Attic Insulation - May 2003, U.S. EPA
Web search 01/20/2011, original source: http://epa.gov/asbestos/pubs/verm_questions.html
[10] "Zonolite Attic Insulation Safety Facts", W.R. Grace Corporation, web search 5/1/2012, original source: http://www.grace.com/about/ehs/libby/zonolite.aspx, [copy on file as /2 Environmental Hazards/Asbestos/Zonolite_Grace_Info.pdf ]
[11] "Libby Timeline", W.R. Grace Corporation, web search 4/28/12, original source :http://www.grace.com/about/ehs/libby/timeline.aspx
[copy on file as [Libby_History_Grace.pdf]
[12]Asbestos Identification, Walter C.McCrone, McCrone Research Institute, Chicago, IL.1987 ISBN 0-904962-11-3. Dr. McCrone literally "wrote the book" on asbestos identification procedures which formed the basis for current work by asbestos identification laboratories.
[13] Stanton, .F., et al., National Bureau of Standards Special Publication 506: 143-151
[14] Pott, F., Staub-Reinhalf Luft 38, 486-490 (1978) cited by McCrone
[15] "Financial Reorganization", W.R. Grace corporation, web search 5/8/11, original source: http://www.grace.com/About/Reorganization.aspx, [copy filed as /Grace_Financial_Reorg.pdf]
[16] The Perlite Institute, Inc., 4305 North Sixth Street Suite A Harrisburg, PA 17110, Tel: 717-238-9723, Fax: 717-238-9985, Email: info@perlite.org, Website: http://www.perlite.org/
[17] Schundler Company, Edison, NJ 732-287-2244 email: info@schundler.com Schundler provides information about the application-use of both perlite and vermiculite insulation products.
Vermiculite MSDS for Schundler's vermiculite product
[18] "Coping With Suspect Insulation", Jay Romano, The New York Times, 8 June 2003, p. 7
[19] "Hazardous Materials: EPA's Assessment of Sites that May Have Received Asbestos-Contaminated Ore from Libby, Montana (GAO-09-7sp, March 2009), an E-supplement to GAO-09-6R - Koos Inc., 2000 DeKovan Avenue, Racine, Wisconsin", The U.S. Government Accounting Office, Special Publications, web search 5/8/12, original source:
http://www.gao.gov/special.pubs/gao-09-7sp/file155.html
[20] "Hazardous Materials: EPA's Assessment of Sites that May Have Received Asbestos-Contaminated Ore from Libby, Montana (GAO-09-7sp, March 2009), an E-supplement to GAO-09-6R - Koos Inc., 2000 DeKovan Avenue, Racine, Wisconsin", The U.S. Government Accounting Office, Special Publications, web search 5/8/12, original source:
Former exfoliation facility: http://www.gao.gov/special.pubs/gao-09-7sp/file154.html
Asbestos Identification, Walter C.McCrone, McCrone Research Institute, Chicago, IL.1987 ISBN 0-904962-11-3. Dr. McCrone literally "wrote the book" on asbestos identification procedures which formed the basis for current work by asbestos identification laboratories.

Stanton, .F., et al., National Bureau of Standards Special Publication 506: 143-151
Pott, F., Staub-Reinhalf Luft 38, 486-490 (1978) cited by McCrone

Asbestos NESHAP ADEQUATELY WET ASBESTOS GUIDANCE, EPA340/1-90-019, December 1990, U.S. ENVIRONMENTAL PROTECTION AGENCY, Office of Air Quality Planning and Standards, Stationary Source Compliance Division, Washington, DC 20460,original web source: http://www.epa.gov/region04/air/asbestos/awet.htm
Asbestos products and their history and use in various building materials such as asphalt and vinyl flooring includes discussion which draws on ASBESTOS, ITS INDUSTRIAL APPLICATIONS, ROSATO 1959, D.V. Rosato, engineering consultant, Newton, MA, Reinhold Publishing, 1959 Library of Congress Catalog Card No.: 59-12535 (out of print, text and images available at InspectAPedia.com).
Dust from the World Trade Center collapse following the 9/11/01 attack: the lower floors of this building contained spray-on fire-proofing asbestos materials.
Asbestos Information Links: Asbestos Detection, Testing, Recognition, Hazards, Field Photos, and Information Sources, including health-related links such as legal services and information about mesothelioma and other cancers.
Basic Information about Asbestos, US EPA, web search 08/17/2010, original source: http://www.epa.gov/asbestos/pubs/help.html
"Handling Asbestos-Containing roofing material - an update", Carl Good, NRCA Associate Executive Director, Professional Roofing, February 1992, p. 38-43
EPA Guidance for Controlling Asbestos-Containing Materials in buildings, NIAST, National Institute on Abatement Sciences & Technology, [republishing EPA public documents] 1985 ed., Exposure Evaluation Division, Office of Toxic Substances, Office of Pesticides and Toxic Substances, U.S. Environmental Protection Agency, Washington,D.C. 20460
Copy on file as ASBESTOS IN YOUR HOME - U.S. EPA, Exposure Evaluation Division, Office of Toxic Substances, Office of Pesticides and Toxic Substances, U.S. Environmental Protection Agency, Washington,D.C. 20460
...
Books & Articles on Building & Environmental Inspection, Testing, Diagnosis, & Repair
Our recommended books about building & mechanical systems design, inspection, problem diagnosis, and repair, and about indoor environment and IAQ testing, diagnosis, and cleanup are at the InspectAPedia Bookstore. Also see our Book Reviews - InspectAPedia.
...