Talc Particles & Asbestos Content

Photos & properties of talc in body powder & baby powder
InspectAPedia tolerates no conflicts of interest. We have no relationship with advertisers, products, or services discussed at this website.
Talc & talcum powder properties:
Description of talc used in baby powder & body powder. Photographs of talc particles in transmitted & polarized light - talc under the microscope.
Page top photograph: talc particles at 100x in polarized light, photographed by the author [DF] at McCrone Research in Chicago.
This article series provides a master list of the forms in which asbestos was used, a list of known asbestos-containing materials, and links to detailed articles about individual asbestos-containing products & materials found in buildings and in a wide range of products used in both home and industry.
Green links show where you are. © Copyright 2017 InspectApedia.com, All Rights Reserved.
Physical Properties of Talc & its Asbestos Content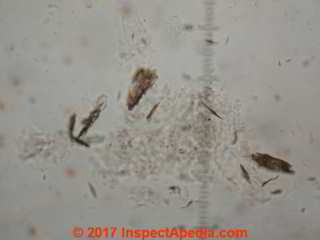 Talc or talcum is essentially a clay mineral made of hydrated magnesium silicate.
The chemical formula for talc is H2Mg3(SiO3)4 or Mg3Si4O10(OH)2. Some talc deposits also contained asbestos, so some talc products may have contained that material, depending on where the talc was mined.
Asbestos-containing talc is now known to be a respiratory hazard and even pure asbestos-free talc may be hazardous as well.
One of the earliest providers of talcum powder as a consumer product was Johnson & Johnson's® Baby Powder first marketed in 1894 by that company who was already a producer of medical products. Johnson's® Baby Powder became the progenitor of that famous company's baby products business.
This article is NOT discussing the current J&J baby powder product but rather an older product that contained talc as its principal ingredient.
Current body powders such as Gold Bond® Ultimate Comfort Body Powder & Johnson & Johnson's® Baby Powders not normally contain talc. Johnson & Johnson's current baby powder is made of pure cornstarch with aloe vera and vitamin E.
The J&J company lists these current ingredients in their baby powder: Zea Mays (Corn) Starch, Tricalcium Phosphate, Fragrance (Aloe Barbadensis Leaf, Tocopheryl (Vitamin E)).
Our photograph illustrates natural talc particles magnified at 100x, photographed by the author at McCrone Research in Chicago. This is the same particle magnification as shown in the page top photograph of talc particles.
Size of Talc Particles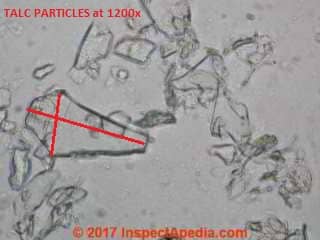 What is the actual size of typical talc particles in baby powder sold in the 1990s? Talc is considered a PM10 particle.
However talc contains smaller particles down to about 1u and larger particles up to about 55u. About 80% of the particles in a talc sample will be comprised of particles from 1-20 microns, with larger particles up to about 55u making up the remaining 20%. (Cen 2007, Fig. 5).
The photograph above was made in transmitted light at 1200x using a POLAM microscope. This lab photograph shows talc particles from Johnson & Johnson's baby powder from a container whose label text was marked ©1996.
In the photo above we have magnified those Johnson's® baby powder talc particles to about 1200x, or 1200 times the actual particle size.
As we illustrate with the two red lines, the largest particle in the photo measures approximately 15u in in its longest direction and 10u in its widest cross-section.
Take a closer look at the other particles in that photo. Clearly some of the talc fragments are much smaller, down in the 1u range.
Below is an additional photograph of talc particles from this very sample in polarized light.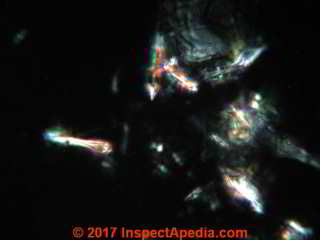 Asbestos content in talc, Possible Health Hazards of talcum powder, baby powder
Below is another polarized light photo of more talc-based baby powder showing by light variations the structural planes in this material. I did not see asbestos in the Johnson's Baby Powder sample that was examined in our lab. I did see the range of particle sizes we discussed above.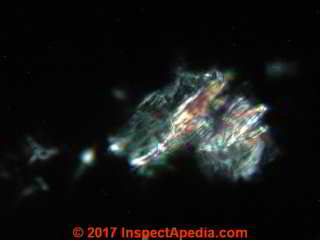 Watch out: Asbestos occurs naturally in some talc deposits. Talcum powder or talc that contains asbestos is generally accepted as a respiratory hazard and as capable of causing cancer if inhaled. That is why this talc is not used in current consumer products.
While current body powders avoid talc, historically talc was the main and sometimes the only ingredient in body powders used by adults as well as in baby powder. Even if the talc powder contained no asbestos, the talc itself might be a respiratory health hazard, in part because of its very small particle size. Particles down in the micron range are inhaled very deeply into the lung and are difficult to expel.
There could be another talc hazard: according to a some scholarly studies by experts cited below, talcum powder might cause cancer in the ovaries, particularly if the powder applied to the genital area moves through the vagina, uterus, and fallopian tubes to the ovary.
Photos of an older container of Johnson's Baby Powder containing Talc. [Click to enlarge any image]
Talc's properties that made it an excellent lubricant also made it a successful body powder as we seen this product from Johnson & Johnson from 1996. This product is no longer sold.
In our photo of the information label for Johnson & Johnson's Baby Powder, (C) 1996, the text reads:
Johnson's® The Number One Choice of Hospitals
For baby, use after ever bath and diaper change, to make your baby's skin soft and smooth. JOHNSON's Baby Powder's natural softness helps prevent chafing. For you, use every day to feel soft, fresh, and comfortable.
DIRECTIONS: Shake powder into your hand and smooth onto skin. Store in a cool dry place.
WARNING: For external use only. Keep out of reach of children. Close tightly after use. Do not use on broken skin. Avoid contact with eyes. Keep powder away from child's face to avoid inhalation, which can cause breathing problems.
INGREDIENTS: TALC, FRAGRANCE
While that conclusion has been questioned including in recent (2017) court cases, some but not all of the studies we cite below (Merritt 2008) provide important findings that suggest at the very least, prudent avoidance of the use of asbestos-containing talc.
In August 2017 in the U.S. a Los Angeles jury awarded $417 million to Eva Echeverria who blamed her terminal cancer illness on Johnson's Baby Powder that she had used for decades, since the age of eleven. The case argued that J&J failed to warn consumers of the cancer risk of using its asbestos-containing baby powder. [The company's current (2017) baby powder does not contain talc - Ed.].
In October4 2017, on appeal Los Angeles Superior Court Judge Maren Nelson, stating that the evidence was insufficient and that the award was excessive [in an example of of self-contradicting viewpoints? - Ed.] vacated the jury's award and granted Johnson & Johnson's request for a new trial.
Also an appeals court in Missouri vacated a $72 million award in a similar case involving Jacqueline Fox of Birmingham AL. Both women died of ovarian cancer. Johnson & Johnson, according to The Times (cited below) stated that while ovarian cancer is a devastating disease it is not cased by the cosmetic-grade talc used in Johnson & Johnson's Baby Powder for decades.
The Times also reported that "the American Cancer Society said that more studies should be done in order to determine whether today's products are safe", and that "the National Cancer Institute said that 'the weight of evidence does not support an association between perineal talc exposure and an increased risk of ovarian cancer.'"
Research Studies on the Role of Perineal Use of Talc in Ovarian Cancer
American Cancer Society, "Talcum Powder and Cancer, What is talcum powder?", American Cancer Society, 250 Williams Street NW, Atlanta, GA 30303 USA, Tel: 800.227.2345, Website: https://www.cancer.org retrieved 2017/01/26, original source: https://www.cancer.org/cancer/cancer-causes/talcum-powder-and-cancer.html
Caron, Christina, "Courts Reverse 2 Rulings Against Baby Powder Maker", The New York Times, 24 October 2017 p. B4.
Cen, Kefa, Hua Yang, Kunzan Qiu, Zhanghua Zhou, Ligang Zheng, and Hao Zhou. "Experimental Investigations on Performance of Collision‐block‐type Concentrator Using Fiber Optic Probe." In AIP Conference Proceedings, vol. 914, no. 1, pp. 367-375. AIP, 2007.
Cook, Linda S., Mary L. Kamb, and Noel S. Weiss. "Perineal powder exposure and the risk of ovarian cancer." American journal of epidemiology 145, no. 5 (1997): 459-465.
Abstract:

This case-control study evaluated the risk of epithelial ovanan cancer associated with genital exposure to vanous forms of powder application. Cases included all women aged 20–79 years in three counties of western Washington who were diagnosed with borderline or invasive ovarian cancer from 1986 through 1988; 64.3% of eligible cases were interviewed.

A sample of similarly aged women who lived in these counties, identified by random digit dialing, served as controls. The overall response among control women was 68.0%. Information on powder application and other potential risk factors was ascertained during the in-person interview.

Overall, ovarian cancer cases (n = 313) were more likely than controls (n = 422) to ever have used powder (age-adjusted relative risk (RR) = 1.5, 95% confidence interval (Cl) 1.1–2.0). After adjustment for age and other methods of genital powder application (none vs. any), an elevated relative nsk of ovarian cancer was noted only for women with a history of penneal dusting (RR = 1.6, 95% Cl 1.1–2.3) or use of genital deodorant spray (RR = 1.9, 95% Cl 1.1–3.1)

These results offer support for the hypothesis, raised by prior epidemiologic studies, that powder exposure from perineal dusting contnbutes to the development of ovarian cancer, and they suggest that use of genital deodorant sprays may do so as well. Limitations of the present study include the fairly low proportion of eligible women who participated and the potential differential recall of powder usage.
Cramer, Daniel W., Rebecca F. Liberman, Linda Titus‐Ernstoff, William R. Welch, E. Robert Greenberg, John A. Baron, and Bernard L. Harlow. "Genital talc exposure and risk of ovarian cancer." International journal of cancer 81, no. 3 (1999): 351-356.
Abstract:

Epidemiologic studies have suggested an increased risk for ovarian cancer associated with the use of talcum powder in genital hygiene, but the biologic credibility of the association has been questioned.

We conducted a population-based case-control study in eastern Massachusetts and New Hampshire involving 563 women with newly diagnosed epithelial ovarian cancer and 523 control women selected either by random digit dialing or through lists of residents. Use of body powders was assessed through personal interview and the exposure odds ratio (OR) for the use of talc in genital hygiene was calculated.

Cases were more likely than controls (45% vs. 36%) to have used talc as a body powder in some manner, and the excess was confined to patients who used talc on the perineum directly or as a dusting powder to underwear or sanitary napkins.

Relative to women who never used body powder or used it only in non-genital areas, the OR (and 95% confidence interval) associated with genital exposure to talc was 1.60 (1.18 and 2.15) after adjustment for age, study location, parity, oral contraceptive use, body mass index and family history of breast or ovarian cancer.

Exposure prior to rather than after a first live birth appeared to be more harmful, and the association was most apparent for women with invasive serous cancers and least apparent for those with mucinous tumors.

We conclude that there is a significant association between the use of talc in genital hygiene and risk of epithelial ovarian cancer that, when viewed in perspective of published data on this association, warrants more formal public health warnings.
Jablon, Robert, "Judge tosses $417 million award in Johnson & Johnson baby powder cancer case", The Chicago Tribune, 21 October 2017.
Harlow, Bernard L., Daniel W. Cramer, Debra A. Bell, and William R. Welch. "Perineal exposure to talc and ovarian cancer risk." Obstetrics & Gynecology 80, no. 1 (1992): 19-26.
Abstract:

Objective: We sought to determine whether the use of talc in genital hygiene increases the risk for epithelial ovarian cancer.

Methods: We interviewed 235 white women diagnosed with epithelial ovarian cancer between 1984-1987 at ten Boston metropolitan area hospitals and 239 population-based controls of similar race, age, and residence.

Results: Overall, 49% of cases and 39% of controls reported exposure to talc, via direct application to the perineum or to undergarments, sanitary napkins, or diaphragms, which yielded a 1.5 odds ratio (OR) for ovarian cancer (95% confidence interval [CI] 1.0-2.1). Among women with perineal exposure to talc, the risk was significantly elevated in the subgroups of women who applied it:

1) directly as a body powder (OR 1.7, 95% CI 1.1-2.7),

2) on a daily basis (OR 1.8, 95% CI 1.1-3.0), and

3) for more than 10 years (OR 1.6, 95% CI 1.0-2.7).

The greatest ovarian cancer risk associated with perineal talc use was observed in the subgroup of women estimated to have made more than 10,000 applications during years when they were ovulating and had an intact genital tract (OR 2.8, 95% CI 1.4-5.4); however, this exposure was found in only 14% of the women with ovarian cancer.

Conclusions: These data support the concept that a lifetime pattern of perineal talc use may increase the risk for epithelial ovarian cancer but is unlikely to be the etiology for the majority of epithelial ovarian cancers.

Hess, Harry Hammond. "The problem of serpentinization and the origin of certain chrysotile asbestos, talc, and soapstone deposits." Economic Geology 28, no. 7 (1933): 634-657.
Johnson & Johnson Corporation: Website: https://www.jnj.com/
Johnson & Johnson Museum: https://ourstory.jnj.com/
Rohl, Arthur N. "Asbestos in talc." Environmental health perspectives 9 (1974): 129.

Excerpt: Talc deposits include asbestos minerals such as chrysotile and amphiboles that may be carried over into consumer products. Optical microscopy and x-ray diffraction analyses may not reveal their presence. Examples are given of electron microscopy procedures that permit detection and measurement.
Merritt, Melissa A., Adèle C. Green, Christina M. Nagle, and Penelope M. Webb. "Talcum powder, chronic pelvic inflammation and NSAIDs in relation to risk of epithelial ovarian cancer." International journal of cancer 122, no. 1 (2008): 170-176.
Abstract:

Chronic inflammation has been proposed as the possible causal mechanism that explains the observed association between certain risk factors, such as the use of talcum powder (talc) in the pelvic region and epithelial ovarian cancer.

To address this issue we evaluated the potential role of chronic local ovarian inflammation in the development of the major subtypes of epithelial ovarian cancer. Factors potentially linked to ovarian inflammation were examined in an Australia-wide case–control study comprising 1,576 women with invasive and low malignant potential (LMP) ovarian tumours and 1,509 population-based controls.

We confirmed a statistically significant increase in ovarian cancer risk associated with use of talc in the pelvic region (adjusted odds ratio 1.17, 95% CI: 1.01–1.36) that was strongest for the serous and endometrioid subtypes although the latter was not statistically significant (adjusted odds ratios 1.21, 95% CI 1.03–1.44 and 1.18, 95% CI 0.81–1.70, respectively).

Other factors potentially associated with ovarian inflammation (pelvic inflammatory disease, human papilloma virus infection and mumps) were not associated with risk but, like others, we found an increased risk of endometrioid and clear cell ovarian cancer only among women with a history of endometriosis.

Regular use of aspirin and other nonsteroidal anti-inflammatory drugs was inversely associated with risk of LMP mucinous ovarian tumours only. We conclude that on balance chronic inflammation does not play a major role in the development of ovarian cancer.
Mills, Paul K., Deborah G. Riordan, Rosemary D. Cress, and Heather A. Young. "Perineal talc exposure and epithelial ovarian cancer risk in the Central Valley of California." International journal of cancer 112, no. 3 (2004): 458-464.
Abstract:

Perineal talc use has been suggested as a possible risk factor for ovarian cancer based on its structural similarity to asbestos, a known human carcinogen. A population-based epidemiologic case-control study of epithelial ovarian cancer (EOC) was conducted in 22 counties of Central California that comprise the reporting area for 2 regional cancer registries. ...

Talc use and EOC risk was highest in women with serous invasive tumors (OR = 1.77; CI = 1.12–2.81).

This study provides some support for the hypothesis that perineal talc use is associated with an increased risk of EOC.

Ness, Roberta B., Jeane Ann Grisso, Carrie Cottreau, Jennifer Klapper, Ron Vergona, James E. Wheeler, Mark Morgan, and James J. Schlesselman. "Factors related to inflammation of the ovarian epithelium and risk of ovarian cancer." Epidemiology 11, no. 2 (2000): 111-117.
Abstract:

Previous epidemiologic observations consistently suggest that suppression of ovulation, tubal ligation, and hysterectomy reduce the risk of ovarian cancer and that perineal talc use increases the risk.

We examined these and other risk factors in the context of a new hypothesis: that inflammation may play a role in ovarian cancer risk. Ovulation entails ovarian epithelial inflammation; talc, endometriosis, cysts, and hyperthyroidism may be associated with inflammatory responses of the ovarian epithelium; gynecologic surgery may preclude irritants from reaching the ovaries via ascension from the lower genital tract.

We evaluated these risk factors in a population-based case-control study. Cases 20–69 years of age with a recent diagnosis of epithelial ovarian cancer (767) were compared with community controls (1367). We found that a number of reproductive and contraceptive factors that suppress ovulation, including gravidity, breast feeding, and oral contraception, reduced the risk of ovarian cancer.

Environmental factors and medical conditions that increased risk included talc use, endometriosis, ovarian cysts, and hyperthyroidism. Gynecologic surgery including hysterectomy and tubal ligation were protective. Tubal ligation afforded a risk reduction even 20 or more years after the surgery. The spectrum of associations provides support for the hypothesis that inflammation may mediate ovarian cancer risk.
Ness, Roberta B., and Carrie Cottreau. "Possible role of ovarian epithelial inflammation in ovarian cancer." Journal of the National Cancer Institute 91, no. 17 (1999): 1459-1467.
Abstract:

Ovarian cancer is a commonly fatal disease for which prevention strategies have been limited, in part because of a lack of understanding of the underlying biology. This paper reviews the epidemiologic literature in the English language on risk factors and protective factors for ovarian cancer and proposes a novel hypothesis that a common mechanism underlying this disease is inflammation.

Previous hypotheses about the causes of ovarian cancer have attributed risk to an excess number of lifetime ovulations or to elevations in steroid hormones. Inflammation may underlie ovulatory events because an inflammatory reaction is induced during the process of ovulation.

Additional risk factors for ovarian cancer, including asbestos and talc exposure, endometriosis (i.e., ectopic implantation of uterine lining tissue), and pelvic inflammatory disease, cannot be directly linked to ovulation or to hormones but do cause local pelvic inflammation.

On the other hand, tubal ligation and hysterectomy act as protective factors, perhaps by diminishing the likelihood that the ovarian epithelium will be exposed to environmental initiators of inflammation. Inflammation entails cell damage, oxidative stress, and elevations of cytokines and prostaglandins, all of which may be mutagenic.

The possibility that inflammation is a pathophysiologic contributor to the development of ovarian cancer suggests a directed approach to future research
Weissberg, Dov, and Ilan Ben-Zeev. "Talc pleurodesis. Experience with 360 patients." The Journal of thoracic and cardiovascular surgery 106, no. 4 (1993): 689-695.
Whittemore, Alice S., Marion L. Wu, Ralph S. Paffenbarger Jr, Dorien L. Sarles, James B. Kampert, Stella Grosser, Dexter L. Jung, Samuel Ballon, And Michael Hendrickson. "Personal and environmental characteristics related to epithelial ovarian cancer: II. Exposures to talcum powder, tobacco, alcohol, and coffee." American Journal of Epidemiology 128, no. 6 (1988): 1228-1240.
Abstract:

... Vaginal exposures to talc and other particulates may play an etiologic role in epithelial ovarian cancer.

Surgical sterilization may protect against ovarian cancer by blocking entry of such particulates into the peritoneal cavity.

The authors assessed histories of talcum powder use, tubal sterilization, and hysterectomy with ovarian conservation in 188 women in the San Francisco Bay Area with epithelial ovarian cancers diagnosed in 1983–1985 and in 539 control women. To investigate the roles of blood-borne environmental exposures on ovarian cancer risk, they assessed lifetime consumption of coffee, tobacco, and alcohol in these women.

Of the 539 controls, 280 were hospitalized women without overt cancer, and 259 were chosen from the general population by random digit telephone dialing. Ninety-seven (52%) of the cancer patients habitually used talcum powder on the perineum, compared with 247 (46%) of the controls. Adjusted for parity, the relative risk (RR) = 1.40, p = 0.06.

There were no statistically significant trends with increasing frequency or duration of talc use, and patients did not differ from controls in use of talc on sanitary pads and/or contraceptive diaphragms. ...

Although risk ratios relating duration of coffee drinking to ovarian cancer were unaffected by adjustment for several characteristics, further study is needed to exclude potential confounding by other unmeasured characteristics.
BLACK LIGHT & UV LIGHT USES describes use of that device to show talcum powder on surfaces
MEDICAL USE of ASBESTOS is described in ASBESTOS OTHER PRODUCTS where, citing Rosato we note that asbestos was used in temporary dental fillings and in medical foot powder made with equal weights of boro-salicylated talc dusting powder (RB) and powdered asbestos.

...
Continue reading at ASBESTOS LIST of PRODUCTS or select a topic from closely-related articles below, or see our complete INDEX to RELATED ARTICLES below.
Or see FORENSIC INVESTIGATION of BUILDINGS
Or see FORENSIC & IAQ LAB MICROSCOPE TECHNIQUES
Or see ASBESTOS IDENTIFICATION IN BUILDINGS
Or see ASBESTOS PRODUCTS 1959 - returns to the chapter in ASBESTOS ORIGIN & NATURE where Rosato's Table 1.7 originally appeared.
Or see ASBESTOS PRODUCING COMPANIES for a most-complete list of companies that produced products containing asbestos
Or see ASBESTOS PHOTO GUIDE to MATERIALS
Or see EPA Sample List of Asbestos Containing Materials [PDF] at InspectApedia.com
Suggested citation for this web page
ASBESTOS in TALCUM POWDER at InspectApedia.com - online encyclopedia of building & environmental inspection, testing, diagnosis, repair, & problem prevention advice.
Or use the SEARCH BOX found below to Ask a Question or Search InspectApedia
...
Frequently Asked Questions (FAQs)
Try the search box below or CONTACT US by email if you cannot find the answer you need at InspectApedia.
Please see the asbestos product questions & answers now found at ASBESTOS PRODUCT FAQs
Try the search box below or CONTACT US by email if you cannot find the answer you need at InspectApedia.
...
Ask a Question or Search InspectApedia
Questions & answers or comments about what building products and common in-building products, appliances, mechanical components were produced using asbestos materials.
Use the "Click to Show or Hide FAQs" link just above to see recently-posted questions, comments, replies, try the search box just below, or if you prefer, post a question or comment in the Comments box below and we will respond promptly.
Search the InspectApedia website
Technical Reviewers & References
Click to Show or Hide Citations & References
16 CFR Chapter 11, Consumer Products Containin Asbestos, Advance Notice of Proposed Rulemaking", [PDF] U.S. Consumer Products Safety Commission, CPSC, U.S. Federal Register, Vol. 44. No 201, 17 October 1979, Proposed Rules, 60057. This document cites a long list of consumer products that contained asbestos.
Archer, S. R., and T. R. Blackwood. Status assessment of toxic chemicals: asbestos. Vol. 1. Environmental Protection Agency, Office of Research and Development, Industrial Environmental Research Laboratory, 1979. In this text, table 4. U.S. Asbestos Uses (3)
This book is available as a free e-book via Google Play. Link:
https://play.google.com/books/reader?id=U57ObCey-wcC&printsec=frontcover&output=reader&hl=en&pg=GBS.PP1
Asbestos, its Industrial Applications, D.V. Roasato, engineering consultant, Newton MA, Reinhold Publishing Co., NY, 1959, Library of Congress Catalog No. 59-12535. We are in process of re-publishing this interesting text. Excerpts & adaptations are found in InspectApedia.com articles on asbestos history, production & visual identification in and on buildings.
Asbestos Asbestos: How to find and recognize asbestos in buildings - visual inspection methods, list of common asbestos-containing materials
Asbestos Enviro-Scare: Electric Power Lines, Electromagnetic Fields, Cancer Risk, & "Enviro-Scare" - The Normal Curve Cycle of Public Fear of Environmental Issues
Asbestos Dust from the World Trade Center collapse following the 9/11/01 attack: the lower floors of this building contained spray-on fire-proofing asbestos materials.
Asbestos Asbestos Information Links: Asbestos Detection, Testing, Recognition, Hazards, Field Photos, and Information Sources, including health-related links such as legal services and information about mesothelioma and other cancers.
"Asbestos in Plastic Compositions", A.B. Cummins, Modern Plastics [un-dated, pre 1952]
"Asbestos in Your Home," Spokane County Air Pollution Control Authority, Spokane WA 509-477-4727 www.scapa.org provides a one-page image, a .pdf file drawing of a house warning of some possible sources of asbestos in the home. The sources are not ranked according to actual risk of releasing hazardous levels of airborne asbestos fibers and the list is useful but incomplete.
Chrysotile [asbestos] and Its Uses, Louis Perron, Minerals and Metals Sector, Canadian Minerals Yearbook, 2002, Natural Resources Canada, web search 03/01/2011, original source: http://www.nrcan-rncan.gc.ca/mms-smm/busi-indu/cmy-amc/content/2002/20.pdf
The US EPA provides a sample list of asbestos containing products epa.gov/earth1r6/6pd/asbestos/asbmatl.htm
Thanks to Susan Kimball, Argus Pacific Corp., Puget Sound, WA, for pointing out that some products are permitted to contain more than 1% asbestos fibers by current standards provided that the fibers are encapsulated in an appropriate binder. Argus Pacific, in Seattle, WA 98119, 206.285.3373, is an industrial hygiene firm who also provide OSHA and DOSH regulated training in Washington State, providing classes in asbestos, lead, mold, hazardous waste, emergency response, and other occupational health, safety, and professional development topics. -- September 2008.
" Work Practice for Window Removal and Window Putty Patching With Less Than Or Equal To 1% Asbestos Window Putty and Caulking" University of Washington, 2002 http://www.washington.edu/admin/asbestos/1putty.html
How do I Manage Asbestos in our House or Apartment Building?, Illinois Department of Environmental Conservation, provides this article at http://www.epa.state.il.us/small-business/asbestos-in-home/
Asbestos in buildings - employee notice, University of Washington dept. of Environmental Safety, http://www.ehs.washington.edu/ohsasbestos/index.shtm
Window putty to be exempted from asbestos removal by State of Maine - http://list.uvm.edu/cgi-bin/wa?A2=SAFETY;wYpdKg;20010307113643-0500A
EPA Region 6 identifies window putty as asbestos containing - http://www.epa.gov/earth1r6/6pd/asbestos/asbmatl.htm
June 1997 - Window Putty - OSHA case cites contractor for asbestos exposure during removal of window putty http://www.osha.gov/pls/oshaweb/owadisp.show_document?p_table=NEWS_RELEASES&p_id=1091
Environmental Health & Investigation Bibliography - our own technical library on indoor air quality inspection, testing, laboratory procedures, forensic microscopy, etc.
ASBESTOS IDENTIFICATION IN BUILDINGS How to find and recognize asbestos in buildings - visual inspection methods, list of common asbestos-containing materials
Asbestos Identification and Testing References

Asbestos Identification, Walter C.McCrone, McCrone Research Institute, Chicago, IL.1987 ISBN 0-904962-11-3. Dr. McCrone literally "wrote the book" on asbestos identification procedures which formed the basis for current work by asbestos identification laboratories.
Stanton, .F., et al., National Bureau of Standards Special Publication 506: 143-151
Pott, F., Staub-Reinhalf Luft 38, 486-490 (1978) cited by McCrone

ASBESTOS IN YOUR HOME U.S. EPA, Exposure Evaluation Division, Office of Toxic Substances, Office of Pesticides and Toxic Substances, U.S. Environmental Protection Agency, Washington,D.C. 20460
Asbestos NESHAP ADEQUATELY WET ASBESTOS GUIDANCE, EPA340/1-90-019, December 1990, U.S. ENVIRONMENTAL PROTECTION AGENCY, Office of Air Quality Planning and Standards, Stationary Source Compliance Division, Washington, DC 20460,original web source: http://www.epa.gov/region04/air/asbestos/awet.htm
Asbestos products and their history and use in various building materials such as asphalt and vinyl flooring includes discussion which draws on ASBESTOS, ITS INDUSTRIAL APPLICATIONS, ROSATO 1959, D.V. Rosato, engineering consultant, Newton, MA, Reinhold Publishing, 1959 Library of Congress Catalog Card No.: 59-12535 (out of print, text and images available at InspectAPedia.com).
Fiberglass: Indoor Air Quality Investigations: Health Concerns About Airborne Fiberglass: Fiberglass in Indoor Air from HVAC ducts, and Building Insulation
Asbestos Information Links: Asbestos Detection, Testing, Recognition, Hazards, Field Photos, and Information Sources, including health-related links such as legal services and information about mesothelioma and other cancers.
"Handling Asbestos-Containing roofing material - an update", Carl Good, NRCA Associate Executive Director, Professional Roofing, February 1992, p. 38-43
EPA Guidance for Controlling Asbestos-Containing Materials in buildings, NIAST, National Institute on Abatement Sciences & Technology, [republishing EPA public documents] 1985 ed., Exposure Evaluation Division, Office of Toxic Substances, Office of Pesticides and Toxic Substances, U.S. Environmental Protection Agency, Washington,D.C. 20460
Books & Articles on Building & Environmental Inspection, Testing, Diagnosis, & Repair