Air Conditioner or Heating System Blower Fan Testing & Diagnosis

InspectAPedia tolerates no conflicts of interest. We have no relationship with advertisers, products, or services discussed at this website.
HVAC blower fan testing & diagnosis guide: this article discusses how to inspect and test a heating or air conditioning indoor air handler blower fan that is not working. We also discuss convector unit fans and we suggest diagnostic steps for squirrel cage blower fan squeaks and noises.
Green links show where you are. © Copyright 2013 InspectAPedia.com, All Rights Reserved.
Heating or Air Conditioner / Heat Pump Blower Fan Testing & Diagnostic Procedures
How do I fix my indoor air conditioning or furnace blower fan: the air conditioning (or heat pump or furnace) blower fan just won't run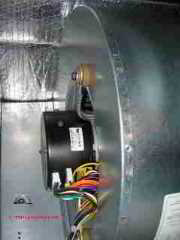 Our page top photo shows an air handler unit located in a building's attic - we removed the cover to show the blower fan assembly just to the left of the red tag) in this image of a Lennox™ horizontal HVAC system. The blower fan is located inside a horizontal air conditioning unit in many home air conditioning systems, especially when the air handler is located in an attic or crawl area. The location of a blower fan in vertical "up flow" or "down flow" heating and cooling systems is illustrated in additional sketches and photographs below.
Testing cooling system or air conditioner blower fans
Testing heat pump blower fans
Problems when adding retrofit air conditioning to a warm air heating system
How to find and test the blower fan in a furnace, air conditioner, or heat pump
See AIR HANDLER / BLOWER UNITS for our complete list of indoor air handler inspection diagnosis and repair articles. Also see COOLING COIL or EVAPORATOR COIL for a description of diagnosis and repair of cooling coil problems since this component is normally located within the air handler chassis as well. A cooling coil which is blocked by debris or ice and frost can obstruct air flow and reduce air conditioning system output.

If you need to diagnose and repair the outdoor compressor/condenser unit fan for an air conditioner or heat pump, see FAN, COMPRESSOR/CONDENSER UNIT

If your air conditioner or heat pump is a split system or mini split system design (using a wall-mounted cooling or heating unit) our troubleshooting diagnostics are at SPLIT SYSTEM AIR CONDITIONERS & HEAT PUMPS.


Initial, simple diagnostic checks of the air handler system are also described at Ducts & Air Handler diagnosis: Basic checks of the indoor air handler (blower), air ducts, and filter systems.

My issue is about an air conditioner fan that just won't start. The fan motor is not seized, and we had a recent blower motor starting capacitor change. The blower fan relay appears to pull in okay, the electrical connections reseated and tight.

But the cooling fan will still not start. This is an early 1990's York home air conditioning unit. - R.S.

Our photo (left), shows a modern blower assembly inside of an air handler. In this case the blower is a direct-drive unit - the electric motor that drives the air conditioner blower fan is mounted inside of and at the center of the blower assembly itself.

Other HVAC blower units may mount the motor separately from the squirrel cage fan, connecting the motor to the fan using a set of pulleys and a fan belt.
Reply: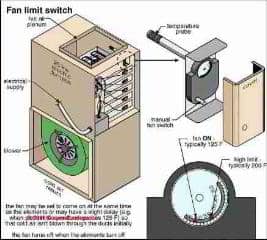 For completeness we have listed some blower fan diagnostic steps that you have already tried, as well as additional things to check. The blower assembly is the green component in this illustration from Carson Dunlop Associates The Illustrated Home.
A/C won't start or lost cooling capacity: If your air conditioning or heat pump system has lost its cooling capacity or won't start see REPAIR GUIDE for AIR CONDITIONERS. Make sure that all electrical power switches for the system are "on" and that the thermostat is properly set.
Heat won't stasrt or lost capacity: if your heating system or heat pump (warm air heat) won't start, see the links above, or see HEATING LOSS DIAGNOSIS-FURNACES.
If it appears that it is specifically the blower fan for your HVAC system is not working, first be sure that the thermostat is calling for heating or cooling.

For heating systems the set-temperature on the thermostat must be set higher than room temperature.
For cooling or air conditioners the temperature must be set lower than room temperature. See THERMOSTATS.

Try overriding the thermostat by forcing the blower fan "on" using the thermostat (see FAN ON AUTO MAN Thermostat Switch) or by using manual fan-on knob on the FAN LIMIT SWITCH. This switch is illustrated at FAN LIMIT SWITCH TROUBLESHOOTING.
If the blower fan motor won't turn on or is noisy, there may be a ELECTRIC MOTOR OVERLOAD RESET SWITCH that has tripped off. Don't forget also to look for other switches that could prevent the air conditioner from even starting, such as a condensate overflow pan sensor switch (see DRIP TRAY DEFECTS).

If the blower motor is having trouble starting, also see CAPACITORS for HARD STARTING MOTORS. Keep in mind that if the blower motor or fan bearings are shot the wobbling fan can make a horrible noise and can eventually ruin the motor shaft bearings. And if your blower motor misbehaves after checking bearings and the start/run capacitor, consider that the motor itself may be bad. An expert can measure current draw as part of diagnosing a failing electric motor.

Blower Fan No Start / No Stop - weird blower behavior can also be diagnosed and fixed - this article provides a detailed list of things to check.
If the blower fan motor runs but little or no air is coming out of your heating or cooling supply registers, see LOST COOLING CAPACITY or HEATING LOSS DIAGNOSIS-FURNACES. The problem may be as simple as a dirty air filter, dirty squirrel cage fan itself, closed air supply registers, disconnected air ducts, a loose fan belt connecting the blower motor to the blower fan (if your fan is not a direct drive unit) or an iced cooling coil.
Check the blower assembly drive belt: if the blower assembly uses a separate motor to drive the blower fan assembly (as opposed to direct-drive blower fan units) an electric motor drive shaft spins a pulley that is connected to a separate pully wheel on the blower fan assembly by a drive belt. If the belt is broken the blower wont' spin. If the belt is too lowe the blower may not turn. How tight should the furnace or air conditioner blower drive belt be? In the absence of a manufacturer's specification we set about 1 1/4" of free play in the blower drive belt.
If the blower fan motor won't run, see the motor test procedures at ELECTRIC MOTOR DIAGNOSTIC GUIDE
Check to see if voltage is present at the fan motor wires. If voltage is present and if none of these steps will turn the blower fan on, and if you are certain that the motor starting capacitor is good (see CAPACITORS for HARD STARTING MOTORS), then we suspect that the motor may be seized.

Sometimes if we have to replace a starter capacitor that gets things going again for a while, but ultimately we discover that the motor itself was increasingly hard to start as it was moving towards seizing. ping the fireplace flue closed (if you have one) when not in use will improve both heating and cooling efficiency.

This photo shows a blower fan assembly with a motor starter capacitor installed on the upper right side of the squirrel cage fan.
Thanks to reader Randy Shaffer for suggesting this topic.
Air Conditioner or Heater Wall Convector Unit Blower Fans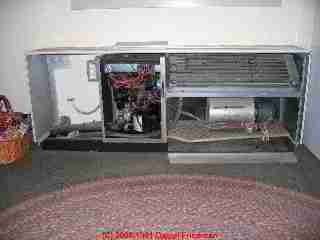 Wall convectors are often used for both heating and cooling in commercial installations and high-rise apartment buildings. The unit shown has its own compressor mounted right in the cabinet, visible at lower center in the photo.

Wall-mounted heating and cooling convector installations may be designed with one central heater or cooling system which feeds multiple units with chilled or heated water or possibly refrigerant from a single remote heating and cooling heat pump.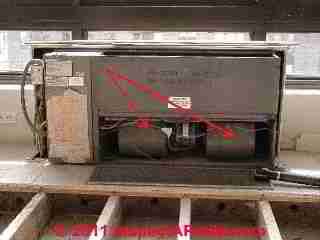 Our photo (left) illustrates dual squirrel cage blower fans typically found in the bottom of a fan/convector heating or cooling unit such as this one found in a New York City apartment.
If the convector fan motors run and the squirrel cage fans spin but not enough air is coming out of your convector unit, turn off power and take a closer look at the fan blades themselves - you may need a flashlight and a mirror to make this check without disassembling the unit further than shown here (we removed the convector unit cover). Dirt on the fan blades can significantly reduce airflow through the unit.
Also check the cooling or heating coil fins for blockage by dust and debris - a more common source of air flow blockage at heating and cooling convector units like the one shown.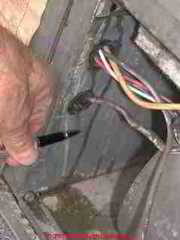 Our photo (left) illustrates a condensate handling problem in the cooling convector unit for the same apartment unit introduced above.
Air conditioning condensate was leaking inside of the convector unit due to a clogged condensate drain line.
The condensate leak exited the bottom of the convector, ran through a raised floor cavity, entered apartment building walls, and ran around the wall interiors in a metal stud-framed wall sill plate where it led to major toxic mold contamination over a wide area, floor damage, and the need for costly cleanup and repair work.
Details about wall convectors used for heating or cooling and about convector blower fans are found at WALL CONVECTORS HVAC and also at FAN CONVECTOR HEATERS - HYDRONIC COILS
Also see CONDENSATE HANDLING, A/C for more about air conditioner or heat pump condensate drainage handling.
...
Frequently Asked Questions (FAQs) about heating or cooling system air handler blower fans
No FAQs have been posted for this page. Try the search box below or CONTACT US by email if you cannot find the answer you need at InspectApedia.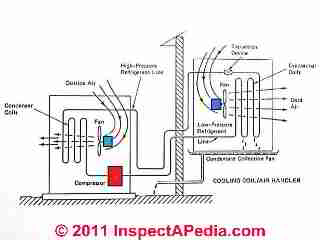 Which air conditioner, heat pump, or furnace fan is located where?
In our simple air conditioning (or heat pump) system sketch shown at left, the light blue fan shown at left in the sketch (above the red compressor box) is the outdoor compressor/condenser fan discussed at FAN, COMPRESSOR/CONDENSER UNIT.
The dark blue fan shown at right in the sketch is the indoor air handler or blower compartment or cooling coil fan found inside the building. This fan blows building air across the evaporator coil (or cooling coil) to cool and dehumidify indoor building air. We discuss this indoor fan at FAN, AIR HANDLER BLOWER UNIT.
In a warm air heating system that does not include air conditioning as well, the indoor fan is still located in the indoor air handler and is discussed at FAN, AIR HANDLER BLOWER UNIT.
Squeaky Squirrel Cage Blower Fan Noises: Diagnosis, Cure
Question: What do I do about a squeaking, squalling squirrel cage? It doesn't do it every time the A/C comes on but more frequently than not. Not alot of room to see in there. WD-40? Any suggestions? - Erma
Reply: Check for Loose Blower Fan Parts, Lubricate with the proper oil or grease
The squirrel cage fan to which Erma refers is found inside the indoor air handler unit. This fan moves building air through the duct system and across heating and/or cooling elements to condition the air as it is then supplied to the building through supply ducts and registers. In an air conditioning system this is the dark blue fan shown in the right side of our sketch above. For combined heating/cooling systems the same fan assembly can blow heated air into the building and an additional FAN LIMIT SWITCH will be found inside the furnace cabinet.
More about HVAC blower fans including squirrel cage fans is in this article, above beginning at BLOWER FAN OPERATION & TESTING but to start addressing a squeaky blower fan, note that your fan may be repairable by tightening one or more allen screws that secure the fan cage assembly (or the bearings that carry the fan) to its housing through which passes the fan motor drive shaft.

With power OFF for safety, if the fan and all components appear to have no loose screws or mounts, but you can still wiggle the fan from side to side, then the bearings are worn and need replacement.

If your fan is pulley-driven, check also that the pulley is secure on the shaft and that the fan belt is not so loose as to be squeaking.

I would not use WD40 on or near electric motor parts nor on greased bearings as it's not intended for a motor or bearing lubricant, though to be honest, I've sprayed WD40 on almost every problem that has ever arisen at one time or another. Better would be a lubricant intended for motors and motor shafts.
Some HVAC blower fan assemblies use a grease fitting not oil. In that case your service tech may need to re-pack the bearing with grease; often on older units there is a grease cap over the fitting that, if tightened, forces more grease into the bearing, so if you see one of those, try first giving the cap a turn. .
At NOISY AIR CONDITIONER / HEAT PUMP and at NOISE CONTROL for HEATING SYSTEMS we discuss a range of noises can be traced to air conditioning and heating systems.
Air Handler Blower fan motor runs backwards
The cause of a backwards-running fan (and some other electric motors) could be a bad start-run capacitor (see CAPACITORS for HARD STARTING MOTORS) or a bad control board. More rare, incorrect wiring or internal damage to the fan motor windings.
Details about diagnosing and fixing a condenser fan that was running backwards are discussed in our companion article on compressor/condenser units, at Questions & Answers about compressor/condenser unit fans. Also see BLOWER FAN OPERATION & TESTING

My Heating Furnace Blower Fan Won't Start & Furnace Burner Shuts Off - what do I do?
Question: the furnace burners go on but the blower fan does not and then the flame shuts off what's wrong?
I have a american standard furnace freedom 80 the burners go on but the blower fan does not and then the flame shuts off what's wrong? - Robert.
Reply: the fan limit switch is turning off your heating furnace burner because the fan is not starting. Diagnose and fix the blower problem.
Robert, if the furnace blower fan will not start, the limit switch on your furnace will turn off the burner in order to avoid overheating and damaging the heat exchanger. You'll need to inspect and fix the blower fan problem. If your furnace blower uses a drive belt to connect the fan to the driving motor check that the belt is in place and not slipping. Other blower fans use a direct drive motor whose shaft spins the fan assembly. IN either case check that the motor is starting;
Question: adjusting blower fan speed in an air conditioner, heat pump, or furnace system
How do you adjust the blower gas furnace to speed it up a little bit? The reason is that I'm adding 300 sq feet. Also how do you open the cover of the cooling coil? - Hoa, 8/16/11
Reply: How to increase the heat output from a gas fired furnace or cool air output from an air conditioner

Hoa

If there is no removable access cover to give view of the cooling coil then a technician would have to cut away sheet metal to give access. That's not uncommon. A new cover is fabricated and screwed or taped in place afterwards.

While dual speed or variable speed fans can run at different RPMs and thus vary the delivery of air through the system, you can't speed up a one speed blower fan. But you can increase air output from the system by several measures:

- increase the return air provided to the system by adding more return ducts
- be sure your air filer is clean, not blocking airflow
- add booster fans at individual supply or return registers

As long as the total BTU requirements of the building don't significantly exceed the BTUh rating of your gas furnace (or air conditioner or heat pump system) you should be OK.
Reader follow-up:
Thank you for replying! I live in California and my concern is about the cooling system. The house I bought is 1-story, about 1500 sq ft. (originally, this house was 1100 sq ft but an extra room was added to the back of the house). What should I do to connect the air ducts of this new room to the original-sized air ducts in the rest of the house?

Also, the outdoors AC unit and indoors furnace are close together and they are two tons. Is it ok if I replace the furnace and cooling coil with 3 tons? 8/17/12
Reply:
Hoa the duct question needs to be answered by an on-site HVAC installer with some expertise and experience - I simply can't know enough from simple text Q&A to give a solid answer to sizing, routing, placement of registers, etc.

About changing the total BTUH rating of your cooling system, I would NOT change the total BTU capacity without discussing the heating and cooling loads of the whole house with an expert. If you make the new system too big, that is, provide an air conditioner with too much capacity for the size of the home, the unit may cool the air but it won't dehumidify properly, you won't be comfortable, and the short-cycling of the larger unit caused if an oversized unit is installed can damage the equipment.

See AIR CONDITIONER BTU CHART
...
Ask a Question or Search InspectApedia
Questions & answers or comments about heating or cooling system air handler blower fans .
Ask a Question or Enter Search Terms in the InspectApedia search box just below.
Technical Reviewers & References
Related Topics, found near the top of this page suggest articles closely related to this one.
Click to Show or Hide Citations & References
Carson, Dunlop & Associates Ltd., 120 Carlton Street Suite 407, Toronto ON M5A 4K2. (416) 964-9415 1-800-268-7070 info@carsondunlop.com. The firm provides professional home inspection services & home inspection education & publications. Alan Carson is a past president of ASHI, the American Society of Home Inspectors. Thanks to Alan Carson and Bob Dunlop, for permission for InspectAPedia to use text excerpts from The Home Reference Book & illustrations from The Illustrated Home. Carson Dunlop Associates' provides:

Commercial Building Inspection Courses - protocol ASTM Standard E 2018-08 for Property Condition Assessments
Home Inspection Education Courses including home study & live classes at eleven colleges & universities.
Home Inspection Education Home Study Courses - ASHI@Home Training 10-course program.
Special Offer: Carson Dunlop Associates offers InspectAPedia readers in the U.S.A. a 5% discount on these courses: Enter INSPECTAHITP in the order payment page "Promo/Redemption" space. InspectAPedia.com editor Daniel Friedman is a contributing author.
The Home Reference Book, a reference & inspection report product for building owners & inspectors.
Special Offer: For a 10% discount on any number of copies of the Home Reference Book purchased as a single order. Enter INSPECTAHRB in the order payment page "Promo/Redemption" space. InspectAPedia.com editor Daniel Friedman is a contributing author.
The Home Reference eBook, an electronic version for PCs, the iPad, iPhone, & Android smart phones.
Special Offer: For a 5% discount on any number of copies of the Home Reference eBook purchased as a single order. Enter inspectaehrb in the order payment page "Promo/Redemption" space.
The Illustrated Home illustrates construction details and building components, a reference for owners & inspectors.
Special Offer: For a 5% discount on any number of copies of the Illustrated Home purchased as a single order Enter INSPECTAILL in the order payment page "Promo/Redemption" space.
The Horizon Software System manages business operations,scheduling, & inspection report writing using Carson Dunlop's knowledge base & color images. The Horizon system runs on always-available cloud-based software for office computers, laptops, tablets, iPad, Android, & other smartphones.

Thanks to reader Randy Shaffer, Manchester, PA for suggesting additional diagnostics for blower fan operation testing May 2010
How to diagnose and fix an air conditioning system that is not working
Since the failure of an air conditioner to turn on, loss of air conditioner cooling capacity, reduced air conditioning output temperatures, loss of cool air supply, or even loss of air flow entirely can be due to a variety of problems with one or more components of an air conditioner or air conditioning system, after reviewing the lost air conditioner cooling diagnosis procedures described in this article, be sure to also review the diagnostic procedures at each of the individual air conditioning diagnosis and repair major topics listed just below. To return to our air conditioning and refrigeration home page go to AIR CONDITIONING & HEAT PUMP SYSTEMS.
If your air conditioning or heat pump system has lost its cooling capacity or won't start select one or more of the diagnostic articles listed below.
Books & Articles on Building & Environmental Inspection, Testing, Diagnosis, & Repair
The Home Reference Book - the Encyclopedia of Homes, Carson Dunlop & Associates, Toronto, Ontario, 25th Ed., 2012, is a bound volume of more than 450 illustrated pages that assist home inspectors and home owners in the inspection and detection of problems on buildings. The text is intended as a reference guide to help building owners operate and maintain their home effectively. Field inspection worksheets are included at the back of the volume. Special Offer: For a 10% discount on any number of copies of the Home Reference Book purchased as a single order. Enter INSPECTAHRB in the order payment page "Promo/Redemption" space. InspectAPedia.com editor Daniel Friedman is a contributing author.

Or choose the The Home Reference eBook for PCs, Macs, Kindle, iPad, iPhone, or Android Smart Phones. Special Offer: For a 5% discount on any number of copies of the Home Reference eBook purchased as a single order. Enter INSPECTAEHRB in the order payment page "Promo/Redemption" space.
Carson Dunlop, Associates, Toronto, have provided us with (and we recommend) Carson Dunlop Weldon & Associates' Technical Reference Guide to manufacturer's model and serial number information for heating and cooling equipment
Special Offer: Carson Dunlop Associates offers InspectAPedia readers in the U.S.A. a 5% discount on any number of copies of the Technical Reference Guide purchased as a single order. Just enter INSPECTATRG in the order payment page "Promo/Redemption" space.

Complete List of Air Conditioning & Heat Pump Design, Inspection, Repair Books at the InspectAPedia Bookstore.
Modern Refrigeration and Air Conditioning, A. D. Althouse, C.H. Turnquist, A. Bracciano, Goodheart-Willcox Co., 1982
Principles of Refrigeration, R. Warren Marsh, C. Thomas Olivo, Delmar Publishers, 1979
"Air Conditioning & Refrigeration I & II", BOCES Education, Warren Hilliard (instructor), Poughkeepsie, New York, May - July 1982, [classroom notes from air conditioning and refrigeration maintenance and repair course attended by the website author]
Refrigeration and Air Conditioning Technology, 5th Ed., William C. Whitman, William M. Johnson, John Tomczyk, Cengage Learning, 2005, ISBN 1401837654, 9781401837655 1324 pages
Air Conditioning SEER - New DOE Air Conditioner and Heat Pump Efficiency Standard
Asbestos HVAC Ducts and Flues field identification photos and guide
Fiberglass: Indoor Air Quality Investigations: Fiberglass in Indoor Air, HVAC ducts, and Building Insulation
...