How to Set the Thermostat FAN AUTO ON or OFF Switch
FAN ON AUTO MAN Thermostat Switch - CONTENTS: How does the FAN ON-AUTO work on a digital thermostat; how to use it? How does the FAN ON-MAN switch work?FAN Button AUTO and ON functions on Digital Thermostats. How Should I Set the FAN ON-AUTO or FAN MAN-AUTO Switch on My Thermostat? What to do if the Blower Fan Runs Continuously and Won't Shut Off?

POST a QUESTION or READ FAQs about using and wiring the thermostat FAN AUTO, ON, OFF switch control for heating, heat pump, and air conditioning systems
InspectAPedia tolerates no conflicts of interest. We have no relationship with advertisers, products, or services discussed at this website.
FAN ON OFF AUTO switch on thermostats, guide to setting, troubleshooting, repair: this article explains the use, setting, and adjustment of the FAN ON- AUTO button or switch or the FAN ON-MAN switch on room thermostats.
This article series answers most questions about central heating system thermostats & controls, troubleshooting, installation, inspection, diagnosis, and repair.
Green links show where you are. © Copyright 2017 InspectApedia.com, All Rights Reserved.
Guide to Air Conditioning or Heating System Blower FAN ON-AUTO and FAN MAN-AUTO Settings on Wall Thermostats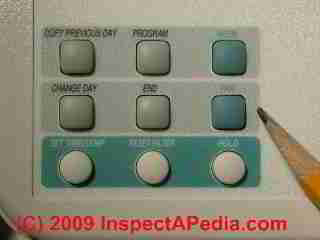 How does the FAN switch work on a digital heating or cooling thermostat and how should I use the FAN switch? Details are just below.
Article Contents
FAN Button AUTO and ON functions on Digital Thermostats
On most digital thermostats, pressing the "FAN" button repeatedly will cycle the fan control between two positions. Here we are using a Carrier™ digital thermostat for our examples. Our pencil points to the "FAN" switch or button in this case.
FAN switch set to: "ON" will set the blower fan on your heating or air conditioning system run all the time, no matter what.
See CONTINUOUS BLOWER FAN OPERATION for reasons people may want to run the fan continuously.
FAN switch set to: "AUTO" run let the fan be turned on or off automatically under control of the heater or air conditioner itself - when the thermostat asks for heat and the furnace warms up the fan will turn on. At the end of a heating cycle when the thermostat is satisfied, the fan will automatically turn off.

Fan operation in an air conditioning system or heat pump operating in cooling cycle works similarly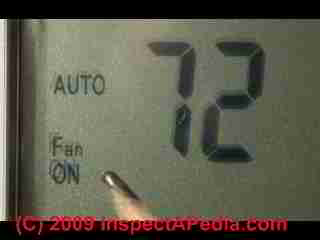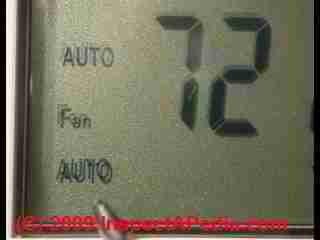 On a digital room thermostat when you press the "FAN" button, look closely at the thermostat's digital display - you should see the word AUTO (photo above left) or MAN (Photo above right) appear somewhere in the display to let you know which setting you have selected.
Typically in the AUTO mode in a heating cycle the fan won't actually turn on until the furnace has warmed-up and the fan will turn off shortly after the furnace turns off at the end of a heating cycle.
Running the fan "ON" all the time, which we like to do in lots of cases, distributes air and temperatures more evenly all the time in the home and produces less of a surge of heat or cool air when the heater or air conditioner actually turns on.

The air conditioning or heating wall-mounted thermostat may have a fan or blower control switch with (usually) two set positions "ON" and "AUTO" or sometimes "MAN" or "AUTO"
On these switches located usually on the top, side, or bottom of air conditioning or heating thermostats, the "ON" position is not what you might think. But it's simple, as you'll see.
On some room thermostats the FAN switch may show positions labeled MAN and AUTO instead of ON and AUTO.
On these thermostats "MAN" or "manual" is the same as "ON" in this situation. There are advantages of running an air conditioning or heating blower fan continuously, and "AUTO" is the same as "AUTO which we discussed just above.
Don't mix up the digital thermostat's display of the word AUTO regarding fan control with the display's use of the same word AUTO elsewhere in the thermostat's display window to describe the overall thermostat MODE setting which we discuss
at SWITCH FUNCTIONS on a Room Thermostat.
How Should I Set the FAN ON-AUTO or FAN MAN-AUTO Switch on My Thermostat?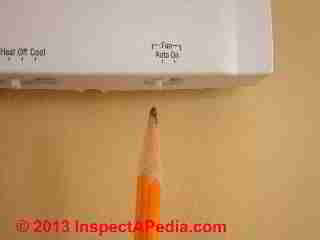 "AUTO" on the fan switch on your thermostat is the normal switch position for the fan control. Setting the fan control to "AUTO" will allow the fan to turn on when the air conditioning system (or heating system) are ready to blow cool (or warm) air into the building, and to turn off automatically when cooling or heating are not needed.
"ON" or "MAN" on the fan switch: there are reasons to leave the fan in the ON position on a heating or cooling system, but we do not recommend that you do this without first asking for advice from your heating and service technician.
SWITCH FUNCTIONS on a Room Thermostat - and

also FAN ON AUTO Thermostat Switch discuss how to set the HVAC blower fan to continuous operation, and what to do if the blower fan won't turn on or won't turn off
If your heating system does not use a fan, for example if you have forced hot water baseboard or radiator heat, this switch can be left alone as it's not doing anything for your heating system.
Our photo (above left) shows the Fan Auto-On selector switch found on the Honeywell RTH2300/RTH 221 room thermostat.
Also see the Fan Limit Switch Control for another method to cause a blower fan to run continually.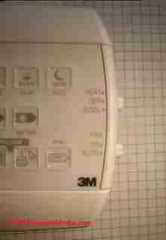 If your air conditioner or heating system fan blower unit was designed to permit the fan to run all of the time that's great and you can consider the benefits of continuous fan operation which are described in detail in the articles we list just below.
Our photo (left) illustrates the FAN ON AUTO control switch (as well as the HEAT OFF COOL switch) on a 3M Filtrete 7-Day programmable room thermostat.
Watch out: the Filtrete™ 3M-22 is a battery-operated thermostat. If the batteries fail the thermostat may fail to provide heating or cooling and the building may suffer accordingly.
You might not want to keep the fan in "ON" mode if
Your furnace or air conditioner air handler is not designed for continuous fan duty - it might wear out the fan motor or bearings a bit early (ask your system's manufacturer or your HVAC tech about your system's capability)
Your building's heating system and return air duct design results in blowing uncomfortably cool air out of heating supply ducts when the furnace is not actually in heating mode.
See at CONTINUOUS BLOWER FAN OPERATION for details of continuous blower fan operation.
What to do if the Blower Fan Runs Continuously and Won't Shut Off?
Some readers have written to say that their air conditioning blower was running continuously and they didn't know why.
If the blower or fan switch is set to MAN or ON, It could be that the FAN switch had simply been set to force the fan to run all of the time. Change the setting to AUTO and see what happens.
Other causes for an air conditioning blower fan that does not turn off could be a problem with the control circuit board for the air conditioning system, or there could be other operating system problems that are preventing the system from cooling air to the desired temperature.

If the blower or FAN switch is set to AUTO and the fan never turns off, call your air conditioning or heating repair company for diagnostic help, or if you've checked the switches we describe above and you want to diagnose the fan yourself, go to our blower fan diagnostic home page
at FAN, AIR HANDLER BLOWER UNIT.
Reader Question: family dispute over how to operate a programmable thermostat & the FAN ON Switch
I am having a dispute with my family regarding the operation of our programmable thermostat. When the actual temp in the house is for example 20 degrees C., and the fan is turned to the ON position, the fan will start blowing 20 degree air. We all agree on that.
However, when the option to use the TEMP UP button to raise the temperature is used, and the temperature is upped to 24 degrees for example(and the current temp is still at 20 degrees at the time that the TEMP UP is pressed), I maintain the IF the FAN is again changed to the ON setting, the furnace will initially blow 20 degrees air which will increase gradually to 24 degrees as the furnace heats up.
My family maintains that the furnace will immediately blow 24 degrees air (even though the current temp reading on the thermostat is 20 degrees). I believe that it will only blow the temp of air associated with the current temp. Can someone explain how it works? Thank you. - Betty 12/12/11
Reply: clarifying what the FAN ON does and the relation between thermostat control settings and temperature of air that's delivered
Let's try to clear up a few thermostat basics that may add fire to the family argument or may quench it a bit:
A thermostat is an -on-off switch, not an accelerator. More about this is
at How Mercury Bulb Thermostat Switches Work & Why a Thermostat is Just an On-Off Switch.
But in sum, SETTING a temperature on the thermostat simply turns the heater or air conditioner ON. The heater or air conditioner will continue to run until the thermostat senses that the room temperature has reached the SET temperature, then the thermostat will turn that equipment OFF.
When you turn the fan to ON instead of AUTO, that tells the fan to run continuously. The temperature of air that the fan delivers will vary depending on whether or not the thermostat has ALSO turned the heater or air conditioner on or off - a separate function when you leave the fan always on.
...
Continue reading at BLOWER FAN CONTINUOUS OPERATION or select a topic from closely-related articles below, or see our complete INDEX to RELATED ARTICLES below.
Or see FAN LIMIT SWITCH
Suggested citation for this web page
FAN ON AUTO MAN Thermostat Switch at InspectApedia.com - online encyclopedia of building & environmental inspection, testing, diagnosis, repair, & problem prevention advice.
Or use the SEARCH BOX found below to Ask a Question or Search InspectApedia
...
Frequently Asked Questions (FAQs)
Try the search box below or CONTACT US by email if you cannot find the answer you need at InspectApedia.
Question:
(Aug 19, 2014) Brian said:
I have my air conditioning set on auto and set a on schedule for Day at 26 and Sleep 25 and cool is on. The problem is cool air comes through the vents but the blower fan does not shut off when it reaches 26, it runs continuously and after a few hours it will no longer produce cool air. What is the problem?
(Mar 2, 2013) Anonymous said:
My heat will not work in auto mode, the flames light but the fan wont come on please help
Sophia Castella said:
using this service i have able to showing my room as any front of company member really its a great post.
northernbeachesair in Australia - gas heating Dee Why
Reply:
Interesting, Brian, I'm not sure.
If the room temp satisfies the thermostat it should shut off the equipment.
But thermostats are not necessarily absolutely precise instruments.
If room temp is actually just below the trip-off point for the thermostat and the AC system is not able to drop the temperature further (for example because the cooling coil is frosting over, impeding airflow) then the system might keep running.
Your second point about no cool air makes me think that the coil is iced OR the compressor is staying off.
Question: blower runs continuously and loud thumps occur when cooling cycle ends
(Aug 19, 2014) Nate said:
I have an open floor plan/vaulted ceiling/two story home which is very difficult to keep evenly cooled in the summer. It seems to help to run the blower fan continuously but I have noticed a loud thump inside the home when the cooling cycle completes. To clarify the FAN is always on, when the condenser starts its cycle, I get a loud thump inside the house. This thump does not occur when the FAN is set to auto and it turns on at the same time as the condenser. It seems/sounds like the thermostat or something else in the system is telling the blower to turn off and then back on again.
I can imagine this is good for the blower. What can I do to stop this?
Reply:
Nate
Have you checked for
- loose motor mounts at a blower assembly or fan
- sudden pressurization of metal ductwork causing a section of duct to flex?
Question:
Nov 3, 2014) Anonymous said:
system will heat but if you turn it on to auto the fan will not come on
(Nov 16, 2014) Pat said:
I have an electric heating unit that just won't stop running even if I lower thermostat or switch it to off...help
(Nov 27, 2014) Anonymous said:
fan will not run in auto mode
Reply:
Anon if a heating or air conditioning fan runs in MAN mode then we know the fan itself, its motor, and electrical power are working properly. That leaves us looking at the thermostat wiring, thermostat settings, and possibly control board or relays on the other end of that wiring.
Question:
(Dec 19, 2014) Anonymous said:
I am using the A/C heater. I have it set at 73 / the blower does not cycle on or off after the temp has been reached, but the temp does does not rise above the 73 setting. Why? I have fan set at auto.
Sly
Reply:
I may have misunderstood but it sounds as if the fan is not running when the heat point on the thermostat is satisfied. Which would be correct.
...
Ask a Question or Search InspectApedia
Use the "Click to Show or Hide FAQs" link just above to see recently-posted questions, comments, replies, try the search box just below, or if you prefer, post a question or comment in the Comments box below and we will respond promptly.
Search the InspectApedia website
Technical Reviewers & References
Click to Show or Hide Citations & References
[2] Thanks to reader S.R. for discussing loss of heat due to a thermostat wiring mistake, October 2010
[3] Thank to Mr. Scott Meenen , G&S Mechanical Services , for providing some common thermostat wiring codes also found at Mr. Meenen's web page Malware Deleted 12/9/2014 . Mr. Meenan provides heating, heat pump, and air conditioning repair services in Maryland, Washington D.C., and northern Virginia. He can be contacted at 301-591-1646 or by Email to Malware Deleted 12/9/2014 - 10/2010. Quoting:
We service American Standard, Amana, Arco, Arco-Air, Bryant, Carrier, Coleman Evcon, Comfortmaker, Day/Night/Payne, Dunham-Bush, Fedders, Fredrich, Goodman, General Electric, Heil, Intertherm, ICP, Janitrol, Lennox (Armstrong, Johnson Air-Ease), Miller, Modine, Nordyne, Rheem/Ruud/Weatherking, Sears, Stewart Warner, Trane, Weather King, Williams, White-Westinghouse, Whirlpool, Weil Mclain, York, (Frasier Johnson/Borg Warner) and others.

[4] Azel Technologies Inc., P.O. Box 53138 10 Royal Orchard Blvd. Thornhill, Ontario, Canada L3T 7R9 Ph: 905-223-5567 Fax: 905-223-3778 Email: info@azeltec.com, Website: www.azeltec.com.
[5] Honeywell Controls, the company wants you to use their contact form at this web page: http://www51.honeywell.com/honeywell/contact-support/contact-us.html
Honeywell Consumer Products, 39 Old Ridgebury Road Danbury, CT 06810-5110 - (203) 830-7800
World Headquarters, Honeywell International Inc., 101 Columbia Road, Morristown, NJ 07962, Phone: (973) 455-2000, Fax: (973) 455-4807 1-800-328-5111

Honeywell product model numbers & instruction Manuals: see http://yourhome.honeywell.com/home/Applications/FindYourModelNumber.aspx


[6] White Rodgers Thermostats and HVAC controls,
Homeowner information: http://www.emersonclimate.com/en-US/brands/white_rodgers/Pages/wr-homeowner-info.aspx
Contractor information: http://www.emersonclimate.com/en-US/brands/white_rodgers/wr_contractor_info/Pages/white-rodgers-contractor-info.aspx
White Rodgers Product Catalog (don't misspell the company's name as White Rogers Thermostats) -
http://www.emersonclimate.com/Documents/thermostats.pdf - Thermostat Catalog
[7] White Rodgers 1F90 Low Voltage Digital Comfort-Set thermostat Installation Instructions, PN 37-3654, White-Rodgers Division, Emerson Electric Co., 9797 Reavis Rd., St. Louis MO 63123
[8] "Automatic Oil Burner Controls - Thermostats", Domestic and Commercial Oil Burners, 3rd Ed., Charles H. Burkhardt, McGraw Hill, 1969 (and later editions), ASIN B0000EG4Y8
[9] Thermostat wiring color codes & conventions, Thanks to reader " Helpful Pointers" Regarding 24V T, 10/7/2012
[10] Domestic Central Heating Wiring Systems and Controls, 2d Ed., Raymond Ward, Newnes, ISBN-10: 0750664363, ISBN-13: 978-0750664363, Quoting from Amazon.com:
This unique A-Z guide to central heating wiring systems provides a comprehensive reference manual for hundreds of items of heating and control equipment, making it an indispensable handbook for electricians and installers across the country. The book provides comprehensive coverage of wiring and technical specifications, and now includes increased coverage of combination boilers, recently developed control features and SEDBUK (Seasonal Efficiency of Domestic Boilers in the UK) boilers ratings, where known.
In addition to providing concise details of nearly 500 different boilers fuelled by electric, gas, oil and solid fuel, and over 400 programmers and time switches, this invaluable resource also features numerous easy-to-understand wiring diagrams with notes on all definitive systems. Brief component descriptions are provided, along with updated contact and website details for most major manufacturers.
[11] Proliphix Corporate Headquarters, 3 LAN Drive Suite #100, Westford, MA 01886 Phone: +1.978.692.3375 Toll Free (U.S.): 866-IP-LIVING (866.475.4846) Fax: +1.978.692.3378 - Sales: sales@proliphix.com Marketing: marketing@proliphix.com Customer support: support@proliphix.com http://www.proliphix.com/ - quoting from the company's website:
All Proliphix Network Thermostats come with our free Uniphy Remote Management Service. This unique offering lets you monitor and control your HVAC systems by simply pointing your Browser to our secure Proliphix Web Site. Enjoy the convenience of programming a thermostat from any location, using a simple graphical interface. No computer equipment or software is required. And since Proliphix takes care of the network configuration for you, you'll be up and running in no time. We'll even proactively monitor your thermostats and send you an immediate email or SMS message when an HVAC problem is detected.

Thanks to reader Harvey Tyler for suggesting clarification about how the heating or cooling thermostat FAN ON OFF switch actually functions on a digital thermostat. 02/03/2009
Fuel Oil & Oil Heating Magazine, 3621 Hill Rd., Parsippany, NJ 07054, 973-331-9545
Domestic and Commercial Oil Burners, Charles H. Burkhardt, McGraw Hill Book Company, New York 3rd Ed 1969.
National Fuel Gas Code (Z223.1) $16.00 and National Fuel Gas Code Handbook (Z223.2) $47.00 American Gas Association (A.G.A.), 1515 Wilson Boulevard, Arlington, VA 22209 also available from National Fire Protection Association, Batterymarch Park, Quincy, MA 02269. Fundamentals of Gas Appliance Venting and Ventilation, 1985, American Gas Association Laboratories, Engineering Services Department. American Gas Association, 1515 Wilson Boulevard, Arlington, VA 22209. Catalog #XHO585. Reprinted 1989.
The Steam Book, 1984, Training and Education Department, Fluid Handling Division, ITT [probably out of print, possibly available from several home inspection supply companies] Fuel Oil and Oil Heat Magazine, October 1990, offers an update,
Principles of Steam Heating, $13.25 includes postage. Fuel oil & Oil Heat Magazine, 389 Passaic Ave., Fairfield, NJ 07004.
The Lost Art of Steam Heating, Dan Holohan, 516-579-3046 FAX
Principles of Steam Heating, Dan Holohan, technical editor of Fuel Oil and Oil Heat magazine, 389 Passaic Ave., Fairfield, NJ 07004 ($12.+1.25 postage/handling).
"Residential Steam Heating Systems", Instructional Technologies Institute, Inc., 145 "D" Grassy Plain St., Bethel, CT 06801 800/227-1663 [home inspection training material] 1987
"Residential Hydronic (circulating hot water) Heating Systems", Instructional Technologies Institute, Inc., 145 "D" Grassy Plain St., Bethel, CT 06801 800/227-1663 [home inspection training material] 1987
"Warm Air Heating Systems". Instructional Technologies Institute, Inc., 145 "D" Grassy Plain St., Bethel, CT 06801 800/227-1663 [home inspection training material] 1987
Heating, Ventilating, and Air Conditioning Volume I, Heating Fundamentals,
Boilers, Boiler Conversions, James E. Brumbaugh, ISBN 0-672-23389-4 (v. 1) Volume II, Oil, Gas, and Coal Burners, Controls, Ducts, Piping, Valves, James E. Brumbaugh, ISBN 0-672-23390-7 (v. 2) Volume III, Radiant Heating, Water Heaters, Ventilation, Air Conditioning, Heat Pumps, Air Cleaners, James E. Brumbaugh, ISBN 0-672-23383-5 (v. 3) or ISBN 0-672-23380-0 (set) Special Sales Director, Macmillan Publishing Co., 866 Third Ave., New York, NY 10022. Macmillan Publishing Co., NY
Installation Guide for Residential Hydronic Heating Systems
Installation Guide #200, The Hydronics Institute, 35 Russo Place, Berkeley Heights, NJ 07922
The ABC's of Retention Head Oil Burners, National Association of Oil Heat Service Managers, TM 115, National Old Timers' Association of the Energy Industry, PO Box 168, Mineola, NY 11501. (Excellent tips on spotting problems on oil-fired heating equipment. Booklet.)
Books & Articles on Building & Environmental Inspection, Testing, Diagnosis, & Repair
Our recommended books about building & mechanical systems design, inspection, problem diagnosis, and repair, and about indoor environment and IAQ testing, diagnosis, and cleanup are at the InspectAPedia Bookstore. Also see our Book Reviews - InspectAPedia.
...