Air Handler Blower Unit Repair FAQs
Blower Unit Repair Q&A Set #2
InspectAPedia tolerates no conflicts of interest. We have no relationship with advertisers, products, or services discussed at this website.
FAQs on repairing Indoor air handler or blower unit for A/C or heat pump or furnace systems, set #2:
More Q&A on AHU or air handler unit / blower unit troubleshooting and repairs.
This article series explains how to inspect & repair the indoor components of air conditioners and heat pumps: the air conditioning system indoor air handler units, blower units, or AHU's, (also called fan coil units) including the air conditioner blower fan, the indoor cooling coil or "evaporator coil", air conditioning system filters, and the causes, cures, and prevention of air handler leaks that lead to rust, damage, and mold contamination in the air conditioning system.
Green links show where you are. © Copyright 2017 InspectApedia.com, All Rights Reserved.
Air Handler / Blower Unit Diagnostic FAQs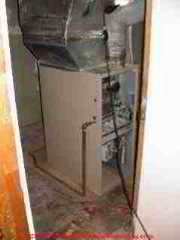 [Click to enlarge any image]
These questions & answers were posted originally at AIR HANDLER / BLOWER UNITS - home. Be sure to see the diagnostic and repair advice that begins there.
Question: OK to run the blower if blades are missing from the squirrel cage fan?
29 Jul 2015 Am said:
Is it possible to run a squirrel cage blower fan with some missing blades without damaging the motor? Have a portable ac with a plastic blower fan. Removed a couple broken blades. Fan turns freely. Thanks for your advice!
Reply: no
Am:
I am doubtful. The problem, if there is one, is not so much reduced air output as that if the fan is out of balance it may destroy the fan bearings. Possibly you'll know that a balance problem is occurring by hearing or seeing vibration or wobbling when the fan runs.
Personally, I'd give it a try if it were my unit, but I cannot advise the public to do the crazy stuff I might try.
Am said:
Thanks danjoe. I did try it, what the heck much easier. But sound let me know it was horrendously imbalanced right quick. Oh well.
Reply: AM well at least we know the score. It's time to leave the machine off until the part is replaced.

Question: thumping brick falling noise when AC shuts off on the roof unit
George said:
When AC roof mount shuts off there is a noise like a brick is being dropped on the roof.
Is this normal?
Had a barometric damper on previous house that did not make noise.
Reply:
George:
Look for flexing ductwork or for a loose blower or component in the air handler.
If the noise is coming from a relay, compressor motor, fan motor, or other electrical component, shut off the system while waiting for repair.
I put the thermostat in the cool mode and the condensor comes on but the air handler does not turn on...when I switch to heat mode and make it call for heat the air handler does turn on
Sounds as if the thermostat is not switched over to COOL mode, or if it is, then a contactor or switch in the A/C unit may not be working.
When thermostat calls for heat the fan comes on...when in the cool mode and calls for air conditioning the fan does not come on

Our a/c company which maintains our a/c twice a year said the inside of our air handler cabinet is full of mold and we need to have 2 UV lights (brand name Nature's Home) placed inside the cabinet.
The a/c is a Maytag with a 12 year full warrantee. It is about 5 years old. The guy said that mold is not covered, of course.
Does this make sense that there would be all this mold (he said it was a lot) and there be no malfunction of the a/c air handler?
And the UV lights will be $1100 each. They are buying back our old UV lights that they put outside the air handler- which now they say 5 years later was not a helpful idea. The total will be $1600 for this. Can I get your opinion on this?

I have a nor Dan air handler systemthe motor for the fan is a 240 I'm only getting 120 at the motor the motor was bad I replaced it I can't get 120 off the second black leg on the 3 speed settings the only other way 120 come the end off the second leg is in cool mode all the white wireand they both can t run sound will say ni Isley

my air handler heat element comes on then it shut off and click but the fan dont run

Pamela,

Smoking smelling - you should TURN OFF THE SYSTEM IMMEDIATELY and call your heating service tech. The system may be dangerous, or it may just need cleaning and adjustment.
our unit was running but was smokey smelling and like something was burning smell in the house. We have had the heat for a month so it isnt because we just turned on. HELP!

Tracy

If HVAC equipment is turning on "by itself" - and you have made certain that your thermostat is not calling for the system to run here are some things to check

- make sure that the thermostat is set propertly to HEAT or COOL mode and then to be sure the TT should not call for the system to run,
In HEAT mode set the temperature to well below room temperature
or if you are in COOL mode set the thermostat temperature to well above room temperature = by 10 degrees or more

If the system runs anyway, check for

- thermostat wires that are shorted together anywhere in their run. A simple starting check is to just completely disconnect the thermostat wires AT THE HEATING OR COOLING APPLIANCE itself

- there is a bad control board or relay in the euqipment.

Keep in mind that in heating mode in very cold weather the system indoor air handler may run with backup heat operating and the outdoor compressor/condenser unit not running

my indoor air handler comes on all by its self. It runs and cools the house just fine but when I don't need the a/c on anymore I turn it "off". it was "off" when the air handler came on and it just keeps running. I have to switch the a/c braker off and it stops. any ideas? please help

where can i buy a new brundage furnace blower that's been in my house since 1972?

AC COMPRESOR IS OFF BUT THE UNIT ON THE INSIDE OF THE ROOF STILL RUNNING NOT RAMDOM 1 0 3 MIN

My air handler / blower doesn't turn on automatically when the boiler pump hot water into the coils. The air handler / blower works (will turn on when I use "on" vs "auto"); and I can get the heat to work if I turn the thermostat on and put the fan to "on" --- what part do I need to fix to recognize that the coils are hot enough to turn the Fan on?

I don't have a comment, but have a question. I just had a heat pump installed and the air handler has strong amount of air blowing out of it into the closet. Is this normal?

Condensor fan working and everything else appears to be OK. The unit is 5 years old and has some sort of module that starts the fan gradually.

I'm looking for some help. My air handler keeps switching off while the compressor
is turned on. The outside unit seems fine but when the air handler turns off the pipe freezes. The fan motor is new. Any ideas?
Thank you

Mike, we don't know if the problem is mechanical or a control . if there is no obvious mechanical repair to the automatic louver system, It's time for a service call.

I have an air handeler, that when the louvers start to open they will go so far(not completely open) & the motor clicks & the arms kind a stutter.
Ray

Check first for loose or burning wires and connectors - as there would be a safety concern involved.

Check for a bad start/run capacitor on the fan motor

or for a bad motor - some diagnostics are at ELECTRIC MOTOR DIAGNOSTIC GUIDE
(Found in INDEX to RELATED ARTICLES at our Continue Reading suggestions at the end of this article)
SC unit turns on... fan will not blow, hear a buzzing sound

I'm looking for some help. My air handler keeps switching on and off while the A/
c is turned on. The outside unit seems fine, although while the air handler turns off the pipe freezes.
This on and off situation occurs at random intervals. Sometimes it switches on and off several times a minute. Other times it may be 5 or so minutes prior to switching on or off. In either case I'm not reaching my desired temperature. help

We bought a brand new unit in February and the Heat Pump / Air Handler has burned up twice can you tell me why? It is a Amana Plus we have a cathedral ceiling in living room and tis unit will not cool it, we have asked them to replace unit but won't Help

I have a PAYNE. I assume the noise that loud screaching noise I heard last evening is the inside blower motor. I turned it off for fear of the unknown but did turn it back on for fear of death here in new orleans from heat and humidity..(joking)..but it still works on the loud noise stopped.
I still can hear what sounds like a sluggish start when the blower comes on.
Could it be the blower fan? I called the family AC man and he says they are all interchangable which did not sound quite right to me.. Your thoughts? mod ck5bxt036017aaaa

Patsy, it sounds as if your unit condensate drain is clogged or the piping is undersized or clogged. Start there.
Lots of water pouring off several locations of the unit which is located in the attic and down to the drip pan under it. the pan fills up about 5x day as the drain cannot handle it. can't tell if water is going into the pvc pipe attached to the upper portion of the unit.
Mike, from just your comment, I really don't know if there is any indication of a problem. If the system starts, runs, and cools the home and then shuts down when the thermostat is satisfied, you may be just fine.
My fan used to run for 1 minute after compressor stops,now it shuts off right away. Is that something in the air handler?

Mario,

"humming noise but will not start" usually means a bad motor or (check first) a bad start/run capacitor. But first with power off see that the motor and fan spin freely.
Carrier A/C when selecting thermostat to cool with fan ON or Auto, outside compressor runs ok, steady red fault light on control board,Air blower will make humming noise but will not start, I jumped R and G at both the board and thermostat but blower still wont start, could it be a faulty capacitor or possibly faulty relay on cont. board....help is appreciated
my unit is leaking water and water not going in drain

We live in a newly constructed patio home. Our air has not worked properly since move in. We know for about three weeks the cons ruction crew ran this on 60degrees without a filter. We called our maintenance man to put a filter in. Upon move in the unit could not cool to 72.
They AC company came out and found "a hole" when he was in the attic a distinct electrical/heat smell came through the vents. They said that should fix it. Several days have gone by and the unit runs constantly even in the 90's outside and it is working to cool. They came back out and put some more freon in it. ..
.said that should fix it. That still didn't help. A few more days went by still not cooling down the house.
My husband noticed that the vents were barely nlowing air. The AC company back out and said they adjusted the blowers from low/med to high.
They said set on your normal setting(72) and should be fine. The unit was set from 74 to 74. It took 2 and 1/2 hours to cool it to 72 and the unit went off and on all night every 7 minutes and finally shut off this morning.
It was 75 degrees outside at 3:oo am and it was still going. This is a carrier heat pump. Is there any other diagnostics they can do?
They have been in our attic six times since June 17.

Carrier 38TKB A/C, 12 yr old, dual speed blower, cools well most of time but when temp is above 95, blower seems stuck on low speed with reduced cooling capacity. Checked yearly-refrigeration good, appears to be working as expected, but no solution for these sometimes lack of cooling which results in rise in temp of 5-6 degrees before returning to normal cooling. Do you have answer for this?

Jerry, check out CAPACITORS for HARD STARTING MOTORS (links(links found at the INDEX to RELATED ARTICLES near the end of this page) ) and you'll see that we include the testing and replacement of start/run capacitors. You might actually see a bad capacitor - if it or its wires look burned or if the unit has swollen or cracked. But more often the symptom is that the electric motor the cap is supposed to support is having trouble starting or wont' start or won't run.
Thanks for all the great information! What are the symptoms of a bad capacitor?

Jody:

for an air conditioner blower fan that won't stop running, see the explanation at "BLOWER FAN CONTINUOUS OPERATION" - (Found in INDEX to RELATED ARTICLES at our Continue Reading suggestions at the end of this article)
Jerry
See "BLOWER FAN OPERATION & TESTING" - (Found in INDEX to RELATED ARTICLES at our Continue Reading suggestions at the end of this article) that may help diagnose your A/C blower problem.
Jiggling the start/run capacitor might find a bad connection, but I'm not sure how jiggling a capacitor tests for a failed capacitor itself. Sometimes we can see a bad cap by visual inspection but usually the tech will test the device.

Having no power at the air handler - I'd expect the tech to start at the main electric panel and trace wiring forward to the unit to be sure power is being delivered, and then that the TT is properly set (sounds like it is), and that the controls or switches or circuit board at the air handler are trying to turn it on. If so, then look for a bad motor or start cap.

So tracing a problem to a circuit board is plausible. If your unit is only A/C it might make sense to double check that capacitor and any relays or switches. There are more switches to double-check such as a bad blower compartment door safety switch, or the door ajar, or even a wet condensate overflow pan (and a sensor switch there) can prevent the blower from starting.

If the tech performed a specific test on the circuit board and found it defective, that is of course credible.

If your unit also provides heat you may have a separate fan limit switch with a manual fan-on control, or you may be able to turn fan to constant on at your thermostat. See if those are present - if you can run the fan then we know the problem is not fan motor nor start cap for that fan.

My Trane compressor kicks on, but yesterday the blower motor did not - it seemed to have no power to it. I called a reputable A/C company in town.
The tech did something to the capacitor and said it was ok – he said he jiggled it. Checked the compressor, said it was good as well. He then said he was going to bypass the board and see if it was the blower motor relay that is part of the board.
After moving some wires, with the compressor on, the blower motor came on.
He told me the board had to be replaced, and cost before tax was around $1,300. Was this an accurate diagnosis? And the capacitor, was that accurate as well? What exactly did he do? Can I hook up the blower motor? We are used to having the fan on all the time while we are home.

Thanks for your time and consideration.
blower fan seems to run all the time, Have thermostat set to 77. When compressor kicks off, the blower/fan continues to run. have cleaned drain, new filters, replaced thermostat. What can I do.

IS OKEY USE AIR HANDEL DESIGNED FOR R410 IN CONDENSADOR UNIT FOR R22

blower on/off all the time
Heinz if you mean that your air conditioner produced a lot of condensate for one day then stopped, there are both good and bad possible explanations:

If the system had been off for some time, it may have produced lots of condensate as it brought the indoor humidity level down, then once that level was reached, if you don't have a lot of outdoor moist air entering the home, and if you are not generating high moisture indoors, then the rate of condensate removal will slow.

Or your condensate drain could be clogged, or a condensate pump not working.
From Naples, Florida. My air handler condensed for one day and is now back in perfect operating condition.
Could this be due to not changing ar filters for one year? I used to change air filters every two to three months.
Danny, in general it is often possible to improve airflow or air delivery from an HVAC system by several means, but if you push air too fast you may exceed the capacity of the cooling coil.

Also, before increasing fan capacity I would want an accurate assessment of the system. For example, if the present air delivery rate is too weak, we want first to be sure the filter is not clogged, ductwork not blocked, crushed, leaky, disconnected, registers are open, return air is adequate. Otherwise your "fix" may be both wrong and ineffective.

Lisa

It sounds as if you did not have an adequate cleanup after your condo was wet from leaks. Wet carpeting needs to be removed and based on a competent survey some added cleaning is surely in order.

I need to move more air through the ducking system I have a 1075 CFM unit now - can I replace it wit a 1110 CFM or large with no problems

We live in a condo that flooded totally, rug was never pulled up.. then flooded again during charlie. water damage to walls and ceilings so obviously it hit the floor again.
Rug is 24 years old. we have brown and black mold in the ac unit. We made them totally replace the duct work because it was all torn up, and the other ac unit was trashed and full of rug and mold.
Now the new one is full of mold. obviously from the rug. IF we vacume the vacume is full of grey powder and rug etc. Clogs everything. New washer smells like mold very bad. Ac is dripping and full of brown black mold. took a tape sample, it was so wet it wouldn't stick.
We feel sick all the time. landlord won't listen. Rug is disintegrating.

air conditioner in Texas lot of condensate outside drain. is not clogged
Joe, it's normal for an air conditioner in South Florida to produce a lot of condensate since it's so humid where you are. Properly the condensate should be taken to the ground outside or to a floor drain. I wouldn't want it to just run across the floor.

If the drain tray is overflowing then it's drain and piping must be clogged and should be cleared.
i live in south florida and my ac handler is in garage- there is a steady stream of water from the drain tray all day long - is this normal ?

Steven you are describing an air flow slow-down (and blower continuing to run) that to me too suggests coil icing.

If you turn off the system for a few hours (give ice time to melt) and airflow is restored, that adds strength to the argument.

If at the time of poor air flow you open and inspect the air handler and look at the coil and see it covered with ice and frost, you've diagnosed the immediate cause. Then we need to know why it's icing and fix that too.

Air conditioner upstairs in my house runs fine for several hours then the airflow slows down until it almost stops. The Blower is running. Can the coils be icing up and blocking the airflow?

Gloria I can't guess much from so little info. If the thermostat continues to call for cooling and the blower won't keep running it could be a bad fan motor overheating or a bad control board. Or maybe even a bad thermostat connection.
Joe if there is no condensate leaking out somewhere and the A/C is running normally, the low condensate quantity may mean that the house air has been dehumidified already.
Check the relative humidity in the occupied space. If it's not high (say 55 or below) and there are no condensate leaks, you should be ok.
blower fan runs only a few mintues, than it stops.
My air handler is in the attic Drain Line cleaned and checked however air handler has very little water in the pan or on the evaporator coil. This dosen't seem normal for FL. The system cools the house fine but Im concerned about the lack of water.

It could be normal for the inside split system cooling unit to keep running - it depends on settings on your remote control. For example you may have set it for continuous fan operation.
I have a split system with 3 zones to cool and my inside unit keeps running after the outside unit shuts down what i need to know is this normal? or do i have a problem

Alvin I think you want to see the coil frost/ice diagnosis suggestions in the article linked(links found at the INDEX to RELATED ARTICLES near the end of this page) , titled

FROST BUILD-UP on AIR CONDITIONER COILS

Could be low air flow, dirty air filter, bad refrigerant metering valve, low refrigerant, or something else. Keep us posted.

The ouside unit is icing up overnight in south central Texas. The landlord has cleaned the entire unit and checked refrigirant levels and stated they are fine.
He replaced the outside unit and two days after replacement it froze up again. He wants us to leave the thermostat in the "on" position instead of auto. Any ideas what is wrong here ?

Check for a bad fan belt or pulley or bearing in the air handler unit.
Blower fan makes a high pitch squeaking noise and a humming noise
JB if your indoor blower fan for the air conditioning won't run, take a look at the article titled BLOWER FAN OPERATION & TESTING (links above(links found at the INDEX to RELATED ARTICLES near the end of this page) ) - you'll see our diagnostic suggestions.
My air conditioner all of a sudden stopped running. It switches on, the outside fan blows, but it seems like the fan in the basement is not running. Help?

More about blower fans including squirrel cage fans is at BLOWER FAN OPERATION & TESTING (Found in INDEX to RELATED ARTICLES at our Continue Reading suggestions at the end of this article) but to start your fan may be repairable by tightening one or more allen screws that secure the fan cage assembly (or the bearings that carry the fan) to its housing through which passes the fan motor drive shaft.

With power OFF for safety, if the fan and all components appear to have no loose screws or mounts, but you can still wiggle the fan from side to side, then the bearings are worn and need replacement.

If your fan is pulley-driven, check also that the pulley is secure on the shaft and that the fan belt is not so loose as to be squeaking.

I would not use WD40 as it's not intended for a motor or bearing lubricant, though to be honest, I've sprayed it on almost every problem that has ever arisen at one time or another. Better would be a lubricant intended for motors and motor shafts. Some blower fan assemblies use a grease fitting not oil.
What do I do about a squeaking, squalling squirrel cage? It doesn't do it everytime the A/C comes on but more frequently than not. Not alot of room to see in there. WD-40? Any suggestions?

my AC tech had to replace motor,Capacitor and control board?
He
Bret: when the compressor unit is icing up I suspect either a low (but not yet zero) refrigerant level or a control problem.

John: I don't know how a power outage will cause a motor to reverse but I'm sure a more experienced EE or electrician can answer. Some motors can run in either direction depending on how they are wired; perhaps a power surge hit a control board or a capacitor?

What would cause a coil fan motor to reverse rotation after a power outage

my outside unit is covered in ice, both the hose and the compressor.

Inside the unit is not blowing cold air....

I let ice melt off but when I started it was back covered in ice in about 1 hour

Still no cold air?
RE: Luis question "what else i can do?other than freon before i call the tech. "

- check that the air filter is clean or has been replaced
- check that the ductwork is undamaged, not crimped, crushed, disconnected

RE: "My main A/C Unit Blower fan is not staying on.. It starts to Rev up than slows and clicks off ?"

That sounds to me like a bad motor going off on reset.
Kevin:
When a blower fan motor keeps freezing up chances are that the motor needs replacement.
KBA:
Replacing moldy air handler insulation: This is a sticky question because the manufacturer is likely to consider you've voided the warranty if you modify the equipment. Also I'm not sure I can suggest an approved insulation material other than what was chosen by the manufacturer for the same reasons.

To reduce mold formation in the air handler you'll want to be sure that the condensate disposal system is working properly and that there are no actual leaks onto or into the insulation. Unavoidable in some air handlers under very humid conditions, is a condensate throw or splash problem: air velocity can actually blow condensate off of the cooling coil down into the ductwork.

Theron:
I'm not sure what help you are asking about. And I can't say from just your email that the system is not working normally for very hot weather and a low indoor thermostat setting. Keep in mind that the sizing for an A/C system depends on not just the square feet and ceiling height, but the building heat gain properties - how well it's insulated, solar gain through windows, air leaks, etc.

If the A/C system was not properly sized for the home, and if it was installed by a professional, you will want to go back to the installer to review that question. Unfortunately you may also need an independent expert to confirm the proper A/C system size needed since no one is going to be quick to replace an installed system with one of a different capacity.
my ac runs all day cool turns off at night then its cool. but my ac repairmen said that the unit was not the size for the house,but he work the warranty can you help.

What do you use to replace moldy fiberglass insulation inside an air handler? Is there a material that can resist mold better?

it is the blower motor that stops running
i have a goodman package heatpump unit. the problem is that the fan stops running and causes the unit to freeze up orrrrr it freezes up and causes fan to stop running on overheat pertection .. can anyone help me?

My main A/C Unit Blower fan is not staying on.. It starts to Rev up than slows and clicks off ? What is causing this?

my a/c unit is working find but dosn't blow cool air,already clean the coil inside the heat pump and the coil on the outside unit and still have build ice on one of the coil wich is located on the bottom the uper is fine,my unit is a goodman a/c and heat pump,my question is what else i can do?other than freon before i call the tech.

My AC runs fine when I set the thermostat to "On and Cool." The AC unit turns on when set to "Auto and Cool" but the air handler does not run. The air handler does work when set to "Auto and Heat" in the winter. Thanks

Eric, if the thermostatic expansion valve (TEV) is bad on your system it could cause this symptom. But the part is not one that you can replace yourself since on the A/C systems I'm familiar with it requires opening up the refrigerant piping system to install the replacement part.
You should bring in a trained HVAC service tech to do some checking first, since there could be another control problem that may be less costly to correct, or even a low refrigerant problem (less likely from your description). Keep us posted as what you find out will help other readers.
I have york AC system and the AC will cool for a few minutes the just blows air. The freon is good. This is happening on both of the units, someone mentioned some kinda valve may be the issue if so can I replace the valve?

I am not sure but I don't think the set temp is as critical as sizing and fan speed. The classic problem is that regardless of air conditioner set temperature an oversized unit will reach the cooling temp target too quickly so dehumidification won't be sufficient.

Other than a lower fan speed a heavier filter also slows airflow down a bi.

But watch out, if things are out of
Balance we might also get coil icing. So I'd first review sizing.
Thanks Dan
Will it help if I keep the temperature lower so that the handler runs more frequently. Thanks

If your air conditioner is not dehumidifying a common cause would be that the system is over-sized for the area it is cooling - that's a tough one to fix. Some systems have a variable speed fan -see what happens if you run the fan on the slower speed.

TO look at air conditioner sizes (cooling capacity in BTUh) versus room or area size, see the article titled AIR CONDITIONER BTU CHART
(Found in INDEX to RELATED ARTICLES at our Continue Reading suggestions at the end of this article)
The air handler is working fine. condensate drains OK. But the air seems to be damp a little Any suggestions for remedy?
Thanks

If this is a belt-drive unit check for a loose pulley broken belt, broken fan mount.
If this is a direct drive unit check for a bad fan bearing, motor bearing, fan mound.
Let us know what you find, it may help other readers. We are dedicated to making our information as accurate, complete, useful, and unbiased as possible: we very much welcome critique, questions, or content suggestions for our web articles.
My air handler fan starts to run but stops Makes a thumping noise and will not start
...
Continue reading at AIR HANDLER / BLOWER UNITS - home, or select a topic from closely-related articles below, or see our complete INDEX to RELATED ARTICLES below.
Or see AIR CONDITIONING & HEAT PUMP SYSTEMS - home
Or see FURNACES, HEATING - home
Or see these
HVAC Blower Fan Articles
Suggested citation for this web page
AIR HANDLER / BLOWER UNIT FAQs-2 at InspectApedia.com - online encyclopedia of building & environmental inspection, testing, diagnosis, repair, & problem prevention advice.
Or use the SEARCH BOX found below to Ask a Question or Search InspectApedia
...
Frequently Asked Questions (FAQs)
Try the search box below or CONTACT US by email if you cannot find the answer you need at InspectApedia.
...
Ask a Question or Search InspectApedia
Questions & answers or comments about how to diagnose & repair problems with the air handler or blower unit / fan assembly in a warm air furnace or air conditioning system .
Use the "Click to Show or Hide FAQs" link just above to see recently-posted questions, comments, replies, try the search box just below, or if you prefer, post a question or comment in the Comments box below and we will respond promptly.
Search the InspectApedia website
Technical Reviewers & References
Click to Show or Hide Citations & References
Thanks to Mark Cramer, Tampa Florida, for assistance in technical review of the "Critical Defects" section and for the photograph of the deteriorating gray Owens Corning flex duct in a hot attic. Mr. Cramer is a Florida home inspector and home inspection educator.
Thanks to Jon Bolton, an ASHI, FABI, and otherwise certified Florida home inspector who provided photos of failing Goodman gray flex duct in a hot attic.
Wikipedia provided background information about the definition of HEPA and airborne particle interception.
[5] US EPA - Mold Remediation in Schools and Commercial Building [ copy on file as /sickhouse/EPA_Mold_Remediation_in_Schools.pdf ] - US EPA
Modern Refrigeration and Air Conditioning, A. D. Althouse, C.H. Turnquist, A. Bracciano, Goodheart-Willcox Co., 1982
Principles of Refrigeration, R. Warren Marsh, C. Thomas Olivo, Delmar Publishers, 1979
"Air Conditioning & Refrigeration I & II", BOCES Education, Warren Hilliard (instructor), Poughkeepsie, New York, May - July 1982, [classroom notes from air conditioning and refrigeration maintenance and repair course attended by the website author]
Refrigeration and Air Conditioning Technology, 5th Ed., William C. Whitman, William M. Johnson, John Tomczyk, Cengage Learning, 2005, ISBN 1401837654, 9781401837655 1324 pages
Books & Articles on Building & Environmental Inspection, Testing, Diagnosis, & Repair