Pressure Sensitive Water Pumps

Tankless water pump systems use a control to omit the pressure tank
WATER PUMP PRESSURE SENSITIVE - CONTENTS: Pressure sensitive pumps and inline pump controllers can provide water pressure boosting, rainwater harvesting, or similar functions without requiring a water pressure tank. What are pressure sensitive pumps and what are inline pump controls, how do they work and where are they most often used?
POST a QUESTION or READ FAQs about pressure sensitive water pumps for rainwater harvesting or water pressure boosting; using an inline pump controller, omitting a water pressure tank.
InspectAPedia tolerates no conflicts of interest. We have no relationship with advertisers, products, or services discussed at this website.
Pressure-sensitive water pump systems & inline water pump controllers:
This article explains how pressure sensitive pumps and inline pump controllers provide water pressure boosting, rainwater harvesting, or similar functions without requiring a water pressure tank. We explain pressure sensitive pumps and for similar as well as for higher water volume or pressure applications we describe inline pump controls, how they work and where are they most often used.
Our page top photo shows a model set-up for a Rowa brand pressure sensitive pump and control system suitable for water pressure boosting, cistern or rooftop water storage tank water delivery, or rainwater harvesting systems. This system can operate without requiring a separate hydropneumatic or water pressure tank.
Green links show where you are. © Copyright 2017 InspectApedia.com, All Rights Reserved.
Pressure Sensitive Water Pumps
Reader Question: I got rid of my pressure tank and now am having trouble with short cycling.
(July 5, 2015) Mike Lambadarios said:
Have had problems with water supply ended up doing away with the header tank and pressurised the system directly to the house.
Ran fine for quite a while but is now constantly short cycling,I removed the bladder tank and blocked off the fitting again ran fine for a while but now back to short cycling again. Was it a mistake to pressurise directly to the house and should I reinstate the header tank?
Reply: either install a water pressure tank (header tank) or install a pressure-sensitive water pump system.
MIke
Pressure-sensitive water pumps
You need either a pressure tank installed to prevent short cycling of the pump, or you need a special hydropneumatic pump control that combines the pump with a pressure switch - shown at left. This is essentially is a switch that can turn a pump on and off when needed without short cycling.
While there is a variety of tankless pressure boosting water pumps available, typically an electronic control built into or attached directly to the pump senses either a pressure drop or the flow of water when a faucet or fixture is opened in the building. The control turns on the pump and in addition the controller maintains constant water pressure until the fixture is closed.
The pump will then stop after a brief interval of a few seconds. A tiny built-in or attached pressure tank is factory pressureized at the "cut-in" pressure for the pump and forms part of the control that prevents rapid on-off pump short cycling.
See WATER PUMP SHORT CYCLING.
Water pressure booster pumps are widely used with rooftop water tank systems, in buildings where municipal water supply pressure is low, on shallow well systems and driven point wells, in irrigation systems and in similar applications. Both tankless designs using an electronic pressure sensor and flow sensor and perhaps a tiny built-in pressure tank, and pressure booster systems designed to work with a separate water pressure tank (Amtrol) are available and are listed later in this article.
Pressure booster pump models, including the Walrus TQ series, include controls specifically designed to prevent the pump motor from cycling on and off (short cycling) when water is being run, enhancing the pump's ability to deliver water at a constant pressure.
The pressure operating range varies by pump design, brand, and model but pump pressure boost capacities are typically between 30 and 75 psi (supporting a water piping height of up to 170 feet) and deliver water at flow rates ranging from 17 to 70 gallons per minute depending on variables such as incoming pressure, pipe diameter, piping length and rise, etc.
In our photo at above left that silver domed gadget above the red pressure-sensitive water pump works with the silver micro-pressure tank to provide a boost to water delivered (typically) from a rooftop water tank. No water pressure tank is used with this system.
These systems are typically used as water pressure boosters and not as the primary water source pump. The little silver dome dome is a miniature pressure tank itself, pre-charged to 7 psi and the whole system is calibrated to avoid short cycling of the water pump.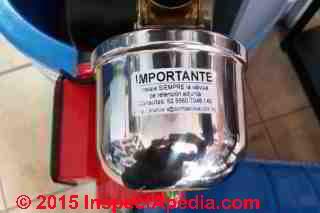 This equipment is distributed by bombasrowa.com and is widely distributed in Mexico where often we want simply to boost the pressure delivered by a rooftop water storage tank. Keep in mind that the total flow rate and building water service from this sort of system is of limited capacity.
Often we see pressure sensitive water pumps or inline pump controllers used with rainwater harvesting systems and cisterns or rooftop water tank systems serving small buildings. Submersible models of these pumps are also available for installation in the water tank.
Similar devices are sold by Aqua Group in India: the Aquatex APS hydropneumatic system. This approach floats a very small internal-bladder type pressure tank atop the water pump. Other models are used in marine applications such as the Shurflo and the Jabsco.
Typically a check valve is also required with pressure-controlled water pressure booster or rainwater harvesting pump systems.
Inline pump controllers to avoid using a pressure tank
A third option might be to use an in-line pump controller. An inline pump controller can be added to an existing system and works with most water pumps.
The inline pump controller senses pressure changes similarly to the pressure-sensitive water pump system we described above, and turns the pump on or off as needed. Some inline pump controllers include an additional sensor to shut off the pump if the water supply is lost, thus protecting the pump from damage.
Pressure Sensitive Water Pumps Omit Water Pressure Tank: Brands & Sources
Water pressure booster pumps including models that omit the need for a separate water pressure tank are used as building water pressure boosting systems, irrigation system water pressure improvements, agricultural and horticultural applications, and in industrial processes requiring a constant water pressure and flow rate.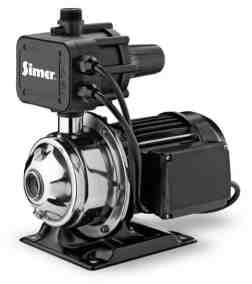 Above is the Simer Water Pressure Booster pump illustrated by the manufacturer.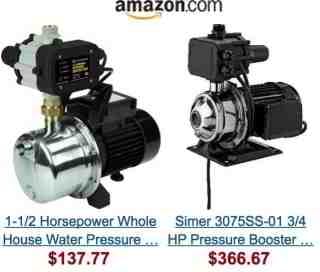 At are two water pressure booster pump using a pressure-sensitive control and omitting the requirement for a water pressure tank. At above left are a 1 1/2 horsepower pressure booster pump suitable for a whole-house water system pressure boost, while at right in that illustration is the Simer 3/4 HP inline "on demand" pressure booster pump.
AMTROL Inc. Corporate Office 1400 Division Road West Warwick, R.I. 02893 Phone: (401) 884-6300 Email: info@amtrol.com, Website: http://www.amtrol.com/, Amtrol RP-HP Pressureiser water pressure booster systems include a pressure boosting pump integrated with an Amtrol water pressure tank. The system is designed to boost building water pressure 50-50 psi above the incoming municipal-supplied water. Amtrol has offices world wide including Canada, Central America, Europe, Puerto Rico, Mexico, South America, United States
Aquatec 8800 Series Booster Pumps, Aquatec International, 17422 Pullman St., Irvine CA 92614, Tel: 800-975-9995, Website: www.aquatec.com
BurCam Pressure Booster pumps, e.g. Burcam Model 506532SS dual application pressure booster pump can be used as a water pressure booster pump or as a shallow well single-line jet pump; Bur-Cam Company, 2190 Boul, Dagenais West, Laval, Quebec, Canada H7L 5X9, Tel: 514-337-4415, Website: www.burcam.com, also sold through re-sellers such as Northern Tool, Sears, Walmart
Dayton 4HFA8 booster Pumps sold through Grainger, Zoro, other retailers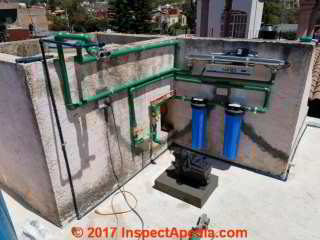 Shown above: a Grundfos SCALA2 tankless water press rue pump in process of being installed atop a home in San Miguel de Allende, Mexico.
Grundfos Domestic Water Pressure Boosting Pumps, Grundfos CME Plus, BMQE system, and MQ series pumps are designed for pressure boosting systems, Grundfos Pumps Corporation 2001 Butterfield Road, Suite 1700 Downers Grove, IL 60515, Website: https://us.grundfos.com
Grundfos Indianapolis – Peerless Brand: 1-800-879-0182
Grundfos Chicago – Yeomans, Morris, Chicago Brands & Grundfos Wastewater Products: 1-800-921-7867
Grundfos Kansas City – Grundfos Brand: 1-888-237-1960
Grundfos Brookshire – PACO Brand: 1-800-955-5847

The Grundfos SCALA2 pressure pump is described by the company as we excerpt below. We're installing this pump at the property shown in the photograph above. Some important features that we found were that the pump is extremely quiet, and when running at its low speeds is unlikely to be heard outside of a utility or mechanical room at most installations.

GRUNDFOS SCALA2 DATA SHEET [PDF] retrieved 2017/03/26, original source: http://us.grundfos.com/content/dam/GPU/Literature/SCALA2/SCALA2-DATASHEET.pdf

An important feature noted by the company that protects the pump is that its design inculdes "dry-running" protection. The SCALA2 is an advanced single-line jet-pump design that can pump from a depth of 8 metres (26 feet) of vertical lift.

SCALA2 is a fully integrated water booster pump providing perfect water pressure in all taps at all times – even with multiple taps and showers running at the same time. It packs pump, motor, tank, sensor, drive and non-return valve into one compact unit. And with its intelligent pump control, SCALA2 automatically adjusts performance to both inlet pressure and water consumption in the home. Thanks to a water-cooled motor, SCALA2 even offers one of the lowest noise levels of any booster on the market.

What is intelligent pump control?

SCALA2 features a built-in sensor, which constantly measures the discharge pressure. If the pressure drops below the desired level, SCALA2 boosts its operation immediately to compensate for the loss of pressure. We call it intelligent pump control and the result is perfect water pressure. - source: http://us.grundfos.com/products/find-product/SCALA2.html retrieved 2017/03/26

Simer Water Pressure Booster Pumps, Simer Pump 293 Wright Street Delavan, WI 53115, Tel: (800)468-7867, Website: http://www.simerpumps.com/
ShurFlo industrial pumps, Pentair Food Service, 1040 MUIRFIELD DRIVE HANOVER PARK, IL 60133 USA T 630.307.3000 / 800.942.1153 (US ONLY) Website: http://foodservice.pentair.com/
TQ Booster Pumps, Walrus Corporation, e.g. TQ400, TQ800, or TQ1500 electronic control water pressure boosting pumps
InspectAPedia is an independent publisher of building, environmental, and forensic inspection, diagnosis, and repair information provided free to the public - we have no business nor financial connection with any manufacturer or service provider discussed at our website. We do not sell products nor services.
Water Pressure Booster Pump Installation Notes & Warnings
Generally your pump should be installed in a dry area, protected from the weather and from freezing.
Check the pump manufacturer's installation instructions for the proper location of check valves in the piping system. Some pressure boosting pump models include a built-in check valve while others require an external valve or if pumping from a well, a foot valve.
Watch out: Check the pump manufacturer's advice about the maximum allowable input water pressure. If you are using the pump to boost building water pressure, for safety you may be required to install a pressure reducer/regulator on the municipal water supply line to limit the water pressure into the pump to a maximum of 20 psi (or other pressure specified by the pump manufacturer.
Watch out: warnings in the installation instructions for some of the pressure booster pumps we examined advise that you should never allow the pump to run "dry" as the pump will be damaged. The pump body and suction line must be filled with water before the pump is turned on.
Watch out: sand and debris, such as from water obtained from a driven point well can damage the pump. If there is sand, sediment or debris in the water supply protect the pump with an appropriate filter on the suction side of the pump.
Watch out: for leaks in the plumbing system that can damage the booster pump or that may show up in response to new, higher water pressure levels in the building or due to banging pipes that may occur due to increased water velocity when the tankless water pressure booster pump is installed.
Pressure sensitive pump research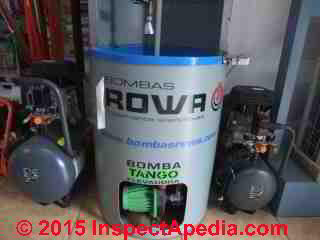 A look at some relevant patents, books and other documents can help us understand how pressure sensitive water pump controls work.
Arnette, Henry K. "System for protecting a liquid pump." U.S. Patent 5,244,351, issued September 14, 1993.
Bynum, J. "Pressure sensitive control for pump regulator." U.S. Patent 3,794,789, issued February 26, 1974. Abstract:

The specification discloses a water pumping system including an electric motor driven pump coupled to an underground water reservoir by way of conduits and to an uphold storage tank for storing water and having a pressure regulator for completing an electrical circuit to the pump motor from an electrical energy source when the water pressure falls below a preset low pressure level and for disconnecting the electrical circuit when the water pressure rises above a preset upper pressure level.

Coupled between the source and the pump motor is a pressure switch sensitive to the water pressure of the system for disconnecting the electrical circuit in the event that the water pressure falls to a given lower pressure level below the preset low pressure level of the pressure regulator.
Gray, John. "Pressure control for water systems." U.S. Patent 3,135,282, issued June 2, 1964.
Excerpt: This invention relates to a pressure control for water systems, and is particularly concerned with apparatus for delivering water or other liquid at a constant pressure when the system demand and the supply source are both variable.
Herrmann, Thilo, and Uwe Schmida. "Rainwater utilisation in Germany: efficiency, dimensioning, hydraulic and environmental aspects." Urban water 1, no. 4 (2000): 307-316.
Hollinshead, William H., "Pump control." U.S. Patent 2,765,743, issued October 9, 1956. Earlier and more traditional pump pressure control switch design for rotary pumps.
Jones, Matthew P., and William F. Hunt. "Performance of rainwater harvesting systems in the southeastern United States." Resources, Conservation and Recycling 54, no. 10 (2010): 623-629.
LaValley Sr, Ronnie L. "Pressure responsive fluid pump shut off and alarm system." U.S. Patent 5,064,347, issued November 12, 1991. Abstract:

A pump supply system for furnishing well water or the like which is sensitive to and operates within a range defined by a pressure switch to supply water when pressure in the system falls below a preset minimum pressure and shut off the pump when the pressure reaches a predetermined value.

Timing means is employed in the system and preset to time out after a predesignated interval of operation of the pump. The system will retime the next pumping cycle, if that interval of operation is not exceeded. If the pump seeks to operate beyond the predesingated time period, the timing circuit is disabled, the pump is shut down, and an alarm is activated.
Lancaster, Brad, and Joe Marshall. Rainwater harvesting for drylands and beyond. Vol. 1. Rainsource Press, 2008.
Merritt, Herbert E. Hydraulic control systems. John Wiley & Sons, 1967.
McIntosh, Todd. "Gray-water reclamation and reuse system." U.S. Patent 5,106,493, issued April 21, 1992.
Schaub, Robert F., "Tankless water pressure system." U.S. Patent 3,198,121, issued August 3, 1965. Abstract excerpts:

This invention relates to a tankless water pressure systern and more particularly to a system for boosting water supply pressure for multi-story buildings and the like. ... One system heretofore used is a hydro-pneumatic tank system. Such systems have the disadvantage of requiring large expensive tanks occupying a large amount of space, normally require a separate air compressor, involve substantial fluctuations in the pressure of the water supplied, and increase the air content in the water thereby increasing its corrosive action on the plumbing.

Tankless systems have also been proposed utilizing one or more continuously operating pumps driven through variable speed driving mechanisms which are controlled in response to the demand to vary the pump speed. While such systems maintain the pressure within closer limits than a tank system and eliminate the need for the tank and air compressor, they are expensive to install and are difi'icult and expensive to maintain, due to the complexities of the variable speed driving mechanisms and the controls therefor. Systems of this type, however, occupy a substantial amount of space.

It is accordingly an object of the present invention to provide a tankless Water pressure system which is simple and inexpensive to install and maintain, which occupies a minimum amount of space and which maintains the pressure within very close limits.


Shen, Der-Fan. "Flow regulator for water pump." U.S. Patent 6,564,826, issued May 20, 2003.
Abstract:

A flow regulator for a water pump, comprising a valve body, a piston block, a spring, a connecting pipe, and a rod.
The valve body is roughly shaped like a cross, having a passageway in a vertical direction and a first tube and a second tube in a horizontal direction. The piston block is glidingly movable in the horizontal direction in the first tube.

The spring is disposed in the second tube, having ends that are fastened to inner and outer holding plates.
The connecting pipe is connected with the first tube, transmitting water pressure from a supply pipe to the first tube.

The rod connects the inner holding plate and the piston block to allow the water pressure and the elastic force to balance each other.
The piston block is pushed inward by the water pressure, narrowing the passageway, while being pressed outward by the elastic force, so that controlled water flow and pressure in the supply pipe are achieved....

The present invention relates to a flow regulator for a water pump, particularly to a flow regulator for a water pump, which controls water outflow of a water pump by a differential pressure method, achieving smooth delivery of water by the water pump.

Shen, Der-Fan. "Flow regulator for water pump." U.S. Patent 6,309,185, issued October 30, 2001.
Smith, Dresden G. "Air and water volume control apparatus for hydropneumatic tanks." U.S. Patent 4,576,552, issued March 18, 1986.
Speed, Russell H. "Water well pump control assembly." U.S. Patent 4,462,758, issued July 31, 1984.
This patent describes a more traditional pump pressure control switch design. Abstract Excerpt:
The control assembly includes a mounting plate, a pressure switch that responds to the pressure of the liquid in the tank, the pressure switch being mounted on the plate, a terminal board and a printed circuit board.
Triezenberg, David M. "Variable-speed motor drive controller for a pump-motor assembly." U.S. Patent 6,264,431, issued July 24, 2001. Abstract:

A liquid pump system for providing liquid to a tank includes a variable-speed motor drive and a control circuit coupling the variable-speed motor drive to a power source. The control circuit has a switch that may be disposed in a state according to the amount of liquid in the tank.

The control circuit provides for supplying power to the variable-speed motor drive from the power source regardless of the state of the switch. The control circuit may include a transmitter that generates a high frequency signal representative of the state of the switch. In that embodiment, a detector coupled to the variable-speed motor drive receives the high frequency signal to control operation of the liquid pump system.
Triezenberg, David M. "Motor drive circuit for pressure control of a pumping system." U.S. Patent 5,580,221, issued December 3, 1996.
Vishwanath, S. "Domestic Rainwater Harvesting–Some applications in Bangalore, India." In Rain Water Harvesting Conference. H2-1, p. 5. 2001.
Walters, William. "Pump protector apparatus." U.S. Patent 4,329,120, issued May 11, 1982.
Ward, S., F. A. Memon, and D. Butler. "Performance of a large building rainwater harvesting system." Water research 46, no. 16 (2012): 5127-5134.
Ward, Sarah. "Rainwater harvesting in the UK: a strategic framework to enable transition from novel to mainstream." (2010).
Worm, Janette. AD43E Rainwater harvesting for domestic use. Agromisa Foundation, 2006.
Pressure sensitive water pump sources

AQUASUB ENGINEERING (Corporate Office) Thudiyalur (post) Coimbatore - 641 034. Tamilnadu, India Phone: 0422-2642484 Fax : 0422-2642128 Email : aquasub@vsnl.com
Bell & Gossett: commercial grade and sized inline pumps, http://bellgossett.com/pumps-circulators/in-line-pumps/
e-LNE in-line pumps, capable of higher flow rates than the small systems we discussed in the article above,Xylem Water Solutions UK Limited Main Office Millwey Rise Industrial Estate Axminster Devon EX13 5HU – UK Tel: (+44) 01297 630210 Fax: (+44) 01297 630295 E-mail: lowaraukservice@xyleminc.com http://www.lowara.co.uk/
Grundfos high efficiency in-line pumps: http://net.grundfos.com/Appl/WebCAPS/Grundfosliterature-3847.pdf
Pacific Hydrostar pressure boosting pump, sold by Harbor Freight and at Amazon.com, a brand trademarked by Harbor Freight, is shown just below. 90 day warranty. Pacific Hydrostar also makes pressure washers, sewage pumps, fountain pumps and utility pumps. We haven't found the actual manufacturer of this pump.
Rahman, Ataur, Joseph Keane, and Monzur Alam Imteaz. "Rainwater harvesting in Greater Sydney: Water savings, reliability and economic benefits." Resources, Conservation and Recycling 61 (2012): 16-21.
Rainwater harvesting pumps: HydroForce™ Pumps Ltd Contact Details HydroForce Pumps Ltd Unit A Harrier Park, Southgate Way Peterborough Cambridgeshire PE2 6YQ +44(0) 1733 405 107 info@hydroforcepumps.co.uk
Rainwater Harvesting Ltd Unit A Harrier Park Southgate Way Peterborough Cambridgeshire PE2 6YQ General enquiries call +44 (0) 1733 405 111 Fax: 01733 230 996 info@rainwaterharvesting.co.uk
Rowa water pumps - Bombas Rowa, http://www.bombasrowa.com/ are distributed throughout Latin America and provide instructions in English, Spanish, or Portugese. Rua Benedito Campos de Moraes, 177 - Vila Anastácio - São Paulo – SP – CEP: 05094-010 - Tel: 55(11) 3648-9294 www.bombasrowa.com / diretoria@bombasrowa.com.br
...
Continue reading at WATER PRESSURE BOOSTER PUMP - tank type water pressure boostin systems, or select a topic from closely-related articles below, or see our complete INDEX to RELATED ARTICLES below.
Or see WATER PUMP SHORT CYCLING DIAGNOSIS TABLE
Or see MUNICIPAL WATER PRESSURE IMPROVEMENTS
Or see WELL WATER PRESSURE IMPROVEMENT
Or see these articles
Water Pressure Diagnosis & Improvement
Suggested citation for this web page
WATER PUMP PRESSURE SENSITIVE at InspectApedia.com - online encyclopedia of building & environmental inspection, testing, diagnosis, repair, & problem prevention advice.
Or use the SEARCH BOX found below to Ask a Question or Search InspectApedia
...
Frequently Asked Questions (FAQs)
Try the search box below or CONTACT US by email if you cannot find the answer you need at InspectApedia.
Question: water pump is cycling on and off,every 2-3 sec. when a tap is opened
10 Aug 2015 Dave said:
My water pump is cycling on and off,every 2-3 sec. when a tap is opened. I have replaced the switch with a 20-40 psi switch and checked that the pressure tank ( bladder type ) has 18 psi in it.. any ideas would be helpful. Tks
Reply:
Dave:
Watch the pressure switch. It's possible that water is not entering the tank or that your tank is waterlogged and includes a pressure gauge that's stuck, giving a false reading. Gently rock the tank (don't break any connections) and you can usually tell if it's empty (it'll be light), and similarly, if no water is entering the tank its pressure and temperature and weight wont' change.
If you are dead certain the pressure tank accepts water and is being pumped up I cannot imagine why you'd have sort cycling every 2-3 seconds. I'd be looking for an obstruction that lets water into the tank such as a bladder stuck on itself or a nearly closed or blocked valve.
...
Ask a Question or Search InspectApedia
Use the "Click to Show or Hide FAQs" link just above to see recently-posted questions, comments, replies, try the search box just below, or if you prefer, post a question or comment in the Comments box below and we will respond promptly.
Search the InspectApedia website
Technical Reviewers & References
Click to Show or Hide Citations & References
Thanks to reader Wayne Ouellette for discussing water tank replacement needs May 2010
Pumptrol® Pressure Switch Adjustment, Square D, Schneider Electric Corporation, 8001 Knightdale Blvd., Knightdale< NC 27545 1-888-778-2733 - Square D Technical Library, web search 07/24/2010 original source: http://ecatalog.squared.com/techlib/docdetail.cfm?oid=09008926800a93be
9013 Pumptrol® Commercial Pressure Switches Type F and 9013 Commercial Pressure Switches Type G, Catalog, SquareD, Schneider Electric Industries SAS, Schneider Electric Industries SAS, web search 02/23/2011, original source: http://ecatalog.squared.com/pubs/Machine Control/
Pressure-Float-Vacuum Switches/Pressure Switches-Water and Air/9013CT9701.pdf
Square D is a brand of Schneider Electric.
Class 9013 Square D Commercial Pressure Switches: Water Pump Pressure Control Switch Class 9013, Type F, G, Manual, Square D Company, 8001 Highway 64 East, Knightdale, NC 27545-9023, USA, (919) 266-3671, www.squared.com, web search 02/24/2011, original source: stevenengineering.com/tech_support/PDFs/45COM.pdf. Quoting:

The Type FSG, FYG, FRG - PUMPTROL® Water Pump Pressure Switches are used to control Water Pump Pressure Switches are used to control
electrically driven water pumps and have the following features:

The Type FSG is the standard water pump switch, suitable for all types of pumps: jets, submersible,
reciprocating, etc.
The Type FYG is designed to meet higher horsepower and pressure requirements.
The Type FRG is reverse acting: the contacts open on falling pressure.
All are diaphragm actuated.



The Type G - PUMPTROL® Commercial/Light Industrial Pressure Switch is used to control electrically driven water pumps and air compressors. It has higher electrical ratings for direct control of motors in pump and compressor applications. The Type G switch is diaphragm actuated and has contacts that open on rising pressure.
Life Expectancy of Water Pumps - Well Pumps: how long should a water pump last? What affects pump life?
Life Expectancy of Wells & Water Tanks how long should a water well and its components last?
Smart Tank, Installation Instructions [ copy on file as /water/Smart_Tank_Flexcon.pdf ] - , Flexcon Industries, 300 Pond St., Randolph MA 02368, www.flexconind.com, Tel: 800-527-0030 - web search 07/24/2010, original source: http://www.flexconind.com/pdf/st_install.pdf
Typical Shallow Well One Line Jet Pump Installation [ copy on file as /water/Jet_Pump_Grove_Elect_Jet_Pumps.pdf ] - , Grove Electric, G&G Electric & Plumbing, 1900 NE 78th St., Suite 101, Vancouver WA 98665 www.grovelectric.com - web search -7/15/2010 original source: http://www.groverelectric.com/howto/38_Typical%20Jet%20Pump%20Installation.pdf
Typical Deep Well Two Line Jet Pump Installation [ copy on file as /water/Jet_Pump_Grove_Elect.pdf ] - , Grove Electric, G&G Electric & Plumbing, 1900 NE 78th St., Suite 101, Vancouver WA 98665 www.grovelectric.com - web search -7/15/2010 original source: http://www.groverelectric.com/howto/38_Typical%20Jet%20Pump%20Installation.pdf
Water Fact Sheet #3, Using Low-Yielding Wells [ copy on file as /water/Low_Yield_Wells_Penn_State.pdf ] - , Penn State College of Agricultural Sciences, Cooperative Extension, School of Forest Resources, web search 07/24/2010, original source: http://pubs.cas.psu.edu/FreePubs/pdfs/XH0002.pdf
Books & Articles on Building & Environmental Inspection, Testing, Diagnosis, & Repair
Our recommended books about building & mechanical systems design, inspection, problem diagnosis, and repair, and about indoor environment and IAQ testing, diagnosis, and cleanup are at the InspectAPedia Bookstore. Also see our Book Reviews - InspectAPedia.
...