Cistern Construction
Design recommendations for building a traditional rainwater storage cistern
InspectAPedia tolerates no conflicts of interest. We have no relationship with advertisers, products, or services discussed at this website.
Cistern construction recommendations: this article describes the construction requirements for a site-built water storage system and includes details for diverting rooftop rainwater drainage into the cistern fdor water storage. We also describe a simple graywater re-use system installed at the same building site.
Green links show where you are. © Copyright 2017 InspectApedia.com, All Rights Reserved.
Design Details for a Traditional Water Storage Cistern, Rainwater Collection & Graywater Re-Use
In a sequence of photographs here we describe a rooftop rainwater collection system that sends clean roof runoff into a very large masonry cistern built below a home in Guanajuato, Mexico. The building owners and system designers LM and DP live atop a mountain where water is scarce and expensive to have delivered.
At below left we see a large low slope rooftop area that collects rainwater during the rainy season. Skylights, a rooftop access hatch, and a solar water heating system are also installed on this roof.
A masonry border or low parapet wall around the rooftop is penetrated at several drain locations to direct rainwater into pipes that in turn carry water to the basement cistern.
Screening (above right) keep eucaluptus leaves and other rooftop debris out of the piping. At initial rainfall water can be diverted away from the cistern so that water containing dust and bird droppings can be flushed from the roof and system before subsequent rainfall is diverted into the cistern itself.
Roof drainage is piped to a steel drum whose interior was cleaned and painted and filled with large rocks to absorb the shock of a heavy water flow into the system (below left). The catch-drum outlet then directs water through the building's wall and into the rainwater storage cistern. The designers placed the drum outlet above its bottom to permit settlement of dust and debris that can be periodically removed.
A pump located in the cistern delivers water up to the building's various plumbing fixtures. At point of use in the kitchen where safe water potability must be assured, the owners installed a water purification system including a reverse osmosis treatment and a cascade of water filters (above right).
This thoughtful rainwater catchment system in active use in a dry climate includes several interesting design features including the ability to have rain provide a rooftop dust flush before rainwater is diverted into the cistern and an extensive grayater collection system (orange arrows shown on the gray barrell at below left) that in parallel to the cistern conserves graywater for application to gardens and trees on the site.
A simple ball valve connected to the graywater container permits connection of a hose to direct graywater to where it is to be applied on nearby garden or trees.
More about graywater re-use systems is at GREYWATER SYSTEMS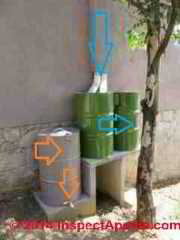 For another very simple rainwater collection system see the rainwater collection and storage tank we show in our article at PASSIVE SOLAR HOME, LOW COST) also designed for collecting as much rainwater as possible when rainy weather occurs.
Reader Question: advice on building a traditional cistern
6/24/2014 Robert said:
I have questions regarding very much older durable cisterns. First, my Grandfather's was partially below and partially above ground and it was round, maybe 8 ft across diameter. It collected water off his galvanized tin roof and gutters that passed through some very fine screens into the cistern. I seem to recall that the liner for lack of a better word was use of something like the white very flat rectangular brick sort of like Fire Brick and probably concrete mortar but that is as much as I can recall. It was used for drinking water and just about everything. He just used a small galvanized bucket to drop and pull up the water.
The question is are there old designs of this type to be found somewhere. All I know is it worked fine and I loved the water out of it. This did not hit the ground so there was no, at that time, concern for harmful bacteria. I suspect our air was much cleaner then too. Anyway, I really want to try to find out how his may have likely been built because I would like to try building one primarily for drinking use or cooking. I also plan to have no trees near the house so no big problem with leaves. I do not recall any trees anywhere in the vicinity of his gutters or the cistern; they were all away from the house. Can you help me with some information?
Robert <raptor.1.robert@gmail.com>
Reply: Cistern Specifications & Design Tips
Robert,
As we corresponded by email, cisterns are still used all over the world for water storage; in addition to keeping out debris, you may need to test (or sanitize) the water before using it for drinking.
Cisterns tend to be site-built of masonry, often open-topped or concrete-topped and may be above-ground or below ground.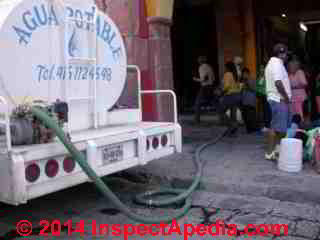 Since traditional cistern construction is basically a masonry box lined with high-portland cement to improve its water tight properties, we don't find many plans or design specifications. But I can list a few features you'll want to consider besides building the cistern box itself:
Photo at left: water delivery to a stone cistern located in the floor of a restaurant in San Miguel de Allende, Guanajuato, Mexico.
Cistern wall & bottom construction: walls need to be strong enough to withstand weather, earth pressure (if below ground), and thermal movement (if in a freezing climate where you'd need to protect from frost push).
Cistern top construction: must be strong enough to be perfectly safe against collapse or against someone falling in. A cistern constructed below a driveway, for example would need to be able to withstand heavy vehicle loading as well as earth cover loading and would also be at risk of contamination if a vehicle leaks oil or fuel in the area.
Cistern location: locating a cistern where it can be filled by rainwater can be a critical consideration in dry climates where rainwater storage is essential.

Even where rainwater is not to be used to fill a cistern, if you are going to add water by delivery from a truck consider the requirement for convenient vehicle access. Traditional construction of cisterns in building basements is not my preferred design in new construction in northern climates if the cistern is going to contribute un-wanted indoor moisture to the structure.
Cistern water entry, water outlets, and drainage: we may need to include four water connections, depending on cistern design and location:

One or more water inlets to supply the cistern from a water source. Our friends David and Linn in Guanajuato cleverly designed their home's roof to collect rainwater and to direct it into a large cistern. The initial roof drainage is directed out of the cistern until dust accumulated on the roof has been washed away, then subsequent roof runoff is aimed into the cistern.
Cistern water supply to the point of use: may be by gravity for uphill or rooftop cisterns, or may require a pump system.

See PUMP, WATER PRESSURE BOOSTING for a type of pump and tank suitable for supplying water from a cistern.
Cistern overflow: provide for directing excess water to a safe location that won't damage the building if cistern input (say from rainwater) has filled the cistern to capacity.
Cistern drainage: for the purposes of cleaning or repair it may be necessary to empty the cistern.

Cistern inspection, entry, repair: most cisterns of large capacity include an access opening for inspection or repair.
I extend the "cistern" concept to include large plastic water tanks that are usually located above ground and sometimes on building roofs.
To consider the plastic tank alternative, see ROOFTOP WATER TANKS
More about using plastic tanks for water storage incuding possible health concerns associated with storing water in some types of plastic is at PLASTIC CONTAINERS, TANKS, TYPES
Cistern Construction, Sanitation, History & Water Storage System Research Citations
Ali, A., T. Oweis, A. B. Salkini, and S. El-Naggar. "Rainwater cisterns: traditional technologies for dry areas." ICARDA, Aleppo, Syria. iv (2009).
Edwards, D., and K. Keller. 1984. A Workshop Design for Rainwater Roof Catchment Systems (Training Guide) and Appendix: Rainwater Harvesting for Domestic Water Supplies in Developing Countries. La Paz, UNESCO/ROSTLAC, UNICEF, Instituto de Hidráulica e Hidrología.
Gnadlinger, Johann. "Technical presentation of various types of cistern built in the rural communities of the semi-arid region of Brazil." In 9th IRCSA Conf. 1999.
Gnadlinger, Joao. "Lime—the great sealer: constructing low-cost, sub-surface rainwater tanks in Brazil." Waterlines 14, no. 2 (1995): 11-14.
Gould, J.E. 1990. "Development of Rainwater Catchment Systems: Technology and Implementation Strategies in the 1980's and Lessons for the 1990's." In: Experiences in the Development of Small-Scale Water Resources in Rural Areas: Proceedings of the International Symposium on Development of Small-Scale Water Resources in Rural Areas, Bangkok, Carl Duisberg Gesellsehaft, South East Asia Program Office, pp. 95-105.
Gould, John E. "The Fourth International Rainwater Cistern Systems Conference." Waterlines 8, no. 2 (1989): 31-31.
Gould, John E. "The Rain-water Cistern Systems Conference in Thailand." Waterlines 6, no. 2 (1987): 12-13.
Hadwen, P. 1987. "Caribbean Islands: A Review of Roof and Purpose Built Catchments." In Non-Conventional Water Resources Use in Developing Countries. New York, United Nations, pp. 455-468. (Natural Resources/Water Series No. 22).
Haebler, R.H., and D.H. Waller. 1987. "Water Quality of Rain Water Collection Systems in the Eastern Caribbean." In Proceedings of the Third International Conference on Rainwater Cistern Systems. Khon Kaen, Thailand, Khon Kaen University.
Heggen, RJ. 1984. "Rainwater Catchment Systems: A Review." In Proceedings of the Second International Conference on Rainwater Cistern Systems (H.H. Smithe, ed.). St. Thomas, U.S.V.I., Caribbean Research Institute and Virgin Islands Branch, ASCE, pp. A3.1-A1-13.
HU, Wen-wu, Ping JIANG, Wei-zhong AI, and Song-ling SUN. "Research on wireless farming cistern control system based on self-study mechanism [J]." Electronic Design Engineering 4 (2010): 003.
Ikebuchi, Shuichi, and Seiji Furukawa. "Feasibility Analysis of Rain Water Cistern Systems as an Urban Water Supply Source." In Proc. Rain Water Cistern Systems Conf, pp. 118-127. 1982.
Irwin, Ross W., and Ross W. Irwin. "Cistern for domestic water use." Canadian agricultural engineering 19, no. 1 (1977): 12.
Isquith, Irwin R., and Harvey Winters. "The microbial analysis of domestic cistern water in the US Virgin Islands." Desalination 66 (1987): 415-421.
Isquith, Irwin R., Harvey Winters, and Agreement No. Microbial Analysis of Domestic Cistern Water in the US Virgin Islands. Water Resources Research Center, College of the Virgin Islands, 1981.
Jian, Tu. "A Brief Talk On Cistern Design." Forestry Science and Technology Information 3 (2007): 045.
Junker, M. 1995. Abastecimiento de Agua Potable en los Asentamientos Indígenas de Diez Leguas. Filadelfia, Paraguay. Dirección de Recursos Hídricos de Paraguay e Instituto Federal de Geociencias y Recursos Naturales de Alemania. (Cooperación Hidrogeológica Paraguayo-Alemana, Informe Técnico N°1)
Krämer, S. "Improving the Construction of Cisterns in Yemen and the Cistern Water Quality." Fachhochsschule Giessen Friedberg, University of Applied Sciences (2003).
König, Klaus W., and Dietmar Sperfeld. "Rainwater harvesting—A global issue matures." Sustain. Water Manag 1 (2007): 31-35.
Lorenzo, Nieves. 1988. Proyecto de Presupuesto para la Construcción de Cisternas Rurales en los Caseríos Corozalito y el Guanábano del Distrito Zamora Estado Flacón. Coro, Venezuela, FUDECO-PIDZAR.
Lye, Dennis J. "Microbiology of rainwater cistern systems: A review: (Cistern, Rainwater, Microorganisms)." Journal of Environmental Science & Health Part A 27, no. 8 (1992): 2123-2166.
McGeever, B., and T. H. Thomas. Underground storage of rainwater for domestic use; including construction details of a low-cost cistern and pumps. Working Paper 49, DTU, Warwick University, UK, 1997.
Memarian, Gholam Hossein. "introducing Some Aspects Of Iranian Vernacular Architecture: Construction Of Abanbar Or Underground Cistern." Journal of Architecture and Urban Planning (2009).
OAS, "Rainwater Harvesting From Rooftop Catchments", [PDF] OAS, Organization of American States 17th Street and Constitution Ave., NW Washington, D.C., 20006-4499 USA, Tel: 1 (202) 370 5000, retrieved 2016/06/29, original source: http://www.oas.org/dsd/publications/unit/oea59e/ch10.htm
Olem, Harvey, and Paul M. Berthouex. "Acidic deposition and cistern drinking water supplies." Environmental science & technology 23, no. 3 (1989): 333-340.
Petersen, Andrew. "The archaeology of the Syrian and Iraqi Hajj routes." World Archaeology 26, no. 1 (1994): 47-56.
Shao-bing, L. I. U. "Design and Construction of Cistern Roofing [J]." Journal of Hunan Urban Constructin College 4 (2000): 009.
Silva, A. de Souza, and E. Rocha Porto. 1982. Utilização e Conservação dos Recursos Hídricos en Areas Rurais do Trópico Semi-árido do Brasil. Petrolina, PE, Brazil, EMBRAPA-CPATSA. (Documento No. 14)
-----, et al. 1984. Cisternas Rurais. Dimensionamento, Construção e Manejo. Petrolina, PE, Brazil, EMBRAPA-CPATSA-SUDENE. (Circular Técnica No. 12)
-----, et al. 1988 Captação e Conservação de Água de Chuva no Semi-árido Brasileiro: Cisternas Rurais. II. Agua para Consume Humano. Petrolina, PE, Brazil, EMBRAPA-CPATSA. (Circular Técnica No. 16)
Smith, Henry H. 1983. Effects of Various Factors on the Sizing of Rain Water Cistern Systems. #2 John Brewers Bay, St Thomas, College of the Virgin Islands, Caribbean Research Institute. (Technical Report No. 19)
Solomon, Hossana, and Henry H. Smith. "Effectiveness of Mandatory Law of Cistern Construction for Rainwater Harvesting on Supply and Demand of Public Water in US Virgin Islands." In Seventh Caribbean Islands Water Resources Congress, p. 75. 2007.
Thomas, T. H., and B. McGeever. "Underground Storage of Rainwatewr for Domestic Use (Including Construction Details of a Low-Cost Cistern and Pumps)." (1997).
United Nations. Department of Technical Cooperation and Development. 1989. Roof Catchments, Roof Coverings, Guttering and Downpipes. New York. (United Nations Water Resources Assessment and Planning in Pacific Islands; UNDP Project RAS/87/009)
Vincent, Linden. The politics of water scarcity: irrigation and water supply in the mountains of the Yemen Republic. Overseas Development Institute, 1990.
Wahlin, L. "The family cistern: 3,000 years of household water collection in Jordan." In Ethnic Encounter and Culture Change. Papers from the Third Nordic Conference on Middle Eastern Studies, Joensuu, Finland, pp. 19-22. 1995.
Waller, D.H. 1982. "Rainwater as a Water Supply Source in Bermuda." In Proceedings of the First International Conference on Rain Water Cistern Systems. Honolulu, University of Hawaii, Water Resources Research Center, pp. 184-193.
Xiaozu, Yartg Zhijie Su. "Calculation of Rectangular Cistern on Winkler Elastic Foundation [J]." Special Structures 2 (2006): 011.
Yi, Li. "A Talk On The Design of The Control of Water Level in Underground Cistern." Fujian Architecture & Construction 3 (2002): 038.
Young, Edward S., and William E. Sharpe. "Atmospheric deposition and roof-catchment cistern water quality." Journal of environmental quality 13, no. 1 (1984): 38-43.
...
Continue reading at CISTERNS or at or select a topic from closely-related articles below, or see our complete INDEX to RELATED ARTICLES below.
Or see CAULKS, NONTOXIC
LARGE CAPACITY WATER STORAGE TANKS
Suggested citation for this web page
CISTERN CONSTRUCTION GUIDE at InspectApedia.com - online encyclopedia of building & environmental inspection, testing, diagnosis, repair, & problem prevention advice.
Or use the SEARCH BOX found below to Ask a Question or Search InspectApedia
...
Frequently Asked Questions (FAQs)
Try the search box below or CONTACT US by email if you cannot find the answer you need at InspectApedia.
...
Ask a Question or Search InspectApedia
Use the "Click to Show or Hide FAQs" link just above to see recently-posted questions, comments, replies, try the search box just below, or if you prefer, post a question or comment in the Comments box below and we will respond promptly.
Search the InspectApedia website
Technical Reviewers & References
Click to Show or Hide Citations & References
Books & Articles on Building & Environmental Inspection, Testing, Diagnosis, & Repair
Our recommended books about building & mechanical systems design, inspection, problem diagnosis, and repair, and about indoor environment and IAQ testing, diagnosis, and cleanup are at the InspectAPedia Bookstore. Also see our Book Reviews - InspectAPedia.
...