Asbestos in Armstrong™ Ceiling Tiles ?

Do some Armstrong ceiling tiles contain asbestos?
InspectAPedia tolerates no conflicts of interest. We have no relationship with advertisers, products, or services discussed at this website.
Some sources assert that some Armstrong brand ceiling tiles may contain asbestos:
In this article series we discuss how to recognize & handle ceiling tiles that may contain asbestos.
We describe the appearance, ingredients, years of manufacture, history, and producers of various types of ceiling tiles & coverings as an aid in determining whether or not a particular ceiling covering or tile is likely to contain asbestos.
We also provide a MASTER INDEX to this topic, or you can try the page top or bottom SEARCH BOX as a quick way to find information you need.
Do 2' x 4' Armstrong Ceiling Panels made in 1976 contain Asbestos?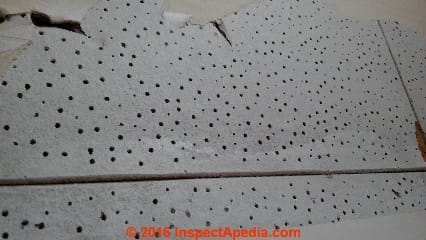 Reader question:
I have a recreation room that uses 2' x 4' Armstrong Ceiling Panels made in 1976 or later. They claim to be fire retardant, and are of the Scotch Pine variety. Do they contain Asbestos? - Mark Webb 2/1/12
Reply: no, according to Armstrong, their ceiling tiles never contained asbestos. Citations provided.
Mark, unfortunately there were so many ceiling products, styles, and names that I've found it almost impossible to build a comprehensive list of asbestos and non-asbestos-containing products.
Reading opinions about asbestos-risks in ceiling tiles discussed at legal services websites and at some home inspection websites either leaves you convinced of a serious asbestos hazard, or delivered a disclaimer recommending testing, encapsulation, or other "safe" advice from inspectors.
Let's sort through the question with a bit more specific or authoritative information:
Who says ceiling tiles contain asbestos?
Suspended ceiling tiles of the 2'x2' or 2'x4' dimension, and manufactured by Armstrong, Celotex, Conwed, LoTone, and USG and made before the late 1970's are listed by several attorney-sponsored "mesothelioma websites" as often containing asbestos to add fire-resistance.
In addition, asbestos exposure research includes citations of asbestos-use in not just fireproofing ceiling sprays but also asbestos content in ceiling tiles. (Thomson 1963) (Bruckman 1977) (Lilienfeld 1991) (Mlynarek 1996) (Dave 2005) (Jung 2015)
Below at CEILING TILE ASBESTOS we list research articles citing asbestos exposure hazards. There you will see the source of some confusion about ceiling tiles. A careless literature search for "asbestos in ceiling tiles" finds research articles on maintenance worker exposure to asbestos.
A closer-read of the literature often finds, however, that in many studies the principal asbestos exposure was from sprayed-on asbestos-containing fireproofing used on ceilings or under-roofs above suspended ceilings. At least one study also refers to asbestos-containing acoustical plaster (not ceiling tiles). (Ewing 1999)
When nothing is known about the brand of ceiling tile in your building, and if your building or at least the ceiling tiles were manufactured before the date of asbestos ban in your country then a safe procedure would be to treat the ceiling as presumed to contain asbestos.
In the U.S. the EPA banned spray-applied surfacing asbestos materials in 1973, with an additional ban in 1978. In 1990, EPA prohibited spray-on application of materials containing more than 1% asbestos to buildings, structures, pipes, and conduits unless certain conditions specified. See National Emission Standards for Hazardous Air Pollutants (NESHAP) at 40 CFR 61, Subpart M are met.
Also see MESOTHELIOMA doctors, organizations, treatment resources, legal advice.
Who says their ceiling tiles don't contain asbestos? Armstrong Corporation.
According to Armstrong Corporation, those attorneys and some home inspectors are mistaken. Armstrong commented as follows:
Our mineral fibre tiles are made from a combination of the following naturally occurring, processed and recycled materials in varying proportions depending upon the tile type: mineral wool, clay, perlite, cellulose and starch mixed together in a water based process before being cured by heat.
They are then finished with a water based paint, or laminated scrim and paint, decorative facing. All these materials are environmentally safe and our factories comply with ISO 14001.
Asbestos, in any form, is not and never has been used in the manufacture of Armstrong ceiling tiles.[8]
In general, for ceiling materials of the age you describe, for other brands and without other explicit information from the manufacturer, unless it is quite obvious by visual inspection that the materials are fiberglass or another non-asbestos material, the best answer is to be prudent: treat the material as presumed-asbestos-containing material (PACM) - which means don't make a dusty mess.
2'x4' ceiling tiles are usually drop-in panels in a suspended ceiling grid and are easily swapped out with minimal disturbance or dust if they are damaged, soiled, or need replacement.

[Click to enlarge any image]
Source: Armstrong World Industries JLT Office 2003, 20th Floor Goldcrest Executive Tower Dubai Jumeirah Lake Towers, Cluster C United Arab Emirates Phone: +971 4 453 4545, retrieved 2019/02/09, original source: https://www.armstrongceilings.com/commercial/en-lr/technical-downloads/faqs-suspended-ceilings-other-aspects.html#contact-us
Who says play it safe about asbestos in ceiling tiles ?
Although Armstrong has stated emphatically that their ceiling tiles never contained asbestos, some ceiling tiles have been widely-enough reported to contain asbestos that using some common sense is certainly appropriate: meaning don't make a dusty mess, don't demolish a ceiling of unknown materials without taking proper precautions.
Some home inspection clubs and open-associations focus almost entirely on using a disclaimer or on giving clients advice that is safe for the inspector and that may be safe for the client, though not necessarily safe for their walled.[10]
Really? Asbestos is safe and legal to remain in homes or public buildings as long as the asbestos materials are in good condition and the asbestos can not be released into the air.
Watch out: in most circumstances the safest as well as most-economical way to deal with asbestos-suspect materials such as flooring or ceiling coverings is to leave the material alone, intact, un-disturbed and where appropriate to encapsulate, seal, or cover it.
If you must demolish or disturb an asbestos-suspect material, you should either treat it as "PACM" (Presumed Asbestos Containing Material) or have a sample tested if significant expense would be involved.
Research on Asbestos Content in Ceiling Tiles, Panels, Coverings
Armstrong Co., ARMSTRONG CEILING TILE FAQS [PDF], Armstrong World Industries Ltd. Building Products Division Harman House, 1 George Street Uxbridge Middx UB8 1QQ United Kingdom Phone: 0800 371 849 Fax: +44 1895 274287 retrieved 2016/06/14 original source: http://www.armstrong.co.uk/commclgeu/eu1/uk/gb/FAQ_other.html [2019/02/09 note: the original web link is no longer functional]
Bruckman, Leonard, Robert A. Rubino, and Barbara Christine. "Asbestos and mesothelioma incidence in Connecticut." Journal of the Air Pollution Control Association 27, no. 2 (1977): 121-126.

Excerpt: … Briefly, this test might entail taking samples from the walls, insulation covering load-supporting structural members, and the floor and ceiling tile, of at least one floor of … Furthermore, although the asbestos fibers incorporated into wallboards, floor, and ceiling tiles, are usually …
Burdett, G. J., and S. A. M. T. Jaffrey. "Airborne asbestos concentrations in buildings." The Annals of occupational hygiene 30, no. 2 (1986): 185-199.

Abstract:
Airborne concentrations of asbestos and other fibres were measured in 39 buildings containing asbestos materials used in their construction or present in warm-air heating systems and in four buildings without asbestos materials.

Samples were collected onto membrane filters and analysed using both phase contrast optical microscopy (PCM) and transmission electron microscopy (TEM). Of the 235 samples analysed by PCM, 13% gave fibre concentrations above 0.01 fibres per millilitre (f ml −1 ); no sample exceeded 0.075 f ml −1

. However, subsequent TEM analysis showed that most of the fibres were not asbestos and at only one site did the > 5 μm long fibre concentration exceed 0.001 asbestos f ml −1 .

All sizes of asbestos fibres were also analysed in the TEM at × 17 000 magnification. Only 20% of the buildings had asbestos fibre concentrations above the limit of quantification (>4 fibres counted) and often only a few chrysotile fibrils were detected.

Mass calculations based on the fibre size showed that the average concentration of chrysotile was < 1 ng m −3 at all sites, and only when large amosite fibres were present was the 1 ng m −3 level exceeded.
Corn, M. O. R. T. I. N. "Airborne concentrations of asbestos in non-occupational environments." The Annals of occupational hygiene 38, no. 4 (1994): 495-502.

Abstract excerpt:
Concentrations of asbestos in air were determined from analysis of samples collected in over 300 buildings involved in litigation. Samples were collected by certified industrial hygienists and analysed in certified laboratories by transmission electron microscopy.

Building group mean concentrations of asbestos in building air inhaled by occupants were generally less than 0.0005 f ml-5 > 5 microns (90th percentile).

At these concentrations the risk from asbestos exposure would be very low for building occupants. Another data set was obtained from the maintenance logs kept by owners of buildings containing asbestos fireproofing and subject to Operations and Maintenance Programmes to evaluate asbestos inhalation risk to maintenance workers.

The logs were kept to document protective measures and maintenance personnel exposures during 1991-1992. Data are presented for one commercial building, which is typical of data for three additional commercial buildings and a medical centre.

All samples were evaluated by the NIOSH 1400 protocol for sampling and analysis by phase contrast microscopy. O

perations and maintenance precautions to reduce dust emission were modest; they included spraying of ceiling tiles with amended water, HEPA vacuuming tile edges before entry and after tile replacement, respirator usage and careful work.

Negative pressure containment was not used. In this building personal exposures in electrical/plumbing work ranged from 0.000 to 0.035 f ml-1 > 5 microns in length (average work time of one job was 118 min); the 8-h TWA was 0.0149 f ml-1 > 5 microns.
Dave, Sudhir K., and William S. Beckett. "Occupational asbestos exposure and predictable asbestos‐related diseases in India." American journal of industrial medicine 48, no. 2 (2005): 137-143.

Excerpt: Asbestos added to cement pipe or ceiling tile makes a much more long-lasting cement product, and thus will allow clean water-supplies or … Asbestos is also widely used in other building materials, including fireproof wallboard, durable roof and ceiling tiles, and many …
Ewing, William. "Further observations of settled asbestos dust in buildings." In Advances in Environmental Measurement Methods for Asbestos. ASTM International, 1999.

Abstract excerpt: The geometric mean surface concentration was 3.7 million asbestos structures per square centimeter (s/cm2) in areas with asbestos-containing fireproofing.

Samples collected from areas having asbestos-containing acoustical plaster had a geometric mean of 160,000 s/cm2.

Samples collected in six buildings without friable asbestos-containing surfacing materials indicated a geometric mean of 1000 s/cm2.
Jaffery, S. A. M. T., G. J. Burdett, and A. P. Rood. "An investigation of airborne asbestos concentration in two UK buildings: before, during and after the removal of asbestos." International journal of environmental studies 32, no. 2-3 (1988): 169-180.

Some 185 air samples were taken in two buildings before, during and after the removal of sprayed/trowelled amosite asbestos insulation from the ceiling void.

The samples were analysed by optical phase contrast microscopy (PCM) and transmission electron microscopy (TEM) for fibres > 5 μm long. The analytical capabilities of the TEM were used to identify the fibres counted, and at higher magnifications to count asbestos fibres of all lengths.

Aggressive sampling methods were applied after the asbestos had been removed and the increased fibre concentrations produced from the settled dusts (x7.8‐X69) were a function of the degree of disturbance.

Jung, Hyun-Sung, Jun-Seok Cha, Seongmi Kim, Wooseok Lee, Ho-ju Lim, and Hyunwook Kim. "Evaluating the efficiency of an asbestos stabilizer on ceiling tiles and the characteristics of the released asbestos fibers." Journal of hazardous materials 300 (2015): 378-386.
Abstract:

The efficiency of asbestos stabilizers and their adaptability were evaluated by investigating the characteristics of asbestos fibers released from ceiling tiles. The impact of such variables as the wind speed or vibration conditions was also studied along with the asbestos stabilizers. ...

It was determined that the surface status of the ceiling tiles and stabilizers were the main factors affecting the concentration, and the reliability of these factors was estimated as 58.3%. The lengths of the chrysotile fibers released from the damaged ceiling tiles were in the range of 0.991–79.1 μm for the untreated tiles and 3.74–35.6 μm for the tiles treated with inorganic stabilizers. It was confirmed that inorganic stabilizers are more efficient for damaged ceiling tiles.

The results of this study also show that the asbestos concentrations are greatly reduced after treating damaged ceiling tiles with a stabilizer.
Keyes, D. L., J. Chesson, W. M. Ewing, J. C. Faas, R. L. Hatfield, S. M. Hays, W. E. Longo, and J. R. Millette. "Exposure to airborne asbestos associated with simulated cable installation above a suspended ceiling." American Industrial Hygiene Association Journal 52, no. 11 (1991): 479-484.

Abstract: Installing cable above a suspended ceiling in the presence of asbestos-containing fireproofing is an example of an activity that may disturb in-place asbestos and associated dust and debris.

Two simulations of cable installation were conducted in a room of an unoccupied school to test the extent of such disturbance and resulting elevations in airborne asbestos.

Average airborne asbestos concentrations in the room increased over 500-fold during the simulations, with several samples exceeding 50 structures per cubic centimeter (s/cm3), as measured by transmission electron microscopy (TEM) with an indirect preparation technique.

Elevated concentrations persisted during a subsequent cleaning of horizontal surfaces in the room and for several hours thereafter Personal samples collected on the cable installers yielded TEM measurements averaging approximately 68 s/cm3 for the two simulations.
Lilienfeld, David E. "Asbestos‐associated pleural mesothelioma in school teachers: a discussion of four cases." Annals of the New York Academy of Sciences 643, no. 1 (1991): 454-458.
Excerpt:

This asbestos was used for fire protection, in acoustic ceiling tiles, and as pipe insulation. Analyses of the asbestos are pending … Sources of asbestos fibers in schools include sprayed-on insulation ceiling tiles and pipe insulation ...
Mlynarek, Steven, Morton Corn, and Charles Blake. "Asbestos exposure of building maintenance personnel." Regulatory Toxicology and Pharmacology 23, no. 3 (1996): 213-224.

Abstract
The exposures of building maintenance personnel and occupants to airborne asbestos fibers, and the effects of operations and maintenance programs on those exposures, continue to be an important public health issue. The subject of this investigation was a large metropolitan county with numerous public buildings which routinely conducted air sampling for asbestos.

A total of 302 personal air samples in nine task categories collected during maintenance worker activities in proximity to asbestos-containing materials were analyzed; 102 environmental air samples in four task categories were also analyzed.

The arithmetic means of the 8-hr time weighted average exposures for personal sampling for each task category were all below the Occupational Safety and Health Administration permissible exposure level of 0.1 fibers (f)/cc > 5 μm.

The highest mean 8-hr time weighted average exposure was 0.030 f/cc > 5 μm for ceiling tile replacement.

The maximum asbestos concentration during sample collection for environmental samples was 0.027 f/cc > 5 μm. All asbestos-related maintenance work was done within the framework of an Operations and Maintenance Program (OMP) which utilized both personal protective equipment and controls against fiber release/dispersion.

Results are presented in association with specific OMP procedures or controls. These results support the effectiveness of using Operations and Maintenance Programs to manage asbestos in buildings without incurring unacceptable risk to maintenance workers performing maintenance tasks.
Sebastien, P., J. Bignon, and M. Martin. "Indoor airborne asbestos pollution: from the ceiling and the floor." Science 216, no. 4553 (1982): 1410-1412.
Abstract:

Electron microscopic measurements of the concentrations of airborne asbestos were carried out inside and outside an office building having ceilings sprayed with a crocidolite-containing material and floors covered with vinyl-chrysotile tiles.

Under normal conditions in this building, constructed 10 years ago, the two asbestos-containing materials released fibers into the air.

This is the first measurement of elevated (up to 170 nanograms per cubic meter) concentrations of indoor airborne asbestos associated with the weathering of asbestos floor tiles during their service life.

Asbestos flooring is used in a large number of buildings and represents the third largest use of asbestos fibers in the United States and in Europe, ranking after roofing and asbestos-cement pipe.
Thomson, R. R. "Asbestos as a modern urban hazard." South African Medical Journal 37, no. 3 (1963): 77-81.
Excerpt:

... increasing group, such as cement works (asbestos cement), and all the factor.ies where asbestos is used in the manufacture of asbestos roofing, tiles, millboard, friction materials such as brake linings, ceiling boards, insulation … Asbestos roofing or roof tiles, ceilings and floor ...
U.S. EPA, REGULATORY HISTORY of ASBESTOS BANS [PDF] retrieved 2019/02/09, original source: https://www.epa.gov/asbestos/us-federal-bans-asbestos#regulatory
Comments:
(Mar 13, 2015) Sergio Freddson said:
This is a very thorough article! I never realized asbestos was so common in residential homes. I guess I just always assumed it was used more often in commercial buildings. I'll have to double check a few areas in my home for asbestos tiles. Thank you for your advice!
Reply:
Generally asbestos-containing materials such as ceiling tiles are safest left alone and in-place unless the material is damaged, falling down, shedding, leaving debris that can be tracked through a home or otherwise made airborne. It's ok to paint over, encapsulate, seal, or cover-over such materials if occupants prefer. Unnecessary removal is actually more likely to be hazardous than leaving the material alone.

...
Continue reading at ASBESTOS CEILING TILE REMOVAL PROCEDURES or select a topic from closely-related articles below, or see our complete INDEX to RELATED ARTICLES below.
Or see ASBESTOS TESTING LAB LIST for access to certified asbestos testing labs
Or see this
Article Contents:
Suggested citation for this web page
ARMSTRONG CEILING TILES at InspectApedia.com - online encyclopedia of building & environmental inspection, testing, diagnosis, repair, & problem prevention advice.
Or use the SEARCH BOX found below to Ask a Question or Search InspectApedia
...
Ask a Question or Search InspectApedia
Try the search box just below, or if you prefer, post a question or comment in the Comments box below and we will respond promptly.
Search the InspectApedia website
Technical Reviewers & References
Click to Show or Hide Citations & References
[12] Wikipedia provided background information about some topics discussed at this website provided this citation is also found in the same article along with a " retrieved on" date. NOTE: because Wikipedia entries are fluid and can be amended in real time, we cite the retrieval date of Wikipedia citations and we do not assert that the information found there is necessarily authoritative. Web search 6/30/12: "Ceiling Tiles"
[16] Steven Mlynarek, Morton Corn, Charles Blake, "Asbestos Exposure of Building Maintenance Personnel", Regulatory Toxicology and Pharmacology, 23, 213–224 (1996) ARTICLE NO. 0045, http://library.certh.gr/libfiles/PDF/GEN-PAPYR-4810-ASBESTOS-by-MLYNAREK
-in-RTAP-VOL-23-ISS-3-PP-213-224-Y-1996.pdf
[18] U.S. Environmental Protection Agency (USEPA—Green Book) (1990). In Managing Asbestos in Place: A Building Owners Guide to Operations and Maintenance Programs for Asbestos-Containing
[28] D. Auribault, "Note sur l'Hygiène et la Sécurité des Ouvriers dans les Filatures et Tissages d'Amianté (On hygiene and security of the workers in the spinning and weaving of asbestos)" in Le Bulletin de l'Inspection du Travail, 1906, pp 120–132.
[29] Wikipedia entry on Asbestos and various citations from that article, web search 6/30/12, original source: en.wikipedia.org "Asbestos"
Asbestos Identification and Testing References

Asbestos Identification, Walter C.McCrone, McCrone Research Institute, Chicago, IL.1987 ISBN 0-904962-11-3. Dr. McCrone literally "wrote the book" on asbestos identification procedures which formed the basis for current work by asbestos identification laboratories.
Stanton, .F., et al., National Bureau of Standards Special Publication 506: 143-151
Pott, F., Staub-Reinhalf Luft 38, 486-490 (1978) cited by McCrone

EPA Guidance for Controlling Asbestos-Containing Materials in buildings, NIAST, National Institute on Abatement Sciences & Technology, [republishing EPA public documents] 1985 ed., Exposure Evaluation Division, Office of Toxic Substances, Office of Pesticides and Toxic Substances, U.S. Environmental Protection Agency, Washington,D.C. 20460
Books & Articles on Building & Environmental Inspection, Testing, Diagnosis, & Repair
Our recommended books about building & mechanical systems design, inspection, problem diagnosis, and repair, and about indoor environment and IAQ testing, diagnosis, and cleanup are at the InspectAPedia Bookstore. Also see our Book Reviews - InspectAPedia.
...
Publisher InspectApedia.com - Daniel Friedman