Electrical System Inspect, Install, Repair
InspectAPedia tolerates no conflicts of interest. We have no relationship with advertisers, products, or services discussed at this website.
Building electrical system installation, troubleshooting & repairs & electrical hazards.
Guide to articles describing residential & light commercial electrical systems: installation, inspection, diagnosis & repair.
How to install, inspect, & troubleshoot building electrical systems, appliances, components. How to detect & report electrical hazards, defects in residential and commercial electrical panels, switches, fixtures, electrical wiring & grounding systems. Proper electrical repair methods for unsafe electrical conditions.
Safety for the electrical inspector, aluminum electrical wiring hazards, how to determine service voltage and ampacity, how to inspect electrical panels, and significant electrical hazards of Federal Pacific Electric Stab-Lok breakers and panels, Federal Pioneer product warnings, certain Square-D product concerns, Zinsco and Sylvania circuit breakers and panels, multi-wire branch circuit protection, inspection and repair of low voltage wiring systems, and proper installation of lightning protection systems on buildings are addressed.
Also try the page top or bottom SEARCH BOX as a quick way to find information you need.
We also provide a MASTER INDEX to this topic, or you can try the page top or bottom SEARCH BOX as a quick way to find information you need.
Electrical Hazards in Buildings, Electrical Inspection Procedures, Electrical Repair Procedures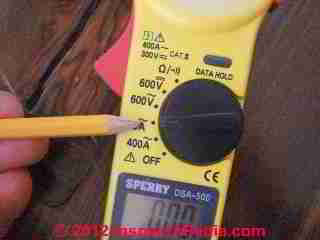 This page provides an index to key building electrical system topics addressing electrial system or component installation, inspection, troubleshooting & repair.
We also disuss electrical and electrical inspector safety, testing, standards, and controls.
To find what you need quickly, if you don't want to scroll through this index you are welcome to use the page top or bottom SEARCH BOX to search InspectApedia for specific articles and information.
SAFETY HAZARDS & SAFE ELECTRICAL INSPECTION PROCEDURES for Electrical and Home Inspectors at Residential Electric Panels
AFCI GFCI TESTING & SAFETY GFCI Ground Fault Circuit Interrupter Receptacle Defects & Testing procedures
ALUMINUM WIRING Information Website Aluminum Electrical Wiring Hazards and Repairs: in-depth authoritative info, photos, documents including selection of proper vs. ineffective repair methods. E.g.: Ideal 65 "Twister" purple connector fails in field and lab testing with aluminum wire.
AMPACITY & VOLTAGE of an Electrical Service: How to determine the electrical service size or ampacity and service voltage (120/240) entering a Building
AMPS MEASUREMENT METHODS - how to use an ammeter to perform simple current tests
ARC FAULT CIRCUIT INTERRUPTERS: what are they, how do AFCI's work, where are they required to be installed? Also includes notes on GFCI's and the 2008 NEC electrical code.
BACKUP ELECTRICAL GENERATORS for emergency power
CADET HEATERS RECALL CPSC notice supplemented with identification and heater failure photos
CAPACITOR TYPES, for MOTORS electric motor start & run capacitors
CHALLENGER ELECTRIC PANELS - bus overheat field reports in Challenger® electrical panels, relation to FPE Stab-Lok®?
CIRCUIT BREAKER FAILIURES: fails to trip failure at aluminum bus-to-circuit breaker connection - field report and photographs
CIRCUITS, ELECTRICAL: electric circuit basics for homeowners, electrical shorts, definitions of AC/DC, watts, amps, volts, etc.
CODE BASICS, ELECTRICAL electrical code information for homeowners. Can I do my own wiring?
CONDUIT, ELECTRICAL: information for homeowners & home inspectors.
COPELAND ELECTRICAL HANDBOOK [PDF] from Emerson Climate Controls
CORROSION & MOISTURE SOURCES in PANELS, Roger Hankey 2010, and CORROSION in ELECTRICAL PANELS, Daniel Friedman, 1992, 2009, discuss the sources of water or moisture intrusion in electrical panels and causes of rust or other safety concerns.
Electrical System Inspection Classes - ( Power Point Presentations for Milestone Elec. Dallas TX)

ALUMINUM WIRING CLASS for ELECTRICIANS - Power Point Presentation, very large file
FPE STAB-LOK Class for ELECTRICIANS - Power Point Presentation
ZINSCO ELECTRIC PANEL CLASS - Power Point Presentation
ELECTRICAL SAFETY COURSE for ELECTRICIANS - Power Point Presentation
ELECTRICAL SAFETY & ACCIDENTS CLASS for HOME INSPECTORS, paper presented to the Connecticut Association of Home Inspectors, CAHI 26 March 2008
ELECTRICAL PANEL INSPECTION CLASS safety for electrical inspectors, electrical panel, fusing, wiring defects, defective products.
"Inspecting Residential Electrical Panels," Daniel Friedman, HVASHI, September 12, 2002 Annual Seminar.
"Inspection of Electrical Systems & Special Concerns," Daniel Friedman, ASHI/CAHI/OAHI/IAEI Conference, Toronto, Ontario, 10/19-21/1995

DEFINITIONS of ELECTRICAL TERMS: Amps, Volts, Watts, Resistance and other electrical terms are defined and illustrated with sketches
"Determining Service Ampacity," Daniel Friedman, Alan Carson, The ASHI Technical Journal, Vol. 2 No. 1, Winter 1992
DIRECTORY OF ELECTRICIANS: if you need to hire an electrician with special skills or familiarity with aluminum electrical wiring, FPE Stab-Lok replacement panels, Zinsco replacement panels, etc. here is a directory of professionals.
DMM DIGITAL MULTIMETER USE - how to use test instruments to perform basic electrical wiring or equipment diagnostic tests
ELECTRIC METERS & METER BASES: inspection and problem diagnosis
ELECTRIC MOTOR DIAGNOSTIC GUIDE describes steps & tests for both offline and online electric motor circuit analysis (MCA) test procedures for hard starting or non-starting A/C electric motors
ELECTRICAL DISTRIBUTION PANELS in buildings, safety for electrical inspectors, electrical panel, fusing, wiring defects, defective products. Inspection Class Presentation
ELECTRICAL SERVICE ENTRY WIRING - how is electrical power brought to the building: inspection, troubleshooting, defects
ELECTRICAL SYSTEM REPAIR FAQs - diagnostic questions & answers about inspecting or repairing electrical systems in building: wiring, fixtures, receptacles, electrical panels, lights, light fixtures, GFCIs, AFCIs, etc.
ELECTRICIANS DIRECTORY - how to find an electrician who knows proper repairs for aluminum wiring, FPE panels, Zinsco panels etc.
EMF RF FIELD & FREQUENCY DEFINITIONS - defines and explains electromagnetic field (EMF) or electro-magnetic radiation EMR and related terms such as EMF, radio frequency - RF, hertz or cycles, megahertz, medium frequency MF, very high frequency VHF, ultra high frequency UHF, megahertz MHz, gigahertz GHz, terahertz THz .
FEDERAL PACIFIC ELECTRIC (FPE) PANEL Stab-Lok Circuit Breaker Panel Hazards Latent fire hazards, in-depth authoritative research, documents, advice on Stab-Lok electric panel and circuit breaker failures and what to do when this equipment is found in buildings.
FEDERAL PIONEER NCO15 / NC015CP CIRCUIT BREAKER RECALL from Schneider Electric in Canada
FLICKERING LIGHT DIAGNOSIS - what causes flickering lights, voltage fluctuations, and similar electrical problems & how do we find and fix the trouble?
"Ground Fault Circuit Interrupters, How Do They Work?" Daniel Friedman [as Journal Staff], The ASHI Technical Journal, Vol. 2 No. 1, Winter 1992
FPE STAB-LOK PANEL IDENTIFICATIONS - is yours one of these? ALSO: A History of the FPE Stab-Lok Issue.
FPE FIRES: FAILURE REPORTS: FPE breaker fails, results in fires: field reports
FEDERAL PACIFIC ELECTRIC PANEL FIRES WAITING TO HAPPEN, Debate Waiting to Be Ended, detailed article
FEDERAL PACIFIC ELECTRIC PANEL REPLACEMENTS two cost and method options for FPE panel replacement.
FPE STAB-LOK PANEL TECHNICAL REPORT - St. Louis ASHI Seminar including: Hazard Summary & Independent Tests confirms Stab-Lok failures
Siemens Electric Panel Fires: field report and possible defective equipment - article withdrawn, field reports wanted
GENERATORS, ELECTRICAL - how residential electrical generators are selected, installed, inspected for safety
GFCI TESTING & SAFETY GFCI Ground Fault Circuit Interrupter & AFCI Arc-Fault Detector Defects & Testing procedures
GROUND SYSTEM INSPECTION, ELECTRICAL - how to inspect, troubleshoot, and repair ground system wiring in buildings
HERTZ DEFINITIONS KHz MHz GHz THz - definitions
KNOB & TUBE ELECTRICAL WIRING: identification, inspection, evaluation, and safety guide advice for home owners & inspectors
KNOB & TUBE WIRING & Home Owners' Insurance [Carson Dunlop Associates, Toronto]
LIGHTING, EXTERIOR GUIDE and LIGHTING, INTERIOR GUIDE - electrical lighting requirements, fixtures, bulbs, installation, choices
LIGHTNING PROTECTION SYSTEMS , Lightning Protection Systems & Services, lightning rods, grounding - lightning strike data
LIGHTNING PROTECTION SYSTEMS Daniel Friedman [as Thomas Misciewicz], The ASHI Technical Journal, Vol. 2 No. 1, Winter 1992
LOW VOLTAGE WIRING REPAIR & REPLACEMENT GE®, Remcon, Sweepe, Bryant, Sierra, other brands, and newer Touch-Plate® low voltage wiring systems. Low voltage lighting switches, relays, transformers, transconverters.
MULTI-WIRE BRANCH CIRCUIT INSPECTIONand defects
OLD HOUSE ELECTRICAL SYSTEMS - special hazards associated with old electrical wiring & old electrical systems in buildings
OUTLET, HOW TO INSTALLl: guide for home owners & home inspectors - it's easy but important details make the difference between a safe installation of an electrical receptacle and one that is both dangerous and illegal.
RUST & CORROSION in Electrical Panels, A Study and Report on Frequency and Cause for Electrical and Home Inspectors at Residential Electric Panels
SAFETY for ELECTRICAL INSPECTORS Safety Considerations for the Electrical Inspector," Daniel Friedman, The ASHI Technical Journal, Vol. 2 No. 1, Winter 1992
SAFETY HAZARDS & ACCIDENT PREVENTION paper presented to the Connecticut Association of Home Inspectors, 26 March 2008
SQUARE-D ELECTRICAL PANEL RECALL - Counterfeit Square D Recall
SQUARE-D & FEDERAL PIONEER AFCI WARNING(also Federal Pioneer - Schneider Canada)
SQUARE D CIRCUIT BREAKER RECALLS, CPSC include a Square D GFCI circuit breaker distributed by Square D, and a Counterfeit Square-D circuit breaker sold through Scott Electric
VOLTS / AMPS MEASUREMENT EQUIP - equipment types & choices for measuring or detecting voltage & amperage
VOLTS MEASUREMENT METHODS - how to actually measure electrical voltage in a building or at electrical equipment or devices
WIND TURBINES & LIGHTNING - lightning protection and extra protection from lightning damage for wind turbine electrical generator systems and their controls and batteries
ZINSCO ELECTRICAL PANEL & CIRCUIT BREAKER FAILURESoverheating, explosions, failure to trip, burn-ups involving Zinsco & certain Sylvania electrical panel components
ZINSCO PANEL REPLACEMENTS of repair (replacement) options for Zinsco Electrical Panels and Zinsco-type Sylvania Electric Panels
Reader Question: Can I Hook Up Two Power Sources to One Electrical Panel?
Is it possible to connect two sources of Electricity to one Sub-Panel? - Muhammad K., Jordan
Reply: Use an isolation switch to avoid simultaneous (and unsafe) electrical power feeds to an electrical panel or sub panel - use backup electrical generator hookups as an example
By "possible to connect two sources of Electricity to one Sub-Panel" I presume you don't mean is it physically possible to connect two power sources to a single electrical panel since that would be trivial to accomplish; Rather I presume you mean is it acceptable practice or is it "safe" to connect multiple power sources into a single electrical panel or sub-panel.
The basic answer is no. In general it is very dangerous to have multiple sources of power into a single panel or subpanel because of the possibility of backfeeding and shocking someone who thinks power is off from a given source. So we don't hookup simultaneous live electrical power sources to a single electrical sub panel or main panel.
We do not hook up multiple electrical power sources to a single electrical sub panel without using an isolation switch.
In our photograph of an isolation switch hook-up (above left), the main electrical panel (1) is at left. In the photo center is an isolation switch (2) that allows the homeowner to switch individual circuits from being powered either by the main electrical panel's service entry mains or by an electrical generator (located outdoors) that is connected to the isolation switch by a removable plug shown hanging on the wall (3). You can see the receiving plug receptacle at the bottom center of the isolation switch (2).
The sub panel shown at right (next to our client) was an addition to the original electrical system to support central air conditioning and is not part of this discussion.
Watch out: Emergency backup electrical generators produce 120V and 240V which may cause fatal electrical shock if precautions are not followed. DO NOT under any circumstances connect your electrical generator to any circuit or receptacle that is receiving electrical power (home, office, etc) from any other sources as this is likely to result in a fire and damage all electrical systems and could also shock someone working on the system.
Our auxiliary electric generator photo at left shows a backup "home" generator that the owner had set up to keep a basement sump pump working. Some owners connect an extension cord to the generator's electrical supply receptacle and connect the other cord end to a tool or appliance - which may be safe. But using that same extension cord to "back-feed" a home electrical circuit without an isolation switch is unsafe and should not be done.
Other key safety warnings include the warning that the backup generator should not be operated indoors nor in an enclosed area - there are fire and also potentially fatal carbon monoxide hazard risks. Note that other safety precautions also apply - be sure to see the instructions provided with the generator.
See BACKUP ELECTRICAL GENERATORS for complete details.
Reader Question: History of Electrical Wiring in the U.S. - Split Receptacles or Electrical Outlets?
When were houses commonly built with split outlets/receptacles? I am doing research to find out how many houses in the US may not have them. Thanks! - Maria S.
Reply: A Nano-History of Electrical Wiring Devices in North America - Guessing: 1950 - 1965
You are referring to the practice of providing separate power from separate electrical circuits individually to the upper and lower receptacle openings of a duplex electrical receptacle.
That feature has been technically possible and therefore almost surely was done in some homes from around the time that duplex receptacles were first installed. (See Split Wired Receptacles under MULTI-WIRE CIRCUITS for details.)
The two-pin electrical receptacle was invented by Hubbell in 1904 as a device that screwed into light bulb sockets (electrical power for lighting was sold at a lower rate! - Wiki.)
Grounded electrical receptacles date to around 1915, though they were by no means in widespread use until much later.
Because sources (Wikipedia and others) note that the dominant way to plug in electrical appliances was by connecting them (using the screw-in adapter) to light bulb sockets into the 1920's (in North America) it is reasonable to argue that it was not until the mid or later 1920's that duplex electrical receptacles began appearing in homes.
Labre patented the grounded plug in 1928. Ten years later, twist-on locking electrical receptacle connectors date to Harvey Hubbell way back in 1938.
Polarized plugs (one blade wider than the other) were not introduced until 1948 and were not widespread before the 1950's. (The neutral wire is connected to the larger slot on the electrical receptacle)
Ring circuits (adopted only in the U.K.) first saw use in the U.K. around 1947 - provided the functional equivalent of our split wired receptacle approach and suggest the history of origin of the idea.
The sum of this history to date (subject to revision as our research continues) is that I'd place duplex receptacles in widespread use by 1935-1940 and it would be fair to assume (barring a code restriction yet to be found) that split wired receptacles, being physically possible, appeared in some uses as early as 1940.
IN sum it is more likely that split wired electrical receptacles were in use by the late 1940's, expanded during the post-Korean war boom, and began seeing widespread use in North America after 1965-1970.
That last OPINION derives from guessing at the onset of surge in use of multiple electrical appliances at once in home kitchens.
...
Continue reading at ELECTRICAL DEFINITIONS or select a topic from closely-related articles below, or see our complete INDEX to RELATED ARTICLES below.
Or see ELECTRICAL SYSTEM REPAIR FAQs - questions and answers posted originally at this page
Suggested citation for this web page
ELECTRICAL INSPECTION, DIAGNOSIS, REPAIR at InspectApedia.com - online encyclopedia of building & environmental inspection, testing, diagnosis, repair, & problem prevention advice.
Or use the SEARCH BOX found below to Ask a Question or Search InspectApedia
...
Ask a Question or Search InspectApedia
Questions & answers or comments about building electrical systems, panels, breakers, wiring installation, inspection, diagnosis, & repair.
Try the search box just below, or if you prefer, post a question or comment in the Comments box below and we will respond promptly.
Search the InspectApedia website
Technical Reviewers & References
Click to Show or Hide Citations & References
Books & Articles on Building & Environmental Inspection, Testing, Diagnosis, & Repair
Our recommended books about building & mechanical systems design, inspection, problem diagnosis, and repair, and about indoor environment and IAQ testing, diagnosis, and cleanup are at the InspectAPedia Bookstore. Also see our Book Reviews - InspectAPedia.
...
Publisher InspectApedia.com - Daniel Friedman