Federal Pacific Electric (FPE) Panel Fire & Failure Photos
involving FPE Stab-Lok® Equipment
FPE FAILURE FIRE PHOTOS - CONTENTS: Field reports & photos of FPE Stab-Lok® panel or breaker incidents & Field photographs of FPE Stab-Lok® equipment failures
POST a QUESTION or READ FAQs about whether or not the FPE Stab-Lok® hazard is "real" or "theoretical" - just look at the field reports here
InspectAPedia tolerates no conflicts of interest. We have no relationship with advertisers, products, or services discussed at this website.
This document provides field reports and photographs of Federal Pacific FPE Stab-Lok® equipment fires, overheating, trip-failures, burn ups and other dangerous failures.
Replacement FPE Stab-Lok® circuit breakers are unlikely to reduce the failure risk of this equipment. We recommend that residential FPE Stab-Lok® electrical panels be replaced entirely or the entire panel bus assembly be replaced, regardless of FPE model number or FPE year of manufacture. We do not sell circuit breakers nor any other products.
Green links show where you are. © Copyright 2017 InspectApedia.com, All Rights Reserved.
Photo-Documented Field Reports of FPE Incidents and FPE Stab-Lok® & Federal Pioneer Breaker or Panel Failures - Photographs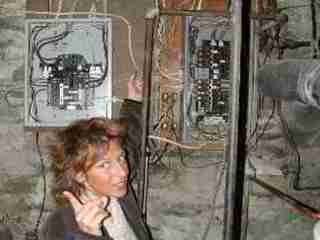 FPE Overheat Field Report: FPE breaker fails to trip, meltdown
Federal Pacific panel bad neutral bar connection. I went out on a service call because the cable guy said there was power on the grounding system at his junction point to the house. I heard a sizzling noise when I pulled off the panel cover and traced it to the grounding locknut arcing. The neutral was shot so the current was using every path possible and the grounding locknut was not connected real well. I got a couple great digital shots - yes the orange glow on the middle picture is arcing! -- J.S. to DJF by email 8/28/2005
Photographs of source of overheating, glowing electric panel, and FPE equipment that failed to trip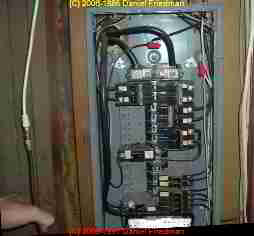 Bad neutral connection, 1 - panel overview (above)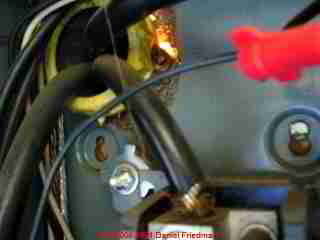 Bad neutral connection, 2 - glowing electrical panel!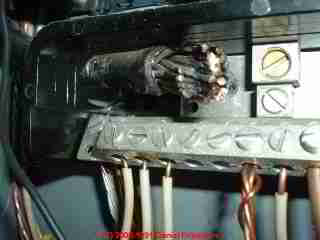 Bad neutral connection, 3 - bad neutral wire (above right)
FPE Fire Field Report: Electrical Wiring blamed in Pennsylvania Fire, 1980, reported April 2010
Homeowner Anna Lunz reported to D Friedman that her homeowner's insurance from Mutual Benefit Insurance, a Pennsylvania insurer, had just been cancelled (April 2010) following the observation by the insurance company's inspector that the home was served by an FPE Stab-Lok® electrical panel.
In discussing this concern (we recommended immediate installation of smoke detectors and replacement of the electrical panel as soon as possible), Ms. Lunz reported that in 1980 this modular home suffered a major fire, including loss of two thirds of the front of the home, due to an electrical fire that began in a dining room ceiling light fixture. The fire began while the home was unoccupied - the family were out skiing. According to the owner, electrical wiring for the ceiling light circuit was found to have fused (apparently a dead short) without having tripped the FPE Stab-Lok® circuit breaker in the home's electrical panel.
Lunz added her personal observation that following the fire, workers and neighbors inspecting the home believed that the electrical power had been shut down by switching "off" the main circuit breaker in the FPE Stab-Lok® electrical panel. According to Lunz, when an inspector attempted to examine the electrical panel,
"... he just touched the turned-off electrical panel with a screwdriver when we all observed a huge bright flash of light."
While the loss from the 1980 fire, whose origin was attributed to an electrical failure, was mostly covered by the owner's fire insurance policy, when the same electrical panel, still in the home, was observed in 2010 the insurance company declined coverage - presumably until the electrical panel was replaced. -- D Friedman, by telephone with Anna Lunz, 4/6/2010
FPE Fire Field Report: FPE breaker results in Ohio fire, December 1999
Last week I was working on an electric furnace which is in a mobile home. This home has a 200 amp FPE entrance panel in it, with a 100 amp breaker for the furnace. As it turned out, the breaker was weak and would not hold. The customer called around and to my surprise was able to find a 100 amp FPE breaker at a home improvement/lumber yard in the next town. They went and bought it and I installed it.
All 4 banks of heaters were at 21 amps while running and the blower was at 6 amps for a total amp draw of 90 amps. This morning they called in and said the fire dept. just left. I went over and found that something had caused a short on the terminal block for the electric entering the furnace and the new breaker in the panel never tripped. Thankfully he was up and heard the noise and was able to turn off the main breaker and extinguish the fire before any structural damage occurred or worse.
The main electrical panel is a FPE panel with FPE breakers. This is in a mobile home that has an electric furnace in it. Now, the short occurred before the two breakers in the furnace (service shut-off breakers that are another brand) but should have been protected by the 100amp FPE breaker which was feeding the electric to the furnace.
The service shut-off breakers, at least the one, seems to have functioning properly. The short inside the furnace actually melted a hole in the bottom of the box and a piece of a screw fell across a connection below and tripped the one breaker. However, the FPE 100amp breaker in the panel NEVER tripped. -- T to DJF by email 12/28/99
FPE Overheat, Photos, Landlord Action Letter Jan 2006 Field Report

The following text is from a tenant's letter to his landlord, documenting the FPE Stab-Lok® hazard with text and photos of the actual panel in the subject apartment. This letter, which documents the general FPE Stab-Lok® hazard and also specific evidence found in the apartment panel, was successful in convincing the property owner of the need for prompt action. G.G. Seattle, WA, to D.F. 1/24/2006 [Edits by DJF to shorten text, preserve anonymity, and to generalize the "FPE Stab-Lok® Electric Panel/Circuit Breaker landlord action notice letter".]
[Moving into my new apartment] I spotted a 30-amp breaker in the electrical panel marked as bedroom lights. Lighting circuits and outlets generally are 20-amp and wired with 12-gauge wiring. It was over-fused which is a fire hazard. I googled Federal Pacific Electric (FPE) the maker of the panel to find if a [replacement circuit] breaker was available. [SeeInspectAPedia.com/fpe/FPE_Stab_Lok_Hazards.php.] I also noticed that the panel was missing three breaker punchouts leaving holes in the panel in which fingers could easily fit. I removed the panel cover and discovered a meltdown of a circuit breaker had previously occurred.
Federal Pacific Electric panels and circuit breakers have a very high failure rate. Their breakers can stick in the on position and not disconnect the circuit. This has probably happened in my electrical panel once before, explaining the 30-amp replacement breaker and the fact that it was relocated within the panel. Also the 240-volt breakers which are ganged together have no main disconnect breaker. FPE's ganged breakers can fail on one side but the other side can prevent breaker disconnect.
A 240-volt [main circuit] breaker [which fails to trip will allow] all of the amperage from the power pole, 1,000-amps or more, into the panel. There is nothing (no disconnect) between the panel and the pole to stop this and there is no way for a person to shut off anything manually. It will burn until it runs out of fuel and, or the wires from the pole melt and finally disconnect. This is like having 200 toasters going in the panel at once.
The Consumer Product Safety Commission found the circuit breakers defective and failed to pass their tests and have a high failure rate. FPE passed UL certification originally but later was found guilty of fraud in Superior Court in New Jersey in a class action lawsuit for rigging the certification tests. The parent company Reliance Electric stopped manufacturing the product after they purchased Federal Pacific. Reliance stated "FPE's success was due substantially if not entirely to a pattern of materially deceptive and improper practices in the manufacturing testing and sale" of its circuit breakers. I found none of the other electrical manufacturers having these problems with their panels or circuit breakers.
We need to address this electrical panel issue in immediate future. The problem is that if the circuit breakers aren't required to trip everything appears fine. If they need to trip to protect the house it may very well not do the job. It is not possible to tell from looking at the equipment that it is working properly. It is possible your house insurance may not want to pay for a fire or death related to a known electrical problem.
The FPE Stab-Lok® electrical panel needs to be [completely] replaced. Replacement panels aren't expensive.
Replacing the breakers won't solve this problem
The electrical panels elsewhere in the building also need to be replaced downstairs if they are the same type of FPE equipment
We need to act immediately before we have a major problem
I'm guessing that whoever inspected the property before your purchase failed to notice the problem. The seller or person doing the engineering inspection maybe liable for failing to disclose this defect to you before you purchased the property. The previous owner was inside the panel to move, remove and replace the breaker to get the bedroom lights going again after the breaker was destroyed [so certainly this condition was known to the seller and should have been obvious to the home inspector].
I have included more information about this problem. This problem won't go away unless we act on it.
My background is networking, wiring, technical writing, and I'm a radio amateur, I've replaced the electrical panel in my home and know the NEC code fairly well. I'm not an electrician but I can spot problems readily. Thanks for your consideration of this summary.
Photo #1 shows the panel in place. Photo#2, with the cover removed, shows the panel is packed with wires which is unsafe (overcrowding).
Photo#3: a previous burned out Stab-Lok® connector visible when the panel cover is removed. This would only happen if the breaker didn't make a good connection to the stab lok connection or the breaker didn't trip. Also notice that the breaker in slot #20 (lower right) is a 30 amp circuit breaker and the wire coming from it is 12 gauge. This is overfusing of the wiring a potential fire hazard.
Photo #4 is blown up a bit to show the bus melting [arcing and overheating] from a previous breaker failure.
Photo #5: three breaker punchouts missing from the panel. I'm guessing that the circuit that was in slot #16 which arced out was moved to slot #20. I can't imagine why the punch out for breaker 14/15 was missing as well.
As a summary, the box already tried to melt down once and it was over fused as well. In addition the testing for UL Labs certification was obtained fraudulently [FPE] were convicted in NJ by the Superior Court and even Reliance Electric, Federal Pacific Electric's (FPE) parent company admitted that FPE had rigged the testing to get UL certification.
I understand the over-current problem and am running on as low a wattage as I can. So as long as I don't need over-current protection I'll be fine. Of course if I never required over-current protection I wouldn't need circuit breakers in the first place.
[[Editors's note: the following is a direct quote which may be offensive to some people. It is included here in demonstration of not only the severity of the consumer hazard but the depth of consumer frustration with government and legal authorities in this matter--DJF]
Hey why don't you send the FPE lawyer over to my place and I can mash his face right into the electrical panel while it's arcing. I guess all you get out of liars is more lies. These attorneys are just making it really bad for all of us. Japan has 5 times more engineers than the US does. The US has 7 times more lawyers than Japan does however and this may explain quite a bit.
Federal No-Trip1: FPE equipment that failed to trip
Photographs of source of short circuit also depicted.
Federal No-Trip2: FPE equipment that failed to trip
Contributed by Mark Cramer, ASHI inspector, educator, Tampa, FL.
Federal No-Trip3: FPE equipment case blowout, wire burn up
Contributed by Roger Hankey, ASHI inspector, educator, Minnesota. " The load on this circuit was a medium sized refrigerator./freezer and a counter top (est 1000w) microwave. As you can see the breaker was still ON. Hankey and Brown home inspectors, Eden Prairie, MN, technical contribution by Roger Hankey, prior chairman, Standards Committee, American Society of Home Inspectors - ASHI. 952 829-0044 - hankeyandbrown.com 11/06, 07/07.
[Follow up from J.A. - Looks more like a termination overheating problem than a circuit breaker problem. Looks like copper wire (green corrosion products). The wire leading away from the terminal does not show any signs of overheating - it is localized at the terminal. Also, the refrigerator & a microwave would not likely trip the breaker or overload the wiring. -- Aronstein]
Federal No-Trip4: FPE F-bus arc-melt 10/2005
Contributed by Douglas Hansen, ASHI inspector, educator, California.
Federal Pacific Electric Stab-Lok® - Electrically Caused Fire, Occupant Suffers Burns - 2009
Contributed by a professional, indentification anonymous (litigation):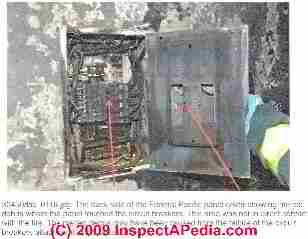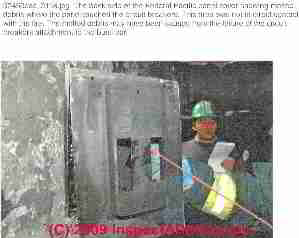 Our Client suffered burn injuries as a result of an electrically caused fire. There was a Federal Pacific electrical sub panel installed in the wall of her apartment. The city of Fremont Electrical Inspector confirmed that there was arcing taking place in the sub-pane land that the arcing was connected to the breaker that tripped (although he did not confirm definitively that the tripped circuit breaker fed the outlet from which the electric blanket was receiving power.)
He indicated it was possible that the circuit lead to the electrical blanket caused an overload and this would also cause excessive heat which could have ignited the bed cover material before tripping the breaker. Attached is a photograph of the panel. We have retained an electrical expert who has furnished a report. If you would want other information or photos for your research on FPE failures please let us know. [We have requested copies of the report and sharper photos -- DF.]
2011: FPE - Related House Fire Reported
Cooper Electric, serving Cincinnati OH and Northern Kentucky report a 2011 fire from which we excerpt:
On August 16, approximately 9:00 p.m., the Wyoming Fire - EMS was dispatched to a structure fi re on Chisholm Trail. The fire originated in an attached, two car garage and quickly spread to the roof of the structure. Wyoming Fire Lt. Peter Hauser, who lived four houses from the scene, struck a second alarm on his arrival less than one minute from the initial dispach. Engines 97, 297, Ladder 97, Squad 97, and Rescue 97 were dispatched on the fi rst alarm bringing 20 Wyoming fi refi ghters and medics to the scene.
Retrieved 4/8/2013 original source http://cooper-electric.net/residential/federal-pacific-circuit-breaker-panels/
2013: FPE-failure leads to serious injury to two electricians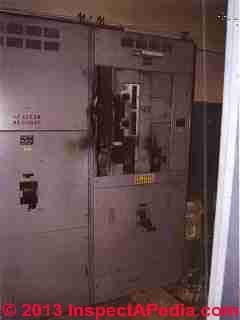 August 14, 2013: we received a report of a false-off failure of an FPE (Federal Pacific Electric) main circuit breaker that led to serious injury to two electrians.
A photograph of the FPE panel where the incident occurred is included at left, provided by OSHA.
Details of this incident are not [yet] reported here because of pending litigation.
However we were informed that after a main (FPE) breake was switched to the "off" position and thus power was believed to have been turned off within the electrical panel (of a commercial installation) the electricians were injured by an electrical arc explosion.
2016 Fatal Fire in Louisiana Attributed to FPE Stab-Lok Failure
By private email 2016/06/29 we received a report of a house fire fatality in Louisiana in which the fire was attributed to an FPE Federal Pacific Electric Panel. Details have been witheld pending possible legal actions. Details confirming the fire cause have not been received. - Ed.
Readers of this article should also see Federal No-Trips: Anecdotal FPE Failure Reports (separate document) Email from Electricians, Home Inspectors, Building Owners, Others - U.S. and Canada, and FPE Stab-Lok® HAZARDS & REPAIRS WEBSITE - the main FPE Hazard Website.
To report an electrical problem with this equipment see REPORT YOUR FAILURE. Readers who need to know the history of US CPSC testing and to read the government research that also confirmed failures of FPE Stab-Lok® equipment (though no product recall was issued) should see "FPE Stab-Lok® Panel Failure Research, Public documents" at our REFERENCES given at the end of this article.
Continue reading at FPE FIRES: FAILURE REPORTS or select a topic from closely-related articles below, or see our complete INDEX to RELATED ARTICLES below.
Also see FPE Stab-Lok® : FIRES WAITING TO HAPPEN
Suggested citation for this web page
FPE FAILURE FIRE PHOTOS at InspectApedia.com - online encyclopedia of building & environmental inspection, testing, diagnosis, repair, & problem prevention advice.
Or use the SEARCH BOX found below to Ask a Question or Search InspectApedia
...
Frequently Asked Questions (FAQs)
The following exchange illustrates the difficulty of assuring that building managers and maintenance people are accurately informed about latent safety hazards.
Question: where can I buy replacement door clips to hold shut the panel covers on the electrical panels in my building?
I work at XYZ Condominiums where we have over 300 units. The panels inside these units are from as far back as 80s-90s. I was looking to locate a manufacturer because we need to find the actual locking mechanism on the door panel. I cannot find the name of it and was hoping you can help me identify the actual handle/mechanism that properly opens and closes the panel. We need to find a replacement because it is missing and the panel door just swings open. It may seem like an easy task but we all here have been searching for it and cannot find it.
PLEASE contact me via email or phone if you can help in anyway. The manuafacutrer is FPE stablok (least from what ive researched) Should we just have the entire door/panel replaced? If anyone can help me Id appreciate it and I can send pictures and try to give anyone more information to the best of my knowledge and direction. Id appreciate if someone can please call me or email me to diagnose this and to seek some advice.
Thank you for your help and time. Have a wonderful day! - Anonymous, leasing agent
Reply: forget about door clip replacements & replace the panels
I urge you to read the explanation of the fire & safety hazards concerning FPE equipment - home page is at FEDERAL PACIFIC FPE HAZARDS
Near the top of that article you'll see related article links to
FPE REPLACEMENT BREAKERS & FPE REPLACEMENT PANELS & FPE REPLACEMENT PANEL COSTS - separate articles

In the replacement panels section you'll see that Eaton Cutler hammer makes replacement "guts" (breaker & bus assemblies) as well as replacement panel enclosures.
In my OPINION and based on expert, authoritative research on this topic, your liability may actually be increased if you perform superficial "repairs" like replacing a damaged panel cover door on unsafe equipment.

We would much appreciate hearing any comments, critique, suggestions, or further questions that you may have after you've taken a look at that article.
Reader follow-up: Here are photos of our FPE panels - if you cannot provide panel door clips please let me know
I appreciate your response. Thank you for getting back to me. Please find attached 3 pictures of the panel door, box and clip we need. If able to provide please let me know. We would be prospective clients since we are going to replace a lot of these clips etc. I have NOT read the articles yet but Im truly looking forward to them. Thanks again for your time and attention to this matter. - Anon
Did you recieve our pictures? Apparently, FPE sold their company in 1986 and whoever replaced them stopped making the products or went out of business.. Im not sure. But I think I give up on this particular thing. It is clear they/products no longer exist. Maybe its time for us to replace/update our breaker boxes! Thanks again for your help! - Anon 
Reply: We don't sell anything - if you take note of the FPE hazards you'll see that door clips are not the first worry
Thanks for the follow-up Anon.
When you read the information about FPE hazards you will doubtless see that there is little point in replacing panel clips and doors - you will be risking future blame for having seen, touched, and failed to address more serious fire and shock hazards.
We do not sell anything. InspectAPedia provides building and environmental diagnostic and repair information.
In order to absolutely assure our readers that we write and report without bias we do not sell any products nor do we have any business or financial relationships that could create such conflicts of interest.
InspectAPedia is an independent publisher of building, environmental, and forensic inspection, diagnosis, and repair information for the public - we have no business nor financial connection with any manufacturer or service provider discussed at our website. We very much welcome critique, questions, or content suggestions for our web articles. Website content contributors, even if it's just a small correction, are cited, quoted, and linked-to from the appropriate additional web pages and articles - which benefits us both. Working together and exchanging information makes us better informed than any individual can be working alone.
Reader follow-up: I assumed you sold door clips; I feel safe putting in door clips on FPE panels and don't expect to be blamed for later fires or worse - if you don't carry clips then ... have a nice day
I agree 100%. I assumed you sold product (through no fault of your own) but it's fine. Thank you for your explanation. I was not misled just assumed. I understand what you say about the hazard possibility but in order to put in the clip nothing has to be touched or replaced except the clip itself. "you will be risking future blame for having seen, touched, and failed to address more serious fire and shock hazards". There is nothing MORE serious in regards to fire hazards and how can I possibly fail at something that isn't even an area of conern..? 
Nor will I be to blame for anything for I fully own up to everything I do and accept all responsibility for EVERYTHING in my life. Only ignorance gets blames, knowledge seeks truth and owns. Hence why I seek only the clip. Besides FPE doesnt exist and neither does their replacement or older products. Placing a clip where their is a nonexistent one will not even TOUCH anything that has to do with electricity or fire hazards... and if for any reason there is a hazard I would not overlook that in order to easthetically repair something.. I'm not an electrician nor I'm I inclined to make such decisions but I'm also a logical person.
If you do not carry the clips then thank you for your time and information. It has been truly helpful! Not sure if i sent pics originally but i attached them here if there is anything else youd like to add or research.

Have a wonderful day! - Anon
Reply: worrying about door clips on an FPE Stab-Lok panels?
Anon, I'm not worried about touching the clip or not; it would be trivial to fabricate a replacement where needed, and cheap;

I'm concerned about the failure to understand and point out that the presence of the equipment is a hazard and that it needs replacement, not a door clip.

Worrying about door clips is like worrying that there is a spot on the seat cushion of your airplane seat in an airplane while in fact the wing is on fire.
Reader Follow-up: Nah. I'm not worried about anything. That's someone else's problem.
I understand FPE has/had many problems and a bunch of their stuff got recalled. But ours are working fine and we have no problems other then the doors swing open and close and/or water can splash inside causing a real hazard. To you that spot may not seem like a big deal but to the owner and maintenece corporation where we have over 300 units, appearance in details is important and all I seek to justify. I am no Manager or electrician. I'm just doing the research as per requested from the maintenace company and presidents on the board of the association. They are professionals and are well aware of details regarding all breakers and whatever nonexistent hazards for their breakers/boxes whatever their called. I was asked to find clips since I am an expert in research and being able to find info/parts/and pretty much anything. They are not going to waste anymore time on this considering they themselves looked personally everywhere for them.
 
Its not like the breakers are hanging out of the box, wires sticking out, missing buttons and wires, and its about to combust or be set a flame by the nonexistant electrical shocks. I don't seek to replace doors or replace anything. I seek to only buy a couple clips to put them back where they go. Its more of a hazard having the doors swinging open and close... Quite frankly your metaphor is rhetoric cause there is no initial problem as of YET other then the only hazard of having swinging doors and exposed breakers. Our staff is experienced and maintain these very very well and we have replaced a couple just because of the clip when again there is no initial issue. Im sure the future will bring more money so we can replace them all in their entirety but there is not enough money and especially if there is no one to rent a unit because one clip is missing. Perhaps you have too much time on your hands... these scenarios are a distraction to my work and like I said these metaphors are rhetoric/not realistic. Try living from a state of love and consciousness rather then fear. I do not draw to me these such hazards so I'm sure we will be fine. Thanks for your concern. Bye now.
Reply: A breaker that fails to trip 60% of the time when  an overcurrent occurs, in an industry where the no-trip rate is a tiny fraction of 1%, is a serious latent hazard.
No you are misinformed.

There was never a recall - though there was money set aside for one.

And the fact that you think yours are working fine has no significance.

A breaker that fails to trip 60% of the time when  an overcurrent occurs, in an industry where the no-trip rate is a tiny fraction of 1%, is a serious latent hazard. It is doubtful that your management have been adequately briefed by an unbiased expert.

But I see that your interests are focused elsewhere.

As you said earlier,

have a nice day.
...
Ask a Question or Search InspectApedia
Use the "Click to Show or Hide FAQs" link just above to see recently-posted questions, comments, replies, try the search box just below, or if you prefer, post a question or comment in the Comments box below and we will respond promptly.
Search the InspectApedia website
Technical Reviewers & References
Click to Show or Hide Citations & References
Note: as we didn't add this reviewers list until 2007, this list of technical reviewers is incomplete; we have received comments and suggestions regarding this topic, edits and remarks included, from engineers and management from the US CPSC, electricians (many listed at our page on field reports of FPE failures), home inspectors, licensed electricians, and electrical engineers, and even a few attorneys and real estate agents, since 1986. Technical review, critique, content suggestions, questions, or clarifications are invited and where a contributor wishes, credit and links will be provided to that source. Contact us to provide feedback.
Dr. Jess Aronstein, electrical engineer, Poughkeepsie, NY, forensic engineering services, independent laboratory testing for various agencies protune@aol.com (independent electrical panel testing, including FPE Stab-Lok® panels, to April 2010)
David Carrier, electrical engineer, 53 Henmond Blvd., Poughkeepsie, NY 12603 845-430-7527 davidwcarrier@earthlink.net (independent electrical panel testing, including FPE Stab-Lok® panels, beginning 2010)
Alan Carson, Carson Dunlop, Associates, Toronto, Ontario. Mr. Carson is a home inspection professional, educator, researcher, writer, and a principal of Carson Dunlop Associates, a Toronto home inspection and education firm. Mr. Carson is a past president of ASHI, the American Society of Home Inspectors
Mark Cramer Inspection Services Mark Cramer, Tampa Florida, Mr. Cramer is a past president of ASHI, the American Society of Home Inspectors and is a Florida home inspector and home inspection educator. (727) 595-4211 mark@BestTampaInspector.com 11/06
Carl Grasso, Esq., Herzfeld & Rubin, New York, NY. Mr. Grasso is an attorney who managed a plaintiff's class action litigation against Federal Pacific Electric in New Jersey.
William King, US CPSC Director of Electrical Engineering (Ret).
Allan Tabor - 09/16/2009 contribution of FPE field report of electrical fire and burned building occupant
Licensed Electricians: FPE FAILURE FIRE PHOTOS includes electricians who have provided cases and photographs of field failures of FPE equipment at this website.
Homeowners, Home Inspectors, Electricians: FPE FAILURE FIELD REPORTS includes anecdotal field reports provided by a range of contributors including electricians (and some home owners or home inspectors) who have provided cases and photographs of field failures of FPE equipment at this website.
FPE Stab-Lok® Panel Failure Research, Public documents on FPE obtained under FOIA: The following reports on defects (non trip and burning) of FPE Stab-Lock Circuit Breakers 8 were obtained from Consumer Product Safety Commission by request, under the Freedom of Information Act:

"Status Report - Evaluation of Residential Molded Case Circuit Breakers", Wright-Malta Corp., (For U.S. Consumer product Safety Commission, Project# CPSC-C-81-1455), August 10, 1982 (Contains analysis of mechanism of failure of FPE two-pole Stab-Lock breakers.)
"Failure Analysis of Residential Circuit Breaker Panel", Wright-Malta Corp., (For U.S. Consumer product Safety Commission, Project #CPSC-C-81-1455), May 20, 1982 (Contains failure analysis of FPE Stab-Lock panel that ignited due to failure of buss-bar interconnections in the backside of the panel.)
"Phase II Report, Evaluation of Residential Molded Case Circuit Breakers", Wright-Malta Corp., (For U.S. Consumer product Safety Commission, Project# CPSC-C-81-1455), March 10, 1984 (Contains experimental analysis of materials, construction, and performance of molded case circuit breakers, including FPE. Lack of corrosion resistance of certain internal parts is considered to be a factor in the failure of the circuit breakers.)
"Final Report: Calibration and Condition Tests of Molded Case Circuit Breakers," Wright-Malta Corp., (For U.S. Consumer product Safety Commission, Project #CPSC-C-81-1429), December 30, 1982 (Extensive calibration and functional testing of FPE breakers. Substantial percent failures to trip on overload.

The Federal Pacific Stab-Lok® Electric Panel Hazard Website Safety Information for Consumers.
2007 FPE Stab-Lok® TECHNICAL REPORT - an updated test report of independent testing (a large 1.2MB PDF file) using a larger pool of FPE Stab-Lok® circuit breakers than the older CPSC and Wright Malta tests found significantly higher failure rates of FPE Stab-Lok® circuit breakers, including a look at critical safety failures (breaker failed to trip at 200% of rated current or jammed) which found up to 80% failure rate for FPE Stab-Lok® GFCI circuit breakers (n=4), 12% failure rate for double pole FPE Stab-Lok® circuit breakers (n=120), and a 1% failure rate for FPE Stab-Lok® single pole circuit breakers (n=345).
FPE FIRES: Failures continue: FPE breaker fails, results in fires: field reports
Federal Pacific Electric Fires Waiting to Happen, Debate Waiting to Be Ended, detailed article
Home Inspection Reporting Language and discussion for FPE panels
How to Identify FPE Federal Pacific Stab-Lok® Electric Panels - is yours one of these? ALSO: A History of the FPE Stab-Lok® Issue.
How to Identify Federal Pacific Electric Panels Stab Lok Breakers & History of the Federal Pacific Electric Stab Lok Hazard
Replacement Circuit Breakers for FPE Stab-Lok® Electric Panels? are not recommended
Replacement Panels for FPE Stab-Lok® load centers - options include conventional complete panel replacement and a less costly replacement of the panel interior load center/bus assembly
1983 CPSC Investigation of FPE Circuit Breakers Safety Information for Consumers
1982 Reliance Electric Co. SEC Quarterly Report: Note C. reports litigation between Reliance and UV Liquidating Trust and contends that "... improper and deceptive practices were employed for many years to secure UL listings for Federal Pacific's circuit protective products..."
1980 Reliance Electric Co. Press Release:improper practices used to obtain UL Listing for most of FPE's circuit breakers and notes testing which indicates "possible defects." 1980, Reliance Electric Co.
1980 FPE - Exxon Buys A Scandal Along With A Companyimproper practices used to obtain UL Listing for most of FPE's circuit breakers and notes testing which indicates "possible defects." 1980, Reliance Electric Co.


SAFETY for ELECTRICAL INSPECTORS for Electrical and Home Inspectors at Residential Electric Panels
Books & Articles on Building & Environmental Inspection, Testing, Diagnosis, & Repair
Our recommended books about building & mechanical systems design, inspection, problem diagnosis, and repair, and about indoor environment and IAQ testing, diagnosis, and cleanup are at the InspectAPedia Bookstore. Also see our Book Reviews - InspectAPedia.
Aluminum Wiring Information WebsiteAluminum Electrical Wiring Hazards and Repairs: in-depth authoritative info, photos, documents including selection of proper vs. ineffective repair methods. E.g.: Ideal 65 "Twister" purple connector fails in field and lab testing with aluminum wire.
Ampacity of an Electrical Service: How to determine the electrical service size or ampacity entering a building
Circuit Breaker, a bad one fails to trip failure at aluminum bus-to-circuit breaker connection - field report and photographs
Electrical System & Wiring Hazard Inspection, Detection, Cause, Remedy, Prevention - Main Electrical Page
Electrical Panels, How to Inspect in buildings, safety for electrical inspectors, electrical panel, fusing, wiring defects, defective products. Inspection Class Presentation
...