How to Identify Federal Pacific Electric FPE Stab Lok circuit breakers and electrical panels
FPE & FP IDENTIFICATION, HOW TO - CONTENTS: How to identify Federal Pacific Electric FPE Stab-Lok® electrical panels and circuit breakers -Photo guide to identification of Federal Pioneer Stab-Lok® electrical panels and circuit breakers; Photo guide to Federal NOARC load center identification; Photo guide to identification of Federal Electric panels and circuit breakers;
POST a QUESTION or READ FAQs about identifying FPE Stab-Lok® and Federal Pioneer electrical panels and circuit breakers and about their associated hazards, testing, failure rates
InspectAPedia tolerates no conflicts of interest. We have no relationship with advertisers, products, or services discussed at this website.
Here we describe how to reliably identify FPE Equipment:
This article series describes how to identify Federal Pacific Stab-Lok® Electric Panels and circuit breakers in buildings. It is information for building inspectors, home buyers, home owners, electricians exploring the background of possible hazards associated with Federal Pacific Electric Stab-Lok® circuit breakers and service panels.
Replacement FPE Stab-Lok® circuit breakers are unlikely to reduce the failure risk of this equipment. We recommend that residential FPE Stab-Lok® electrical panels be replaced entirely or the entire panel bus assembly be replaced, regardless of FPE model number or FPE year of manufacture. We do not sell circuit breakers nor any other products.
Green links show where you are. © Copyright 2017 InspectApedia.com, All Rights Reserved.
SUMMARY - How to identify Federal Pacific Stab-Lok® (FPE) Electric Panels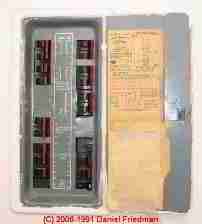 While this article series includes FPE Stab-Lok® equipment part or model numbers (see the complete FPE Stab-Lok article index given at the "More Reading" links at the bottom of this article ), those examples are provided to assist in the identification of this equipment - tests and field reports indicate that
all of the FPE Stab-Lok® equipment, electrical panels and circuit breakers sold and installed in the U.S. suffers the no-trip breaker and other problems across all residential equipment models and ages. Thanks to Patrick Hedderman for suggesting this clarification.
Article Series on FPE / FP Identification
Because the names, labeling and appearance of FPE Panels varies both by age and by area of the country where the products were distributed, we include photographs of a variety of models from the East Coast of the U.S., the West Coast (FPE in California), as well as some other areas such FPE Stab-Lok® panels in Florida, and FPE in Texas, and Federal Pioneer panels from Canada.
Names and panel labels all associated with the Federal Pacific Stab-Lok® design include at least
ACBC American Circuit Breaker Company
Challenger electric, in the ownership chain of FPE may have distributed FPE Stab-Lok design panels under the Challenger brand.
Connecticut Electric (vendor of FPE REPLACEMENT BREAKERS)
EMI, Electro-Mechanical Industries, Inc., Minneapolis MN and possibly other private-brand labels found on FPE electrical panels
Federal Pacific Electric
FPE
Stab-Lok®
FPE-Stab-Lok®
Federal Electric
Federal NOARC
Federal Pacific
Federal Pioneer
The links given just above as well as the following pages of this article series provide identification photographs and descriptions of FPE Stab-Lok electcrical equipment, explain the hazards involved, and recommend replacement offering some panel replacement options. (Note: to protect our readers' confidence, InspectApedia.com does not sell any products nor services.)
Watch out: Safety warning - while opening the hinged door provided for consumer use to access and reset the breakers is permitted, because there is risk of dangerous or even fatal electric shock in any electrical panel interior, only an expert should actually remove the front cover.
A summary of the Federal Pacific Electric FPE Panel & circuit breaker fire hazard is at SUMMARY of the FPE Stab-Lok® HAZARD.
Readers of this article should also see FPE Stab-Lok® : FIRES WAITING TO HAPPEN
and FEDERAL PACIFIC FPE HAZARDS - home- the FPE Hazard Websit home page.
To identify the circuit breaker panels and breakers discussed at the FPE information website you should look for the product name "Federal Pacific Stab Lok" or "Federal Pioneer Stab Lok" on the equipment.
Below we provide a photographic library of various types of Federal Pacific (FPE) Stab Lok equipment, including FPE and Federal Pioneer electrical panel covers and labels which permit a consumer to identify the equipment from its exterior as well as circuit breaker labels and other details.
Since there is risk of dangerous or even fatal electric shock, only an expert such as a licensed electrician, electrical engineer, or home inspector should physically remove the front cover to permit inspection of the panel bus and other interior features.
Our Photo Guides to Identification of Federal Pacific Stab-Lok® Electrical Panels and Circuit Breakers Are Presented in the Topics Listed Below and begin
at FPE Stab-Lok® PANEL COVERS.
Also see our discussion of pre-1970 FPE Stab-Lok® circuit breakers
at FPE Pre-1970 STAB-LOKS OK?.
For more information on FPE replacement options,
and
see FPE REPLACEMENT PANELS

and FPE REPLACEMENT BREAKERS.
This page assists in identifying Federal Pacific Electric Stab-Lok® electrical panels and circuit breakers. More FPE information is in the links listed at the "More Reading" links at the bottom of this article .
FPE Stab-Lok, Federal Pacific, Federal Pioneer and Other Circuit Breaker Identification Requests,Q&A
Question: Someone substituted a FedPac breaker in a panel of a different brand - is that a problem?
Hi Daniel,
I'm a "neighbor" in Saugerties, NY and have so appreciated the information I've learned about the Fed Pac breakers on the site. My daughter is moving into a "new" home (built in '73) and we noticed that there is a fed pac main breaker switch that has been added to her non fed pac box with all the circuit breakers. (Please forgive if I use non electrical language)
It does not say "stab lok" on the main breaker box. I'm assuming they upgraded from 110 at some point, thus the additional main breaker box.
I'm having someone come look at it, and possibly replace the fed pac part.... but if it doesn't say "stab lok" on the fed pac main breaker which is the only fed pac product, does it need replacing? Thanks so much for any direction you can provide.
- J.P., Saugerties NY
Reply: Check the panel connecting bus bar design, assure compatible breakers, watch out for amateur work
A competent onsite inspection by an expert usually finds additional clues that help accurately diagnose a problem with an electrical system, and in this case, if odd parts have been substituted in a panel that makes me worry about amateur or "low budget" prior repairs and problems.
That said, it's worth a careful inspection of the property by an expert home inspector who might pick up other signs that increase or decrease our concern for the electrical system as well as all other topics pertinent to condition of the home.
FPE Stab-Lok® circuit breakers may say FPE or Federal Pacific but may not have the words stablok on the breaker - take a look at our circuit breaker identification photos
at FPE BREAKER ID PHOTOS.
The electrical connectors on a given circuit breaker must match the electrical bus bar design in the electrical panel. What will determine the proper and allowable circuit breaker in your panel, besides trying to avoid problem products, is the connecting bus design in the electrical panel - the metal strips into which circuit breakers clip and connect to obtain power.
So if someone substituted a breaker of a brand that does not match the panel brand, the connections might be improper and unsafe.
An electrician can examine that connecting strips (the electrical panel "bus" or "bus bars") and tell you what breakers are supposed to connect onto it, and might confirm that by panel labels if they remain in place. If someone "forced" into an electrical panel bus a breaker that was not designed for that particular bus, the connections are typically damaged and certainly unreliable and perhaps unsafe.
If you can send along some sharp photos of the circuit breaker in question, and when your electrician opens the panel, photos of the panel interior and the connecting metal bus bars we can make a more definite comment on what you've got.
Question: Is this FP panel an FPE Stab-Lok® Unit?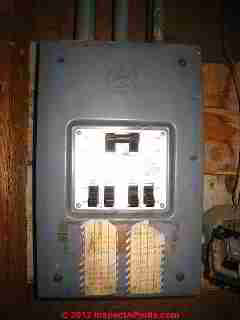 Over the past 12 years, I have called out hundreds of FPE Stab Lok panels.  I am very familiar with these panels after initial learning about them through my ASHI training and gaining significant knowledge from your website.  I commonly refresh my memory by visiting your site and direct my clients to your site when they are purchasing a house with one of these panels. 
And I always recommend that FPE Stab Lok panels be replaced. 

I have attached photos of the Federal Pacific subpanel in question below.  Although it is clearly a Federal Pacific panel, there was no "Stab Lok" markings on the panel and the breakers are not the typical Stab Lok style and color. 
I was under the impression that Federal Pacific made other panel styles but only Stab Lok models were problematic. 
Is this a Stab Lok panel?  - Chris Anderson, Home Spy Property Inspections, Denver CO.

Reply:
Chris thank you so much for the photos and correspondence. Because the panel in your photos is an old and uncommon model, your photos and field observations are important and I will as you suggest add them to our website data at https://InspectAPedia.com/fpe/FPE_Stab_Lok_Identification.php along with a credit to you. If you do not want to be identified as a contributor just let me know and I'll be glad to delete that information.
We would much appreciate hearing any comments, critique, suggestions, or further questions that you may have after you've taken a look at that article.
It is not surprising for someone to question whether or not this is a Stab-Lok® design panel as I agree that it does not, from externals, resemble the better-known FPE models in labellng. And the physical layout of the panel and the close proximity of the four subordinate breakers to the main invites one to question how the bus and breaker design fit into the space behind that internal panel cover plate.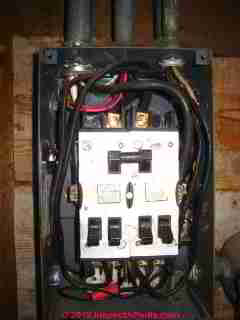 Even having studied many FPE products installed in the field and in photos, both residential and commercial, this exact model is not one I've seen before. It appears to use a copper bus, it is cramped, appears to be double-tapped, possibly improperly wired, and obsolete.
I'd guess this unit is quite old, probably a "Federal Electric" or a "Federal Noark" panel made before "Stab-Lok® " term was applied to that product design, and possibly dating from the 1950's. I couldn't quite make out the logo on the panel top.
I agree that the breakers look "different" in their toggle ends from the common Stab-Lok® breakers, but in other FPE Stab-Lok® design photos you'll see some toggle switches that do resemble those in your photos.
Without a direct view inside we can't be dead certain of the exact bus and breaker design, and I agree that it is possible that FPE produced other breaker panels that did not use the Stab-Lok® design, though I've yet to find a record or example of such.
More concisely, in answer to your question - Is this a Stab-Lok® panel? - without seeing the panel interior, I'm not sure. If it's not, it's a first.
I have not found data, field examples, nor photos of a Federal Pacific, FPE, FP, Federal Noark, Federal Electric &c. residential circuit breaker panel that did not use one of the several (problematic) Stab-Lok® bus & breaker designs, and the design shows up as commercial equipment as well.
I have passed on this question to our other FPE experts for comment and will update here accordingly, and we invite comment from other readers or experts on the FPE Stab-Lok® topic.
The FP/FPE fuse panels do not have the same "no-trip" issue, except for the models that used a combination of both fuses and circuit breakers.
For an example of Federal Electric
see FEDERAL ELECTRIC PANELS.
See FEDERAL NOARK PANELS for an example of Federal NoArk panels of the same design and hazard under an older brand name. .
Those panels, at least the models whose interior we've examined, including some commercial equipment, were indeed built to the Stab-Lok® design even though the product name did not necessarily include those words.
I would agree that you were also correct and acting in accord with home inspection standards to stop where you did, without further disassembly of the panel, as doing so can be dangerous and is beyond the scope of a home inspection. But it would be useful to see the internal bus details.
If the panel in your photos is available, when it is replaced, as it should be, it might be contributed for our further testing and study - if that's possible let me know and I'll forward the test-engineer's address to you.
Even the most well-informed and conscientious building inspector or researcher is going to come across odd, obsolete, rare, or otherwise questionable equipment from time to time, and any reasonable expert should understand how one might have raised doubt about applying the "Stab-Lok® " design for the product in your photos.
Adding to the poor performance of FP / FPE breaker equipment this panel is obsolete, crowded, double tapped. Replacing it would make good sense to me.
We are dedicated to making our information as accurate, complete, useful, and unbiased as possible: we very much welcome critique, questions, or content suggestions for our web articles. Working together and exchanging information makes us better informed than any individual can be working alone.
Question: can you tell me if this is an FPE Stab-Lok Panel
I was wondering if you could tell me if this is a Stab-Lok panel breaker. Is this a concern to replace this FPE panel.
We have three electrical panels
- J.C. Troy NY Contractor, 12/5/2012
Reply:
Yes, J.C.
See FPE HAZARD SUMMARY to understand why you should replace this equipment.
Question: is it mandated to change FP panels or is this just your interpretation?
(June 15, 2011) patrick coyne pac1269@ameritech. said:
Are you telling me this is mandated to change these FP panels or is this your interpretation of the Code and Equipment? I am currently unaware that there is a legal mandate to remove these panels. It is rather common knowledge that the trip ratio is poor, but these have been in place for years. I agree that updating to a newer system is safer, but where is it mandated? Respectfully, Patrick Coyne
Reply:
No Patrick, there is no law that requires you to change out an unsafe electrical panel such as the FPE units described here. However some insurance companies will not write fire coverage on homes that have an FPE Stab-Lok panel installed, and most building owners, once reading the level of hazard found with these products, opt to change the equipment.
A circuit breaker that does not reliably trip in response to overcurrent is as dangerous as someone putting a penny in a fuse panel. If you wouldn't accept the penny-fix you wouldn't accept the FPE unit either.
Let me add that the advice to replace FP and FPE electrical panels is not "just my interpretation". I report the results of expert, independent test agencies, product history, court actions including finding the company guilty of fraud, CPSC histoory, and extensive field reports on fires and product failures.
InspectAPedia is an independent publisher of building, environmental, and forensic inspection, diagnosis, and repair information provided free to the public - we have no business nor financial connection with any manufacturer or service provider discussed at our website.
We are dedicated to making our information as accurate, complete, useful, and unbiased as possible: we very much welcome critique, questions, or content suggestions for our web articles. Working together and exchanging information makes us better informed than any individual can be working alone.
Question: Sometimes these breakers don't trip but I've also seen other product failures
(July 24, 2011) bob smitt said:
having installed a lot of fpe panel in my years as an electrician some times the breakers dont trip easy but have also seen the same on other brands some even worse so you just might as well say if you have a panel change it. I have a fpe in my house now and i am not planing on changeing it
Reply:
Bob we agree that there are some other brands of concern, but do not agree with your conclusion; the failure rate on FPE equipment is astronomical compared with other field failure reports.
David Carrier was an independent electrical engineer who briefly carried on work by Jess Aronstein by conducting some ongoing tests of multiple brands of circuit breaker for no-trips - (not published as of 2014), but preliminary data, while pointing out other failing components, will by no means let the FPE product off the hook, rather his data, like other work before, confirmed the FPE no-trip breaker problem.
The historical test data on hand through 2014 makes clear that the FPE product suffers no-trip faiures as high as over 60% - in an industry where in general circuit breaker no-trip failures are a fraction of one percent.
Question: what part of this FPE stuff is recalled?
(Sept 16, 2011) Eric said:
We have this FPE breaker panel. what part is a recall. how do we go about getting this replaced? what would the cost be to us being that this is a recalled item?
Reply:
Eric:
There was no FPE electrical panel recall.
There was (over the course of FPE history) an allocation to fund an FPE product recall at one point but the recall was never issued. There was also a "successful" class action lawsuit in New Jersey that gave minimal financial relief to original homeowners where an FPE panel was installed in New Jersey - no longer a source of financial aid.
You wont' find meaningful financial relief for replacing an FPE panel by means of product recall nor class action settlements, but financial aid may be available for homeowners of modest means who apply to local homeowner financial aid agencies.
Question: where's the data on FPE failures
(Dec 25, 2011) Harvey said:
Is there any data on how many actual fires have started that can be traced to the stab lock panels or circuit breakers. I understand the test for failure rates but I want to find data for actual fires in homes.
Reply:
Harvey you will find field reports of FPE failures here that include actual fires and losses, but not a national survey that recounts a total number of fires. When there is a house fire, very often the root cause is not accurately diagnosed and components that may have been a root cause are completely burned up. Take a look at " FPE Technical Report - Independent Research 2011" ( on this page at Continue reading we provide an INDEX to RELATED ARTICLES that includes a live link - ) - or see
Question: FPE failure report: "... we found the first plug on a circuit actually melted ..."
(Feb 10, 2012) Ron said:
Dan, Although I am not an Electrician, I agree with your comments. We had a Federal Pacific Panel in our office that was built in the 70's. During the last remodel we found the first plug on a circuit actually melted due to too much power draw on that circuit. The breaker never tripped. Too close for comfort. I'm sure the panels are fine if there are no electrical overloads or short circuits going on but the breakers are intended for when things aren't right. The accidents and the unintendeds.
Arguing these panels are safe because someone installed them for years and have one in their own house with no problems is like saying a GFIC plug is not needed near a sink because you have never dropped an appliance in the sink.
We had things rewired and the panel replaced.
Reply:
Thank you Ron for your comment and for adding another report on FPE real world performance in actual use
Question: my parents never had a problem with their FPE panel and don't plan to replace it
(Mar 30, 2012) Paul Stevens said:
My parents have a PFE panel that has been in their house for years. The house is so old that is has the original cloth sleeved wiring. They have never had the first problem with these breakers. ANY brand breaker can malfunction. This company no longer exists. I would only hope that existing companies did not target PFE with negativity to gain market share. My parents have no intention to change out their panel. And no, there is not a cause to wish them good luck.
Reply:
Your parents are not required by law to change out their electical panel. But "never having had a problem" is not the slightest indication that the electrical panel and its breakers are "safe" . We do not encourage panel replacement as a "panic" repair - doing so invites gouging and unnecessary costs. We do recommend panel replacement. Stay calm.
Understand latent safety hazards: First, the circuit breakers that are never called-on to protect against an over-current never show any failure. Imagine riding around in your car with a seat-belt that has been cut to a mere thread down near the floor attachment where you don't see the defect. The seat belt buckles just fine, and looks just fine. And it's worked perfectly up to now.

But, then, you've not been in a car crash either. This is an example of a latent safety defect. The defect doesn't initiate a failure, it simply fails to protect you should a failure occur in the system.
Second: stays live: even jammed FPE circuit breakers (a condition that happens on a 2-pole breaker that suffers an overcurrent on one leg) that are absolutely not going to trip when the next over-current occurs will continue to pass-on electrical power to the circuit just fine. "Working" in that sense means "passing on electricity" which should not be interpreted to mean "safe".
Third: false-off: some of this cohort of circuit breakers remain "on" when apparently switched "off" - a dangerous condition that is not visible and not detected - until something else happens.
Reader comment: our electrician says our FPE box needs replaced
(July 8, 2012) Laura said:
We are moving into a 1940's house and needed some electrical work for a kitchen remodel. Our electrician took one glance at the box and said it needed to be replaced since it was unsafe and suggested I do the google research to confirm his opinion. After reading this information I agree and we will be replacing the box. The lives of our family isn't worth saving a few dollars to try and keep something that is potentially dangerous.
Reply:
We agree, Laura. - Ed.
Reader comment:
(Sept 27, 2012) Anonymous said:
Here are some great videos by geoff williams on how to identify federal pacific stab lok panels. www.youtube.com/watch?v=FBqa8yDHAlo
www.nbcbayarea.com/investigations/
Reader comment:
(Jan 8, 2013) John Mlueller said:
Regarding the Federal Pacific panel that was not known to you, That one was a Multi-Breaker design that was made and installed in the 1950's and possibly earlier. My father rewired our 1905 San Francisco home in 1952, and the main breaker box was with a 200A main and this style of branch breakers and Federal Pacific brand. I believe the same style was interchangeable with Square-D Multi-Breakers of that era, just as the old XO series of breakers were interchangeable between Square-D and Cutler-Hammer (before they went their separate ways with the QO and CH series). You would specify the ratings of the breakers installed--single poles, double poles, and install them in (I believe) units of 4-pole spaces at a time. I don't recall the details of the bus-work on these.
Reply:
No, John, Square-D and Cutler-Hammer circuit breakers do not swap into an FPE electrial panel - the bus designs are different.
...
Continue reading at FPE Stab-Lok® PANEL COVERS or select a topic from closely-related articles below, or see our complete INDEX to RELATED ARTICLES below.
Also see CHALLENGER ELECTRIC PANELS
Suggested citation for this web page
FPE & FP IDENTIFICATION, HOW TO at InspectApedia.com - online encyclopedia of building & environmental inspection, testing, diagnosis, repair, & problem prevention advice.
Or use the SEARCH BOX found below to Ask a Question or Search InspectApedia
...
Frequently Asked Questions (FAQs)
Try the search box below or CONTACT US by email if you cannot find the answer you need at InspectApedia.
...
Ask a Question or Search InspectApedia
Questions & answers or comments about identifying FPE Stab-Lok® and Federal Pioneer electrical panels and circuit breakers and about their associated hazards, testing, failure rates.
Use the "Click to Show or Hide FAQs" link just above to see recently-posted questions, comments, replies, try the search box just below, or if you prefer, post a question or comment in the Comments box below and we will respond promptly.
Search the InspectApedia website
Technical Reviewers & References
Click to Show or Hide Citations & References
Chris Anderson, Home Spy Property Inspections, Denver CO, Tel: 303-978-1288, Website: www.homespyinspections.com Email: HomeSpyInspector@msn.com
Timothy Hemm, Yucala, CA, contributed the photographs of FPE equipment installed in California buildings. Mr. Hemm can be contacted at TimHemm@yahoo.com
Arlene Puentes, an ASHI home inspector in Kingston, NY, contributed the page top and example photograph of a bank of FPE adjacent electrical panels. Ms. Puentes can be contacted at ap@octoberhome.com
Jon Bolton, a home inspector, the Inspectigator, FL, contributed the "camouflage" breaker. Mr. Bolton can be contacted at teamattitude@hotmail.com
Mary DeMuth, a property owner, contributed the Texas Federal Pacific Electric Load Center photos, May 2006.
Thomas M. Pino, a professional home inspector, contributed photos of the 100A Texas FPE panel used in a condo. www.sweetwaterhomeinspection.com. Mr. Pino can be contacted at sweetinspect@houston.rr.com or at sweetwaterhomeinspection@yahoo.com
Patrick Hedderman is a licensed home inspector in Clifton Park, NY. Mr. Hedderman can be contacted by email to

heddermanp@yahoo.com

or from his listing information at the NY section of Directory of Professionals to Inspect or Test a Building
The remaining photographs on these pages were made by the web author.
Books & Articles on Building & Environmental Inspection, Testing, Diagnosis, & Repair