Amtrol Extrol®, the Fill-Trol® Expansion Tank
How to troubleshoot, drain, or service & repair the expansion tank on hot water heating systems
AMTROL's EXTROL®, the FILL-TROL® - CONTENTS: how to diagnose trouble with internal bladder Amtrol brand Extrol type internal bladder heating equipment expansion tanks - What goes wrong with bladderless expansion tanks - waterlogging & its causes
POST a QUESTION or READ FAQs about heating system expansion tanks: their function, size, location, maintenance, and need for draining (on some models)
InspectAPedia tolerates no conflicts of interest. We have no relationship with advertisers, products, or services discussed at this website.
Amtrol / Extrol® internal-bladder heating equipment expansion tank: what is an diaphragm or internal-bladder type expansion tank, how do they work, and how are they installed, adjusted, maintained & repaired?
This article series describes how to identify, inspect, install, repair, or service heating boiler expansion tanks: here we explain the function of expansion tanks on hot water (hydronic) heating systems. We provide a heating system expansion tank Troubleshooting & Repair Guide.
Green links show where you are. © Copyright 2017 InspectApedia.com, All Rights Reserved.
Amtrol's Adapted Extrol®, the Fill-Trol® Diaphragm-Type Expansion Tank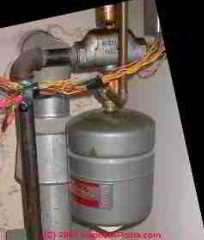 The expansion tank shown at left looks a lot like the one shown at the top of this article, right? But it's got some added features.
I wish we could push those wires out of the way, but instead, look at that brass valve just above where our red arrow is pointing. That's the adaptation. Amtrol has added a specially designed pressure-reducing valve that will automatically feed water into the heating system as needed.
This is Amtrol's adapted Extrol® tank called the Fill-Trol® diaphragm-type expansion tank.
[Click to enlarge any image]
This tank resembles the simpler Extrol® hydronic expansion tanks but adds an automatic valve that eliminates the need for a separate automatic water-feeder or "fill valve" for the heating system boiler.
So in one package we have the expansion tank (below the red arrow) and an automagic water feeder (at the red arrow).
The whole assembly has been mounted to a tapping on the under-side of the air scoop and all of this is located above the heating boiler (a gas fired unit in this example).
Our sketch shown below, adapted from Amtrol's FillTrol® product literature, illustrates how the FillTrol® valve works to combine an automatic water feed valve for a hydronic heating system with a valve that admits expanding hot water from the system into the expansion tank bladder.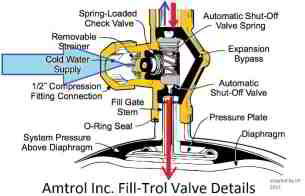 Separately at WATER FEEDER VALVES, HYDRONIC BOILER we explain the function of pressure-reducer/water feed valves on hydronic (hot water) heating boilers in general. In the case of the Fill-Trol, the valve will put water into the heating system (via its distribution piping) should the pressure fall below 12 psi.
If you go back to look at the photo at the very top of this article you'll see a similar expansion tank, mounted in a similar location, but without this special pressure-reducing water feed valve. That heating system will need a separate automatic (or manual) water feed valve.
Installation of the internal-bladder Amtrol Extrol® expansion tank
Amtrol specifies the expansion tank mounting position in the installation instructions for the Amtrol Extrol Expansion Tank No. 30 (found at the References section of these articles) in text, from which I quote:
Mount tank vertically in downward position only. Ensure the piping can support the entire weight of the tank when full of water.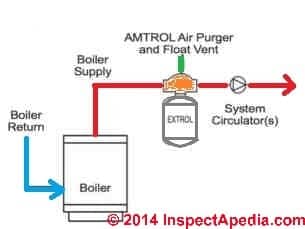 A pre-charged internal-bladder type expansion tank such as the Amtrol Extrol® is installed on the outlet side of the heating boiler between the boiler supply outlet and the heating circulator pump(s) as shown in our adaptations of installation schematics provided by Amtrol. The internal pressure of the bladder tank is set to equal the system fill pressure (eg. 12 psi cold on many systems) and should not need further adjustment.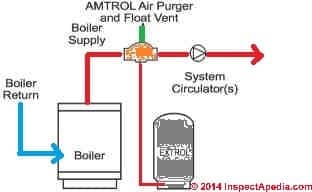 Air vent & purger for Amtrol Extrol Tanks?
Reader Question: Does the "Amtrol Extrol Expansion Tank No. 30" need air vent and air purger - Anonymous: 3/3/2014
Reply: Anon: for the operation of the Extrol expansion tank itself an air vent and purger are not required, but for proper functioning of the heating system where the Amtrol Extrol Expansion Tank No. 30 is installed, indeed an air purger and vent are needed. Here is what the company says in the installation instructions for their Extrol expansion tanks:
The EXTROL is installed on the supply-side of the boiler system. Its sealed-in air pre-charge prevents water from entering the tank until the system pressure begins to rise.
As the water temperature rises, water enters the EXTROL. As the system cools, the diaphragm is forced downward. Water is expelled from the EXTROL, back into the heating system.
Although the EXTROL does not have to be installed at the base of an air purger, this installation is recommended to reduce air in the system and provide a compact installation. Some method of air elimination is required to ensure an oxygen-free system. - Extrol® (2014)
See the Extrol installation & operation instructions found at REFERENCES at the end of this article.
Mounting Position for the Amtrol Extrol® expansion tank
Reader question: I have a system 2000 gas fired furnace that has a Extrol 30 that is mounted sideways instead of hanging down. It has waterlogged for a fourth time in the last 20 years and about four years ago was the last time until now. Does the tank being mounted horizontally instead of vertically have an effect on the life of the bladder? I don't remember ever having to replace one in any house I lived in until I moved in here. Rick Bouchard globe56@myfairpoint.net 3/25/2014
Reply:
The Amtrol company's installation instructions for the Extrol 30 does not explicitly mention horizontal vs. vertical mounting position for the device, but the installation instructions do include a sketch showing the unit in a vertical position.
The instructions also include this line "Do not place the EXTROL on a dead-end pipe. Air can collect in the EXTROL, causing internal corrosion and possible leakage." Which I take to warn you that *any* installation that might allow air to collect in the device could cause corrosion and leakage. That is, in my opinion, precisely the risk that you might face if your unit is mounted horizontally.
A review of both product brochures and installation literature all show the expansion tank in the positions shown in Amtrol's Extrol sketches adapted above.
You can contact the company directly as well both for warranty claims or to double check the tank mount position. Note that the warranty will not cover damage or failure attributed to improper installation of the device.
Amtrol Inc., 1400 Division Road, West Warwick, RI 02893, Tel: 401.884.6300 Website: www.amtrol.com
What goes wrong with internal bladder type heating system expansion tanks?
Normally these internal-bladder expansion tanks never need adjustment of their air pressure. But as we noted near the start of this article, if the internal bladder of the tank ruptures the tank may eventually become waterlogged. If the expansion tank is a model that includes an air pressure adjustment valve on the tank, you may find that a burst internal tank bladder means you will find water leaking out of the air charge valve, or water will squirt out of the valve if its center pin is depressed.
If the internal bladder type expansion tank such as the Amtrol® Adapted Extrol-R, the Fill-Trol-R Diaphragm-Type Expansion Tank is not a model that can be rebuilt with a new internal bladder, the tank will need to be replaced.
Here are some additional notes warnings quoted from Amtrol Inc.'s installation instructions for the company's Extrol® hydronic diaphragm expansion tanks in-line & SX series. The first 7 notes are of particular interest to the installer.
The EXTROL must not be placed overhead in the floor joist space.
When replacing a plain-steel tank, the EXTROL should be relocated per Figure 1. [See our adapted sketch above]
Do not place the EXTROL on a dead-end pipe. Air can collect in the EXTROL, causing internal corrosion and possible leakage.
FAILURE TO PROPERLY SEAL VALVE CAP WILL RESULT IN LOSS OF PRECHARGE CAUSING PRODUCT TO FAIL.
Radiant systems with non-barrier tubing or high oxygen content should use a Radiant EXTROL® expansion tank with a plastic liner. See the EXTROL brochure, or call (401) 535-1216 for sizing assistance.
Do not hang models SX-30V through SX-160V. They are floor standing models only.
FOR USE IN CLOSED HYDRONIC SYSTEMS ONLY. Do not install [the Amtrol Extrol tank described here] on domestic water systems, or in open heating systems. Corrosion and tank failure may result. Use a Therm-X-Trol® for domestic water systems or a Radiant EXTROL® for radiant heating systems where proper air elimination equipment or barrier tubing is not used.
EXPLOSION OR RUPTURE HAZARD. A relief valve must be installed to prevent pressure in excess of local code requirement or maximum working pressure designated in the Product Manual, whichever is less. Do not expose product to freezing temperatures or temperatures in excess of 240° F.

Do not adjust the pre-charge or re-charge this product except for any adjustments at the time of the initial installation, especially if product is corroded, damaged or with diminished integrity. Adjustments to pre-charge must be done at ambient temperature only.

Failure to properly size the product or follow these instructions may result in excessive strain on the system and may lead to product failure, serious or fatal personal injury, leakage, and/or
property damage.
This product, like most products under pressure, may over time corrode, weaken and burst or explode, causing serious or fatal personal injury, leaking or flooding and/ or property damage. To minimize risk, a licensed professional must install and periodically inspect and service the product.

A drip pan connected to an adequate drain must be installed if leaking or flooding could cause property damage. Do not locate in an area where leaking could cause property damage to the area adjacent to the appliance or to lower floors of the structure.

Amtrol Extrol Models #15 through #90 come with a 5 year warranty. All other EXTROL models come with a 1 year warranty. *
Question: adusting the pressure on an Amtrol Fill-Trol expansion tank
(Dec 7, 2014) John said:
My oil boiler has a fill-trol model 110 with an automatic valve on it and the system has been turned off for 1 year and I notice that water pressure is 40psi and is popping off at the pressure valve.I can hear water coming from my main water line so I turned it off.Can I clean the automatic valve because the water is bypassing it. Could the spring be stuck or is the tank not pushing on the valve to shut it off.Thanks
Reply:
John 40 psi is much too high - I would look for a problem with the pressure-reducer water feeder mechanism. Indeed your model, as described by Amtrol, "The AMTROL FILL-TROL® system consists of a specially adapted EXTROL® pre-pressurized, diaphragm-type expansion tank, and the FILL-TROL, a specially designed, automatic, fill valve."
The problem could be something as trivial as debris on a valve seat. There is a screen in the valve that is intended to be removed for cleaning.
The whole FillTrol valve assembly can be removed for cleaning but depending on what control valves were installed on your heating system you may have to drain part or all of the system to remove the expansion tank and fill valve assembly. And I would not try such a repair before checking the product's maintenance instructions or asking the company for advice, AND I would not begin such a repair without having a repair kit of parts on hand - typically o-rings, gaskets, etc.
I would give the company's tech support a call at 401-884-6300
The problem could also be a failure at your building water pressure regualtor subjecting the whole building to abnormally high pressure.
Question: failure at the Amtrol Fill-Trol valve allowed boiler to go dry?
(Mar 8, 2015) Mike said:
Would my amtrol fill-troll supply valve system not functioning properly cause my boiler to go dry. I don't see any signs of any leakage. Where would the water go in the closed system
flag like
Reply:
Mike,
Almost certainly in a hydronic heating system (hot water heat) if the boiler has gone dry we have a double fault: a leak somewhere AND the water feeder was not replacing lost water (or there was no automatic water feeder, as is the case on some old systems).
So most likely the leak is somewhere not obvious such as in a crawl space or under a slab. If you have heating pipes running under a slab or for that matter anywhere, if you re-fill the system and fire up the boiler (you'll have to bleed out or remove air to get it working) you might get help finding the leak using IR or thermal scanning to look for the heat of leaking hot boiler-water.
Article Series Contents
...
Continue reading at AMTROL EXTROL® FILL-TROL® FAQs or select a topic from closely-related articles below, or see our complete INDEX to RELATED ARTICLES below.
Or see ATTIC EXPANSION TANKS, HEATING
Or see EXPANSION TANK DIAGNOSTIC FAQs - more questions & answers about boiler expansion tanks or "boiler compression tanks"
Or see EXPANSION TANKS, BOILERS - topic home
Suggested citation for this web page
AMTROL's EXTROL®, the FILL-TROL® at InspectApedia.com - online encyclopedia of building & environmental inspection, testing, diagnosis, repair, & problem prevention advice.
Or use the SEARCH BOX found below to Ask a Question or Search InspectApedia
...
Frequently Asked Questions (FAQs)
Ask a Question or Search InspectApedia
Use the "Click to Show or Hide FAQs" link just above to see recently-posted questions, comments, replies, try the search box just below, or if you prefer, post a question or comment in the Comments box below and we will respond promptly.
Search the InspectApedia website
Technical Reviewers & References
Click to Show or Hide Citations & References
Amtrol Corporation, "Installation & Operation Instructions, Extrol (R) Hydronic Diaphragm Expansion Tanks In-Line & SX-Series", [PDF] (06/15), Amtrol Corporation, 1400 Division Road, West Warwick RI 02983, Tel: 401-884-6300, Website: www.amtrol.com, retrieved 2016/05/10, original source http://www.amtrol.com/media/documents/extrol/9015183_06_15_EXTROL_IO.pdf
Amtrol Corporation, "Extrol® Hydronic Expansion Tanks for Non-Potable Water Installation & Operation Instructions, Models EX-15 through EX90 Models SX-30V through SX-160V", Amtrol corporation,
[4] B&G / ITT Reducing Valves, Instruction Manual V55999: Reducing Valves Installation, Operation, & Service Instructions, Bell & Gossett Air Separators and other heating system components, Bell & Gossett, 8200 N. Austin Ave., Morton Grove IL 60053, USA - Tel 847 966-3700 Fax 847 965-8379. Original source www.bellgossett.com/literature/files/610.pdf
[5] Bell & Gossett Airtrol® System Installation, Operating and Service Instructions, Bell & Gossett, 8200 N. Austin Ave., Morton Grove IL 60053, USA - Tel 847 966-3700 Fax 847 965-8379. Retrieved 8/9/2012, original source B&G, [copy on file as Airtrol_Installation_Manual.pdf linked in this reference]
Domestic and Commercial Oil Burners, Charles H. Burkhardt, McGraw Hill Book Company, New York 3rd Ed 1969.
National Fuel Gas Code (Z223.1) $16.00 and National Fuel Gas Code Handbook (Z223.2) $47.00 American Gas Association (A.G.A.), 1515 Wilson Boulevard, Arlington, VA 22209 also available from National Fire Protection Association, Batterymarch Park, Quincy, MA 02269. Fundamentals of Gas Appliance Venting and Ventilation, 1985, American Gas Association Laboratories, Engineering Services Department. American Gas Association, 1515 Wilson Boulevard, Arlington, VA 22209. Catalog #XHO585. Reprinted 1989.
The Steam Book, 1984, Training and Education Department, Fluid Handling Division, ITT [probably out of print, possibly available from several home inspection supply companies] Fuel Oil and Oil Heat Magazine, October 1990, offers an update,
Principles of Steam Heating, $13.25 includes postage. Fuel oil & Oil Heat Magazine, 389 Passaic Ave., Fairfield, NJ 07004.
The Lost Art of Steam Heating, Dan Holohan, 516-579-3046 FAX
Principles of Steam Heating, Dan Holohan, technical editor of Fuel Oil and Oil Heat magazine, 389 Passaic Ave., Fairfield, NJ 07004 ($12.+1.25 postage/handling).
"Residential Steam Heating Systems", Instructional Technologies Institute, Inc., 145 "D" Grassy Plain St., Bethel, CT 06801 800/227-1663 [home inspection training material] 1987
"Residential Hydronic (circulating hot water) Heating Systems", Instructional Technologies Institute, Inc., 145 "D" Grassy Plain St., Bethel, CT 06801 800/227-1663 [home inspection training material] 1987
"Warm Air Heating Systems". Instructional Technologies Institute, Inc., 145 "D" Grassy Plain St., Bethel, CT 06801 800/227-1663 [home inspection training material] 1987
Heating, Ventilating, and Air Conditioning Volume I, Heating Fundamentals,
Boilers, Boiler Conversions, James E. Brumbaugh, ISBN 0-672-23389-4 (v. 1) Volume II, Oil, Gas, and Coal Burners, Controls, Ducts, Piping, Valves, James E. Brumbaugh, ISBN 0-672-23390-7 (v. 2) Volume III, Radiant Heating, Water Heaters, Ventilation, Air Conditioning, Heat Pumps, Air Cleaners, James E. Brumbaugh, ISBN 0-672-23383-5 (v. 3) or ISBN 0-672-23380-0 (set) Special Sales Director, Macmillan Publishing Co., 866 Third Ave., New York, NY 10022. Macmillan Publishing Co., NY
Installation Guide for Residential Hydronic Heating Systems
Installation Guide #200, The Hydronics Institute, 35 Russo Place, Berkeley Heights, NJ 07922
The ABC's of Retention Head Oil Burners, National Association of Oil Heat Service Managers, TM 115, National Old Timers' Association of the Energy Industry, PO Box 168, Mineola, NY 11501. (Excellent tips on spotting problems on oil-fired heating equipment. Booklet.)
...
Books & Articles on Building & Environmental Inspection, Testing, Diagnosis, & Repair
Our recommended books about building & mechanical systems design, inspection, problem diagnosis, and repair, and about indoor environment and IAQ testing, diagnosis, and cleanup are at the InspectAPedia Bookstore. Also see our Book Reviews - InspectAPedia.
Carbon Monoxide Gas Toxicity, exposure limits, poisoning symptoms, and inspecting buildings for CO hazards
DUST, HVAC CONTAMINATION STUDY An Investigation of Indoor Dust Debris Blamed on a Heating/Cooling System Reveals Carpet Dust
Fuel Oil & Oil Heating Magazine, 3621 Hill Rd., Parsippany, NJ 07054, 973-331-9545
Home Heating System Should Be Checked[for proper venting and for CO Carbon Monoxide Hazards - DJF]
Inspection Procedures for Oil-Fired Heating Systems Detailed step by step approaches for inspecting complex systems]
Oil Tanks - The Oil Storage Tank Information Website: Buried or Above Ground Oil Tank Inspection, Testing, Cleanup, Abandonment of Oil Tanks
Oil Tanks Above Ground, UL Standards, guidance for home owners, buyers, and inspectors
...