How to Find Hidden Leaks in or on Hot Water Hydronic Heating Boilers
BOILER LEAKS, HOW TO LOCATE - CONTENTS: Boiler leak diagnosis and repair procedure for finding hidden leaks. How to find out if a hot water heating system is leaking. How to locate hidden leaks in hot water heating systems.
BOILER LEAKS CORROSION STAINS - home: how to find & fix boiler leaks, separate article
POST a QUESTION or READ FAQs about leaks on hot water heating systems: how to find and fix leaks and hidden leaks in boilers, piping, tanks, condensate lines, controls, radiant tubing
InspectAPedia tolerates no conflicts of interest. We have no relationship with advertisers, products, or services discussed at this website.
Hot water heating system leak diagnosis & repair:
Here we explain how to determine that a hot water heating system is in fact leaking, and second we describe how to find the location of hidden leaks in or on heating boilers, hot water heat piping, baseboards, radiators, convectors, or radiant heat floors or ceilings.
We discuss how to find leaks in radiant floor or ceiling heating systems. How to diagnose, inspect, evaluate, repair heating boiler leaks. How to inspect & repair central hot water heating boilers - hydronic heating. Baseboard, radiator, convector heat inspection, defects, repairs.
Green links show where you are. © Copyright 2017 InspectApedia.com, All Rights Reserved.
Tips for Finding Leaks on Hot Water Boilers or in Hot Water Heating Distribution Piping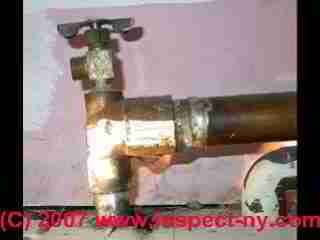 The photograph at page top shows that a heating convector recessed into the wall had been leaking into the wall structure for a long time. The leak was discovered by removing the convector cover for direct inspection. We could also see evidence of this leak by inspecting for water stains or damage at the building sills in the basement below.
At above/left our photo shows a severe leak at an air bleed fitting on a hot water heating baseboard line that was eventually separated by freezing and frost-push.
While freezing can burst piping and cause serious leaks in buildings, a bad solder joint may be dripping into a wall, ceiling or floor for quite some time before it is detected.
Although the leakage rate in a hot water heating piping system increases when the system is hot and in use (and at higher operating pressure than when cold), much of the water leaking out of the piping evaporates.on the hot piping surface.
It is important to recognize and accurately report the significance of rust like this on any heating boiler. We continue to add to and update this text as new details are provided. Contact us to suggest text changes and additions and, if you wish, to receive online listing and credit for that contribution.
Most modern heating boilers include an automatic water makeup valve that combines pressure reduction (to 12 psi cold on the boiler side of the valve) with automatically makeup water if the boiler pressure drops below that point. Details are
at WATER FEEDER VALVES, HYDRONIC BOILER.
How Do I Know if my Heating Boiler is Leaking?
A small water leak in a hot water heating system (hydronic heat) will eventually cause pressure loss in the system, but you may never notice this problem. Leaks on hot water heating systems are likely to occur, or to leak more rapidly when the heating system is hot (at higher pressure) than when it's cool.
The pressure drop from a small heating system water leak may be occurring over a long time, months or longer, and because the leaked-water may simply dry out on the hot heating piping where it is occurring you may never see a wet spot on a floor, wall, or ceiling below the leak.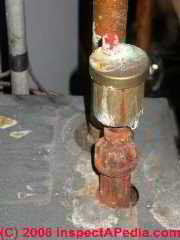 Our photo (left) shows the mineral build-up at a leaky air purge vent on a hot water heating system. Notice also those white leak stains on the boiler top itself.
How Do I Find Leaks on Hot Water Heating Systems?
To detect a small leak in a hydronic heating system we have had some success with these measures:
Inspect the entire hot water heating system, all hot water piping, the boiler, controls, valves, circulator pumps, piping elbows and piping, baseboards, radiators, air bleeders, etc. for evidence of mineral build-up that indicates a leak. If you have not already done so, take a look
at BOILER LEAKS CORROSION STAINS where we provide a catalog of places where leaks often occur on hot water heating systems.
Temporarily turn off the water supply into the heating boiler and monitor the cold pressure of the system when it has shut down. If you see that the cold pressure, shown on your boiler's gauge is slowly dropping, especially if it falls by several psi over weeks or longer (for example over summer months when the boiler is shut down) there is probably a small leak somewhere.

Remember that leaks are faster when the boiler is hot, but reading the "hot" pressure on the boiler won't help in this instance.
For radiant floor or ceiling heating systems that use hot water tubing, borrow or rent an infra red scanner or thermography camera to look for hot abnormal hot areas that spread out around a hidden leak - for example in a concrete floor slab.

You'll find that you can easily spot the routing of the hot water tubing; look for an area where the heat spreads out more widely than at other tubing lengths.
See RADIANT HEAT.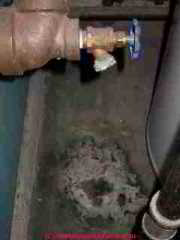 Look particularly closely where there are probably tubing connectors such as at manifolds and at the start and ends of tubing runs.
Look on floors and other building surfaces, not just at the piping itself. Our photo (left) shows the results of a dripping boiler drain.
A large water leak in a hot water heating system will usually show up quickly as a puddle, a ceiling, wall, or floor stain, or worse, as mineral clogging and damage to the boiler itself, caused by the excessive level of minerals in the constantly-added make-up water (if your area's water supply is high in mineral content).
See BOILER LEAKS CORROSION STAINS where we provide a catalog of places where leaks often occur on hot water heating systems.
This article series answers most questions about central hot water heating system troubleshooting, inspection, diagnosis, and repairs.
We describe how to inspect, troubleshoot and repair heating and air conditioning systems to inform home owners, buyers, and home inspectors of common heating system defects.
Reader Question: heating boiler expansion tank pressure drops to zero - we keep adding water.
We have the Weil-McLain boiler in floor heating system... re Expansion Tank... every 4-7 days the pressure goes down to zero (from 10 – 20 psi)...
we have a hose connected that we turn on both valves and let the water go into the tank to bring the pressure up to 10-20 psi..but still will not hold...what is the problem? and what if we do not fill with water and leave at zero? advise please. - B.A. Watford, Ontario
Reply: look for a leak in the heating system
I may not understand your question properly, and an expert onsite inspection usually reveals important additional information. Some photos or a sketch may help me comment further - but from what I can make out you are talking about a hot water heating system and the expansion tank connected to the heating system piping and boiler.
The expansion tank's job is to absorb the initial pressure increase in the system as water heats up -- thus to avoid improper heating water spilling at the pressure/temperature relief valve. On an older steel bladderless heating system expansion tank installation, the tank eventually becomes waterlogged (air is absorbed into the heating water) and then the relief valve drips.
The "fix" is to completely drain the tank, allowing air to enter it. When the system is turned back on and heating water is forced back into the tank, at system COLD pressures, the tank will have some water and some air inside it and the heating system pressure will be around 12 psi.
On occasion there is an air leak at the top of an expansion tank - but if that's the case you'd eventually see rust or water dripping down the tank when it becomes waterlogged. So I suspect that there is a water leak elsewhere.
I'm unclear where you are measuring pressure. Expansion tanks don't usually have a pressure gauge attached, but as the tank and heating piping and boiler are all connected the boiler pressure gauge is approximately reflecting the system pressure. I say approximately because the precise system pressure varies at different locations, for example it will be a bit lower at the highest point in the piping system than at the lowest point of the boiler.
Now you should not be having to add water to your heating system. Its pressure is really dropping to zero (as opposed to a gauge problem for example) then there is probably a leak somewhere that you need to find and fix.
If you have an in-floor radiant heat system the leak could be hidden below a floor slab - a condition we find by using an infra red scanner or by shutting off the water supply to the boiler and watching for a pressure drop.
I think that's the direction you need to investigate.
If you have not already read it see BOILER LEAKS CORROSION STAINS
Also see CHEMICAL TREATMENTS, BOILER for a discussion of leak-stop products.
Other Leaks Into Boilers Can Cause Over-Pressure in the Boiler & Relief Valve Leaks
Reader Question: I drained the expansion tank but the system pressure is still too high; high radiators in the house are cold & the relief valve spills
I have an bladderless expansion tank and was wondering if draining it incorrectly will not fix the problem. Here is the background of the situation.
It was noticed that a radiator one floor above the boiler (1940s oil boiler converted to natural gas) contained a lot of air in it, which was drained. Shortly after that, it was noticed that the relief valve was dripping.
I conducted a heat test to see what pressure the boiler got to, being suspicious that the expansion tank was waterlogged. I turned off the boiler and let it cool down to ~140°F and closed the feed line and expansion tank isolation valve.
I depressurized the system at the relief valve and replaced it since it was leaking. I then drained the expansion tank and took out about 2 gal. After that, I opened the isolation valve and then slowly opened the feed line valve, which re pressurized the system to around 15 psi.
When the system started the next morning (night time set-back), the pressure looked good and there was no dripping at the relief valve after an hour of operating, however, at two hours the pressure was at 30 psi and the relief valve was dripping.
I'm very stumped by this, because the procedure I've used seems very logical, but hope there is an issue with what I've done. We've been in this house for two previous heating season and have had no issues. There may have been leaks in the past since the relief valve outlet was slightly corroded. Any help would be greatly appreciated. - H.H. 11/20/2013
Reply:
Let's SUPPOSE for a moment that the expansion tank is fine - that is, there are no leaks anywhere. Let's pretend that you drained enough water out of the tank (which can be tricky). This would mean that the expansion tank is essentially empty.
Then the next day you see the tank is water logged again.
You saw "... at two hours the pressure was at 30 psi and the relief valve was dripping. "
The fact that the pressure is up to 30 makes me suspect that your system could have
- a bad automagic water feeder - feeding in too much pressure and water
- a tankless coil that leaks house-side water pressure into the boiler
If your system has a tankless coil you can check for a coil leak by TEMPORARILY shutting off water ahead of the valve. IF pressure still rises then the coil is leaking into the boiler.
If you don't have a tankless coil try this test anyway. If boiler pressure doesn't soar up to 30 when it heats up then the water feeder is probably leaking into the system.
Don't leave water shut off to a boiler or it could be ruined, dangerous, burn down, explode up or what have you if it runs out of water.
Follow-up:
The system doesn't have a tankless coil and I don't think the automatic water feeder is leaking.
I took some more observations of the system last night. At the beginning the system was cooling down from running previously running and the boiler temperature was 110°F and pressure was 10 psi (why I think the automatic water feeder is not leaking).
I then turned raised the thermostat to fire up the boiler. It took about 50 minutes to reach 180°F (the temperature the aquastat is set to), during which time the pressure increased. At 160°F, it was 20 psi. At 180°F, the pressure reached 30 psi and the relief valve starting leaking again.
I then turned the system off and let it cool down, which dropped the pressure too. When the system cooled to 140°F (20 psi), I isolated the expansion tank at let things cool further. When it was 120°F, the pressure dropped to 12 psi and then I opened the expansion tank isolation valve. I could hear water flowing through the valve and the system pressure increased back to 17 psi.
Based on these results, it seems like the expansion tank is working properly but there isn't enough air in the system to compensate for the thermal expansion (which agrees with the earlier observations that this problem began shortly after I bled a lot of air from one of the radiators). I'm thinking I didn't drain the expansion tank properly and will try to do it again.
Do you have any suggestions or comments to what the problem might be? I can conduct additional diagnostic tests if you'd like. If you think the expansion tank needs to be drained again, could you provide a procedure to do it (I'm pretty sure I followed the correct one, I might have just done it when the system was too warm, but I don't see how that would have been a problem).
I've attached some pictures of the system. I now know that the lack of drain for the relief valve is very dangerous and this will be rectified once this current problem is fixed.
Reply:
The fact that you see 30 psi at just 180 °F tells us that the starting pressure in the boiler is too high.
At cold boiler you should see about 12 psi. Slightly more for a home more than two stories high. Try to be sure that you are getting ALL water out if the expansion tank. Water will reenter it but starting with a full tank of sir is usually right and sufficient.
In sum:
1. Empty the bladderless expansion tank completely.
2. With the system cold, check that the starting pressure is about 12 psi. (Keep in mind that pressure gauges on heating boilers are not lab-grade precision instruments.) If the home is taller than 2 stories see our article about setting boiler pressure to account for that difference.
3. Check that with low pressure the relief valve is not dripping.
4. Turn on the boiler and watch it go through a heating cycle. The relief valve should not spill, the temperature should be below 200F, and the pressure should be below about 28 psi.
Let's take it from there.
Reader follow-up:
Does it matter what temperature the system is at when I drain the expansion tank? Also, I wonder if the proper way to drain my expansion tank is to use the drain valve (other end of tank in the picture I sent you) and open the union between the isolation valve and the expansion tank (it is the only fitting in the system that has Teflon tape and not pipe dope, which would imply it has been opened at a different time from the rest of the system).
As for the 10 psi pressure when cool, I was thinking the gauge could be a little off or maybe the automatic water feeder pressure was reduced because the expansion tank doesn't have any extra capacity.
The expansion tank was still waterlogged.  When attempting to drain it the first time, I must not have opened the valve enough to overcome the vapour-lock in the tank.  During the second attempt, the "glugging" sound was evident and it eventually drained.  Now the pressure is fairly constant during operation and the peak pressure is about 25 psi.  The cold pressure still is around 10 psi though, and was wondering if I should adjust the automatic water feeder to increase the pressure or is that pressure adequate for a one-story house?
Reply: no need to increase boiler cold pressure as long as highest radiator/baseboard is getting hot
Here's the problem - I'm just guessing because I have not see the whole expansion tank and all its fittings: You've got a container full of water with probably only one outlet - on the container bottom.
And I saw no convenient valve to drain the tank - there is a special drain valve designed for this situation, one that admits air into the tank while it is letting water out. What I saw on your system was just a union (a dis-assemblable connection) on the horizontal line near the tank - probably you've got some other lower drain point.
It's hell getting air up into the tank by that route unless you completely open the pipe and wait patiently for the tank to sloooowly drain. Or you can rig up something that pushes air into the tank intermittently to help get ALL of the water out. T
his design, unless we retrofit a better tank drain system or an air inlet higher on the tank, is so annoying that that's why we want to be sure to drain the tank fully - to get as long a life from the service job as possible. Over time the air in the tank is absorbed into water and the tank's compressible air volume shrinks - which is why ultimately the TP valve leaks.
With that chest beating done, back to your last question. As long as the highest radiator or baseboard in the home is getting hot we know the pressure is adequate. So I would not mess with the automagic pressure-reducer water feeder.
Except, to argue with myself, I'd like the cold start pressure to be slightly higher than the absolute minimum needed to allow the circulator pump to push hot water all around the heating system. That little margin, say 1-2 psi, might prevent a cold radiator under varying load or weather conditions. Usually the factory-set pressure on a water feeder/pressure reducer valve is 12 psi cold.
If you haven't seen it, this article:WATER FEEDER VALVE, HYDRONIC BOILER includes a neat boiler pressure setting vs building height courtesy of Carson Dunlop Associates.
And if you're feeling curious about the physics involved in the pressure increase as we heat up water, see HOT WATER PRESSURE EXPANSION RATE
...
Continue reading at BOILER LEAKS CORROSION STAINS or select a topic from closely-related articles below, or see our complete INDEX to RELATED ARTICLES below.
Or see CHEMICAL TREATMENTS, BOILER for a discussion of leak-stop products.
Suggested citation for this web page
BOILER LEAKS, HOW TO LOCATE at InspectApedia.com - online encyclopedia of building & environmental inspection, testing, diagnosis, repair, & problem prevention advice.
Or use the SEARCH BOX found below to Ask a Question or Search InspectApedia
...
Frequently Asked Questions (FAQs)
Try the search box below or CONTACT US by email if you cannot find the answer you need at InspectApedia.
Question:
Nov 2, 2012) Anonymous said:
This year we keep having banging in the pipes and we are still bleading air out of the system. We have heat but also have noise. Our system is 27 years old. We are looking for things to look for?
Reply:
(Jan 13, 2013) Anonymous said:
You have a rupture diaphragm in your expansion tank so it is filled with water and no longer has an air cushion to dampen system. Be prepared to get wet- have everything ready when changing.
Moderator said:
It sounds as if you have not found the cause of air leaks into the system or have not adequately bled air out of the system.
See AIR-BOUND HEATING SYSTEMS - home
Then
See BANGING HEATING PIPES RADIATORS
Question: steam boiler leak, can't find the crack.
(Jan 22, 2014) nathan said:
my gas steam boiler is leaking lots of water and don't know how to locate probable crack in the boiler. At first it was the piping, which I fixed. Please help
Reply:
Nathan, there are som additives that claim to stop boiler leaks but I'm doubtful. Typically the tech will remove the boiler jackets or covers and inspect to see if it is a repairable leak or not.
Is this a steel or a cast iron boiler?
Watch out, never pick at corrosion or you may turn a slow leak into an immediate catastrophe.
Question: water coming out of boielr side
(Mar 9, 2014) Anonymous said:
I have a oil beckett oil heater Model S-165-AP it has water starting to come out the bottom on right side of heater. no water came out any values. can it be fixed/
Reply:
Anon:
There are leak-stop products that can be added to some boilers that may stop a leak, though not without risk of clogging circulator pumps, zone valves, controls; IMO the success depends on the nature of the leak - a crack vs. a rust-perforation, as well as other factors. Though its costly, welding has been used on occasion too.
I would let the heating tech take a closer look at the boiler - removing jackets to determine the location and nature of the leak;
If the leak is not at a fitting or tapping but rather in the body of the boiler itself, especially from rust, it's probably time for a new boiler.

Question: leaks at new boiler installation
(Apr 22, 2014) Anonymous said:
I have a brand new hydronic air conditioning unit in my attic. I had the air on set at 76 for the past two weeks. Water started coming thru my ceiling from the unit leaking. The air filter is new so I can't figure out why a new system would leak so much water. I can see it is coming from inside the unit.
izza bella said:
I too have installed my hot water boiler from a Boiler in Brooklyn but after two three months its starts leaking. But when i called them they said just turn off and tighten it.
Reply:
Anon, it sounds as if the AC condensate is leaking - your service tech needs to open the unit, check the condensate drain system, etc.
Izza
Tightening something may be all that's needed to stop a leak - or it may not.
All depends on the where and why of the leak.
It also depends on how long the leak has been going on: a longer leak risks corrosion of the surfaces over which water is passing or mineral deposits, either of which can make it tough to stop the leak without shutting down the system, disassembling parts, cleaning surfaces, installing new gaskets and where appropriate, using an appropriate gasket sealer.
Since some leaks could imply unsafe conditions (such as spilling from a temperature-pressure relief valve), you should have a trained HVAC technician inspect and repair the system.
...
Ask a Question or Search InspectApedia
Questions & answers or comments about leaks on hot water heating systems: how to find and fix leaks and hidden leaks in boilers, piping, tanks, condensate lines, controls, radiant tubing.
Use the "Click to Show or Hide FAQs" link just above to see recently-posted questions, comments, replies, try the search box just below, or if you prefer, post a question or comment in the Comments box below and we will respond promptly.
Search the InspectApedia website
Technical Reviewers & References
Click to Show or Hide Citations & References
Books & Articles on Building & Environmental Inspection, Testing, Diagnosis, & Repair
Our recommended books about building & mechanical systems design, inspection, problem diagnosis, and repair, and about indoor environment and IAQ testing, diagnosis, and cleanup are at the InspectAPedia Bookstore. Also see our Book Reviews - InspectAPedia.
Carbon Monoxide Gas Toxicity, exposure limits, poisoning symptoms, and inspecting buildings for CO hazards
DUST, HVAC CONTAMINATION STUDY An Investigation of Indoor Dust Debris Blamed on a Heating/Cooling System Reveals Carpet Dust
Fuel Oil & Oil Heating Magazine, 3621 Hill Rd., Parsippany, NJ 07054, 973-331-9545
Home Heating System Should Be Checked[for proper venting and for CO Carbon Monoxide Hazards - DJF]
Inspection Procedures for Oil-Fired Heating Systems Detailed step by step approaches for inspecting complex systems]
Oil Tanks - The Oil Storage Tank Information Website: Buried or Above Ground Oil Tank Inspection, Testing, Cleanup, Abandonment of Oil Tanks
Oil Tanks Above Ground, UL Standards, guidance for home owners, buyers, and inspectors
Domestic and Commercial Oil Burners, Charles H. Burkhardt, McGraw Hill Book Company, New York 3rd Ed 1969.
National Fuel Gas Code (Z223.1) $16.00 and National Fuel Gas Code Handbook (Z223.2) $47.00 American Gas Association (A.G.A.), 1515 Wilson Boulevard, Arlington, VA 22209 also available from National Fire Protection Association, Batterymarch Park, Quincy, MA 02269. Fundamentals of Gas Appliance Venting and Ventilation, 1985, American Gas Association Laboratories, Engineering Services Department. American Gas Association, 1515 Wilson Boulevard, Arlington, VA 22209. Catalog #XHO585. Reprinted 1989.
The Steam Book, 1984, Training and Education Department, Fluid Handling Division, ITT [probably out of print, possibly available from several home inspection supply companies] Fuel Oil and Oil Heat Magazine, October 1990, offers an update,
Principles of Steam Heating, $13.25 includes postage. Fuel oil & Oil Heat Magazine, 389 Passaic Ave., Fairfield, NJ 07004.
The Lost Art of Steam Heating, Dan Holohan, 516-579-3046 FAX
Principles of Steam Heating, Dan Holohan, technical editor of Fuel Oil and Oil Heat magazine, 389 Passaic Ave., Fairfield, NJ 07004 ($12.+1.25 postage/handling).
"Residential Steam Heating Systems", Instructional Technologies Institute, Inc., 145 "D" Grassy Plain St., Bethel, CT 06801 800/227-1663 [home inspection training material] 1987
"Residential Hydronic (circulating hot water) Heating Systems", Instructional Technologies Institute, Inc., 145 "D" Grassy Plain St., Bethel, CT 06801 800/227-1663 [home inspection training material] 1987
"Warm Air Heating Systems". Instructional Technologies Institute, Inc., 145 "D" Grassy Plain St., Bethel, CT 06801 800/227-1663 [home inspection training material] 1987
Heating, Ventilating, and Air Conditioning Volume I, Heating Fundamentals,
Boilers, Boiler Conversions, James E. Brumbaugh, ISBN 0-672-23389-4 (v. 1) Volume II, Oil, Gas, and Coal Burners, Controls, Ducts, Piping, Valves, James E. Brumbaugh, ISBN 0-672-23390-7 (v. 2) Volume III, Radiant Heating, Water Heaters, Ventilation, Air Conditioning, Heat Pumps, Air Cleaners, James E. Brumbaugh, ISBN 0-672-23383-5 (v. 3) or ISBN 0-672-23380-0 (set) Special Sales Director, Macmillan Publishing Co., 866 Third Ave., New York, NY 10022. Macmillan Publishing Co., NY
Installation Guide for Residential Hydronic Heating Systems
Installation Guide #200, The Hydronics Institute, 35 Russo Place, Berkeley Heights, NJ 07922
The ABC's of Retention Head Oil Burners, National Association of Oil Heat Service Managers, TM 115, National Old Timers' Association of the Energy Industry, PO Box 168, Mineola, NY 11501. (Excellent tips on spotting problems on oil-fired heating equipment. Booklet.)
...