Brick Foundation & Brick Wall Defects, Failures, Collapses
BRICK FOUNDATIONS & WALLS - CONTENTS: This article series on brick foundation walls, brick structural walls & brick veneer walls explains how to recognize & diagnose & repair brick foundation & brick wall defects & failures. Examples & list of structural & other failures in brick walls & foundations. Damage caused to brick structures due to thermal expansion of long brick walls lacking expansion joints. Damage to brick veneer walls - cracks, bulges, loose brick. A catalog of types of brick foundation and brick wall damage and defects. Types of foundation damage organized by foundation materials. Photographs of brick wall damage patterns and types
POST a QUESTION or READ FAQs about structural brick foundations & brick walls: crack, leak, or movement diagnosis, defects, & repairs, risks of collapse
InspectAPedia tolerates no conflicts of interest. We have no relationship with advertisers, products, or services discussed at this website.
This article explains how to recognize, diagnose, & repair brick foundation & brick wall defects & failures such as cracks, spalling, movement, bulging, leaks, damage due to impact, settlement, frost or water damage, and other problems.
We describe types of brick foundation or wall cracks, crack patterns, differences in the meaning of cracks in different brick wall types (veneer vs. structural or solid brick walls), and where there is brick wall damage, the role of site conditions, building history, and other causes of building movement and damage.
This information helps in recognizing foundation defects and to help the building owner or inspector separate cosmetic or low-risk conditions from those likely to be important and potentially costly to repair.
Green links show where you are. © Copyright 2017 InspectApedia.com, All Rights Reserved.
How to Recognize & Diagnose Brick Foundation & Brick Wall Defects & Failures
Examples of structural & other failures in brick walls & foundations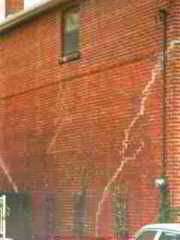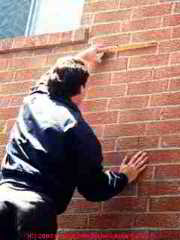 Brick wall settlement: These photographs of a Canadian brick structure (courtesy Carson Dunlop) show what is probably old and recurrent structural damage to a brick building in its above-ground walls. We suspect there has been ongoing foundation settlement below these problem areas. [Click any image to see an enlarged, detailed version]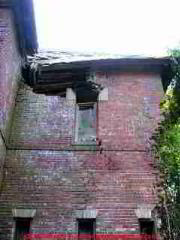 Further inspection and investigation were warranted.
Watch out: Any movement in a structural brick wall which risks having broken the bond courses in the wall, and any movement in a brick veneer wall which has broken or loosened the connections between the veneer to the underlying structure are potentially dangerous and risk collapsing masonry!
Also see BRICK VENEER WALL LOOSE, BULGED.
Structural brick wall collapse: This historic brick structure in Saugerties, NY, had already begun to collapse when we inspected its condition. The root cause of failure was water from roof leaks and at the building right side (not visible) in-slope grade and surface runoff which soaked the structure's lower foundation walls and permitted frost damage.
As bond coursed break and walls bulge, structures of this type are unstable and dangerous.
It is likely that considerable portions of this structure will need to be removed before repairs can begin. Inside we observed other evidence of collapsing foundations below other walls and we considered this building dangerous to enter.

Structural brick foundation collapse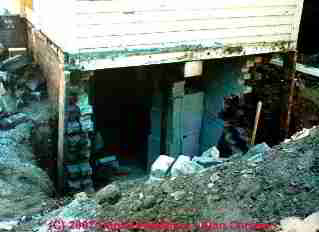 We can see that this collapsed brick wall was a structural brick foundation, and the soil piled up suggests it was done in by pressure from wet earth - a drainage or roof drainage problem may have been the root cause of this collapse.
[Photograph courtesy of Alan Carson, Carson Dunlop, Toronto]
Some common brick foundation wall or brick structural wall defects to be observed and reported include:
A List of Types of Brick Foundation & Brick Wall Damage & Defects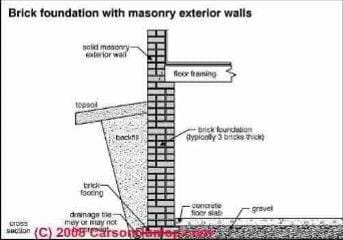 This sketch of the components of a preserved solid brick foundation with masonry exterior walls is courtesy of Carson Dunlop Associates.
Bulging brick above-ground walls: this is likely to be a bond-brick or bond-course failure - potentially extremely dangerous and very urgent - can presage sudden catastrophic building collapse!

More details of structural brick wall failures are
at BRICK STRUCTURAL WALLS LOOSE, BULGED
and
at BULGED vs. LEANING FOUNDATIONS.
Cracks and Bulges in brick foundation walls: frost and earth loading - can push a below-grade brick foundation wall inwards.

Often the wall is bulged inwards into a basement or crawl area as well as showing horizontal and step cracking and loose bricks over the bulged area.

Damage occurs from slightly above ground level to roughly the frost line.More details are at and at BULGED vs. LEANING FOUNDATIONS.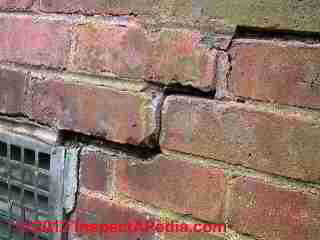 Diagonal or Stair-Stepped Cracks and loose bricks in walls: these brick wall crack patterns are typically due to frost, settlement, sometimes thermal expansion (THERMAL EXPANSION CRACKS in BRICK), usually diagonal or stair-stepped, often at building corners where roof spillage is concentrated.

These may be found in both structural brick walls BRICK STRUCTURAL WALLS LOOSE, BULGED

and brick veneer walls BRICK VENEER WALL LOOSE, BULGED

Our photo (above) of step cracks in a structural brick wall also shows that the upper section of the wall has bulged outwards past the lower or right hand section of this structure.

Bond courses were lost or broken in this wall, damaged by water (roof spillage) and frost. Ultimately this wall section was re-built.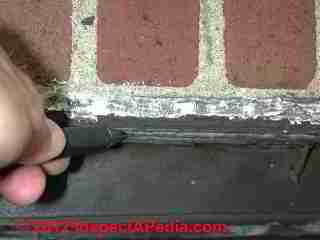 Lintel damage over windows or doors due to improper caulking or sealing - caulking at steel lintels over openings in brick walls can trap moisture leading to exfoliating rust and severe damage, even cracked loose bricks in the wall.

Our photo (left) shows caulk between the bricks over a window and the upper surface of the steel lintel. Look closely (click to enlarge) and you'll see that the lintel is delaminating.
Loose bricks and missing or lost mortar: and movement where mortar is severely washed-out by roof spillage or other water movement against the foundation.

Loose and lost bricks may also occur where wood blocks, originally set into a wall to permit nailing of interior components, is damaged by insects or decay. Similarly, if wood joists are damaged and bend excessively or collapse (insect damage, rot, fire) the collapsing joist can, as its in-wall end moves, damage the foundation or building wall. (Fire cuts on wood joists in brick walls were intended to minimize this damage source by angling the end of the joist where it was set into the wall pocket.)
Sand-blasted bricks which have been "cleaned" of old paint, algae, or stains using high pressure sand blasting or possibly even very high pressure water blasting can be permanently damaged by loss of the harder surface of the bricks which had been provided by their original firing.

Once the softer internal brick has been exposed, the bricks will be more inclined to absorb water and to suffer water and (in northern climates) frost damage. Sandblasting brick is considered a poor practice in building renovation and maintenance.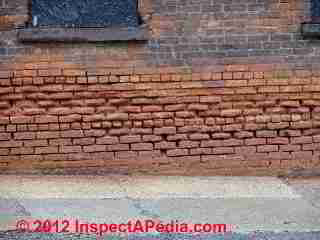 Spalling bricks: brick spalling (photo above) is caused by water and frost, such as water leaking into a brick structure at any entry point: a crack, a brick which has lost its hard surface, or at openings by window and door penetrations. But beware about caulking brick - review our next item.
See more examples at CHIMNEY BRICK / BLOCK SPALLING
and
at BRICK WALL FROST & WATER CRACKS, EFFLORESENCE, SPALLING
Exfoliating-rust damage to brick or other masonry walls(improperly) occurs when brick walls have been improperly caulked where caulking should have been omitted.

The most common example of this defect is the damage that occurs to a brick wall when a steel lintel over a window or door is caulked tightly between the brick and the steel. Moisture penetrating the brick wall through cracks or mortar joints is trapped around the steel lintel. Rust developing on steel lintels has tremendous lifting power as the rusting exfoliating metal expands, sufficient to crack and damage bricks around lintel.

We inspected a Manhattan apartment building which suffered multi-million damage to its brick exterior after a new "super" insisted on caulking tightly all of the steel window lintels.
Also see FOUNDATION DAMAGE by MATERIAL or INCLUSIONS
Thermal expansion or cracking of brick walls occurs when a long or tall brick wall is built without adequate expansion joints. With age, brick walls "grow" in dimension. Details are
at THERMAL EXPANSION CRACKS in BRICK.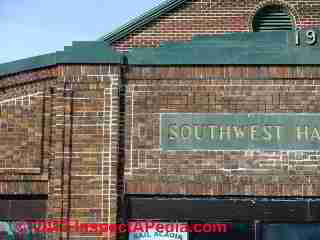 Improper repair mortar used during "repair work", tuckpointing bricks, or re-pointing bricks can cause surface spalling of bricks if the mason uses a too-hard mortar high-portland content mortar on soft brick in a climate exposed to freezing weather.

Our photo (left) of a brick structure near the Maine coast shows neat workmanship, but poor choice of mortar in an extensive tuckpointing job.

The high portland content means that the mortar will be not only harder, but more waterproof than the surrounding brick. Water trapped around the hard mortar can freeze leading to surface spalling of the bricks.

This is particularly likely to be seen when a wall has been tuckpointed using hard high-portland mortar where originally a soft high-lime mortar was used and where the original bricks were soft.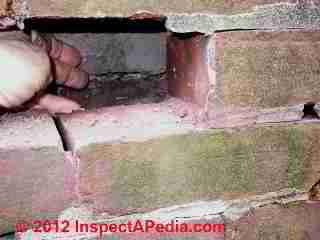 Also see this close companion article: FOUNDATION CRACK DICTIONARY which discusses in detail the process of evaluating foundation cracks and signs of foundation damage by examining the crack size, shape, pattern, and location.
Continue reading at BRICK STRUCTURAL WALLS LOOSE, BULGED or select a topic from closely-related articles below, or see our complete INDEX to RELATED ARTICLES below.
Or see FOUNDATION DAMAGE by MATERIAL or INCLUSIONS
Or see MASONRY FACADE / WALL, LINTEL & WINDOW DAMAGE
Suggested citation for this web page
BRICK FOUNDATIONS & WALLS at InspectApedia.com - online encyclopedia of building & environmental inspection, testing, diagnosis, repair, & problem prevention advice.
Or use the SEARCH BOX found below to Ask a Question or Search InspectApedia
...
Frequently Asked Questions (FAQs)
Try the search box below or CONTACT US by email if you cannot find the answer you need at InspectApedia.
Questions & answers about damage to brick structures, posted originally at this article
Linda
I agree that one needs to find the source of water or moisture in order to be able to correct it, followed by drying out the crawl area.
Please take a look at this diagnostic/repair article series beginning at CRAWL SPACE DRYOUT http://inspectapedia.com/structure/Crawl_Space_Dryout.php
and let me know what specific questions remain.
We lifted our house due to flooding from sandy. Part of our house has brickexterior ( veneer I guess) we now have access to our crawl space and I can see the foundation is wet. I am trying to figure out why? So I can then figure out how to fix it
Most likely the footing has shifted, or if the brick is a veneer wall its support or the attachment of that support to the foundation (some veneers used an L-bracket) may have failed. We'd need to see details or photos - for which you can use the page top or bottom CONTACT link if you like.
Watch out: loose brick walls, if the bond courses or for a veneer the connections to the structure are broken there is danger of a collapse that could cause injuries or worse.
What is the possible cause of a brick wall that has shifted on the foundation footing on one end. There is about 1/2" of overhang of the bricks on the footing on about 1/4 of the wall. There has been movement and repairs to the foundation.
Fran

I can't reliably diagnose your foundation wall failure from just your e-text; one needs to look both outside and inside for conditions that affect the foundation.

A foundation damage diagnosis of "failure over time" is 100 % baloney despite your inspector's credentials. It is in essence nearly content-free.

A building foundation is not a consumable that gets "used-up" over time until it fails.

Rather what your engineer may have meant to say (perhaps he skipped Freshman English) was that the cracked or buckled foundation damage did not occur in a single event but rather that it happened over time.
To support that conclusion, and to avoid an endless battle of "opinions" in our current world where objective data and facts are either insufficiently valued or are deliberately de-valued in order to serve someone's purpose, a decent engineer ought to have said what he observed, found, measured, that supported that conclusion.

For example if I find old paint, dust, dirt, inside a horizontal crack in a bulged block foundation wall I am confident that the bulge and crack didn't happen yesterday, even if yesterday's forces might have exacerbated it.

So sad.

The engineer's report is unreliable and insufficient because it

- by your account gives no information to support the conclusion
- fails to explain the cause of the damage
- fails to describe the extent of damage
- doesn't tell us if repairs are needed
- doesn't tell us what actions are needed to prevent further or future foundation damage

IF you have photographs of the foundation wall before the flooding and freezing event that your email suggests occurred then you could prove rather convincingly that the even coincided with the burst hose and - this is correct, right? - that the soaking of the ground was followed by freezing weather that might have added frost-push to wet-soil loading against the wall.

Anonymous: reposting translated to English
Sir my wall I get damp and mildew-like color white, and then it exits tell Solution
Reply:
It sounds as if you are describing mineral salts or effloresence - search InspectApedia for EFFLORESENCE to read the details of what this is and how to prevent it.
aisa lagata hai ki aap khanij lavan ya aiffloraisainchai varnan kar rahe hain - yah kya hai aur kaise ise rokane ke lie ke vivaran ko padhane ke lie aiffloraisainchai ke lie khoj inspaichtapaidi।
Hi, on my old house cement block basement failure. Back yard has a slight grade toward the house,but, has grade away from house 6 to 7 inchess out about 8 ft a garden hose was left on & it burst under the porch for several hrs in cold weather, Wall has about 4ft. Of dirt cover & basement height is low , about 5ft 5in., my INS. Co. Sent an engineer & he said failure over time. I feel it was the hose water that saturated the soil & froze. Bowed in with large cracks & No indication of water now .even after a heavy rain. Thank you for your opinion
sir meri ghar ki dewar main seelan aati hai aur colour fafundi ki tarah white hokar bahar nikalta hai to iska solution bataiye
Zwai:
As a lintel usually carries weight, I wouldn't assume that a break is harmless unless you mean to say that the lintel was too long for the space into which it was being inserted and one-end broke off; that is, any crack or break in the open span of the lintel is surely going to mean trouble, as might insufficient bearing area under the lintel ends in the wall. You can send photos using the page top or bottom CONTACT link.
The lintel in my garage is too long about 6m long. It broke while the builder was placing it. I'm wondering if it will not cause problems in a long run. Please advise
I have a leaning exterior brick wall that is approximately 5' tall and 20 'long. It is leaning and also needs some tuck pointing . Is there anyway of bracing the way other than tearing it down and starting over? The earth on one side of wall is higher than the other. Also, I am not sure of any footings.
Thank you
doug
Vic

For a brick wall that is supported by a foundation, the width of that footing is determined by the original design engineer, architect or contractor based on soil properties as well as anticipated weight or loading from above.
If the footing width were so wide that you could in principle move the brick wall that rests on it 50cm without finding the brick wall now off of the foundation completely, you could do so, but the risk is that the wall begins to tip or lean, ultimately collapsing.

My question is can I move a brick wall fence, with foundation of reinforced concrete strip foundation, to the right or left up to 50cm?
Many bricks are chipped mold has repeatedly been corrected, only on inside wall. Soon the new paint on that inside wall is peeling. This is a COOP. It is now two & halp years.
I cannot get a full nights sleep waking up with itchy eyes.
Question: Aussie readers & brick construction
Great article! Although this information isn't specific to Australia, it has still helped me understand more in my building contractor course. Thomas Wong, 11/29/2011
Reply:
Thomas thanks for the nice comment about our website content. We know that we have many readers in Australia and New Zealand and I'm anxious to add terms and technical details that match those used in your area. While climate and constuction practices vary around the world, brick and masonry construction in general suffers similar problems in most places - often it's the local names for materials & construction methods that vary more than the materials and pracices themselves. One man's septic drainfield is another's soakaway bed.
We'd welcome specific questions, comments on different construction terminology used in different parts of the world, etc. We are dedicated to making our information as accurate, complete, useful, and unbiased as possible: we very much welcome critique, questions, or content suggestions for our web articles. Working together and exchanging information makes us better informed than any individual can be working alone.
...
Ask a Question or Search InspectApedia
Questions & answers or comments about structural brick foundations & brick walls: crack, leak, or movement diagnosis, defects, & repairs, risks of collapse.
Use the "Click to Show or Hide FAQs" link just above to see recently-posted questions, comments, replies, try the search box just below, or if you prefer, post a question or comment in the Comments box below and we will respond promptly.
Search the InspectApedia website
Technical Reviewers & References
Click to Show or Hide Citations & References
Steven Bliss served as editorial director and co-publisher of The Journal of Light Construction for 16 years and previously as building technology editor for Progressive Builder and Solar Age magazines. He worked in the building trades as a carpenter and design/build contractor for more than ten years and holds a masters degree from the Harvard Graduate School of Education. Excerpts from his recent book, Best Practices Guide to Residential Construction, Wiley (November 18, 2005) ISBN-10: 0471648361, ISBN-13: 978-0471648369, appear throughout this website, with permission and courtesy of Wiley & Sons. Best Practices Guide is available from the publisher, J. Wiley & Sons, and also at Amazon.com.
Mark Cramer Inspection Services Mark Cramer, Tampa Florida, Mr. Cramer is a past president of ASHI, the American Society of Home Inspectors and is a Florida home inspector and home inspection educator. Mr. Cramer serves on the ASHI Home Inspection Standards. Contact Mark Cramer at: 727-595-4211 mark@BestTampaInspector.com
John Cranor is an ASHI member and a home inspector (The House Whisperer) is located in Glen Allen, VA 23060. He is also a contributor to InspectApedia.com in several technical areas such as plumbing and appliances (dryer vents). Contact Mr. Cranor at 804-747-7747 or by Email: johncranor@verizon.net
Thanks to Alan Carson, Carson Dunlop, Associates, Toronto, for technical critique and some of the foundation inspection photographs cited in these articles
Brick Development Association, The Building Centre, 26 Store Street, London, WC1E 7BT, England, U.K., Tel: 020 7323 7030, Email: brick@brick.org.uk
Brick Industry Association, 1850 Centennial Park Drive, Suite 301, Reston, VA 20191 Phone: 703.620.0010 Fax: 703.620.3928.
Canada Masonry Centre, 360 Superior Blvd., Mississauga ON Canada L5T 2N7. Tel: (905) 564-6622. Offers the CMCA Textbook of Canadian Masonry.
"Concrete Slab Finishes and the Use of the F-number System", Matthew Stuart, P.E., S.E., F.ASCE, online course at www.pdhonline.org/courses/s130/s130.htm
Mark Cramer Inspection Services Mark Cramer, Tampa Florida, Mr. Cramer is a past president of ASHI, the American Society of Home Inspectors and is a Florida home inspector and home inspection educator. Mr. Cramer serves on the ASHI Home Inspection Standards. Contact Mark Cramer at: 727-595-4211 mark@BestTampaInspector.com
John Cranor is an ASHI member and a home inspector (The House Whisperer) is located in Glen Allen, VA 23060. He is also a contributor to InspectApedia.com in several technical areas such as plumbing and appliances (dryer vents). Contact Mr. Cranor at 804-747-7747 or by Email: johncranor@verizon.net
"Concrete Slab Finishes and the Use of the F-number System", Matthew Stuart, P.E., S.E., F.ASCE, online course at www.pdhonline.org/courses/s130/s130.htm
Sal Alfano - Editor, Journal of Light Construction*
Thanks to Alan Carson, Carson Dunlop, Associates, Toronto, for technical critique and some of the foundation inspection photographs cited in these articles
Terry Carson - ASHI
Mark Cramer - ASHI
JD Grewell, ASHI
Duncan Hannay - ASHI, P.E. *
Bob Klewitz, M.S.C.E., P.E. - ASHI
Ken Kruger, P.E., AIA - ASHI
Aaron Kuertz aaronk@appliedtechnologies.com, with Applied Technologies regarding polyurethane foam sealant as other foundation crack repair product - 05/30/2007
Bob Peterson, Magnum Piering - 800-771-7437 - FL*
Arlene Puentes, ASHI, October Home Inspections - (845) 216-7833 - Kingston NY
Greg Robi, Magnum Piering - 800-822-7437 - National*
Dave Rathbun, P.E. - Geotech Engineering - 904-622-2424 FL*
Ed Seaquist, P.E., SIE Assoc. - 301-269-1450 - National
Dave Wickersheimer, P.E. R.A. - IL, professor, school of structures division, UIUC - University of Illinois at Urbana-Champaign School of Architecture. Professor Wickersheimer specializes in structural failure investigation and repair for wood and masonry construction. * Mr. Wickersheimer's engineering consulting service can be contacted at HDC Wickersheimer Engineering Services. (3/2010)
*These reviewers have not returned comment 6/95
FOUNDATION CRACK EVALUATION discusses detail the process of evaluating foundation cracks and signs of foundation damage by examining the crack size, shape, pattern, and location.
FOUNDATION BULGE or LEAN MEASUREMENTS explains a simple method for determining how much bulge or lean is present in a foundation or wall,
FOUNDATION MOVEMENT ACTIVE vs. STATIC helps determine if the foundation movement is ongoing,
FOUNDATION DAMAGE SEVERITY discusses how we decide the severity of foundation damage and the urgency of further action.
FOUNDATION FAILURES by TYPE & MATERIAL describes the types of foundation damage, cracks, leaks, or other defects associated with each type of foundation material (concrete, brick, stone, concrete block, etc.).
Books & Articles on Building & Environmental Inspection, Testing, Diagnosis, & Repair
Avongard foundation crack progress chart for structural crack monitoring
Basement Moisture Control, U.S. Department of Energy
Building Failures, Diagnosis & Avoidance, 2d Ed., W.H. Ransom, E.& F. Spon, New York, 1987 ISBN 0-419-14270-3
Building Pathology, Deterioration, Diagnostics, and Intervention, Samuel Y. Harris, P.E., AIA, Esq., ISBN 0-471-33172-4, John Wiley & Sons, 2001 [General building science-DF] ISBN-10: 0471331724 ISBN-13: 978-0471331728
Building Pathology: Principles and Practice, David Watt, Wiley-Blackwell; 2 edition (March 7, 2008) ISBN-10: 1405161035 ISBN-13: 978-1405161039
Construction Drawings and Details, Rosemary Kilmer
Crawl Space Moisture Control, U.S. Department of Energy
Diagnosing & Repairing House Structure Problems, Edgar O. Seaquist, McGraw Hill, 1980 ISBN 0-07-056013-7 (obsolete, incomplete, missing most diagnosis steps, but very good reading; out of print but used copies are available at Amazon.com, and reprints are available from some inspection tool suppliers). Ed Seaquist was among the first speakers invited to a series of educational conferences organized by D Friedman for ASHI, the American Society of Home Inspectors, where the topic of inspecting the in-service condition of building structures was first addressed.
Domestic Building Surveys, Andrew R. Williams, Kindle book, Amazon.com
Defects and Deterioration in Buildings: A Practical Guide to the Science and Technology of Material Failure, Barry Richardson, Spon Press; 2d Ed (2001), ISBN-10: 041925210X, ISBN-13: 978-0419252108. Quoting:
A professional reference designed to assist surveyors, engineers, architects and contractors in diagnosing existing problems and avoiding them in new buildings. Fully revised and updated, this edition, in new clearer format, covers developments in building defects, and problems such as sick building syndrome. Well liked for its mixture of theory and practice the new edition will complement Hinks and Cook's student textbook on defects at the practitioner level.
Guide to Domestic Building Surveys, Jack Bower, Butterworth Architecture, London, 1988, ISBN 0-408-50000 X
"Avoiding Foundation Failures," Robert Marshall, Journal of Light Construction, July, 1996 (Highly recommend this article-DF)
"A Foundation for Unstable Soils," Harris Hyman, P.E., Journal of Light Construction, May 1995
"Backfilling Basics," Buck Bartley, Journal of Light Construction, October 1994
"Inspecting Block Foundations," Donald V. Cohen, P.E., ASHI Reporter, December 1998. This article in turn cites the Fine Homebuilding article noted below.
"When Block Foundations go Bad," Fine Homebuilding, June/July 1998
Historic Preservation Technology: A Primer, Robert A. Young, Wiley (March 21, 2008) ISBN-10: 0471788368 ISBN-13: 978-0471788362
Masonry structures: The Masonry House, Home Inspection of a Masonry Building & Systems, Stephen Showalter (director, actor), DVD, Quoting:
Movie Guide Experienced home inspectors and new home inspectors alike are sure to learn invaluable tips in this release designed to take viewers step-by-step through the home inspection process. In addition to being the former president of the National Association of Home Inspectors (NAHI), a longstanding member of the NAHI, the American Society of Home Inspectors (ASHI), and the Environmental Standard Organization (IESO), host Stephen Showalter has performed over 8000 building inspections - including environmental assessments. Now, the founder of a national home inspection school and inspection training curriculum shares his extensive experience in the inspection industry with everyday viewers looking to learn more about the process of evaluating homes. Topics covered in this release include: evaluation of masonry walls; detection of spalling from rebar failure; inspection of air conditioning systems; grounds and landscaping; electric systems and panel; plumbing supply and distribution; plumbing fixtures; electric furnaces; appliances; evaluation of electric water heaters; and safety techniques. Jason Buchanan --Jason Buchanan, All Movie Review
Masonry Design for Engineers and Architects, M. Hatzinikolas, Y. Korany, Canadian Masonry (2005), ISBN-10: 0978006100, ISBN-13: 978-0978006105
Masonry Structures: Behavior and Design, Robert G. Drysdale, Ahmid A. Hamid, Lawrie R. Baker, The Masonry Society; 2nd edition (1999), ISBN-10: 1929081014, ISBN-13: 978-1929081011
Masonry, Engineered: Using the Canadian Code, J. I. Gainville, Cantext publications (1983), ASIN: B0007C37PG
Masonry, Non-reinforced masonry design tables, Hans J. Schultz, National Concrete Producers Association and the Canadian Masonry Contractors Association (1976), ASIN: B0007C2LQM
Moisture Control in Buildings, U.S. Department of Energy
Moisture Control in Walls, U.S. Department of Energy
"Vapor Barriers or Vapor Diffusion Retarders", U.S. DOE: how vapor barriers work, types of vapor diffusion barriers, installing vapor barrier
Ventilation for energy efficient buildings, Purpose, Strategies, etc.,
...