Cracked Brick Wall Damage

Field report assesses damage to a brick wall
InspectAPedia tolerates no conflicts of interest. We have no relationship with advertisers, products, or services discussed at this website.
Damaged brick veneer wall:
This article discusses photographs of damage to a brick wall on a home located in the Southwestern U.S.
At the time of original discussion we did not know if this is is a brick veneer over a wood-framed structure, brick veneer installed as facing on a concrete block structure, or a Tucson-style solid brick wall that is just two wythes in thickness and without visible bond courses..
We explain that the cracking shown in this brick veneer wall is not simply normal "cosmetic shrinkage cracks" and that significant repair costs could be involved. There are also some safety and hidden-damage concerns.
However these damage conditions can occur at a brick veneered home anywhere.
Green links show where you are. © Copyright 2017 InspectApedia.com, All Rights Reserved.
Brick Veneer Wall Damage Assessment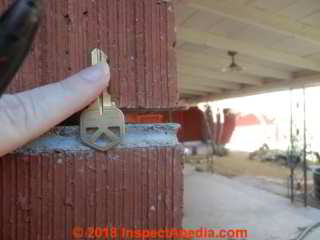 Question: are these cosmetic or are these brick wall settlement cracks in this 1957 home
I ran across your website which was very helpful and it has several great examples of areas of settlement concern. However, I didn't find anything like the situation I had on a property I recently appraised.
[Click to enlarge any image]
I called for a structural engineer to inspect the property and render an opinion as to whether there was settlement/sinking and any repair needed. The lender had a handyman (not a licensed structural expert) go out and write a letter stating that the area I was describing was merely "minor hairline cracks normal for age and material."
I am an appraiser [...] and have been for 30 years - I have seen many hairline and step cracks in brick exterior house walls. I have also seen significant structural issues as well as weep hole gaps, etc. as well as just plain old missing mortar. I have never seen this type of issue.
To me these seem more concerning but I am not a structural expert. My question is - based on the photos I attached, was a structural inspection prudent to have requested? Is this type of separation ever considered "normal"?
Some additional info that you wouldn't derive from the photos. This is a ranch styled brick home with a composition shingle roof (3 layers currently).
The step crack gaps get larger and larger the closer to the NE corner of this home they get. The door and windows in the NE corner bedroom appear "slanted" visually. Home has recently been redone on the inside so I cannot tell if there were repaired cracks on interior walls. The concrete next to the foundation visually appears to have sunk or at least be cracked and depressed below the surrounding concrete.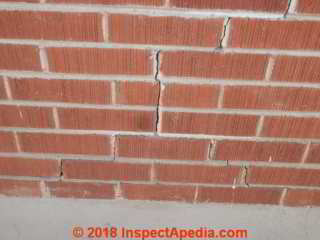 Above: west wall cracking extends in doubled stair step pattern both through mortar joints and right through a solid brick stretcher course.
This home is being purchased and both agents & the lender are displeased and pushing at me to waive the requirement based on the handyman's letter. I realize you can't see the property in person and would not ask you to render any opinion for use in this argument.
However, if you could just let me know for my own personal education, if my concern is potentially justified, I would be very grateful. I always strive to learn as much as I can about all aspects of the process, and, if I am incorrect and this is actually normal somehow, I would love to understand more about it for future properties I come across.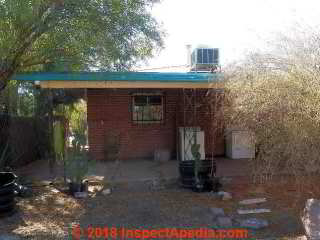 Above: rear view of house - concern corner to the left
Thank you in advance for your response and consideration. - Anonymous by private email 2018/02/01
Reply: photos show evidence of settlement, significant cracking, costly repair need
Although I am not a structural engineer, I am very familiar with and have studied, taught, and published articles on brick wall and brick veneer wall damage. The damage in your photos is not "normal", is not "minor hairline cracks", and it shows evidence of serious damage to the building.
I cannot tell from your photos if the failure is in the building foundation itself (perhaps footing or foundation settlement since in Tucson you wouldn't have frost heaves), or if it's in a shelf or projection intended to support the bottom of a veneer wall.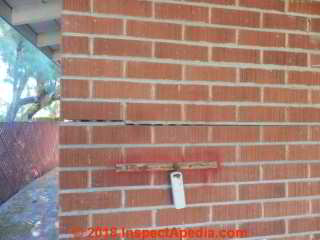 Risks at a Cracked Veneer Wall
There are several risks here. The most-serious is that the movement may have broken some of the connectors securing the veneer wall to the structure. That can lead to a sudden veneer collapse that causes damage, personal injury or worse.
Depending on weather exposure there are also risks of leaks (wind-blown rain, for example) that invite Tucson termites or other wood destroying insect damage.
In my opinion it would be malpractice to accept the handyman's letter as it is apparent on the face of the matter that the handyman is incorrect - you, as the person accountable, could be the person left accountable for a future loss at the property or a diminution of resale value or a cost of repair.
The "structural inspection" must be performed by a qualified expert, perhaps a structural or civil engineer who has specific experience and expertise with brick and brick veneer construction at residential buildings.
You have my respect and admiration for your astute eye and for your insistence on ethical and responsible professional behavior. At the end of the day all of us who enter properties have an obligation that extends to the physical as well as financial safety of the ultimate owners or occupants.
Reader follow-up: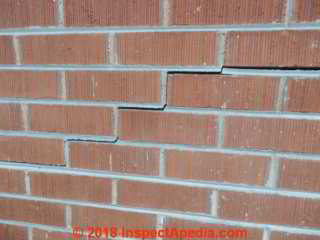 Above: step cracking in the brick veneer wall.
I most definitively told them their handyman's letter wasn't going to fly with me. Initially it was an FHA loan. They converted it to a conventional loan after I rejected their letter, thinking the repair requirement would go away. I refused to remove the requirement.
I am happy to share the photos with others in case they run across a similar situation and are trying to diagnose how to proceed. I have attached a few more photos and named them to let you know what you are looking at.
This area is mostly protected from the weather - although summer monsoons (sporadic as they have been in recent years) could rain in up at the SE corner of the home, the NE corner is pretty sheltered due to location and shrubbery.
There is no visual evidence of any drainage or run off problem on that side of the house other than any arising now out of the sunk concrete area. In fact, the extra concrete pad on that side of the house appears to grade away from the foundation as it should. There are cracks on other sides also, but not with the large gaps seen on that corner.
Above: settled, cracked concrete around the building's corner.
Below: concrete where porch conc meets patio concrete right before sunken area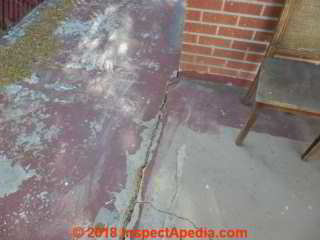 Hope this info may help others with a similar question.
Reply:
Some of your follow-up images indicate that this cracking and movement has been ongoing and that there have been prior (cosmetic) repair attempts.
Below we see caulk that has been inserted, then cracked further, suggesting that the movement in this wall has been ongoing.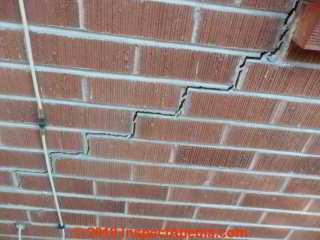 Below: previously repaired crack high up on east wall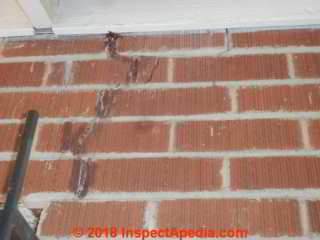 These observations amplify the opinion that we've already discussed about this home. If the brick is actually loose then the safety hazard would be the first concern.
Reader follow-up:
I agree. There is definitely evidence of prior crack "repairs" in other areas on that side, although it looks like their method of repair was to fill it with caulk.
My only question is - should this really be called "brick veneer"? The plan for the home states exterior walls are brick or brick & block combo (see attached). Visually they appear to be fully brick with a furred out interior wall that has been plastered and painted. When I look inside the gap, all I see is brick - so does not appear to be a structure that was completed and then a cosmetic or protective veneer put on it.
The wall thickness appears to be what would be expected for a furred out brick wall.
Reply: is this structure a brick veneer on wood frame, block, or a solid brick wall?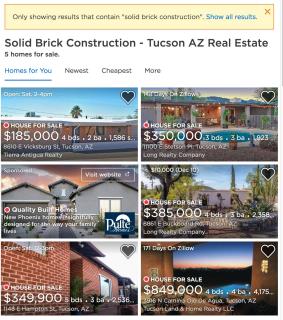 Thank you for following up on this very point - I've been concerned since the get-go but forgot to ask you to look into this question - I could not tell from your photos if this was a brick veneer attached to a wood-framed structure or brick veneer over conrete block, or "solid brick" construction.
Some homes in Tucson are built using a "double brick" construction method using two simple brick stretcher coures, perhaps bonded by wire or corrugated metal strip inserts that won't be visible unless you can peer with a good light into the cracks in the walls of the brick home in your photos.
No bond courses of brick appear in these "double brick" or "solid brick" homes.
Definitely the crack pattern appears to be only in a single wythe brick facing, but indeed the brick "skin" on the building might be applied over a block wall.
The implications could be significant. Current new construction prices for solid brick wall construction in Tucson is $13-$15 /sq/ft., close to double concrete block wall work - before considering extra costs to excavate, diagnose, and repair foundation or footing settlement.
Indeed bricks were used in Tucson home construction as early as the 1890's when the city's first local brick factory was constructed.
Early brick homes in Tucson were constructed atop stone foundations. The use of brick continued in popular construction during Tuson's building between 1920 to the early 1950's when stuccoed homes built in the Pueblo Revival style and Tudor Revival style were sometimes constructed over brick, and Tucson's Ranch Style and "Mid-Century Modern Style" homes (like the modest ranch home in Zillow's photos) were constructed between 1935 and 1975. - Source: TUCSON'S HISTORIC NEIGHBORHOODS [PDF], retrieved 2018/02/03, original source https://www.tucsonaz.gov/files/preservation/ths_map_fp_sm.pdf
In our screen shot of "solid brick homes for sale in Tucson" the home at lower left in the photo is a 1950 structrure described as a BRICK HOME [image file].
This EXTERIOR PHOTO of this brick home in Tucson shows a brick wall set atop what looks like a concrete or parged concrete block foundation with small vent openings.
This INTERIOR PHOTO of that same home shows bricks appearing on the wall inside surface as well.
Yet there are no visible bond courses, leaving the actual details of how such structural brick walls were built uncertain.
If you're confident that this is basically a block structure with brick veneer over the block, the same concerns pertain but the mechanisms for attachment of veneer to structure might be different, or differently spaced.
More important, we need to know if this cracking is only in the veneer facing or if there is movement in the block structure as well. Given that the interior walls may be, as you describe, gypsum board over furring over a block structural wall, wall movement might not be immediately telegraphed into the interior (as drywall cracks).
I'm assuming that this home, as most of AZ, is built on a slab.
Other relevant clues might be signs of movement or settlement in the floor slab itself.
Other inspection points are the surrounding foundation/footing, particularly in areas where you saw settled concrete walks abutting the home.
Unfortunately it will be difficult to assess just what's happening to the actual structure without
1. finding indoor clues of movement in floors or walls
or
2. removing a section of settled concrete walk around the exterior to excavate down a few feet to inspect the condition of the foundation/footings. That's what I would do if were a contractor called to evaluate the damage and bid on repairs.
There is nothing in your photographs that would suggest this is a solid-brick-wall constructed home, since the photos show only stretcher courses, no bond courses between bricks.
I did find a claim by Zillow (real estate listings) that as of 2018/02/03 they had five "solid brick construction" homes listed for sale in Tucson. But looking at those photos I suspect those are masonry block walls with a brick veneer since not one of the photos shows a bond course in the brickwork.
Examples of structural brick walls and the implications of damage to such walls (including risk of sudden catastrophic collapse) are at BRICK STRUCTURAL WALLS LOOSE, BULGED.
Perhaps you could look carefully into the cracks along their horizontal length to spot binders between the two wythes or thicknesses.
If this is a true brick wall it's not a brick veneer, and the cost to repair may be greater-still.
...
Continue reading at BRICK VENEER WALL LOOSE, BULGED or select a topic from closely-related articles below, or see our complete INDEX to RELATED ARTICLES below.
Or see BULGED vs. LEANING FOUNDATIONS
Or see MASONRY FACADE / WALL, LINTEL & BROWNSTONE DAMAGE
Or see this
Article Series Contents
Suggested citation for this web page
BRICK VENEER WALL DAMAGE ASSESSMENT at InspectApedia.com - online encyclopedia of building & environmental inspection, testing, diagnosis, repair, & problem prevention advice.
Or use the SEARCH BOX found below to Ask a Question or Search InspectApedia
Frequently Asked Questions (FAQs)
Try the search box below or CONTACT US by email if you cannot find the answer you need at InspectApedia.
...
Ask a Question or Search InspectApedia
Use the "Click to Show or Hide FAQs" link just above to see recently-posted questions, comments, replies, try the search box just below, or if you prefer, post a question or comment in the Comments box below and we will respond promptly.
Search the InspectApedia website
Technical Reviewers & References
Click to Show or Hide Citations & References
Avongard foundation crack progress chart for structural crack monitoring
Building Failures, Diagnosis & Avoidance, 2d Ed., W.H. Ransom, E.& F. Spon, New York, 1987 ISBN 0-419-14270-3
Building Pathology, Deterioration, Diagnostics, and Intervention, Samuel Y. Harris, P.E., AIA, Esq., ISBN 0-471-33172-4, John Wiley & Sons, 2001 [General building science-DF] ISBN-10: 0471331724 ISBN-13: 978-0471331728
Building Pathology: Principles and Practice, David Watt, Wiley-Blackwell; 2 edition (March 7, 2008) ISBN-10: 1405161035 ISBN-13: 978-1405161039
Construction Drawings and Details, Rosemary Kilmer
Diagnosing & Repairing House Structure Problems, Edgar O. Seaquist, McGraw Hill, 1980 ISBN 0-07-056013-7 (obsolete, incomplete, missing most diagnosis steps, but very good reading; out of print but used copies are available at Amazon.com, and reprints are available from some inspection tool suppliers). Ed Seaquist was among the first speakers invited to a series of educational conferences organized by D Friedman for ASHI, the American Society of Home Inspectors, where the topic of inspecting the in-service condition of building structures was first addressed.
Domestic Building Surveys, Andrew R. Williams, Kindle book, Amazon.com
Defects and Deterioration in Buildings: A Practical Guide to the Science and Technology of Material Failure, Barry Richardson, Spon Press; 2d Ed (2001), ISBN-10: 041925210X, ISBN-13: 978-0419252108. Quoting:
A professional reference designed to assist surveyors, engineers, architects and contractors in diagnosing existing problems and avoiding them in new buildings. Fully revised and updated, this edition, in new clearer format, covers developments in building defects, and problems such as sick building syndrome. Well liked for its mixture of theory and practice the new edition will complement Hinks and Cook's student textbook on defects at the practitioner level.
Guide to Domestic Building Surveys, Jack Bower, Butterworth Architecture, London, 1988, ISBN 0-408-50000 X
"Avoiding Foundation Failures," Robert Marshall, Journal of Light Construction, July, 1996 (Highly recommend this article-DF)
"A Foundation for Unstable Soils," Harris Hyman, P.E., Journal of Light Construction, May 1995
"Backfilling Basics," Buck Bartley, Journal of Light Construction, October 1994
"Inspecting Block Foundations," Donald V. Cohen, P.E., ASHI Reporter, December 1998. This article in turn cites the Fine Homebuilding article noted below.
"When Block Foundations go Bad," Fine Homebuilding, June/July 1998
Historic Preservation Technology: A Primer, Robert A. Young, Wiley (March 21, 2008) ISBN-10: 0471788368 ISBN-13: 978-0471788362
Masonry structures: The Masonry House, Home Inspection of a Masonry Building & Systems, Stephen Showalter (director, actor), DVD, Quoting:
Movie Guide Experienced home inspectors and new home inspectors alike are sure to learn invaluable tips in this release designed to take viewers step-by-step through the home inspection process. In addition to being the former president of the National Association of Home Inspectors (NAHI), a longstanding member of the NAHI, the American Society of Home Inspectors (ASHI), and the Environmental Standard Organization (IESO), host Stephen Showalter has performed over 8000 building inspections - including environmental assessments. Now, the founder of a national home inspection school and inspection training curriculum shares his extensive experience in the inspection industry with everyday viewers looking to learn more about the process of evaluating homes. Topics covered in this release include: evaluation of masonry walls; detection of spalling from rebar failure; inspection of air conditioning systems; grounds and landscaping; electric systems and panel; plumbi ng supply and distribution; plumbing fixtures; electric furnaces; appliances; evaluation of electric water heaters; and safety techniques. Jason Buchanan --Jason Buchanan, All Movie Review
Books & Articles on Building & Environmental Inspection, Testing, Diagnosis, & Repair
Our recommended books about building & mechanical systems design, inspection, problem diagnosis, and repair, and about indoor environment and IAQ testing, diagnosis, and cleanup are at the InspectAPedia Bookstore. Also see our Book Reviews - InspectAPedia.
...