Foundation Damage Due to Composition or Inclusions
Foundation Cracks, Spalling, Stains caused by composition, iron sulfide pyrrhotite inclusions, steel, rust
InspectAPedia tolerates no conflicts of interest. We have no relationship with advertisers, products, or services discussed at this website.
Foundation cracks or spalling due to choice of materials, contents, or inclusions:
Defects in concrete mix (too much water, for example), or defects in placement of steel or iron reinforcement (too close to surface, for example), as well as use of problem materials in concrete such as excessive levels of coal ash, cinders, or pyrrhotite an cause horizontal, vertical, or varied-pattern or "wandering" cracks in masonry or masonry block foundations.
Andrson & Cobb (2008) have reported similar serious structural damage occurring in structures built on top of shale containing pyrite and sulfates, producing severly-cracked foundation walls and floor slabs.
Page top photo of foundation cracks attributed to concrete that included iron sulfide (pyrrhotite), provided courtesy of CCACB - Connecticut Coalition Against Crumbling Basements. This article includes contact information for the CCAB as well as ctiations of authoritative research on the effects of iron sulfide in concrete. Click to enlarged this image and you'll also observe some spalling of the concrete surface.
Experts may refer to random pattern concrete cracks as damage caused by inclusions, iron, Other foundation damage such as rust heaving or staining, frost damage, or spalling may also be due to the specific component mix of the foundation material or for masonry or stone foundations damage may be due to composition, inclusions, or placement of reinforcement in the mortar joints.
Green links show where you are. © Copyright 2017 InspectApedia.com, All Rights Reserved.
Foundation or Wall Cracking or Spalling Due to Foundation Materials or Contents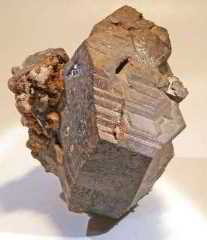 Iron sulfide mineral (pyrrhotite) cracking
Iron sulfide mineral (pyrrhotite) cracking may appear as variegated, "random pattern" cracking in concrete slabs, walls, and foundations whose concrete contains high levels of pyrrhotite. Moisture as well as oxygen react with this iron sulfide material, causing it to swell with tremendous force, causing varied-pattern cracking in the concrete.
Bryant in his thesis describes iron sulfide pyrrhotite cracking damage in several U.S. states including in Canada: Ottawa, in the U.K. in Derbyshire, and in the U.S. in Kentucky, Mississippi, Montana, Pennsylvania, Tennessee, Texas, Virginia, and more generally in the U.S. Great Plains area and in the Mississippian and Pennsylvanian shale beds. Bryant notes that cases of "... heave due to oxidation of pyritic shale have been reported and continue to be reported worldwide. " (Bryant 2003).
[Click to enlarge any image] Photo: Pyrrhotite from the Santa Eulalia mine in Chihuahua, at Wikipedia - retrieved 2016/11/15, original source https://en.wikipedia.org/wiki/Pyrrhotite

The presence and nature of iron sulfides in mineral ores were discussed in North America as early as 1889 (Bailey), but as a factor in concrete and foundation damage iron sulfides and pyrrhotite were not discussed until there was more widespread of placed or poured concrete in building construction.
Foundation damage from the effects of iron sulfide inclusions has been discussed for more than half a century. Foundation and other concrete damage attributed to unstable iron sulfide was reported in Oslo in 1959 (Moum 1959)
Guillott warned about concrete problems ensuing from properties of some of the aggregates being used back in 1980 (Guillott 1980). Rodrigues and others discussed advanced testing methods to check concrete for mixtures that were at risk of harmful sulphur-bearing aggregates in concrete in 2015, and by 2016 those experts had specified a testing protocol to detect and avoid this trouble (Rodrigues and Ramos 2016).
Most recently pyrrhotite crack-damaged concrete foundations were reported by the New York Times in 2016 in explaining foundation damage in hundreds of U.S. homes in Connecticut.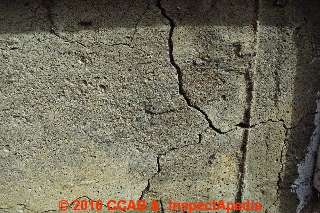 Above: photo of foundation cracks attributed to concrete that included iron sulfide (pyrrhotite), provided courtesy of CCACB - Connecticut Coalition Against Crumbling Basements.
[Click to enlarge any image]
Concern with the effects of iron sulfide in concrete has been discussed by experts around the world including Australia, Britain, Canada, Ireland, Norway, Russia, the United States (in several states), and other countries.

All of the Connecticut homes affected by iron sulfide inclusion cracking were constructed using concrete provided by the Becker quarry in Willington CT. Becker quarry stone aggregate used in concrete contains high levels of pyrrhotite (iron sulfide). According to the Times article similar damage has been reported in 4000 foundations of buildings in Quebec.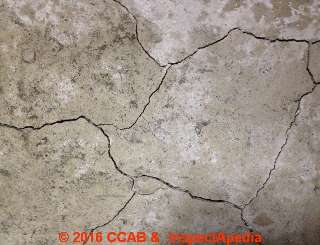 Above: another photograph of foundation cracks attributed to concrete that included iron sulfide (pyrrhotite), provided courtesy of CCACB - Connecticut Coalition Against Crumbling Basements.
We estimate that these phrrhotite cracks range from 1/8 to 3/16" in width. But cracking ascribed to pyrrhotite or iron sulfide includsions in the concrete mix are sometimes as much as 1/2" in width according to the CCAB. See the photogarph just below, also provided provided courtesy of CCACB.
How to Diagnose Foundation Damage Attributed to Pyrrhotite Cracking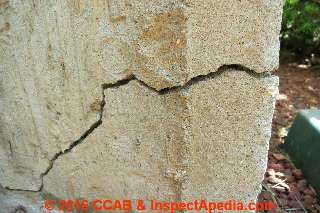 A spokesperson for the Connecticut Coalition Against Crumbling Basements (CCACB) who contributed photographs to this article commented by email that the owner of the home whose large foundation crack is shown above ..." is not aware of specific rebar or other matters that might affect the damage to that degree. ... the home [was] featured on NBC Nightly News , some homes have reached that degree of separation."
Really? OPINION: it seems likely that there will be differences between the fine cracks in concrete that are manifestations of generally weak concrete attributed to Iron sulfide mineral (pyrrhotite) inclusions ascribed to inclusions and the very large cracks and foundation displacement shown in the photograph.
Where there are big cracks there are additional forces at work such as footing or fill settlement, frost push, frost heaving, expansive clay heaving, construction on fill, inadequate footings, or even SHALE FILL / HEAVE SETTLEMENT that involves significant settlement or heaving damage to foundations of buildings built on shale containing containing pyrite and sulfates.
Diagnosis of iron sulfide or phrrhotite concrete inclusion damage identification in the field would be aided by a catalog of indicators that could be confirmed visual inspection of the concrete, cracks in the concrete, the crack interior, or by concrete sampletesting. Such indicators could allow homeownes, contractors, and engineers to look at specific building cracks and damage to understand the cause of damage and the extent to which large cracks or foundation movement can be assigned in part or in whole to the inclusions.
For example, if you look inside the cracks with a good light, do we see concentrations of the problem material? Are there characteristivc stains like those identifiedf at SHALE FILL / HEAVE SETTLEMENT ?
Watch out: Iron sulfide (pyrrhotite) crack pattern is often rather distinctive: look for a somewhat random cracking pattern, with concrete cracks that are wider and more continuous than SHRINKAGE CRACKS at FOUNDATION WALLS.
Bérard (1975) and more recently Duchesne (2013) and Rodrigues (2012) offer clear explanations of how and why this pyrrhotite cracking damage occurs. We include summaries of the failure mechanism provided by abstracts to or excerpts from these and other articles cited below.
Rodrigues (2012) discusses mineralogical and chemical assessment of concrfete damaged by the oxidation of sulfied-bearing aggregates. But their analysis does not provide a field guide to damage assessment nor a guide to separating distinct causes of large foundation cracks such as the combination
Concrete that is weak due to includes of sulfied-bearing aggregates, leading to fine cracks, spalling
Concrete that has large cracks due to additional dislocating forces such as settlement, frost heave, earth loading or construction defects

Damages in concrete containing sulfide-bearing aggregates were recently observed in the Trois-Rivières area (Quebec, Canada), characterized by rapid deterioration within 3 to 5 years after construction. A petrographic examination of concrete core samples was carried out using a combination of tools including: stereomicroscopic evaluation, polarized light microscopy, scanning electron microscopy, X-ray diffraction and electron microprobe analysis.

The aggregate used to produce concrete was an intrusive igneous rock with different metamorphism degrees and various proportions of sulfide minerals. In the rock, sulfide minerals were often surrounded by a thin layer of carbonate minerals (siderite). Secondary reaction products observed in the damaged concrete include "rust" mineral forms (e.g. ferric oxyhydroxides such as goethite, limonite (FeO (OH) nH2O) and ferrihydrite), gypsum, ettringite and thaumasite. In the presence of water and oxygen, pyrrhotite oxidizes to form iron oxyhydroxides and sulphuric acid.

The acid then reacts with the phases of the cement paste/aggregate and provokes the formation of sulfate minerals. Understanding both mechanisms, oxidation and internal sulfate attack, is important to be able to duplicate the damaging reaction in laboratory conditions, thus allowing the development of a performance test for evaluating the potential for deleterious expansion in concrete associated with sulfide-bearing aggregates. - Rodrigues (2012)
Photos & field damage reports wanted: random foundation crack patterns, Pyrrhotite crack-damaged concrete foundations in Connecticut or Quebec or elsewhere. CONTACT us by email.
Foundation & Structural Damage to Buildings Constructed on Shale Containing Pyrite & Sulfates
Examining how pyrite and sulfites in shale can cause building problems may give added insight to how fragments of these materials may cause trouble when mixed right into concrete as aggregate. Shale formations in at least 20 U.S. states containing various clay and iron sulfide minerals (pyrite) react to water and form mild sulfuric acid causing unstable shale and clay formations.
Structural problems develope as a result of expansive clay soils and heaving. Some heaving damage is traced to pyrite oxidation and sulfate formation while other expansive soil damage is commonly traced to expanding clay soils or expanding clay in shale.
Also see FOUNDATION FAILURES in CLAY SOIL
Andrson & Cobb (2008) have reported serious structural damage occurring in structures built on top of shale containing pyrite and sulfates, producing severly-cracked foundation walls and floor slabs.
Pyrite oxidation in the Chattanooga Shale has caused serious foundation problems in numerous buildings and structures in Estill County, Ky. Pyrite oxidizes and various secondary sulfates form when excavated shale or shale fill are used in foundations. These secondary sulfates are water- and humidity-sensitive and can form when only minor amounts of water are present in foundation materials.
These sulfates form by crystal growth and expand by volume change, which causes subsequent soil expansion and heaving of any foundation materials when the materials are confined. Several structures have undergone expensive remediation to repair damaged sidewalks, floors, walls, and foundations. Zones of high concentrations of pyrite occur in the Chattanooga Shale across the state, and these mineral zones may be responsible for the high pyrite content in Estill County. - Anderson & Cobb (2008)
Anderson describes significant foundation and structural damage to three large buildings buit north of Irvine in Estill County, Kentucky in the U.S.: The Carhartt factgory, the Estill County Middle School, and the Marcum and Wallace Hospital auxiliary building. These buildings are constructed on top of the Devonian Chattanooga Shale formation. Similar swelling/heaving damage to a state highway, KY 499, built over the Crab Orchard Formation (underlying the Chattanooga Shale) was also reported.
The Chattanooga Shale in this area has a high pyrite content, which oxidizes into various efflorescent (powder-like) sulfate minerals.
What is commonly called pyrite swelling is actually a chemical oxidation reaction between groundwater and pyrite. Many sulfates form from this chemical reaction, but two of the most common are jarosite and copiapite. Jarosite, an iron sulfate, is a mineral salt and copiapite is a calcium-iron sulfate with a distinctive yellow color. - op. cit.
Watch out: other more subtle damage due to settlement, heaving, or floor, wall or foundation movement may be extremely dangerous if it causes dislocations in and damage to gas piping, electrical wiring, heating systems, chimneys, or other building mechanical systems. In my [DF] opinion even a small dislocation that risks rupturing a gas line risks fire or explosion similar to hazards occurring in earthquake zones.
Visual or Historical Evidence of Building Damage Possibly Related to Construction on Shale Containing Pyrites & Sulfites
Visual evidence of buildings for damage and for evidence of pyrite and sulfites as root-cause contributors to this damage included the items listed below. Many of these inspection points of damage could have very different underlying causes.
Concrete retaining wall bulging, mineral precipitates in tension cracks as well as in drainage openings in the retaining wall (well-illustrated in this article)
Cracks visible in floors, walls, ceilings or prior repairs of them
Cracks along door frames and elevator shaft opening frame
Cracks, gaps, heaved floor. Long wide cracks through a concrete floor slab may telegraph up through floor tiles. Crack pattern tends to wander but may be more or less along a particular axis representing the high point of a bulge of heaved soil below the slab.
Cracks in masonry veneers on exterior walls
Construction on shale fill material may be a major contributor to damage, particularly if the fill is subsequently wet by roof or surface runoff.

Drainage: [Possilby, opinion of DF] poor control of roof runoff or surface runoff, allowing water to saturate the shale under and around the building - similar to expansive clay soil problems.
Floors out of level ( a teacher's desk drawer opens by gravity)
Foundation-related damage occurring in interior floors, walls, ceilings, sidewalks, roadways, parking lots, and retaining walls.
Heaved sidewalks, roadways, parking lots, or replaced or repaved sidewalks, roads, parking areas
Interior or exterior doors that do not close because of floor heaving, or doors that have been under-cut to clear heaved, uneven floors
"Offsets", step cracking, in masonry block walls, vertical cracks in concrete walls, varigated cracks in concrete walls, floors, foundations
Plumbing leaks in supply or drain piping traced to pipes damaged by building movement
Repairs: evidence of or history of previous repair work to similar damage at the buildings
Stains: red-iron staining, sulfate staining (red-yellow), and mineral residues (may also be white or yellowish) at cracks and drain openings or at points of water leakage through floor slabs or foundation walls:
"Massive pyrite oxidation occurring in the shale leaches minerals, including sulfates, sulfur, and iron, into Masters Creek, resulting in low pH, high sulfate, and significant iron-staining in the creek. The outcrop behind the school is red-stained with iron oxide precipitates." - Op. Cit.
Visibly heaved basement or on-grade level floor slabs.
Technical Evidence of Building Damage Possibly Related to Construction on Shale Containing Pyrites & Sulfites
Engineering and geologist studies of the underlying geology of the site
Core borings to collect diagnostic mineral samples of shale to evalute its composition, possibly using X-ray diffraction and fluoresence. Sulfate analysis. Analysis to determine levels of and variations of iron and sulphur in the substrate.
Presence of construction over the Devonian Chattanooga Shale formation, particularly when the shale is at or near the surface. Shale layers range from 20 to 160 feet in thickness, including a layer that is visible at or close to ground surface as well as at highway or construction excavations and cuts. Of course there are also scholarly studies of these formations and their properties.
Technical Explanation of Why Construction on Shale Fill High in Iron Sulfide, Phrrhotite, Pyrites Causes Damage
Anderson explains that construction on shale fill material may be a major contributor to damage, particularly if the fill is subsequently wet by roof or surface runoff. He describes three underlying causes of foundation failure for the buildings studied:
Oxidation of pyrite and growth of secondary sulfates in the shale is listed by the author the primary cause of foundation problems [in this construction area]. A more mechanical explanation is that crystals form in the material, increasing its volume and producing tremendous heaving or expansion forces. The sulfates, plus water, also produces mild sulfuric acid that may contribute to foundation failiures. I think similar forces may occur within a poured concrete component high in similar materials as aggregate.
Un-stable soils: shale degrades into clay and sulfate minerals to form an un-stable soil lacking in shear strength.
Construction on shale fill: Anderson explains both why shale fill with these properties causes trouble and also why we may see worse heaving and damage in floor centers and in non-load-bearing partitions.

... [Shale fill material high in pyrite and perhaps sulphur] weathers rapidly, and causes the pyrite to oxidize to sulfates very rapidly. The primary cause of these structural failures is pyrite oxidation, also called pyrite swelling, which creates secondary sulfate growth beneath the slab foundation, causing floor heaving, wall and flooring cracking, and structural instability.

This pyrite oxidation leads to crystal growth that can crack concrete and lift foundations. Normally, the load-bearing walls in these structures exert enough load or pressure on the expanding pyrite to balance the strength of crystal growth within the sulfate in the shale, so that the load-bearing walls do not move, but the adjacent slab flooring does move. - Op. Cit.
More information on iron sulfide pyrrhotite cracking damage to foundations:
CONCRETE REINFORCEMENT, FIBER - research + an example of slab cracking that might be due to iron sulfide pyrrhotite or similar inclusions.
Anderson, Warren H. "Pyrite Oxidation and Structural Problems in the Chattanooga (Ohio) Shale, East Central Kentucky." In Implications of Pyrite Oxidation for Engineering Works, pp. 243-273. Springer International Publishing, 2014. Online as PDF,

Anderson, Warren H., Cobb, James C., "Foundation Problems and Pyrite Oxidation in the Chattanooga Shale, Estill County, Kentucky" [PDF] Kentucky Geological Survey James C. Cobb, State Geologist and Director University of Kentucky, Lexington, REport of Investigations 18, Series XII, 2008, ISSN 0075-5591 at University of Kentucky, retrieved 2016/11/15, original source: http://kgs.uky.edu/kgsweb/olops/pub/kgs/ri18_12.pdf

Bayley, William Shirley. A Summary of Progress in Mineralogy and Petrography... No. 7-11. 1889.
Bérard, Jean, Richard Roux, and Marc Durand. "Performance of concrete containing a variety of black shale." Canadian Journal of Civil Engineering 2, no. 1 (1975): 58-65.
Abstract:

The combined mechanisms of oxidation of iron sulfides followed by sulfatation of both the surrounding calcite and the hydration products of Portland cement are well known. Nevertheless, cases where important breakdown of concrete structures have occurred, with less than 2% shale in the coarse aggregate fraction seem to be very rare.Based mainly on petrographic examination, the expansive mineral phases were identified in the black shale and in the concrete paste.

It is believed that sulfuric acid, formed within the shale by oxidation of the pyrrhotite, has transformed the calcite into gypsum. In the concrete, this newly formed gypsum or that formed by sulfatation of the portlandite Ca(OH)2 has reacted in turn with the tricalcium aluminate of the cement paste to form ettringite. Both reactions, within the shale or with the cement paste, occur with an important volume increase.

Bhatti, Tariq M., Jerry M. Bigham, Liisa Carlson, and Olli H. Tuovinen. "Mineral products of pyrrhotite oxidation by Thiobacillus ferrooxidans." Applied and Environmental Microbiology 59, no. 6 (1993): 1984.
Bryant, Lee Davis, Matthew Mauldon, and James Kenneth Mitchell. Geotechnical problems with pyritic rock and soil. Virginia Polytechnic Institute and State University, Charles E. Via Department of Civil Engineering, 2003.
Bryant, Lee Davis. "Geotechnical problems with pyritic rock and soil." (2003). [PDF] Thesis for MS in Civil Engineering, retrieved 2017/08/03, original source: https://theses.lib.vt.edu/theses/available/etd-05212003-173107/unrestricted/ThesisAll.pdf

Abstract:
Oxidation of pyrite can significantly affect properties and the behavior of soil and rock in civil construction.

Problems with pyritic rock and soil extend globally and across many disciplines. Consequences of pyrite oxidation include heave, concrete degradation, steel corrosion, environmental damage, acid mine drainage, and accelerated weathering of rock with concomitant effects on strength and stability.

Affected disciplines include soil science, mining, engineering geology, geochemistry, environmental engineering, and geotechnical engineering.

While pyrite problems may be well known in their respective disciplines, there has been to date relatively little cross-disciplinary communication regarding problems with pyritic geomaterials. Thus, there is a need to establish an inter-disciplinary and inter-regional awareness regarding the effects of pyrite oxidation and their prevention or mitigation.

This engineering research is a compilation of information about geotechnical problems and engineering behavior of pyritic rock and soil, the underlying physicochemical processes, site investigation strategies, and known problematic formations.

Several case histories documenting consequences of pyrite oxidation are provided. The results of chemical analyses performed on pyritic shale samples from a formation with acknowledged heave problems are presented. Digital data and ESRIâ s ArcGIS digital mapping program were used to create maps showing results of sampling and testing performed during this study.

Appendices include mitigation options, results of a practitioner survey, chemical test procedures, a glossary, a visual identification key for sulfidic geomaterials, and a summary table of the literature review for this research.
"Connecticut Coalition Against Crumbling Basements", Email: info@ccacb.org, Website: https://ccacb.org/
Website Excerpts:
The Connecticut Coalition Against Crumbling Basements (CCACB) is a grassroots alliance committed to providing a voice for victims of failing concrete in our region.
Chanturiya, V. A. "Contemporary problems of mineral raw material beneficiation in Russia." Journal of Mining Science 35, no. 3 (1999): 314-328.
Duchesne, Josée, and Benoît Fournier. "Deterioration of Concrete by the Oxidation of Sulphide Minerals in the Aggregate." Journal of Civil Engineering and Architecture 7, no. 8 (2013): 922.

Abstract:
Cases of degradation of concrete associated to iron sulphides in aggregates were recently recognized in the Trois-Rivières area, Canada. The aggregate used to produce concrete was an anorthositic gabbro containing various proportions of pyrite, pyrrhotite, chalcopyrite and pentlandite. Quantitative microanalysis on sulphide minerals show that pyrrhotite contains small amount of Ni, Co, Cu and As substituting for Fe in the mineral structure.

Considering element substitution, x value in the chemical formula (Fe1-xS) was calculated to 0.099 in the pyrrhotite studied. Petrographic examination of damaged concretes showed the presence of oxidized pyrrhotite. The observation of polished samples shows, in several cases, that the pyrite is intact while the pyrrhotite presents evident signs of oxidation.
In the presence of water and oxygen, pyrrhotite oxidizes to form iron oxyhydroxides and sulphuric acid.

The acid then reacts with the phases of the cement paste and provokes the formation of gypsum and ettringite. These minerals were observed by SEM-EDS (scanning electron microscope/energy dispersive x-ray spectrometer) and their precipitation causes a volume increase that creates expansion and cracking of the concrete.
Gillott, J. E. "Properties of aggregates affecting concrete in North America." Quarterly Journal of Engineering Geology and Hydrogeology 13, no. 4 (1980): 289-303.
Summary

Aggregates compose the largest single component in concrete and significantly affect its strength, durability and appearance. The mechanical properties of concrete are affected by the strength of the cement-aggregate bond and by other factors such as texture and soundness of the rock. External agencies attack concrete and reduce its durability by both physical and chemical processes.

Physical mechanisms include cyclical freezing and thawing, wetting and drying. Chemical deterioration results from reaction with sulphate-bearing waters, acids, a marine environment, industrial effluents and similar corrosives. Internal compatibility is essential, as deleterious interaction between concrete constituents may cause poor durability, as in the case of expansive alkali-aggregate reactions. Deliberate exposure of aggregates, sometimes used architecturally, may give concrete a pleasing appearance, but localized stains from weathering of aggregate particles lead to an unsightly appearance.

Relatively few attempts have been made to improve aggregate properties artificially and 'unsound' aggregate is simply rejected. Depletion of good quality supplies near major centres of construction suggests that more pre-treatment of marginal aggregates may become economically attractive in the future.
Hawkins, A. Brian, and Thomas W. St John. "Iron sulphides and surface heating: further engineering considerations for the Dublin area." In Implications of Pyrite Oxidation for Engineering Works, pp. 275-307. Springer International Publishing, 2014.
Kemp, James Furman. A Handbook of Rocks: For Use Without the Microscope. Author, 1896.
Kristin Hussey, Lisa W. Foderaro, "With Connecticut Foundations Crumbling, 'Your Home is Now Worthless'", The New York Times, 7 June 2016, retrieved 2016/11/15, original source: http://www.nytimes.com/2016/06/08/nyregion/with-connecticut-foundations-crumbling-your-home-is-now-worthless.html?_r=0
LaGanza, Richard F. "Pyrite investigations at Nairne, South Australia." Economic Geology 54, no. 5 (1959): 895-902.
Lindgren, Waldemar. Mineral deposits. McGraw-Hill Book Company, Incorporated, 1913.
Lisa W. Foderaro, Kristin Hussey, "Financial Relief Eludes Connecticut Homeowners with Cracking Foundations", The New York Times, A24, A28, 15 Nov. 2016
Maher, Michael LJ. "The Canadian Pyrite Experience and Comparisons with the Irish Problems." In Implications of Pyrite Oxidation for Engineering Works, pp. 207-241. Springer International Publishing, 2014.
Maher, Michael LJ. "The Canadian pyrite experience and comparisons with the Irish problems." Implications of Pyrite Oxidation for Engineering Works (2013): 207.
Moffit, Fred Howard. Mining in the lower Copper River basin. US Government Printing Office, 1918.
Moum, Johan, and I. Th Rosenqvist. "Sulfate attack on concrete in the Oslo region." In Journal Proceedings, vol. 56, no. 9, pp. 257-264. 1959.
Abstract:

In the Oslo region of Norway, alum shales containing small amounts of the unstable iron sulfide, pyrrhotite, pro- duce an unusual form of sulfate attack upon concrete placed in or near these deposits, and cause deterioration if they are used as concrete aggregate.

The ground water associated with the alum shales carries ferrous sulfate and produces severe sulfate attack and the precipitation of ferric iron compounds in concrete structures made with normal portland cement. Cements of low tricalcium aluminate content resist the sulfate attack but may be subject to attack by acid solutions produced when the ferrous sulfate is oxidized. Air-entrained concrete appears to be particularly susceptible.
I. Oliveira, S.H.P. Cavalaro, A. Aguado, "Evolution of pyrrhotite oxidation in aggregates for concrete", [PDF] Materiales de Construcción Vol. 64, Issue 316, October–December 2014, e038 ISSN-L: 0465-2746 http://dx.doi.org/10.3989/mc.2014.08413, retrieved 2016/11/15, original source: http://materconstrucc.revistas.csic.es/index.php/materconstrucc/article/viewFile/1670/2013
Abstract:

Rocks containing pyrrhotite bands are sometimes used to produce concrete. These rocks oxidize and produce long-term expansive reactions that damage concrete structures, leading to important economic and risk related repercussions. The present study analyses several aspects that affect the oxidation process of the aggregate such as the existence of preferential paths for the entrance of the oxidizing agent and the conversion process of the chemical elements involved in the reaction.

For that, host rock samples containing pyrrhotite were investigated by scanning electron microscopy and energy dispersive spectroscopy. The results shows that the pyrrhotite appears in bands that create planes of weakness and present cracks that serve as preferential paths for the entrance of oxygen. Furthermore, a new representation is proposed for the oxidation process.
Ramos, Violeta, Andreia Rodrigues, Benoît Fournier, and Josée Duchesne. "Development of a quick screening staining test for detecting the oxidation potential of iron sulfide-bearing aggregates for use in concrete." Cement and Concrete Research 81 (2016): 49-58.
Richards, Robert Hallowell. A Text book of ore dressing. McGraw-Hill book Company, 1909.
Rodrigues, A., J. Duchesne, B. Fournier, B. Durand, M. H. Shehata, and P. Rivard. "Evaluation Protocol for Concrete Aggregates Containing Iron Sulfide Minerals." ACI Materials Journal 113, no. 3 (2016).
Rodrigues, A., J. Duchesne, and B. Fournier. "A new accelerated mortar bar test to assess the potential deleterious effect of sulfide-bearing aggregate in concrete." Cement and Concrete Research 73 (2015): 96-110.
Abstract

Deterioration of concrete structures incorporating sulfide bearing aggregates has been reported in Trois-Rivières area, Québec, Canada. In this case, iron sulfide oxidation and internal sulfate attack were observed. The present study aims at developing a performance test that will reproduce, in the laboratory, the deterioration mechanisms observed on site.

A two-phase accelerated mortar bar test was developed that consists 90 days of storage at 80 °C/80% RH, with two 3-h wetting cycles in a 6% bleach solution (Phase I) followed by up to 90 days of storage at 4 °C/100% RH (Phase II).

Aggregates with oxidation potential presented an expansion over 0.15% during Phase I, while thaumasite formation potential is detected by rapid regain of expansion followed by destruction of the samples during Phase II. The control aggregates without sulfide mineral did not show any signs of deterioration in both phases of the testing program.
Rodrigues, A., J. Duchesne, B. Fournier, B. Durand, P. Rivard, and M. Shehata. "Mineralogical and chemical assessment of concrete damaged by the oxidation of sulfide-bearing aggregates: Importance of thaumasite formation on reaction mechanisms." Cement and Concrete Research 42, no. 10 (2012): 1336-1347.

Shrimer, F. H. "Geomechanics of Heave due to the Use of Pyritic Mudstone, Ireland." In 50th US Rock Mechanics/Geomechanics Symposium. American Rock Mechanics Association, 2016.
Subrahmanyam, T. V., and K. S. E. Forssberg. "Mineral solution-interface chemistry in minerals engineering." Minerals Engineering 6, no. 5 (1993): 439-454.
Tagnit-Hamou, Arezki, Mladenka Saric-Coric, and Patrice Rivard. "Internal deterioration of concrete by the oxidation of pyrrhotitic aggregates." Cement and Concrete Research 35, no. 1 (2005): 99-107.

Abstract

This paper presents research results on the causes of a severe concrete deterioration, which occurred in many building foundations approximately 2 years after construction.

Concrete samples were investigated with X-ray diffraction (XRD) analysis, a scanning electron microscope (SEM) and a petrographic examination performed with a stereomicroscope. It was found that the early cracking of concrete stemmed from the oxidation of the pyrrhotite found in the anorthosite aggregates used to produce the concrete.

The oxidation process led to the precipitation of iron hydroxides having a higher volume than the original pyrrhotite does. The presence of micas (biotite) close to the pyrrhotite seemed to promote and accelerate the oxidation process.
Wager, Lawrence Rickard, Ewart Albert Vincent, and Albert Arthur Smales. "Sulphides in the Skaergaard intrusion, east Greenland." Economic Geology 52, no. 8 (1957): 855-903.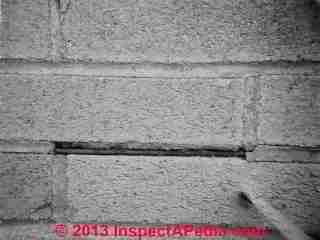 Foundation Cracking Due to Reinforcing Steel Placement
Rust & Frost Horizontal cracking and heaving may appear at masonry unit (brick or concrete block) mortar joints if leaks cause steel reinforcing mesh or re-bar to rust.
Exfoliating rust has tremendous lifting power as does frost that may damage masonry foundations that are already cracked and then wet. Rust damage may be severe above improperly-sealed steel window & door lintels.
Rust staining and damage may also occur to stone structures due to inclusions in the stone itself.
More information on rust & frost damage to foundations: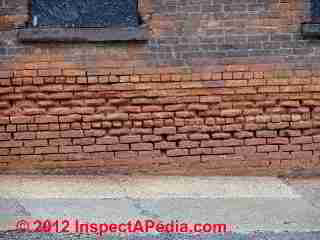 Spalling Damage to Foundations
Spalling damage occurs at poorly-mixed concrete walls, floors, slabs, walls. Spalling damage also occurs on concrete block "cinder block" made from poor-quality material such as using too-little cement or too much aggregate that contains high levels of iron or other contaminants. Spalling damage occurs in brick foundations when the brick surface has become soft, damaged by sand-blasting, and when it then absorbs water, especially in freezing climates.
This article series provides a guide to identifying & evaluating different types of concrete or masonry foundation, wall or floor cracks in buildings: this article series describes how to recognize and diagnose various types of foundation failure or damage, such as foundation cracks, masonry foundation crack patterns, and moving, leaning, bulging, or bowing building foundation walls.
Foundation cracks and movement are discussed by type and location of foundation cracks, vertical foundation cracks, horizontal cracks, and diagonal foundation cracks, and shrinkage cracking.
...
Continue reading at FOUNDATION CRACK DICTIONARY or select a topic from closely-related articles below, or see our complete INDEX to RELATED ARTICLES below.
Or see BRICK WALL FROST & WATER CRACKS, EFFLORESENCE, SPALLING
Or see CHIMNEY SPALLING
Or see FOUNDATION DAMAGE SEVERITY
Or see FOUNDATION FAILURES by TYPE & MATERIAL
Or see SPALLING CONCRETE BLOCK WALLS & CHIMNEYS
Or see these
Concrete Crack Diagnosis & Repair Articles
Suggested citation for this web page
FOUNDATION DAMAGE by MATERIAL or INCLUSIONS at InspectApedia.com - online encyclopedia of building & environmental inspection, testing, diagnosis, repair, & problem prevention advice.
Or use the SEARCH BOX found below to Ask a Question or Search InspectApedia
...
Frequently Asked Questions (FAQs)
Try the search box below or CONTACT US by email if you cannot find the answer you need at InspectApedia.
Question: cracks caused by power washing the structure?
4/7/14 Becky said:
My question is this: Are hairline cracks (with water staining) that are in line with the mortar in a cinder block wall in a basement considered evidence of "STRUCTURAL COMPROMISE"?
Here's why I ask:
1. From 2002 when my husband bought the house to Feb 2014, we had NO water in the basement (80 yr old house w/ French drain and sump pump).
2. In early Feb 2014, our tenant informed us of a small amount of water coming in through these hairline cracks and sent the picture. He cleaned it up and the water never returned.
3. When we were preparing the house for sale, I had two contractors look at the the water-stained cracks, along with several other items to be addressed -- both said the cracks (now bone-dry, in a bone-dry basement) were "not a big deal" and could be readily addressed with caulking, priming, painting (actually only one mentioned caulking) -- which I've learned is regarded as routine maintenance.
4. The same day the contractor came to work in the basement, I had another service person cleaning windows -- his assistant was power-washing the exterior of the house.
Although I had asked them to avoid that side of the house where the cracks were until we were sure what was going on (the one contractor was concerned about the window above the cracks, turned out not to be a problem),
(A) the seal was not secure between the faucet and hose to the power-washer (spraying water in all directions),
(B) the faucet was about 1.5' from the window/wall in question, and
(C) the power-washer seemed to be going at it full-force 6 hours+ -- a 1100 sq foot house.
(I've since learned this should have taken about 1.5 hours, also that it's not the best idea to do it when the ground is frozen -- we live in Maryland, where we've been hit with a lot of very cold weather, snow, etc.) I called a waterproofing company (with GREAT reviews, A+ BBB rating) who said immediate cause of the damage was the sudden, rapid influx of HUGE amount of water. They also updated our drainage system. Never mentioned structural compromise in that wall.
Reply:
"Structural compromise" is an undefined term.
A structural engineer will typically aver that masonry structures are not supposed to crack, and that any crack is a "failure". But an experienced foundation engineer, mason, or someone with similar expertise will usually make a distinction between cracks and movement that are an urgent threat to the structure, those that need monitoring, and those that need prompt repair to prevent a catastrophe.
And no such prescription would ge complete without understanding the cause.
It is possible that water under, against, and around a foundation combined with freezing would cause cracks; but just "cracks" is far too vague to reach such a conclusion. The size, shape, location, pattern, and site history and other factors need to be understood before one can ascribe a cause to a masonry crack.
...
Ask a Question or Search InspectApedia
Questions & answers or comments about the cause and repair of all types of building foundation and floor slab cracks.
Use the "Click to Show or Hide FAQs" link just above to see recently-posted questions, comments, replies, try the search box just below, or if you prefer, post a question or comment in the Comments box below and we will respond promptly.
Search the InspectApedia website
Technical Reviewers & References
Click to Show or Hide Citations & References
Ed Seaquist, P.E., SIE Assoc. - 301-269-1450 - National
Dave Wickersheimer, P.E. R.A. - IL, professor, school of structures division, UIUC - University of Illinois at Urbana-Champaign School of Architecture. Professor Wickersheimer specializes in structural failure investigation and repair for wood and masonry construction. * Mr. Wickersheimer's engineering consulting service can be contacted at HDC Wickersheimer Engineering Services. (3/2010)
Books & Articles on Building & Environmental Inspection, Testing, Diagnosis, & Repair
Our recommended books about building & mechanical systems design, inspection, problem diagnosis, and repair, and about indoor environment and IAQ testing, diagnosis, and cleanup are at the InspectAPedia Bookstore. Also see our Book Reviews - InspectAPedia.
Building Pathology, Deterioration, Diagnostics, and Intervention, Samuel Y. Harris, P.E., AIA, Esq., ISBN 0-471-33172-4, John Wiley & Sons, 2001 [General building science-DF] ISBN-10: 0471331724 ISBN-13: 978-0471331728
Building Pathology: Principles and Practice, David Watt, Wiley-Blackwell; 2 edition (March 7, 2008) ISBN-10: 1405161035 ISBN-13: 978-1405161039
Diagnosing & Repairing House Structure Problems, Edgar O. Seaquist, McGraw Hill, 1980 ISBN 0-07-056013-7 (obsolete, incomplete, missing most diagnosis steps, but very good reading; out of print but used copies are available at Amazon.com, and reprints are available from some inspection tool suppliers). Ed Seaquist was among the first speakers invited to a series of educational conferences organized by D Friedman for ASHI, the American Society of Home Inspectors, where the topic of inspecting the in-service condition of building structures was first addressed.
Building Failures, Diagnosis & Avoidance, 2d Ed., W.H. Ransom, E.& F. Spon, New York, 1987 ISBN 0-419-14270-3
Defects and Deterioration in Buildings: A Practical Guide to the Science and Technology of Material Failure, Barry Richardson, Spon Press; 2d Ed (2001), ISBN-10: 041925210X, ISBN-13: 978-0419252108. Quoting:
A professional reference designed to assist surveyors, engineers, architects and contractors in diagnosing existing problems and avoiding them in new buildings. Fully revised and updated, this edition, in new clearer format, covers developments in building defects, and problems such as sick building syndrome. Well liked for its mixture of theory and practice the new edition will complement Hinks and Cook's student textbook on defects at the practitioner level.
Guide to Domestic Building Surveys, Jack Bower, Butterworth Architecture, London, 1988, ISBN 0-408-50000 X
"Avoiding Foundation Failures," Robert Marshall, Journal of Light Construction, July, 1996 (Highly recommend this article-DF)
"A Foundation for Unstable Soils," Harris Hyman, P.E., Journal of Light Construction, May 1995
"Backfilling Basics," Buck Bartley, Journal of Light Construction, October 1994
"Inspecting Block Foundations," Donald V. Cohen, P.E., ASHI Reporter, December 1998. This article in turn cites the Fine Homebuilding article noted below.
"When Block Foundations go Bad," Fine Homebuilding, June/July 1998
...