Aerobic Septic System Troubleshooting FAQs
Aerobic Septic Repairs
InspectAPedia tolerates no conflicts of interest. We have no relationship with advertisers, products, or services discussed at this website.
Aerobic septic system installation, codes, & problem diagnosis questions & answers.:
This article series discusses problems that occur in aerobic septic systems, also known as aeration septic systems or fine-bubble septic aerators.
At this website you will also find designs and products for aerobic septic treatment units (ATUs) for onsite waste disposal, also called fine bubble aeration systems.
We also provide a MASTER INDEX to this topic, or you can try the page top or bottom SEARCH BOX as a quick way to find information you need.
Aerobic Treatment Unit Problem Q&A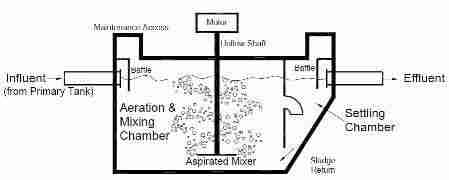 These questions & answers about troubleshooting problems with aerobic septic systems were posted originally at AEROBIC ATU SEPTIC PROBLEMS - be sure to review that article.

I'm not sure, Art, but I suspect a clogged disposal line or air in effluent distribution piping

What is a gurgling noise coming out of the aerator vent pipes

Don

Thanks for the query and the quick follow-up. Glad you were able to solve it yourself so quickly.

We always welcome questions and comments - your remarks will doubtless help other readers.

False alarm. The surface level in the tank where the water exits the system was crusted up and gave me a false impression. All is well. Thanks.

Should I be concerned? I do not have any visable fluids in the setting chamber that I can see. Is that because the design of the chamber does not let me see any fluids?
I can see fluids in the suspended growth chamber and the pump is operating normally. No odors.
We were told 18 years ago that we were installing the largest size unit possible for a reidence.
Pump is pulled out and the air injection tube and jets are cleaned annually.
Air intake is rammed with the proper sized rifle cleaning brush to restore sound levels. Only 2 of us now. How should I test further, if needed?

Stephanie

It is possible to repair a crack in a concrete septic tank, using concrete repair agents or even caulks or sealants, PROVIDED the tank is not continuing to settle and break.

But

Watch out: Never enter a septic tank for repair nor for any other reason - even after pumpout fatal methane gases remain - a worker can die in moments unless she is properly trained, equipped with safety gear, and works with a support team.

My advice is to contact the manufacturer ofyour Aquasafe septic tank and ask their help in evaluation, diagnosis, and repair of the tank.


Aquasafe is made by

Ecological Tanks, Inc.,
2247 Hwy 151 North
Downsville, LA 71234
Phone: (318) 644-0397
Fax: (318) 644-7257
E-Mail: aquasafe@bayou.com
Website: http://www.etiaquasafe.com/

I don't have an opinion about whether or not their system is better or worse than Aquasafe, though I can offer that at our website we've heard more from owners of ClearStream systems than Aqua Safe systems - there may be more ClearStream systems installed.

If you don't have the installation and operation manual for your Aqua Safe aerobic system you will find one in our list of free downloads of Aerobic manuals at

AEROBIC SEPTIC SYSTEM ATU SUPPLIERS

My 14 year old aquasafe septic has a crack in the concrete in the middle chamber. Have you heard of tank being pumped and such cracks being repaired? if so what product to seal the concrete? Do you feel a crack like this was due to poor installation? Do you feel Clear Stream is better system vs Aquasafe?

Mark,

To have room to provide a detailed answer I've repeated your question and replied at

AEROBIC SEPTIC FILTER CLOGGING at https://inspectapedia.com/septic/Aerobic-Septic-Filter-Clogging.php

Please take a look and let me know what questions remain.

We have an aerobic system with a separate up flow gravel final filter. The aerator pump is checked regularly for function.
Our problem is that the gravel quickly builds up a coating the does not allow the water to flow through at a quick enough rate causing a back up.
We had the system pumped about 6 months ago and they worked on the up flow filter gravel for some time but the unit has already started to back up. any suggestions?

I would start with help from an electrician. You want some testing to determine if the problem is a shorting motor or a problem with the wiring itself. Be sure to do that before replacing anything or you may find you have replaced the wrong components.

I have a NORWECO Singular Aerator and Submersible Pump Control Panel installed in 2004 and the singular breaker is popping off and the Aerator Breaker is popping off as well.
If you let them off for a little bit they will reset for a short period of time. Is there a simple fix or a total replacement.


I noticed a few days ago that the sprayer heads were up. They usually go back down after spraying. I ran the shower for awhile this morning to see if they would spray and they didn't. What would cause this.

Bring

Sounds as if your aerator pump is off or has failed, but I'm only speculating as we have no information about your system.

I do not hear water moving about in the system

Probable cause, inadequate treatment in the treatment tank.

Fix colon Investigate the type of Freedom that use including possible post-treatment disinfection and make sure those are working correctly.

WHen the system is full and the sprinklers are running the smell is horrible? Cause? Fix?

Luella,

That sounds like a bad float control switch for the septic pump, or a failed pump, or defective wiring.

Septic will not turn on even after chking the breaker.

Since you say the poor effluent dispersal flow is poor uniformly at all of the spray heads, I would start by taking a look for a problem at the effluent pump and continuing by looking for a blockage in the effluent piping system.

My arobic system heads are real low water pressure in the heads. System us about 5 yrs old.

Right, Steve. If the effluent is pooling on the ground surface there may be no back-up in the system itself, so no alarm is set off. Still you may need to extend the effluent distribution system to avoid overloading one section of your dispersal area.

First check that there is no surface runoff or groundwater source that is saturating the effluent dispersion area.

Small puddle of water on yard no smell usally after multiple water uses hoot system alarm not going off?

Albert

In case you didn't see it, we discuss septic alarms in the article above at inspectapedia.com/septic/Aerobic_Septic_Problems.php#Alarm

When a septic alarm won't shut off and we have no other information, I am left giving only general lists of things to check.
I would be glad to research further if you can - tell me the brand and model of septic pump and alarm installed along with any other descriptive information about your septic system that is handy, and perhaps use the picture frame icon next to the Comment button to show me a photo or two of the actual alarm box.

Meanwhile please see

AEROBIC SEPTIC ALARM SYSTEMS at https://inspectapedia.com/septic/Aerobic_Septic_Problems.php#Alarm

where we have added a diagnostic checklist for aerobic septic alarms

My system alarm stays on even when i resrt it what should i check i did pump out the second tank same results

it is an aerobic system with above ground sprayers.All three chambers were pumped about 3.5 years age. The pump was replaced by my service company about 3 years ago and until recently it has functioned well.
Now I notice that the spray volume suddenly decreases and when I pull the pump from the 3rd chamber the screen is filled with larva. (see. pdf file) I slovee them off return the pump to the chamber and it works fin for several months then I have to repeat. I also see large numb floating on the surface.


Albert

When a septic alarm won't shut off and we have no other information, I am left giving only general lists of things to check.

I would be glad to research further if you can - tell me the brand and model of septic pump and alarm installed along with any other descriptive information about your septic system that is handy, and perhaps Use the "Add Image" button next to the Comment button to show me a photo or two of the actual alarm box.

See the aerobic septic alarm troubleshooting checklist
at AEROBIC SEPTIC ALARM SYSTEMS
My system alarm stays on even when i resrt it what should i check i did pump out the second tank same results
it is an aerobic system with above ground sprayers.All three chambers were pumped about 3.5 years age. The pump was replaced by my service company about 3 years ago and until recently it has functioned well.

Now I notice that the spray volume suddenly decreases and when I pull the pump from the 3rd chamber the screen is filled with larva. (see. pdf file) I slovee them off return the pump to the chamber and it works fin for several months then I have to repeat. I also see large numb floating on the surface.

New

I've not seen actual worms in a septic system; I'm not sure if you're describing actual creatures or just the physical shape of a clogging contaminant.

I would start by reviewing the type of pump you are using, against the specs of your aerobic septic system to be sure you have the right king of pump installed - that could solve the clogging problem.

You're posting on an aerobic septic system page. If yours is not an aerobic septic system search InspectApedia.com website for SEWAGE PUMPS and SEWAGE GRINDER PUMPS to read details.

I have an issue with the screen on my pump becoming clogged with some type of black multi segmented worm approximately 1 inch in length. They float on the surface and approx every 3 or 4 months I notice the pump volume is down.
I remove the pump, and slovee the worms off the screen and attempt to dip out as many of the worms as possible. But they return and the cycle repeats. Can anyone tell me what they are a symptom of and how I can correct this situation? (all chambers of the tank were pumped approx 3 years ago and the pump was replaced at that time). Thank You.

We have had our system for about ten years. The last year and a half, we have replaced the pump 8 times. We just replaced it 2 1/2 weeks ago, along with having the whole thing pumped and cleaned out, and already the pump is being eat up or corroded. It has holes in it and is not running...
Yet again. This time it sent a horrible wet molded towel smell back in the house. This has cost us so much money and need another pump, but why if it will just eat it up? Any idea on why this would happen?

Perk

Have you checked for a stuck float or relay control on the pump controller? Also check that the spin filter is not clogged.

If you don't have the Installation and Operation Manual for your system let us know and we'll help locate it.

Then give Clearstream a call and ask for tech support: (800) 586-3656 in Beaumont TXX and let me know what you're told

motor runs constanly, why?


That's a good time to ask a septic contractor to check the pump at pump controls

The distribution tank is full. they are coming tomorrow to pump it out again.

Dana,

Have you checked for a stuck float switch. There may be a float switch that activates the pump.

I have a Hydro Action G500 aerobic system.Not sure how old the system is. I have owned the property for 12 yrs.

I just had the tanks pumped out 10 days ago. now the distribution pump is not working and the tanks are overflowing into the yard. the control boxes were not disturbed during pumping. what could be the problem

The meaning of the signal lights is aerobic brand and model dependent, but it sounds as if you were getting a warning, probably that the aerator was not working.

With the hose off of the pump the pump was still running, right?
And the hose that was "off" was probably on the aerator's output end - intended to push air through the aerobic tank.
If that was the case the pump wouldn't have been harmed while the hose was off, but IF the septic system had been in use without proper aeration that would have not been great for the system, risking a clog .

Since your system was out of use that risk is rather low.

I have an aerobic system with 2 lights one red and one orange. The orange light has been on for 2 days while.we were away our neighbors say. The 3 month inspection from our maintenance but was the day we left. We check it and the hose was off the aerator pump. Will this cause the aerator to go bad

Richard,

If your Rain Bird 5000 series spray head is the "Plus" model, there is a center screw opening/slot that is used to turn the flow of water on or off. A screwdriver simply turns the slotted screw 180 degrees clockwise to turn OFF the flow of water.

If you have a standard RainBird 5000 spray head it sounds as if an internal check valve is broken or the valve body is cracked and needs replacement. Before replacing it, though, give the company a call to see if their experts have other advice. And do let us know what you're told as that will help other readers.

You didn't give a location (we have readers world wide) so I'll paste in all of the company's contact information

Rain Bird Corporation
6991 E. Southpoint Rd., Bldg. #1
Tucson, AZ 85706 USA
Phone: (520) 741-6100
Fax: (520) 741-6522

Rain Bird Corporation
970 W. Sierra Madre
Azusa, CA 91702 USA
Phone: (626) 812-3400
Fax: (626) 812-3411

Rain Bird International, Inc.
145 North Grand Avenue
Glendora, CA 91741 USA
Phone: (626) 963-9311
Fax: (626) 963-4287

Rain Bird Technical Service
(800) 247-3782 (USA & Canada only)
www.rainbird.com

Rain Bird Europe S.A.R.L.
900 Rue Ampère, BP 72000
13792 AIX-EN PROVENCE CEDEX 3
FRANCE
Tél. : (33) 04 42 24 44 61
Fax : (33) 04 42 24 24 72

Rain Bird Deutschland GmbH
Siedlerstraße 46
71126 Gaüfelden - Nebringen
Deutschland
Tel : 07032 - 9901 - 0
Fax : 07032 - 9901 - 11

Rain Bird Iberica S.A.
Pol. Ind. Prado del Espino
C/Forjadores, Parc. 6, M18, S1
28660 Boadilla del Monte-MADRID
España
Tél. : (34) 916 324 810
Fax : (34) 916 324 645
www.rainbird.fr

Rain Bird Sweden
PL 345 (Fleninge)
260 35 Ödåkra
Sweden
Tel : (46) 042 20 58 50
Fax : (46) 042 20 40 65

Rain Bird Turkey
‹stiklal Mahallesi,
Alemda¤ Caddesi, No 262
81240 Ümraniye ‹stanbul
Turkey
Phone: (90) 216 443 75 23
Fax (90) 216

One of our Rain Bird 5000 sprayers seeps water continuously. It is at a foot or two lower elevation. Neither switching nor replacement of the whole rotor stops the flow. Pushing the head down or twisting to I'll left stop only reduces the seepage. Ideas?

I have a cajin air system. there are two lites on the control box, one is red and works fine, the other is amber and does not work on test, is the switch bad or do I have a problem someware else.

Tring to save money and be problem free. Just had Septic pumped out. Thing to make it Right. So Far fairly Good. I have Floats. Grey one comes on when water high enough. Black one not sure it working right. I do my Daily maintenance. To keep it Healthy. It's a Older System. A Delta I think.

Fix the ditch drainage so the area is not too loose and seal the pipe connections into the tank.

I appreciate the help! The source is a ditch the pipe drains off into. I live in Louisiana and the septic companies don't do any sort of backflow prevention. Apparently that's legal here?! So when it storms, like it has been for the past 9 days, the pipe is engulfed by water. So to stop/prevent water from overloading my system what can I do

Mickey,

It sounds as if your main drain is clogged, or if you are connected to a septic system, the septic system may be blocked or a failure.

My system is bubbling and the toilets are slow to flush.

Andy:

That doesn't sound good: the risks are electric shock, even death, if electrical components get wet; I suspect that the conduit itself is damaged and leaking. There can be other causes - abnormally high water levels in a well for example. An electrician will want to power off the system and inspect its wiring cirucit to find and fix the leak.

We recently moved into a house that has an aerobic system. I noticed water leaking from the cover of the electrical conduit going to the pump. The cover is about 3 feet above ground level. What can cause this and how do I fix it?

Rhea

I can't make an accurate guess of why your system failed from just the information in your question. Typically there would have been a control problem such as a defective pressure control switch on a pump.

I live in a residential area where the sprinkler overloaded with water pressure and burst flooding the unit Why ? The pendent was changed but no answers why this happen

Where's the leak? It may be possible to clean, dry, and seal with epoxy or silicone.

Having problems with the schedule 40 t float system leaking
Is your water pump itself cycling on and off rapidly? If so search Inspectapedia for WELL PUMP SHORT CYCLING - though your septic effluent pump is a completely different system it could be having similar control problems, such as a bad switch or control, a leak in piping, or if your pump uses an intermediate pressure control tank that could be waterlogged.

Yes, thank you so much. Those were my assumptions also. I said air pump, meant water pump.

That sounds to me as if there is either a controller failure or a water pump control failure.

Aerobic sprinklers come on pop up long enough to spit water out for a few seconds and then go right back off. Wait 2-3 minutes and repeats over and over. Would this be the air pump?

Ed,

Glad to hear you had nearly a decade of good Hoot Aerobic system performance; studies I've read say that the No. 1 cause of aerobic system failure is the lack of maintenance.

I too would expect to see agitation and bubbles in the aeration chamber when the pump is running. You may need to pull the aerator to check for clogging. But first I'd check that the compressor is not just running its motor, but that it's outputting air into the manifold.

Here is an example operating manual for Hoot Aerobic Septics (6MB PDF) that may be helpful.

Be sure to read in that manual starting on page 6 the importance of filling the aeration chamber (center tank) to within a foot of the top before starting the pump. If you re-started your system with the chamber level empty or too low, the aerator may not work properly due to lack of adequate backpressure. The instructions say to stop the system, fill the tank, and re-start it.

https://inspectapedia.com/septic/Hoot-Aerobic-Septic-Manual.pdf - Hoot Models H-500-NPDES, H750-NPDES, H1000-NPDES - or give Hoot a call at 888 878 HOOT or see their website www.hootsystems.com

Or see HOOT Septic Systems Homeowners Manual for the H-Series IPA & EPA NPDES Systems for Ohio [PDF], HOOT Systems LLC, 2885 Highway 14E, Lake Charles LA 70607 USA, Tel: 888-878-HOOT, Website: wwwhootsystems.com retrieved 2018/03/13, original source: http://www.odh.ohio.gov/~/media/ODH/ASSETS/files/eh/sts/p-hoot-npdesownman

Our aerobic system (Hoot) was installed in 1998 and overall it has performed perfectly. I've had to replace the air pump about every 5 years and when it fails - it just stops.
Over the last 6 months we have been getting a slight smell that we've never had before. I started investigating and I found that roots had grown into the conical lid in the middle tank. This is the tank with the air pump pipes.

I removed as much of the roots as I could, and cut off the rest so the lid seats perfectly. We had all three tanks pumped. The smell returned when the tanks returned to normal levels.

The pump is still working (and the green light is on). Looking in the tank I don't see bubbles surfacing. Should I see bubbles or some agitation in the water surface?

I don't know:

1. Is the air pump producing enough volume?

2. How can I tell if the diffusers at the end of the pipe are clogged?

3. Can I use my air compressor and force air into the pipe to unclog the diffuser?

Thanks for any help.
Ed

Please also see AEROBIC SEPTIC DIAGNOSTIC FAQs

...
Continue reading at AEROBIC ATU SEPTIC PROBLEMS or select a topic from closely-related articles below, or see our complete INDEX to RELATED ARTICLES below.
Also see AEROBIC SEPTIC DIAGNOSTIC FAQs
Or see AEROBIC ATU SEPTIC FAILURE RATES, COSTS
Or see SEPTIC DRAINFIELD FAILURE CAUSES
Or see these
Aerobic Septic System Articles
Suggested citation for this web page
AEROBIC ATU SEPTIC PROBLEM FAQs at InspectApedia.com - online encyclopedia of building & environmental inspection, testing, diagnosis, repair, & problem prevention advice.
Or use the SEARCH BOX found below to Ask a Question or Search InspectApedia
...
Ask a Question or Search InspectApedia
Questions & answers or comments about problems with the operation of aerobic septic systems
Try the search box just below, or if you prefer, post a question or comment in the Comments box below and we will respond promptly.
Search the InspectApedia website
Technical Reviewers & References
Click to Show or Hide Citations & References
Books & Articles on Building & Environmental Inspection, Testing, Diagnosis, & Repair
Our recommended books about building & mechanical systems design, inspection, problem diagnosis, and repair, and about indoor environment and IAQ testing, diagnosis, and cleanup are at the InspectAPedia Bookstore. Also see our Book Reviews - InspectAPedia.
...