Camping or Portable Toilets for Camping or Emergency Home Use
InspectAPedia tolerates no conflicts of interest. We have no relationship with advertisers, products, or services discussed at this website.
Portable toilets, emergency & camping toilets guide:
Tthis article provides information about using chemical or composting toilets for camping use, emergency home use, or for convenience (close access).
Most of these toilets are the simplest-to-use and are suitable for temporary or emergency toilets. Emergency toilets for home use; temporary toilets. We also describe EMERGENCY FIELD TOILETS - Using camping toilets along the Colorado River and we include warnings about methane explosion hazards and sealed home-made portable toilets.
Our page top photo shows a typical bucket or canister type portable non-flushing camping toilet. Waste is collected in a reservoir, usually lined with a disposable plastic bag, for later disposal. A deodorant chemical may be used in the bag.
Green links show where you are. © Copyright 2017 InspectApedia.com, All Rights Reserved.
Suggestions for Using Camping Toilets for Camping, or for Temporary or Emergency Home Use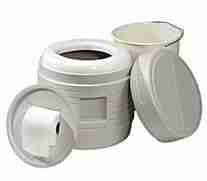 Examples of situations that call for temporary, portable toilets for emergency home use include loss of use of normal house plumbing and toilets due to loss of water supply or due to a septic system or sewer system failure.
For those problems, also see SEPTIC BACKUP REPAIR
and see SEWER BACKUP PREVENTION
Waterless toilets, low-water toilets, and other alternative toilet designs may solve practical problems in providing convenient, sanitary facilities for temporary or even longer term care of elderly, disabled, sick, or injured people.
[Click to enlarge any image]
Camping Toilets: Portable no-flush toilet systems for camping or emergency use at home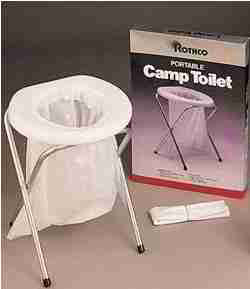 For short term use a camping toilet can be as easy as a chemical toilet to place close to bedside or in an otherwise accessible location for disabled, sick, or elderly person use.
Camping toilets are among the most simple, low-cost, and rudimentary facilities to provide and operate. Two types of portable camp toilets are produced:
Toilet seat with legs: a folding frame supports a toilet seat that in turn holds a suspended plastic bag used to collect waste. After use the plastic bag is sealed for disposal.
Our photo (far left) shows a typical portable camping toilet.
This portable camp toilet, model 560, produced by Rothco, uses a folding steel frame to support a molded plastic toilet seat and plastic bag.
Plastic bucket type portable toilet: shown in our photo (close left) a pail and drum type portable toilet uses a plastic bucket that collects waste for later disposal.
These toilets are also quite inexpensive, often less than $40. U.S.
Two bucket type portable toilet producers are Coleman (non-flush portable toilet) and the Reliance Hassock Portable Toilet.
In an emergency, you can fabricate a bucket type portable toilet using a five-gallon joint compound bucket and heavy plastic bags to collect the waste.
Watch out: a free-standing portable toilet may be tippy or a bit short; you may need to provide grab rails or personal assistance to make using a portable toilet easy and safe for people who are disabled.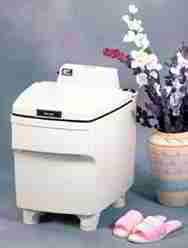 Thetford Corporation lists ten of their portable chemical toilet products as suitable for home or bedside use and for the physically challenged.
For some circumstances, a more sophisticated toilet may be suitable for home health care. Our photo (left) shows the Thetford ElectraMagic Model 80 RV recirculating 100% self-contained toilet that is intended for more permanent installation.
This toilet can be battery operated, and can be connected to an external tank for increased capacity. This toilet was designed for use in RVs and boats and uses very little water. It requires a 12V or 24V D.C. electrical hookup. (It can be powered by a car battery, for example.) Thetford's
Aqua-Kem liquid holding tank deodorant is used with these products. We discuss chemical toilet products and deodorants atCHEMICAL TOILETS.
Unlike some of the chemical toilets we discuss here, the Thetford Electra Magic seat height is roughly 18" above the floor and may be easier to get on and off-of for the disabled.
Portable and emergency use toilets include these brands: Thetford Porta Potti, SeaLand's SaniPottie, Coleman Portable Toilet, Fiamma Bi-Pots, Century Portable Toilet, Dometic Sani Porti, Visa Potty, Companion Eziloo and Primus Deluxe Portable Loo.
CONTACT us to add other portable or camping or alternative toilets and products.
Shown below, the Separett Camping Rescue Toilet that provides urine separation.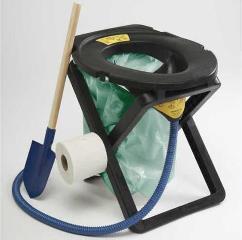 Contact information is at SEPARETT composting toilets, urine separating
Using a U.S. Army Surplus Ammo-Can as an Emergency Camping Toilet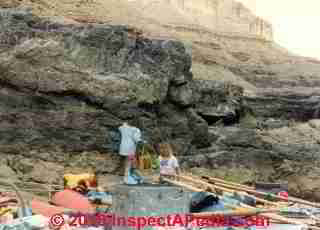 During a multi-week camping trip down the Color ard River in 1991 we learned that while it was ok to pee into the river (dilution was the solution), handling solid human waste was a different problem altogether.
Because the riparian grounds on either side of the Colorado river are small, fragile, and often very dry and very hot, rafters and other visitors are expected to follow an un compromised "leave only your footprints" policy.
Any waste left behind could be there literally for decades, contaminating the space for everyone else, human and other animals alike.
For this reason, at our nightly campsites we used a portable camping toilet like the Rothco unit shown above.
This toilet collected human waste in a plastic bag. A chemical deodorant/preservative, sometimes simply bleach, was added to prevent both explosion and bacterial hazards as this waste was saved and packed out for disposal in an acceptable dump at the end of the camping trip.
Camp toilet privacy: In a large group of strangers, initially privacy in using the camp toilet was a concern to some. The solution was the yellow "need help" cushion being carried by Mara and shown in our photo (above left).
If the cushion was not at the campsite, someone had taken it and gone to the nearby toilet (around the rock). If the cushion was in sight at the campsite, the toilet was free.
The Ammo-Box Toilet: Description of an Emergency Use, Absolute Minimum, Day Toilet for Excretion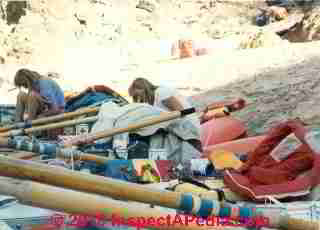 During the day we were either on rafts on the water, or on side-hikes up canyons feeding into the Grand Canyon itself. The portable camping toilet was packed away on one of our rafts.
But what about a little quickly-accessible "day toilet" for emergency use when the camping toilet was packed away?
OK so the typical portable camping toilet works rather well, but it's too big to fit into a backpack.
What do we do if we need a very small, but fully functional, tiny "pack-out-your-waste" emergency toilet for situations where digging a cat hole latrine is just not possible or not permitted?
As you can see in our photo (left), every raft carried several color-coded re-painted ammo-cans for various uses.
These were kept strapped close at hand for emergency use including first aid, and the "day toilet". See the blue, yellow, and red ammunition boxes in our photo?
Our guides told us that there was a "day toilet" available for emergency use if one of us had to "do number two" (defecate) during the day.
But few rafter-campers had a need or an opportunity to practice using this absolute-minimum emergency day toilet.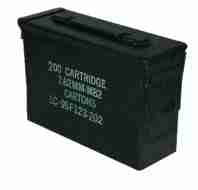 U.S. and other military ammunition cans have long been a popular military surplus product that was sold for a wide range of uses. These cans were made of heavy steel and usually contained a latching cover that was airtight and water tight.
Uses included not only safe transportation of ammunition, but tools, perishables, and even ... poop.
Ammo-boxes or "ammo cans" were produced in a range of sizes, of which the .30 Cal. (photo at left) and .50 Cal. U.S. Army Ammo boxes [image] were perhaps the most widely produced and distributed. These and at least seven other models of ammo boxes are still available from military surplus sources.
On the day the author needed to use the "day toilet" we were at a break where the Little Colorado River brings its opaque stream into the Colorado River itself.
This popular raft trip stop was busy with visitors, and our rafts were tied to the shore, and packed to continue our trip downstream in a few hours.
Contents of the Ammo-Box Toilet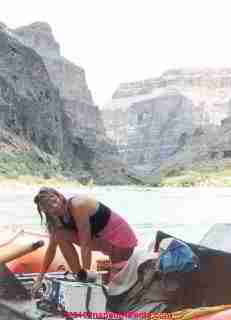 By the time it became obvious that I needed to ask for the "day toilet", and the time I found someone who knew where our little emergency toilet had been stowed on one of the rafts, nature's call was urgent.
So urgent that when our guide Alan asked if I knew how to use the toilet, I just answered "yes" - which was a lie brought on by the realization that I really did not have much time for a pedantic explanation from a biologist.
Grabbing the emergency day toilet - a repainted, but originally olive green .30 Cal. U.S. Army surplus ammo box, I dashed into the rocks to find a bit of privacy and opened the ammo-box to see what was inside. Here were the contents of our tiny day toilet:
A bit of folded toilet paper - the use was obvious
A handful of quart-sized heavy-duty freezer-type plastic Zip-Loc plastic bags. The use was, on reflection obvious, if tricky.
A cluster of a few unidentified items went unnoticed at the bottom of the ammo-can, including a bar of soap, some paper towels, and a small bottle of liquid that I ignored.
Actually if you are backpacking in area where you have to pack-out your waste, these components can be easily carried inside of a larger or doubled resealable plastic bag without the heavy ammo-box.
On a raft trip where weight was not the issue, the ammo box was convenient to keep these materials separated and quickly available.
Twelve Step Program for Using the Ammo-Box Toilet
Using the Ammo-Box toilet was really a lesson in aim. Readers will understand that no photos are included. I was busy.
Select your location to do your business.
Open the ammo-can toilet and set it aside, after selecting a clean quart-sized plastic bag. It's the plastic bag that forms the actual toilet or fecal waste container.
Pull down your pants and squat.
Open the bag and hold it where you can defecate into the bag. This is where aim comes in. The bag is only intended for fecal waste, not urine.
Go.
Wipe.
Put the used toilet tissue into the bag with your feces.
Watch out: see the explosion warning just below. To avoid methane gas production and possibly an exploding toilet bag, the fecal waste needs to be kept cold or treated with a suitable chemical or preservative.
Remember the bar of soap and paper towels (and provided you have a water source). Used paper towels can also be disposed-of in the plastic baggie.
Push out the excess air from the plastic waste bag and seal it.
Return the bag and unused toilet tissue to the Ammo-Can
Latch the ammo can shut and return it to storage.
Well, that's what I did. No one was around, so I just returned the ammo-can to our raft and stowed it.
How Does the Tiny Emergency Ammo-Box Toilet "Work"?
Later that afternoon, back on the Colorado River we oared past Geoff who asked how I'd enjoyed using the day toilet.
"How was the day toilet - any difficulties?"
"It was fine," I replied. "Aiming into a quart bag requires some care but it was ok."
Geoff, our trip leader, looked at me for a moment, thoughtfully.
"You remembered the bleach, right?"
"Bleach?"
"Yeah. You were supposed to put some bleach into the bag - you did that, right?"
"What bleach?"
The tranquil stretch of Colorado River burst into noisy action.

"ASHORE IMMEDIATELY - EMERGENCY!!!" Geoff screamed to Alan, the oarsman who was guiding the raft where our day toilet was stored.
" HE FORGOT THE BLEACH!!!"
Ravens burst from the brush, several snakes slithered aside, coyotes dashed, a beaver flapped its tail, two deer bounded into a side canyon, and perhaps the ghosts of the Anasazi took note from high on the canyon walls.
There was a huge flurry of human activity too as things thrown helter skelter and the ammo-can toilet was un-strapped from the raft and opened. Sapping the strong latch and flipping up the airtight lid, a guide found my zip-loc bag of feces and also the small bottle of liquid that I had ignored. Opening the used waste bag took only a moment, but we could see that it was already blown-up like a balloon. Bleach was poured in, and the bag compacted and re-sealed.
Now, as Paul Harvey said, for the rest of the story.
On a previous Colorado River raft trip an inexperienced toilet user had also forgotten the chemical treatment.
In the Arizona sun at the bottom of the Grand Canyon, even a light-color painted steel ammo box can quickly reach well over 100 degrees F. Human waste packed inside of a very strong steel, airtight, latched-shut Ammunition Storage Box - an ammo-can - will rapidly decompose, producing plenty of high pressure, explosive methane gas.
On a previous Colorado River raft trip one of these ammo box toilets actually exploded. No one was injured, but it was a close call. The shrapnel from a sealed, exploding ammunition box could have seriously injured or even killed someone nearby. Or sunk a raft in the middle of the Colorado River.
Watch out: methane gas is highly explosive. Exploding or even simply expanding gas at high temperature in a tightly-sealed container such as a .30 Cal. Ammo Box or ammunition can can lead to a dangerous explosion.
See SEPTIC METHANE GAS for more information about septic and other methane gas hazards.

...
Continue reading at CHEMICAL TOILETS or select a topic from closely-related articles below, or see our complete INDEX to RELATED ARTICLES below.
Or see ALTERNATIVE & WATERLESS TOILETS for a discussion of camping toilets, chemical toilets, emergency-use toilets, waterless toilets, graywater systems, composting toilets, home health care toilets, incinerating toilets, outhouses, and latrines
Or see CHEMICAL TOILETS
Or see COMPOSTING TOILETS
Or see DISASTER ZONE TOILET GUIDE
Or see INCINERATOR TOILET SYSTEMS
Or see OUTHOUSES & LATRINES
Or see TOILET TYPES, CONTROLS, PARTS - home
Suggested citation for this web page
CAMPING & EMERGENCY USE TOILETS at InspectApedia.com - online encyclopedia of building & environmental inspection, testing, diagnosis, repair, & problem prevention advice.
Or use the SEARCH BOX found below to Ask a Question or Search InspectApedia
...
Frequently Asked Questions (FAQs)
Try the search box below or CONTACT US by email if you cannot find the answer you need at InspectApedia.
Question:
(Mar 18, 2015) Eurika said:
Good day, are these porta potties in caravans only suitable for the use of urine? It's needed for an elderly person. Thank you
Reply:
No Eurika the portapotties discussed in this article series accept all body waste - feces and urine.
However you will want to be sure that the portapotty or camping toilet is raised to a suitable height, secured against tipping over, and has grab rails if it's to be used by an elderly person or anyone else of limited mobility
...
Ask a Question or Search InspectApedia
Use the "Click to Show or Hide FAQs" link just above to see recently-posted questions, comments, replies, try the search box just below, or if you prefer, post a question or comment in the Comments box below and we will respond promptly.
Search the InspectApedia website
Technical Reviewers & References
Click to Show or Hide Citations & References
New York State Department of Health, "Appendix 75-A Wastewater Treatment Standards - Individual Household Systems", [PDF] New York State Department of Health, 3 February 2010, retrieved 3/1/2010, original source: https://www.health.ny.gov/regulations/nycrr/title_10/part_75/appendix_75-a.htm
Americans with Disabilities Act, ADA, web search 07/08/210 - original source http://www.access-board.gov/adaag/html/adaag.htm#4.16
Ammo cans or military surplus ammunition boxes are widely available including for sale online at Amazon.com
.30 Cal USED Metal Ammo Can - Used, Fair Condition. Original US Military Surplus. 200 Cartridges. 7.62 MM, M13, Overhead Fire, 1 M62 .4 m80 lc-87J601l368 Printed On Front Of Ammo Can. Dimensions: 10.25" x 6.5" x 3.5". GSA Compliant.
The

Century 6205 2.6-Gallon Portable Toilet

 by Century Tool

shown in the photograph at page top was purchased at Amazon.com and costs less than $100. Other Century Tool camping products can be seen at centurycamping.com/ .
Coleman Corporation, 3600 North Hydrauli, Wichita, KS 67219, Tel: 1-800-835-3278, is a producer of camping equipment and gear, including chemical and portable toilets including both non-flush portable toilets and a large portable flush-toilet. Coleman has offices in many countries.
Reliance Products, 1093 Sherwin Road, Winnipeg, MB, Canada R3H 1A4, Toll Free: 1-800-665-0258, Telephone: (204) 633-4403, produces the Reliance Hassock Portable Toilet #00984421. Quoting from the company's website:
Whether you're on the road, in a campground, out on the water, or at the cabin, the Hassock is one of best portable toilets around. This lightweight, self-contained toilet has a comfortable contoured seat, a removable inner bucket for easy waste disposal and clean-up, an inner splash cover, and toilet paper holder.
In addition, the Hassock is compatible with our standard Double Doodie bag, which means virtually no clean-up and waste disposal is a snap when used together.

Rothco Corporation, 3015 Veterans Memorial Highway, Ronkonkoma, New York 11779-0512, Telephone: 631-585-9446, Toll Free: 800-645-5195 Domestic Fax: 631-585-9447, International Fax: 631-585-9442, Email: info@rothco.comTel. 800-645-5195; Rothco, founded in 1953, is a wholesale supplier of military and outdoor products including camping toilets. Quoting:
ROTHCO is America's foremost wholesale supplier of military and outdoor products. We carry an extensive line of apparel and gear available for domestic and overseas sale to resellers of all types: retail, wholesale, military, police, security, outdoor products, screen printers, uniform dealers, fashion retailers, and sportswear shops. For nearly 50 years we've primarily serviced independently-owned Army/Navy surplus stores across America, but in recent years ROTHCO has expanded our customer and product range to include new lines of sportswear and over 25% of our sales are now to overseas customers.
Thetford Corporation 7101 Jackson Road, Ann Arbor, MI 48103, Phone: 1-800-543-1219, 734-769-6000, Fax: 734-769-2023; Thetford produces a wide range of permanent and portable alternative toilet designs. Quoting:
Our [toilet] products are easy to use at bedside and indispensable for the physically challenged, the aged, and small children.
Thetford's list of toilet products suitable for home or bedside health care are listed at http://www.thetford.com/Thetford/HOME/ApplicationHome/BedsideApplications/tabid/94/Default.aspx
Thanks to reader K.H. for discussing the question of antibiotics emptied into a septic tank and chemical toilet alternatives for the elderly - July 2010
Books & Articles on Building & Environmental Inspection, Testing, Diagnosis, & Repair
Our recommended books about building & mechanical systems design, inspection, problem diagnosis, and repair, and about indoor environment and IAQ testing, diagnosis, and cleanup are at the InspectAPedia Bookstore. Also see our Book Reviews - InspectAPedia.
...