Expanded Metal Lath System: Diamond Mesh for Interior Plaster Ceilings & Walls & for Exterior Stucco

Plaster & plaster lath types, history, age determination
Properties of diamond mesh metal plaster lath
Properties of rib lath
Plaster System identification and history of use
Photo guide to expanded metal lath, diamond mesh lath, rib lath, wire mesh lath for plaster & stucco
Questions & Answers about identifying & installing types of plaster lath systems
InspectAPedia tolerates no conflicts of interest. We have no relationship with advertisers, products, or services discussed at this website.
This article provides a photo guide to identifying and installing types of plaster support systems: metal lath, wire lath, etc. that are installed in buildings. We use building ceilings and walls as a photo and investigation guide to plaster and mortar lath systems.
In this article series we describe and discuss the identification and history of older interior building surface materials such plaster, plaster board, split wood lath, sawn lath, and expanded metal lath, Beaverboard, and Drywall - materials that were used to form the (usually) non-structural surface of building interior ceilings and walls.
See Plaster & Beaverboard & Drywall where we include photographs of non-plaster interior wall and ceiling coverings including drywall, beaverboard, and paneling. Also see drywall identification photos at CHINESE DRYWALL HAZARDS. For plaster type surfaces used on building exteriors, see STUCCO WALL METHODS & INSTALLATION.
Green links show where you are. © Copyright 2013 InspectAPedia.com, All Rights Reserved. Author Daniel Friedman.
Expanded Mesh Metal Lath for Plaster Walls & Ceilings
Expanded metal lath has been widely used to support both interior plaster in buildings and exterior building wall stucco systems. This article explains plaster systems based on metal lath in building interiors. Also see STUCCO WALL METHODS & INSTALLATION for a discussion of exterior uses of stucco and metal lath.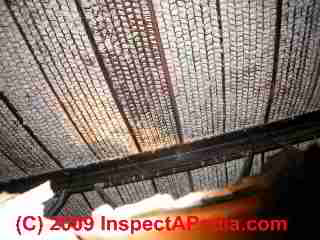 Plaster of the same general formula as discussed in the two wood lath based installations above was later applied over expanded metal lath.
Our photo shows expanded mesh metal lath used as plaster lath support for ceilings and walls; this material was also used on building exterior walls to support a stucco finish.
Metal lath was on occasion used also to support poured concrete ceilings (shown here) - unlikely to provide adequate strength for a thick pour unless additional reinforcement was used.
Depending on building age we may find a mixture of multiple types of plaster support, wood lath, gypsum board lath, and metal lath.
Wall or ceiling or stucco crack patterns may follow the borders of metal lath segments, especially if the lath was not securely nailed.
Van Den Branden and Hartsell explain that metal lath for plaster systems is divided into four groups with different properties for different applications:
Expanded metal lath (diamond mesh plaster lath)
Expanded rib lath (similar to diamond mesh but with stiffening ribs added)
Wire lath (woven wire or welded wire - aka "chicken wire")
Sheet lath (popular early in the history of use of metal lathing, with a resurgence of use when shot or gun-applied plaster or cement mortars became widespread, often in commercial projects)
Properties of Diamond Mesh Metal Lath
Produced by stamping or perforating a metal sheet, then expanding the holes by pulling its edges apart
Mesh size 5/16" x 9/16" diamond pattern - interior plastering, or larger mesh sizes for stucco work or as a support for loose fill rock wool or similar insulations
Self-furring: dimples into the surface hold the lath 1/4" away from the attaching surface, used for fireproofing structural columns
Paper-backed diamond mesh lath: waterproofed paper backing glued to the back to act as a moisture barrier and to reduce the amount of plaster consumed in applying the brown coat
2.5 or 3.4 pounds per square yard
Sheet size: 27" x 96", packed in 10 sheet bundles to cover 20 square yards
Properties of Metal Rib Lath
Similar to Diamond Mesh Metal Lath above, with the addition of metal ribs formed lengthwise in the lath to add stiffness
Ribs are 1/8", 3/8" or 3/4" high.
Rib lath sheet sizes: 27" x 96" for 1/8", 3/8" ribs, 29" wide & 5', 10', & 12' lengths for 3/4" rib sizes
2.75, 3.4, & 4.0 pounds per square yard
A similar rib lath was produced by welding steel rods to the back surface of standard diamond mesh metal lath
Properties of Wire Mesh Lath
1" mesh: Constructed of galvanized woven wire (looks like "chicken wire") with 1" hexagonal openings, 20-gauge wire, sold in rolls, used over gypsum & fiber insulating lath board as reinforcement and for cornerite and stripite, used often as a stucco mesh over felt paper on open stud construction or over building sheathing
2" mesh: 16 gauge wire interwoven with fibrous absorbent paper backing secured by a 17 gauge wire corrugated every 4 3/8" to form a plaster key, in sheets 30 1/2 " x 49", in cartons of 44 sheets, 50 sq. yds., also used for stucco and open-stud construction.
Gun Lath: Welded wire lath, also referred to as "gun lath" suitable for machine applied (sprayed) mortars.
Properties of Sheet Lath
Stiff metal sheet with perforations punched through the metal as slits, crosses, and ridges.
Self-furring design, mortar pushed through the slits forms necessary plaster ears or keys
4.5 lb /sq.yd.
27" x 96" sheets or 24" x 96" sheets
Exterior Stucco Applications using Metal Lath
Van Den Branden and Hartsell continue to point out that metal lathing for exterior stucco is similar to interior installations, with these changes:
Use of a covering of all exterior surfaces with a waterproof building paper or plastic,
Use of heavier gauge metal lath with larger mesh openings
Lath is not applied in direct contact with the background or base, by using furring nails that hold the lath out 1/4" to 3/8" from the base or framing [this permits plaster to penetrate the lath and form securing keys]
Use of protective flashings and details to keep water from passing behind the lath (and stucco surface)
Use of control joints
More photographs of plaster walls & ceilings built on metal lath:
Our ceiling cavity photograph of a plaster on metal lath system (below left) shows how plaster applied to metal lath has considerably more adhesion security than plaster applied over wood lath. At below right (a New York garage ceiling) the plaster coating was left quite thin; you can see rusting metal lath around the light fixture and at the upper right in our photograph.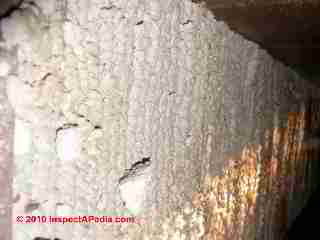 See Loose Plaster is Unsafe for an example of a collapse of an expanded wire lath ceiling that had been improperly installed.
At below left we show a cut-cross-section of a steel-lath supported exterior wall on a Minneapolis, MN. home. Our photo at below right shows the marks left by metal lath on felt paper that had been used as a building sheathing wrap on the same home. These details were exposed during construction work for an addition.
Details about exterior stucco and metal lath are at STUCCO WALL METHODS & INSTALLATION.
Also see
Loose Plaster is Unsafe, Especially Loose, Falling Plaster Ceilings
Watch out: for loose plaster that can fall and injure building occupants. If ceiling plaster is bulged and moves when you apply gentle pressure to it, chances are that the plaster keys, the protruding plaster that oozed between the plaster lath strips to mechanically secure the plaster surface in place, have broken off.
Expanded Metal Lath Plaster Ceiling Catastrophic Collapse Case
As we discuss in detail at at PLASTER, LOOSE FALL HAZARDS, plaster ceilings in newer buildings are not immune from collapse either, as you'll see by the catastrophic ceiling collapse shown just below. This plaster ceiling was applied on expanded metal lath. The lath was wired to steel pipes or bars that in turn were hung from a smaller number of steel supports. The final steel supports were hung from wire ties connected to fasteners that had been "pin-shot fasteners" shot into the sides of concrete ceiling joists.
The combination of several factors led to this ceiling collapse:
Details about falling or bulging plaster and plaster falling hazards is found at PLASTER, LOOSE FALL HAZARDS and at PLASTER BULGES & PILLOWS.
Frequently Asked Questions (FAQs) about about identifying & installing types of plaster lath systems
Question: which way up does the diamond lath go on walls?
How to install and apply plaster to expanded metal mesh (diamond mesh):
I have heard contradicting information about the direction of the lath. When I drag my hand from top down should the direction of the lath be biting at my hand or should it bite at my hand when I drag my hand from bottom up.
I read in one of your articles that "expanded metal lath must be installed with the correct side pointed up or the plaster will slip off when troweled on". To me this means that my hand should drag (bite) when pulled from top down
Do you align with my interpretation and if this is your answer is your answer documented anywhere? - M.H., Construction Administrator
Reply:
I agree with your surmise about the proper lath direction, but I'll also do some research and add that detail to our article when I can cite an authoritative source.
I suspect, however, that this technical point may be over-stated in that the same diamond mesh lath is used on ceilings where the direction of the mesh won't make difference in the adhesion of the plaster.
In any case it's the plaster ears or mortar keys that are formed by plaster that is pushed through the lath that make the plaster or mortar mix adhere soundly to the metal lath. That's also why metal lath that is nailed too tightly to a smooth surface with no air gap behind may not give great results.
Ask a Question or Enter Search Terms in the InspectApedia search box just below.
Technical Reviewers & References
Related Topics, found near the top of this page suggest articles closely related to this one.
Books & Articles on Building & Environmental Inspection, Testing, Diagnosis, & Repair
The Home Reference Book - the Encyclopedia of Homes, Carson Dunlop & Associates, Toronto, Ontario, 25th Ed., 2012, is a bound volume of more than 450 illustrated pages that assist home inspectors and home owners in the inspection and detection of problems on buildings. The text is intended as a reference guide to help building owners operate and maintain their home effectively. Field inspection worksheets are included at the back of the volume. Special Offer: For a 10% discount on any number of copies of the Home Reference Book purchased as a single order. Enter INSPECTAHRB in the order payment page "Promo/Redemption" space. InspectAPedia.com editor Daniel Friedman is a contributing author.

Or choose the The Home Reference eBook for PCs, Macs, Kindle, iPad, iPhone, or Android Smart Phones. Special Offer: For a 5% discount on any number of copies of the Home Reference eBook purchased as a single order. Enter INSPECTAEHRB in the order payment page "Promo/Redemption" space.